How To Get Actionable Ideas From Your Social Media Competitive Analysis
Trying to get your business's voice heard among thousands of others is difficult, to say the least. Then add in the fact that you're now dealing with businesses who are competing for the same dollars and eyeballs that you are. It's intimidating. To be heard above the noise and chatter on social media, you always have to be one step ahead. Conducting a full competitive analysis allows your social team to gain insight into what your competitors are doing, which in turn can inspire your team. By reading this post, you're going to learn:
How to find your real competition (even if it's not who you might think it is).
How to find the right data and metrics to track on your competitors.
How to use the information you find to create a better social media strategy.
The insights
your team will gain from the process will allow you to make informed, educated decisions on how to plan and execute your social media strategy.
Do Better Social Media Competitor Analysis With This Free Template
Before you can start doing competitive research, you'll need somewhere to store your data and findings. That's where our competitive research template enters the picture. Download it now and deliver the inside scoop on your competition more easily.
How To Get Actionable Ideas From Your Social Media Competitive Analysis
Click To Tweet
So, What Exactly Does Competitive Analysis Entail?
A
competitor analysis
on social media is exactly what it sounds like. In simplest terms, it involves the following:
Finding your competition (including emerging competitors you may not have heard about).
Analyzing what they're doing (and how well they're performing) on social media.
Using your findings to inform your own social media marketing strategy (and zig when everyone else zags).
That about sums it up.
Step One: Build Your Toolbox
The first step in your social media competitor analysis process is going to involve finding the right tools to aid your research. While you can find a decent amount of information through simply searching your competitor's profiles, having tools will allow you to go deeper into your analysis and find the data you're looking for.
Mention
Mention
 is our preferred social media listening tool here at CoSchedule. It has a ton of features, but it's primarily used to track brand mentions on social and gauge whether you're being talked about more than your competition. Here's a quick video rundown on how it works:
FanPage Karma
Fanpage Karma
 is another social media reporting tool. It helps measure:
Audience growth.
Total number of fans.
Gathering post-level insights.
Engagement rate.
Overall competitive performance across channels.
Here's a quick demonstration of its social media monitoring features:
Rival IQ
Rival IQ
 is a powerful analytics tool that helps track:
Audience growth.
Hashtag use.
Key influencers.
Boosted posts.
Keyword rankings.
Domain authority.
Here's a lengthy walkthrough video from Jay Baer and Seth Bridges breaking down how to use it for competitive analysis:
Simply Measured
Simply Measured
 in another powerful tool that will allow you track:
Post content types.
Engagements per post.
New followers.
The number of messages they send.
Overall audience total.
And a lot more:
In-App Analytics
Facebook and LinkedIn both make it easy to gather competitive data directly in-app. Here's where to find that information on each channel.
Facebook:
To find your Facebook data, select
Insights.
Scroll down your insights page to the bottom, where you'll find a section called 
Pages To Watch
 . Here you will see where your Facebook page is ranking among your top five competitors. You can see who else Facebook sees as your competition by selecting
See More Pages.
LinkedIn:
To find how your company page is doing in LinkedIn analytics, select
Manage Page,
then
Analytics.
In Analytics a drop down menu will appear. Select
Followers.
In the followers section, scroll down to the bottom of the page. There you will find your top five competitors and their growth over the past thirty days. You can see more of your competitors by scrolling through the pages at the bottom of the screen. These reports are pretty small compared to some of the analytics reports that you'll find in other tools however they are a nice base to jump off of.
To Do: Choose competitive research tools that will help aid your competitive analysis research.
Step Two: Find Your Competitors
The next step in your competitor analysis is finding the competitors that you want to track. This is a vital part of your analysis because who you choose as your competitors will determine what you're going to judge your social strategy against. Before you jump straight into your research there are two things you need to do first:
Determine if you're working with direct or indirect competitors.
Understand your level of competition (local, regional, national, global, etc).
There are two types of competitors: Direct and Indirect.
Direct competitors are the ones who offer the same services and products as you. For example, Domino's Pizza's direct competitors would be Pizza Hut, Godfather's and other delivery places. All of them offer the same services and a relatively similar product. Indirect competitors are the ones who offer some of the same services that you do, but it may not be all that they do. Unlike direct competitors, indirect competitors will overlap somewhat with your business strategy but not completely. If we go back to our Domino's example, some of their competitors would be Walmart, DiGiorno's, convenience stores or other grocery stores that sell pizza. In order to decide who you're going to research first, your team needs to determine if you compete at a local, regional, national, or global level. Then, buckle down and see if you can turn up competitors in your market at each level.
Google Search
Google is one of the easiest and most obvious tools to find competitors. Google is careful to serve results aligned with the search intent and location of the search, which means that you need to be specific in what you are looking for and where. Things like "Starbucks near me" or "Holiday Inn's in Sacramento California" are ways to show Google that you're looking for a specific company or place within one area. For a local search, it could look something like:
Note that attaching a city to your search is key to helping you find those local results. Especially if you want to change the town that you are looking in. A regional search could look like:
And a national search could look like this:
In-App Searches
If you want to look for competitors through a specific social media channel, you can usually find them through an in-app search:
To complete state and nation wide searches, change the end of your search wide to a state or the US. In addition to Facebook, Instagram also allows a location specific search. However, to see results you need to scroll through the list that pops up after your search. If you click or hit enter, it will take you to the top tagged location for that area.
Another limit to the Instagram search is that locations need to be tagged on each post. That means your results will not be all encompassing like Facebook or Google.
Industry Publications
Most industries will have some kind of industry publication where people can get the latest news on trends and industry tips. Think your industry is too boring to have its own media? You might be surprised. In order to find them, you need to turn once again to the almighty Google (or whatever search engine you prefer to use).
Think your industry is too boring to have its own publications? Think again.
Click To Tweet
To find those publications, type in
publications for [insert industry here] industry.
Alternately, you can also search "blogs" or "magazines" in place of "publications" to make sure your search is thorough. Google will then populate a list of the top publications related to your industry, which you can then explore.
To Do: Conduct three different searches across Google, social media sites, and industry publications both on and offline to help find competitors.
Step Three: Choose Your Top Five Competitors
This is probably one of the most difficult parts of your process because after your research you could have a huge list of competitors. Instead of having a list of competitors that extends a page or two down your document, narrow your field down to your top five. They can span across different sizes and locations, meaning that you could have a mix of direct and indirect competitors, and local, regional, and national brands. Other metrics that you could use to help choose your competitors could be:
Similar audience size.
Services offered.
Same number of locations.
The main thing that you need to ask yourself is, who do you want to go toe-to-toe with and why? At this point, you can pull out that competitive analysis template that you downloaded earlier. You'll notice the first tab is labeled
Introduction:
In that first tab you can enter in:
The name of your competitor.
Their location.
Whether they're a direct or indirect competitor.
Their website link.
To Do:
Choose your top five competitors based on
Whether or not they're a direct competitor.
Is your competitor a local, regional, or national brand.
Enter your chosen competitors into your competitive analysis report.
Step Four: Set Competitive Analysis Goals
Your team is taking the time to research and monitor your competitors for a reason. But if you don't know what that reason is, you're going to end up sitting on a bunch of data wondering what you can do with it. To make sure that your team doesn't waste their time, take the time to ask why this analysis is important and what questions are you hoping to answer? Some example questions that you could answer are:
What gaps are our competitors leaving that we could fill to entice our target audience to choose us?
What are our competitors doing well that would be difficult for us to take the time to replicate?
How quickly are they growing compared to us?
What types of content are they publishing that is causing their audience to interact with it?
How often are they responding to their fans?
These questions aren't all inclusive by any means, but they can serve as a jumping off point for your team.
Are you setting goals for your #social #media competitive analysis?
Click To Tweet
You can also set goals that help put you above your competition. What that means for your team is: if you see your top competitor is growing their followers by a certain percentage, you want to grow your followers even faster. How you go on to tackle your competition will be up to you. If your competitors are growing their following by x% every month, how can you recreate that progress? You also need to determine if where your competitors are growing is something you want to invest your time into. If your competitors are growing their followers, good for them, but maybe your team wants to focus on content instead? Some questions to ask your team:
What are some ways that we can increase our follower growth to x% above our top competitor?
How many messages do we currently send on [Channel]? How can we increase that number?
What can we do to increase our engagements per post on [Channel]?
To Do: Brainstorm with your social media team and choose three questions to start that you want your competitor analysis to answer for you. You can add more as your team begins the process but don't overwhelm them by trying to answer all 12 at once.
Step Five: Choose The Channels You'll Monitor
So you have your top five competitors. Now what? Time to choose the channels you'll be monitoring. With this process, you'll have two different options. The first is to monitor the channels that you are active on and only observe channels that both you and your competitors are on. Meaning if you're on Twitter and your competitor is on Twitter and Facebook, you'd only be observing their activity on Twitter. Your second option is to monitor all of your competitor's social channels even if they are not active on all of the same ones that you are. In your competitive analysis template, you'll see a tab dedicated to each social media channel. Depending on which channels you're tracking, you'll need to fill out the competitor's name, their username or handle for each as well as a link to their profile:
You'll need to repeat that process for every social media channel that your team has decided to track your competitors on. We'll go over the rest of those columns a little later in this post.
Do better #social #media competitive analysis with this guide + free template
Click To Tweet
Step Six: Check Out Their Content Strategy
The next part of your analysis is going to involve researching and analyzing your competitor's content strategy for every channel that they are active on. For this part of your research, turn to the
Content Strategy
tab in your template:
You'll notice that this tab is laid out a little different than the rest, but don't worry, we'll go over how to fill in the data you've collected. The first thing you need to do is fill in the name of one of the competitors you're looking to gather information on. For this example, let's pretend we're doing competitive research on Starbucks. Your template would look like this:
Determine Post Type
The first content strategy metric your team is going to track is post type. There are four types of posts that a brand can share on social media:
Curated:

 Posts where the original article, photo, video, etc. was created by someone else and then shared by the brand later.

Original:

 Posts where the content has been created by the brand and shared to its social channels.

Promotion

al

:

 Posts where their main goal is to get their audience members to buy or subscribe to something.

Educational:

 Posts where their main goal is to educate the intended audience.
So now that you have your four post types, you can begin to go through your competitor's channels. How in depth your team wants to go will determine how far back you're going to go into their social channels and normally falls into one of three segments:
One week
One month
Six months
Once you determine how far back you want to track their posts you can begin scrolling through feeds and recording the different types of posts you see:
So let's say that you scroll through Starbucks's Facebook feed and see that they publish on average seven messages per week, some are knowledge posts and some are
curated posts
. Then of those posts you see that 2 knowledge posts are in a video format, one is a photo and one is a blog. The curated posts on the other hand are all links. Keep track of those different media formats in your spreadsheet as well:
The final section that you're going to fill out about post types in this tab is the number of times they post within a certain date:

You may need to add additional lines if there is more than one frequent post type. To do this, highlight the row you want to add to, right click your mouse and select
Insert:
You can continue repeating this process for each of your competitor's social channels.
Record The Media Type
You may notice another tab in your spreadsheet entitled
Media Type.
This is a section in your report where you can keep track of every content type that your competitors are using on each of their social channels. The initial list that we put into this template was:
Blogs
E-Books
Reports
Videos
White pages
Podcasts
Landing Pages
Articles
Infographics
Quote Graphics
GIF's
Check off each media type as it appears on your competitor's profile:

Determine The Voice And Tone Used On Each Channel
Another part of your
content strategy
 analysis will be seeing what type of voice and tone your competitors are using on their social channels. Aren't voice and tone the same thing? No, while they are similar there are subtle differences that need to be identified.
Voice: Overall brand personality. Voice can be developed and described many different ways although a common practice is to summarize it in three adjectives that encompasses how the brand sounds overall.
Tone: Tone is emotional or feeling that a brand puts behind it's voice and it will change depending on the context and content of the post.
As you're scrolling through competitor's posts, take note of how their posts sound. Are they professional like Microsoft:
Part of the hip crowd like MTV:
Or family friendly like Disney:
Once you have their voice and or tone determined you can record it in your spreadsheet:
Are you analyzing your competiton's social media voice and tone?
Click To Tweet
See What's Connecting With Their Audience
The next part of your research process is going to be determining what post types are connecting with their audience. Because this can be a subjective process, you need something that will help create an even scale across all channels and competitors. Use a rating system to help keep that consistency:
1 - No interaction.
2 - No more than 10 likes, comments, or shares on the post.
3 - Average amount of interaction on the post, that falls into their usual range.
4 - At least 20 likes, comments, and shares on the post. This is above average for their normal interaction.
5 - At least 50 likes, comments, and shares on the post. This is way above average for their normal interactions and you can tell that their audience really connected with this content.
It's important to note that these initial numbers are subjective and you may need to adjust them based on how large your competitor's audiences are. Rank those post types for each channel your competitors are on:
How Does Your Strategy Compare?
The last part of your content strategy section is going to be conducting an analysis on what your competitors are doing on social vs what your brand is doing on social. The first question you need to answer in this analysis is what are your competitors doing with their strategy that is the same or similar to yours? By asking this question, you're able to see if your competitors are leading in that approach or if your team is. Which leads into the next question your team needs to answer. What are your competitors doing differently than you? This is a two part question that your team should be able to answer:
Is what they're doing differently connecting with their intended audience?
If it isn't working, how can you avoid falling into that same trap?
The final question your team should be able to answer from this analysis is based on what you have seen from your competitors, what can you do to improve your social strategy? There is space in your template to record the answers for each of your competitors:

To Do: Study your competitor's content strategy and look for ways to improve your own based on the results that have been collected.
Step Seven: Track Engagement Metrics
The next step in your analysis is recording engagement metric averages. Engagement metrics are things like, likes, comments, shares, retweets, reposts, and more. These tell brands how often their content is connecting with their audience in some way shape or form. Many of these metrics can be gathered by hand, but if you want to save your team some time, Simply Measured or Rival IQ may be good options.
Track Their Followers and Their Follower Growth
One of the first engagement metrics that your team needs to track is followers and follower growth. You can record these manually. Go to your competitor's social channel profile and locate their current follower number:
Facebook:
Twitter:
Instagram:
LinkedIn:
Pinterest:
Google+:
In your report template there is a section for each social channel to help you keep track of that data:
The username in your spreadsheet refers to the handle name or tag that a company uses on that social media channel. This number would go in the
Current Number Of Followers
column in your spreadsheet. Then depending on how often you're checking in on your competitors (once a week, once a month, etc.), you'll be able to see an updated number. The difference between those two will be your
Follower Growth
. Every tool that was talked about at the beginning of this post will track follower growth for you automatically, making it easier to grab that data and keep going. After you have gone through each channel and each competitor you have one more column to fill out. Back in the introduction tab, there was a column labeled
Audience Size (All Networks):
To fill in that tab add up the total number of followers your competitors have across all of their social channels. This is the size of their network.
Count The Interactions On Different Post Types
The next part of your engagement analytics will be focused on the likes, comments, and shares that different post types get across your competitor's social channels. Collecting that data allows your team to observe what post types are creating more of a connection with your intended audience. So how do you do this? You can track these stats manually by going back through your competitor's profiles and looking for likes: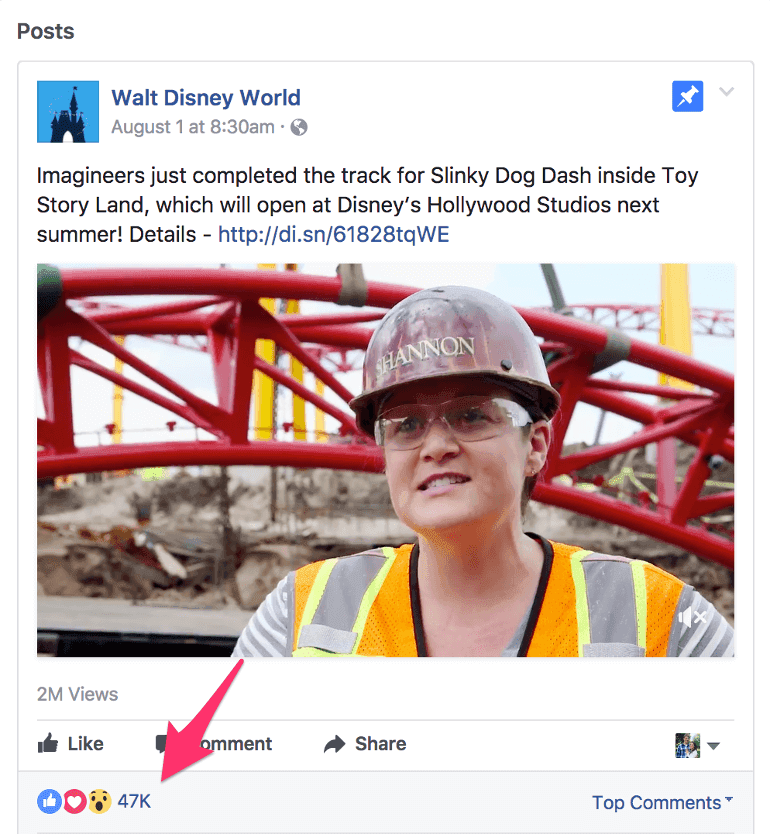 Comments: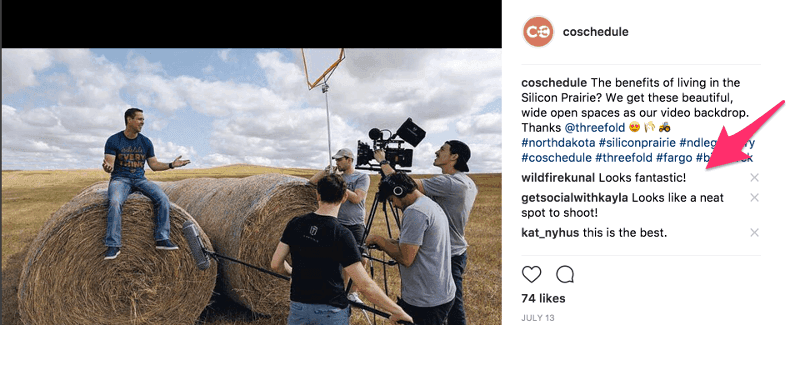 And shares: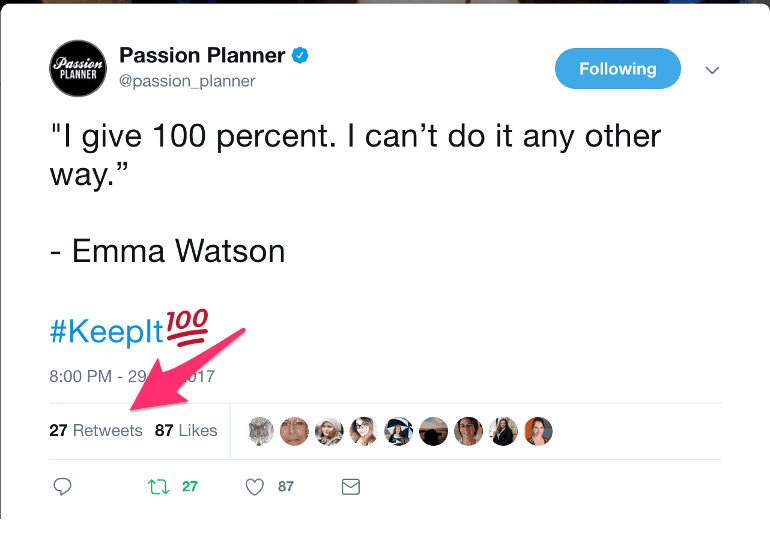 By tracking these things within your timeframe, you'll be able to see what post type is connecting with their intended audience. However you can have tools like
Simply Measured
 pull engagement data from your competitors post for you, so if you're looking to save your team some time, think about investing in a tool.
Once you have gathered your data your report should look something like this:
To Do:
Gather follower data manually or with a tool and place it in your spreadsheet. Then, analyze engagement data per post type on each social media channel:
Record observations in changes from previous week or month.
Step Eight: Interactions With Fans
The last part in your social media competitor analysis is going to be observing how your competitors interact with their fans on each social channel. Much like how engagement frequency was a subjective metric, how often a brand interacts with it's fans is subjective as well. There are three factors that your team should be observing on your competitors social channels:
How often do they interact with fans on their content?
How long does it take for them to respond to questions or complaints?
Do they respond to everyone or just a select few?
Each one of these can be ranked on a one to five scale. Mostly because no one on your team wants to take the time to see on average how many fans your competitors are responding to or how long it takes them to respond. Your team has way better uses for their time. Your scale should look something like this:
You can adjust that scale based on your own preferences and observations. In your template, competitors scores should be on the first line of each channel and does not need to be broken down by post type:
Why is data like this important? According to
Social Media Today
, 70% of consumers have used social media for customer service issues at least once. Meaning that how a brand responds to it's customers on social media is playing a vital role in their overall customer service. Seeing how your competitors are doing allows your team to see what's working and recreate it for yourself, or it allows you to fill the gaps that other brands might be missing.
To Do: Observe your social competitors to see how often and how long it takes them to respond to fans. Decide where you can fill in gaps in your own strategy or begin to update your strategy with other ideas you've observed.
Get Ready To Plan And Execute Your Strategy With CoSchedule
Your team is chomping at the bit with ideas. Your strategy is updated and you are ready to go toe-to-toe with your competition. Let CoSchedule be the tool to help you execute that strategy with ease. With
Social Campaigns
:
Social campaigns
 allow your team to schedule your social media messages in bulk, avoiding the pain in the butt process of having to schedule them one by one.
Best Time Scheduling
: Curious about what the best time to post on social media is? Are you sick of looking up the same blog over and over again because you forgot? CoSchedule takes care of all of that for you with
Best Time Scheduling
:
And
ReQueue
:
ReQueue
 helps automate your social media posts by filling in the gaps in your schedule with your best content.
We can help make sure that your company stays on top by posting the best content at the optimum times for the maximum amount of exposure.
Schedule a

demo
 and see what CoSchedule can do for your social media marketing.