Organize Your Marketing In One Place With The CoSchedule Marketing Suite
Headline Analyzer
The blog post headline analyzer will score your overall headline quality and rate its ability to result in social shares, increased traffic, and SEO value.
Test every headline before you publish. Try the Headline Analyzer »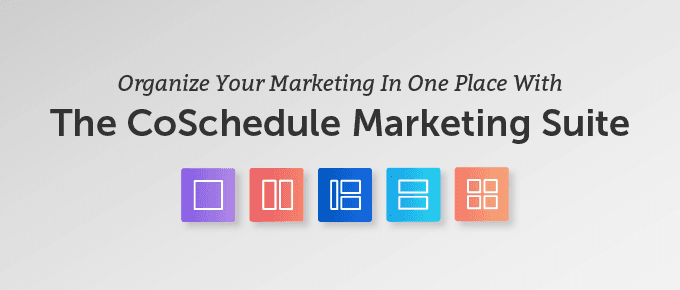 Thousands of marketers have told us they need to get more work done. In less time. To prove their value to stakeholders. All with fewer people to do it.
So marketing teams adopt new technology and processes to make sure they can keep up and meet those expectations.
But in reality… this causes a lot of problems and frustrations for marketing teams. Why? Because their tools and teams are disconnected, which forces them to coordinate their work rather than completing it.
In short, being disorganized prevents marketing teams from influencing results.
And that's a problem. One we call "Makeshift Marketing."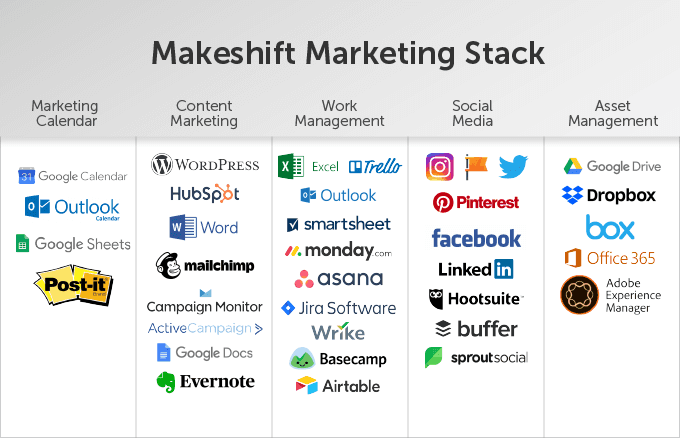 This disconnected process makes it nearly impossible for marketers to keep priorities in order and stay focused on strategy.
Until today.
Introducing The CoSchedule Marketing Suite
We're excited to introduce you to the ultimate solution to your makeshift marketing problem….
The best way to publish more work, complete work on time, and prove your value to stakeholders…
The only way to organize your marketing in one place…
The CoSchedule Marketing Suite!
The CoSchedule Marketing Suite is a family of agile marketing tools to help you stay focused, deliver projects on time, and make your team happy.
Hit Play to get all the details. 👇
With the CoSchedule Marketing Suite, you'll finally have a single source of truth for all marketing activities from your organization's marketing teams.
The Marketing Suite includes our entire family of agile marketing products.

Visualize every project in one collaborative, real-time marketing calendar. With your marketing calendar, you'll gain insight into how your marketing projects interact, overlap, and support your company goals at a glance.

The Content Organizer is content marketing software designed to drive strategy and growth. Plan, create, and publish your best marketing ideas while integrating with your favorite tools like WordPress, HubSpot, MailChimp, and Campaign Monitor.

The Social Organizer is an all-in-one social media management platform. Schedule, plan, publish, automate, engage, and measure – using CoSchedule.

The Work Organizer is team collaboration software to manage and automate your team's workflows. So you can complete projects on time, collaborate without meetings, and optimize your team's priorities to maximize your team's productivity and output.
Maintain control of your brand assets and quickly find the files you need to get work done using an asset library designed for marketing teams.
And to seriously help you organize everything in one place, we built new functionality into CoSchedule.
Here's a breakdown of our two newest additions.
Engage With Customers Using Social Conversations Inbox
The Social Organizer now includes one of our most requested features—Social Conversations Inbox. This makes the Social Organizer a complete social media management platform. 🎉
With Social Conversations Inbox, you can talk to your customers across your Twitter, Facebook, and Instagram from a single inbox—without leaving CoSchedule.
Introducing…The Asset Organizer
Organizing and maintaining an accurate, up-to-date file library can feel like a full-time job for marketing teams (especially designers, amiright?).
The last thing you want is for sales, HR, and other internal teams to be sharing outdated or off-brand content.
Which is why we've added an entirely new product to our lineup—the Asset Organizer!
The Asset Organizer helps marketing teams maintain control of their brand assets and quickly find the files they need to get work done.
Finally…You Can Organize Your Marketing In One Place
When you bring all of the Organizers together, the CoSchedule Marketing Suite is a complete marketing project management solution.
In fact, Gartner recognizes CoSchedule as the most complete agile marketing solution on its Magic Quadrant for Content Marketing Platforms.
Of course, you can also build a custom solution for your team.
Need a solution for social media management? Purchase the Social Organizer. Looking for a project management tool built specifically for marketers? Purchase the Work Organizer. Need a source of truth for both social and work management? Purchase the Social Organizer and the Work Organizer.
Our experts will show you how to build the perfect solution for your team.
To truly solve Makeshift Marketing, you'll want the CoSchedule Marketing Suite. It's the only way to get your marketing organized in one place.
And that's important. According to the 2019 State of Marketing Report, the most organized marketers are 397% more likely to report success than their peers.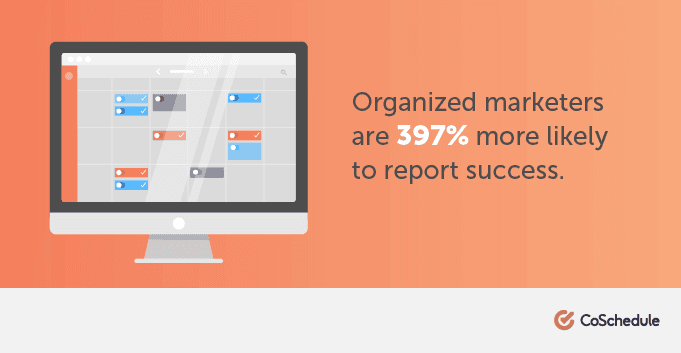 Which should come as no surprise. Makeshift Marketing causes marketers to spend 48% of their workweek in meetings, following up with emails and managing work – instead of actually doing it.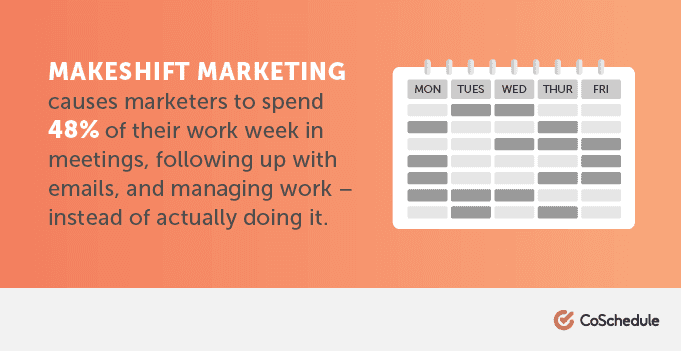 But it doesn't have to be that way. CoSchedule has helped marketing teams complete up to 125% more work with the same amount of team members, maintain on-time task completion rates of 90% or more, and prove the value of marketing to stakeholders with visibility into everything.
Schedule a demo or start a trial of CoSchedule today to see how getting organized can improve your team's output, help you stay focused, deliver projects on time, and keep your team happy.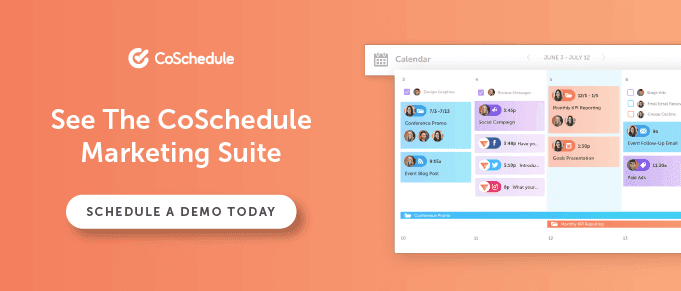 June 24, 2019