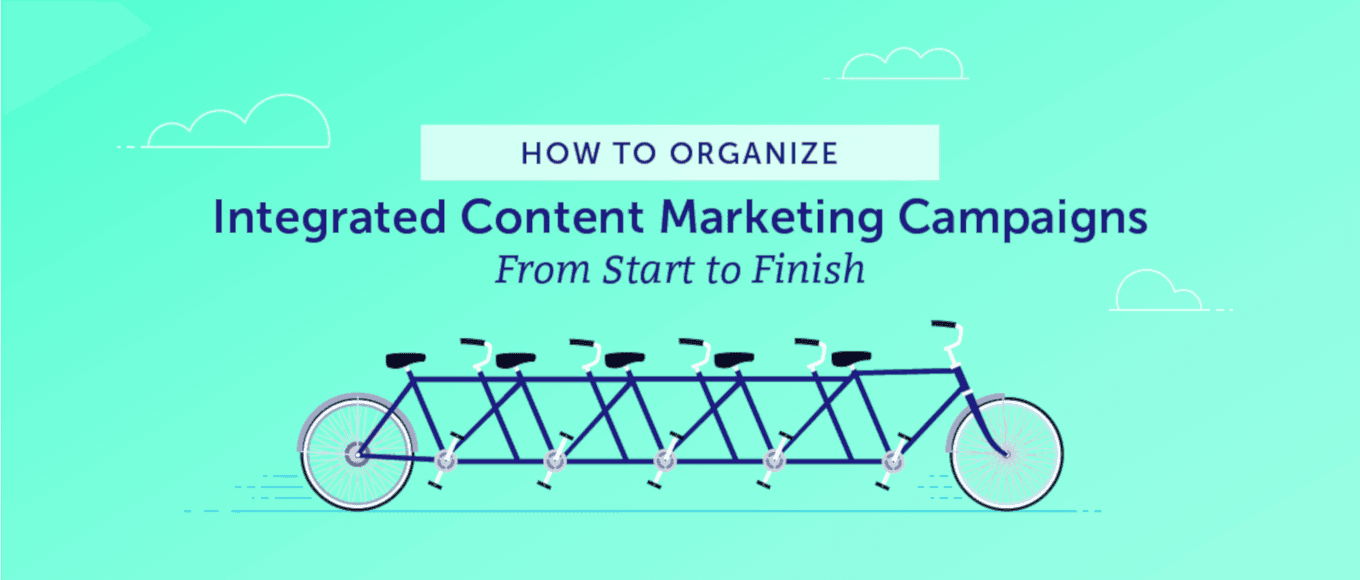 Successful content marketing doesn't happen in a vacuum. It takes multiple channels working together to attract audiences, deliver value down the funnel, and turn visitors into customers. Over time, those customers might even become loyal brand advocates.
That's the dream, at least. So, what might stop marketers from achieving it?
Campaigns can fail for any number of reasons, but content marketing as a whole is liable to fall short when channels are siloed, and isolated from clear business objectives.
If that sounds like your current approach to content marketing, you might be guilty of committing what Mark Schaefer calls "random acts of content," cranking out pieces that aren't connected to an actual strategy that can drive meaningful business growth.
You can avoid this trap by planning integrated campaigns that smash silos and create consistent content experiences for your audience. In this post, you'll learn how to get the most from your content marketing by bringing it together with other channels and tactics to amplify its strengths.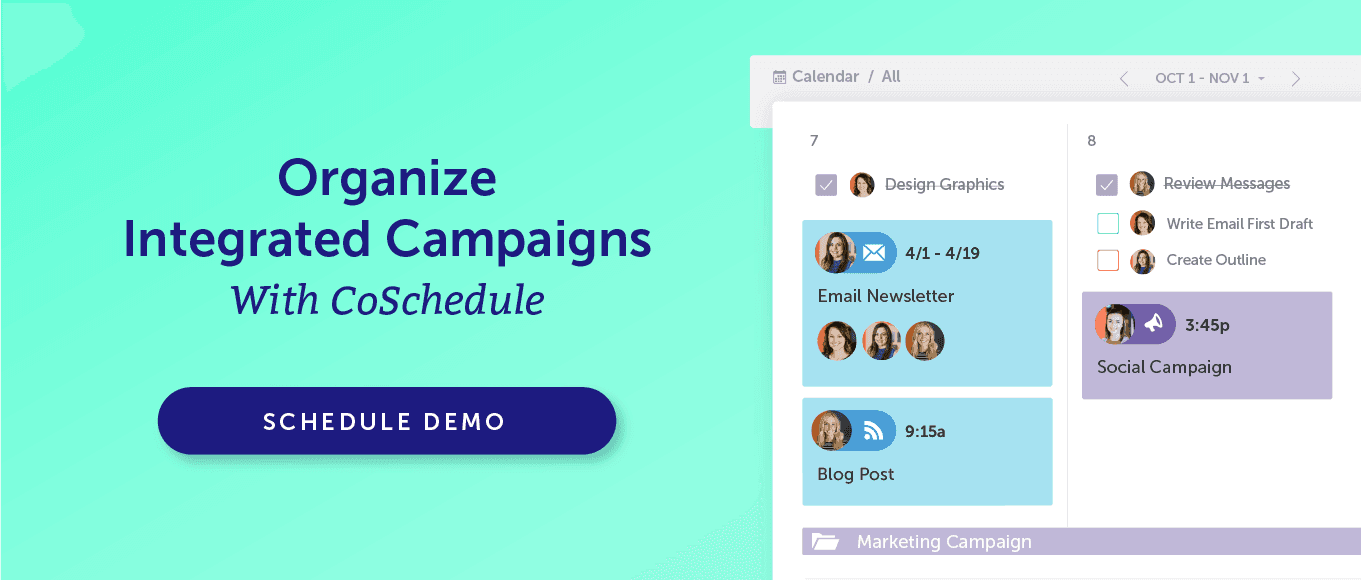 CoSchedule Features Referenced in this Post:
Marketing Calendar
WordPress Integration
Social Media Integrations
Email Service Provider Integrations
Kanban Project Dashboard
Team Management Dashboard
Task Templates
DOWNLOAD: Content Marketing Calendar + Checklist Templates
This post outlines a process that works well when organized within CoSchedule (a full suite of marketing software products made to make marketers more organized). What do you do if you're not a CoSchedule customer though? Use these downloadable templates:
Editorial Calendar Template

: Plan out every piece of content in the campaign.

Content + Promotion Checklist Template

: Make sure everything gets done with this checklist.

Marketing Task Management Checklist

: Plan and organize workflows for every content piece.
Each of these will help you get started applying this advice and keep all the moving parts of your campaign under control.
Why Should Content Marketing Campaigns Be Integrated?
According to Altimeter Group, "70% of marketers lack a coordinated or integrated content strategy." Other research shows that multi-channel campaigns are three times more successful than non-integrated campaigns. Those numbers together suggest there's opportunity for marketers who will do what others won't (or can't) achieve.
Plus, consumers use multiple channels to research products. In fact, they use an average of six touchpoints before making a purchase.
However, while the data shows that integrated campaigns are often more successful, not all marketers are necessarily taking advantage of this approach. That creates opportunities for you to do what others won't.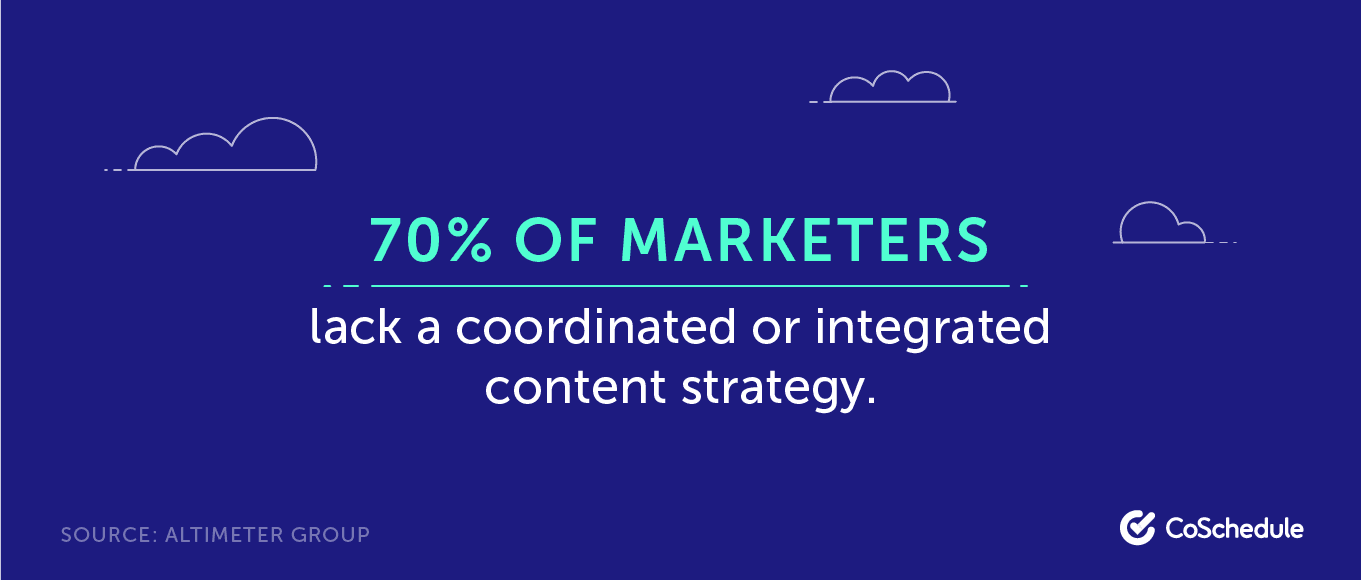 Get Your Team on the Same Page
Delivering a campaign with consistent messaging and branding requires a lot of helping hands all working toward one goal. To make this happen, start with a kickoff meeting to get everyone on the same page.
In a small enough organization, this might be fairly simple. Book a conference room, prepare a basic PowerPoint presentation, and work through ideas for the campaign.
This might get a bit more complex with larger marketing departments, which may be broken up into multiple sub-teams. But the idea is the same: giving your team an opportunity to discuss the campaign before it kicks off (rather than being handed their pieces after someone else mapped it out).
Establishing a Campaign Goal
Each channel in your campaign will likely be measured by its own metrics. However, the entire campaign should work toward one single goal. This single overarching KPI should drive the messaging and execution of each piece, so your campaign is truly integrated around a clear objective.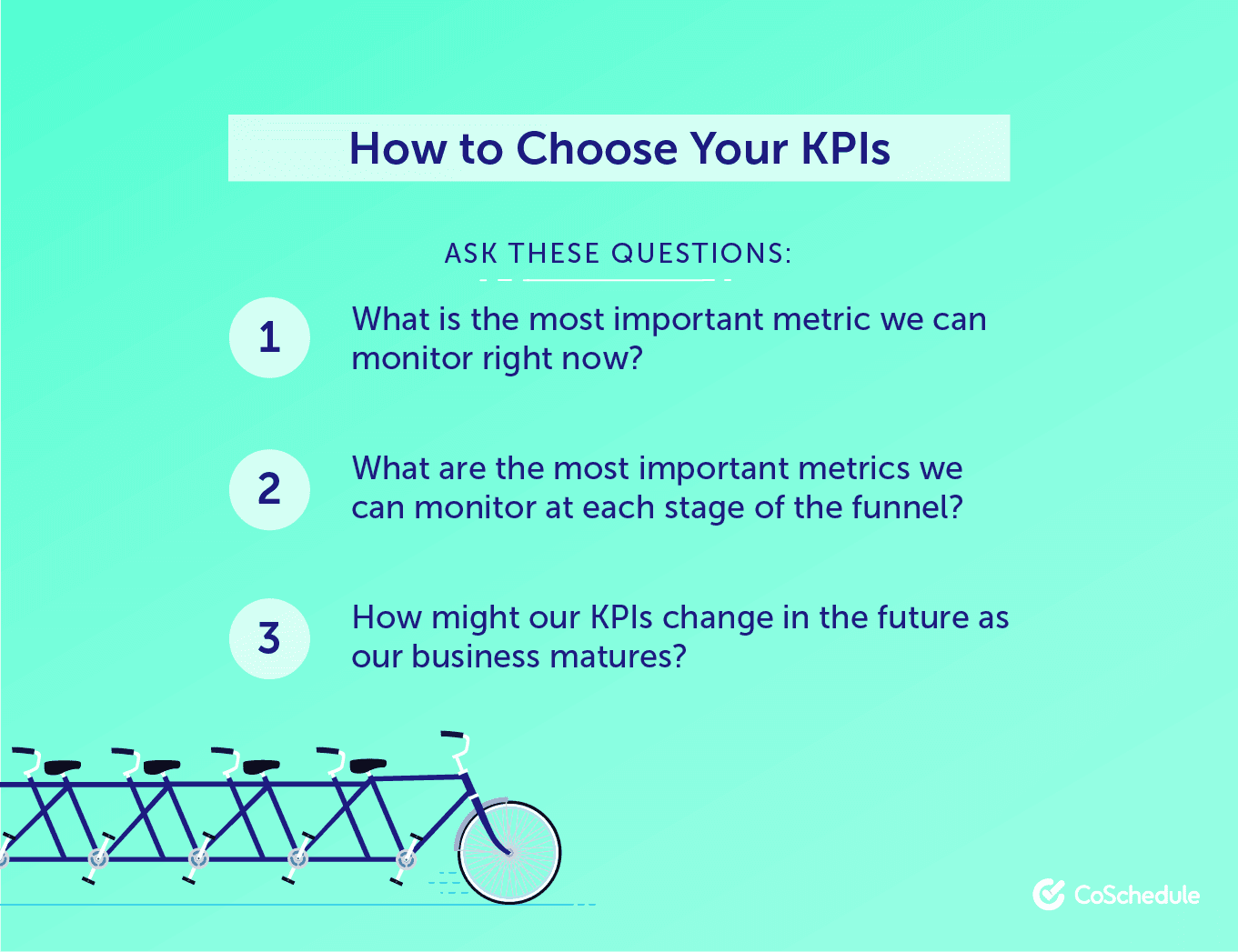 Next, Establish Your Message
What's the most important brand message you need to communicate right now? That's a big question, and the answer should be the focus of your campaign.
Here are some concrete concepts your campaign might promote:
Your newest product, feature, or service offering.
A behavioral change you want your audience to act on.
An idea or issue you're seeking to change public perception around.
Whatever the case may be, your integrated campaign should revolve around one message that advances your goal. The way that message is presented should be tailored to fit each channel and platform your campaign touches, but you're still promoting just one idea.
What's Your Unique Value Proposition?
Your campaign's message should be narrowly focused on communicating one specific idea, benefit, or solution. That message should be driven by your unique value proposition.
In plain English, this means figuring out what you're promoting can offer that no other solution on the market can. Each piece of content in your campaign will then focus on solving relevant problems while positioning your brand as the most trusted source on the topic.
Start by answering a few basic questions:
Why would someone care about what we're selling?

What problems does this product or service solve?

How are we uniquely suited to solve that problem?
This is marketing 101, but solid execution of the fundamentals shouldn't be overlooked.
Which Keywords and Topics Are Most Closely Related to Your UVP?
Next, drill into keyword research and uncover which relevant topics and sub-topics matter most. This will help you plan out each piece of the campaign on your editorial calendar following the hub-and-spoke content model.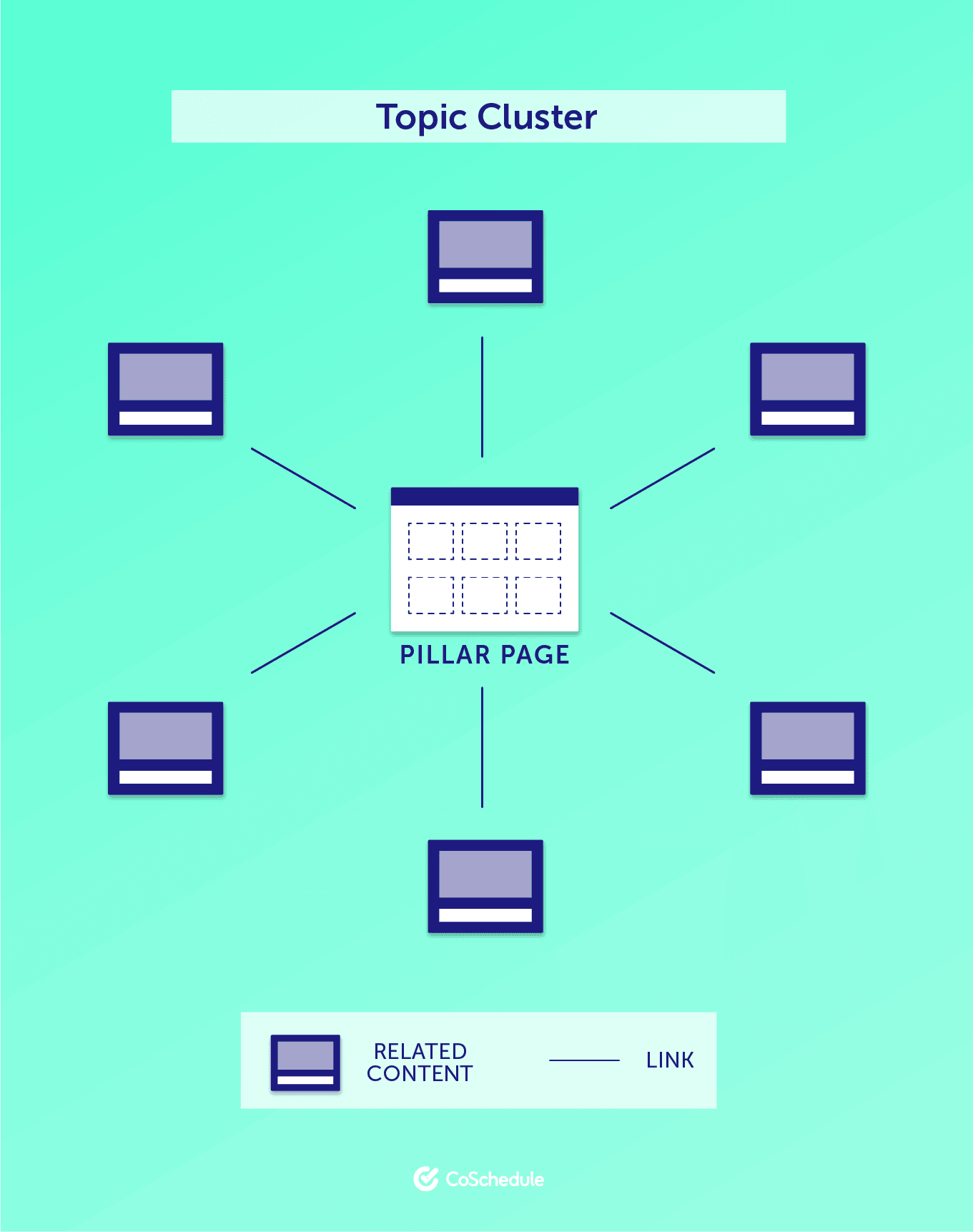 Here's how creating a topic cluster works:
One large-scale pillar piece of content covers a broad topic.
This pillar links out to several more concise pieces that cover specific subtopics.
Each piece can then be promoted collectively or independently.
This approach has several advantages:
It creates an expansive knowledge hub that addresses an entire topic. This is much more resourceful and helpful than cramming everything into one blog post.
Each piece can attract traffic, backlinks, and social shares, amplifying not only each individual piece, but the hub as a whole.
People want content that addresses their needs the best, and search engines want to serve them that content. This is a great way to serve both ends.
To find the topics and sub-topics your campaign should target, start with a keyword research tool. For demonstration purposes, we'll use Ahrefs (since this is what the team at CoSchedule uses).
Enter a phrase, topic, or keyword: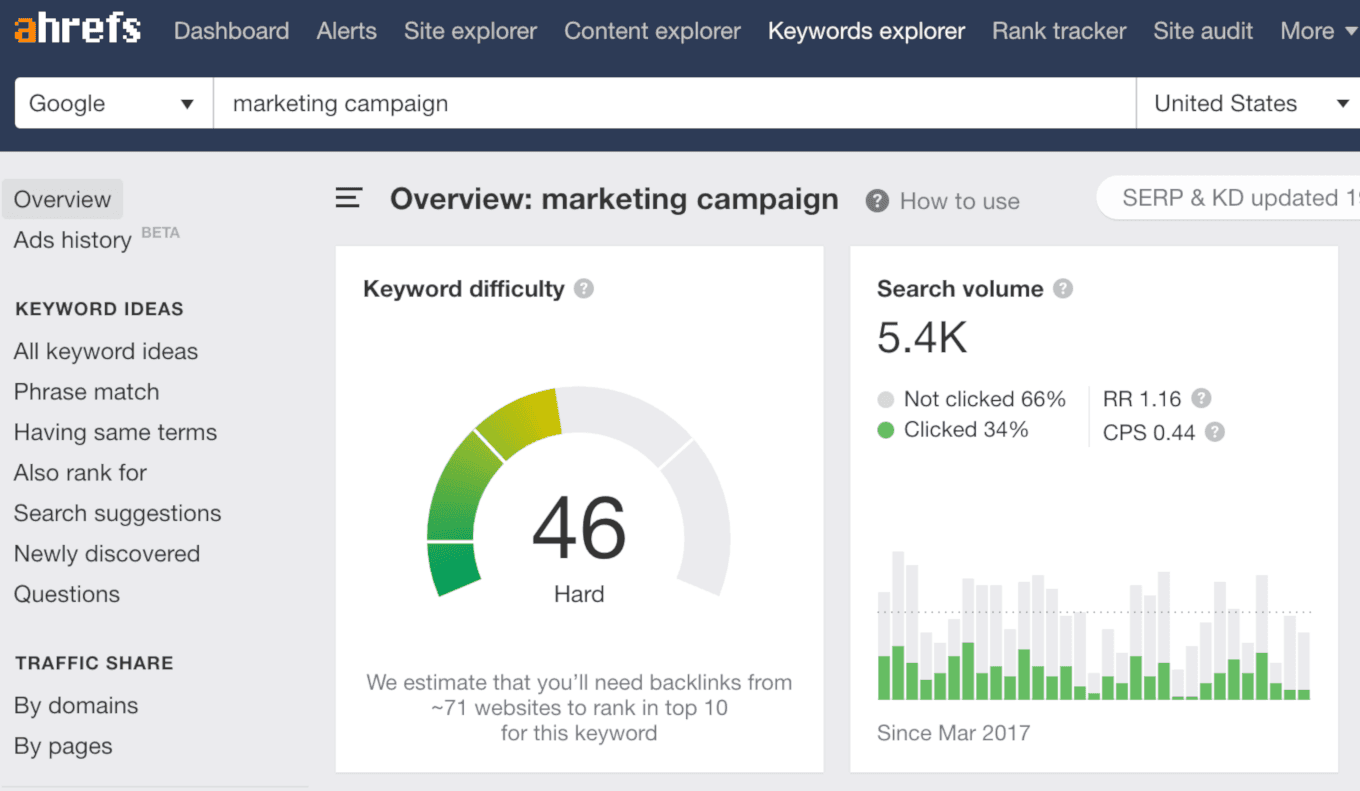 Then, take a look at related keywords (most keyword tools have this functionality, or something similar):

Next, plan on publishing a piece around your primary topic. Determine which sub-topics should belong on that same page, and which ones would be best served by their own posts. Plan each of these on your marketing calendar.
Choose Your Channels Wisely
Research shows that campaigns utilizing four or more channels are correlated with 300% greater success.
Now, your campaign doesn't need to touch every channel possible. It just needs to leverage the strengths of each channel that makes sense, and that you have the resources to properly invest in.
Typically content marketers will publish something on their blog or website, then share the link with their social media followers and email list. Next, they'll call it good, and move onto the next piece.
But, what if you're creating something more longform or resource intensive like an ebook or white paper? Would you promote something like a video the same way? Could paid advertising, email outreach, or PR help amplify your content as well?
Filter your options by starting with a few (more concrete) questions:
Where should the primary piece of content in this campaign live?

 A content marketing campaign will most likely have one primary piece of content (a hub) and several supporting pieces of content (spokes).

For the sake of this post, we'll assume this is the approach you'll take

.

Which channels is our audience present on?

 If you publish or share something somewhere, be sure it'll get in front of the right people.

What can we do to maximize reach and minimize resources?

 Consider channels where you can repurpose assets and get the most results with the least effort.
For the sake of example, say you've created an original research project, and you'd like to promote the findings. Here's what the channel selection might look like:
A landing page that hosts a downloadable report.
Organic social campaigns on Twitter, Facebook, and LinkedIn.
Email newsletter placement promoting the report.
Paid ads on Facebook and LinkedIn.
Media outreach promoting unique statistics and findings from the report.
YouTube video breaking down key findings.
Series of blog posts based on various findings.
Incorporating key statistics in other blog posts and content where relevant.
This example integrates content, PR, and advertising, leveraging the unique strengths of each channel to amplify the campaign's impact. However, this isn't to say that every campaign should saturate every channel possible. Focus on those that support the goal established in the previous section.
Managing the Campaign From Kickoff to Measurement
Once the campaign is planned and organized, it'll need to be managed to ensure each piece is completed on time. Here's how to develop checklist-based workflows to streamline the campaign management process and ensure everything goes off without a hitch.
Plan Workflows for Every Project
Each project within your campaign should have a defined workflow. This helps prevent confusion around how work should get done and ensures each step gets completed consistently. In turn, that translates into better results.
This can be as simple as creating checklists for each project and stick to them. Creating them is easy too. Just figure out the following:
What tasks need to be completed to finish this type of project?
How long does each of those tasks typically take?
Who will be responsible for completing each one?
When should each task be finished?
Meet with your team members to develop accurate time estimates for each task and get their input on what's needed to finish each step.
Give Every Task a Deadline
The next step is to assign a deadline to the campaign and a deadline to each task within it. Then, plot those out on a checklist (using a spreadsheet, Evernote, or task management app). If you're creating this yourself, here's a visual guide to follow (this template is also included in the ZIP bundle in this post):
In this example, you'll see columns for the following:
A list of projects for the campaign.
Who is working on each one.
Whether it has been completed.
Any notes on progress that might be necessary.
Alternately, you can do this in CoSchedule using Task Templates.
Plan Each Piece of the Campaign on Your Editorial Calendar
Your editorial calendar is the single version of truth for what your team will create.
Mapping each piece on a shared calendar makes it possible to visualize the entire campaign against everything else your marketing department is working on, so you can see where content marketing fits into the bigger picture. It also makes deadlines clear and eliminates ambiguity around who is doing what, and when that work will be published.
There are multiple ways you can build a calendar, using either a spreadsheet (a low-cost option when getting started) or a software service (the most feature-rich option for efficiency and automation).
For example purposes, here's how to do this with CoSchedule. Here's a look at the Marketing Calendar: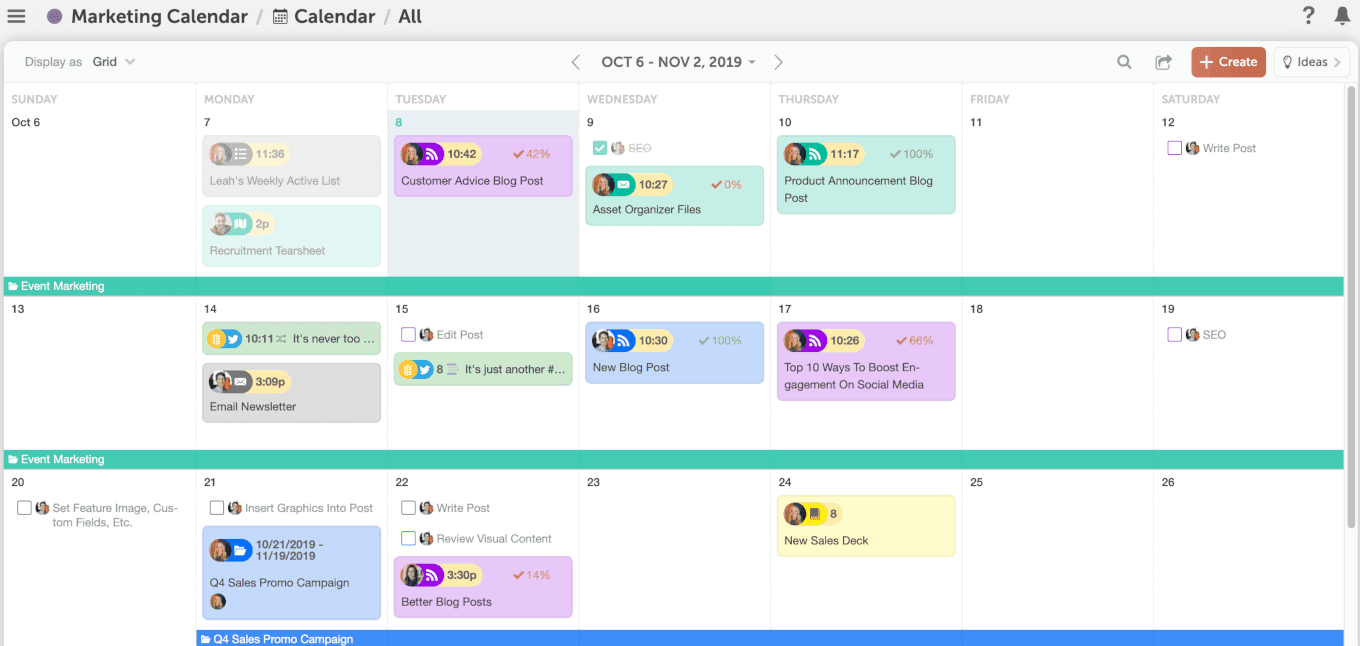 Here, you see a straightforward calendar with several different projects. To add each piece of this campaign, start by creating a Marketing Campaign (these are visualized by the color bars you see in the example above).
To do this, click the + Create button in the upper right. Then, click Campaign: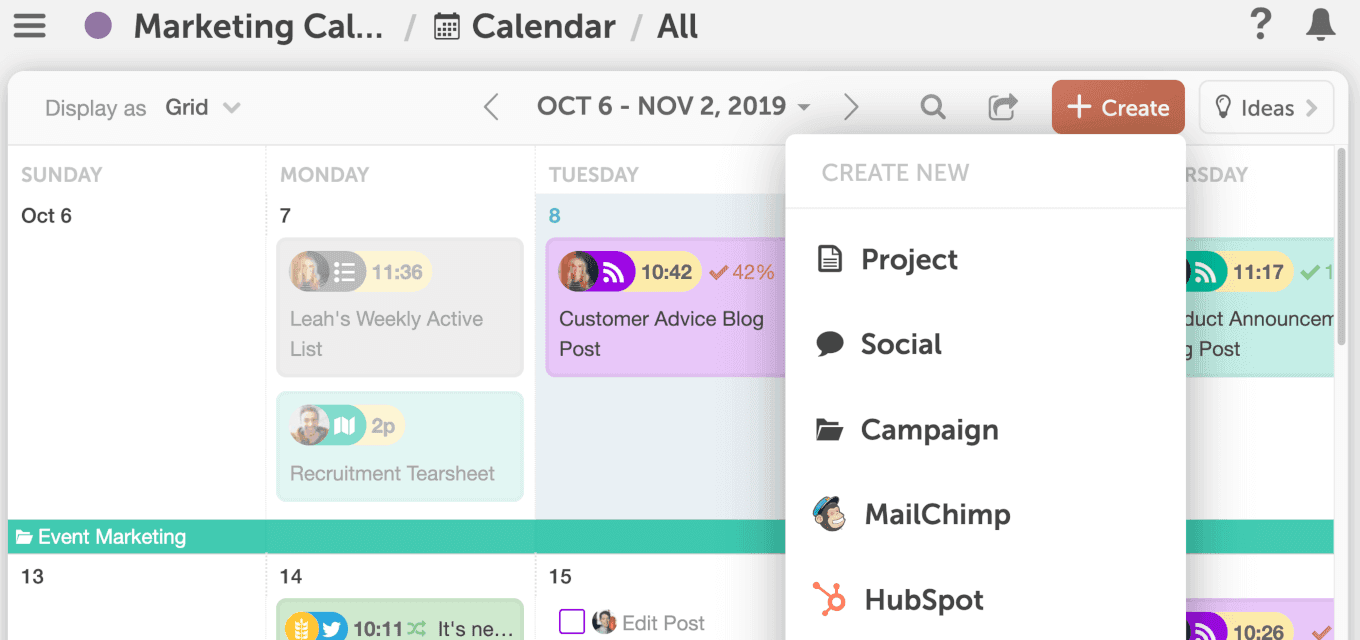 Now, you can do a few things:
Give your campaign a name.
Select a color to make your campaign easy to identify on the calendar.
Set a start and end date.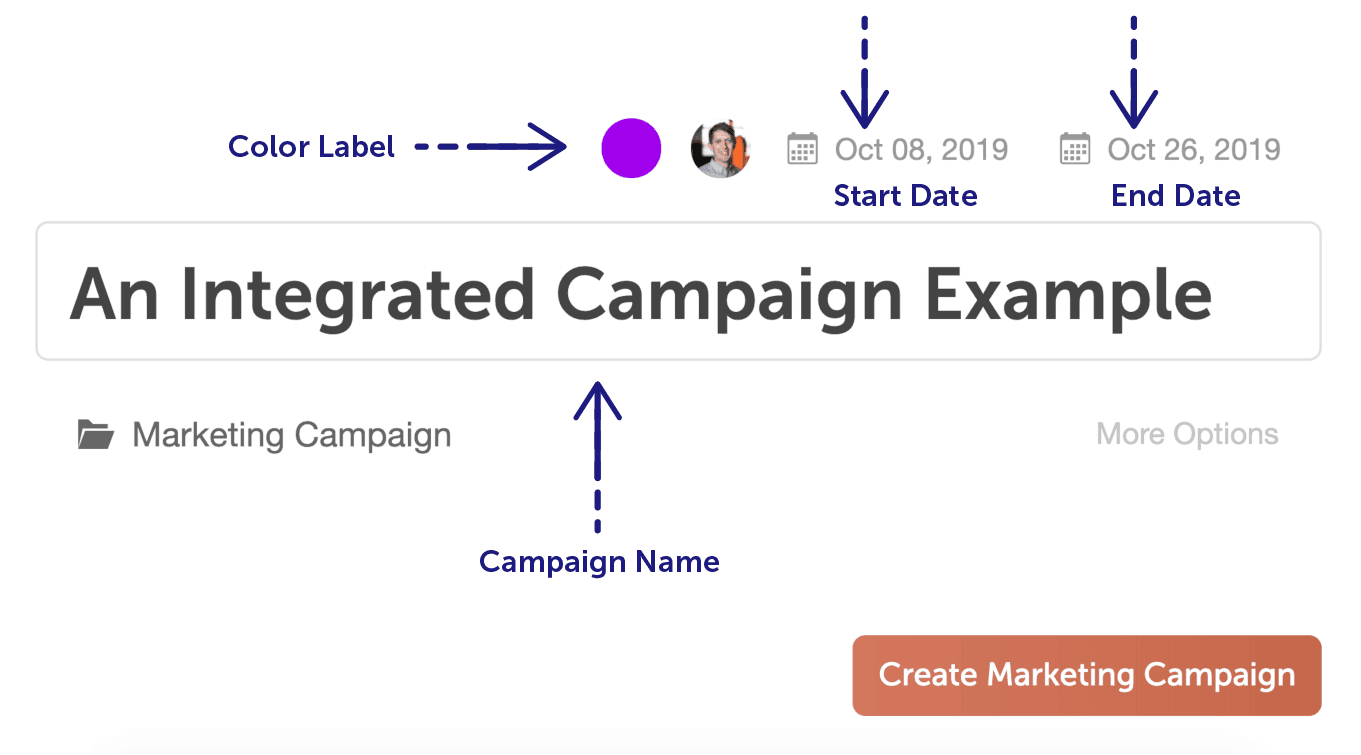 Next, add in each piece of the campaign by clicking on days within the campaign (when you're inside a campaign in CoSchedule, you'll only see pieces associated with that campaign, with everything else filtered out):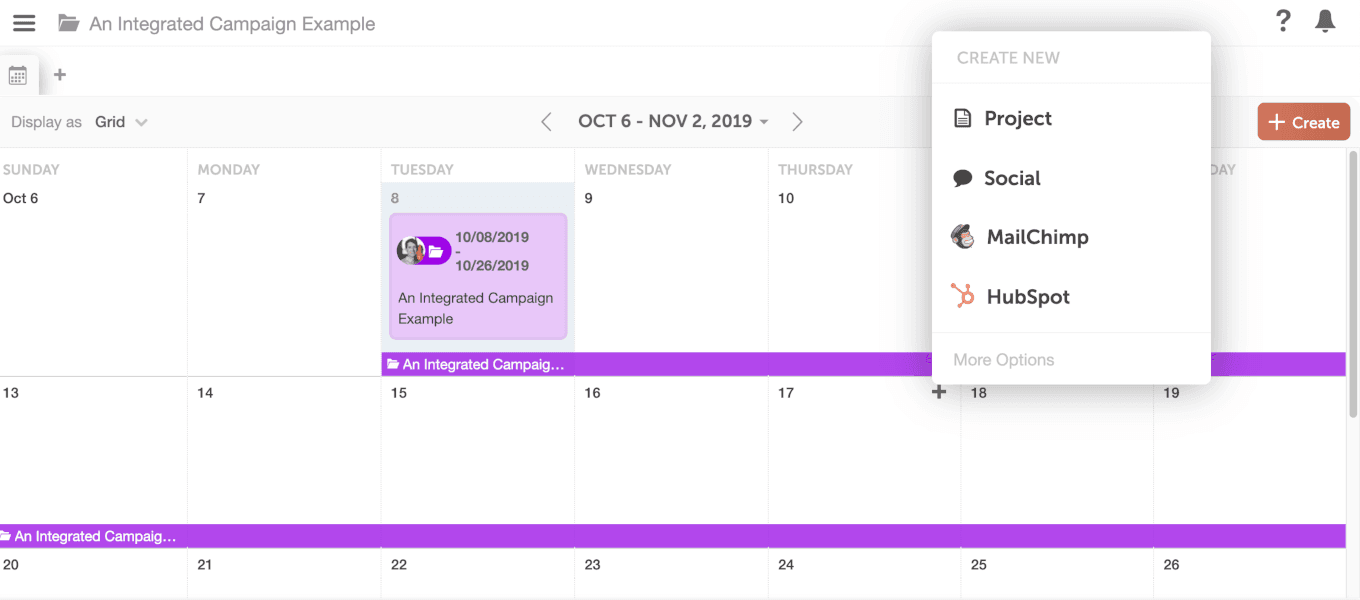 This is the best way to keep every piece organized. Plus, with CoSchedule, you can convert Google Docs into WordPress posts and schedule them to publish automatically alongside social posts and email newsletters (plus, you can manage all your other work and pieces too). All of this will become important in the next section.
Promote Your Pillar and Spoke Content With Additional Channels
Once you have all your pillar and spoke content planned, it's time to plan your additional channels. Refer back to the list that this post mentioned earlier (here's that list of potential channels and tactics so you don't need to scroll back up):
A landing page that hosts a downloadable report.
Organic social campaigns on Twitter, Facebook, and LinkedIn.
Email newsletter placement promoting the report.
Paid ads on Facebook and LinkedIn.
Media outreach promoting unique statistics and findings from the report.
YouTube video breaking down key findings.
Series of blog posts based on various findings.
Incorporating key statistics in other blog posts and content where relevant.
Every one of these pieces can be planned in advance, visualized on your editorial calendar, and managed with work or task management software. If you need help narrowing down which channels might make the most sense, here are some to consider.
Email Newsletters
Email has been enjoying a renaissance lately, and there's a good reason for that. It drives incredible ROI, and it's a critical component for making integrated campaigns tick.
If you have an email newsletter, this can be as simple as dropping a link in a prime position: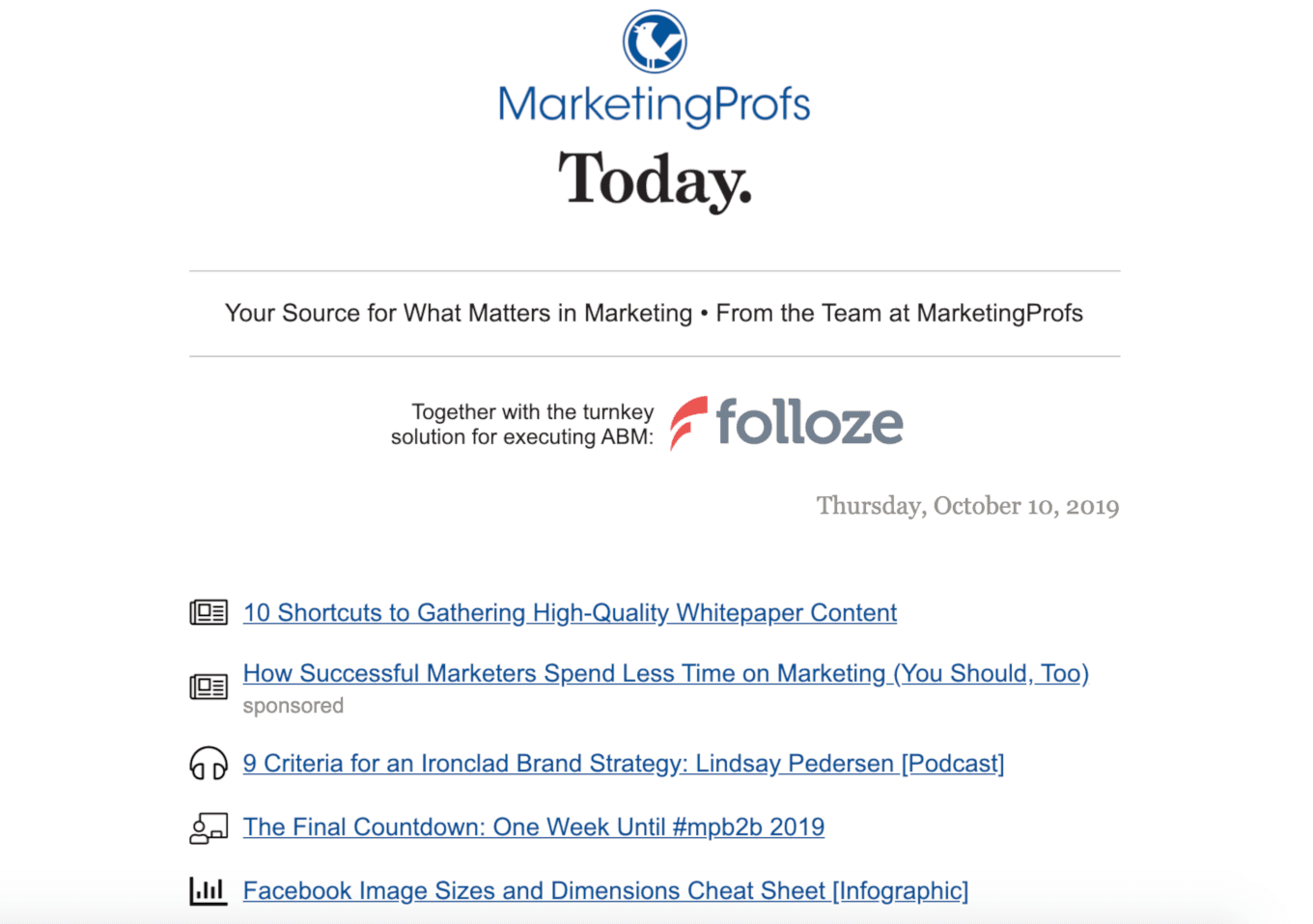 This is no-brainer email marketing, but it's worth mentioning for the sake of being thorough in planning this campaign.
Social Media
Organic social media marketing is tougher than it used to be, and it's only getting more challenging. But it still have value for getting content in front of people.
Create your core content with images you can repurpose on social media.
Mention other companies or influencers in your content, then tag them in social posts.
Reach out to contacts you know via social media (Twitter or LinkedIn) for shares.
PR
This approach works particularly well if you're sharing original research or something else that's newsworthy. Put this into practice by:
Building a list of media contacts who might be interested in your content or story.
Issue a press release sharing key points and information journalists and bloggers would be interested in.
Track mentions of your brand and story across the media.
That's … well, that's how PR works. Nothing groundbreaking here. But how often does PR get used explicitly to amplify a content marketing campaign? Not super often.
This can work though. Take a look at the following example from Backlinko. First, he did a research study that produced some interesting results and wrote a blog post about it.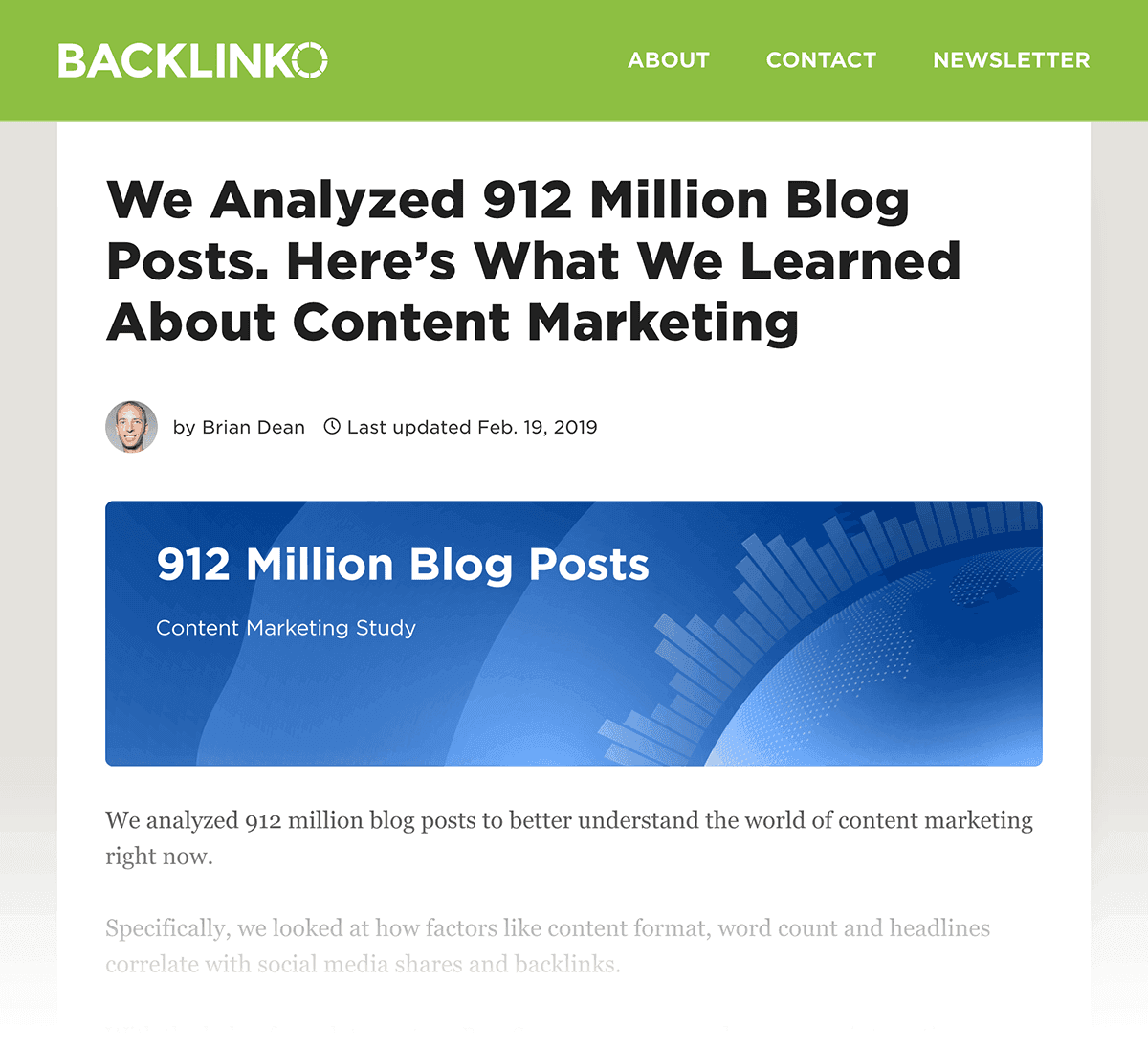 Then, he wrote a press release promoting his research, and distributed it with Cision:
And that got him featured on some big industry publications: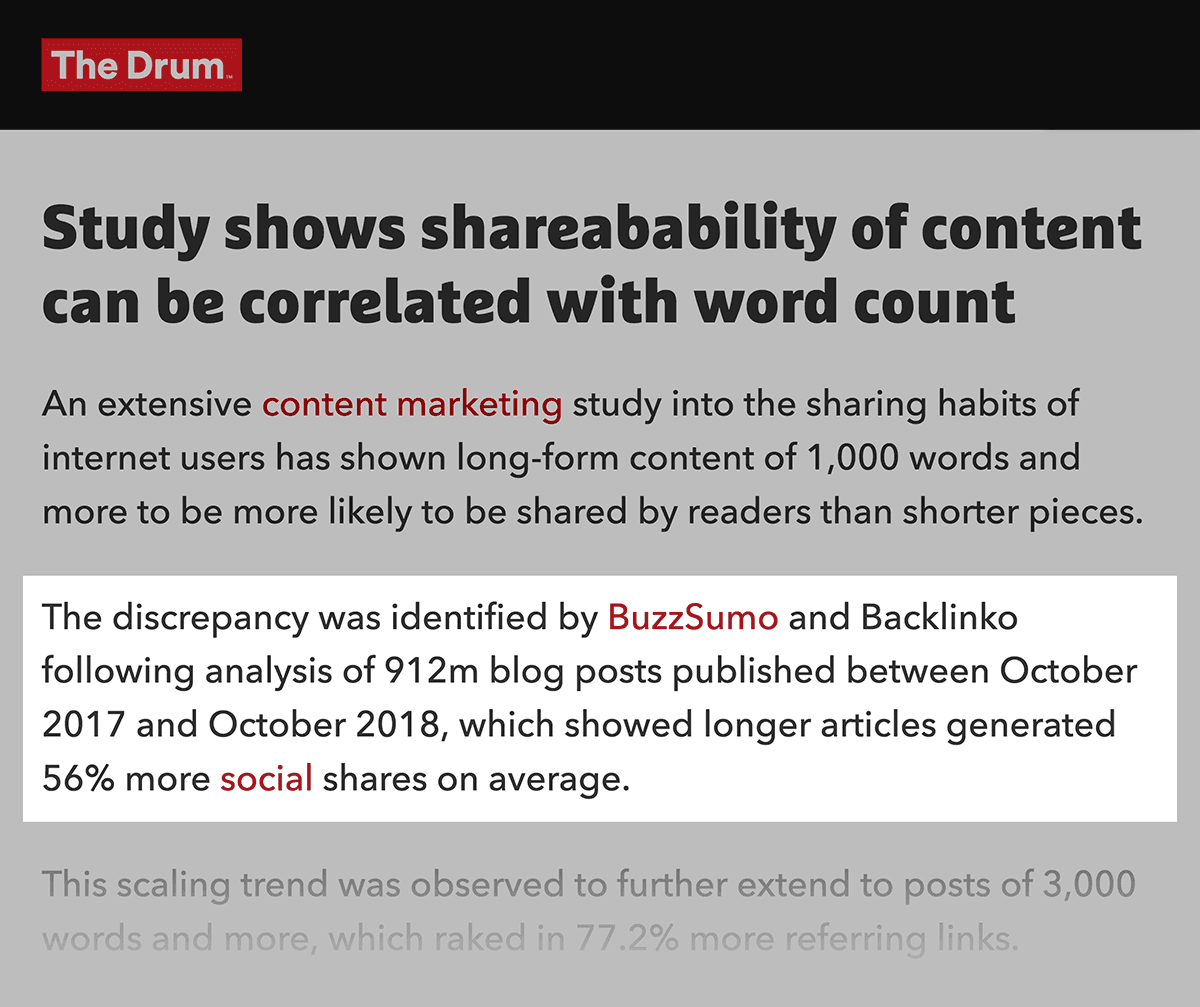 This approach is fascinating because it's 1) nothing new and 2) widely overlooked. It's also not extremely difficult to pull off as long as you have something interesting to share. If you can do research, write a blog post, and write a press release, then you can do this.
And if you can't do those things, these resources will help change that:
Advertising
Digital ads can make a lot of sense for certain types of content:
Sponsored articles
eBooks
Research reports
White papers
In other words, high-effort and high-value pieces that people will naturally want to download.
Here's an example from AT&T published on Quartz and promoted on Facebook: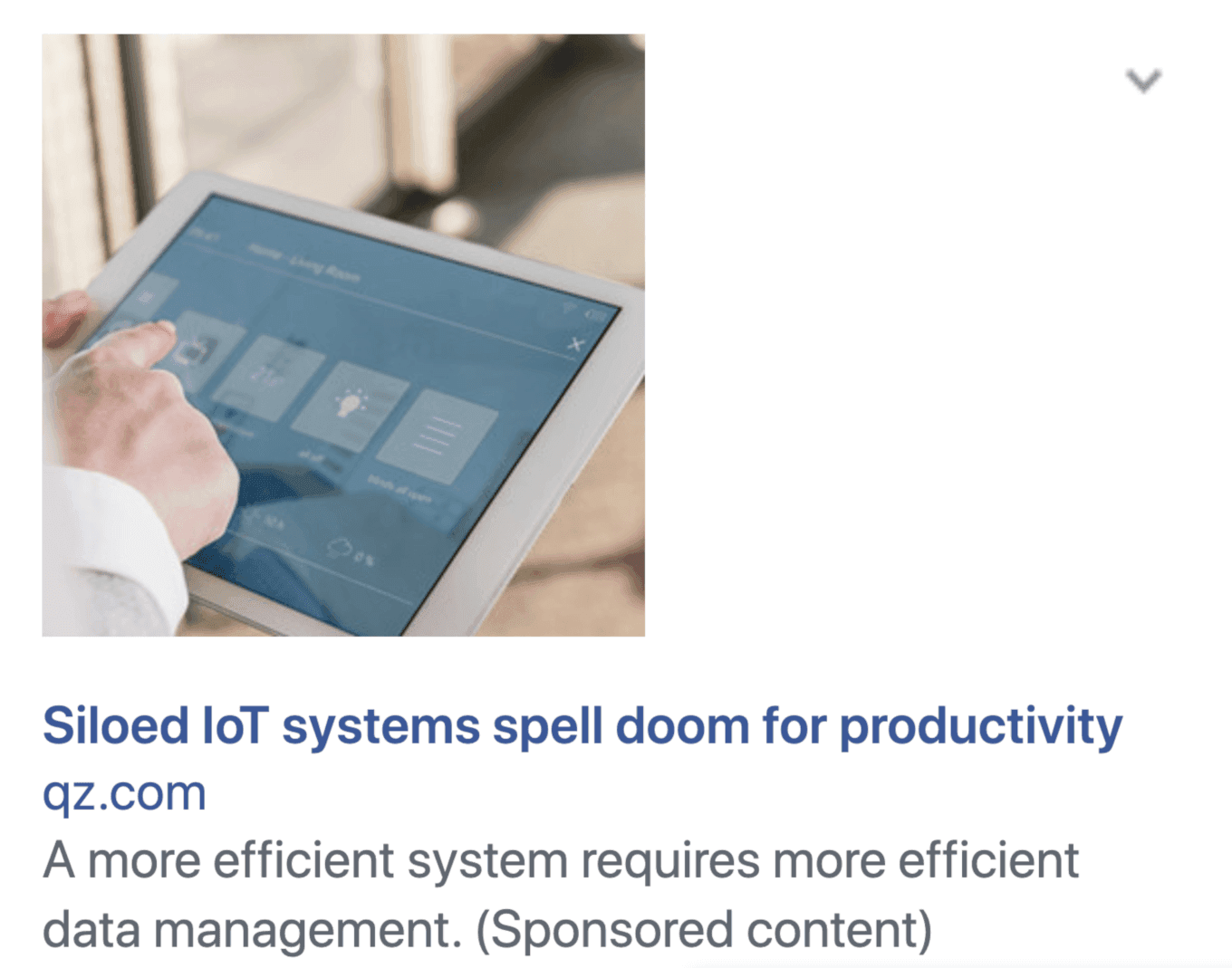 This takes you to a sponsored article with this headline:

If you're investing a large amount in a piece of content and building a campaign around it, paid advertising can be an excellent way to get more attention for it.
Link Building and Email Outreach
In addition to using your email list, consider adding some personalized outreach too. Some opportunities that work well include:
Getting your content added into roundup blog posts.
Placing your content on relevant directories and resource pages.
Contacting companies you've mentioned in your content.
For more detail on how to do link building the right way, check out these blog posts:
Making Work Management Easy Throughout the Campaign
This is a lot of stuff to keep aligned. Effectively managing complex campaigns from start to finish is possible though using the right processes and tools.
Setting Up Projects and Deadlines on the Marketing Calendar
We've taken a look at CoSchedule's marketing calendar functionality earlier in this post. But something we haven't mentioned much yet is setting deadlines.
Here's a simple process for mapping out a campaign deadline for when each piece should be completed and then published:
List every piece of the campaign you'll create.
Place them on the marketing calendar in order.
Set deadlines according to how long each one will take. Follow this guide from Lifehacker on how to estimate time.
Add a day or two to each project to compensate for delays.
Start this process by:
Gathering together everyone who will work on the project.
Explain its goal, purpose, and what's needed from each team member.
Get a time estimate for each piece.
Set up the calendar accordingly.
Simple enough.
Manage Workflows With Checklists
Every project in the campaign should be managed with a checklist. By listing all the steps required to create each piece, you can make sure nothing gets missed, and keep the workflow organized so it gets done accurately and on time.
You can do this with any app you'd like. Here are some options:
Office or Google Suite (using Word or Excel)
Evernote, OneNote, or another note-taking app
CoSchedule, using Task Templates (built-in checklist functionality)
Start by listing all the steps involved in creating a piece. This doesn't have to be exact right away. Just list everything that needs to get done (you can change your checklists as you use them over time to make them more accurate).
Here's an example of a checklist for writing a landing page:
[ ] Write Headline

[ ] Write Body Copy

[ ] Write Call to Action

[ ] Design Landing Page

[ ] Test Opt-In Form

[ ] Publish
Now, let's try creating this with Task Templates in CoSchedule. These are checklists for managing creative and marketing workflows. Here's an example of managing an email newsletter in CoSchedule: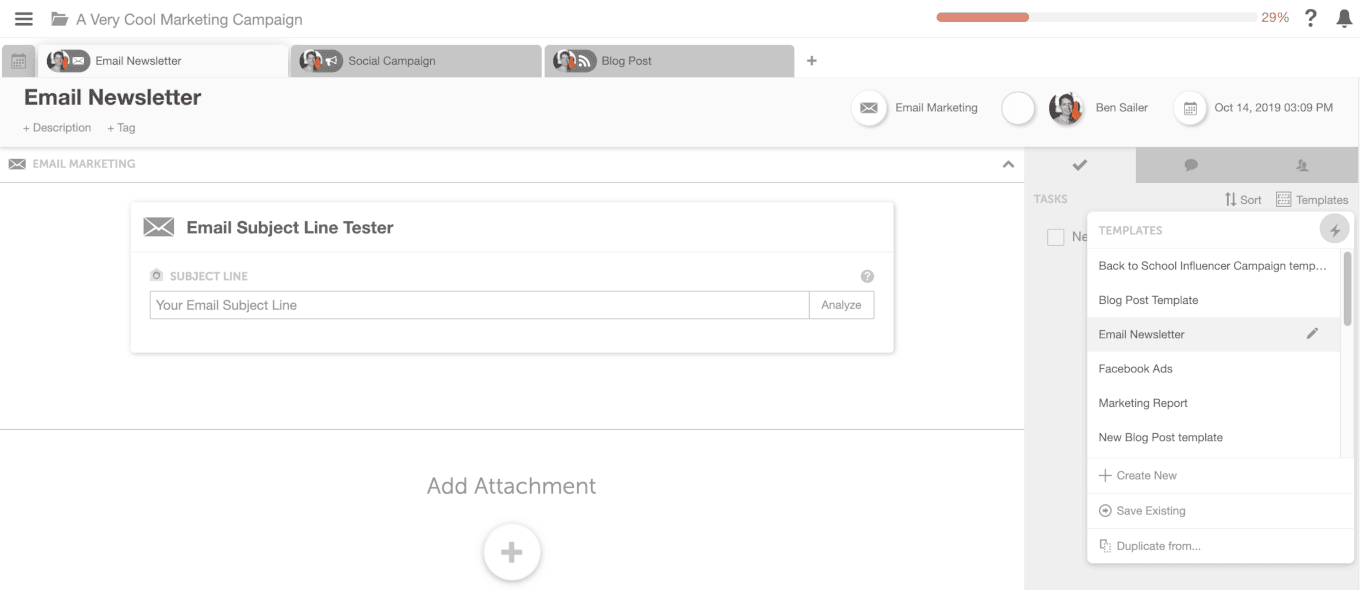 In this image, you can see a couple things on the right:
A button labelled Templates.
A list of templates that have been created.
Let's select the one labelled Email Newsletter (you can create and save Task Templates for every type of project you need):

This will apply the checklist. In this example, we have a few steps for creating an email newsletter:

Now, any time these are checked off, the progress bar will track your completion percentage: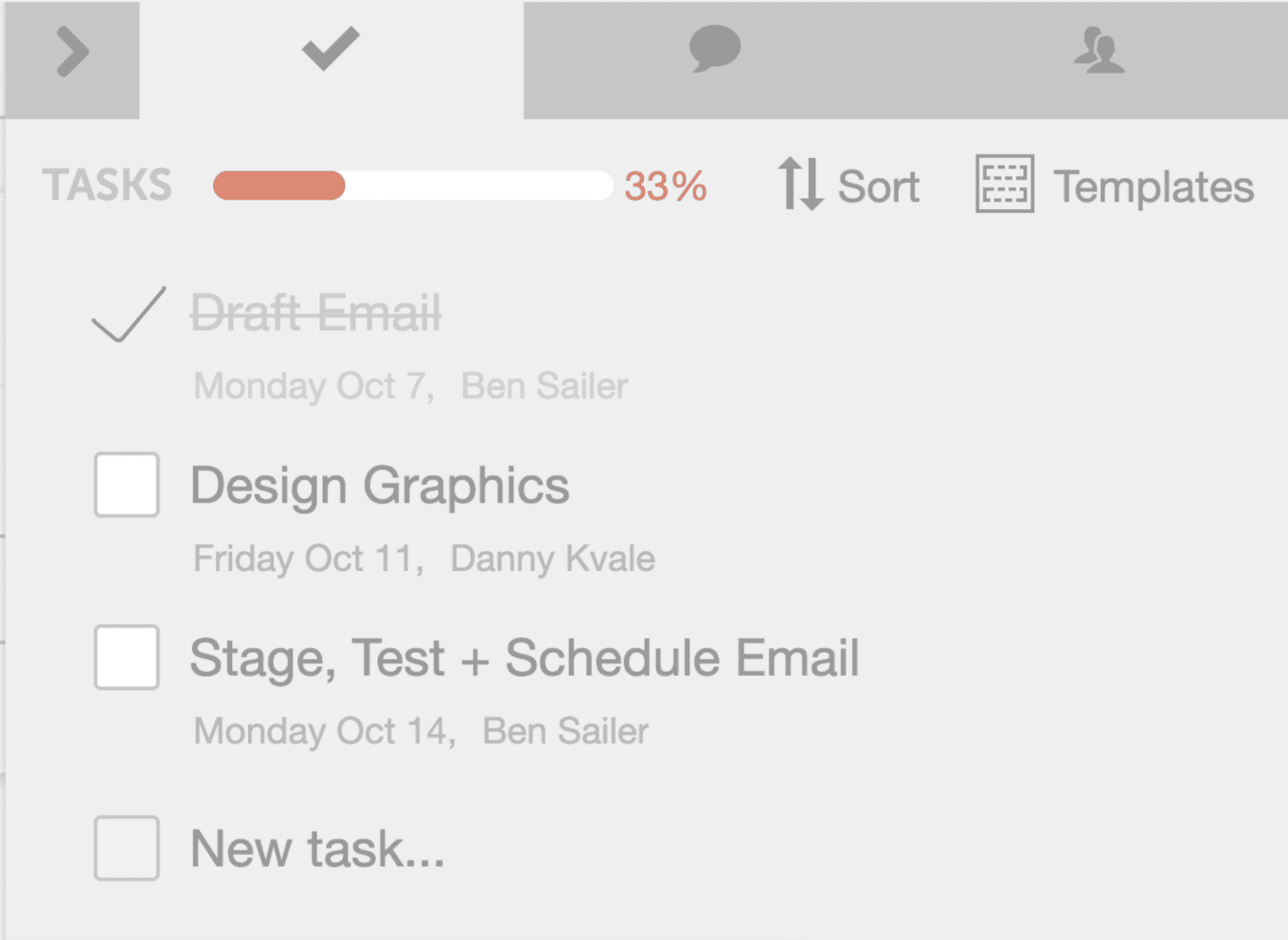 You can also see how close the project is to completion by looking at the calendar:

That's a basic overview of how to map out workflows and manage them with checklists. If you'd like to go more in-depth in this area, we have the following blog posts for you:
Manage Projects on Your Kanban Board
Calendars are excellent for lots of things, but when it comes to actually managing project statuses, you need other tools. And CoSchedule gives you options.
One of those is Kanban Project Dashboard. If you're familiar with Kanban boards, then you know how it works. Each column represents a project status (ex: Draft, Writing, Editing, Publish).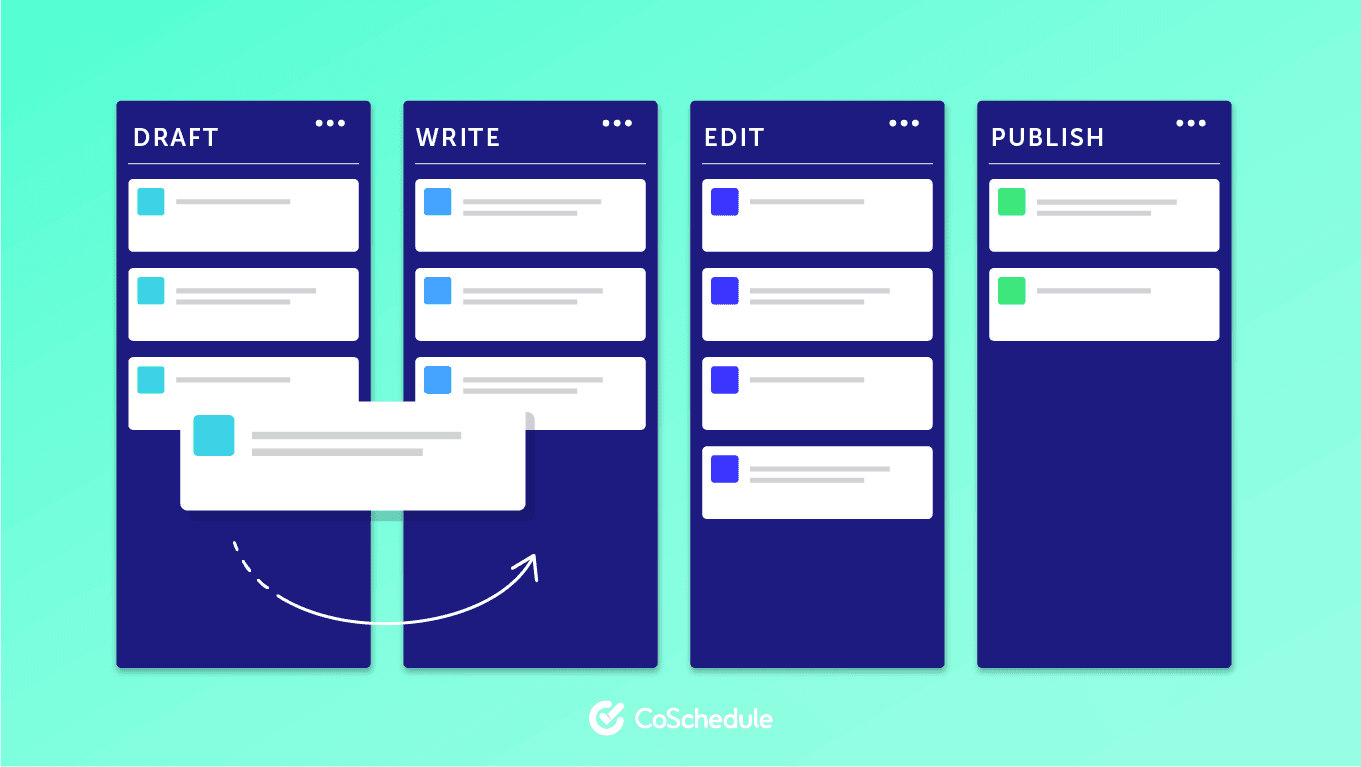 This makes it easy to see exactly how each piece of your campaign is progressing. First, start by setting up Custom Statuses. These are status levels for projects that you can customize. Here's where they appear when you're in a project in CoSchedule: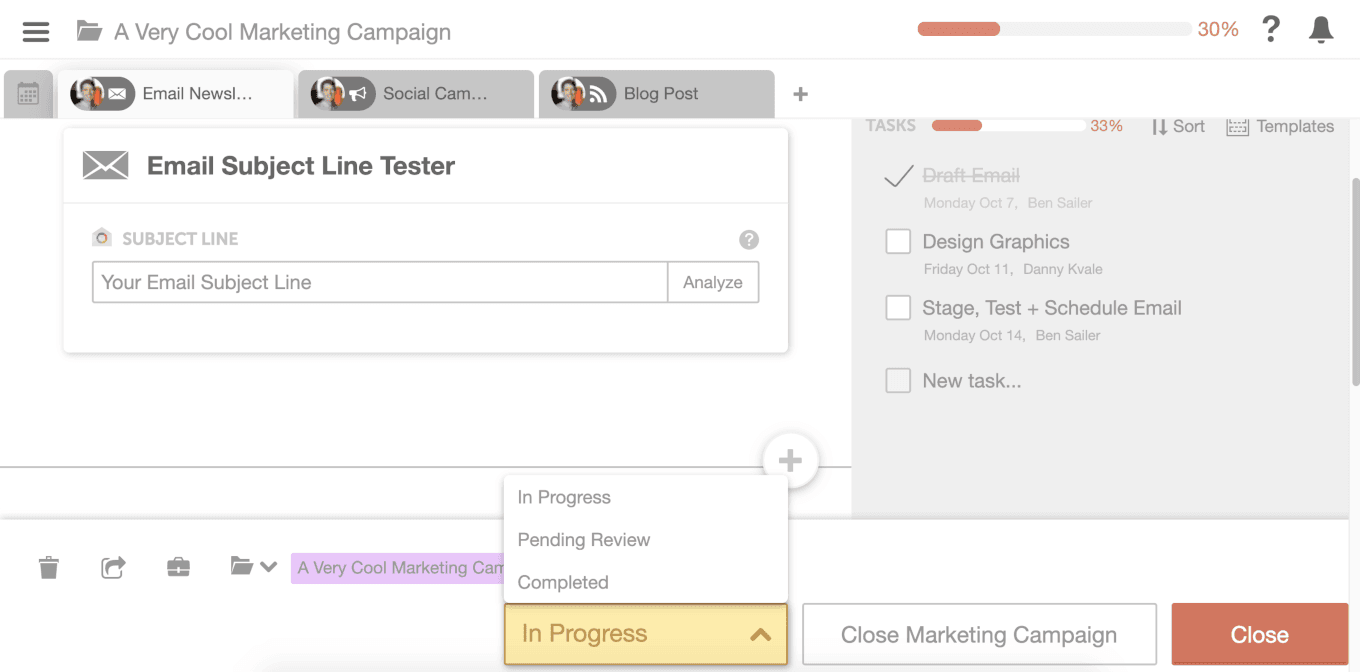 Now, when you enter the Kanban Project Dashboard, you'll see all your projects laid out as cards, with each status becoming a column:
When you switch statuses within a project, they'll be moved over to the appropriate column. You can also drag projects from one column to another, and the status will update automatically. This makes it easy to see exactly where each project is at toward completion.
Run Status Meetings With Team Management Dashboard
What if you just need to see every team member's tasks? You can do that easily with Team Management Dashboard. This view lets you see the entire team's projects and individual tasks, so you can manage work day to day and see what's on everyone's plates: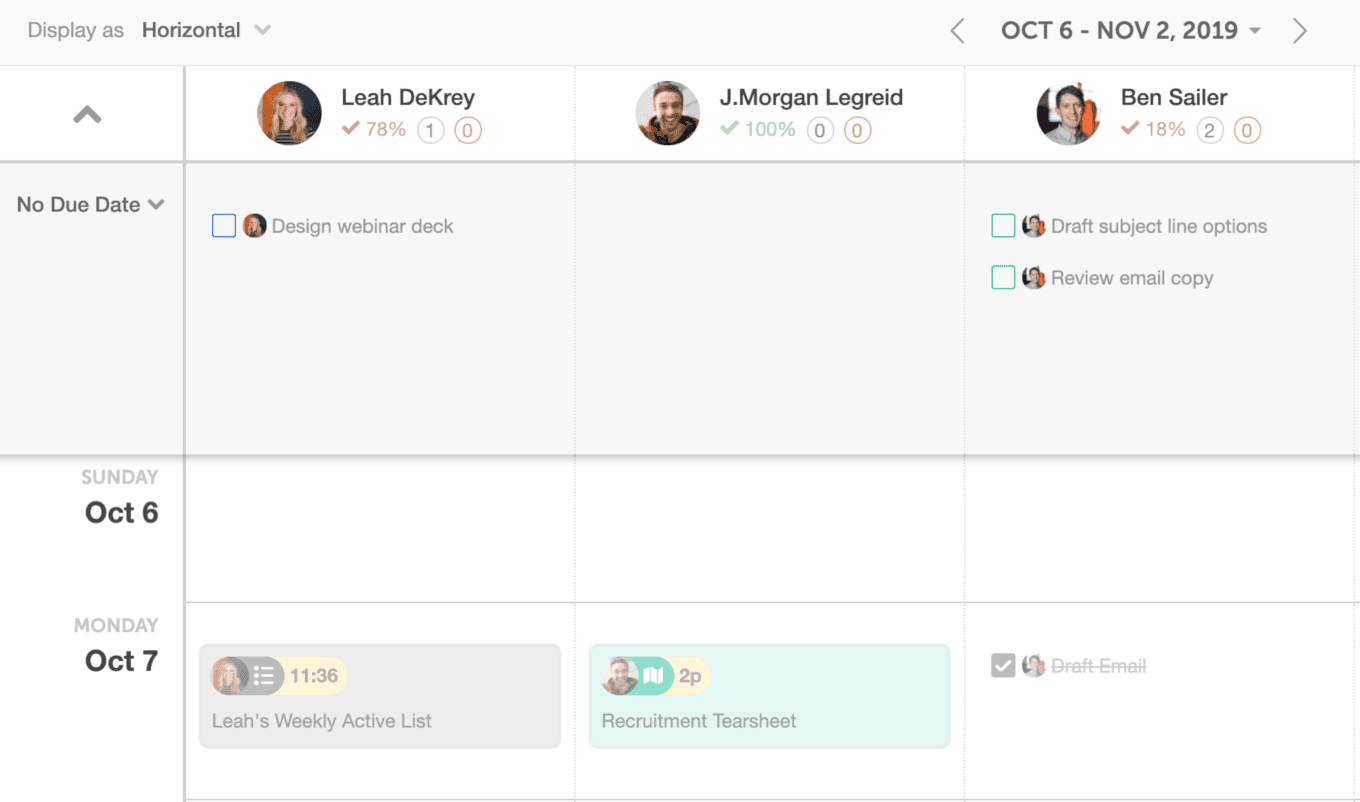 Why Use CoSchedule For This?
There are a lot of different tools you can use to organize the various moving parts of an integrated campaign.
However, part of what makes organizing integrated campaigns difficult is having to jump between multiple different tools to manage each piece.
An editorial calendar for blog posts. Social media platform for social promo. An email provider for your newsletters. Whatever work management platform your company forces you to use, even though it's not built for marketers, and doesn't really do what you need.
It's a problem we call makeshift marketing, and it makes executing this stuff harder than it needs to be. So, the reason for plugging CoSchedule as often as this post does isn't just flagrant self-promotion. It's because it's built to solve this problem and make this advice easier to implement.
Measure, Retro, and Repeat
When everything is said and done, it's time to measure and reflect on how the campaign performed. Follow this process when analyzing performance data and assessing the success of your campaign.
Be Honest About Your Outcomes
Ideally, each piece of your integrated campaign should have contributed something to the greater whole. The idea is that conveying a consistent message across multiple touchpoints will drive better results than simply executing a bunch of disjointed tactics.
Did your efforts live up to that promise? Here's how to find out:
Track and measure the performance of your core piece of pillar content.
Use analytics to gauge how each content spoke performed.
Assess whether any channels dramatically over or underperformed.
This exercise will provide you with some useful conversation points for the next step.
Retro on What Worked (And What Didn't)
Once the campaign has been completed and its performance has been analyzed, meet with your team discuss what went well, what didn't go well, and how you might improve on the next campaign.
You don't need to spend an excessive amount of time on this; a quick 15 to 30-minute in-person meeting should be sufficient. Store your notes in a shared document (consider using something like Evernote or Google Docs in a shared folder) with the following headings:
What went well?

What didn't go well?

How can we improve?
Pretty simple stuff. Keeping this documented will help you in the next step as well.
Apply What You Learned to Your Next Campaign
Data and analytics are only useful when you apply the insights extracted from them. So, each time you launch a complex campaign, take what you've learned in the past and apply it to the present. Your final directive here is a simple but important one then: put what you learn into practice and aim to make each campaign more successful than the last.
You're Ready to Amplify Your Content Marketing With Integrated Campaigns
Now that you're equipped with a high-level understanding of how to plan and manage an integrated content marketing campaign, the next step is to apply that knowledge. By amplifying your content marketing with other marketing disciplines, you'll not only increase your odds for success, but also help break down silos between content and other teams.
The idea here is to maximize your impact by not only committing to basic email and social media marketing, but to bring together multiple channels in sync to drive home one consistent message across each of them. This isn't a new concept, but without proper organization, it's tough to pull off (and it takes more effort than just sharing content on social media a few times and calling it a day).
For those willing to put in the work though, the benefits are there for the taking. All that's left to do is get started with the knowledge in this post. Best of luck.