This Is How To Build The Best LinkedIn Marketing Strategy For Your Business
When it comes to professional online networking LinkedIn is usually at the forefront of everyone's minds. However, when people think about their social media marketing strategy, LinkedIn often becomes an afterthought. It doesn't have to be, though. LinkedIn is an incredibly powerful B2B tool that can help boost the
buzz around your business
. And with the
right strategy
, it can be immensely useful for
building your brand
. When you read this post, you be able to take away the following:
Learn how to target the right B2B audience that will generate the right leads.
Strategically create content that establishes your business as an expert in your industry.
Measure your performance and understand if your efforts are successful.
With all that knowledge you'll be able to build the perfect LinkedIn
marketing strategy
for your business.
This Is How To Build The Best LinkedIn Marketing Strategy For Your Business
Click To Tweet
Get the 411 on Why Your Business Should Be On LinkedIn
Looking for a reason to get your brand on LinkedIn? We've got 25 of them on this free infographic. Jam-packed with relevant statistics and figures on the network's effectiveness as a marketing channel, you'll learn why LinkedIn is one of the most powerful B2B tools you have at your disposal. Download it now and share with the skeptics in your professional circle.
Or Develop A Strategy For Every Social Profile
Ready to upgrade your entire social media strategy? Check out Actionable Marketing Institute's Social Media Strategy Certification. Learn how to create & execute a social strategy that drives results you want: more leads, more traffic, more engagement, & more growth.  
First, Determine What Your Goals Are
The first step in your goal development process involves figuring out what your company goals are. Do you want to:
Generate more leads?
Drive traffic to the website?
Increase content shares?
Establish your business as an expert in the field?
How Can LinkedIn Contribute To Your Business Goals?
Once you have your goals set in place, you can begin to determine how LinkedIn can help you contribute to those overarching goals. Some benefits that LinkedIn is known for are:
Lead generation:

 According to Hubspot, LinkedIn visitors convert

277%

 more often to leads than visitors on other social media sites.

Recruitment:

 According to LinkedIn, social professional networks are the number one source of quality hires.

Brand Awareness:

 LinkedIn is built on the basis of creating a network of connections, which can help kickstart your brand awareness by connecting with your potential audience members.

Establishing Authority:

 Because of its professional base, LinkedIn allows you to share information which if done in the right way can help establish the authority your business has. We'll cover how you can create that content a bit later in this post.
Depending on what overarching goals your team has selected, will determine how LinkedIn can help you reach them. For example, if one of your overarching business goals is to increase the number of sales leads for your company by 50%, working and networking on LinkedIn could help you reach that goal.
How To Track Conversions From LinkedIn in Google Analytics
To set your leads goal, you need to find a base line. Open your Google Analytics, select
Acquisition,
then
Social
:
In
Social
select
Conversions,
then
LinkedIn.
 Once there set your dates back and gather the last six months of conversion data: To track that data, you need to have
goals

 set for when you lead conversion occurs
. For example, if a potential consumer filled out a contact us form, that they clicked on from your LinkedIn page, that would generate a lead. That number will act as your baseline and help you determine a solid growth percentage. For example, say that in the past six months I converted 1,000 leads and now I want to increase my leads by 25%, I'd want to add 250 more leads in the next six months. LinkedIn has also introduced
LinkedIn Lead Gen Forms
, which are an easy way to collect lead information straight from your profile.
How To Determine How Much Traffic LinkedIn Is Referring To Your Website
You can also find your referral traffic that is coming from LinkedIn in your Google Analytics page. Go back to
Acquisition
and then select
All Traffic.
From
All Traffic
select
Referrals
 and scroll down to find
LinkedIn
: In the graph, you'll be able to see the total number of visitors LinkedIn is driving to your website as well as the overall percentage it's contributing to. The same way that you set your goals for leads growth is going to apply here. Look at your past six months of data and set a reasonable growth percentage.
How To Track The Number Of Shares Your Content Is Receiving
To find the number of shares your content has gained, you're going to turn to the in-app analytics on your LinkedIn profile. Select
Updates
and change the drop down menu to
Shares.
To calculate your goals look at the average number of shares over the past six months and select a reasonable percentage growth goal.
How To Use LinkedIn To Establish Your Business As The Expert In Your Industry
How do you want to establish your business as the expert in your field? Are you going to publish more content? Or maybe jump in and interact with LinkedIn groups more often? It's important to remember that interacting in a group or posting more often in a group won't automatically establish your authority. The content you share needs to be informative, thought-provoking and original. While there isn't a metric that is going to be able to tell you specifically that your business is authoritative, you can track metrics like follower growth, shares, and quality of engagement. Why those metrics? The more followers you begin to have, the more shares your content receives and the more your audience interacts with your content, the higher indication you'll have that your audience is finding value in your content. How can you track that and create goals around those three metrics? Most of these metrics can be found in your in-app analytics. Go to your LinkedIn page and select
Followers
in your drop-down menu to find your follower growth and
Updates
to find your shares growth and overall message interactions: To set your goals you can either take the average of growth for the past six months of posts, or you can take the average for the week and build your goal based off of that average. Whatever your team decides to do, calculate your baseline and figure out how much your team wants to grow that baseline by.
Determine Who Your Audience Is
You can't create great content if you don't know who you're targeting it toward. The next part of your LinkedIn strategy involves figuring out who your target audience is. The important thing to remember is that LinkedIn is a B2B channel. You can't just transfer your Facebook content to LinkedIn and call it good. This audience type needs to be catered to in a very specific way. Figuring out who will be part of your target audience involves thinking about:
Who are they?
What problems are they experiencing?
Where are they experiencing their problems?
When are they experiencing them
Why are they experiencing them?
Optimize Your Profile For Maximum Exposure
One of the last steps in your strategy will be optimizing your LinkedIn profile for maximum exposure to your intended audience.
Set Your Profile Picture
Your profile picture should be your company logo and within the optimum size image for LinkedIn. The standard size for LinkedIn is 400x400px.

Utilize Your Banner Image
Setting the right banner image can help bring more personality to your LinkedIn page. It can be standard like a
CTA
 or more unique, like a photo of your office:
Make Sure Your Bio Is Completely Filled Out
One of the most overlooked parts of any social profile is the biography. While this may seem like a small detail to deal with, having a bio that isn't filled out is causing you to miss out on another opportunity to interact with your customer base. The nice thing about your LinkedIn bio is that it's easy to edit with many parts of it allowing to drag and drop pieces in from your website.
Check out this

link
 to learn how to edit your company profile. Now you might be wondering what does a great LinkedIn bio include? According to
HubSpot
, your business bio should include:
Hook readers with a strong opening sentence. 

Add flair or some humor, or keep it professional - but grabbing your reader from the get-go is important.

Speak to your industry expertise.

What are you doing as a company that is setting you apart from the crowd? If a potential lead is experiencing a problem how can your company help solve it? If they don't know what types of services you offer, why would they choose you?

Recommendations.

 

92%

 of people trust peer recommendations over advertising. Meaning why wouldn't you showcase some of the recommendations you've received from your current clients. If someone is on the fence about your company, what better way could there be to persuade them.
What does a great bio look like in real life? Check out this example from Bobcat:
Establish Voice And Tone
The next part of your strategy involves creating a professional voice and tone. What's voice and tone, you ask?
According to

Buffer
,"your voice is your brand personality described in an adjective while your tone adds a specific flavor to your voice depending on different factors or situations." So let's tackle voice first. What is your brand personality? Are you informative, thoughtful, political or purposeful? To help you get started, have your team write down three adjectives that describe your brand voice and together determine the final three that your company is going to embody online. Here is a list to help you get started if you're stuck:
Once you have your final three adjectives decided you can move on to developing a specific tone for LinkedIn. Tone is going to be more specific, as it's going to define how your voice sounds on LinkedIn. If your overall voice is modest, how do you want that to come across to the professionals you try and connect with on LinkedIn. Are you going to be modest with a professional tone or modest but excited? Now instead of choosing three adjectives, you're going to choose one overarching tone that a majority of your messages on LinkedIn will be in. Remember that your tone will switch from time to time, depending on the situation that you're posting. How can you find that balance between being personal but professional? Check out some of these examples.
Target
Target finds a balance between the professional and personal voice in this post by highlighting their company culture, while still maintaining a professional tone and demeanor:  
Adobe
Adobe knows how to reach their audience of graphic designers and creators by appealing to their audience's love of design, while still using language friendly enough for the non-designer audience members to understand:  
Ulta Beauty
Among the three examples, Ulta is one of the more personal voices that is active on LinkedIn. Ulta works with many young men and women to help them find confidence in how they look. Therefore the brand needs to seem incredibly approachable. That's why posts like this one work so well for their audience; it shows their intended audience how Ulta employees will go above and beyond to help make sure that someone loves the way they look:
Be Smart About Your Content Strategy
LinkedIn is so much more than publishing posts and hoping that something sticks. Depending on the goals that you created earlier, your content and what you create for LinkedIn will shift. How you convey your content is important but so is, what types of content that you choose to share. Are you going to be sharing:
Case studies
White papers
Blogs
Slide Decks
Video via YouTube
Infographics
LinkedIn Pulse posts
These are all different content types that work well on LinkedIn.
Establish Your Company As An Expert In Your Industry
If you want to be the go-to expert in your industry, LinkedIn is a great place to help you establish that reputation. However, that expertise status doesn't come overnight and will take careful execution to get it to stick.
How Can You Solve The Problems Your Customers Are Experiencing
One way to establish your authority in your industry is to show how your company can solve specific problems, better than your competitors. Remember as a B2B business, your target audience isn't going to make a split-second decision, so showing them how you stand out above everyone else can help sway your target audience your way. How can you stand out to your potential audience? See if your content answers the following questions:
Is our content empathizing with their problem?
Is our content creating an emotional connection to where our potential customer is at in their buyer journey?
Is our content drawing a line from point A to point B that connects our audience members problems to our solution?
If your content isn't highlighting the answers to at least one of those questions, it may be time to go back to the drawing board and see how you can help lead your audience to the conclusion that you are the company to work with. Take the Hilton brand for example. They have thousands of hotels, and part of their target audience could be getting traveling business people to invest in a stay at them. The post talks about how the new integrations in a travel app can help ease their stress levels.
Our new Hilton Honors integration with the Travel and Transport Dash Mobile app looks to take some of the stress out of business travel. Learn more: ...
Freely Share Your Knowledge
To truly establish your authority on LinkedIn you need to be prepared to freely share your industry knowledge. What? That seems crazy, doesn't it? Isn't your insider knowledge something you're supposed to keep to yourself? You could, but it wouldn't help with your authority online. What can you do to freely share your knowledge with your audience? More importantly, how do you know when to hold information back? Share your knowledge when:
It's basic.

What that means is that the information that you share with your audience may not be stuff they would know but other people in your industry would.

Your customers are constantly experiencing a problem that you can show them how to fix.

Why would you want to go and fix a 2 cent problem when you could show your audience how to fix it themselves? It saves their time and you get to focus on solving bigger problems.
Don't share your knowledge when:
It's a company secret.

 If your company or brand has a secret way of doing something, like the Bush's Baked Beans family recipe, you probably want to keep that to yourself.

The topic is going to put their audience in over their heads.

 If your solution is incredibly complex and would be difficult to do unless you had industry knowledge, keep that to yourself and have your customer contact you for help instead.
Here's when you should (and shouldn't) share your knowledge on LinkedIn:
Click To Tweet
A great example of this, is one Jay Baer's utilizes in his book
Youtility
. According to Jay, Geek Squad has a ton of do-it-yourself 
YouTube videos
 that show people how to easily fix common computer tech problems. Jay explains that it might seem counterintuitive. Wouldn't they want those people to come to them first? Not necessarily. Jay goes on to explain that eventually the person trying to fix their computer is going to become overwhelmed. Who are they going to turn to? A random computer company or the company they've already gotten all that information from? What could that look like on LinkedIn? Take CoSchedule for example. We're constantly sharing information with our followers in order to give them the knowledge to create the best possible marketing content out there. We structure our social media posts to help answer common questions; like this one relating to how to start your own webinar.
Need help with doing a killer webinar? Here's our 4-stage approach: http://cos.sc/2uHievh
Share The Most Valuable Content Possible
We have a motto here at CoSchedule:"To be the best marketing blog on the web." That same motto can apply to your LinkedIn content, but instead of just producing the best content, you're going to share the best content too. What does the best content on LinkedIn look like? The best content out there should be: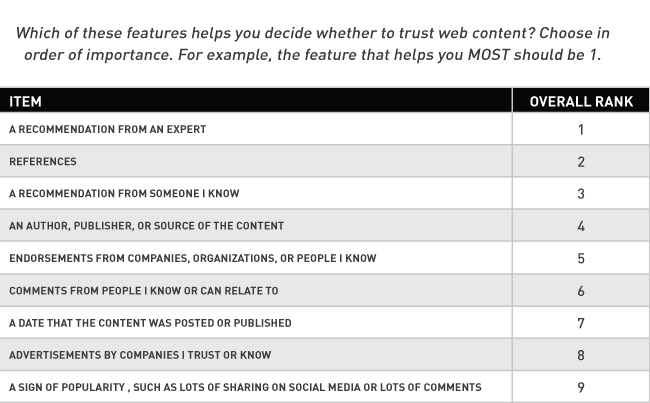 Highly

i

nformative

.

 According to Roger Bryan, your content needs to to be unique and useful to your target audience. If you're creating content that just rehashes what others have already said on the subject, you're not informing your audience of anything because it's information they already know.

Authoritative

. Isn't that the same thing well-researched content? Not exactly. Authoritative content is the authority of your content overall; not just a single post. How much can people trust the content that you post to your LinkedIn page? You can build that credibly with your audience through publishing reliable, well-researched content.
Utilize Your Highly Informative Content To Successfully Target Your Audience
There are three key pieces that your content needs to follow for your company to successfully target your audience on LinkedIn. According to
Content Marketing Institute
 those types of content are:
User generated content: Content that comes directly from your target audience.
Expert content: Content that comes from industry experts.
Branded content: Content that comes from your company.
Is This Content Focused On a Topic That My Audience Cares About?
If you're creating content that's outside your audience's scope, why would they take the time to read it? Their time is already precious and limited; they're not going to waste in on an article that has nothing to do with them. So how do you find topics that your audience cares about? Look to the influencers in your industry. How can I find influencers in my industry? Usually, a Google search will pull up major influencers in your industry. However, you can also check out popular LinkedIn groups to see who is having some major pull with your audience. What are they talking about that is causing other people to respond or share their content? If you want to be direct, survey your audience straight from your LinkedIn page. Ask what they want to hear and see you post about. How? LinkedIn doesn't have a built-in polling feature like Twitter does but you can still create a poll through a tool like
SurveyMonkey
 or
Google Forms.
Most of these tools will have in form analytics which will allow you to gather data on your audience's responses. Some common questions you could add into the survey are:
What topics are we talking about that you enjoy us covering?
What would you like to see us cover more?
What would you like to know about our products and or our company?
Set An Attainable Posting Schedule
There are recommendations everywhere that give you a suggested optimum posting schedule. While those are usually great starts the number of times your business needs to post to LinkedIn will depend on one thing, your audience. Your audience will tell you how often you need to post to LinkedIn through how often they interact with your content. What? You'll see strong or weaker interactions on your messages. For example, if you post five times a day and get three responses but then you post three times a day and get ten responses, that is a subtle way your audience is telling you what want they want to see from you.
"But what if I want to know what an average posting schedule looks like?"
According to 14 different
studies
 and our internal research, the following would be the start of an optimum posting schedule for LinkedIn:
Measure Your Data And Analytics To Find What Is Working
The final part of your LinkedIn strategy involves tracking your analytics to see if your strategy is working. There are three different types of analytics that you can track.
Engagement
Conversions
Web traffic
Engagement analytics center around how often your audience likes, comments, or shares your content. Conversions are how often one of your audience members are taking action and doing something that you want them to, i.e. buying a product, or signing up for your newsletters. Web traffic is, well, exactly what it sounds like. Tracking how often fans are clicking to your website. So now that's established, let's move on to finding that data. There are two sources to find your LinkedIn analytics. The first is through the in-app analytics in LinkedIn. To find them go to your company page and hit
Manage Page
: From their click into your
Analytics,
by selecting it in your top toolbar:
It's important to note that LinkedIn has recently updated its analytics layout, so now a drop down menu appears allowing, you to select, visitors, updates, and followers: Each tab refers to a different set of analytics:
Visitors: unique page views and demographics.
Updates: Engagement metrics for your posts.
Followers: follower growth, demographics on those followers, companies you're competing with.
The other way to track you LinkedIn analytics is through Google Analytics. Google Analytics is the tool to use when it comes to tracking your website clicks and data coming from your LinkedIn page. To find the data you need, open your Google Analytics profile, scroll down to
Acquisition
and then
Social
:
In
Social
select,
Overview,
and then
LinkedIn
:
You'll get into
Network Referrals,
and from there you can see top landing pages, referrals and more. The deeper you go into your analytics, the more you can break down different metrics including:
Conversions
Landing pages
Time spent on page
To get a full overview, check out
Google Analytics Academy.
But LinkedIn Is Just One Piece Of Your Social Strategy 
Your LinkedIn strategy is ready to rock, but what about the rest of your social channels? 
And how do they all work together to influence your business goals? 
Enroll in Actionable Marketing Institute's Social Media Strategy Certification to learn how to create your own data-driven social media strategy for your entire social presence including LinkedIn, Pinterest, Instagram, Facebook, Twitter, & beyond.
Learn more.
Still Think LinkedIn Is A Social Channel To Ignore?
LinkedIn gives your business that power and now you can create a strategy for your team that takes the guesswork out of your messages and allows you to post with authoritative, highly informational content that gives you the extra edge that your customers are looking for. And with this guide, you'll be able to leverage LinkedIn to attract more of those customers than ever. Have any tips you'd like to add? Drop us a comment below!