How To Build A Marketing Report Quickly (Template)
Most marketers would rather not spend time building reports. It can be a tedious process that takes your
focus off doing other work
. However, good reporting is essential for proving your efforts are moving the needle. The key, then, is learning how to build effective reports quickly. That way, you'll be able to show (with real data) how well you're performing. You'll also have more time to spend on things that actually make a difference (instead of compiling reports). In this post, we'll walk through a complete marketing report template you can use. It's built to be flexible and editable to adjust to your own needs. We've also intentionally excluded complex formulas that, while beneficial for automation, can easily break when adding or removing portions you may or may not need. We'll also show you:
How to build this report using free tools. Different marketers have different tool sets and workflows. So, for the purposes of this post, we'll demonstrate how and where to find usable data from free sources. Replace those tools with your own paid alternatives where necessary.
How to analyze your marketing performance and translate it into language others can understand.
How to get this all done quickly so you can spend your time on other things.
Now, let's make you a marketing reporting master.
Why Bother Building Reports, Anyway?
If you can find all your analytics data inside your reporting tools, or within individual apps and services themselves, then why do you need to complete formal reports? Here are a few reasons:
Your boss and company executives need to see all your data in one place

. They want to see your numbers, and they want to see them quickly.

You need that visibility yourself

. Mashing together data from multiple sources in one location can help you connect the dots in ways you wouldn't otherwise.

It's useful for others in your company to see how marketing is performing

. Beyond executives and decision-makers, other staff might benefit from seeing the numbers.
To make this whole process more expedient, download your template below.
Section 1: Marketing and Sales Summary
First and foremost, marketing needs to increase your bottom line. So, that's where our reporting template will start. To begin, include a short summary of three successes your team achieved over the past month:
These could include:
Successful projects you've recently completed.
Significant increases on your KPIs.
Problems your team has been able to solve.
Anything you've achieved that's worth sharing can go in this space. Next, let's take a look at your sales and revenue. These are the numbers that rule your entire life (as a marketer).
Where to Find This Info
Start with your own team to find quick wins to share. If you're not immediately aware of what those might be, ask your supervisor or coworkers. Try to find stories that show what you're accomplishing to earn your paychecks.
Depending on your role
and the size of your organization, tracking down your sales data may not be as obvious. If you don't typically dig into tools that can show this data (CRMs, Google Analytics, and so forth), you may need to get some outside help. If that's the case for you, here are some starting points to consider:
Ask your sales team

. They should have numbers for leads and revenue.

Your finance department

. Again, they should know how much money is coming in.

Your sales management or tracking software

. If your company uses such a service, see if you can get access for reporting purposes.
Regardless of where they come from, what's important is that you report accurate numbers.
Section 2: Website / Blog Performance Report
You've likely invested a hefty chunk of change in your website. If you're running a blog, you're (hopefully) putting ample resources into publishing consistent content, too. In either instance, you should be making sure they're both earning their keep.
Where to Find This Data
Let's start by pulling in a summary of site's performance data from Google Analytics:
We've broken out blog and website data separately. If you prefer, you can categorize this data together. To find your visits, bounce rate, conversions, and conversion rate, go into Google Analytics and click in Acquisition:
Then, click Overview:
To find time spent on page and page value, click through Behavior > Site Content > All Pages:
Here's what you'll see:
Next, let's find your top-performing blog posts to complete this section:
You can find nearly everything you need here by clicking through Behavior > Site Content > All Pages like before. Then, scroll down to find the top five highest-traffic blog posts URLs:
To find your conversions, click through Conversions > Goal URLs:
Then, grab the URL for each top blog post, and search for it:
You'll then be able to see your Goal Completions for that post:
This isn't the most seamless process, but it works. Of course, if your blog isn't
optimized for conversions
(or if conversions aren't a direct goal for your blog), you may need to choose a different metric here. Or, you can simply delete those cells from your template. The last piece of this section is your blog and website summary. This pulls together a subjective analysis for how your blog and site are performing, as well as an objective look at your Google Analytics data:
Your text summary on the left should translate your numbers into simple language anyone can understand. It should answer:
How are your blog and website performing?
Why are they performing that way?
What can be improved in the future?
Here's an example of what that text might sound like:
Our blog content continues to drive more page views, further establishing our brand as an authoritative industry voice. Conversions are also remaining steady. In the future, we will strategize around which content is performing best, and creating more similar content.
You get the idea. On the right, we have a screenshot snapped directly from Google Analytics. This is a quick and dirty way to add more visual appeal to your report. You'll find this under Audience > Overview:
To take a screenshot, use the following keyboard shortcuts:
Mac: Command + Shift + 4
Windows: Windows Key + Shift + S
Either of these will allow you to take a partial snapshot of your screen.
Section 3: Social Media Marketing
Now, let's move onto social media. If you don't have a
social media analytics tool or platform
, this will require jumping between several different places to piece together what you need. The first section provides a broad overview of how your accounts are performing at a high level:

Under your Top Performing Posts section, you can review your posts for each network and pull out a few you'd like to share:
Next, we have sections for including high-level summaries and analysis for how you're performing on each network. Similar to how you analyzed your blog content, we'll do the same for each social media channel. Add or remove any networks as necessary:
Where to Find This Data
The screenshots above were taken (mostly) from each network's in-app analytics. Here's where you can track them all down:
Twitter

: Log into your Analytics tab. Then, snap a screenshot of the summary that appears at the top. Done.

Facebook

: Visit your Insights tab, and once again, take a screencap of the summary that appears at the top.

Instagram

: There are a number of free Instagram analytics apps you can use, including insights offered within Instagram and this one from RivalIQ. Either can provide you with a decent summary.

Pinterest

: Again, this summary appears immediately upon logging into your in-app analytics.
You can also find your total follower counts easily by using the in-app analytics on each individual network. For additional assistance, check out these guides on each network's analytics capabilities:
Section 4: Search Engine Optimization
If you have access to premium SEO tools (we're fans of Moz here at CoSchedule, and there are tons of great options out there), then that's ideal. However, if you're doing more or less (or simply getting your feet wet with SEO), we'll show you how to find actionable data using three free tools:
Google Search Console: It's data isn't always the most complete, but it does offer plenty of useful insights.

Moz Tool Bar

: This free Chrome and Firefox browser extension is helpful for quick link and technical analysis.

SERPs Keyword Tracker

: For a free and simple keyword position tracking tool, it works well.
Where to Find This Data
The first place we'll look for the section pictured below is Google Search Console:
Log into your account (or set one up if you haven't yet). Then, click Search Traffic > Search Analytics:
There, click the boxes for Impressions, CTR, and Avg. Position:
Next, you'll see something like this:
To make sure you get the full previous month's worth of data, set a custom date range:
This will give you your clicks, impressions, average click-through rate, and average ranking position in organic search results. For your overall search traffic, we'll bounce back over to Google Analytics. Click through Acquisition > All Traffic > Channels:
Then, adjust your date range to the last month:
Next, scroll down to find Organic Search under your traffic channels:
Now, you've got everything you need. Next, let's install the Moz Tool Bar (as we implied earlier, you'll need to use either Chrome or Firefox). Here's what it looks like in action:
You'll notice two different numbers at first: PA (
Page Authority
) and DA (
Domain Authority
). PA refers to the authority of an individual page, while DA refers to the overall authority of an entire site. For our purposes, we're concerned with your Domain Authority score. Once installed, click on the magnifying glass (Page Analysis) button. Then, click Link Metrics: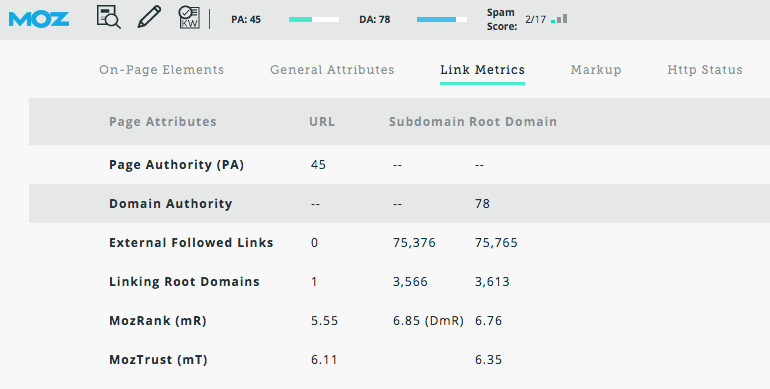 Here, you'll find your number of External Followed Links. These have a major impact on SEO. Enter this info here:
Finally, let's look at keyword rankings. For the sake of this report, we won't go into too much detail. Rather, we'll simply include a few ranking highlights that are important to note. These could be:
Rankings for your homepage for your top keyword.
Pages or posts of high importance.
Recent content you've published.
If you're using a service like Moz, generating a detailed keyword ranking report is easy. If you're going without, though, you can use
SERPs.com's free keyword rank checker
. Enter your keyword, domain, and location, and it'll return a fairly accurate search ranking: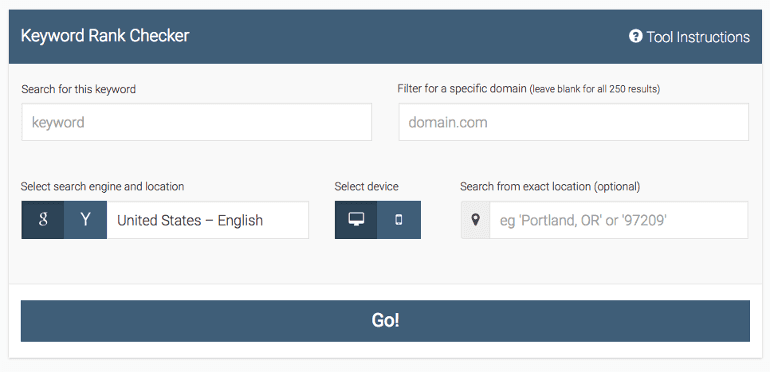 For the sake of simplicity, you might consider picking just a few top-level keywords to share here. If you need a more in-depth SEO-specific report, consider checking out
this guide from Moz
.
Section 5: Email Marketing
There are a number of different email marketing platforms out there. The in-app analytics in your platform of choice are likely to the best bet for finding the information you need here. Here are links to where you can find help docs for the most popular email platforms out there:

What's Next: Social Media Analytics and Reports in CoSchedule
Before we wrap up, let's take a look at how CoSchedule can make generating social media reports quick and easy.
Now Build Your Next Marketing Report, Fast
This template is fairly basic and is intended to provide a (very) high-level overview of your overall marketing performance. If you find it's too limited for your needs, feel free to cut, copy, paste, and otherwise adjust anything you like until it fits what you're looking for. Ultimately, once you start building out your template, it's your report to do what you like with. Best of luck and happy reporting!