How To Complete A Social Media Audit In Nine Steps (+ Free Template)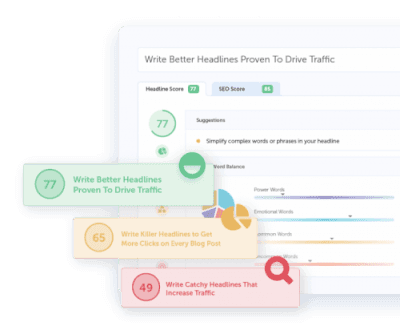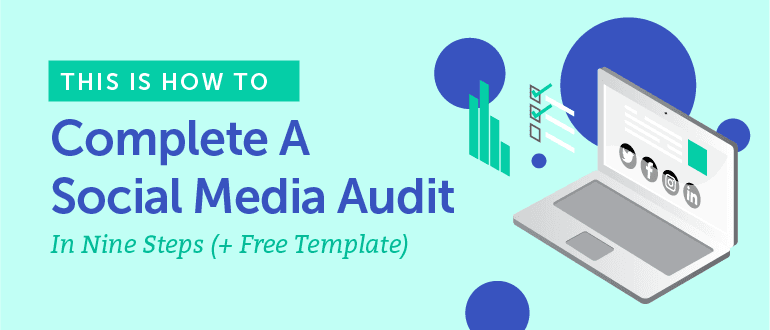 Audits are annoying, uncomfortable, and time-consuming. No one likes them.
And no, I'm not talking about getting an audit from the IRS (although that is annoying, uncomfortable, and time-consuming too).
I'm talking about running a social media audit.
Running a social media audit may not be the most glamorous part of your job. But, like it or not, it needs to be done.
After all, how else will you know if your strategy is (or isn't) working?
Or if there are massive problems going unfixed right under your nose?
And what about opportunities you might not realize are right in front of you, too?
An audit can help your team identify all of the above (and more).
Best of all, completing one successfully doesn't have to be a tear-your-hair-out sort of process.
Not when you follow this simple process (and use our free templates).
Create & Execute A Results-Driven Social Media Strategy
If you're ready to upgrade your entire social media strategy, check out AMI's Social Media Strategy Certification course. 
Learn how you can grow your traffic, leads, & community using social media.
Want to upgrade your entire social media strategy? AMI's Social Media Strategy Certification
Download Your Social Media Audit Template + Checklist
Auditing your social presence doesn't have to take forever. With our free template, we've saved you the time of having to build your own spreadsheet. Plus, with our checklist, you can easily walk through all the necessary steps without wasting time wondering what you should do.
Sounds like a dream, right? Well, it's time to make that dream a reality by snagging 'em both below.
What is a Social Media Audit?
For the purposes of this post a social media audit is:
An annual analysis of your social media profiles to determine what is and isn't working for your strategy.
Why Should I Care About Auditing My Brand's Social Presence?
There are plenty of reasons, but here are the three most important:
Identifying strengths and weaknesses in your execution.
Making sure you aren't missing opportunities anywhere.
Ensuring you're representing your brand appropriately.
In short, doing an audit is like doing one big house-cleaning project. It'll take some work, but you'll be happier and more successful when you're done.
How To Conduct A Social Media Audit
Now that you have your checklist you can begin to move forward with conducting your social media audit. You can cut or add to this list based on what channels you use, the goals you set and the data you want to gather.
Step One: Find And Secure All Your Social Media Accounts
The first step in your social media audit process is to find and record your social media profiles in the template.
This should include any channels or profiles that you may have used in the past that are now abandoned.
You're also going to want to be on the lookout for any channels that previous employees for your brand may have started and then forgotten about.
However, going through each social channel one by one sounds like a huge time commitment. That's where tools like Namechk come into play.
Using them is as easy as entering your brand username: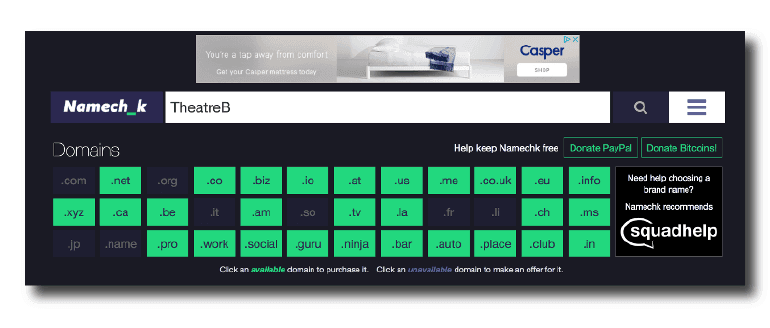 And merely scrolling down to see a list of channels that your username is taken on: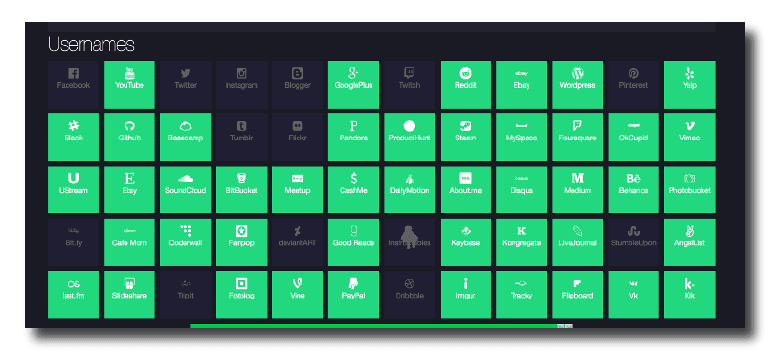 As you scroll through the list of taken channels, watch for ones that are using your username, but you don't remember being active on. This could mean that you've created a channel you forgot about or someone else is using your username.
Once you've found your channels and profiles, record the username and URL in your social media audit template: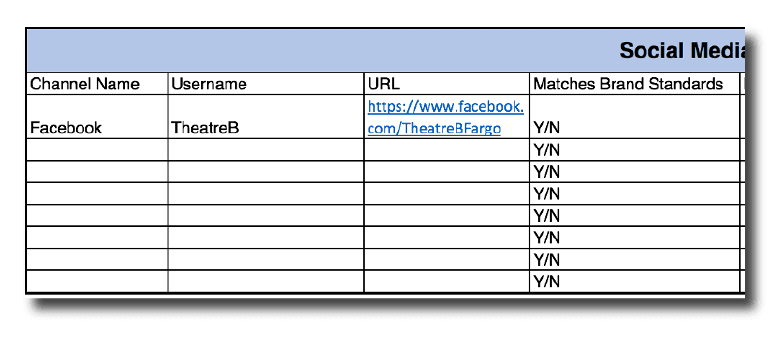 This will make it easier for your social team to find your profiles throughout the year.
You found all your social media accounts. Now you'll want to make sure your passwords are secure.
But, recording them in your audit template isn't the best way to do that.
Instead, tools like 1Password or LastPass securely store all of your passwords. Using these tools is relatively easy too. Just install the software, add your accounts, and secure your passwords. This keeps them safe, yet accessible to anyone on your team who may need them.
When your passwords are stored away, update your template to reflect that the passwords are secure:

Step Two: Review Your Social Media Profiles
The next step in your social media audit is to review your current profiles. You should be looking and ensuring that your brand is cohesively coming across in every profile. This includes things like:
Creating a vanity URL for every channel.
Making sure that your profile and cover photos (if applicable) are following your brand standards.
Is your brand name spelled the same on every channel?
Do your accounts need to be verified?
Make sure your bios are filled out and have accurate information.
Check that links to your website and more working correctly.
Is there any information that is missing from your profile?
Optimizing Your Facebook Profile
There are a few steps you can take to optimizing your Facebook profile.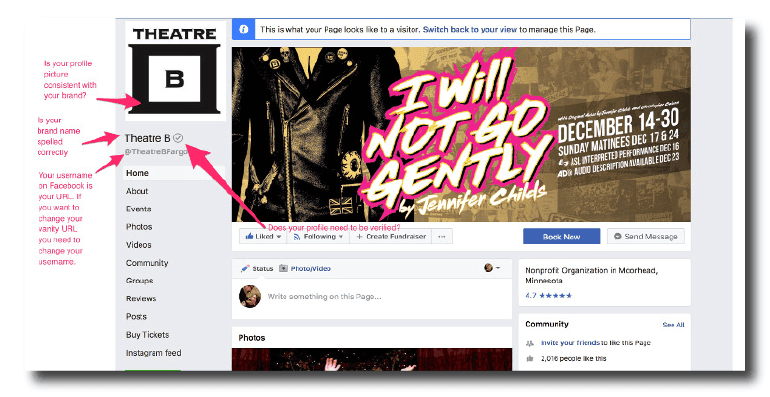 Your bio can be filled in, in the About section: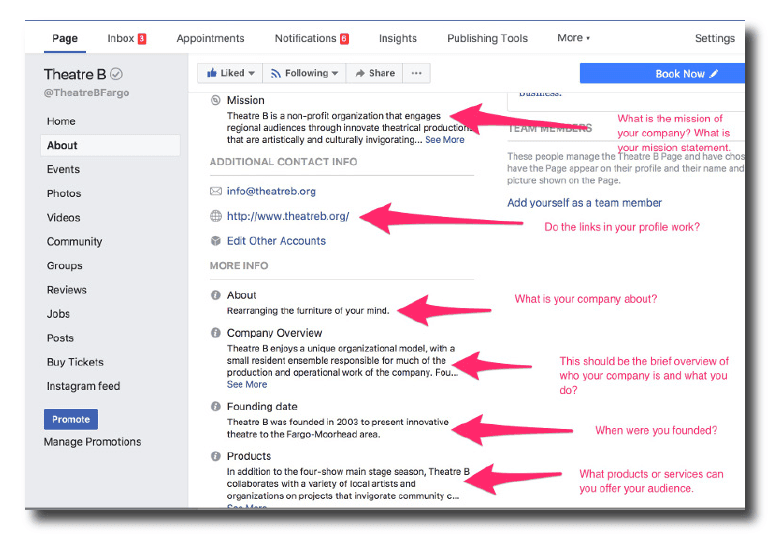 Optimizing Your Twitter Profile
Here are the points you need to hit to optimize your Twitter profile: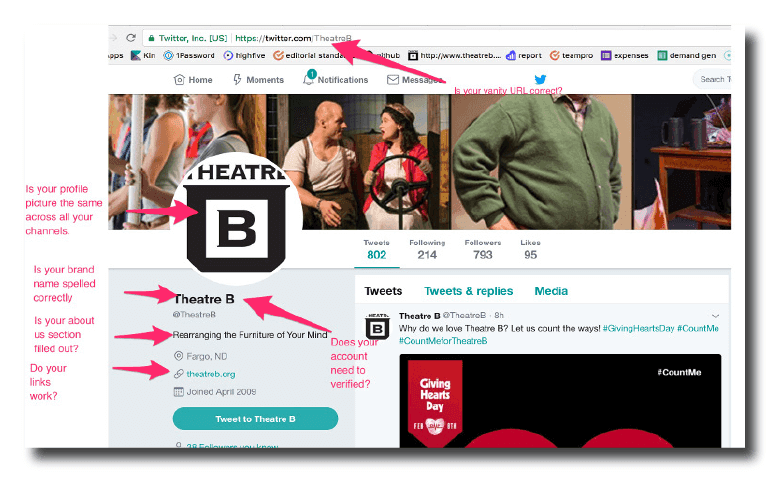 Your vanity URL comes from the username you have selected. If you want to change the URL, you will need to change your username.
Optimizing Your Instagram Profile
Check out the following points in your Instagram profile to make sure it is optimized: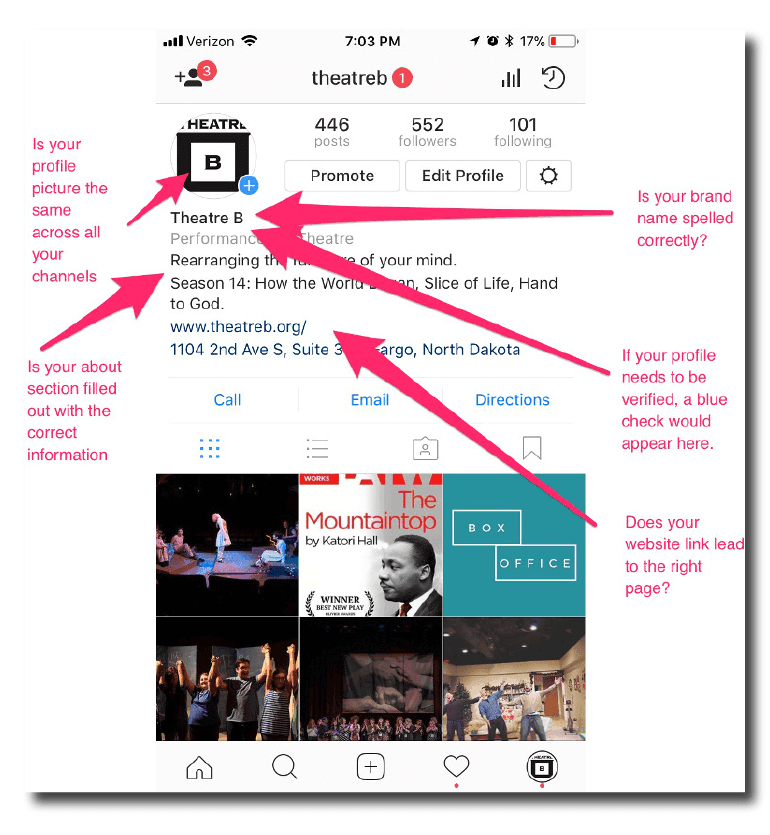 To check your vanity URL on Instagram, you'll need to go to Instagram's website. Like Twitter, the username you choose for your Instagram will be your vanity URL. To change the URL you would need to change your username.
Optimizing Your Pinterest Profile
To optimize your Pinterest profile check out the following areas: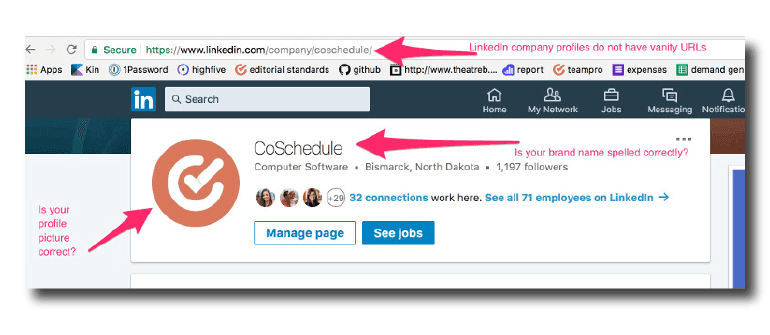 Optimizing Your LinkedIn Profile
To optimize your LinkedIn profile make sure the following places contain the correct information: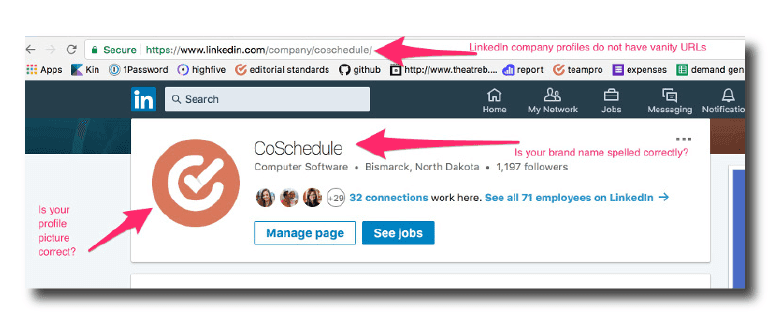 The about us section of your LinkedIn profile is a bit further down and needs to be filled out completely: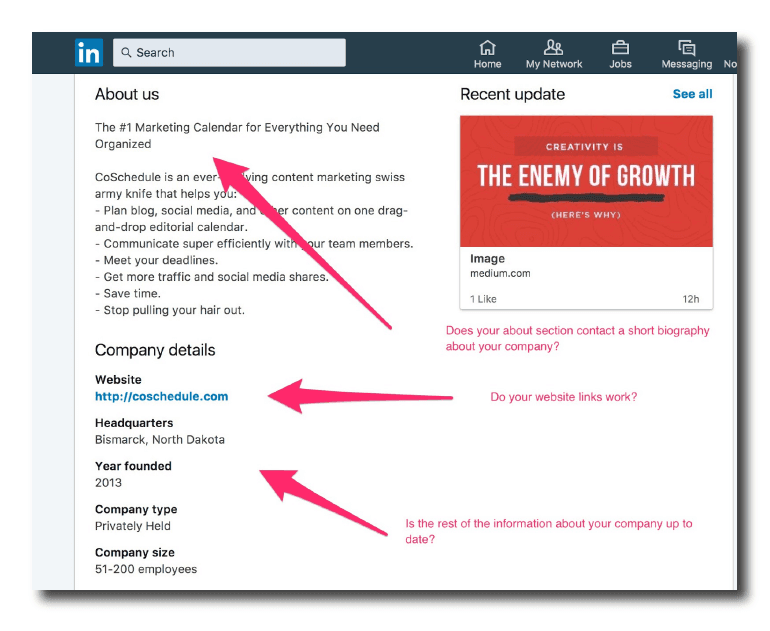 After each of your profiles on every channel has been checked and optimized, fill out the social media profiles section of your template.

Step Three: Analyze Your Performance
The next step in your social media audit is to analyze and gather data that assess the performance of each one of your social media channels. This should include data on:
The number of engagements each profile received.
The engagement rate per post on each profile.
The traffic each profile brought in.
The click-through rate on each link in your profile.
The mentions each profile received.
The shares each post on your profile received.
The likes or reactions each post on your profile received.
The link clicks each post on your profile received.
The reach each post on your profile got.
The number of impressions each post on your profile got.
These metrics will vary a bit for each channel as some may not be applicable.
How to Find Your Facebook Performance Data
To find and count the number of engagements that your Facebook posts received go to your Insights tab on each of your Facebook profiles > Posts and scroll across to Engagement.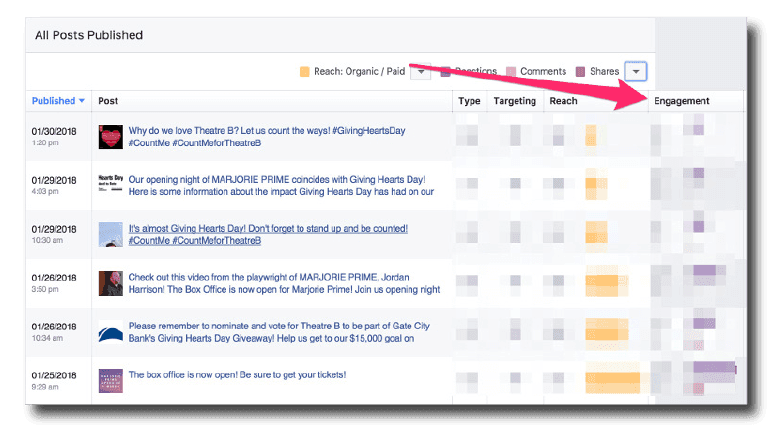 You will have to scroll back and total the number of engagements you have had per post. Keep track of the number of times you posted as well.
To find your engagement rate, you'll need to take the total number of engagements that your page received and divide it by the number of times you posted.
Engagement rate = total engagements / by number of followers x 100.
So for example, if you had a total of 1,000 engagements and you have 2,000 followers your engagement rate would be 50.
Finding the traffic that you Facebook page brought in will require you to go to your Google Analytics account.
To start, go to Acquisition > All Traffic > Channels > Social. Make sure that your dates in the upper right-hand corner are set for one year: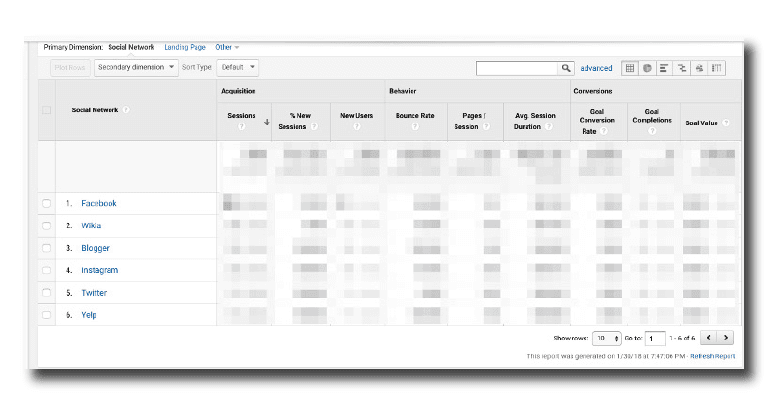 You'll be able to see the number of sessions that your Facebook profile (and other social profiles) have generated during your set time-period.
To see the click-through rate for the links in your profile go to Insights > Actions on Page > People Who Clicked Website. Set your dates back for one year and total up the number of times the link was clicked throughout the year: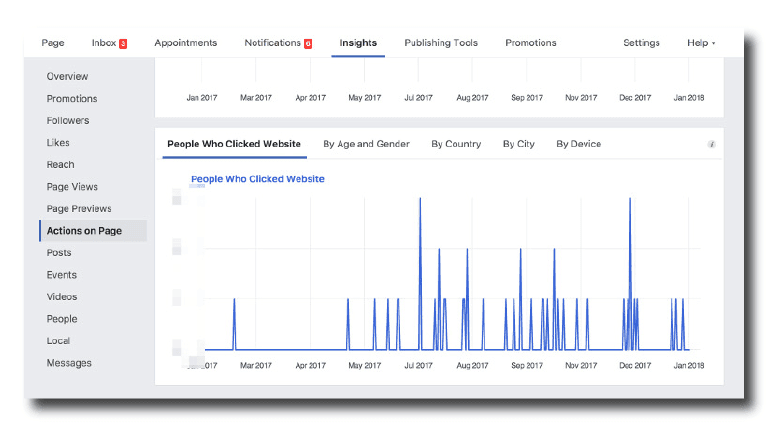 Finding your mentions throughout the year on Facebook requires a bit of finagling. To do this, go to Notifications > Activity > Mentions. Then scroll back and count each of the mentions that appeared on your page the past year.
Next comes finding the link clicks that each of your posts saw. For Facebook, finding this data means scrolling back through each of your posts, clicking on the ones that have links and recording how often they were clicked.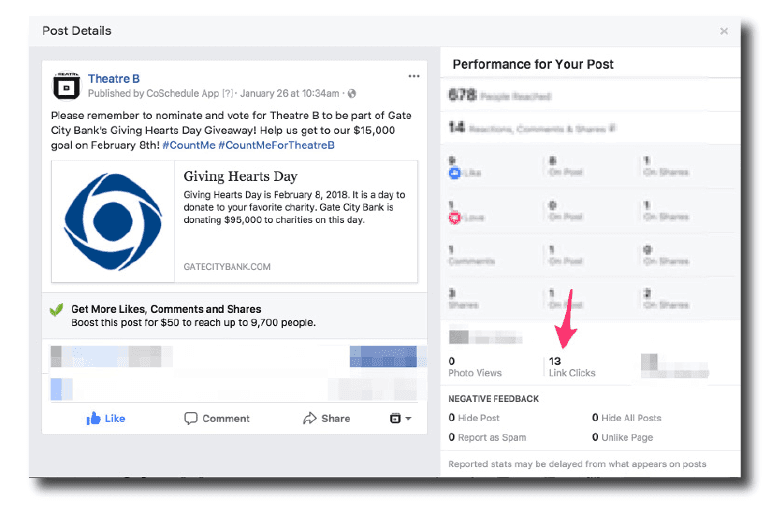 Next is tracking post shares, comments, and reactions. You can find this data by going back to the Post section of your insights page and counting the number on each post. You can save even more time by counting the reach your posts received as well: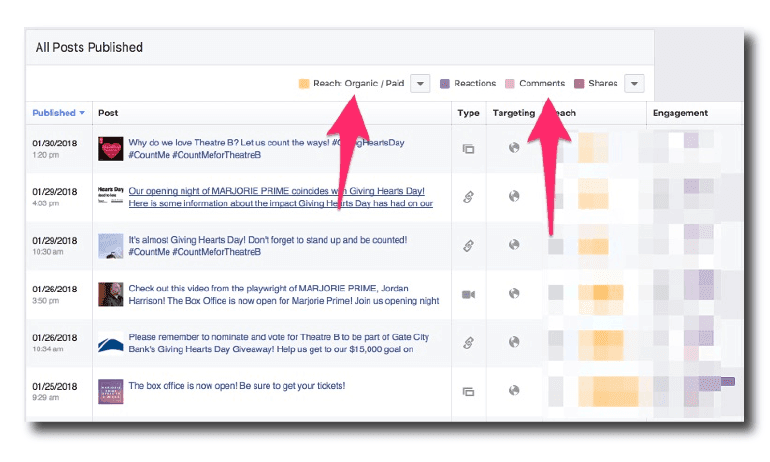 To find your impressions, you'll need to stay in the same spot and from the drop-down menu in reach choose Impressions: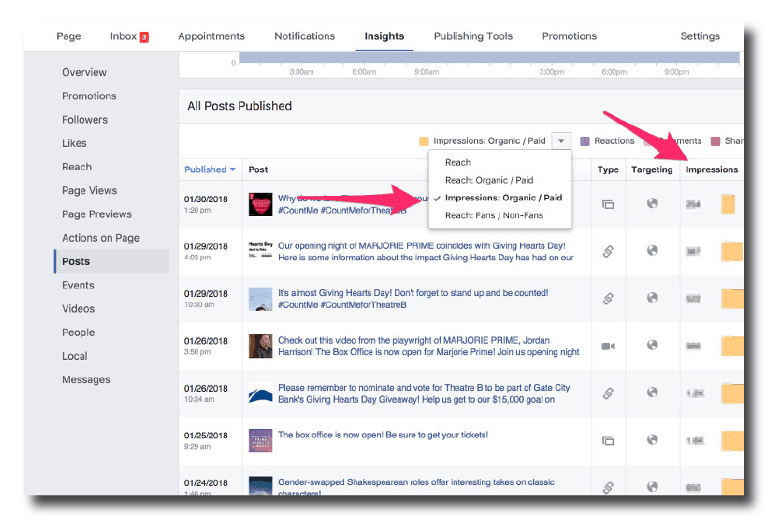 Record each of those data points in the Facebook section of your social media audit template:
You may notice that there are sections in your template that say YOY Change. To calculate these sections you'll need to take the data from your previous year and subtract it from the current year.
If this is your first audit, you can leave those sections blank.
How To Find Your Twitter Performance Data
Now it's time to find all of your performance data for your Twitter profiles. Some of the data that you need to find will be in the same place as the Facebook data you gathered earlier. We will note those places throughout this section.
First, you need to find the total number of engagements that your profile saw this year. To find this click your profile picture and in the drop-down menu select Analytics. Then in the top bar select Tweets.
To gather your engagement data, you'll need to scroll back month by month and count the number of engagements that your tweets gathered: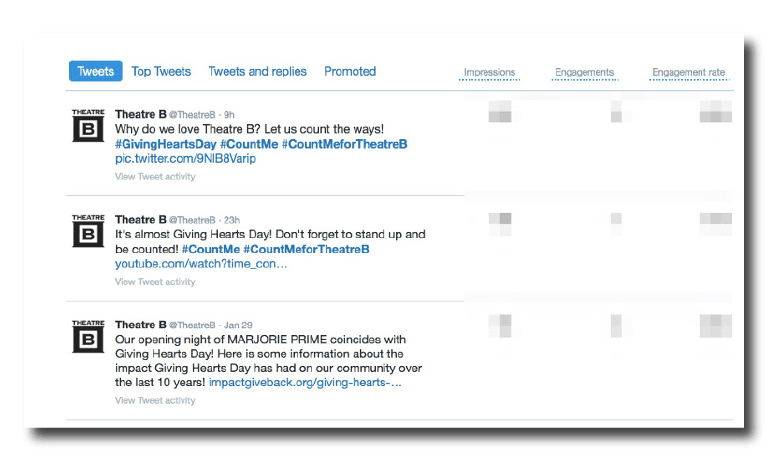 You can also collect your impressions data and engagement rate data as you scroll back through your tweets.
To find the amount of traffic that your Twitter profile is driving you'll take the same path in Google Analytics that you did for your Facebook traffic which was  Acquisition > All Traffic > Channels > Social.
Twitter mentions and retweets are both recorded in the analytics section of your Twitter page under Tweets. To find mentions scroll through and find a monthly recap: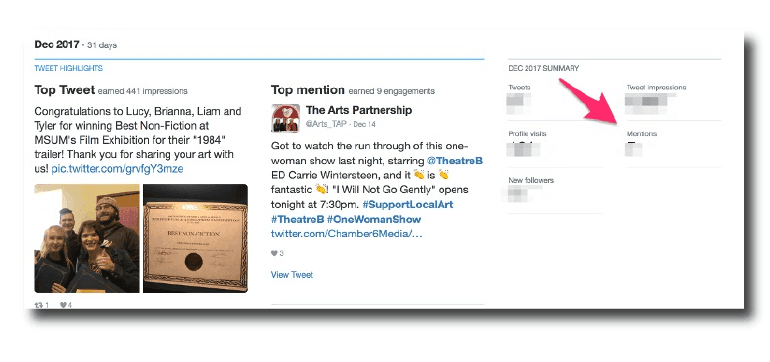 To find retweets (Twitter's version of shares) just adjust the date at the top of the report and scroll down the right-hand side to find the data: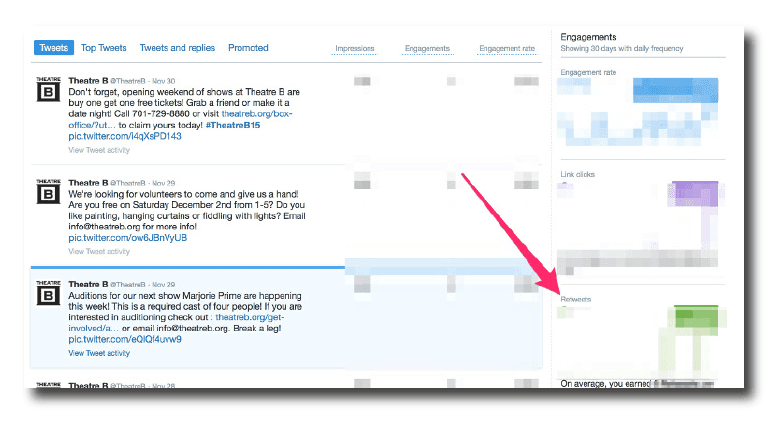 Likes can also be seen in this section of your Twitter profile by continuing to scroll down: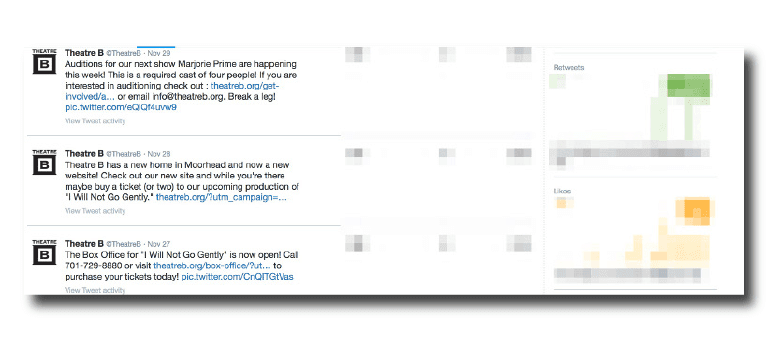 Link clicks per tweet can also be found on the right-hand side. If you want more information on what links were clicked you can select View Tweet Activity for an in-depth overview of each tweet: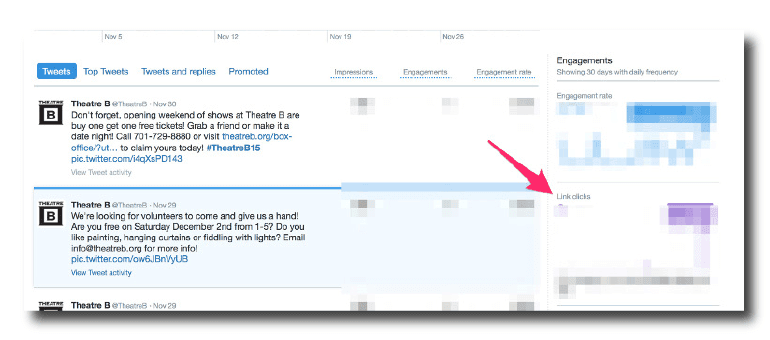 Those are all the data points you will need for the performance analysis of your Twitter accounts. Record the data you've gathered in your spreadsheet: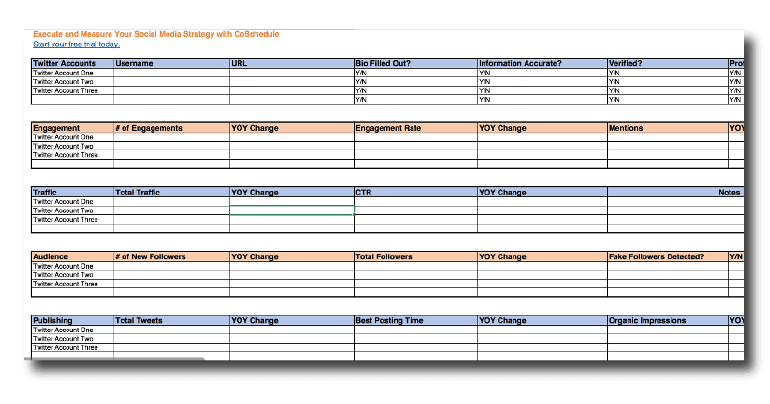 How to Find Your Instagram Performance Data
Unlike Twitter and Facebook, gathering your Instagram performance data will be done on your mobile phone. It's important to note that you won't be able to collect most of this data unless you have a business account.
To find your total engagements and your engagement rate go through the each of the images or videos that you posted and count the number of likes and comments you received. Once you have your total, divide the number of engagements by the number of photos you posted to get your engagement rate.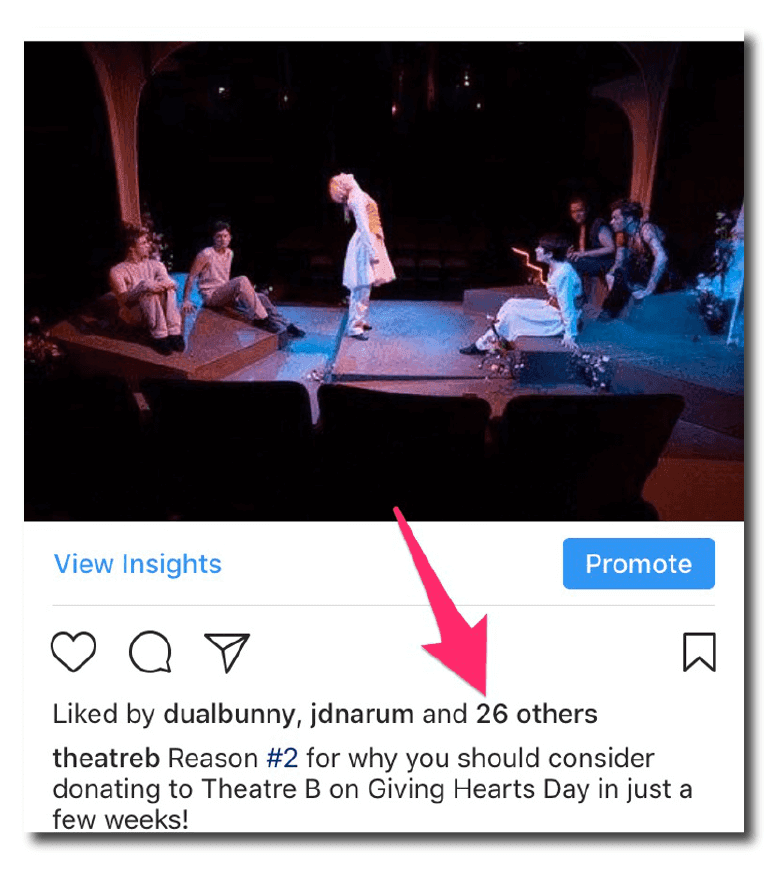 You can also kill two birds with one stone by recording the total number of comments and likes that you get for each post. Instagram is unique in the fact that users can't share content like Twitter or Facebook so that data point will not need to be recorded.
Gathering your traffic is going to take you back to Google Analytics. One more time, the path to finding that information is:
Acquisition > All Traffic > Channels > Social.
It's also important to note that Instagram posts can't have live links in them.
This is why the website link at the top of your profile is so vital as it's the only live link allowed on your feed. So, don't be shocked if your referral traffic is smaller than your other social networks.
Finding your mentions on Instagram means you get to scroll back through your notifications and look for posts like this one: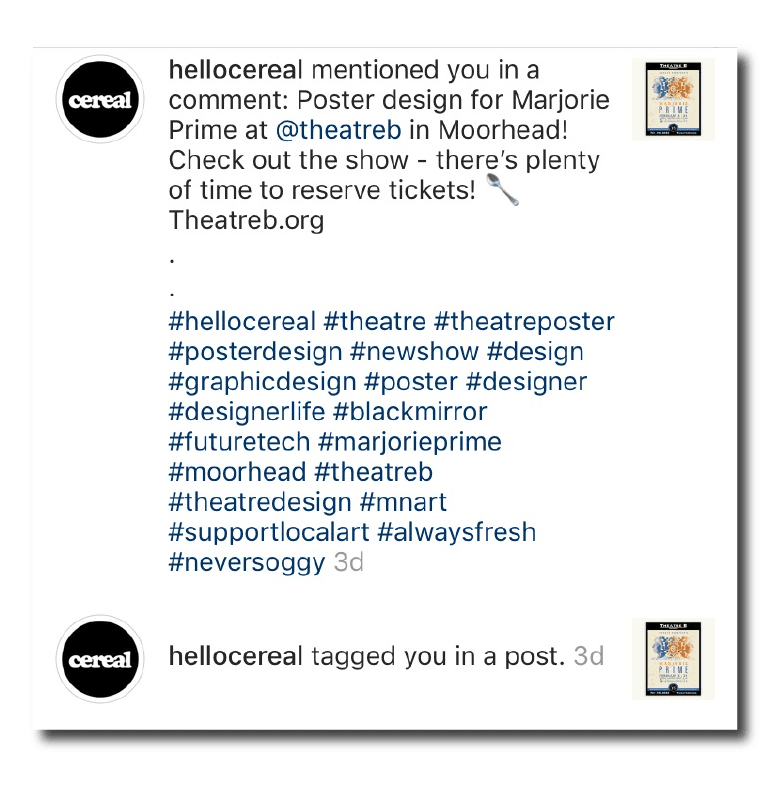 In addition to mentions, you're also going to want to look at your most popular hashtags. Go through each one of your posts and note the hashtag that reoccurs the most often: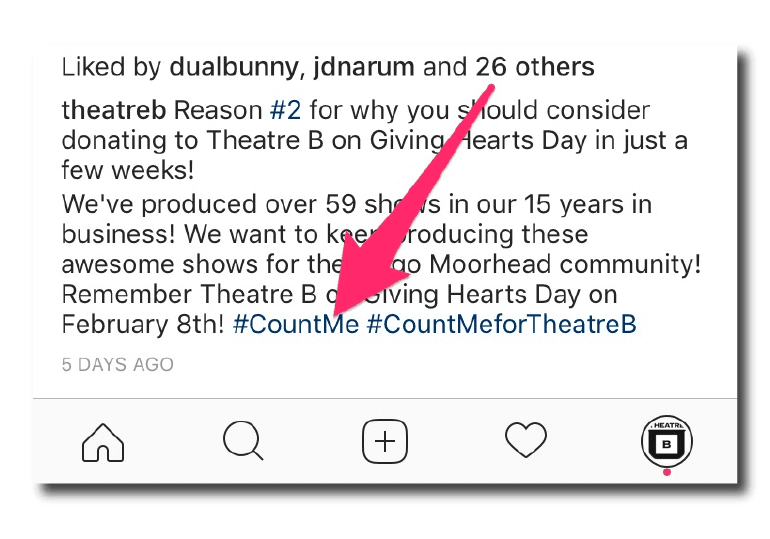 You can also use tools like keyhole to track your top hashtags.
Since you already gathered your data on likes and comments in a previous step the last part of your Instagram analysis is finding your reach and impressions. Both of these can be found by clicking the little bar graph in the upper right-hand corner and scrolling down to Insights > Impressions: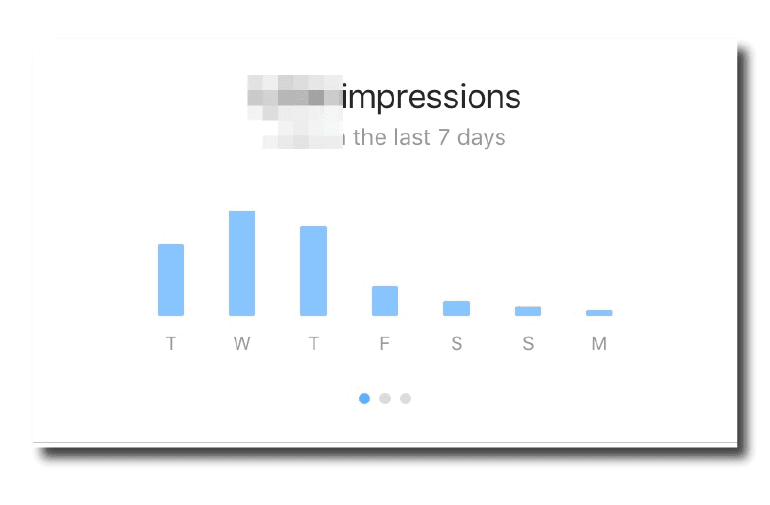 And then scrolling to the right to see reach: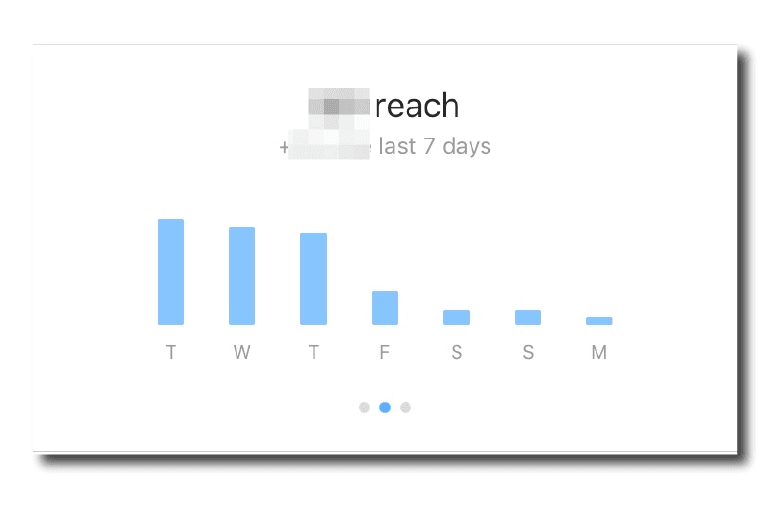 Another important thing to keep in mind is that Instagram only records reach and impressions weekly so you may need to check in more often to keep your data accurate.
Once you have everything you're looking for, record your metrics in your audit template: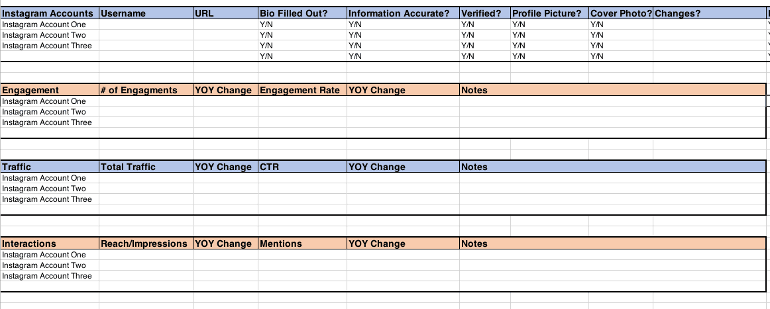 How to Find Your Pinterest Performance Data
The next profile you're going to cover is Pinterest. So let's break down where to find your engagement data.
Pinterest is a bit different than other social channels. If you want to gather your total number of engagements and your engagement rate you need to go to your profile, select Pins and start at the top of your list until you work your way down to first pins you published for the year.
The good news is that your engagement data is located right on the pins, so all you have to do is total the number of pins and the engagements you got.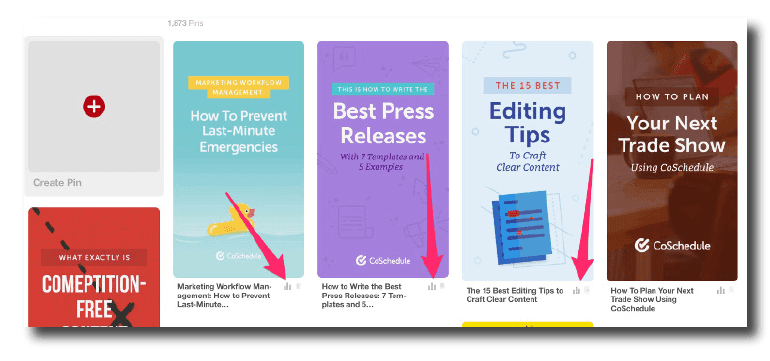 You can also use the engagement data to see the number of link clicks and saves that you received per pin.
To find the amount of traffic that Pinterest drove to your website go to Analytics > Website > Clicks.
To get your total click number adjust the dates on your analytics page and multiple the average link click data by 365: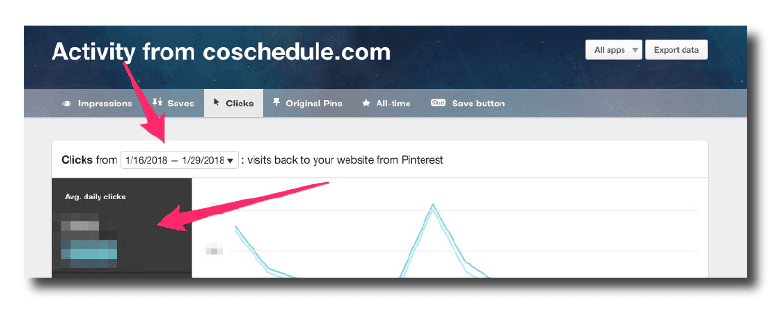 Since mentions are not part of the Pinterest strategy the last bit of data that you need to gather from your profiles are impressions and daily views. Both of these metrics can be found under Analytics > Profile > Impressions. Just remember to adjust the date at the top: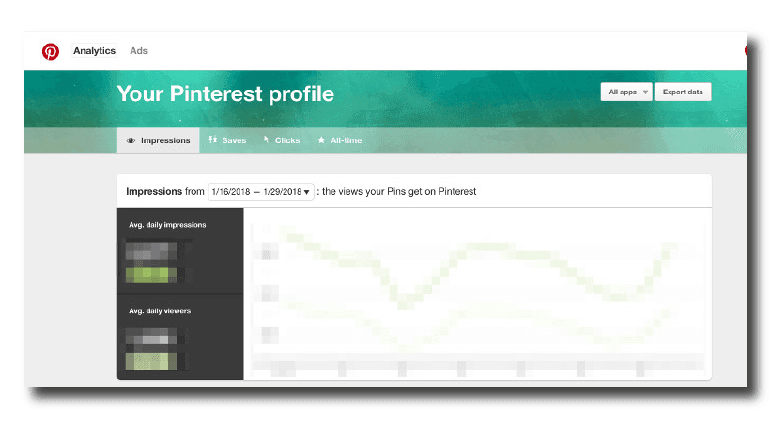 Record all of those metrics in your template:

How to Find Your LinkedIn Performance Metrics
Last but not least on our list is LinkedIn. One of the things I love about LinkedIn is that their metrics are super easy to navigate.
To find your engagement totals and rate go to your LinkedIn page select Manage Page > Analytics > Updates and scroll down to engagement metrics.
Then switch your date to 12 months back. Flip through the drop-down menu and to see all of the different engagement metrics. You can add up your average engagement percentage and divide it by 12 to get your engagement rate: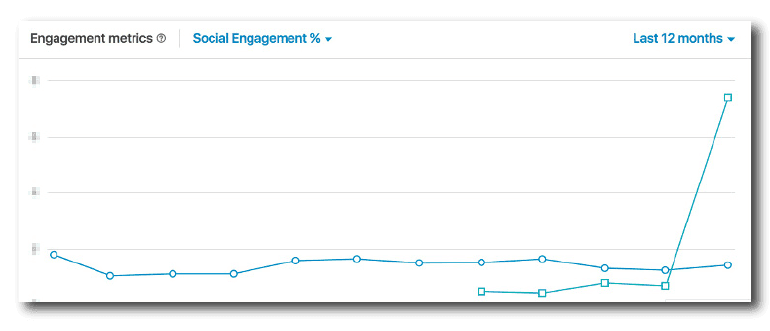 To get your total engagement numbers add up the likes, comments, and shares from each month in graph section: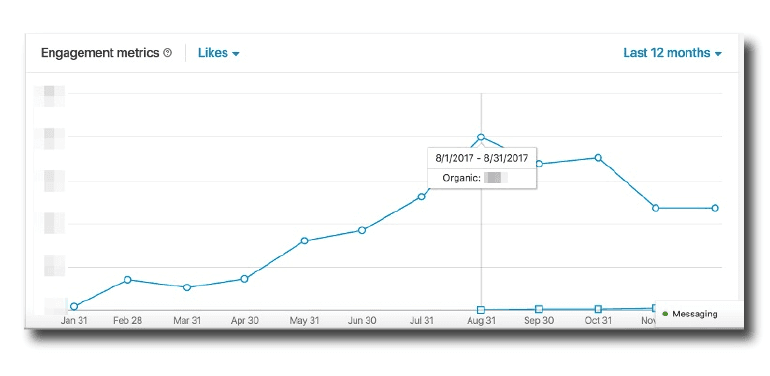 In that same section, you can find all of your likes, clicks, comments, shares, and impressions.
So what's left to find?
First, you need to find your traffic. Again we're going to go back to that same report in Google Analytics by selecting Acquisition > All Traffic > Channels > Social.
The last piece of the puzzle that you'll need to find are mentions. To find this go to Notifications > Mentions and scroll back to the beginning of the year.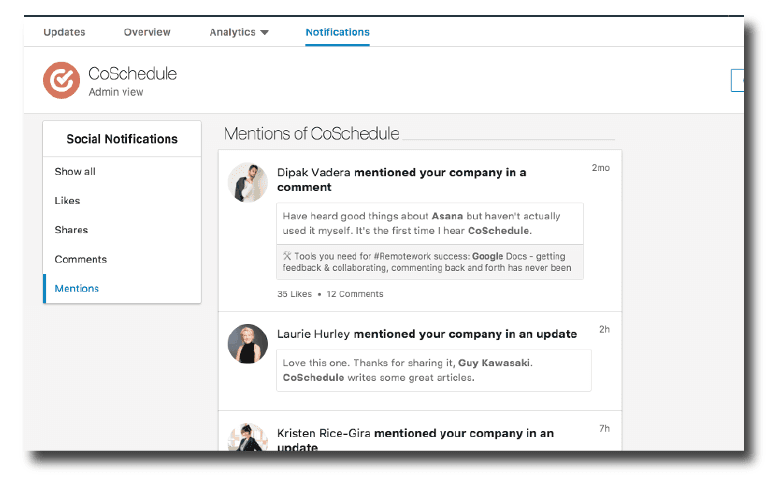 Once you have your data record it under the LinkedIn tab on your audit template:

Step Four: Review Your Publishing Schedule
This next part of your social media audit is reviewing your social media publishing schedule. To start, take the total number of messages you sent for the year and divide it by 52 to get your average number of messages sent per week.
You may have counted the number of messages in a previous step.
Record your averages in your template.

The average number of posts that you published on each channel per week can give you some insight into your publishing schedule.
Now you may notice in the Instagram and Facebook sections of your template there is a box that says Best Posting Time. These are for recording the best times that your audience interacted with your content.
To find the best times on Facebook go to Insights > Posts. At the top of that page is a graph that you can move your cursor along to see the best posting time on your Facebook page.
Remember that these times are only gathering data one week at a time. You may need to track this metric throughout the year to get the most accurate reading.
Instagram also tracks these metrics which you can find by scrolling down to the bottom of your analytics page and selecting Followers > See More.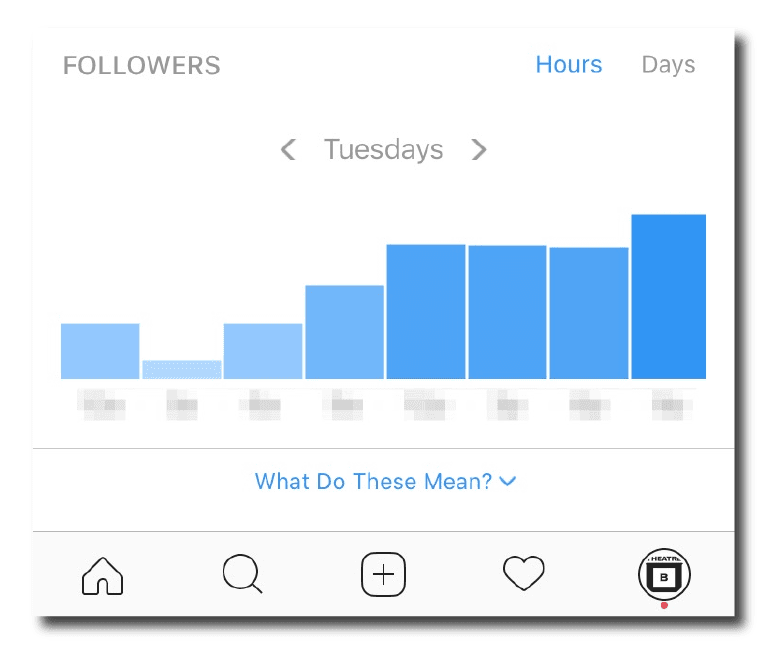 You can flip through each day to see what your average best time to post is. Once you have your times figured out record them and the number of posts you published on each profile in your social media audit template.
Do This With CoSchedule:
CoSchedule lets users post at the best time automatically using our
Best Time Scheduling
 feature.
Step Five: Run An Audience Analysis
The next step in your audit is to run an audience analysis.
Determine Your Follower Count
This is probably the easiest step in your entire social media audit. All you need to do is determine your current follower count for every one of your social media profiles.
How to Calculate Your Follower Growth
The next step in this process is also relatively easy. To find the follower growth for each of your profiles simply take the total number of followers you have now minus what you had 12 months ago.
This number would be the # of new followers. The percent difference between the two would be your YOY change.

Identify Fake Followers
With the rise of follower bots and people selling social media fans, you might be curious as to how many of these bots make up your social media audience. While networks like Pinterest, Facebook, and LinkedIn can't completely identify how much of your audience is made up of fake followers, there are tools for Twitter and Instagram that can.
Twitter Audit helps users identify how much of their audience is made up of fake or bot followers. Using the app is simple, just type in your username: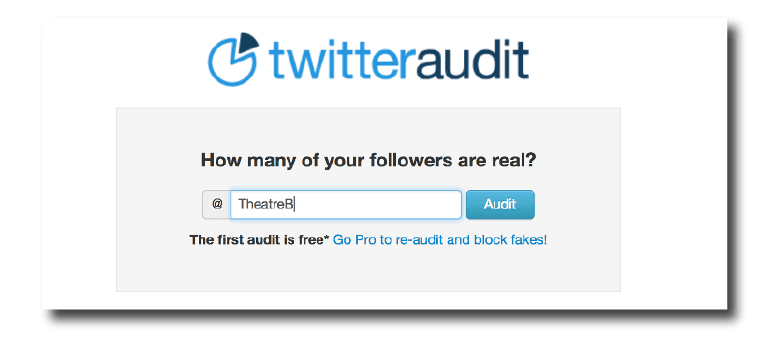 Allow the app to access your profile: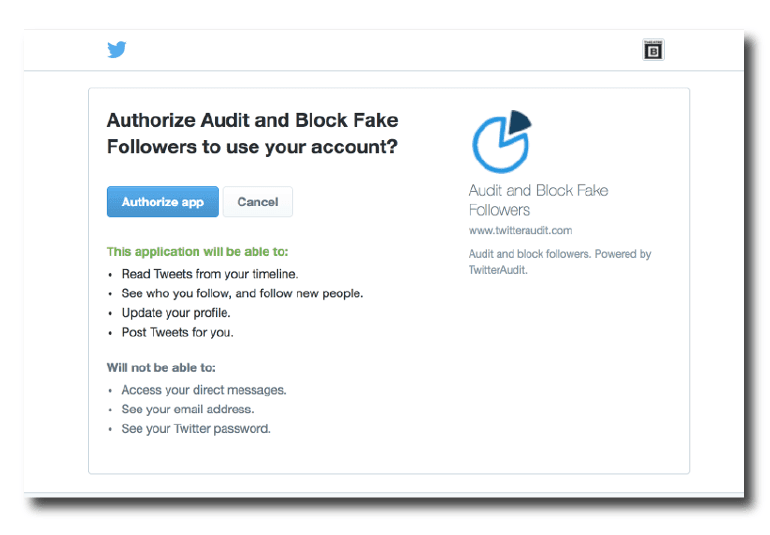 And you'll have a full breakdown of your profile: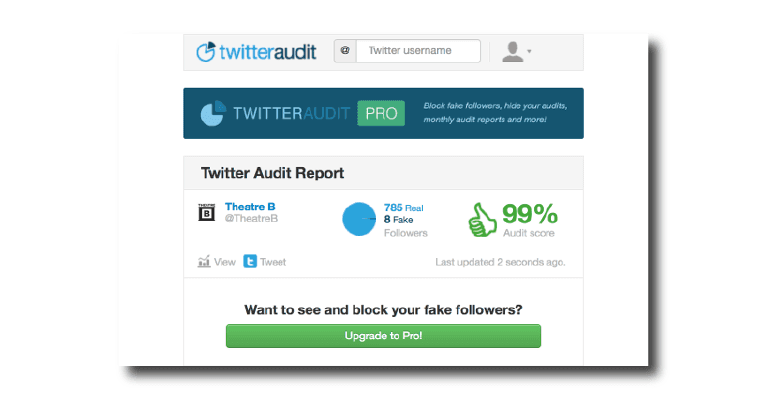 An app that will allow you to check for fake followers on Instagram is Social Audit Pro.
To use their follower feature, log in with your Instagram account.
After that, the tool can audit a certain number of followers based on the price you pay.

After you've discovered who your fake followers or bots are, you can block them from your page.
Find The Gender Breakdown and Age Range Of Your Audience
The last part of your audience analysis is going to be gathering the gender breakdown and age range of the audience you are attracting.
You've probably skimmed past this information during your performance analysis so finding what you need shouldn't be too hard.
For Facebook go to Insights > People > Your Followers. All the information you need should be located there: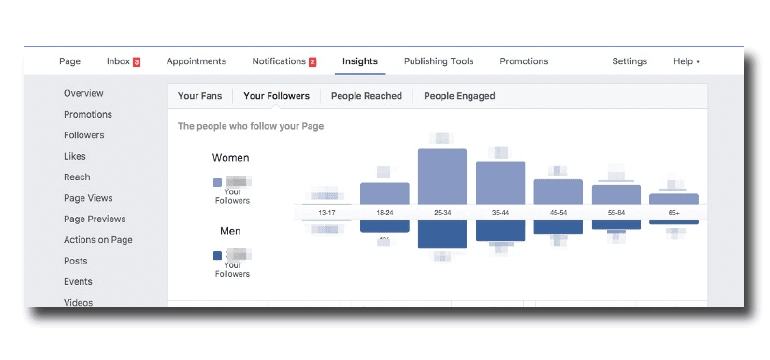 For Twitter go to Analytics > Audiences > Demographics. In the first section you'll find your age and gender breakdowns: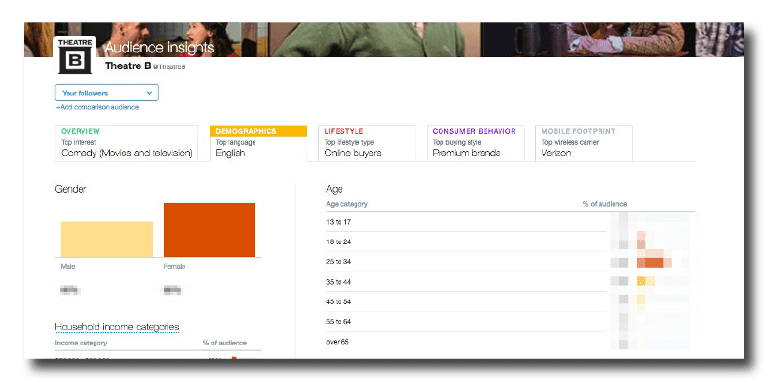 In Instagram select the chart in the upper right-hand corner of your mobile device, scroll down to Followers and select see more: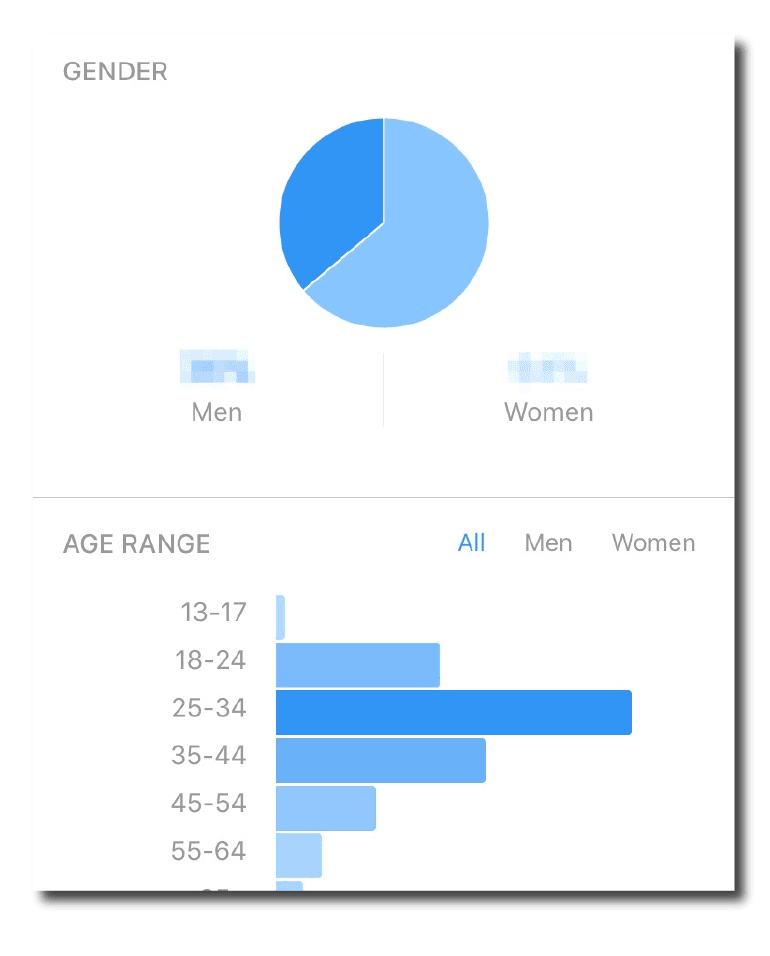 Pinterest demographic data is housed under Analytics > People You Reach.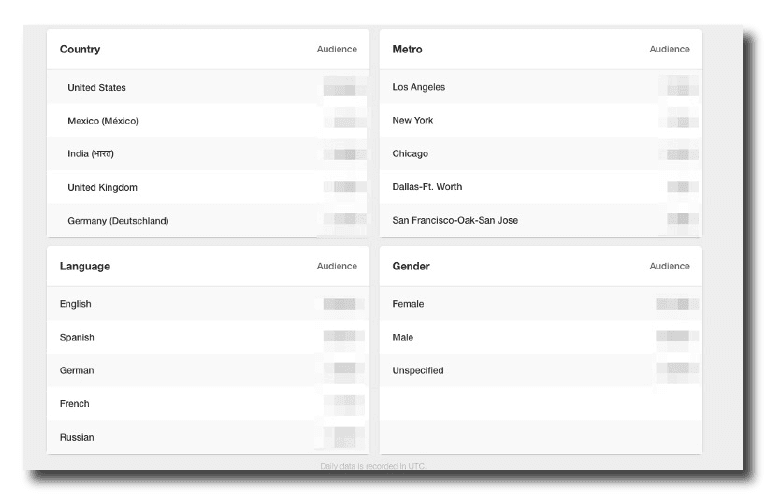 Pinterest does not gather data on the age range of their users. You can still fill in the gender demographics of your report and replace age with country, metro or language data.
Finally, LinkedIn data can be found under Manage Page > Analytics > Followers > Follower Demographics. LinkedIn is another social media channel that doesn't record the age or gender of the people who follow your page.

Instead, you can gather data on job function, location or even industry. Choose metrics that would reflect the progress towards the goals you need to meet.
After you've gathered all that demographic data, record it in the channel specific sections of your template: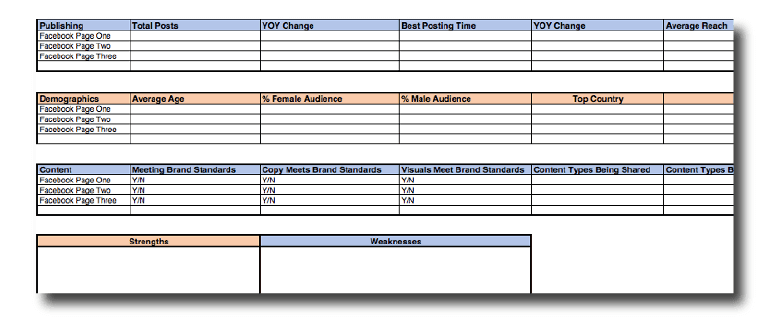 Step Six: Complete A Content Analysis
The next section of your social media audit is going to include running an analysis on the content that you publish to your social media profiles.
Are Your Posts Matching Your Brand Style Guide?
If your marketing team has a completed style guide, you can use it to create content standards for every post you create.
How?
One way could be creating copy standards for each of your channels. This could vary a bit, but an example of what those standards could look like are:
Facebook Copy Standards

Each post is no more than 250 characters.
No hashtags should be included in posts.
Twitter Copy Standards

Always include #TheatreB15 in every tweet.
Each channel can have its own set of standards that you can measure your posts against. So when you go through and audit your posts you can see if you included a certain hashtag for every tweet.
Another way to use your style guide is to create visual standards. These should be set design elements that should be included in every video, image, or infographic that you post.
An example of this could be:
Our logo must always appear in the lower right-hand corner of every infographic.
Our animated logo should appear at the beginning every Facebook video.
Text on images should always be Helvetica.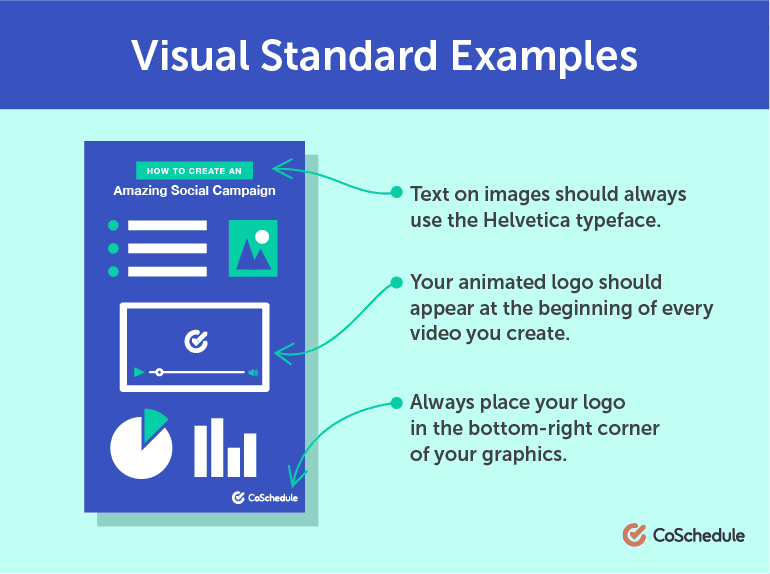 Recommended Reading: How to Build Social Media Branding Guidelines That Will Make Your Brand Memorable
Analyze Your Curated Content
The next step in your content analysis is to analyze the content you have shared on your social media profiles from other sources.
There are two parts to this analysis. One is looking at the post type that you have shared. This includes:
Images.
Videos.
Plain text.
Links.
As you look through your posts, watch for recurring themes. For example, if you see that your audience seems to enjoy curated videos but not links mention that in your audit.
The content you curate for every social media channel can be found in the analytics section. Look for posts that suddenly have a spike in engagement or have reached a higher number of people like this one: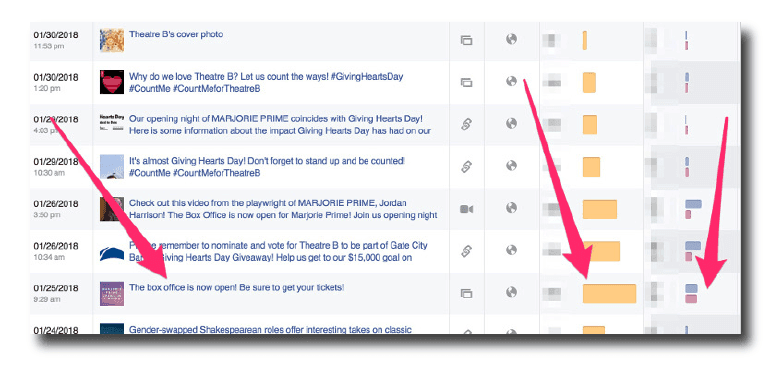 The message had a spike in impressions and engagements. At this point, you'd pull up the post to see if it was curated content and if it was what might have caused your audience to interact with it?
The next step is observing what post categories your curated content are in. Some examples may include:
News articles.
Event videos.
Customer product photos.
This list can contain any category that your curated content touches. Record your most popular curated content post types and categories in your spreadsheet:

Analyze The Content Your Create
The next step in your content analysis is going to be looking at the content your team has created and published.
This will follow the same process as the curated content (so you can do both at the same time) but instead of looking at the content you've curated look at the content you've published.
Are you spotting trends like:
Your Facebook fans usually enjoy how-to video content more than blog post links.
Infographics get tons of engagement on Pinterest.
These observations can help influence your strategy and what types of content you create next year. Record your top post content type and category in your template:

Find Your Top Posts
The last step in your content analysis is finding your top posts on every channel. These are the best of the best posts that you sent in the last year. All of them can be found in the analytics section of your social media channel.
For Facebook go to Insights > Posts and scroll through each post. You can pick your top posts based on engagement, reach or both.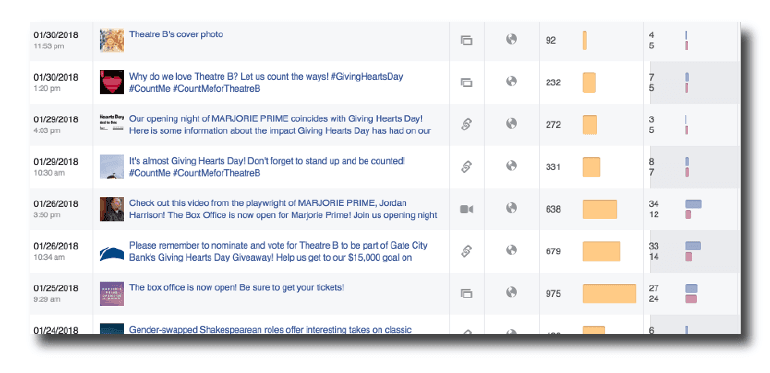 Twitter is a bit easier as each month pulls your top tweet out in a small analysis. Take the top tweets and choose the best one based on engagements, impressions, etc.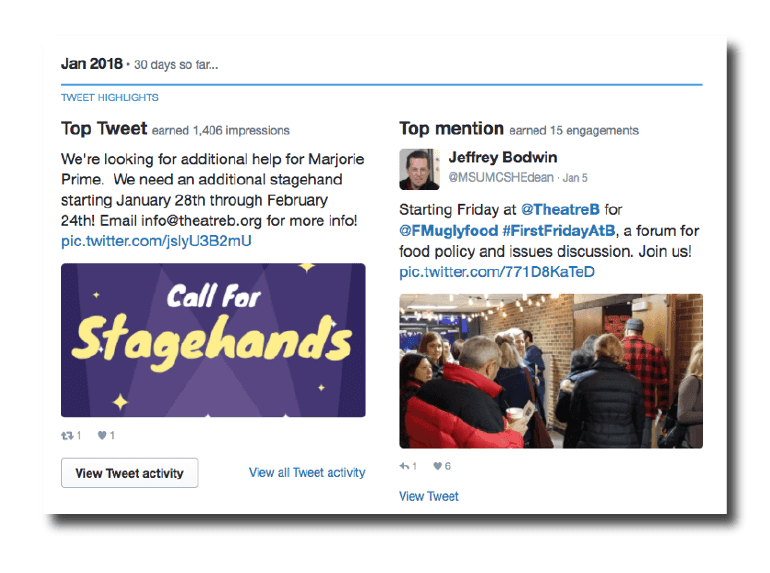 Instagram will order your posts by the number of impressions, engagements, comments, likes, reach and more. To find them go to your analytics, select Posts > See More.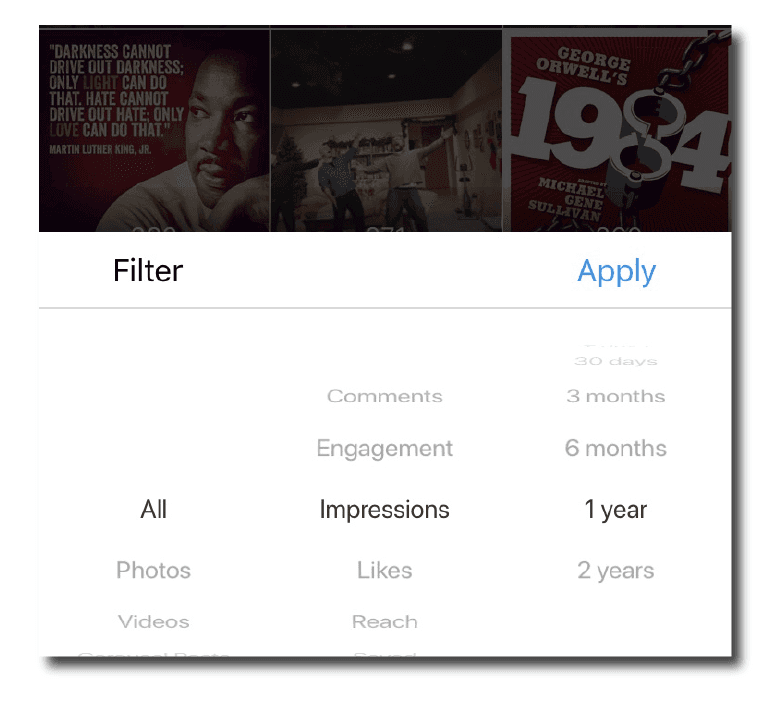 Pinterest pulls top pins from the last 30 days. This is one set of profiles that you'll probably want to continuously record data on your top pin. To find that information go to Analytics > Your Pinterest Profile.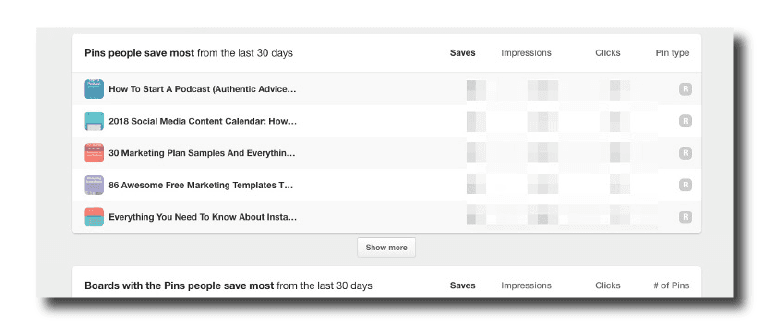 You can rotate through you top pins based on impressions, clicks, and saves.
Finally, to find your top posts on LinkedIn go to Manage Page > Analytics > Updates. Choose the metrics that you want your top post to be based on and scroll through every post to see which one beats them all.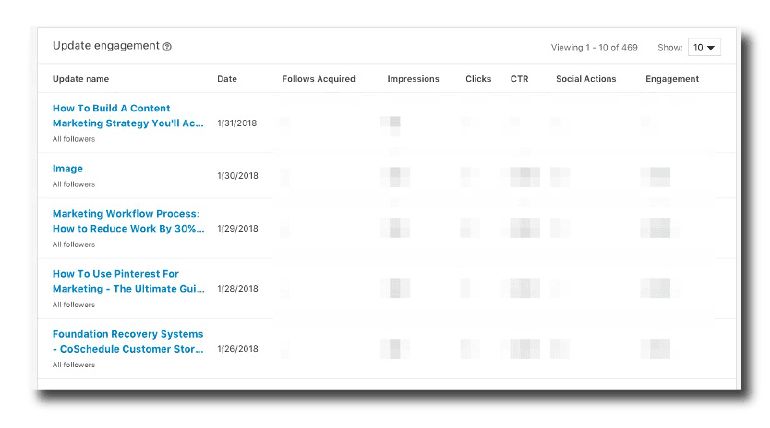 Record the links to your top posts in each channel of your template.

Step Seven: How To Do A SWOT Analysis
Another step in your social media audit is performing a SWOT analysis for each channel that you are active on.
SWOT stands for:
Strengths.
Weaknesses.
Opportunities.
Threats.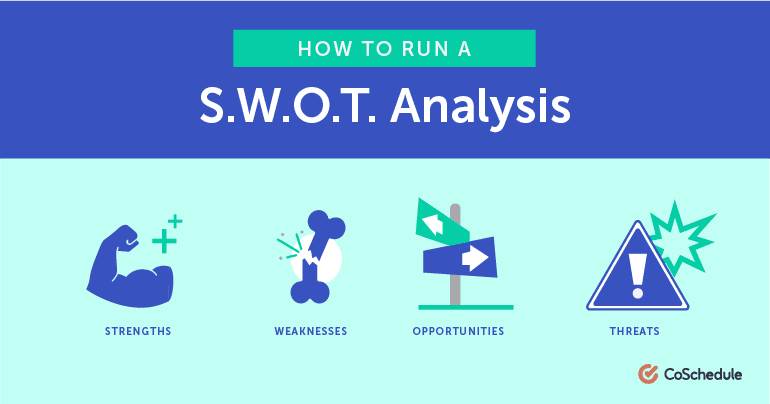 Each of them will allow you to evaluate what is and isn't working on your channels so you will be able to determine if staying on the channel is the best option for your upcoming strategy.
So let's walk through an example SWOT analysis for Facebook.
Some questions to ask you begin your strengths analysis could be:
What is our Facebook profile doing that no other social profile is?
What level of success have we seen with this channel?
What are we currently doing on Facebook that is causing success for our business?
Some strengths that Theatre B could consider for continuing to use Facebook for would be:
Their largest following is on this channel.
Their audience is the most active on this channel.
Their Facebook page leads with the most traffic referrals to their website.
In your template it should look something like: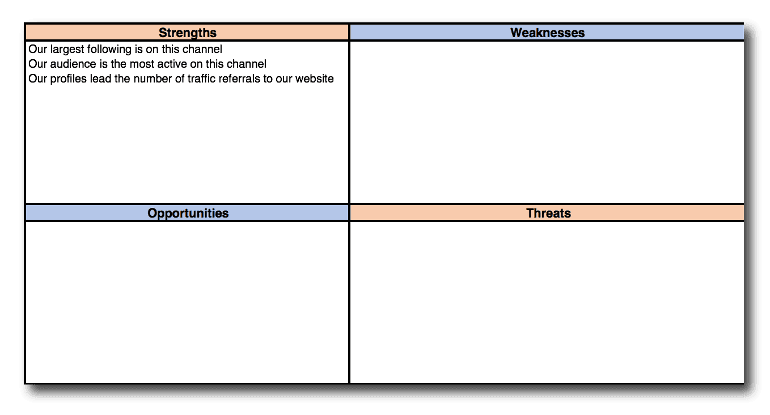 When evaluating your weaknesses ask things like:
What should we avoid doing next year?
What are we missing from our profiles that could've potentially engaged our audience?
What roadblocks are preventing us from using this channel to its full potential?
In our example, answers could look something like:
Trying to host our live video chat two times a week.
We should be posting more consistently to engage our audience more.
We don't have time to write 15 messages per day.
Record your answers in your template: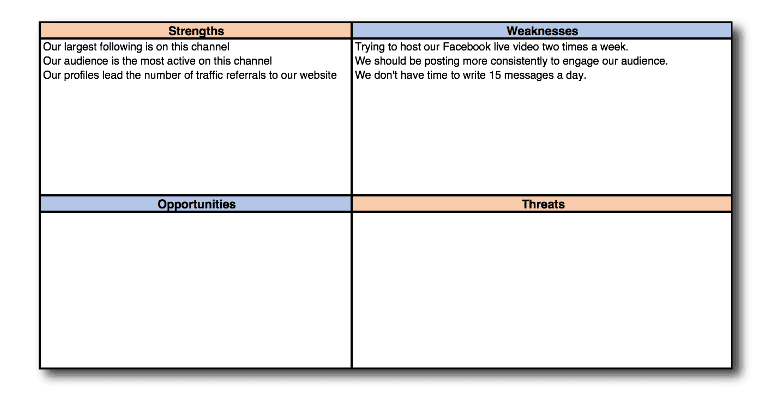 Opportunities are things that your company can use to improve your standing on a social channel. Some potential questions to ask could be:
What can we provide our fans with on Facebook that our competitors aren't doing?
What can we do to improve our weaknesses, so they are no longer weaknesses?
What could we be doing that we currently aren't?
Our example answers will look something like:
We could give them backstage access to our shows via live video.
We can pre-write our content and schedule it in advance, so we're not writing at the last minute.
We could be engaging with our audience more in the comments of each of our posts.
In your template, your analysis should look like: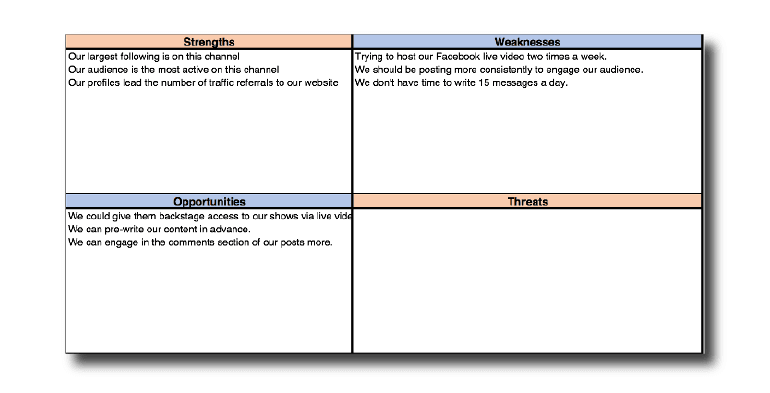 Finally, the threats section of your template should include an analysis what's happening on the channel as a whole that may prevent your success.
Questions to ask could be:
What policies are changing on the channel that may affect how we reach our audience?
Is the way our audience sees our content in their newsfeeds changing?
Are there certain content types that are preferred for this channel that we don't or can't easily create?
Example answers could be:
Facebook is now highlighting more content from family and friends instead of businesses.
Our audience would now need to select that they want to see content from our page in the settings section of our fan page.
Facebook favors video and with little to no budget, creating high-quality video is difficult.
Then fill out the last section of your template: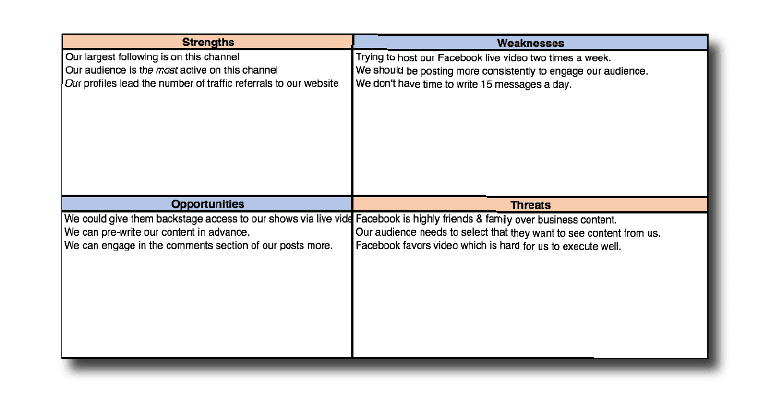 Step Eight: Decide Whether To Add Or Delete Profiles
One of the last parts of your audit is going to be deciding whether or not you need to add or delete social media networks for the next year.
You might choose to add networks if you think there is an opportunity for your brand on them.
This could be that your audience has moved into a new social network and are incredibly active there, or it could be that a social network has a new feature that works well with your content.
If you decide to delete a network, it may be because of lack of performance or opportunity. However, before you hit the delete button ask yourself the following:
Are we underperforming on this channel because we haven't invested enough in it?
Could we improve performance by adjusting our strategy or execution?
Is there evidence that our audience enjoys using this network?
It might be hard to admit when underperformance is tied to lack of effort. It's easier to say "Nah, it's the channel's fault our content isn't performing."
So, when you answer these questions, be honest. If a channel isn't doing well because you have not or cannot put in enough time, change your strategy and make it work.
Step Nine: Review Progress Toward Goals
The last step in your social media audit is to review your goals from last year. By using the data you've gathered you can see if you've missed, met or exceeded the goals you set last year.
So what do you do if you missed your goals? If you missed by a long shot, consider toning down your goals for next year into something you can realistically hit.
If you met your goals ask yourself how you can repeat that strategy but expand your goal a bit more so you can grow.
Finally, if you completely blew your goals out of the water, look at the growth you experienced and use that measurement to set even loftier goals for the next year.
Record your goals in your template and indicate whether or not you missed, met or exceeded them.

Finished Your Audit -  What's Next? 
Put your findings into action, of course!
Learn how to create a data-driven social media strategy with Actionable Marketing Institute by CoSchedule. Gain access to 11 lessons (with video tutorials) and 8 downloads to make creating a strategy easy as possible. Learn more about the course now!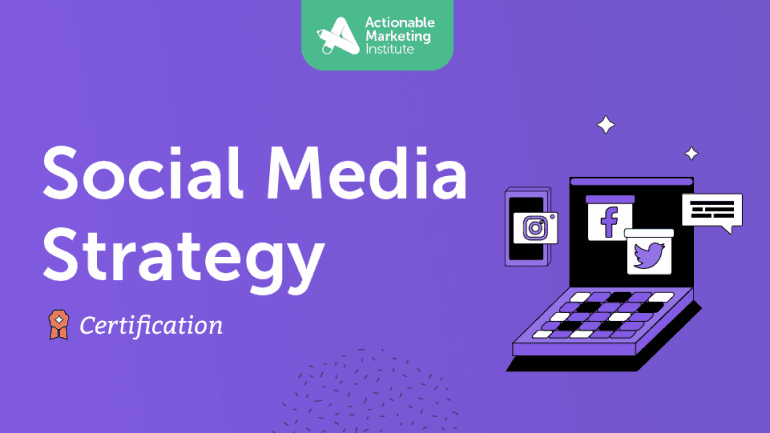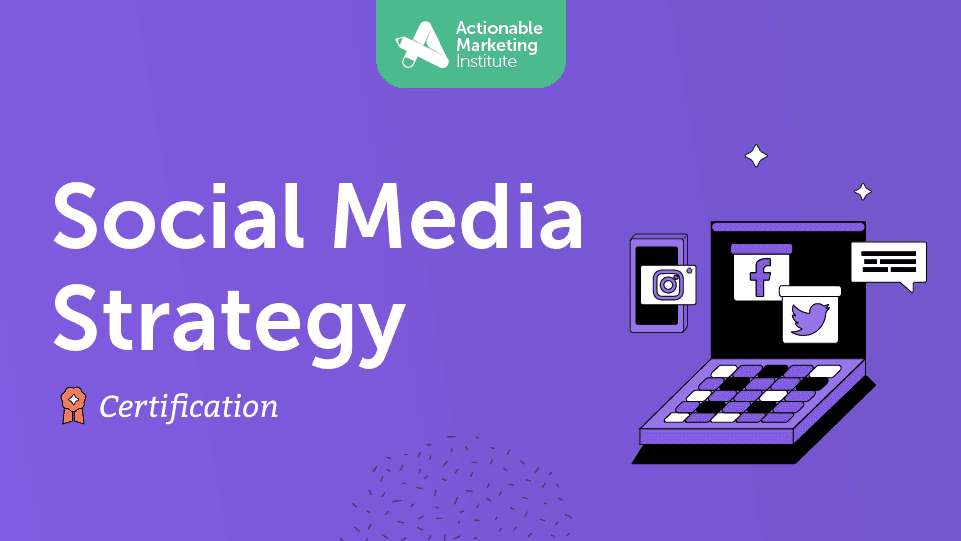 Go Forth and Audit Your Social Media Marketing
Okay, well, it may not be painless, but using our template and checklist will make the process much faster (and maybe more enjoyable).
Who knows, maybe you're really into audits. You do you.
Either way, a faster audit means you get to get started on your strategy and know the decisions you make are backed by a whole year's worth of data.
Do you have a different audit process that we may have missed? Share it with us in the comments below.
February 19, 2018