How to Boost Engagement on Social Media with Visual Content
Social media marketing is increasingly becoming a struggle to
capture audience' attention
. It's not enough that social networks are forcibly suppressing your content from the newsfeeds of your fans, but those fans are more fickle than ever. Visual content helps brands get their message across in a precise and engaging fashion. For this reason, visual content has gone from a "nice-to-have" to a
must-have
 vehicle for marketing messages. Here we look at the reasons why brands should spend their time, money and effort creating visual content, the different types of visual content they can create are and how these can contribute to your overall
social media strategy
.
Get Some Free Resources to Create Better Visual Social Media Content
What's good advice without the right tools to put it into practice? Not much, that's what. Before we get too much farther along, here are some free goodies to help you create better social media content:
128 free photos, optimized for each social media network.
Pinterest and Instagram Visual Marketing Infographic packed with useful tips and stats.
Social Media Image Size infographic with all the size dimension information you need for every network.
Why Create Visual Content?
In social media circles, everybody knows that visual content performs better than plain text. If you still need convincing, we looked at data from the
Facebook Pages
 of the
top 100 brands according to the Interbrand list
. In 2016, 80.20% of all the Posts published were photos and videos. These were responsible for 92.15% of all interactions that these brands received on Facebook.
On Facebook, there has been a steady increase in the amount of visual content being published. There was even an upward trend in the volume of visual content from one-quarter to the next in 2016.
One of the main reasons why social media marketers favor visual content is the advantage it offers in terms of
engagement
. Showing is always better than telling. Look at the graph below that shows the average number of interactions that visual content received compared to other forms in 2016. Especially when you present facts and other information, it will be easier for your audience to assimilate visually represented content as opposed to a wall of text.
How to Create Visual Social Media Content
One of the best things about social media marketing is that there is something for everybody. Visual content creation on social media works along the same lines. You do not need a multi-million dollar social media budget to create visual content. The possibilities that are available to your brand may differ willing on the resources you have (talent, time, money). Yet, there are many things that brands can do even with a shoestring budget. As we have seen above, the kind of engagement that visual content can bring you makes a strong case for posting more photos and videos. Even if you do not have a full-time designer or an agency to handle social media content creation, you can create some stunning visual content. There are many free tools that are available online for creating various types of visual content. A basic starter kit for any brand would just be a willingness to play around with some free tools like:
Innocent drinks
 published that cracked me up (as they always do):
need
 engagement or interactions. It is hard to establish beyond doubt if someone would pick up an Innocent smoothie or a couple of cans of Dr. Pepper. Yet these do play a significant role in building brand personality on social media and help mold the way people feel about brands. If you look at some of the brands that publish outstanding visual content, you will see that they are very distinctive. This is the case with Starbucks, Dr. Pepper, GoPro, and so forth. While most of Starbuck's content sports their trademark cups and their unmistakable logos, they also have a very recognizable indie vibe. Charm bracelets, woolen scarfs, freshly mown grass, fall leaves, knitted sweaters all feature regularly in Starbucks' posts. In addition to reminding social media audiences about the brand, these posts make them crave for the warmth and coziness of a cafe or to start their day with the indie chill. Their content has become so iconic that their red cups have almost become synonymous with the holiday cheer.
GoPro
, on the other hand, rarely uses their logo on any of their visual content. The photos themselves yell GoPro. The brand regularly puts up stunning visuals set in adventurous locations that makes these Posts identifiable as GoPro's. There is no better way of establishing yourself as a brand that brings together amazing picture clarity and the spirit of exploration. The position that they hold within the community of travel and photography enthusiasts is further bolstered when they share user-generated content like the one below:
Infographics
Infographics are the best medium for marketers to use when they want to make their data tell a story. If you think that your eyes glaze over when you see a cramped table or a complicated graph, you are not alone. Infographics allow content creators to present data in an easily digestible and aesthetically pleasing way.
Infogram
 and
Venngage
 are among some of the free infographic-makers that are available online. With the templates they offer, you really don't
need a designer
to dedicate their hard-pressed time for creating an infographic. Most of the infographic creation tools come with a predesigned template. Each template is designed for a specific type of infographic. The type of infographic depends on what you are using it for – is it to convey some information or statistic, a how-to or a comparison. In addition to these templates, they also offer different elements, such as charts, text formats, symbols etc. The first thing you should have when you start out with an infographic is a story.
Here

's an infographic
 created using Venngage that was published in Adweek:
Take a look at an
infographic
 that we did back in 2015 that got us a lot of traction:
One of the things that we were able to do using this format is to do creative things with the data that we have. If you thought that only data nuts like us use infographics, see this
Washington Redskins
' infographic that doubles as a 360 photo:
Images
Did you know that Facebook Posts with images get
2.3 times more engagement
 than those without? There are a million different things you can do with images on social media. These can be professionally taken product shots, or just stock images with an interesting caption that accompanies your Post. If you have an extremely talented and resourceful photographer in your team, nothing should stop you from leveraging professionally captured images of your product on your website as well as on your social media handles. While most businesses will get a photographer (or someone with a DSLR) to get shots taken for websites or for important events and press releases, it is not always the case with more regular content needs. For instance, it is common knowledge now that text-only updates do not perform nearly as well as when they do with a photo accompanying them. For needs like that, you can always take the help of some of the free tools and stock photos available on the internet.
Unsplash
 and
Pixabay
 are excellent repositories of stock photos. It is easy to search and find beautiful photos for your search terms. Another tool that will be a boon for your
social media manager
is Pablo by Buffer. Here is a short snapshot of
Pablo in action
: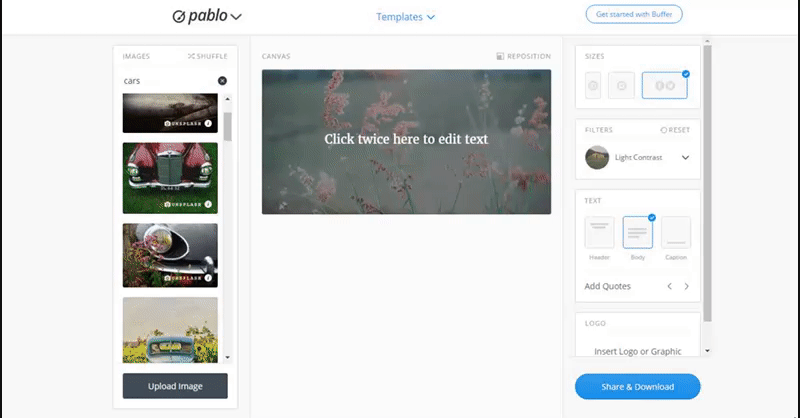 What I like best about Pablo is that I do not need to go elsewhere searching for stock photos. Plus, I can add in a header, caption or lines of text or use a pre-existing template. The built-in editor lets me add simple, yet attractive filters. I can also customize the size of the picture depending on where I plan to post it – Pinterest, Instagram or Facebook. There isn't a lot of room for customization but you can be done creating a beautiful graphic in under 5 minutes.
Canva
 is another one of my favorites which is a bit more dynamic. They offer more diverse templates and design elements create a photo to accompany my Facebook post or even create an infographic. Watch this
video by Canvas
 that takes you around the platform and explains what you can do with it in under 4 minutes.
360 Photos and Videos
In addition to these tools, you can also try your hand at some of the new visual content creation features offered by Facebook. 360 videos and photos were some such features that gained a lot of popularity last year. It is fairly simple to create 360 Photos. All you need to do is take a panoramic shot using your smartphone or your iPhone. For 360 videos, you need a 360 camera. Read
this article
 for a detailed how-to. Even if you think you are in a boring industry, 360 photos have the ability to go viral (with a little paid push of course). Take this 360 photo from German pharmaceutical and chemicals company
Bayer
.
Getty Images
 achieved using this format:
360 videos on Facebook
.
GIFs
It's a meme-crazy world. GIFs are gaining traction among social media marketers as a staple content type. Some brands, like
Nissan
 below, are integrating this format into their contests and giveaways:
GIPHY
 now lets you
create GIFs
. You need only upload videos or supply YouTube links. You can take a regular video or use an existing video. Once you upload this or input the Youtube link, GIPHY allows you to specify which portion of the video you want to create a GIF of. You can then add in text and specify other settings. The final GIF can be shared on social networks directly.
Videos
Videos are becoming a vital part of every brand's Facebook strategy. With the changes to the Newsfeed algorithm that gives an edge to
video content
, they gain better reach than other kinds of content. Brands often post video advertisements and product features that are professionally captured. Yet this does not mean that posting a video on Facebook needs to be a resource-intensive endeavor. Brands can do a variety of low-budget (and often free) videos on Facebook that can get them great engagement and reach.
Live Videos
Live videos, even though it was rolled out globally only by April 2016, have been enthusiastically taken up by many brands. The key advantage offered by live videos is that it makes the video format more interactive. It does not hurt that live videos gives a
 huge boost to the engagement and reach that brands get
. Facebook users can pose questions to the brand on what is being broadcasted on the live video and the presenters can address them then and there. This adds to the brand's credibility. Also, the brand gets a keener insight into the pain points of potential consumers. Here's how the cosmetics brand
Mary Kay used live video
 to win engagement:
How to Integrate Visual Content Into Your Social Media Strategy
I have mentioned several studies (and our own data) to underline why brands should create more visual content. But your decision to create visual content should be guided by your larger social media goals. Only then will you be able to judge what kind of visual content will work best for you and where it fits in within your overall social media strategy. For instance, if you are on Facebook to let more people know about your product, videos might be the way to go. They get better reach and can get the word out about your product to a wider audience. Based on what your social media budget is like, consider roping in an
influencer
 to do the video. Based on data on your past performance and industry trends, arrive at an optimum frequency at which you should post to Facebook. If you are going to post 15 times a month, split this up into different categories based on your budget. You can allocate these 15 to lead to a major event around which you can create more content and get more people to participate. You can do a few resource-intensive videos or other visual content that needs time and specialized effort. For the other posts, the social media manager can do simpler, easier to make content and focus more on getting social media audiences to engage with it. A video with heavy production costs cannot stand alone as the only thing that you post on Facebook. It has to be part of a larger
video marketing campaign
. Contests and giveaways get brands more engagement and participation. This way, even if you do not promote, your future content will get better reach and visibility on Facebook. Especially with live videos you need to announce them in advance and build excitement around the event in order to get more people to participate.
How to Ensure That Your Visual Content Gets the Attention it Deserves
Now that you have a clear idea of why you should create visual content and how it fits in with your larger social media objectives, here are some measures that you can adopt to ensure that your visual content does not go unnoticed. While it is almost impossible to know with absolute certainty what content will succeed on social media, it is also a source of rich data. Using the record of how your past content has performed, you can glean insights on what is most relevant and appealing to your audience. It is essential that marketers constantly
measure and monitor their social media activity
. This coupled with an awareness of the industry landscape and trends there is key to pinning down a concrete strategy. With
organic reach
plummeting with each passing day, brands cannot always trust
creative copy
 and stunning visuals to do well on their own. In 2016, the top 100 brands promoted 18.65% of all their Posts. Over 78% of all the Posts promoted bore some visual content.
Facebook algorithm favors native videos
 over those hosted elsewhere. Even if you do not record the video directly on your Facebook app, as long as it is uploaded directly to Facebook your video will get better reach than if you shared a link to your the video that you posted on YouTube. The algorithm gives
preference to live videos
 too. This makes a very strong case for brands to try their hand at this new format. Getting an
influencer on board to help broadcast your message
is a clever Facebook Reach hack. When you get a celebrity or an expert in your industry to create a video in collaboration with you, you can tap into their follower base. This helps broadcast your message to the people who follow that person. The best thing about this approach is that the influencer's
followers
are usually people who make up the target audience for your brand. Similarly, make full use of the options that Facebook offers you to
target your messages to people who fall within certain geographical locations and interest groups
. This ensures that the audience who get to see your post find it extremely relevant and that your efforts reach your targets rather than fall off the mark. From the data that we have discussed, it is possible to say without doubt that all brands that aspire to
getting engagement on Facebook
, need to create visual content. Visual content ups the relevance factor of a piece of content by presenting those aspects most relevant to the consumer. Marketers should strive to retain relevance as the hallmark of visual content creation by
guiding creative decisions with data
.