How To Increase Visibility With Social Media Optimization 78
Headline Analyzer
The blog post headline analyzer will score your overall headline quality and rate its ability to result in social shares, increased traffic, and SEO value.
Test every headline before you publish. Try the Headline Analyzer »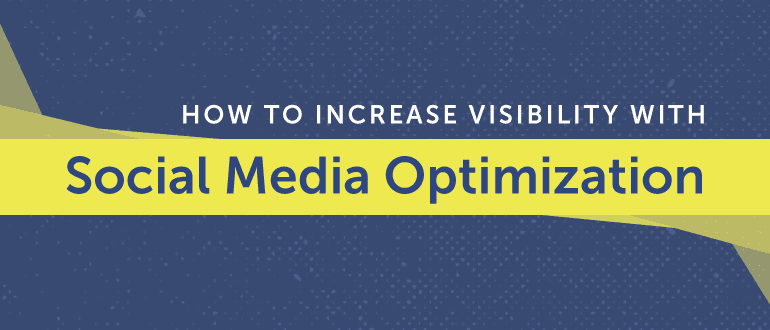 Are you familiar with social media optimization? If so, are your social media profiles and strategy optimized to help your content rank in search and drive traffic to your blog?
It's okay if your answer is "I don't know."
We wanted to know more about social media optimization and so we rolled up our shirt sleeves (not literally) and dug into some deep research. In this post, we'll share what we've found, and how to put some of that information to use.
What Is Social Media Optimization?
The answer to this question is a little more complex and less obvious than what we expected to find.
Marketer Rohit Bhargava is credited with coining the term back in 2006. According to Bhargava, we can define social media optimization (SMO) as:
The concept behind SMO is simple: implement changes to optimize a site so that it is more easily linked to, more highly visible in social media searches on custom search engines (such as Technorati), and more frequently included in relevant posts on blogs, podcasts and vlogs.
Using this definition, SMO is similar to search engine optimization, in the sense that your goal is to maximize visibility and traffic to your site or blog from social media. That sounds straightforward enough, but we also need to keep in mind that this definition is nearly ten years old.
If SMO is anything like SEO, then we can expect that some of those tactics which were relevant a decade ago, may no longer be relevant today.
Our questions led to more questions before we started to find some real answers. We'll dig into optimizing your social channels in a bit, but there's something else we need to touch on first.
Why Is Social Media Optimization Important?
You have a few social media channels set up for your blog or business. You're posting content on a consistent basis (and you might even be using CoSchedule to help manage that process).
There's always more you can be doing to make sure you're earning as much visibility on social media as possible (and we say that because we can always do more).
Like with all things social media, once you stop moving, you start to sink. You have to keep active. Always crossing your T's and dotting your I's every single step of the way.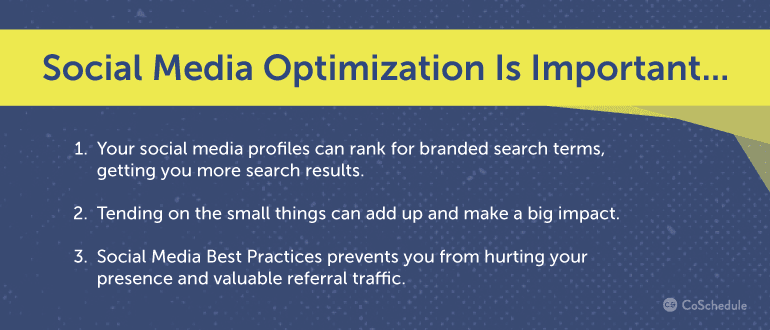 More specifically, SMO is important because:
Your social media profiles can rank for branded search terms, helping you hog more search result space.
Paying attention to all the small aspects of SMO can add up and make a big impact.
If you're not following these best practices, you may actually be hurting your social media presence and losing out on valuable referral traffic little by little.
Once you've read this post, you'll be prepared to tackle the following goals:
Increase the visibility of your social media profiles in searches.
Drive more traffic to your blog or website from your social media platforms.
Most of these recommendations pertain to small changes you can make on your blog, website, and social media profiles. The focus here is on technical mechanics, rather than on the art and craft of creating content.
Now, let's get to work.
How To Make Your Blog Or Website Social Media-Friendly
The first place to start with social media optimization is directly on your blog and/or website. This entails that you have a handful of items in place to make sure your site or blog displays content attractively when shared on social media. You'll also want to make sure it's easy and intuitive for users to share your content as well.
You'll want to make sure your site or blog displays content attractively and is easy to share on social media.
Add Social Sharing Buttons To Your Site & Blog Posts
If your site or blog doesn't have them already, it might be time to add social sharing buttons. While there is some debate over the best placement for social media buttons on blogs, or whether people actually use them, they do make it easier for users to share your content.
Need a plugin to add social sharing buttons to your blog? 
Add Linkable Content To Your Static Website Pages
Blog posts are inherently shareable on social media. If you didn't think your post was worth sharing, you probably wouldn't have written it in the first place.
Static website pages are pages on your blog or website that are static (like an "About Us" or "service" page).
It can be difficult to make static pages interesting enough for people to share. And that isn't because they aren't important. It's because, there typically isn't much on those pages that make folks want to like, share, tweet, or pin them.
What's the solution then?
The solution is to add value to your static website pages with linkable content. That means adding valuable content that can easily be linked in social media posts. This provides something of value that people are likely to share with their followers.
What can you add to your static pages to draw social media attention:
White papers or e-books
Videos
Contest signup forms
Create content that adds value to a page and gives readers a reason to share it.
You could even consider creating hub pages with a ton of downloadable content all in one place. Our own Resource Library is just one example of what this idea can look like in action.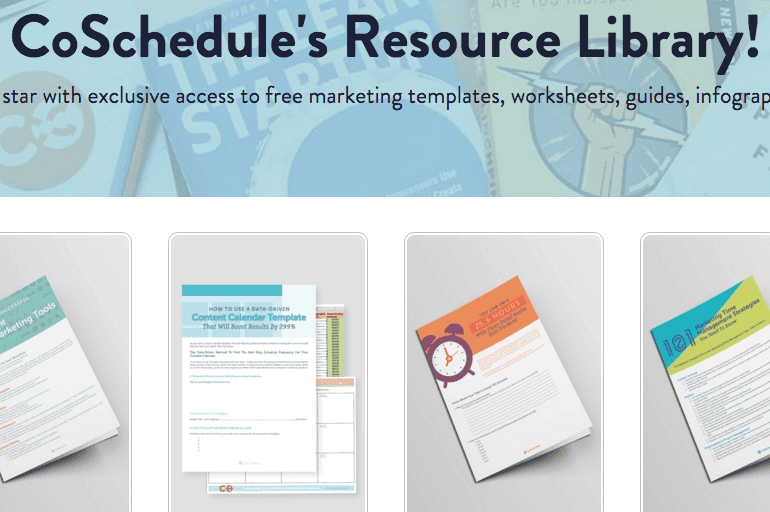 Add Click To Tweet Buttons In Your Blog Posts
Adding a click-to-tweet button in your blog posts can help give your content an extra push on Twitter.
Pro Tip:
 Pull interesting quotes or statistics that readers will likely find interesting and put them in click-to-tweet boxes so your readers can share them quickly.
ClickToTweet
is a simple web service that lets you create click-to-tweet links that you can copy and paste into your posts.
Alternately, you can also use the awesome Click-To-Tweet WordPress plugin built by our very own team at CoSchedule. Here's what they look like in action:
Add Twitter Cards And Facebook Open Graph Markup To Your Website, Blog, And Blog Posts
Adding Twitter Cards and Facebook Open Graph markup to your web pages and blog posts can help you control how they appear when they are shared by others online.
What Are Twitter Cards?
Twitter Cards are simply a few lines of HTML that allow you to specify photos, videos, and other media that appear when a page is shared on Twitter.
There are four different types of cards you can choose from:
Summary Cards: These include a page title, description, image thumbnail, and an @ attribution to your Twitter account.
Summary Card With Large Images: These are the same as Summary Cards, but with a bigger image.
App Cards: These feature a direct download link for a mobile app.
Player Cards: These include a media player for video or audio content.
Here's an example of what a Summary Card with a large image can look like: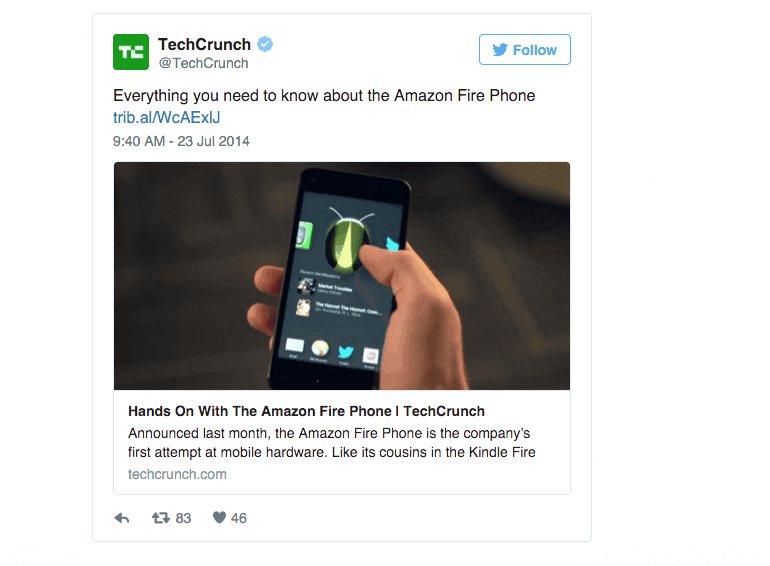 What Is Facebook Open Graph Markup?
In short, Facebook open graph markup is code that is added to your blog or website to help control how pages and posts appear on Facebook when people share them. It lets you control the image, title, and description that appears when a URL is shared on the platform.
How To Implement Twitter Cards & Facebook Open Graph Data On Your Home Page
Twitter Cards are easy to implement on WordPress sites using the Yoast SEO plugin.
Follow these steps to set yours up:
Install the Yoast plugin, if you haven't already.
Find Yoast SEO in the WordPress dashboard on the left-hand-side navigational bar.


Scroll down to Social and then select Twitter. Here, you can add Twitter card data to your site. You can also set it up to use a Summary Card or the Summary Cards with Large Images in your default option.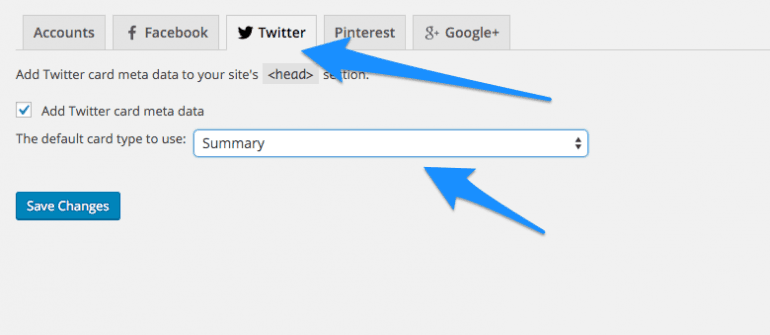 Now that you've enabled the Twitter Card functionality, you'll need to specify which data and images you want to appear.
For this step, we'll need to open the Facebook tab and fill out the Open Graph data. This information will be used when your home page is shared on both Facebook and Twitter, so you're knocking out two birds with one stone here.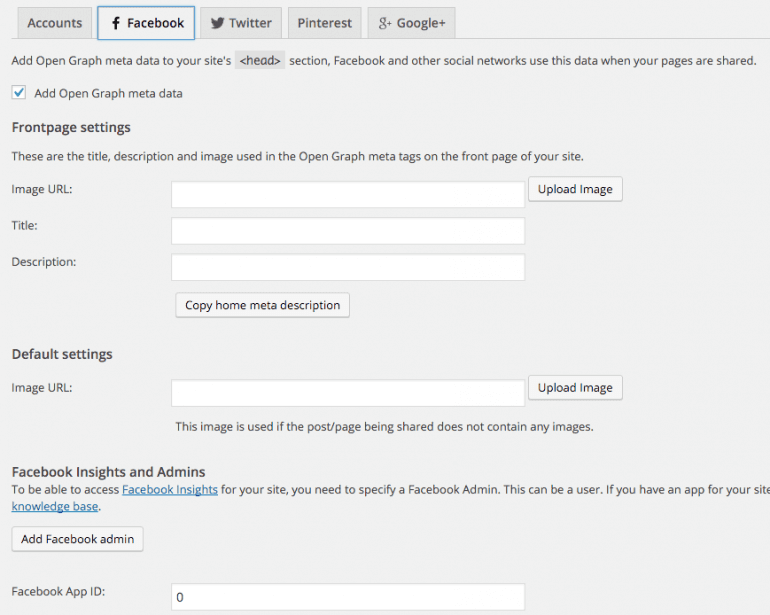 How To Add Twitter Cards And Facebook Open Graph Data To Individual Blog Posts
Yoast also allows you to add Twitter cards to individual blog posts. Just scroll to the bottom of your blog post in WordPress, find the Yoast box (it should be easy to spot), and then click the button shown below to find social media options.


You'll be brought to a screen where you can add or edit the Open Graph data for Facebook. You'll also be able to create a card for Twitter here.
That's all it takes.
How To Optimize Your Social Media Channels For Maximum Visibility
Now that we know what social media optimization is, and we understand why it's important, it's time to get down to brass tacks and start implementing some tactics and best practices. Let's get started with one social media platform (Facebook, Twitter, Google Plus, LinkedIn, Pinterest, Instagram, and Youtube) at a time.
How To Optimize For Facebook
Let's get your Facebook page looking its best. Even if you've already filled out your profile, there is always room for improvement.
Optimize Your Cover Photo
There's more to having a good cover photo than just slapping something in there with your logo.
Make your cover image 851 pixels wide by 315 pixels tall.
Choose an image that clearly communicates what your blog or brand is about.
If you want potential followers to give their email address or to visit your promotion that's currently running, consider swapping out your cover photo to promote it.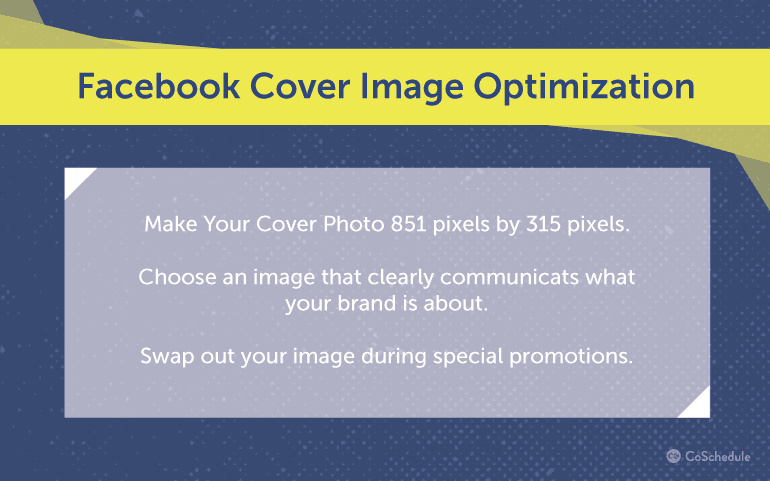 Include A Relevant Call-To-Action Button
Facebook gives you seven different call-to-action button options that you can use.
These include:
Book Now
Contact Us
Use App
Play Game
Shop Now
Sign Up
Watch Video
Here's an example of what these call-to-action buttons can look like:
See the signup button? It takes users straight to our homepage, where they can choose to sign up for a 14-day free trial with CoSchedule. (P.S. Do you see how we used the cover photo to point to the sign up button?)
You could share a link to:
An email signup form.
A customer service page.
An app download.
E-commerce page, or anything else that may be applicable.
To get the most from your cover photo:
Use a visually appealing graphic with a snappy headline.
Include a visual indicator pointing towards your CTA.
Write a strong image description for your cover photo (If you'd like, you can even include another link there as well).
Add A Comprehensive Bio Section To Help Your Profile Get Found
Don't skimp on filling out your bio (or the rest of your profile).
Be comprehensive and include as much information as you can to help your audience.
Make sure your biography includes relevant keywords (much like you'd use to describe your business on your website, or your About page on your blog).
Be descriptive and show your personality.
Being thorough in completing your profile can help your Facebook company page rank in the search results.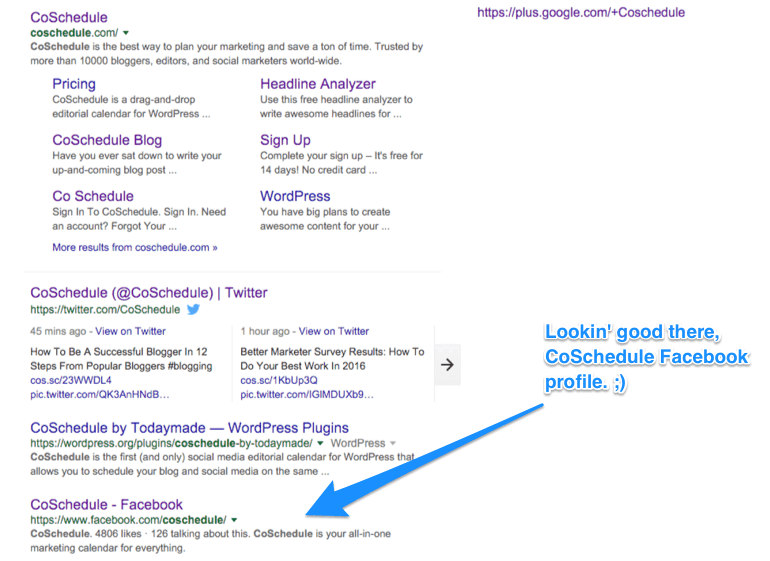 Make Sure Your URL And Contact Information Are Up-To-Date
If you have a business with a physical location, make sure the address and phone number on your Facebook page match your website.
Also make sure your website or blog URL is correct.
I know, these might really seem like minor details, but you'd be surprised how often these are omitted or left incorrect. Sometimes the devil is in the details and if you aren't careful those small things will group together into something larger.
Include Links In Image Captions
This is sometimes overlooked, but remember image captions offer another place to add a link. It's a small detail, but it can help add a bit of traffic back to your blog or website. This goes for your cover photo too.
Here's an example from our Facebook page (and in case you missed it, yes, we really did give pizzas away! :)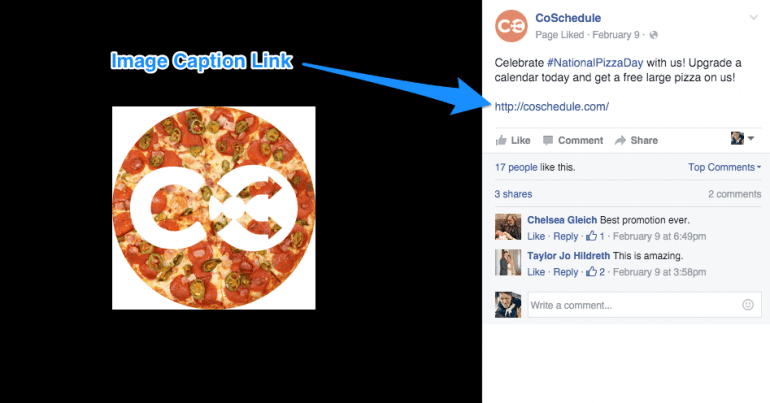 Upload Video Directly To Facebook
Video is growing in importance for content marketing, with YouTube dominating as the online video platform of choice. Facebook has taken steps to be more competitive as a place to find prime video content.
For this reason, Facebook prioritizes and favors video posted directly into Facebook, versus video shared from YouTube (or somewhere else).
To get the most reach from your video content on Facebook:
Try posting video files directly into Facebook. Even if you usually share videos on YouTube, you still can (and should) like usual, but consider sharing that same video directly to Facebook.
Embed Video From Facebook Into Your WordPress Posts
This is another great way to increase the reach of your Facebook video content.
For tips on how to embed Facebook video into WordPress, check out this video tutorial:
Here's what an embedded video from Facebook could look like on your blog:
Do What You LoveWant to know what it's like to work at one of the fastest growing startups in North Dakota? We're building a product and a company that people love. Here's how we do what we love and love what we do every day!http://coschedule.com/jobs

Posted by CoSchedule on Tuesday, October 6, 2015
Pro tip: While we've focused on video here, you can follow this same process to embed non-video Facebook posts as well.
How To Optimize For Twitter
There are a lot of ways to optimize Twitter as a traffic driver. Here are a few you can put into use right now.
Write A Good Bio To Help Your Profile Get Found
There's an art to writing a good Twitter bio, and it isn't easy to do in under 140 characters.
Some things to keep in mind:
Use descriptive words.
Focus on telling people what your blog or company is about while emphasizing benefits to your audience.
Remember to include relevant keywords in your bio. It will help you appear in internal searches on Twitter.
Here's the bio on the CoSchedule Twitter account. It's nothing flashy, but it clearly communicates what our product does and why it's beneficial.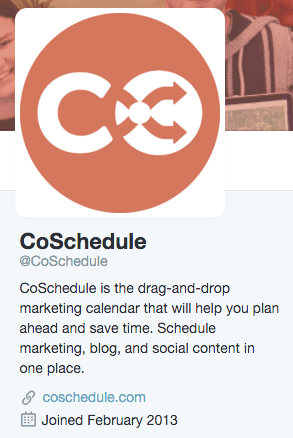 We also have a separate Twitter account that is focused on our blog. For this account, we've written a bio that accurately describes the topics our content covers.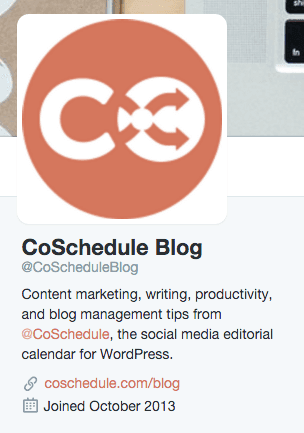 For proof that spending a little time on your bio can make a difference, here's what came up when we did a Twitter profile search for "content calendar".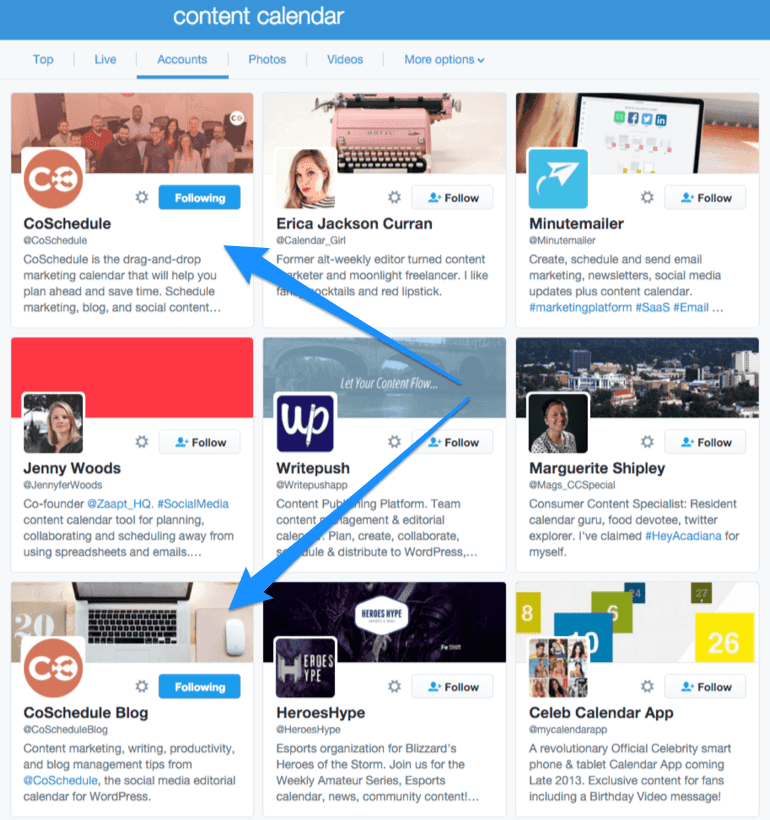 Pro Tip: Include keywords in tweets to help them appear in internal searches on Twitter.
Use Relevant Hashtags
You likely know that hashtags are essential for helping content get found on Twitter. However, it's important to use hashtags that people are actively using, and that are relevant to your content.
Here are a few helpful tools for doing hashtag research:
Share Relevant Content Consistently
Again, this may seem like a no-brainer. However, it's worth mentioning here that Google shows tweets in its search results.
Therefore, ensuring that you're posting links to relevant content you've created on a consistent basis can help you leverage Twitter and Google together to drive more referral traffic.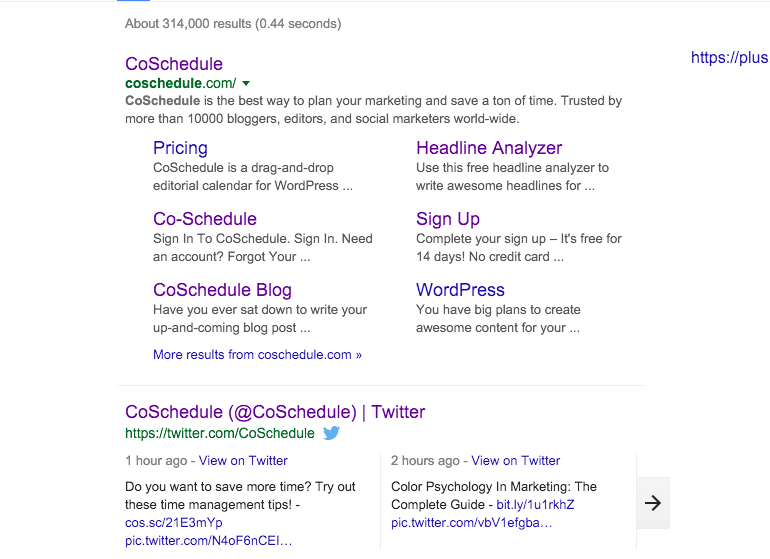 How To Optimize LinkedIn
Work for a business with a company page on LinkedIn? Here are a couple tips to help draw attention to your profile.
Share Content In LinkedIn Groups
One great way to draw attention to your blog content on LinkedIn is to participate in groups.
Now, we aren't suggesting you join a bunch of groups and spam them with your blog posts.
Rather, make yourself a valuable member of those groups by engaging in genuine discussion. Then, when you have something that can legitimately answer a question or be of use to the group, go ahead and share it.
This video features some good tips on finding groups relevant to your niche:
Add Keywords To Your Bio
Be thorough in completing your entire profile for your business.
Incorporate keywords in your company description. If you write a quality description of your company, it's likely you'll include keywords relevant to your business or blog naturally. However, it's still a good idea to double check, and consider adding one or two phrases here and there at a minimum.
Social Media Examiner's LinkedIn page offers a good example of a well-written bio (with relevant keywords listed in the Specialties section):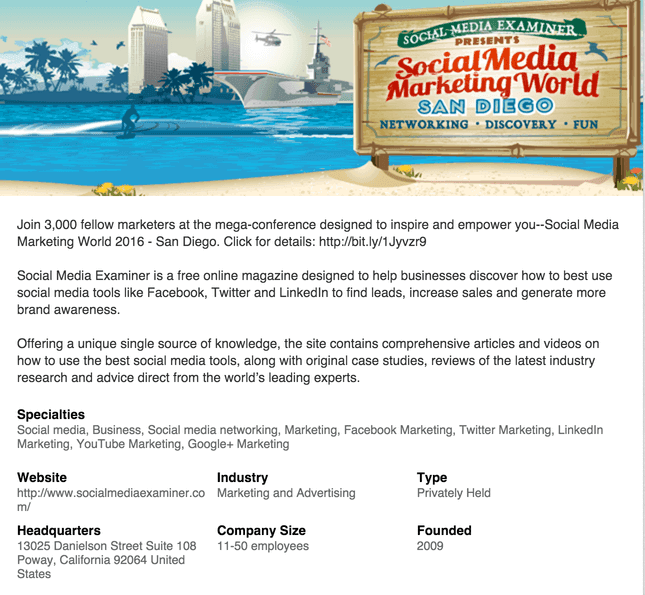 How To Optimize Google+
Google+ is often joked about as being a social media ghost town. However, it does have an active user base, and there are topics and niches with highly engaged audiences.
Include Links In Your Profile
Google+ conveniently offers a section for relevant links to other web properties.
If you're a solo blogger or freelance writer, you can even add links to websites you contribute to. Plus, you can include links to any other website you'd like, and give it a custom label (for example, a writing portfolio you might keep separate from your main blog).


Format Your Google+ Posts For Success
While Facebook tends to reward shorter post copy, Google+ is just the opposite. Posts on G+ are treated almost like short blog posts, so feel free to write a few paragraphs if you need to.
To make your posts easier to find and read, use Google+'s semi-secret text formatting options.
Include keywords and structure your posts with bolded headers. It can help your posts appear in searches easier (both via Google search and internal searches on Google+).
This Google+ cheat sheet from Moz shows you how to bold, underline, and strikethrough your text: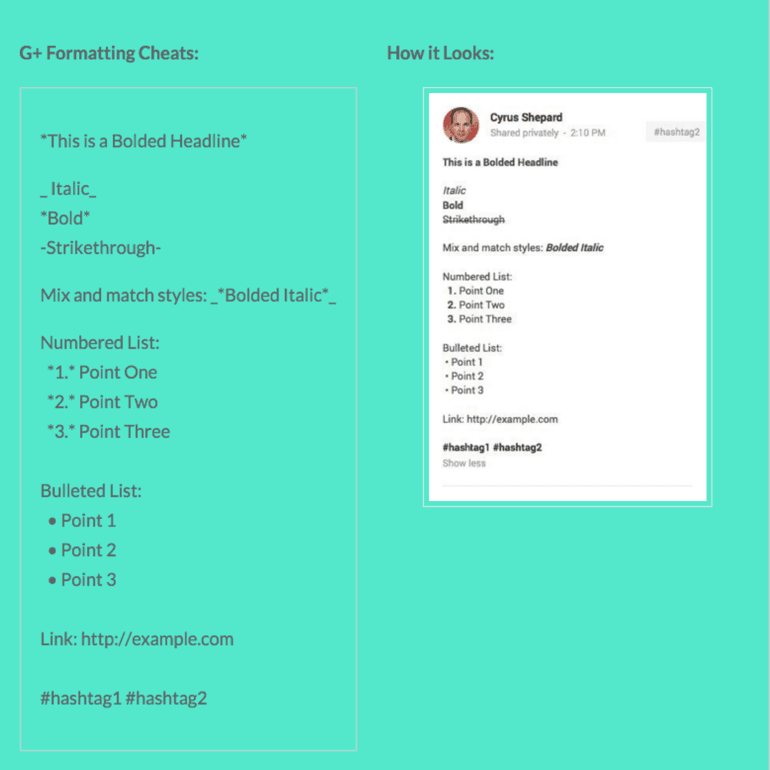 Remember Google+ Posts Appear In Google Search Results
If a user is logged into their Google account and follows your Google+ page, your G+ posts may appear in their search results. Sharing your content on Google+ will help attract more attention to your content (and help you take up more space in the search results).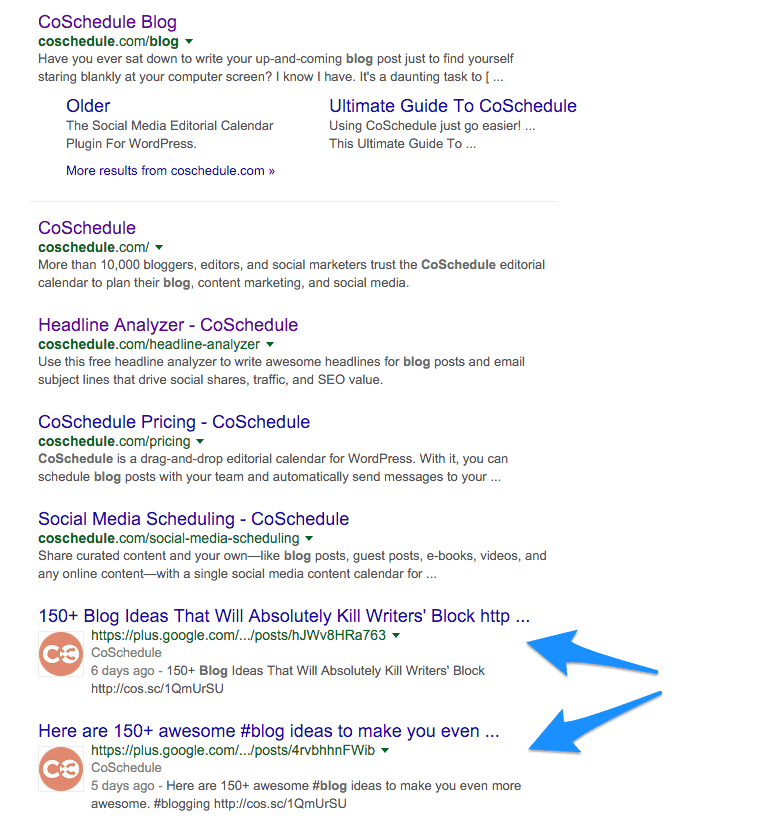 How To Optimize Pinterest
Pinterest is interesting from a social media optimization standpoint. It's a highly visual platform, but also one that comes with some unique SEO considerations. Plus, did you know you can now schedule Pins to Pinterest from CoSchedule?
Make Your Pinterest Profile Public For Search Engines
Make sure your Pinterest profile is set to public so search engines can find it (and potentially rank your posts in relevant search results). To do this, simply go into your account settings and switch Search Privacy to "No." 
If you'd like to keep certain boards private without blocking your entire profile to search engines, however, you can. Here's how:
1 ) Go to the board you'd like to set to private and click the Edit Board button: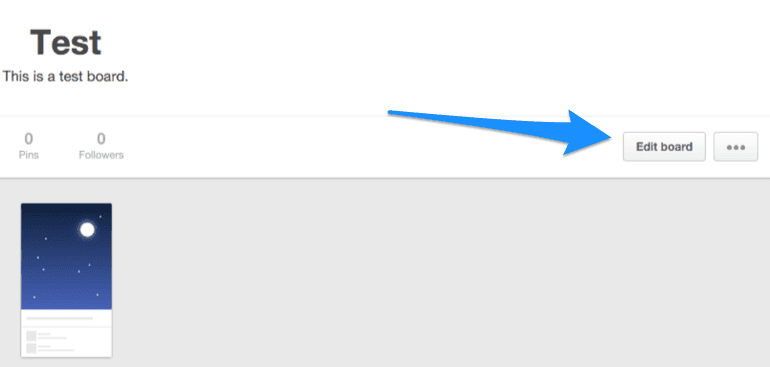 2 ) Then, set that board to Secret: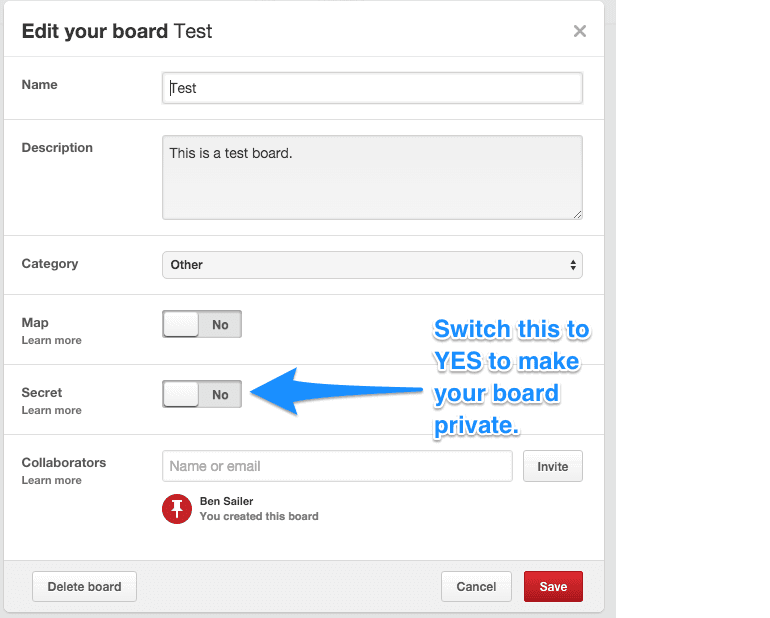 Simple as that!
Follow Basic Pinterest SEO Best Practices
Pins are also indexed within the site itself so people can find content through the internal search bar.
SEO tips to help your boards and Pins get found:
Include your keywords in your board names and descriptions, as well as in your Pin descriptions.
Make sure your Pins link back to your site.
These are just a few tips to get you started. If you're ready to take a deeper dive, this guide to Pinterest SEO is a great resource.
Add A Pinterest Widget To Your Site
Adding a Pinterest widget to your blog or website can help draw more attention to your boards. Here's an example of a board I made for demonstration purposes (featuring a food product I hold dear to my heart).

To create a Pinterest widget, first click here:

Then, click Make A Widget:


Then snag the code and paste it into your post.


How To Optimize YouTube
YouTube is considered the second-biggest search engine on the Web (even ahead of Bing and Yahoo).
Make sure your YouTube videos rank well in search results and drive maximum traffic to your site or blog by following these tips.
Use Long Video Descriptions
Keywords included in your video descriptions help YouTube (and Google) understand what your video is about.
Think about including a full audio transcription in addition to a simple introduction (about a paragraph or two long). If you don't have time to transcribe audio yourself, consider using a service like Rev.
Include YouTube Annotation Links
Have you ever watched a YouTube video and noticed a window with a link pop up? Those are annotation links, and they're invaluable for driving traffic from YouTube back to your blog or website.
For more information on what these look like and how to implement them, watch this video:
For more information, you can also follow the steps listed in Google's official support documentation for implementing annotation links.
How To Optimize Instagram
Instagram doesn't have a ton of functionality outside of its mobile app. However, we do have one tip that can help increase the visibility of your profile while making your blog posts more visually appealing.
Embed Instagram Images In Your Blog Posts
If you'd like to share an Instagram post on WordPress, all you need to do is copy the embed link and paste it straight into your blog post wherever you want the image to show up.
Find an image on Instagram using a desktop browser. Here's a screenshot of some image examples. See the Tootsie Rolls? That was one of our images.

Let's say we want to paste the Tootsie Roll treat bag into this very blog post. Easy enough. We'll just click that image, which will appear like this: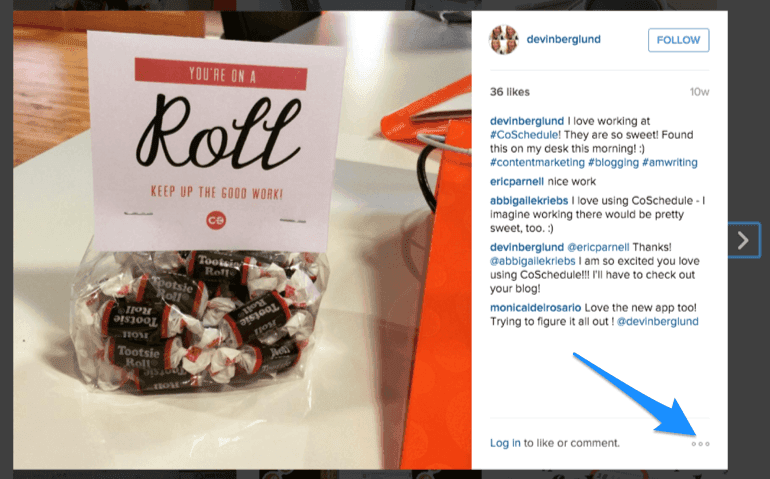 Click the three dots where the blue arrow is pointing and grab the embed code: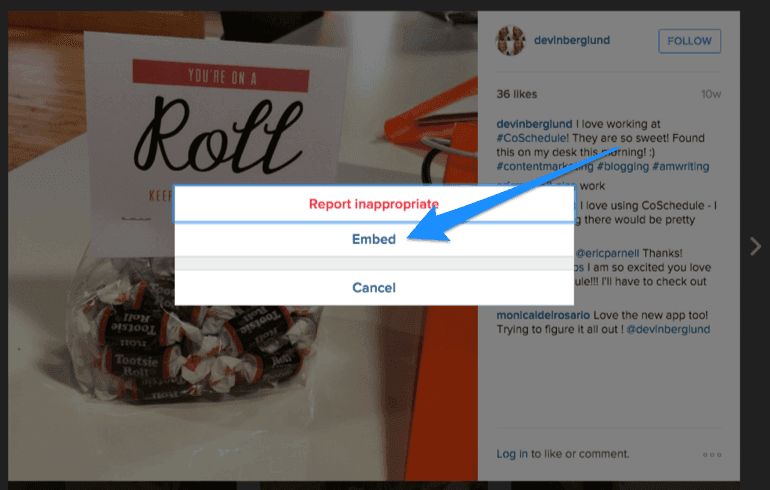 Finally, copy the code that appears and paste it directly into WordPress (using the Text view, rather than Visual). It'll look like this below:
Pretty cool, huh? This can help add visual flair to your blog while extending the reach and visibility of your Instagram content.
Now, Go Rock Your Social Media Optimization!
A lot of the tips and tactics that we've covered here might seem really small or only mildly consequential on their own. However, these minor details add up fast, and they're all key to creating an appealing social presence.
Let's recap, quick!
You know that social media optimization (SMO) is implementing changes to optimize a site so it is more easily linked to, more highly visible in social media searches on custom search engines (such as Technorati), and more frequently included in relevant posts on blogs, podcasts and vlogs.
You found out why SMO is important and that the devil is in the details when it comes to SEO and SMO. If you aren't paying close attention, they may come back to bite you later.
You now know how to make your blog social media friendly by adding social sharing buttons, open graph data, and click-to-tweet boxes.
You know how to optimize your social media channels for maximum visibility. 
March 16, 2016