As a WordPress user, you want to find a tool that makes blogging and content marketing easier. An editorial calendar is the best option. It gives you a birds-eye-view of the content you're creating, helping you see at a glance what you'll be publishing and when. Which editorial calendar is the best one for you? That depends on what you need.
Let's compare the top WordPress editorial calendars.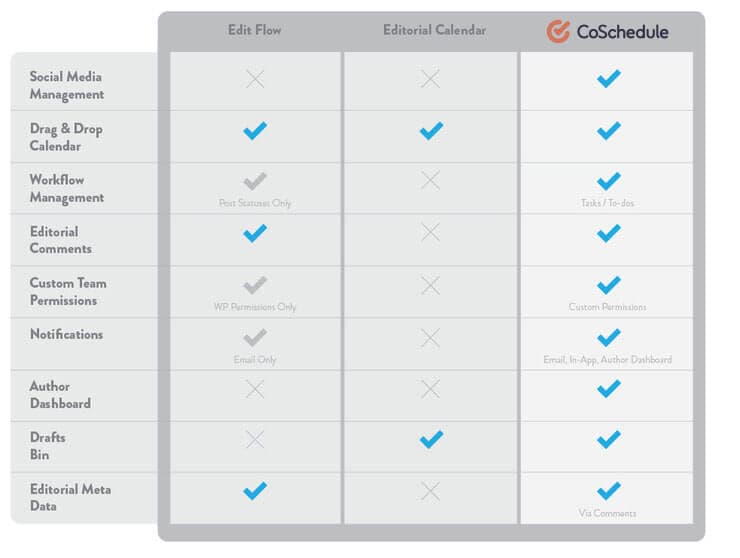 Edit Flow is a WordPress plugin that works inside of your WordPress installation. Its most popular features are the drag-and-drop calendar and the ability to create custom post statuses as a way to organize the workflow for a blogging team. It allows editors and writers to leave comments attached to the WordPress blog post for feedback. Editors can also give general directions for the post. Team members receive email notifications based on activity that concerns them. Edit Flow works best for:
Teams
Bloggers with story budgets that need to be tracked.
Editorial Calendar is a WordPress plugin that also works inside of your WordPress installation. It also has a drag-and-drop calendar, as well as an unscheduled drafts bin. Editorial Calendar is better suited for solo bloggers than for team bloggers, as it lacks the key team communication features a team blog would require. The most popular feature of Editorial Calendar is the ability to write notes or the entire body of a blog post (in HTML) by clicking on the calendar. This allows bloggers to bypass the sometimes messy and confusing WordPress posts list screen. Editorial Calendar works best for:
Solo bloggers
Bloggers looking mainly for organization of their WordPress blog posts.
CoSchedule is an editorial calendar that syncs with your WordPress blog. It features a very robust drag-and-drop calendar that not only shows WordPress posts, but also social messages. CoSchedule is unique in that it allows you to create unlimited custom social messages alongside your blog posts, as well as stand-alone social messages. It also offers must-have team features, including comments and a flexible tasks and to-do system, as well as important team permissions settings. It uses email and dashboard notifications for new activity that is relevant to each team member. Due to its flexible task and commenting system, and robust social media content marketing component, CoSchedule works best for:
Teams or solo bloggers
Bloggers looking to create and manage social media messages easily.
Bloggers looking for a comprehensive content marketing solution.