Sharing Files & Content
With Asset Organizer, you can securely share content and files with internal teams and external contributors – without giving them full access to your entire content library.
All you have to do is create a custom link to share a file or folder.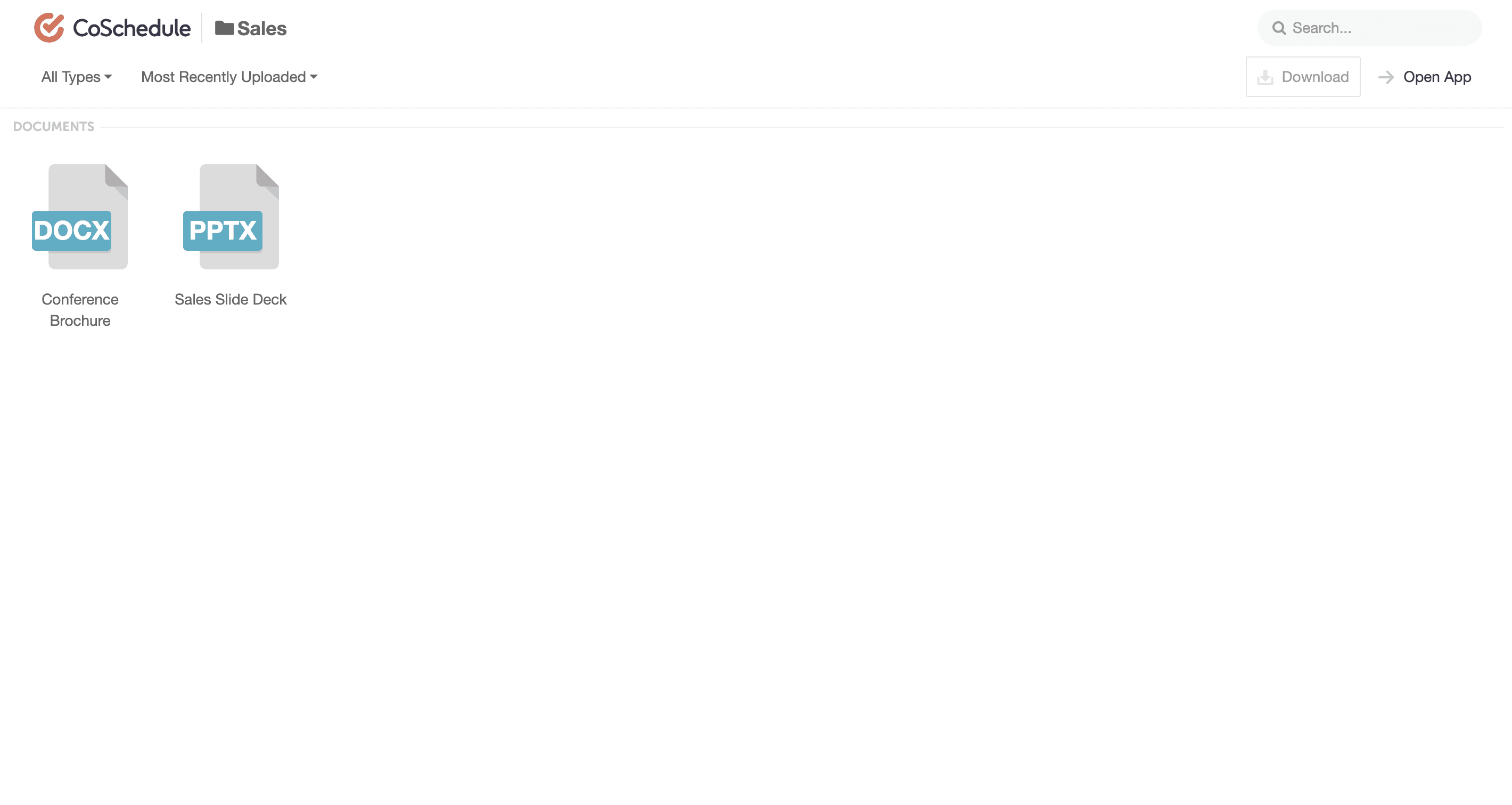 Link access enables you to share files with members outside of your CoSchedule calendar.

Users can download and view content and files from their link – without needing access to CoSchedule.
Here are a few ways teams are sharing content with Asset Organizer.
Share Content With Internal Teams
You create templates, content, and marketing collateral for teams across your entire organization.
Create folders in your Asset Organizer for each internal team, and add the content you create for them to their respective folders. Once the files have all of their content uploaded, you can share the links with your colleagues.
This works especially well for:

Sales Teams

Sales enablement materials may include: sales decks, tearsheets, brochures, conference materials, business card files, sales quote templates, etc.

Human Resources

HR resources may include: employee headshots, email signature templates, employee handbook, recruitment materials, training decks, etc.

Leadership Team

Leadership Team files may include: company logo, company description, leadership team bios, leadership team headshots, letterhead template, etc.

Customer Support & Customer Experience

Customer Support & Experience content may include: help guides, eBooks, support videos, onboarding materials, etc.
These are just a few general examples. You can create a unique folder for any and all internal teams you work with to give their entire team access to their marketing content.
Then as the marketing team makes updates to their content, you can replace outdated versions with new ones.
1. Click the drop-down list and select New Versions.
2. Once replaced, you can look at the pervious versions.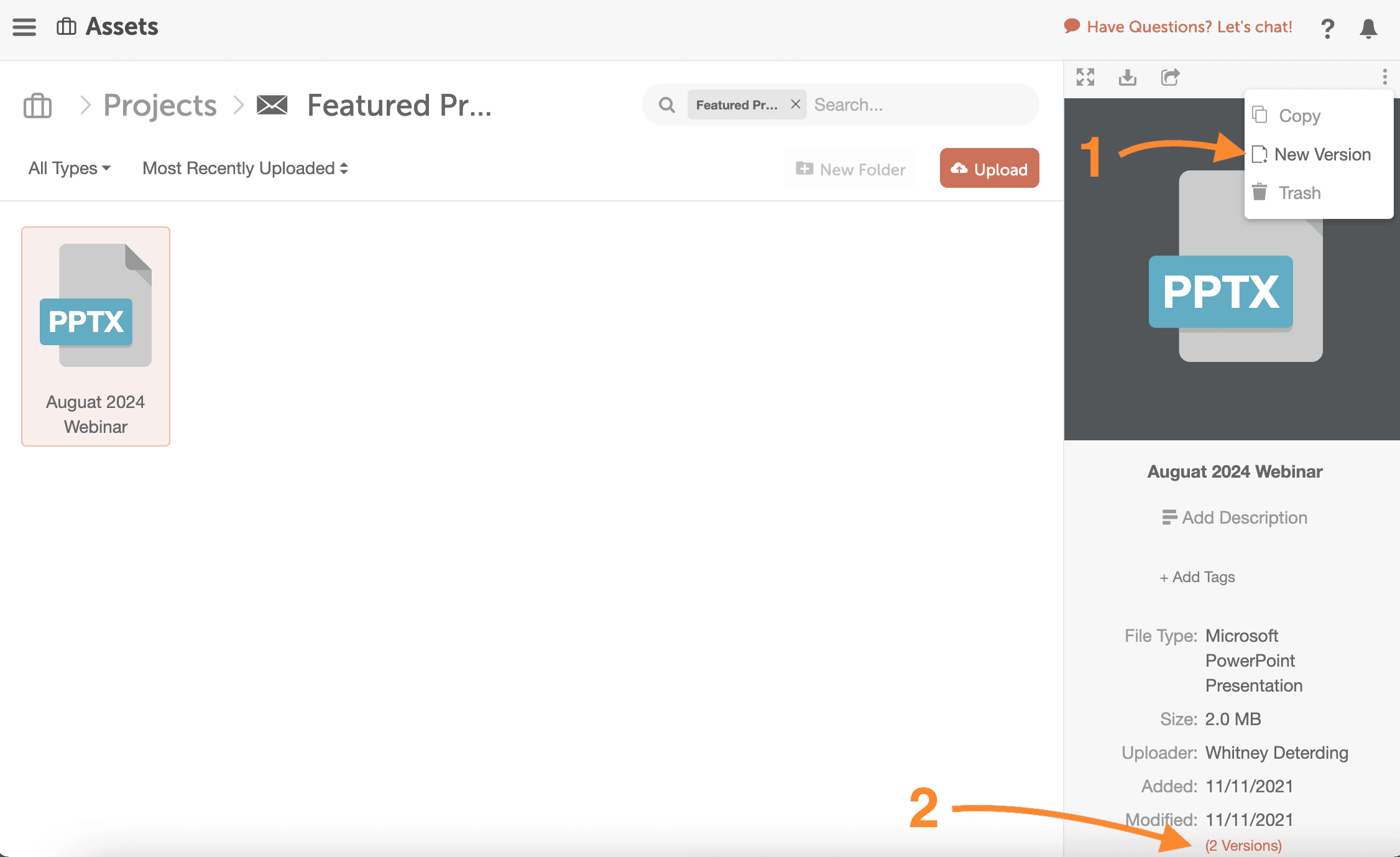 So every internal team has the latest, on-brand content at their fingertips. Which eliminates (or reduces) the use of outdated materials.
Bonus Tip: Have Managers and/or HR share these read-only links to give new hires access to the content they need – without having to spend time onboarding them to a complex file structure.
Securely Share Content With Stakeholders
If you have external stakeholders – like clients or partners – you can share folders and files the same way.
Create a folder for each stakeholder. Add their content. And share a custom link with their team.
Ask your stakeholders to bookmark or save your custom link, so they can always access their content – even as you add new files over time. Which makes sharing content easier than ever before.
Share Content With Agencies or Freelance Contributors
Sometimes you need to hire on additional, external contributors to work on specialized projects or campaigns.
With Asset Organizer, you can securely share brand assets, photos, video, or other content contributors may need in order to complete their portion of a project.
Add the files they will need in a special folder in your Asset Organizer. Then create and share the link to give them download access to the content they need.
1. Select the Share button.
2. Click Enable Sharing and share the provided link.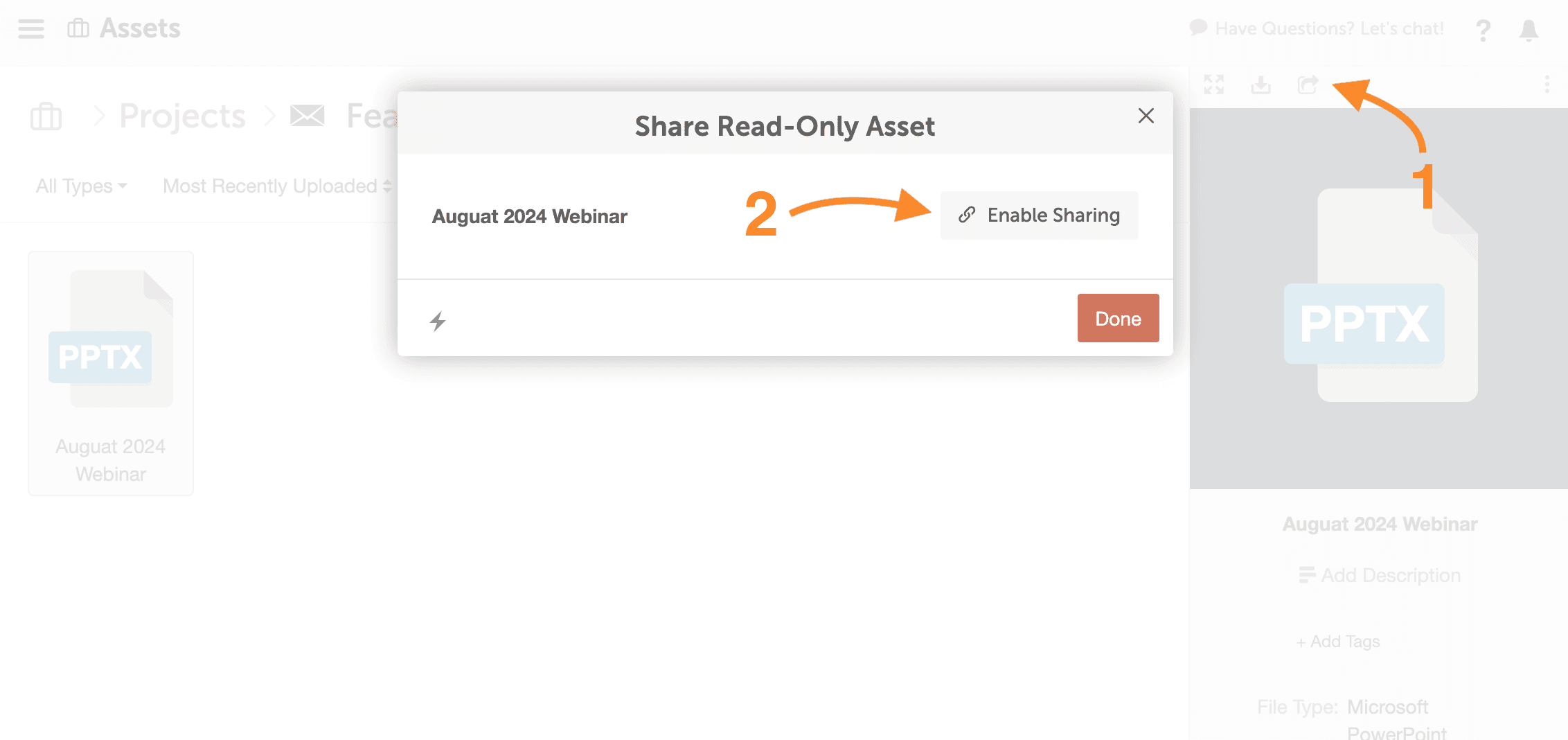 Once the project or collaboration is over, simply break the link. This link will no longer be live, and the files will no longer be accessible for their use.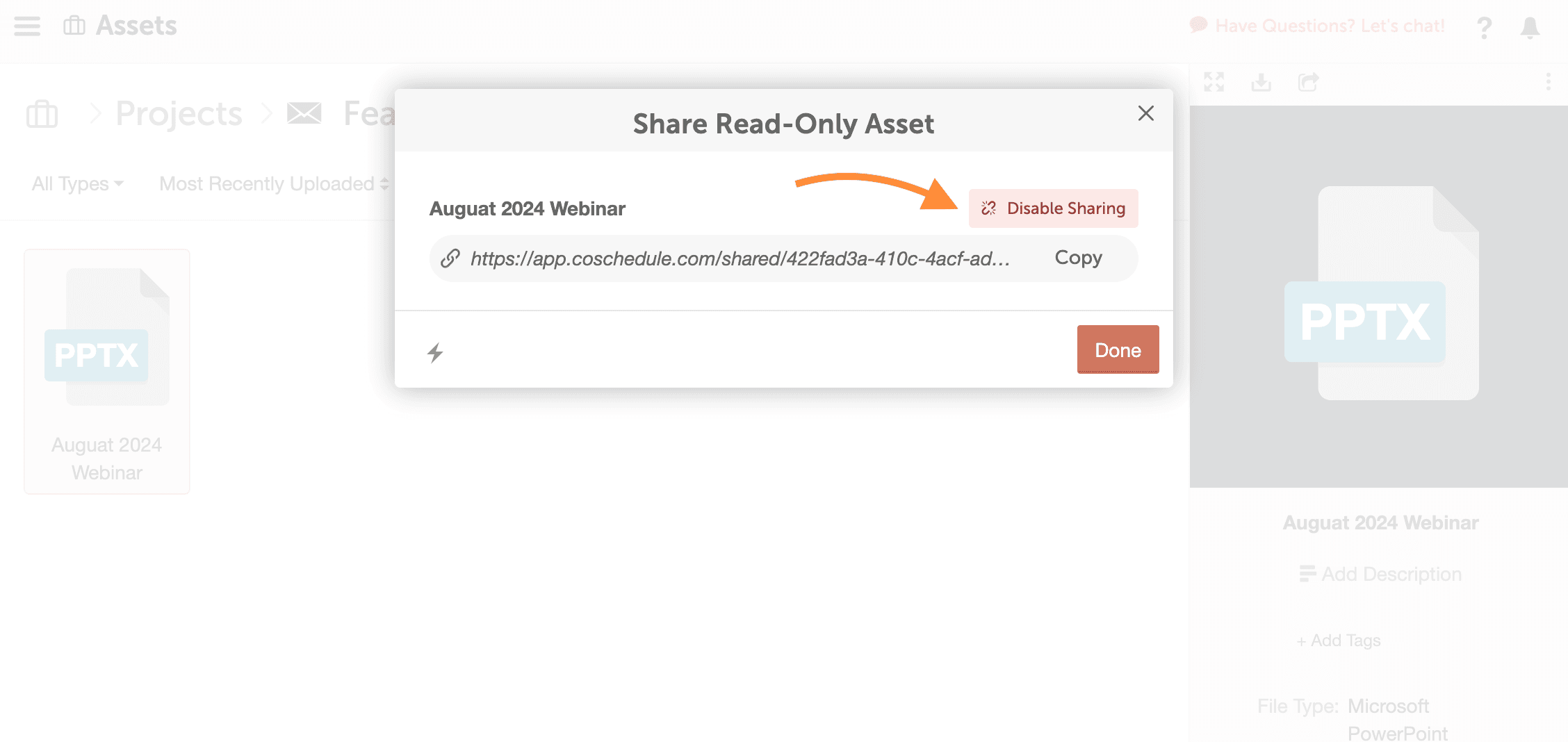 Share Media Kits With The Press
Many PR and media relations professionals regularly need to share press resources with the media for news announcements, press releases, and other media coverage.
Create a folder in your Asset Organizer that houses your company's media kit.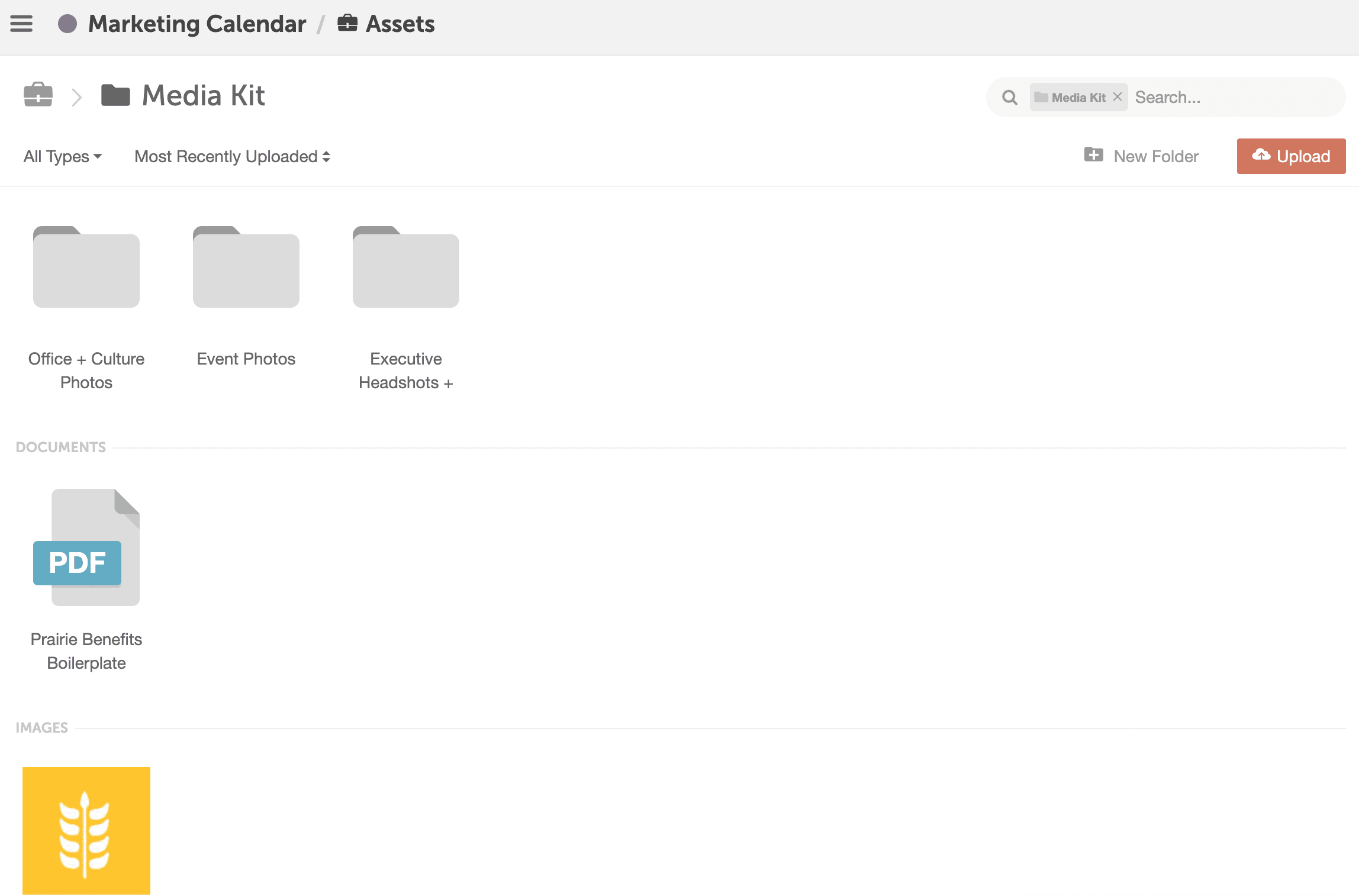 Add logos, company photos, a description of your company, your official boilerplate and other content journalists typically ask for when writing a story on your company.
Create a custom link for your Media Kit folder, and share it with journalists or other people that are covering your company in the media.
Pro Tip: Add a link to your Media Kit folder in Asset Organizer to the Press section of your website. This will ensure that your Media Kit resources are always up to date – without having to update the website.
Ready to start sharing folders and files via Asset Organizer? Give it a try. Don't have Asset Organizer? Contact your Customer Success Manager or support@coschedule.com for more info.
Need more help on using your Asset Organizer? Check out our help docs