Maintaining an on Brand File Library
Asset Organizer available in CoSchedule Marketing Suite gives you more control over your digital assets.
With built-in version control and file history, you can make sure your internal teams and external stakeholders have access to the latest versions to avoid sharing outdated or off-brand content.
Here is how you can maintain a current file library and update digital assets using Asset Organizer.
Update Outdated Content
It's inevitable. You are going to need to update company content.
You add a new product. You go through a logo redesign. Your company description gets a copy refresh.
These types of updates impact your branded content.
Easily update your content – i.e. whitepapers, case studies, eBooks, tearsheets and beyond  – by adding a new version in Asset Organizer.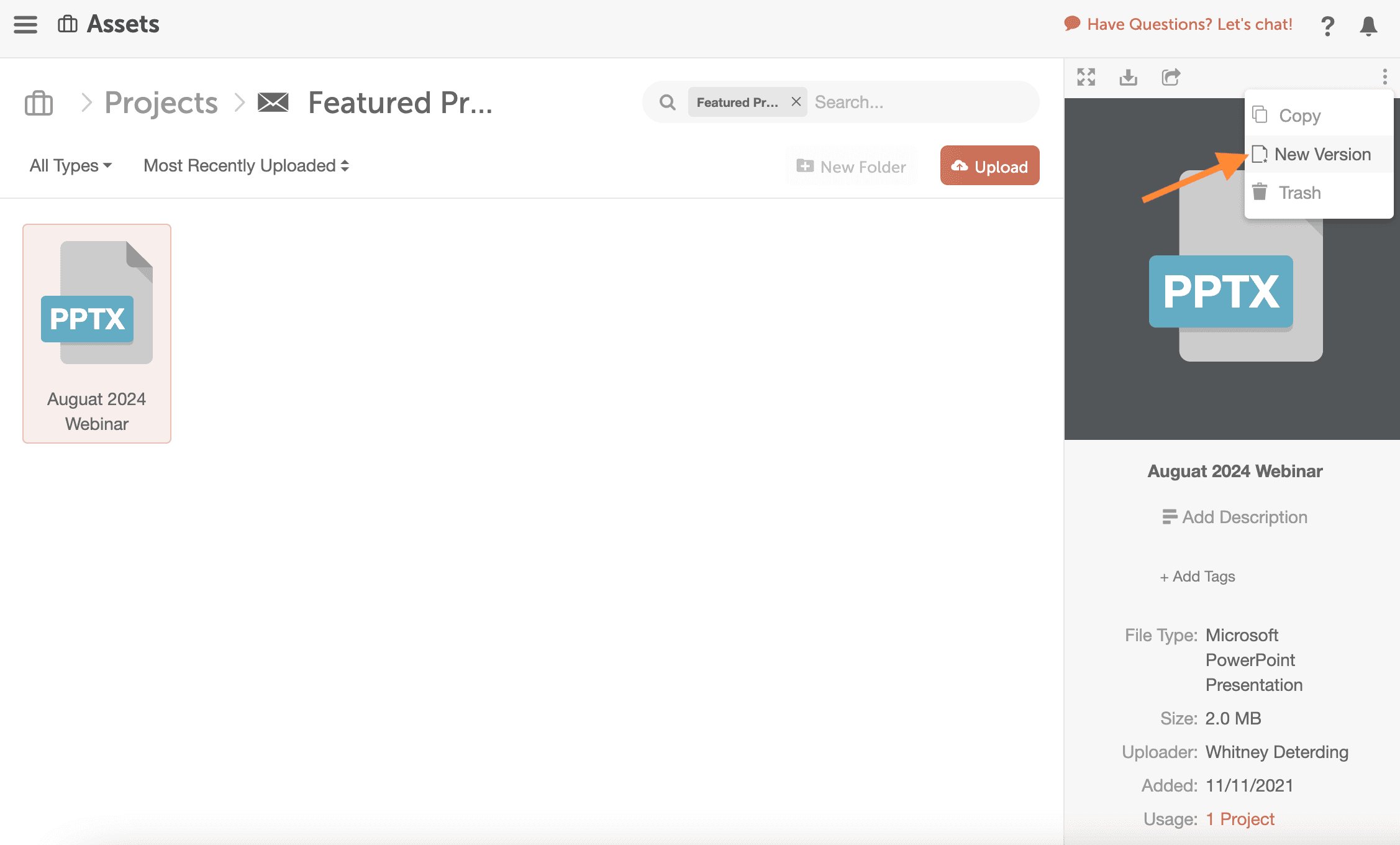 This will replace the outdated file with the new version. Your team can also view the modified date to determine when the last update was made. And you can reference the file history to see previous versions.
Best of all, this will update the file across your entire Marketing Calendar. To see the full list of where it is used, click on "Usage."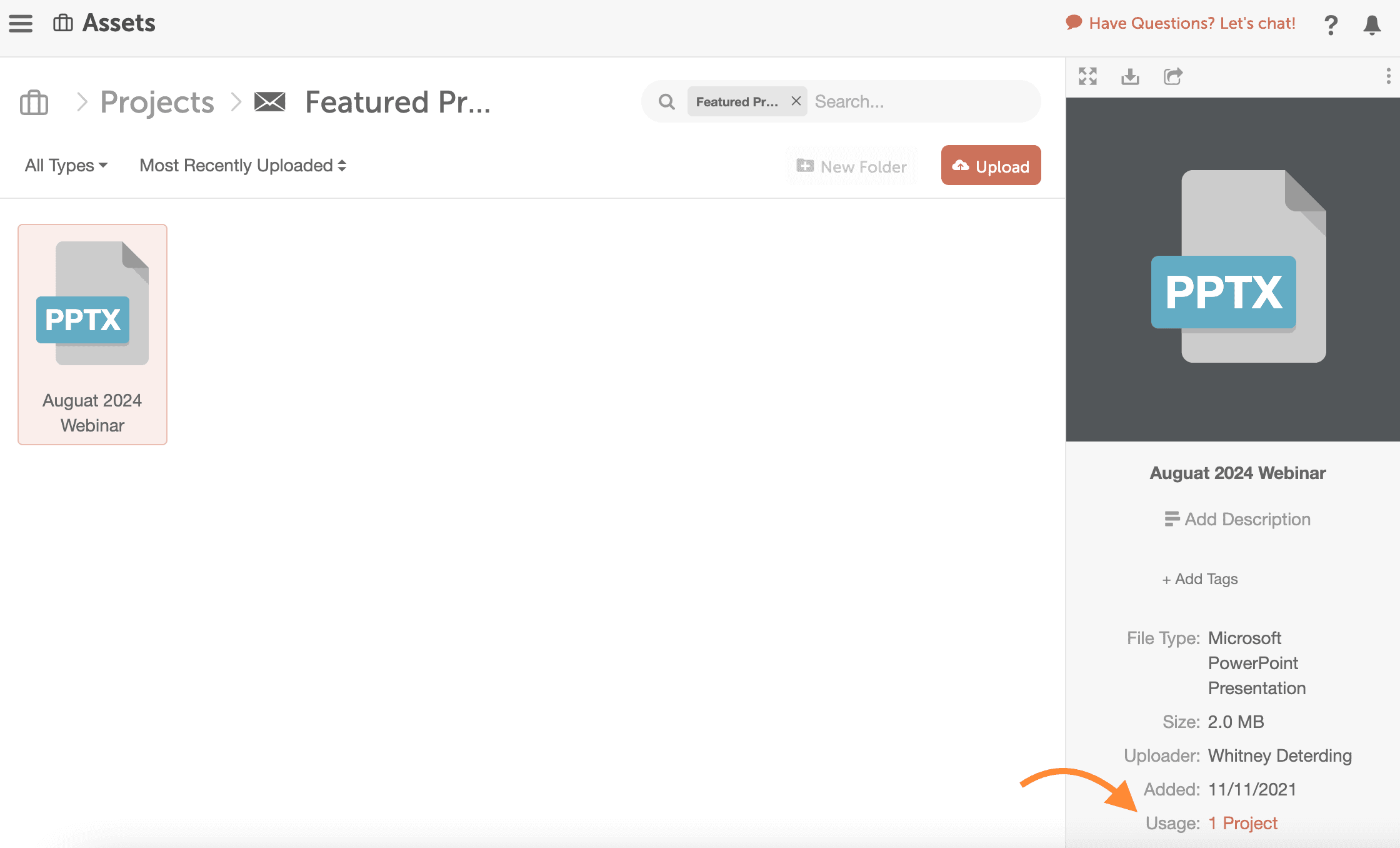 Any shared folder or file links will automatically update to include the latest version, so your team can download and access the most up to date content.
Update Social Campaign Graphics
If you use CoSchedule's Marketing Suite, you can make updates to graphics used across social campaigns and ReQueue messages in seconds.
You can pre-plan and schedule tons of social messages for specific campaigns or promotions – some of which reuse the same social images. When you add social campaign images to messages from your Asset Organizer.
1. Click add image within the social composer.
2. Choose Assets along the side panel.
3. Select an image.
4. Click save to add the image to your social message.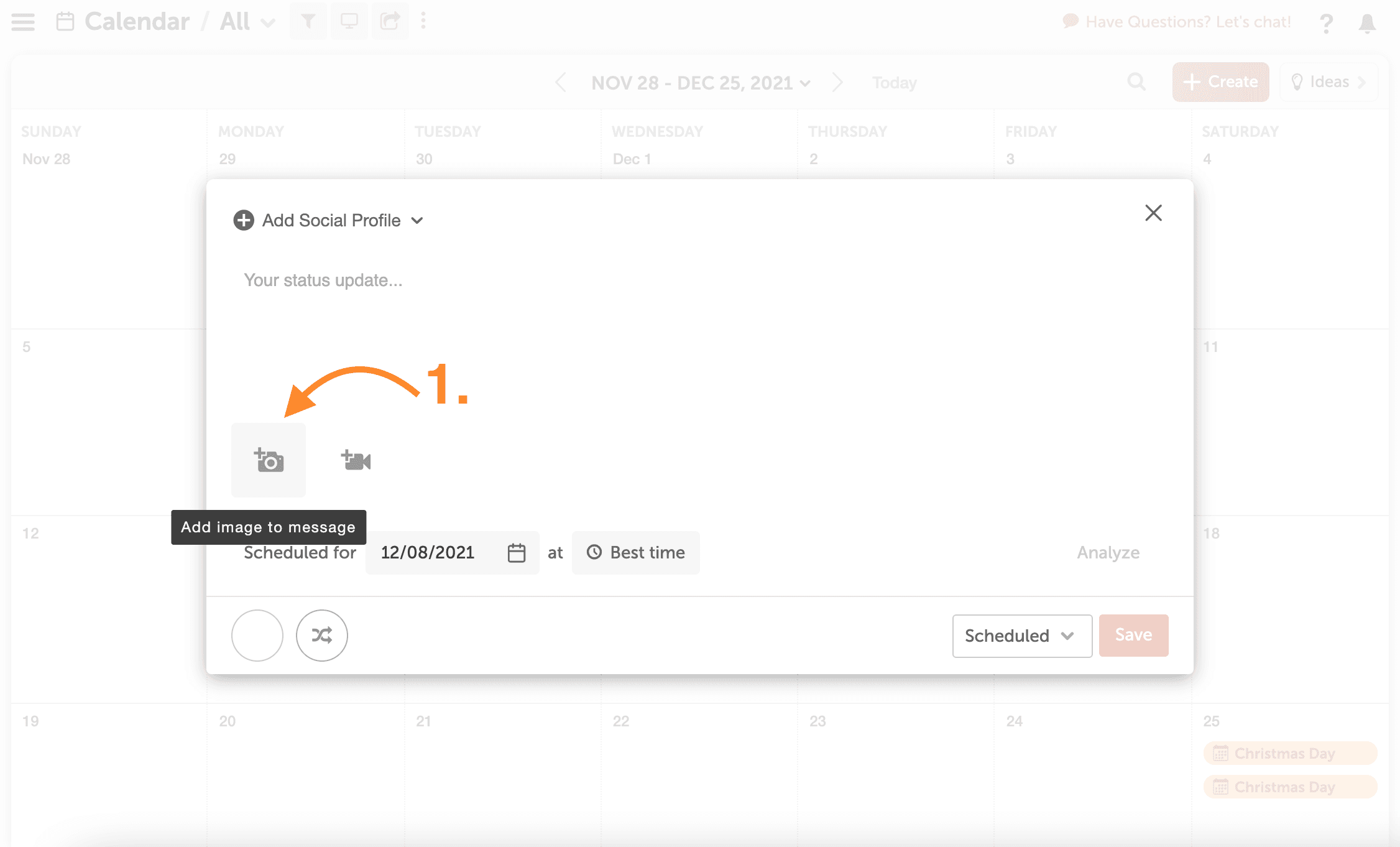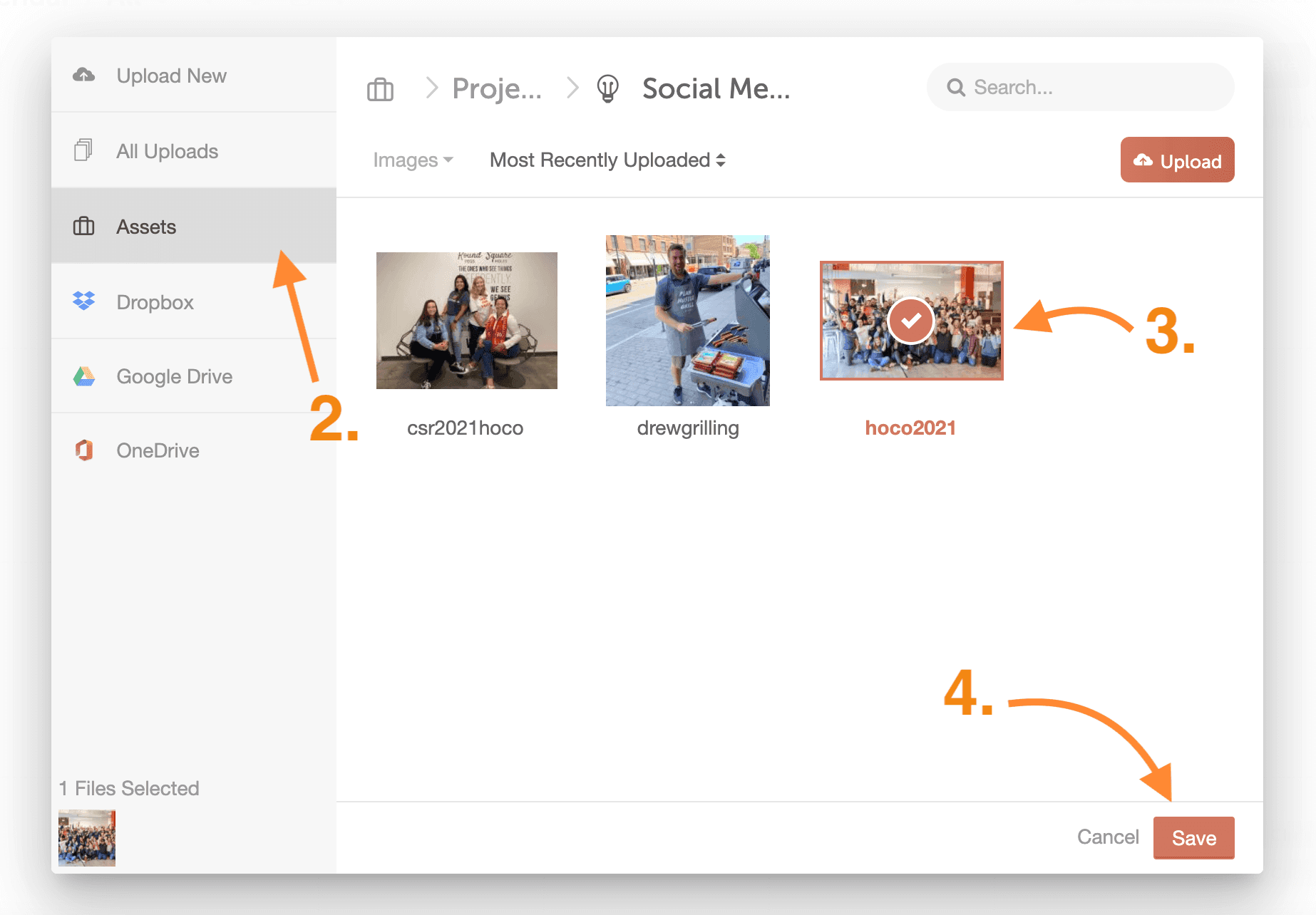 If you need to pivot or make changes – think a misspelled word or updated photo – you can replace the image in Asset Organizer.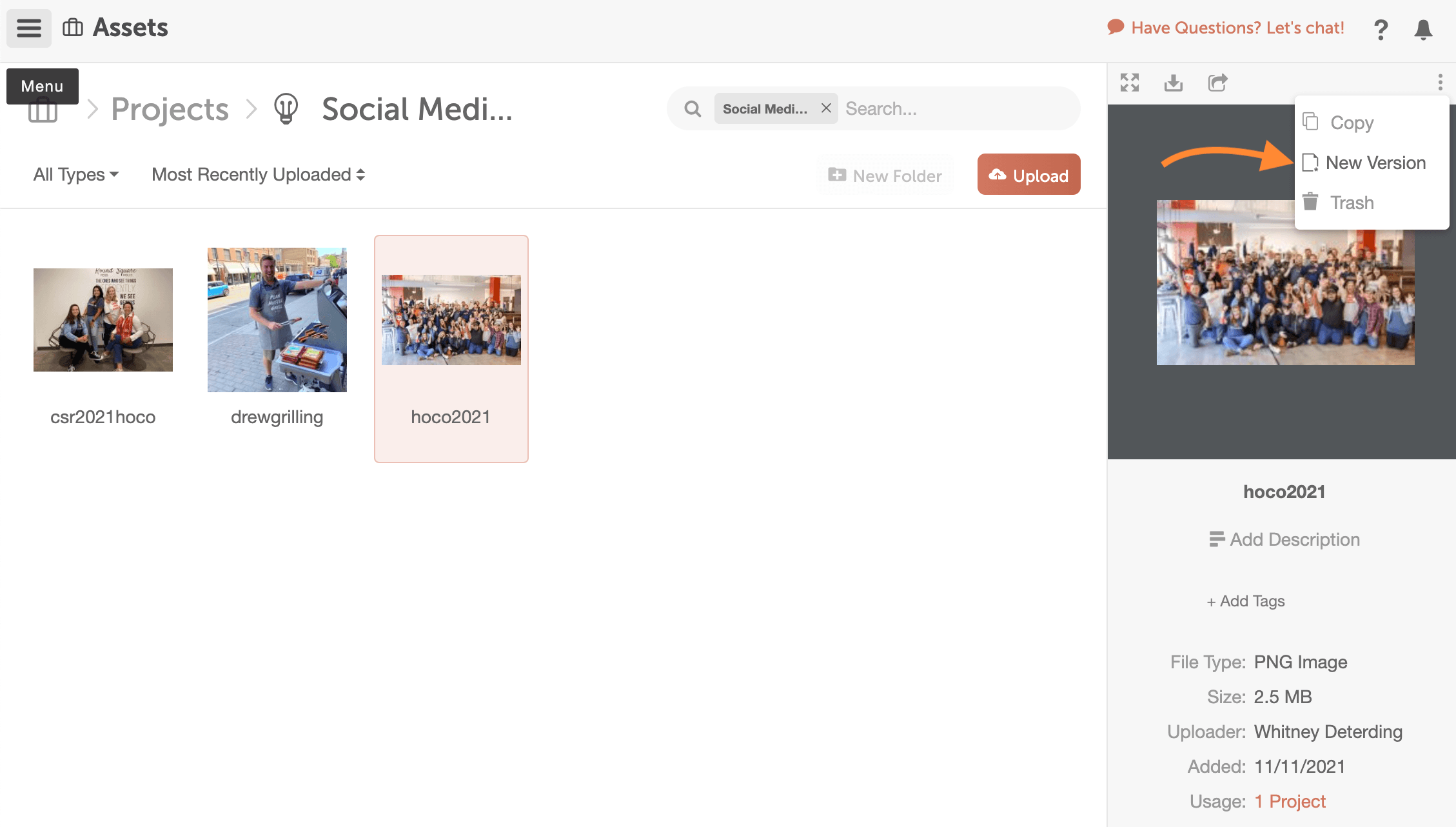 The new version will automatically update across all of your drafted messages, scheduled messages, and ReQueue messages that use that photo, image, or video.
Remove Out Of Use Files
There are two options for removing retired, out of use content.
The first option is to create an archive folder in Asset Organizer. Move out of use files to this folder to retire them.
1. Click the drop-down list and select New Version
2. Choose the Archived folder.
3. Click Move.
This option allows these files to still be searchable in Asset Organizer and moves them out of any actively shared folders.
The second option is to move your out of use files to the Trash in Asset Organizer. This option removes these files from Asset Organizer searches, as well.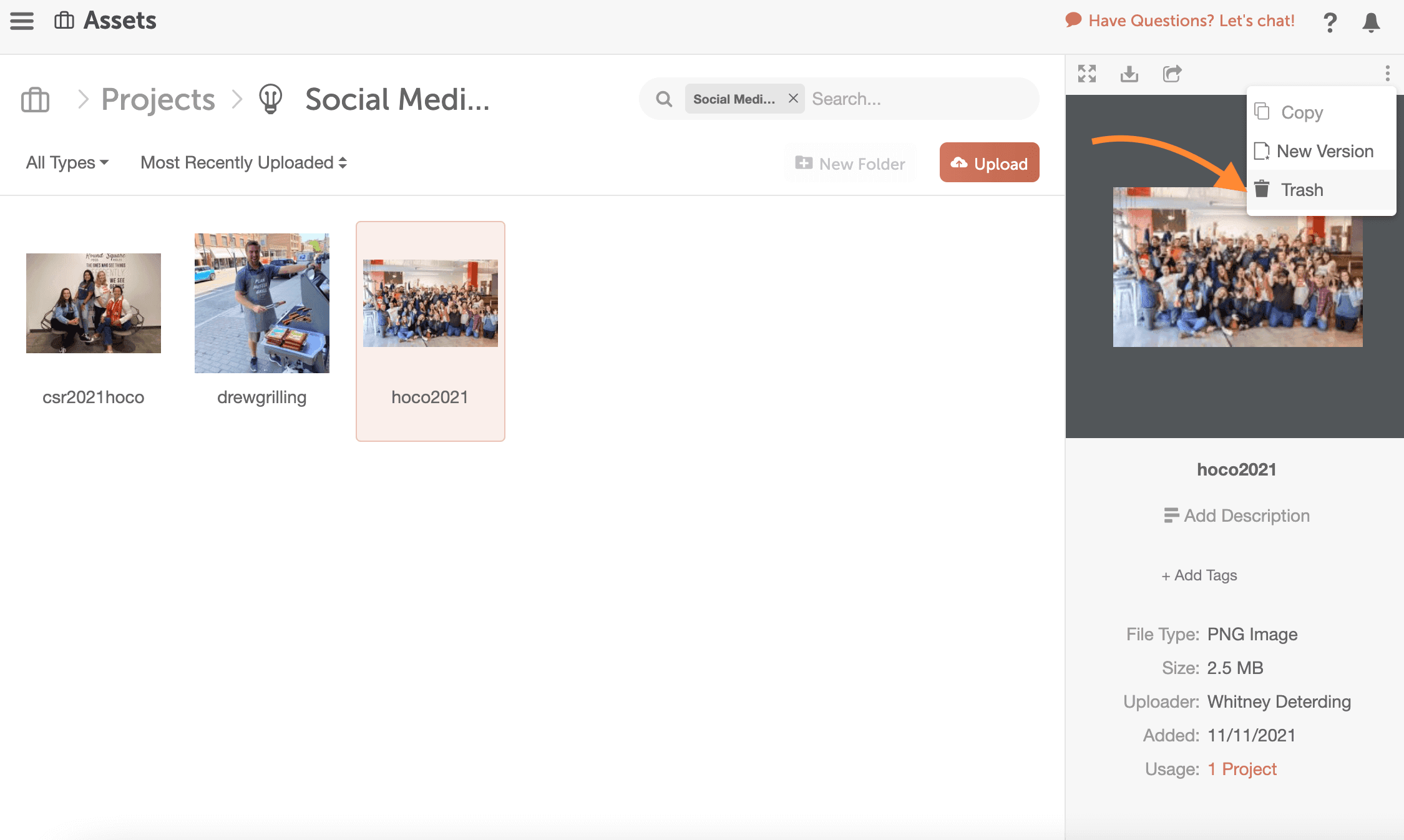 However, if you need to find them, you can search for them in the Trash Bin if needed.
Pro Tip: If you decide to move "trashed" content back to Asset Organizer, there is an option to restore any file or folder from the Trash back to Asset Organizer.