Managing content marketing well is easier said than done.
Whether you're working solo, in-house, or at an agency, you're juggling tons of tasks and projects. From social media publishing to email campaigns to blog posts and more, you likely have more projects on your calendar than time on the clock.
If you're having trouble keeping it all under control, we have the solution for you.
Introducing CoSchedule.
What Is CoSchedule?
CoSchedule is an all-in-one platform for planning, organizing, and executing all things content marketing. It's easy to use drag-and-drop calendar interface makes it easy to collaborate and schedule all your projects in one place. Plan projects, collaborate with your team, and keep your content calendar organized, all within a single dashboard.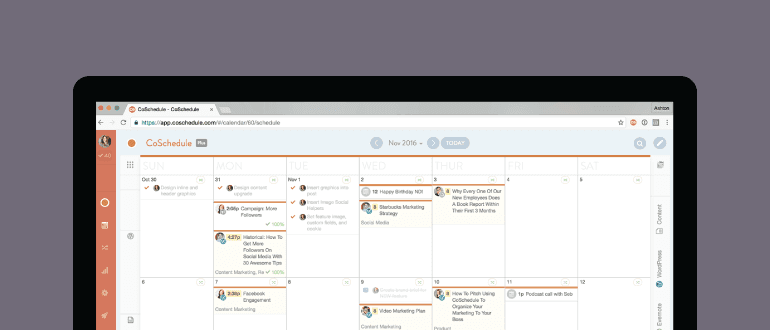 If you're looking to improve your marketing management, look no further. You're about to learn how CoSchedule will help you:
Plan your marketing projects ahead of time
Organize your content in an efficient way
Effectively execute your content marketing strategy
Plan Content Projects Ahead of Time
The Problem: Inefficiency Due To Lack Of Planning
Successful content marketing requires proper planning and strategy.
Attempting to execute content marketing on the fly can lead to mistakes and unnecessary stress.
Holding team members accountable for hitting deadlines can also be challenging if everyone claims to be busy.
The Solution: Plan More Effectively With CoSchedule
CoSchedule makes it simple to plan all kinds of content marketing projects all in one place. Everyone on your team can view your entire editorial calendar, collaborate on projects, and see exactly when their work is due. This allows you to easily plan your work, and then work your plan.
With everything in one place, you won't have to dig through old emails or cumbersome content management systems to find files or project notes. Plus, with CoSchedule's Task Templates, you can use reusable checklists to delegate tasks and hold team members accountable for hitting deadlines.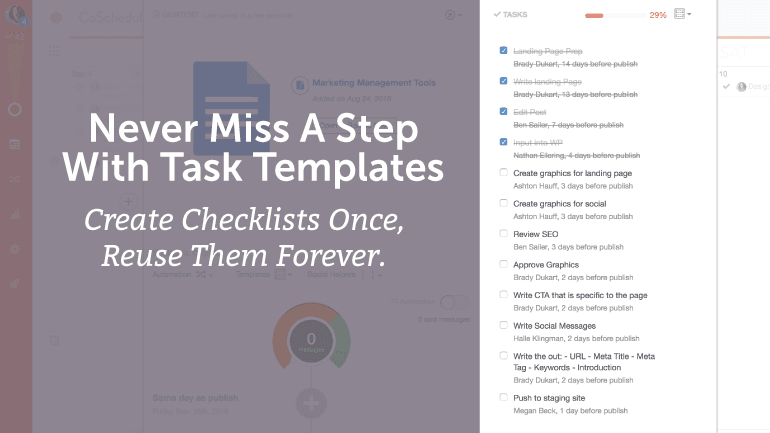 The Benefit: You'll Get More Done, More Easily, With Less Stress
Planning your work with CoSchedule keeps your entire team accountable to ensure that your work gets done in a timely manner. A strong plan, created and executed with CoSchedule, can be managed more easily than using multiple tools.
Keep Content Organized
The Problem: Keeping A Content Marketing Team Organized Is Tough
And it only gets tougher when you grow your team's size and scope. The more projects and tasks that you take on, the more documents and other content assets you'll have to manage. Storing those files in multiple places (your email, random folders, somewhere in the Matrix, etc.) can lead to productivity losses.
Now, multiply this concern times every team member and project on your calendar.
See where this can be a problem?
There has to be a better way.
The Solution: Get Organized With CoSchedule
CoSchedule keeps every file, note, and piece of communication for every task and team member in one place. It also gives your entire team full visibility of what everyone is working on, thanks to CoSchedule's intuitive calendar interface.
Plus, you can quickly see how much progress is being made on each project. Each time an item is checked off a Task Template, you'll see your project completion percentage tick upward.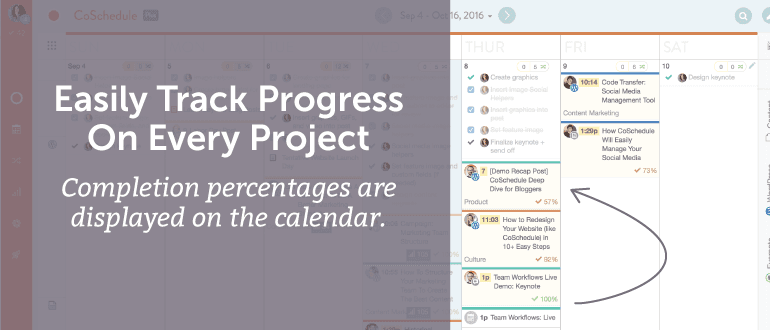 The Benefit: You Get To Stop Feeling Like You're Herding Cats
Managing a content team can feel like herding cats. CoSchedule gives you the power to corral all your projects in one place, keep them all organized, and get more done.
Execute Content Marketing With Confidence
The Problem: Poor Planning And Lack Of Time Lead To Sub-par Execution
If you can't get organized, you can't execute either.
And getting everything done right, when you have so much to do, isn't easy.
Content creation starts with ideation and ends with hitting publish (not taking measurement and analysis into account). Between those two points are numerous steps and moving parts. Without the right tools, in the right place, getting everything done with multiple team members can be challenging.
The Solution: Leverage CoSchedule's Content Creation Integrations
CoSchedule's integrates with WordPress and top social networks, allowing direct publishing from within the app's dashboard. You can convert Evernote or Google Docs files into WordPress posts, create and schedule entire social media campaigns, and more, all in one place.
Plus, social media publishing features like Social Automation and Best Time Scheduling make it easy to maintain a strong social presence with less effort.
Better organization will drive better results, no matter what you're working on.
The Benefit: Creating More And Better Content In Less Time
CoSchedule's content creation and scheduling features allow you to sit back and relax knowing your content will be published on time, every time.
And that's a feeling you can't put a price on.
Start Your Free Trial With CoSchedule
Ready to start managing every aspect of your marketing? Try CoSchedule free for 14 days.