How To Curate Content, The Proper Way 73
Headline Analyzer
The blog post headline analyzer will score your overall headline quality and rate its ability to result in social shares, increased traffic, and SEO value.
Test every headline before you publish. Try the Headline Analyzer »

There's a story about Thomas Edison and soup that I've always remembered. It goes something like this:
When Edison met a potential hire, he would simply invite them to have a bowl of soup with him. If they added salt to their soup without first tasting it, they were immediately disqualified. That was the interview.
His work couldn't afford to have decisions made on assumptions. If that catch phrase about what assuming makes of U and ME existed back then, you'd probably hear Edison saying it all the time.
But Back To Content Marketing
If there's one assumption that exists in our line of work, it's that content curation is a dishonest lazy impersonal crappy way to do content marketing.
I get why, though. After all, the very definition of content curation rests on using other people's work to leverage your own goals. This can be seen as unethical and lazy if you compare it to a kid stealing another kid's finished homework to submit as his own (more on why this analogy is totally wrong later).
Or there are marketers who assume content curation is just a Frankensteining of unfocused content under a common theme; that what you're really doing is adding more noise to the already noisy mess that is the Internet.

But content curation is not at all any of that. Once you get over the initial negative assumptions and get into the meat of its many benefits, you'll see that content curation has much more to offer than you think.
3 Hugely Successful Examples Of Content Curation
Before we get into the benefits, let me very simply re-define content curation for you by showing you real examples of it being done right.
1. Your Facebook feed.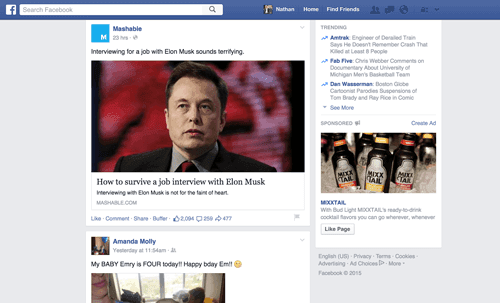 We all have those friends who always share awesome videos and links to our daily feed.
I have one who curates great content on new comics and illustrators; one who shares the poppiest, most dance-worthy songs known to Soundcloud; and another, for the latest and greatest in cat memes. And I click on everything that they share because they're consistently enjoyable. When it comes to these specific topics, they are my go-to source for fresh content.
2. Amazon Lists.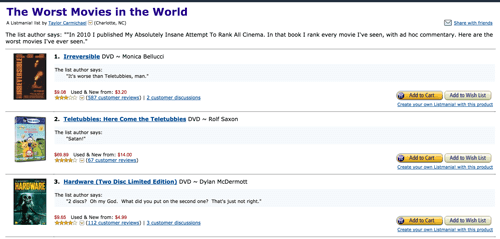 Lists filled with recommendations on just about anything, put together by real reviewers and fans. Like this one, a collection of graphic novels that will probably all make me cry. Or this list of the world's worst movies, curated by a person who wrote a book that attempted to rank all cinemas.
3. Netflix.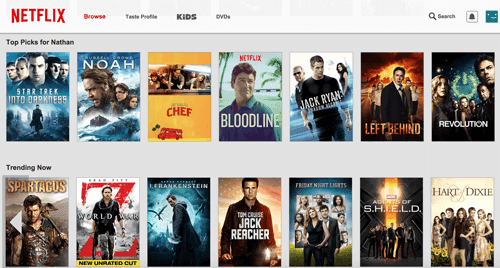 The homepage is conveniently populated with new movies and TV shows to watch, curated to your taste and likings. You end up discovering a ton of new content with the recommendation engine curating your personal watchlist.
Every retweet, every Pinterest board, and even every Urban Outfitters are all examples of curation done really well. From entertainment to recommendations, they all bring tremendous value and help.
The framework that curators bring by curating is a way to augment the usefulness that each piece of content brings individually. It's also a way to showcase your knowledge, voice, and taste by selecting only the best content to share.
Now The Benefits, In Marketing Talk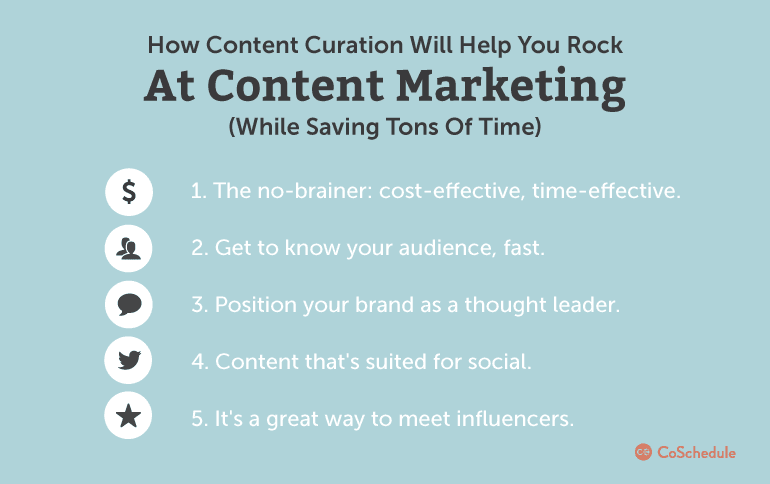 If you're thinking of pitching content curation to your organization, these are the points that you'd want to bring up.
1. The no-brainer: cost-effective, time-effective.
Since you're not being slowed down by creating every piece of content yourself, curation is a great way to still have a content marketing strategy in place without investing a huge amount of money and time.
2. Get to know your audience, fast.
Especially in the early stages of your content initiative, it's important that you figure out exactly who your audience is and what kind of content they like to devour and share. The only way to do this is by experimenting with several different content types, and the last thing you should be doing is creating all of that content.
By curating and tracking performance, you quickly pick up on what your audience finds valuable, in what format they like to consume, from which sources, at what time of day, etc.
3. Position your brand as a thought leader.
Once you get to know your audience and curate only the best, most share-worthy content tailored to them, you'll be recognized as a trustworthy and dependable specialist in your area. In other words, they'll trust that you know what you're talking about.
4. Content that's suited for social.
For audiences that are more mobile and social, content curation is a great way to start and maintain a conversation every day. It also allows you to be present with your audience without making it all about you.
5. It's a great way to meet influencers.
Behind the scenes, the relationships you build with other influencers in the space by showcasing their work is a happy byproduct of content curation.
Remember that analogy I made about the kid who stole homework and claimed it as his own? That's all wrong. It's more like the kid collected and compiled the best work from multiple kids' homework, printed out copies for everyone, and shared it as a study aid.
As a curator, when you share someone else's content, you are giving it more exposure and doing so in a favorable light. You are saying, "Hey, check this out. The message in this is totally on point." And the original content creators will remember this!
When done right with proper attribution, curation creates symbiotic relationships.
Now Let's Get You Curating Content The Proper Way
Hopefully by now, I've de-assumed some of your assumptions around curation. Now it's all about proper implementation. Follow these tips to make the most out of your content curation strategy:
Provide your take on things by giving every curated piece some context. Whether it's through commentary, quoting, or abstracting, you should always surround the content with your views, knowledge, and insight.
Keep a healthy mix of curated and original content. To distinguish your brand from just another content aggregator, you should inject custom content that's personal and customized to your audience. Take all the learnings from your most popular curated pieces and build off of it. Surround your own created content with reputable third-party content that are aligned with your points, tone, and opinions.
Don't make it all about you. Avoid being you-centric with curation. It would be very easy to populate your hub with glowing reviews and articles about your business, but that would kind of be like Stephen King creating an Amazon List of the best horror novels and only including his books.
Answer your audience's common questions about your space. Curation is an effective way to address your potential customers' inquiries or concerns through validated, third-party content. Once you've identified these FAQs, start sharing pieces that shed light on these topics to further instill your expertise in the area.
Be very, very selective. You're trying to showcase your unique taste through these curated pieces. Pick only high-quality content that speaks toward how you'd like to be perceived.
Always attribute your sources. Obviously, if you don't give proper credit to the original content creator, you're entering the danger zone known as plagiarism. Always attribute who produced the content, and let them know! More often than not, they'll be happy to share the post, expanding your reach and views.
Take advantage of in-house expertise. Curation isn't just for the marketing team. No matter which department, everyone in your organization is constantly coming across interesting articles in and around your space. Create an internal culture of curating and knowledge-sharing.
Build a hub for your curated content. In order to capture your audience on your own domain and have them coming back to you for more, you should always set up a content hub before sharing on social or any other distribution channel.
Don't forget about CTAs! Make sure that your content is outfitted with appropriate calls to action. Whether it's signing up for a newsletter, requesting a demo, downloading an asset, or even a link to another piece of content, give your audience something to do once they've consumed your content.
Content curation is a great supplementary practice to add to any content marketing strategy. Not only does it enable brands to engage with their audience more regularly, it builds a feedback loop that informs marketers of what kind of custom content they should create and invest in.
In a lot of ways, content curation is a lean way of doing content marketing.
If you're totally sold on content curation and have questions on anything that was covered here, check us out at Pressly's Content Clinic.
May 18, 2015