The Total Guide To Sharing Content On Social Media More Than Once [Slides]
Headline Analyzer
The blog post headline analyzer will score your overall headline quality and rate its ability to result in social shares, increased traffic, and SEO value.
Test every headline before you publish. Try the Headline Analyzer »
Sharing your content on social media more than once is one of the best ways to hack your content and bring more traffic to your blog. It's true–just look at this simple chart: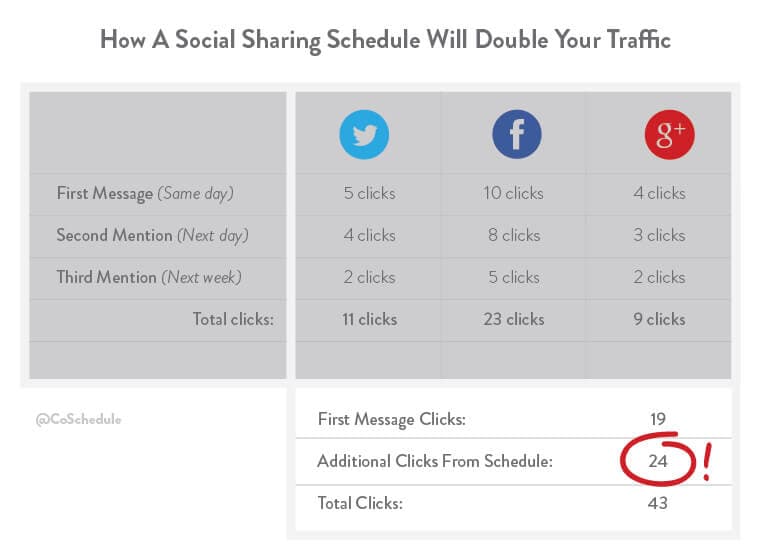 Double the traffic. Bam!
One of the biggest mistakes we make as bloggers is to give our content the one-tweet treatment. We slave away on our post for hours to only share it with our audience once. This might be costing you traffic. Of course, even if you are already sharing your post more than once – is it really enough? Are your messages as effective as they should be?
This week, we are officially releasing this comprehensive (and free) slide deck to tackle these questions head on. In the slides, we outline a step-by-step process for sharing your post more than once via social media in a way that won't make you look like a spammer or an over-the-top self promoter. It really isn't enough to just promote your content more than once. You need to know how to do it right.
How Do I Share Content On Social Media More Than Once
? 
The first step in the process really comes down to developing the right type of social sharing schedule. As I've shared before, the process we use here at CoSchedule looks something like this. Once our blog post goes live, the following sharing schedule immediately takes effect.
On publish – Social message sent when blog post goes live
Same day – Initial social messages trickle out to your accounts over the next 2-3 hours.
Next day – Messages are shared again on the appropriate social channels.
Next week – Another series of messages are pre-scheduled and sent the following week.
Next month – Even more social messages are pre-scheduled for the following month.
Next _____ – Additional messages can optionally be scheduled for the three-month mark or beyond.
Of course, this isn't an exact science.
We occasionally (ok, frequently) modify this schedule to suit the content and subject that we are sharing. In fact, we have several "evergreen" posts that are still shared several times per week, even if it has been months since they were originally published.
Another good example of a post that deviated form this schedule was our post about 11 Content Marketing Misconceptions That Make You Sound Dumb. Because this post included 11 different tips that each had their own unique image/cartoon, we spread out the social messages over many weeks, slowly dripping out each unique image.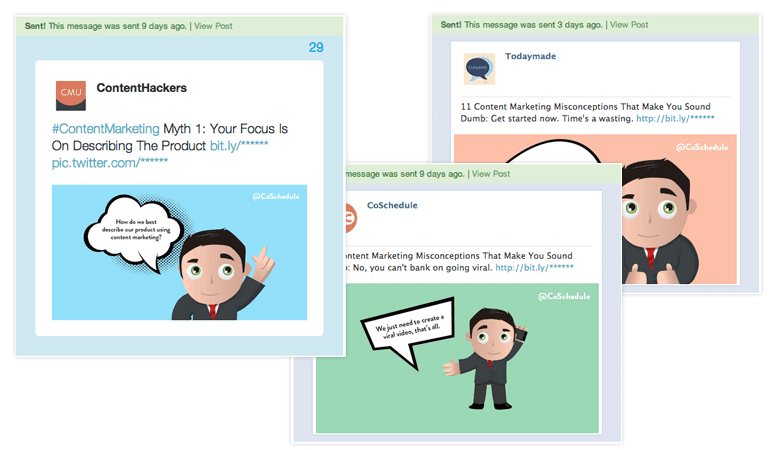 This method of reposting blog content brought us a steady stream of traffic and made it one of the best performing blog posts of the month – all because we took the time to properly promote our content on social media.
Do This Instead Of Writing Your Next Blog Post
Recently, I have started giving writers the permission they need to write less content.
That may surprise you.
For many years, quantity was king. The more content you could muster, the better. This isn't the case anymore. Now, quality matters, and Google is pretty serious about making people understand that. When it comes to writing your next blog post, put the writing on hold, and spend some time promoting a previous piece of content instead.  To do this, make sure that your social media schedule is well cared for.
Are you sharing your content on an even schedule, or are some messages being clumped together?
Are your messages unique, or are they just repeating the same old headline and link?
Are you missing some big opportunities for reposting blog content?
The key is to identify and respond to sharing opportunities that you currently aren't taking advantage of, filling in the gaps with great content that you already have in your arsenal. Before you go on creating another piece of content, make sure you've promoted your other stuff well.
When Sharing Content On Social Media, How Do I Create Something Others Will Share?
When reposting our content, not only do we need to share our content more than once, but we need to add some variety to what we are posting as well. It takes very little effort to create a Tweet of Facebook post that uses nothing more than a headline and link. Anyone can do that, and more than likely, you've done it a time or two as well. Try mixing this up.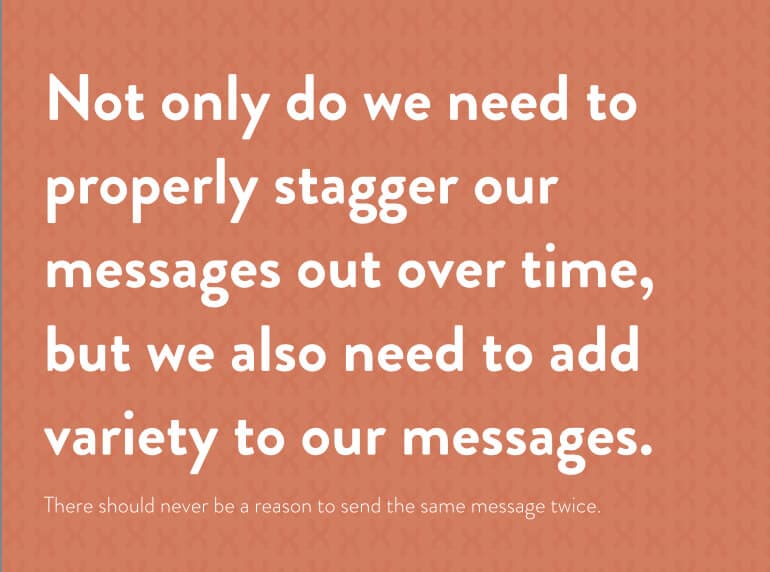 In the slide deck above, we actually outline several new methods that you can use to mix-up your social media content. There are many types of messages that you can choose from.
Direct and easy (post title and link)
Ask a question (stir up conversation)
Cite a fact (from the post itself)
Share a quote (like a blockquote)
And Intrigue (something special is inside)
These simple messages types are easy to learn and remember, and can be quickly adopted by any team. Download the slides, commit them to memory, and make sure to incorporate these types of messages in your social sharing plans.
How Do I Optimize My Content For Each Network?
One of the other things that comes into play when you are reposting your blog content is the way that social messages look once they are published. Each social network has its own method and intricacies that, if taken advantage of, will result in more click-throughs and traffic. It only makes sense to take advantage of them when you can.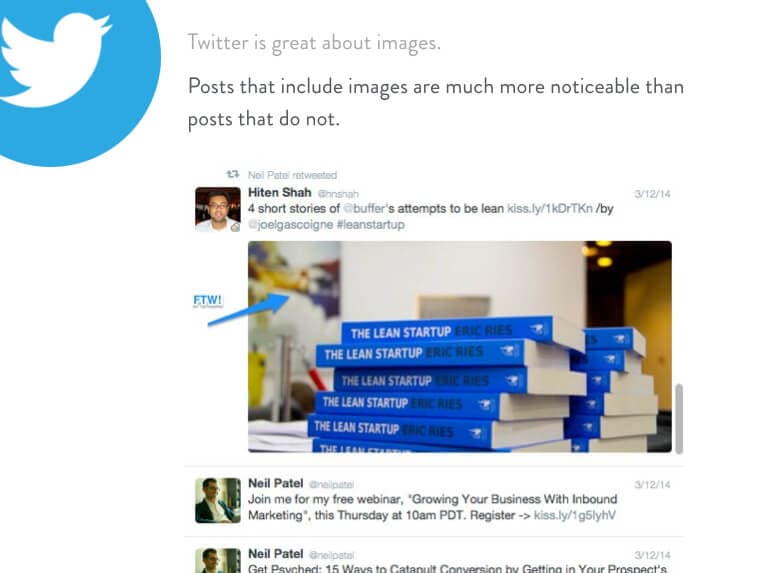 In the slide deck, we've compiled some of the best tips and tricks that we could find for sharing your content across social networks, so that they always look as good as possible, and perform to the best of their ability.
Fact: Sharing Content On Social Media More Than Once Is Easy, And Necessary
It may sound cliche, but it's a blog eat blog world out there, no matter who you ask.
How will you make your blog and your content, stand out? How do you get the most mileage for each of your posts? It comes down to promotion and excellent social sharing. This slide deck is a reliable resource that you can use to navigate the waters of social sharing and blog promotion. Read it, use it, refer back to it, and share it with other bloggers. When it comes to promoting you own content, you can never take it too seriously.
June 10, 2014