All About TOFU: What You Need to Know to Ace Your Top Funnel Content Game
Not all consumers want to buy right away. Some want to just satisfy their interests while others may look for viable solutions. In fact, most consumers requesting information
will not make a purchase for at least three months
. This intriguing statistic drives the importance of creating actionable content throughout the
buyer journey
, but even more so at the top of the funnel. After all, if you aren't attracting the
right
leads from the top, all your bottom-funnel marketing would be in vain.
Now, there's no shortage of top funnel content, and you've probably already produced quite a sizable chunk of it...
But how much of that content is actually moving the needle? Are you connecting with your audience? Are you generating new leads? If yes, are they qualified leads?
If you're not happy with the answers to these questions,
something needs to change
, and you need to first start with your top of the funnel marketing strategy. So in this post, I'll answer all the questions you've ever wondered about top funnel content and further share strategies from some of the best content experts.
All About TOFU: What You Need to Know to Ace Your Top Funnel Content Game
Click To Tweet
Content Mapping Template to Get Started
Before you get started it's a good idea to map out your
existing
content as per different funnels; top-funnel,
middle-funnel
and
bottom-funnel
. Luckily, here's an easy-to-use spreadsheet that will help you do exactly that. What's more, this template will help you identify gaps in your content so that you can map new content and prevent any leaks. Now, mapping existing content is beyond the scope of this article, but CoSchedule's covered this in their
content mapping guide.
What Should You Talk About at the Top of the Funnel?
At the very top of your funnel are buyers, but these buyers are not necessarily looking for your product, but instead, have their questions answered.
This is where ToFu content comes in and helps quench a potential buyer's thirst for knowledge by doing one simple thing well: educate. As
Emma Tupa, marketing strategist, describes it
, "It's kind of like when you meet someone for the first time; you want to be interesting enough but not tell your entire life story." Similarly, ToFu content is the first touchpoint that sets the tone specifically in the 'awareness' stage of the buyer's journey. So don't jump the gun and pitch, when you haven't even gotten their attention. Follow the right set of KPIs:
Address user problems
Generate Leads
Drive Engagements
KPI 1: Address User Problems
ToFu content is created with the primary purpose of educating new prospects. Trying to sell will likely be a turn-off. They're not here to shop; they're here to learn. Put yourself in the shoes of your consumer:
What would their biggest pain points be?
What would interest them most?
And how can those problems be solved?
Answer these questions, and you'll have a strong base to create ToFu content. Now, meeting user queries may seem like an obvious step, but many brands underestimate customer research and base their decisions off their intuition. Don't do this. Instead, spend some time and focus on primary research. Doing this alone, will give you that edge over competitors that don't research their customers. Here are three ways to go about this process:
Step 1: Interview Your Internal Customer Interaction Teams
One of the easiest ways to start researching your customers is with your customer interaction staff. For instance, customer support, executives, etc. Customer support teams are the people that deal with your customers—and most likely have key customer insights regarding their pain points. So it's a good place to start. Below are a few ways to conduct employee interviews:
Send out surveys with simple questions to detail out user pain points without overwhelming staff.
Create a database dump for relevant staff to drop customer problems whenever encountered.
Hold one-on-one meetings with key customer-facing staff (think: senior reps).
Step 2: Talk to Your Customers
After interviewing your staff, it's time to move on to the next best source: your customers. However, it can be a real PITA to efficiently and effectively get the right answers from your customers, but it's a step that cannot be avoided. So here are a few ways to get your customers talking:
Before anything, strategically plan out what questions you want to ask your customers. Check out Crazy Eggs' on how to interview customers for more information.
Next, send an email offering incentives (think: gift cards) to encourage customers to hop on a call with you.
Alternatively, create a poll and send it out to your lists to get responses at scale.
Finally, if you can, hold live interviews to get deeper insights into your customers' pain points.
Step 3: Leverage Keyword Research Tools
Apart from interviewing customer-interaction teams and customers, you can leverage content tools to swipe key customer pain points without spending as many resources. Now, these tools spew out secondary information so they're not as accurate as primary research. However, it's a great place to start if you're short on resources. Here are a few ways to leverage tools to understand your customers:
Use content research tools like AnswerThePublic to conveniently swipe data-driven user queries from search-engines.
Neil Patel's UberSuggest is another great tool to research top-funnel user queries.
Alternatively, you can use BuzzSumo to top-performing content and find major engagement enablers.
Finally, Combine and organize these pain points into nifty
buyer personas
 to inform personalization strategies in the future. Bottom line? Research your customers, they're the foundation for good top-funnel marketing.
KPI #2: Generate Leads
Apart from addressing user problems, your ToFu content needs to convert a broad audience (traffic) into leads aka lead generation—and if nurtured right, these leads will turn into sales. For this reason, you need to need to strategically place CTAs and opt-in banners to capture engagement for future use. Now, you can't just make a lead-gen strategy and hope it works,
especially
 when you're targeting prospects that have never encountered with your brand. Instead, you need to have the right top-funnel lead generation strategies to get qualified leads from the get-go So below, I've shared a few ways to go about creating a solid lead generation strategy for your top funnel marketing:
Step 1: Craft an Irresistible Offer
Crafting an offer is a logical place to start your lead-gen strat. After all, how do you expect to capture engagement if you don't give your prospects something they want. But an irresistible offer? That's an offer your audience simply cannot refuse. Specifically, in top funnel marketing, an irresistible offer works as it drives action from prospects that've never encountered with your brand. So how exactly do we craft an irresistible offer? The answer comes down to personalization, specifically:
presenting valuable information that users would otherwise pay for, but for free.
A good example of this is Ahrefs' guide to SEO
Competitor Analysis
:
Ahrefs SEO Competitor Analysis
Apart from detailing a step-by-step process, they attached a nifty competitor analysis template to help their users put what they've learned into action.
Similarly, you need to integrate your top-funnel content with irresistible offers that leave your prospects with no choice but to engage with your brand.
Step 2: Create a Lead Magnet
Next, you need to convert you (irestiable) offer into a lead magnet  i.e. the medium you'll use to attract and capture engagement. This can include any or all of the following
Landing pages
Ad creatives
PDFs
Online Course
Or even a simple Google Doc/Sheet
What's key is to use a format that empowers your offer. For more information I recommend reading this 
guide on Content Upgrades.
You can use whatever medium: E-books, templates, checklists, but what's key is to offer something your users actually want. BTW If you didn't already get the hint, this is where having a firm understanding of your buyers (KPI #1) pays off. ?
Step 3: Integrate With Your Content
Finally, you want to integrate your brand awareness content with these lead magnets using strategic call-to-actions (CTAs) such as opt-in forms, buttons, etc. Now, there's no rules to CTA placement but it's test and optimize to maximize lead gen. Going back to the previous example, Ahrefs placed their lead magnet across multiple locations:
Similarly, you can place CTAs across multiple positions and test results:
If you're capturing enough leads, great! Your placement works.
If not, test out another position.
That said, you can use
heat map tools to analyze content
 and place your CTAs in areas that get the highest engagement. ?
KPI #3: Measure and Track User Engagement
After following KPI #1 and KPI #2, your ToFu content will naturally drive high engagement and maybe even give you a bunch of leads. But how do you track ROI? How do you know what worked and what didn't? And more importantly, how do you know what to optimize? Well, there's no secret genie that'll answer those questions. Instead, you'll only have those answers once you implement your campaigns. This is where measuring and tracking user engagement comes in. Tracking user engagement reveals key insights into the effectiveness of your top funnel marketing—and this data can then be used to optimize future strategies for higher conversions. After all, if you aren't measuring your campaigns, you're not really learning anything.
Peter Drucker quote
So below I've shared a few ways to go about measuring user engagement:
Before implementation, define the marketing channels you'll use to drive traffic. In fact, this is key to inform organize your marketing efforts.
Integrate your site with  Google Search Console and Analytics to capture key user engagement (think: bounce rate, read time, etc).
Use UTM codes to track the success of campaigns for special top funnel assets (such as : lead magnets).
Now, this is not an exhaustive list but if you want more info, I recommend checking out Social Media Examiner's guide to
tracking brand awareness.
Types of Top of Funnel Content: What Format Works Best?
Top funnel content needs to be digestible and informative to ensure you are positioned as a thought leader.
But, how will you distribute that content? And what's the best format? Well, there's no specific format that works best. Instead, what's key is to pick a format based on its use-case scenario.
#1: Blog Posts
Blog posts serve as a great channel for users to get their queries answered and if they want, even gives them an option to interact (read: through blog comments). This two-way interaction is great to establish trust,
especially
at the awareness stage. It's no surprise
marketers rated blog posts as the most effective content format in the awareness stage
.
Case: Foundr's Informative Blog Posts
Foundr is one of the fastest-growing online entrepreneur hubs that offer everything from magazines, courses, podcasts, and in-depth blog posts to help users build profitable businesses. Foundr adopts the best content stats in the industry and among their impressive content portfolio are informative articles like this one that breaks down e-commerce set up costs.
E-commerce article by Foundr
Blog posts like this are great to address user queries, build solid relationships and, in turn, drive action. It's no surprise they strategically place a relevant CTA to convert their readers into qualified leads.
#2: E-books
E-books are a great text-based content format for topics that need to be covered more comprehensively. What's more, a full-fledged ebook can serve as a powerful resource that fully satisfies user intent and more importantly, establishes solid authority. That being said, ebooks if implemented wrong (think: long boring text blocks), can bore users,
especially
 new prospects you've never encountered before. For this reason, you should adopt the best practices to keep prospects engaged from start to finish:
Prioritize relevancy: Identify their biggest pain points and then use this as a hook to keep them engaged from the very first word.
If you're going pro, look pro: Use an attractive cover and visuals to give your ebook a fresh and professional look.
Make every word count: Keep your content short and compelling to not overwhelm a new prospect with too much information.
Case: Ahrefs in-depth eBooks
Ahrefs is a widely popular SEO tool and has a massive audience with a common interest in the same. So they naturally create content that positions themselves as a reliable SEO resource. One such example is this massive eBook that addresses most (if not all) of the common SEO related queries.
Ahrefs SEO eBook
Ebooks like this are a great way to conveniently cover multiple user queries. Moreover, ebooks serve as a handy resource that users can use whenever (think: higher engagement).
#3: Guides
Unlike e-books, guides don't have to be text-based, instead, they come in many formats such as
infographics
, videos, or even
full-fledged webinars
. Moreover, guides are great to breakdown massive chunks of videos into step by step processes making it easy for prospects to digest information.
Case: Follow Up Boss' Guide to Remote Work
Follow Up Boss, a real estate CRM tool understands the paradigm shift of real estate towards remote work,
especially
being a fully remote company themselves. For this reason, they've created a definitive guide to help their audience of Realtors and real estate firms go remote and further adopt the best practices.
Follow Up Boss guide on remote work
What's more, they've even added a video right from their head of growth, explaining how they lead their rockstar remote team.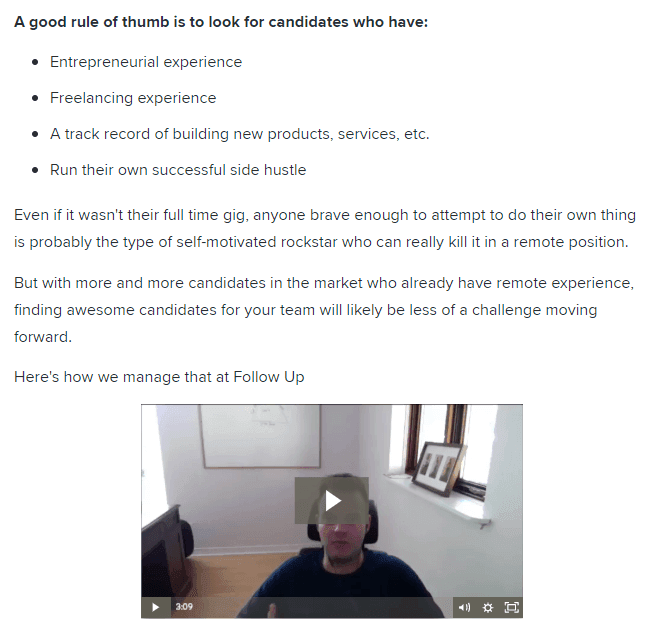 #4: E-mail Sequences
E-mail sequences are a great way to onboard prospects and at the same time, effectively provide bite-sized information
without
overwhelming new prospects. For instance, when a prospect comes to your site, has a good experience but isn't ready to buy, subscribing to your email list works out great as an easy option to engage If done right, every correspondence will nurture that prospect and over time, establish a relationship to drive that prospect further down to the decision stage.
Short sequences can be low-effort but high-impact, delivering value faster and providing a sense of closure.
Longer sequences can deliver value by building trust and in turn, brand awareness.
Now, email sequences are beyond the scope of this article, but I recommend checking out this guide to create an
engaging email funnel strategy.
Case: Todoist's Onboarding Sequence
Todoist
, a productivity tool uses a smart onboarding strategy to nurture new prospects from free trial signups to premium users. I recently tried Todoist and got to directly experience their sequence. I figured it would make a great example for this article, especially considering it made me upgrade to premium. ? This is the first email I got after creating my new Todoist account.
As you can see, there isn't much content, but this email gets right to the point i.e., educating me on how to get the most out of Todoist. Short but compelling. Their guide was great, but as I kept learning more, I realized I was missing out on nifty premium features so I decided to opt into their premium trial (I guess that was the whole point. #subtlemarketing.?). So here's the second email I received after upgrading to premium.
Once again, very little content, but this email does a great job of educating me on the best features of Todoist premium. What's more, they even sent me 'premium tips' to help me get the most out of my trial premium subscription.
Finally, here's the email I got a few days before the end of my premium subscription:
As you can see, Todoist nurtures its prospect (aka me) into their service—and at every touchpoint—offers only the most essential amount of information to finally make a pitch at the right time.
Best TOFU Strategies: According to the Best in Content
Now that you understand the what's, whys, and hows of top funnel content, you should have enough information to produce it. But as you know, reading this post can only take you so far, actually executing strategy is a whole new ball game. For this reason, I've reached out to some of the best experts in content and asked them to share insights into their top funnel content
marketing strategies
. To my surprise, I got great responses with some of them even breaking down their strategy into steps:
Collect demographics to create irresistible data — Derek Gleason
Double down on customer led content — Brittany Ryan
Target tangentially related topics — Ben Jonhson
Breakdown content for scannability — Nico Prins
Provide an irresistible amount of value  — Jenna Scaglione
Analyze competitors to find user intent — Becky Kane
Target topics that your brand can genuinely solve — Joshua Hardwick
Create Something No One Else Can Copy — Ben Sailer
Strategy 1: Collect Demographics to Create Irresistible Data — Derek Gleason
Data-driven content assets (think: expert round-offs, surveys, etc.) are a great format to build solid authority. However, there's no one-size-fits-all approach with data. What's uber relevant to one might not be to another. So while a report might connect great to one persona, it just won't work for another.
Derek Gleason
, Content Lead at
CXL
, understands this well and takes an extra step of collecting demographics to create irresistible data. For better understanding, I've broken down his strategy into two simple steps.
Step 1: Research 'key' personas, and ask good questions
The foundation of Derek's strategy is collecting demographics. However, you can't just ask questions at random. Instead, you need to figure out who you want to drive engagement from, and then thoroughly research them to identify q's that will make that data irresistible to those people (This is where KP #1: Addressing User problems comes into play ?). For example, say you're surveying the "state of social media," you'd further ask respondents where they work (enterprise, SMBs,).
This will then allow you to segment that data and create tailored data reports such as ecommerce SMB trends, enterprise SaaS trends, etc.). Plus if you throw in another variable, like industry, then you have tons of ways to break up your report. "Grabbing demographic data often takes only a tiny bit of work, but that work has to take place at the beginning of the project. If you neglect to ask for demographic data when you send out a survey, that's it---you're not going to go back and re-run the whole survey just to get those two or three data points that would've allowed you to segment your data so many other ways," says Derek. Derek further recommended two tools you can use to conduct research:
American FactFinder: The main repository for U.S. Census data on industry, age, gender, education, income level, etc.
Scraped data from Indeed.
Step 2: Strategically Distribute That Data
Once you've collected and segmented data, you'll have multiple ways to distribute and present that data.
For instance, you can publish the full version on your site and offer exclusive access to segmented data sets for niche publications.
Or you can make those niche segments the gated portion of the report (think: Content Upgrades).
Creating gated content gives you a stronger, more citable version to host on your site (since you can give away all the core findings) while also retaining the incentive for anonymous visitors to become leads (by downloading the niche data). What's more, pre-identifying distribution sources helps build strong inertia. Basically, "Strong inertia" takes the concept of "Who might be interested in this?" a step further. It asks, "How can we deliver research that others wish they had?" Bottom line? If you don't personalize, you'll spend a ton of resources creating a generic report that'll barely get any visibility. So collect demographics, segment data, and you'll get multiple reports from a
single
 data collection campaign.
Strategy 2: Double Down on Customer-Led Content — Brittany Ryan
User-generated content or UGC, is any form of content, such as testimonials, quotes, images, that have been posted by customers. One of the biggest benefits of UGC is it puts your brand's offering into the perspective of a consumer which is great to build trust and credibility.
Brittany Ryan
, content chief at
Pointed Copywriting
, is an expert at using user-generated content. She swipes expert quotes from interviews, influencers, and even lurks around social media groups to find valuable nuggets of UGC. Brittany's further broken down this process into the following steps:
First, Interview loyal fans and create customer success stories.
Alternatively, email users and ask them for feedback
Finally, repurpose customer quotes, and insights into a google sheet.
Rinse and repeat this process for influencer quotes and other relevant data points
Over time, you'll develop a data library of user generated content that'll inform compelling customer led content. For instance, this customer quote she added to this software review on real estate CRM tools.
Barry Jenkins quote on delivering relevant content
Customer quotes like this are particularly great at the awareness stage as it acts as social proof that can drive action from even new prospects. Similarly, you need to adopt UGC to give your brand awareness content that relevancy it deserves and, in turn, produce highly compelling content. "This is why customer-led content is so crucial. It creates a sense of trust and authority with that goes way beyond the played-out listicle or generic how-to," says Brittany.
Strategy 3: Target Tangentially Related Topics — Ben Jonhson
Most of the top funnel content pushed out by brands are either directly or closely related to their product or service. Logically, this makes sense. After all, you don't want to go too top funnel and target topics that are irrelevant to your brand. But on the other hand, are topics only slightly related to your service but quite relevant to your target audience i.e., tangentially related topics.
Ben Johnson
, Head of Content at
Proof
, launched a series of software review articles around topics tangentially related to their product:
First, analyze your customers to identify all their queries.
From these topics, filter out those that are not at all related to your industry and keep those that are somewhat related to your product.
These are your tangentially related topics.
These topics, though not directly linked, are still important to your target. So it's a good idea to target them and build an authority outside of your typical service offering. For instance, this article on "best email marketing software," that's not directly related to their service but is a common query searched by their target audience of
growth marketers
.
Article on the best email marketing software services for a business
"Our thought process is that we can provide a balanced, useful opinion for our current customers while increasing the likelihood that new customers end up on our site via search engines," says Ben.
What's more, tangentially relevant topics can also include problems related to your offering. For example: Instead of targeting  "best vpn" you can target the problem "how to stay safe on public wifi." According to
Jeremy Noronha
, technical SEO consultant, "You can't go wrong building content around problems as that's exactly what buyers at the awareness stage want. What's more, results on Google for solution or products related queries tend to be highly competitive while problems tend to be less competitive." Going further, top of funnel content can be positioned around competitor brand names such as "Competitor + Alternative." These keywords are an easy way to target customers that are looking for alternatives to your competitors. For example,
Chanty
, a team chat tool created a solid lead-gen post by target the keyword "
slack alternative.
"
Chanty article on Slack alternatives
The result? This article brings in a substantial amount of leads and is in fact, their #1 source of new users.
People looking for 'Slack alternatives' want to find a tool similar to Slack, but offering something better, whether it's the speed, the price, the functionalities or something else—and Chanty does an excellent job of satisfying their needs.
Strategy 3: Keep ToFu content fresh to amplify organic traffic — Adam Connell
As discussed, one of the goals of ToFu content is to generate a large number of leads, and organic search is one of the most effective ways to make this happen. However, topics tend to change over time. What's relevant today, maybe relevant tomorrow, so you always have to stay on top of trends,
especially
if you want that top spot on search engines.
Adam Connell
, the founder of
Funnel Overload
, is an expert at organic content strategy and emphasizes on updating content to get better results. In fact, this strategy has directly increased his traffic by over 200-300 percent!
"If you want to get more eyeballs on your content, organic search is one of the best ways to make it happen. It's not quick, easy, or cheap, but the payoffs can be huge when you get it right," says Adam.
Adam was kind enough to share this strategy and even broke it down into a repeatable 5-step process:
Update - Satisfy search intent by having up to date information.
Improve - Don't go overboard with content reworks, instead focus on things that move the needle such adding expert quotes to your content because it gives them a reason to share & link to you (UGC for the win!).
Re-optimize - Keep your technical & on-page SEO has to be on point by re-optimize to cater for more keywords to cater to changing trends.
Re-publish - Treat your updated & improved content like it's because, in a way, that's what it is.
Re-promote - A few extra tweets isn't going to move the needle. You need to go all-out. Support it with outreach, repurpose it into different formats, drive traffic with Quora answers, leverage niche bookmarking sites, email your subscribers, etc.
Adam further adds:
"Updating content is nothing new or glamorous, but it works. Trendy hacks or tips can only get you so far - it's proven processes that move the needle more than anything else."
And I couldn't agree more. Topics change over time, so content for the same shouldn't be the same. What's more, Adam's strategy works
great to revive content
and keep content fresh, an important ranking factor Google looks for when filtering out content.
Strategy 4: Break Down Content for Scannability — Nico Prins
List posts are a common top funnel format due as they can cover a massive amount of information in a simple blog post format. However, in a lot of niches, a list post will need to have a high word count for the article to rank in the SERPs which can make it overwhelming for new prospects. To counteract this, 
Nico Prins
, founder of
Launch Space
, breaks down his top funnel list posts with a smart structure that makes it easy to scan and digest:
First, he breaks up his listicle into two sections with the first section for the "Best of Topic List."
He then includes all of the other options in the next section, which is the "Alternatives to Consider List."
Finally, he ends his article with a relevant call to action for anyone who made it through to the end
Nico's seen great success from this strategy and even implemented it across his wife's travel site that resulted in an immediate increase in sales. For example, he's structured this massive listicle on "21 things to do in Lombok" into an easy to understand article.
Things to do in Lombok article
"While a list post with numerous options gets clicks in the SERPs, there are plenty of studies that prove giving people more choices makes them overwhelmed. Breaking down your article helps the reader focus on the content that you want to highlight," says Nico.
For information on writing A-level content like Nico, I recommend reading through my guide on content writing.
Strategy 5: Provide an Irresistible Amount of Value  — Jenna Scaglione
Jenna Scaglione
, founder of
Lady Content
 and managing editor at
Foundr
, is an expert at value driven content. She says, "Whenever you can incorporate your audience and give back more with your content, it's a home run." One of the ways Jenna offer ultimate value is by encouraging expert writers and founders to give away real-time free advice in the comments section of their blog posts. What does this look like?
Basically, If you're writing a piece on how to create high-converting landing page copy, you offer five free landing page critiques in the comments.
If you're writing about how to get clients, you offer a few people who comment a free 15-minute Skype consultation.
You can make the advice either time-sensitive, limit the availability or keep it open indefinitely.
One example of this strategy is this article on building an audience using giveaways.
Building an audience article by Foundr
Author of this post, Jack Paxton not only details out his process into steps but also offers free advice on his piece on how to run contests via Facebook. He urged readers to leave their website and contest information and potential prize in the comments and he would help them make a decision. The result? The piece garnered dozens of comments in a matter of weeks and the reader time on site increased by tenfold.
This strategy has a three-fold effect:
Your blog post just became elevated above any other piece that may be discussing the same topic
You give readers a reason to keep reading your piece and not bounce off the page.
You're providing ultimate value with your content which endears more people to your brand. Give, give and give some more.
Pro Tip:
 Add the incentive to the
headline
and/or the first couple paragraphs of the piece so readers see it immediately. Alternative, you can also add it to a TOC if you have one.
Strategy 6: Analyze Competitors to Find User Intent — Becky Kane
As you know, satisfying user intent is an important element of top-funnel content but that's easier said than done,
especially
when you're writing for both Google and users. After all, what works for the users may not work for search engines—and vice versa. You have to find a balance. For this reason, Becky Kane, editor, and creator of
doist
 focuses on analyzing the competition to inform effective content. She says, "When it comes to SEO, scoping out the competition is a goldmine for insights into what readers are looking for when they search for a particular term."
For better understanding, Becky broke down this strategy into simple steps:
Identify a high-value keyword (something that *naturally* includes mentions of whatever you're selling)
See what already ranks for that keyword – as well as other related keywords.
Identify patterns that speak to search intent and strategize around how you can do it better.
Prioritize content that fills a gap in current search results (rather than keywords that are already well covered)
For instance, Becky applied this exact strategy while producing the article
"How to Ask to Work From Home."
How to ask to work from home article
After analyzing the competition, she was able to identify winning angles and produce winning content better than anything on the
SERP
 (read: competitor gaps). The result? This article secured the top spot on Google and brings in a stream of organic leads every single day.
Becky further adds, "I used to get carried away coming up with "unique" ideas, but seeing what already ranks on page one helps to refocus on the most important thing: search intent." And I couldn't agree more as analyzing 'winning' competition is one of the easiest ways to find what already works.
Strategy 7: Target Topics That Your Brand Can Genuinely Solve — Joshua Hardwick
ToFu content is primarily created to address users' pain points but that doesn't mean it's taboo to mention your brand. For instance,
Joshua Hardwick
, Head of Content at
Ahrefs
, primarily focuses on creating rad top-funnel content but doesn't shy away from brand mentions. How can he get away with this? Because he produces content his brand can actually solve. Take for example, this informative article on "What is SEO":
"What is SEO" article by Ahrefs
Users landing on this article clearly want to know what SEO is. However, once they've learned that, they're likely to want to know the basics of doing SEO and how to rank their website on Google. So, he's incorporated that into the article, and (naturally) shows how Ahrefs can help.
Joshua's top-funnel strategy is simple and easy:
Create content where your product genuinely helps solve the users' problem.
Similarly, you can mention your product or service as long as it genuinely solves use's query. For instance, if you're creating a step-by-step guide, incorporate screenshots and show how your offering (read: tool, product, service, etc) can help solve parts of the process.That said, don't try to oversell. Remember, you're informing not pitching. #subtlemarketing ? Joshua further shares, "Targeting topics you can actually solve gives you the opportunity not only to position your brand as helpful, but also to position your product as the solution without being too sales-y."
Strategy 8: Create Something No One Else Can Copy — Ben Sailer
Everyone's heard of the skyscraper technique (a term coined by
Brian Dean of Backlinko
 which refers to the practice of compiling existing information from page one results into a single piece of content). It's a time-tested technique that works. But since everyone uses it, that means you're susceptible to competitors using it against you (as much as you're able to use it against them). Plus, once a tactic saturates marketing strategies across an industry, it becomes harder to stand out using that tactic. Truly remarkable top-of-funnel content should set you apart from your competition, rather than simply being slightly improved over the next-best option in the SERPs. Ben Sailer, Inbound Marketing Lead at
CoSchedule
, knows this well and focuses on creating attention-grabbing content based on original research. His strategy is based on producing data-driven content rooted that no one has seen before—and this makes his content highly linkable, since others writing on the same will want strong sources they can cite to support their own content. For example, Ben and the team at CoSchedule created an extensive report based on survey findings about
marketing management
and strategy.
CoSchedule marketing statistics
From this, they were able to create:
An attractive landing page full of data.
Three separate downloadable reports.
Email and social media promotion.
Several guest blog posts.
And data to include in posts on our own blog.
That's a lot of value derived from a single survey. Here's how to create this kind of content:
Survey your audience. Put together 10 to 20 questions into a survey using Survey Monkey, Crowd Signal, or something similar.
Email the survey to your list.
Analyze the responses and extract valuable insights.
Write blog posts summarizing your findings. And continue using statistics from your research throughout other blog posts you write.
Promote your research everywhere. SEO, email, social media, guest blogging campaigns, and PR can all combine to amplify the reach of your research.
Execute this strategy well enough, and you'll have data to support several pieces of content using information that only you have. On another note, Google recently announced that it's
prioritizing original reporting in search result
 so following Ben's strategy will help get higher rankings and produce evergreen content that'll help your brand stand from the
crowded online industry.
Attract, Engage and Convert
There are many fancy-schmancy strategies to implement ToFu content, but the fundamentals still hold. The truth of the matter is unless your customer connects to your content—
it just won't work.
Customers in this age of tech and disruption, hold a lot of power and intense competition only makes it harder. For this reason, brands must provide
real
 answers to
real
problems or risk losing prospects to their competitors that do. Going forward, brands that create purposeful content at the top will avoid funnel leaks and inform the best results at the bottom.