Task Templates
Have recurring projects? You know the kind – social campaigns, blog posts, landing pages, email campaigns, etc.
Those consistent projects that happen week or week over week.
Instead of manually adding the same to-dos one at a time….why not apply a template (or customize one yourself)!? Your team will have tasks assigned and be ready to get to work in seconds!
Default Templates
To help you get started, CoSchedule has default templates (based on how we manage our own projects at CoSchedule) for blog posts, social campaigns, email marketing, articles, newsletters, podcasts, videos, and white papers.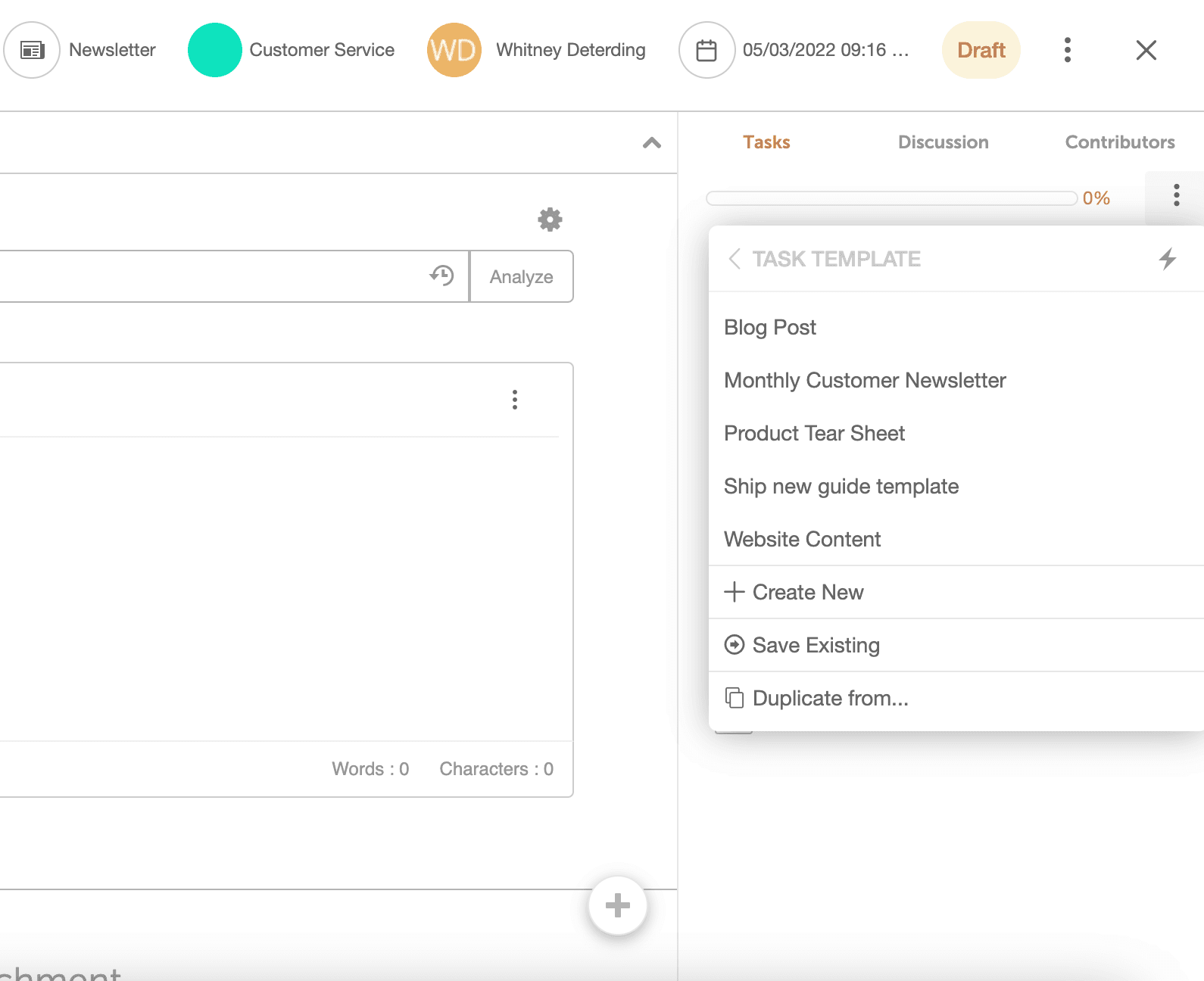 Our default process may be different than yours though.
But, have no fear! These templates won't go to waste.
Edit our existing task templates by deleting, adding, or tweaking the to-dos to make them work for your team.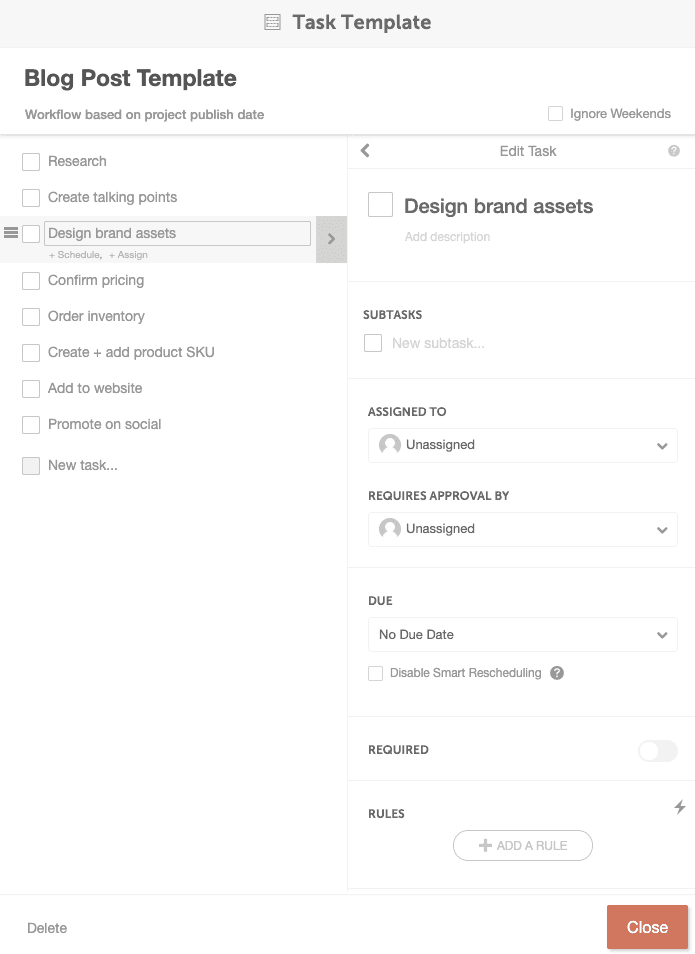 If you're new CoSchedule, you'll receive eight default task templates. Below are three of the eight you'll have access to. To get started, walk through each of our default templates and note the updates you should make to reflect your team's current workflow for these types of projects.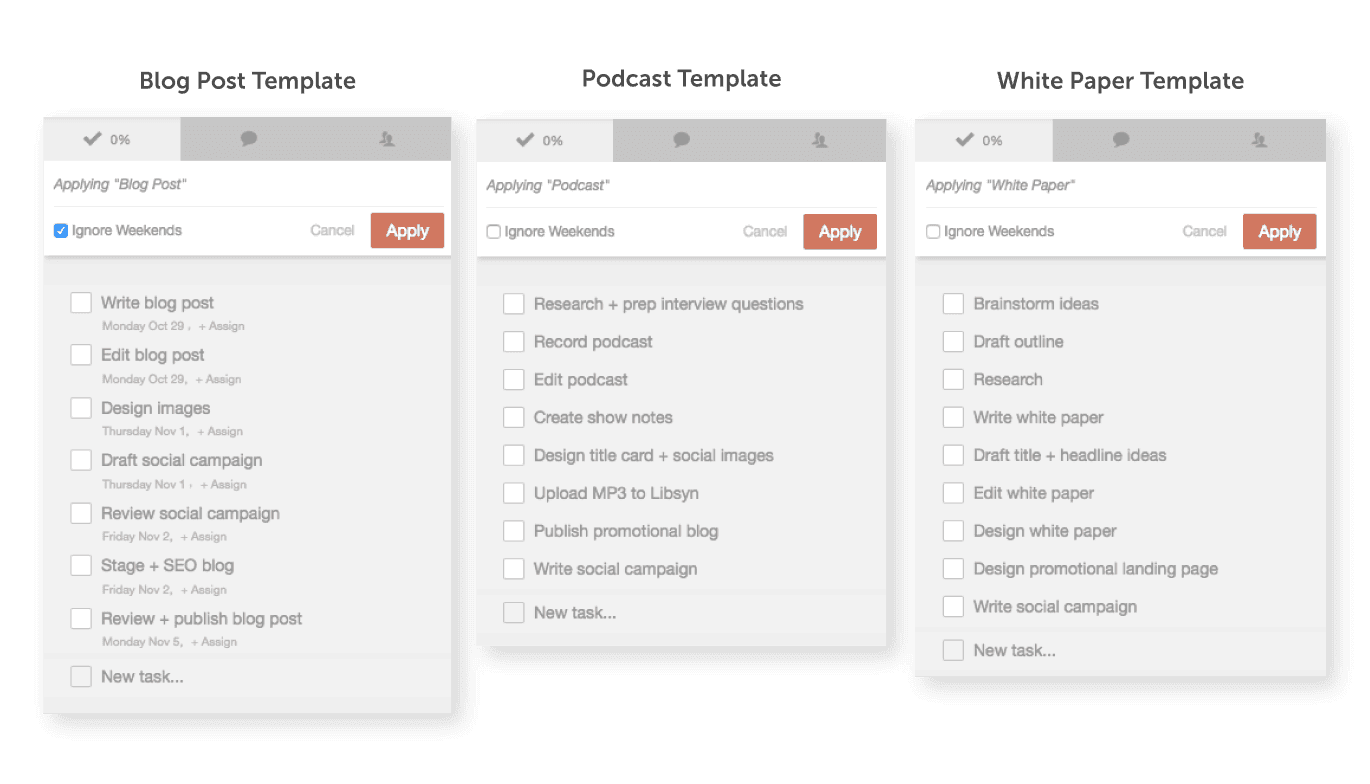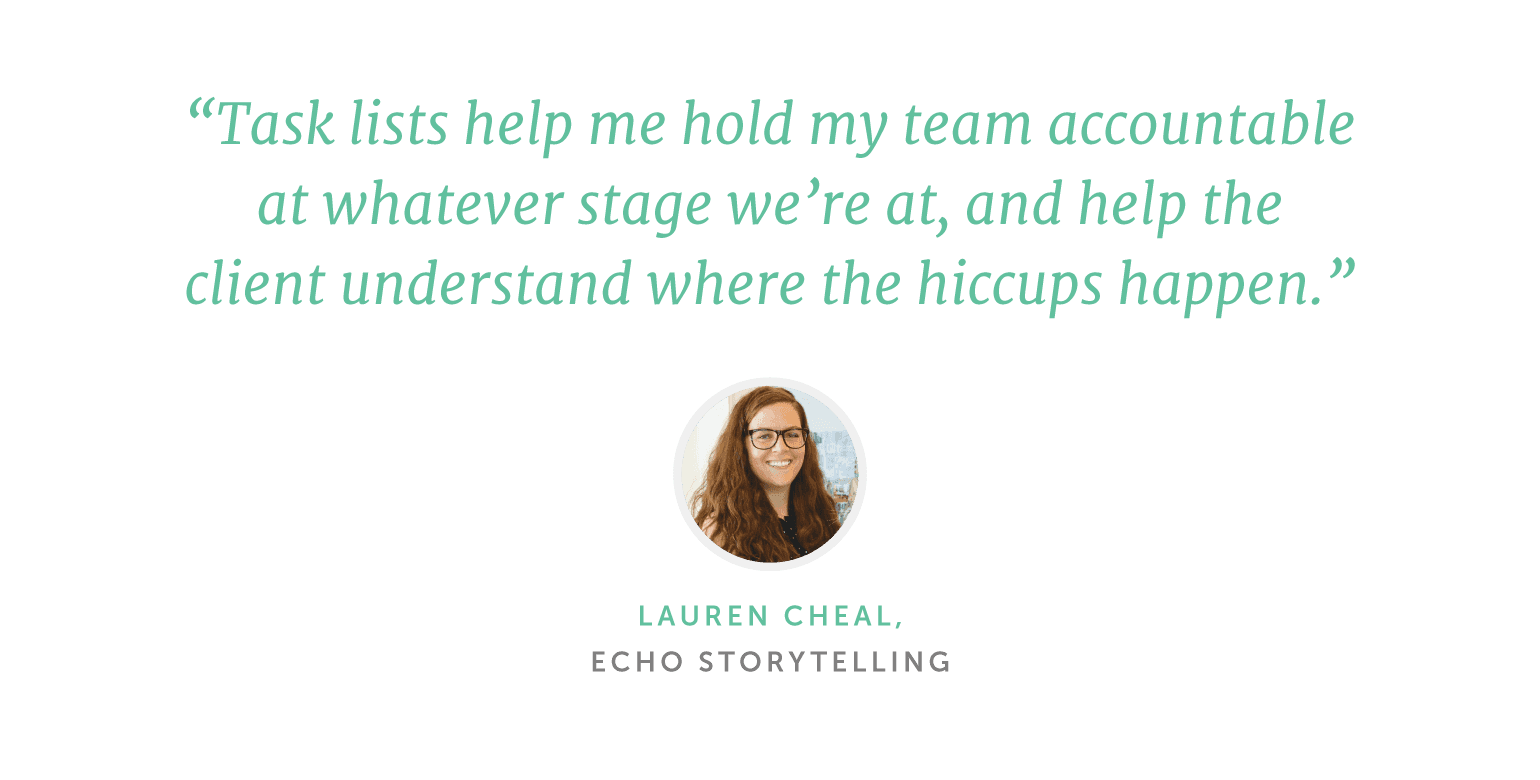 Custom Task Templates
Have a rather unique recurring project? Create and add custom task templates for every any project inside CoSchedule (no matter what type of project it is!). Once created, simply search in the task template dropdown, hit apply, and get to work.
Not sure what types of task templates you should add? Here are a few examples from some of our power users.
Recurring Events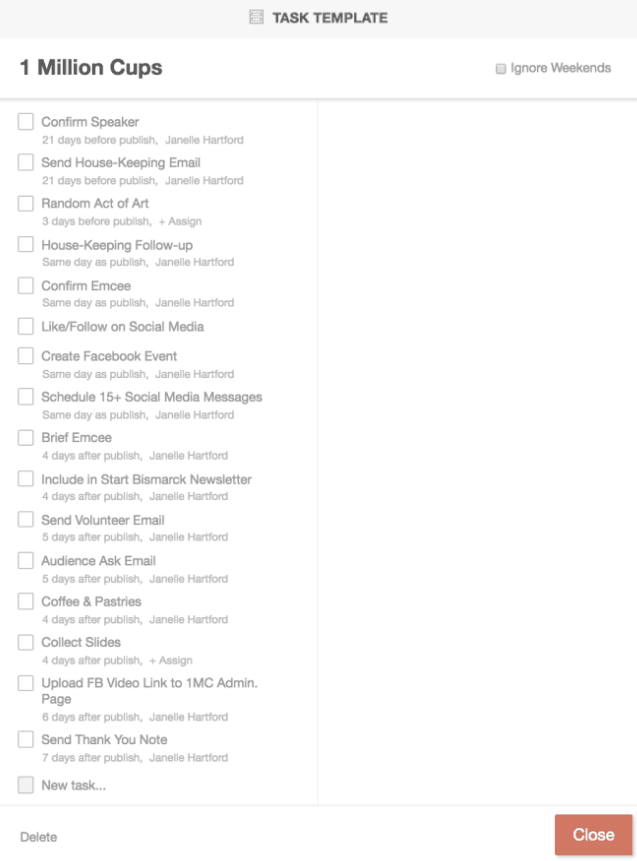 Email Newsletter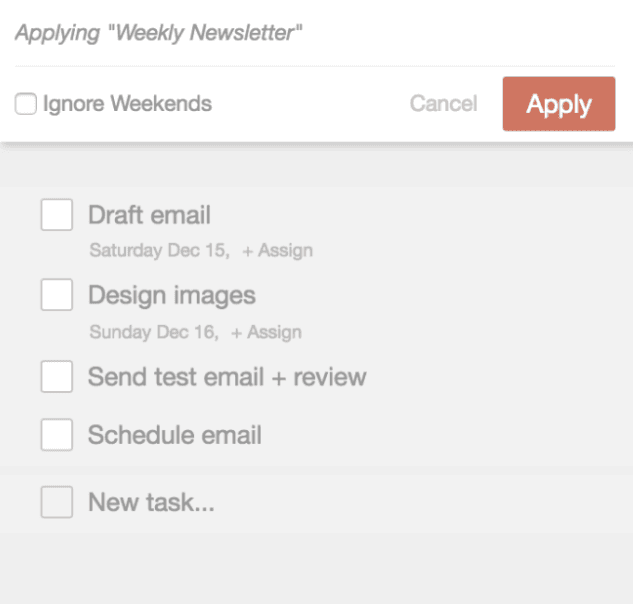 Product Launch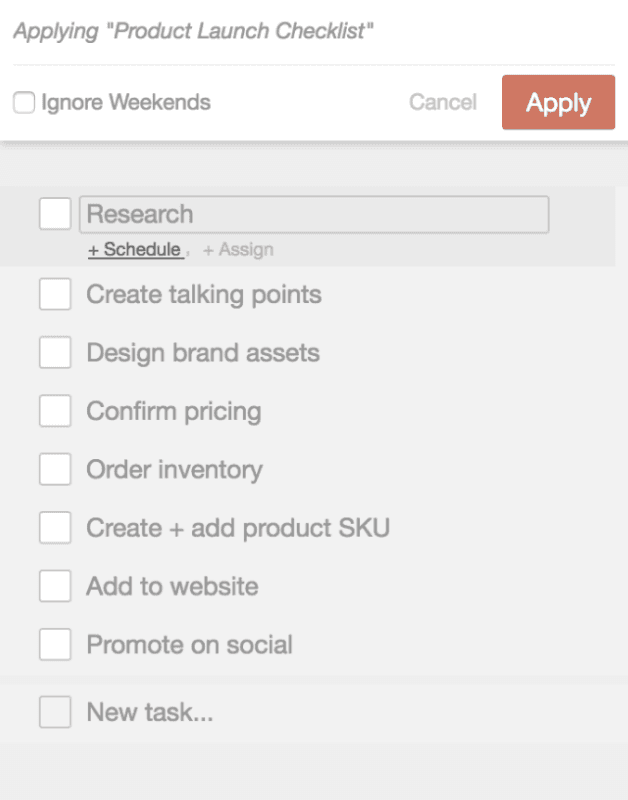 Video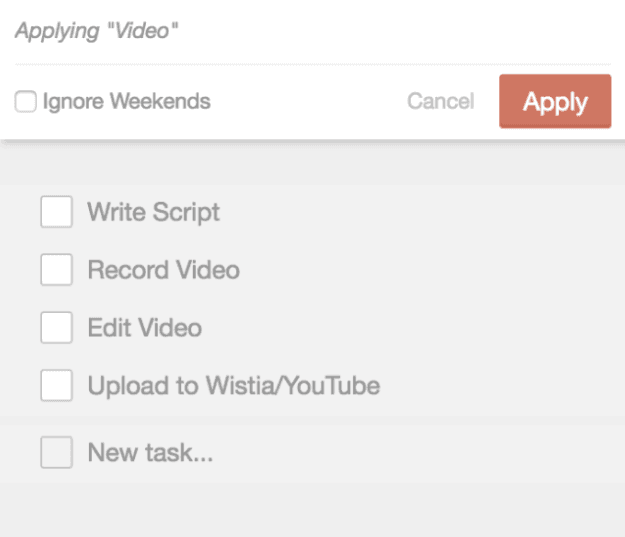 Twitter Chat Pre-Promotion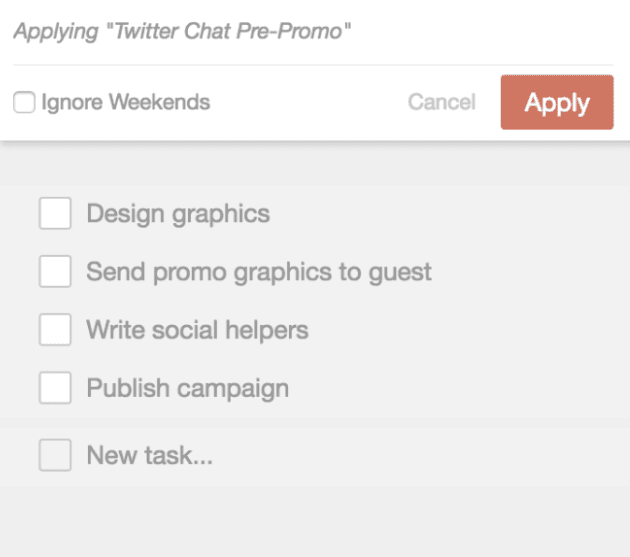 Marketing Report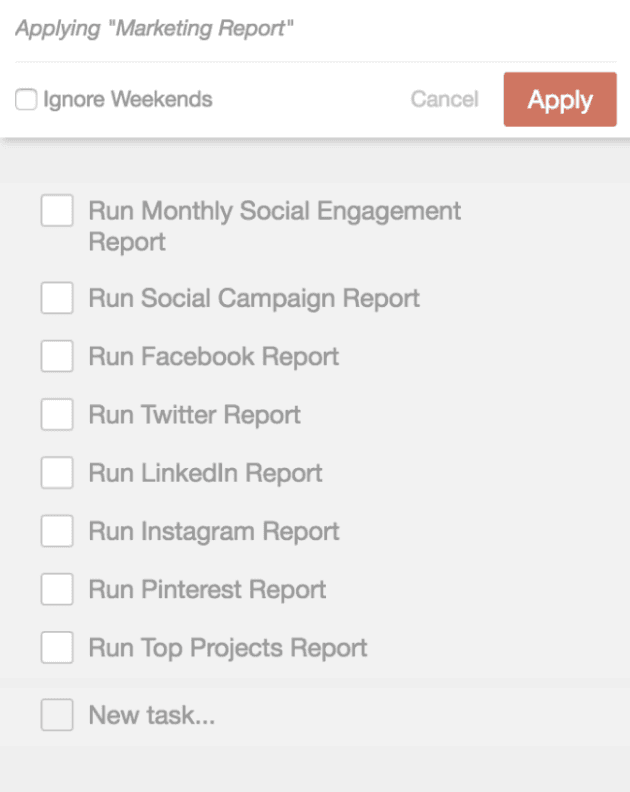 Intelligently Assign Due Dates With Relative Scheduling
Automate your workflows by adding relative due dates. Now you can make sure things get done in the right order at the right time to meet your deadlines.
There are two different options for assigning due dates.
Assign Due Dates Based On Project Publish Date
Assign Due Dates Based On Project Start Date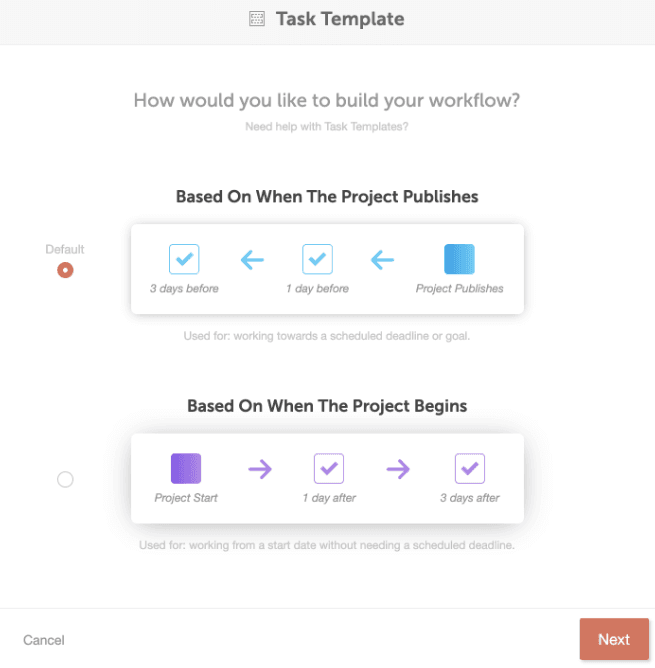 Think through your current workflows for recurring projects your team works on. Build templates that match up with your current process, so you can apply and reuse your templates again and again.
Tasks Relative To Publish Date
Some projects require work to be completed prior to the publish date. Take blog posts – for example. Your designer needs 2-3 days to create graphics. And your content editor likes to have a few to review copy before it goes live.
Add relative due dates to define the timeline your team needs to follow in order for the work to be completed in time for the publish date.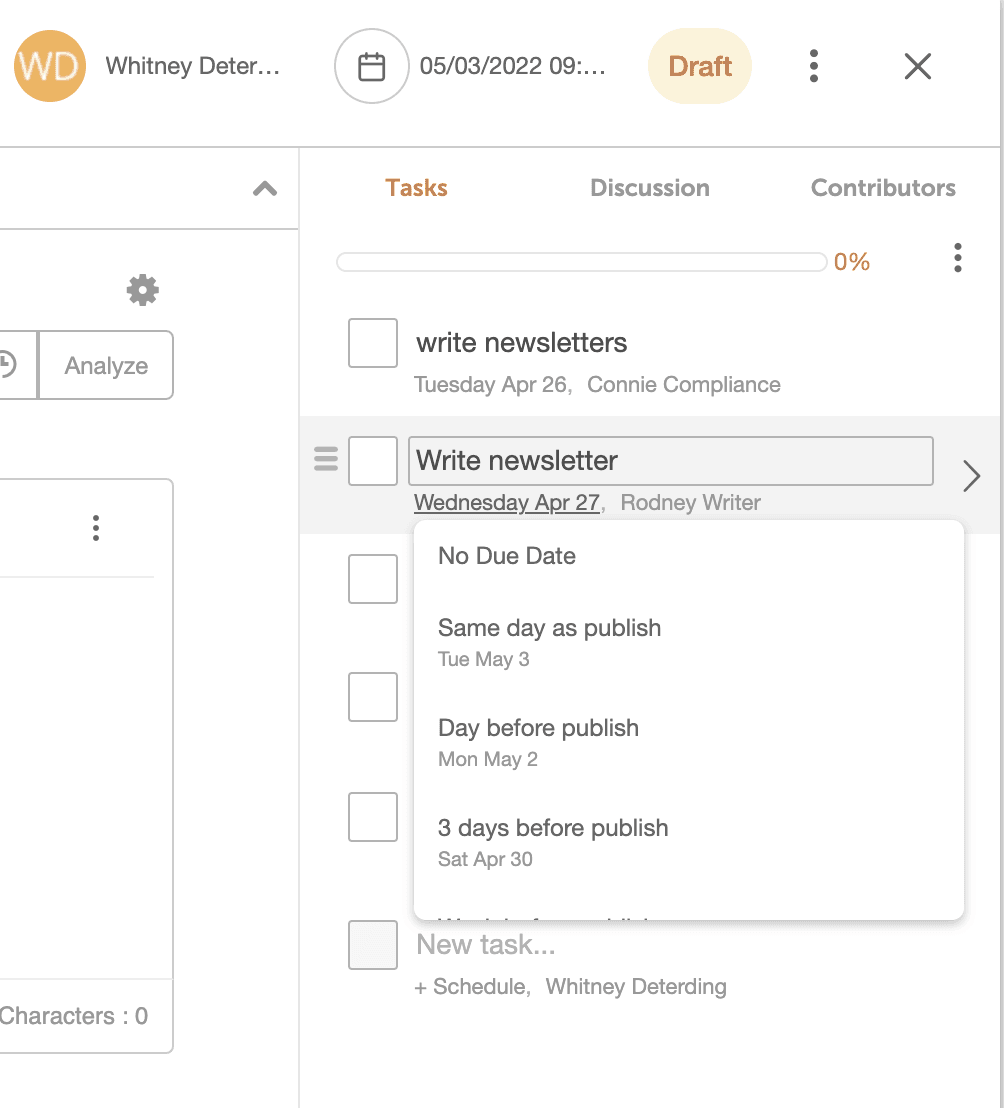 Tasks Relative To Start Date
Some projects are triggered by a specific event or start date. For example, you've got a post-event checklist for tasks your team needs to complete after they return from an industry conference.  You need to send the Sales team leads from the booth. You want to send a post-event email. Or maybe you will share a post-conference recap blog post.
Add relative due dates to signify how many days after the start date tasks should be completed.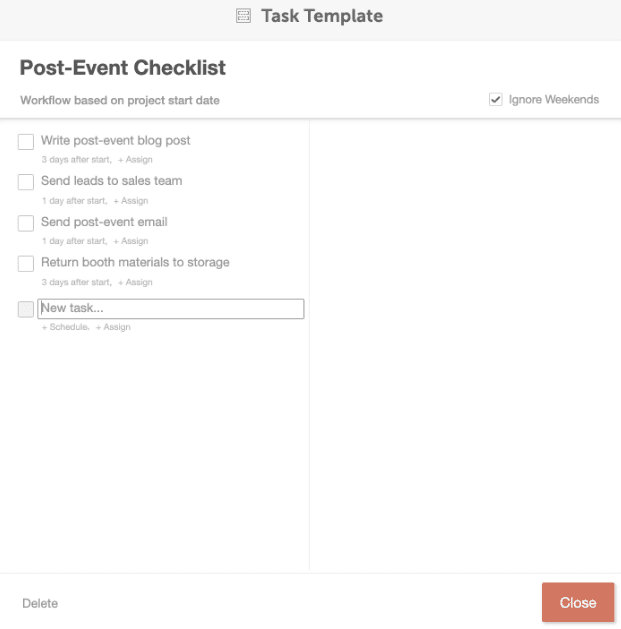 Here are a few examples of how teams are using relative due dates. Note that they include time for editing, image design, and promotion – so everything is ready to go on the publish date.
Blog Post
Pro Tip: If your team doesn't work on weekends, be sure to check the "Ignore Weekends" box. This ensures tasks don't fall over the weekend (and updates your due dates so you still stay on track).
Facebook Ads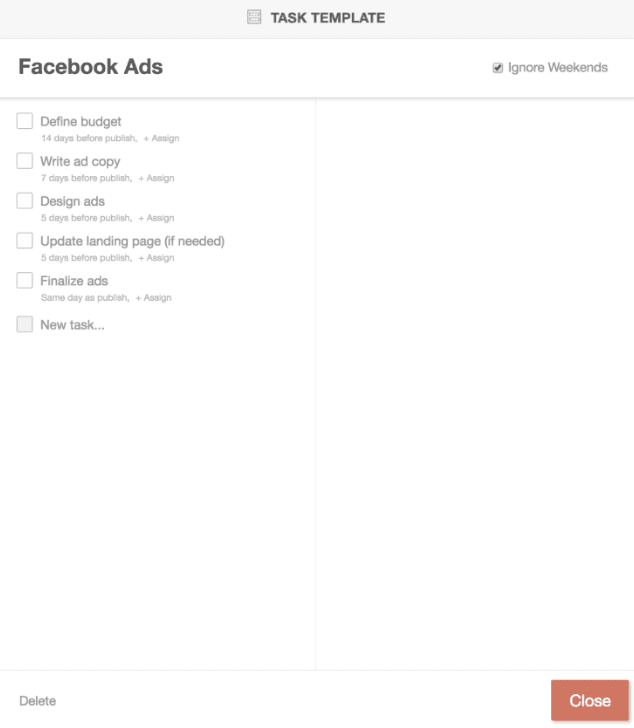 Monthly Email Newsletter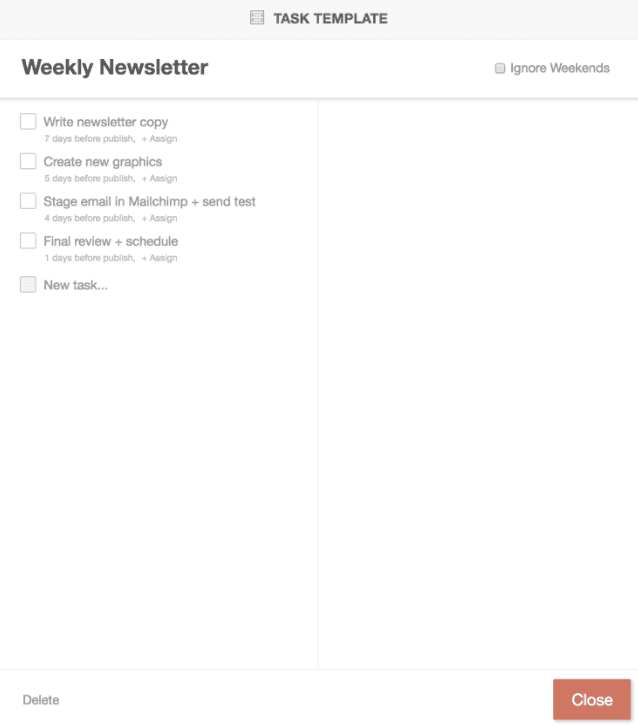 Google Ad Reporting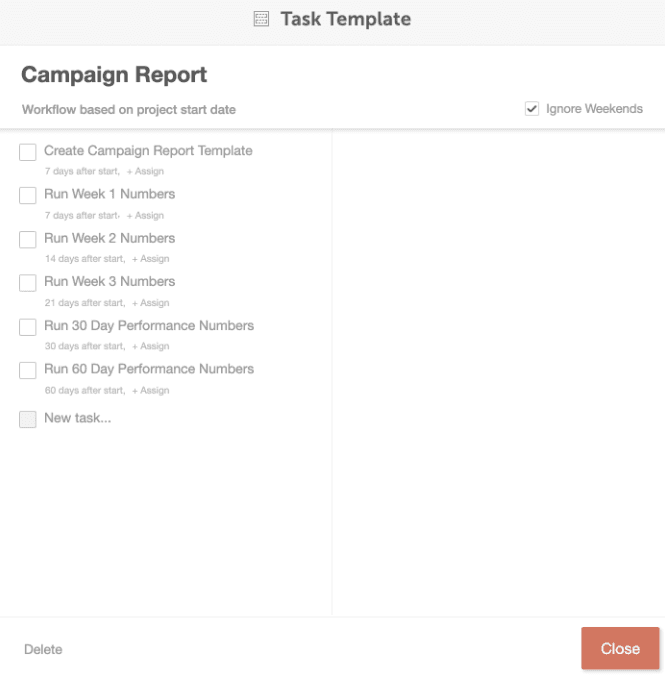 Pro Tip: If you have tasks that require a client or manager's approval or review, add in task approvals.
Save Existing Workflows
If you've already added projects with tasks to your calendar, you can save the task list as a template.
Jump into your project, view the task list, and select "Save from Existing…"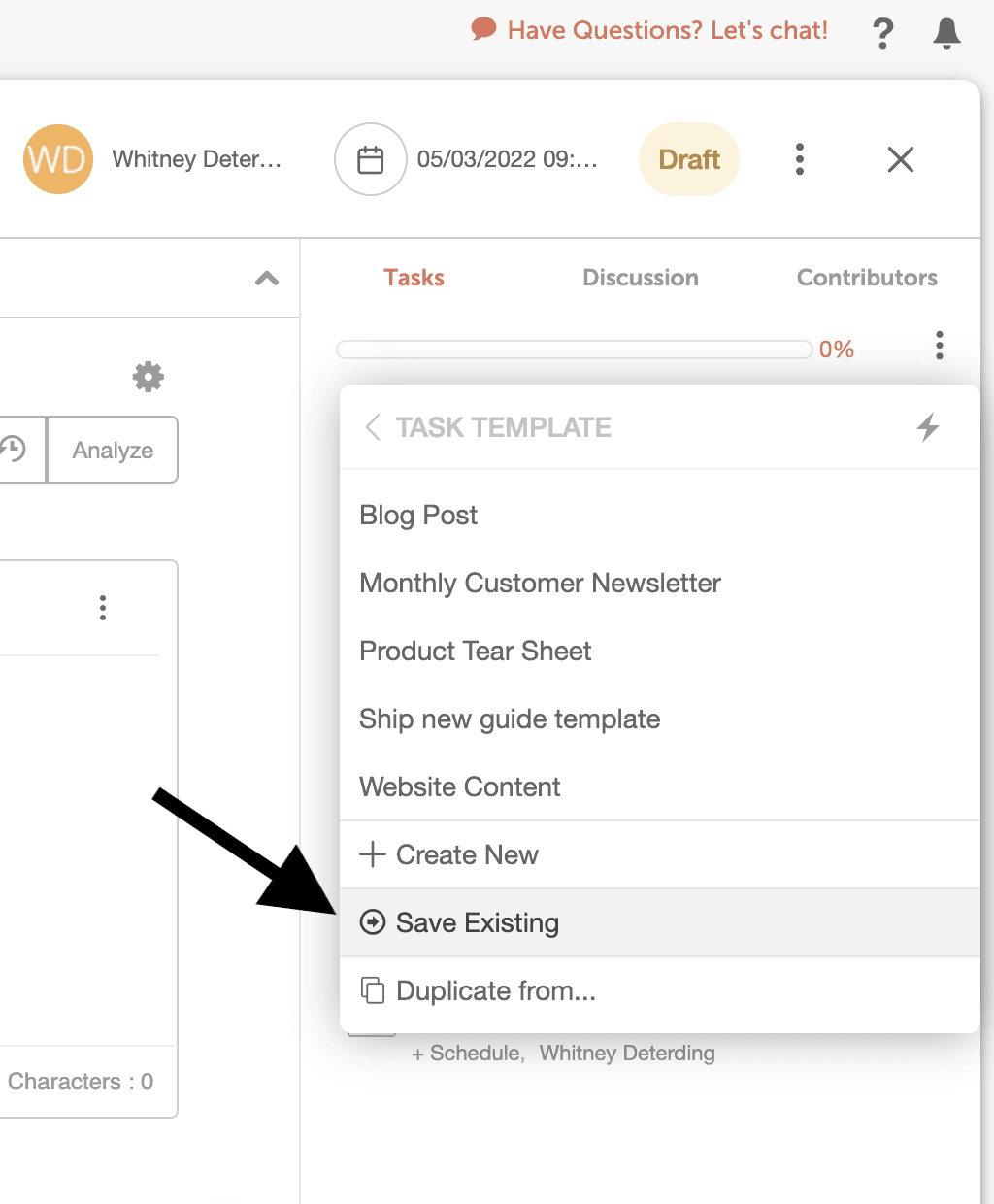 And it will save as a template, saving you time when creating future projects.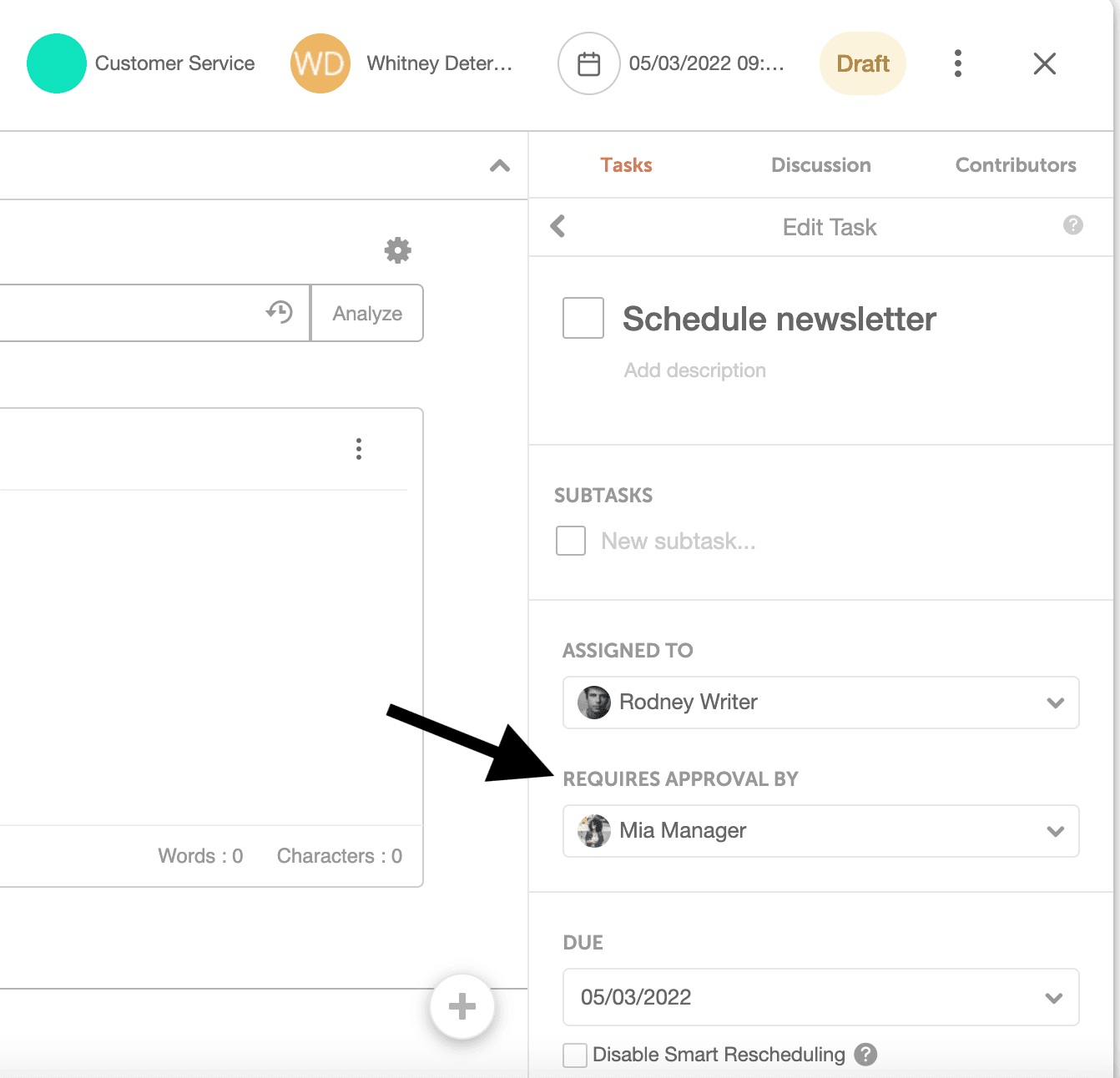 Assign the manager, stakeholder, or client who needs to sign off on the task, and they'll receive notifications when work is ready for review.
Discussions + Attachments on Tasks
As you collaborate with your team, you can leave comments and attach files on individual tasks inside CoSchedule.
This keeps your conversations and files hyper-relevant and organized to a specific project.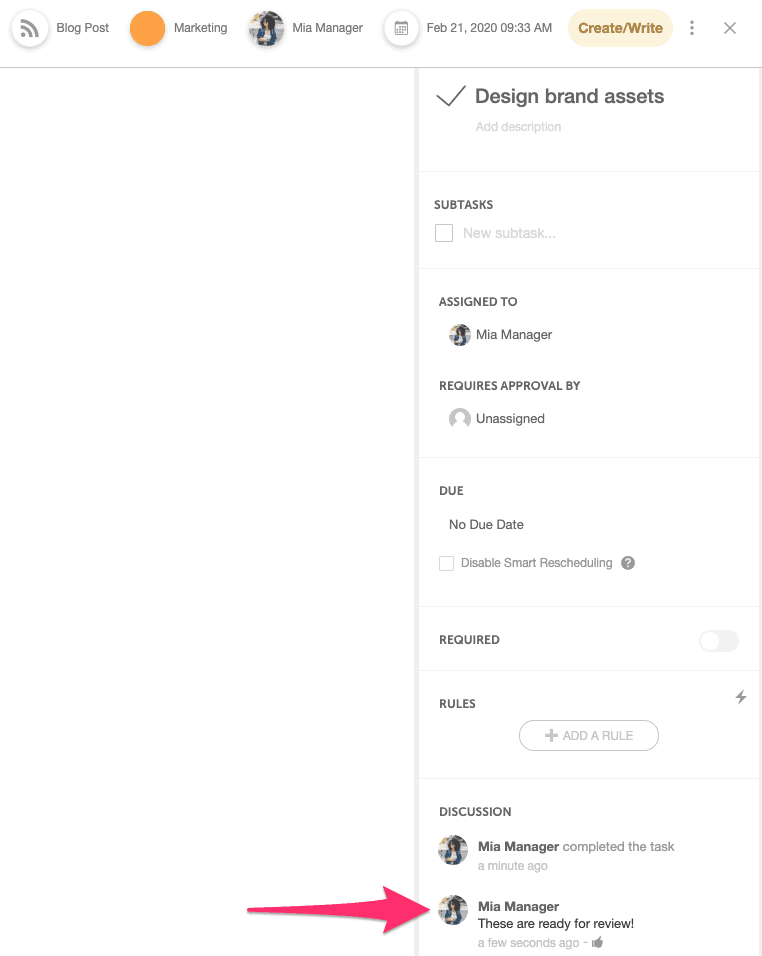 So you can only loop in the people that care about that specific part of the project.
Create task templates to transform your team's current workflow process. Go to your CoSchedule calendar to get started.  
Need a little extra help? Learn how to create custom task templates in our help docs.