Team Management Dashboard
It can feel like a full-time job managing your team's projects, tasks, and priorities.
Use CoSchedule's Team Management Dashboard to get a handle on your team's bandwidth, and weekly to-dos.
Review Your Team's Priorities
Knowing what every person on your team is doing and what their priorities are is challenging – especially when you've got a ton of active projects happening at the same time.
Like many CoSchedule users, your team can use the Team Management Dashboard to see what every person has on their to-do list for the day, week, and beyond.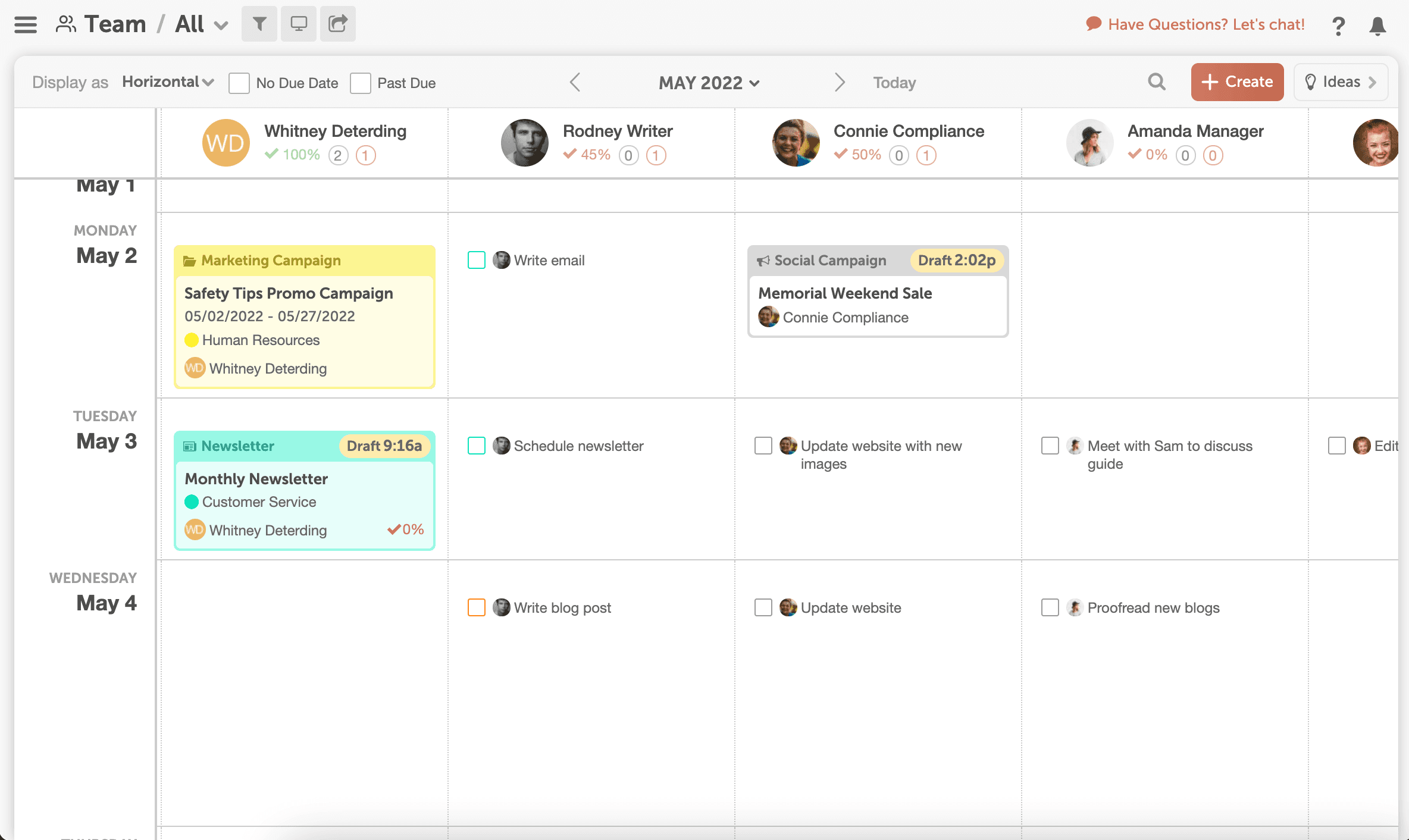 Confirm the tasks on their list are in the right priority order and adjust to new due dates if they aren't.
Review During Employee Check-Ins + Team Standup Meetings
As a supervisor or marketing manager, you want to make sure your employees have a project list they can handle every week. Your team wants to be busy and challenged (but not overwhelmed).
Many CoSchedule teams review the Team dashboard during daily standup meetings and one-one employee check-ins to make sure that expected tasks and timelines are realistic for every person to complete.
If work is taking longer than expected or a project is behind, you can discuss why and easily move it to a new "due date."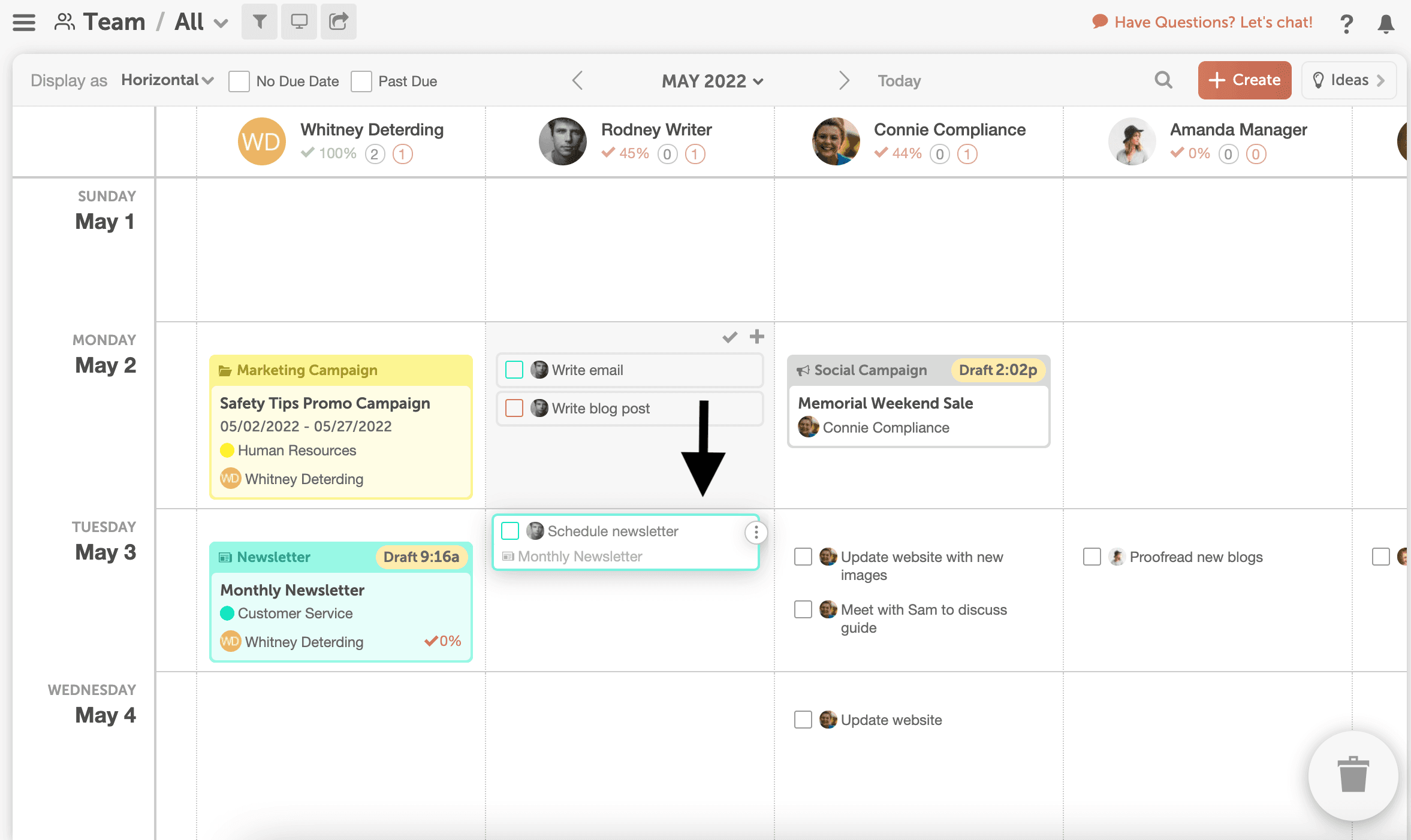 Or if the project has a hard deadline, you can reassign the task or project to a team member that has the capacity to take it on and keep the project on track.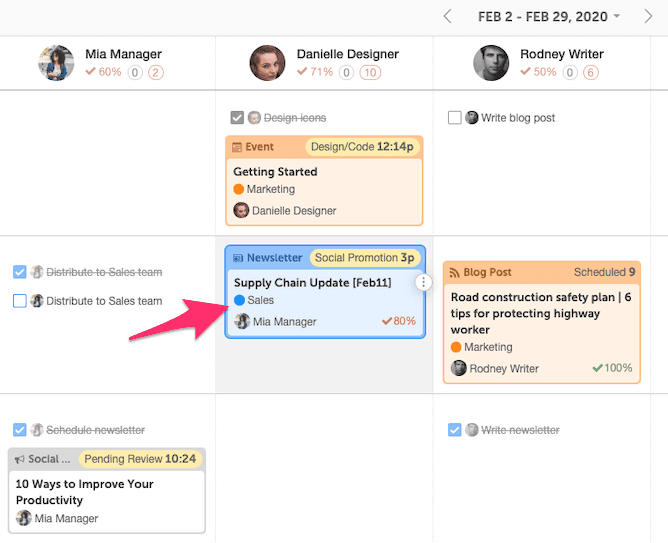 Identify Bandwidth To Take On New Work
Marketing teams never have a shortage of work to do. And you're probably getting new requests for projects and campaigns often.
Review the dashboard to determine what kind of availability a writer, designer, or other team member has to contribute to a new project.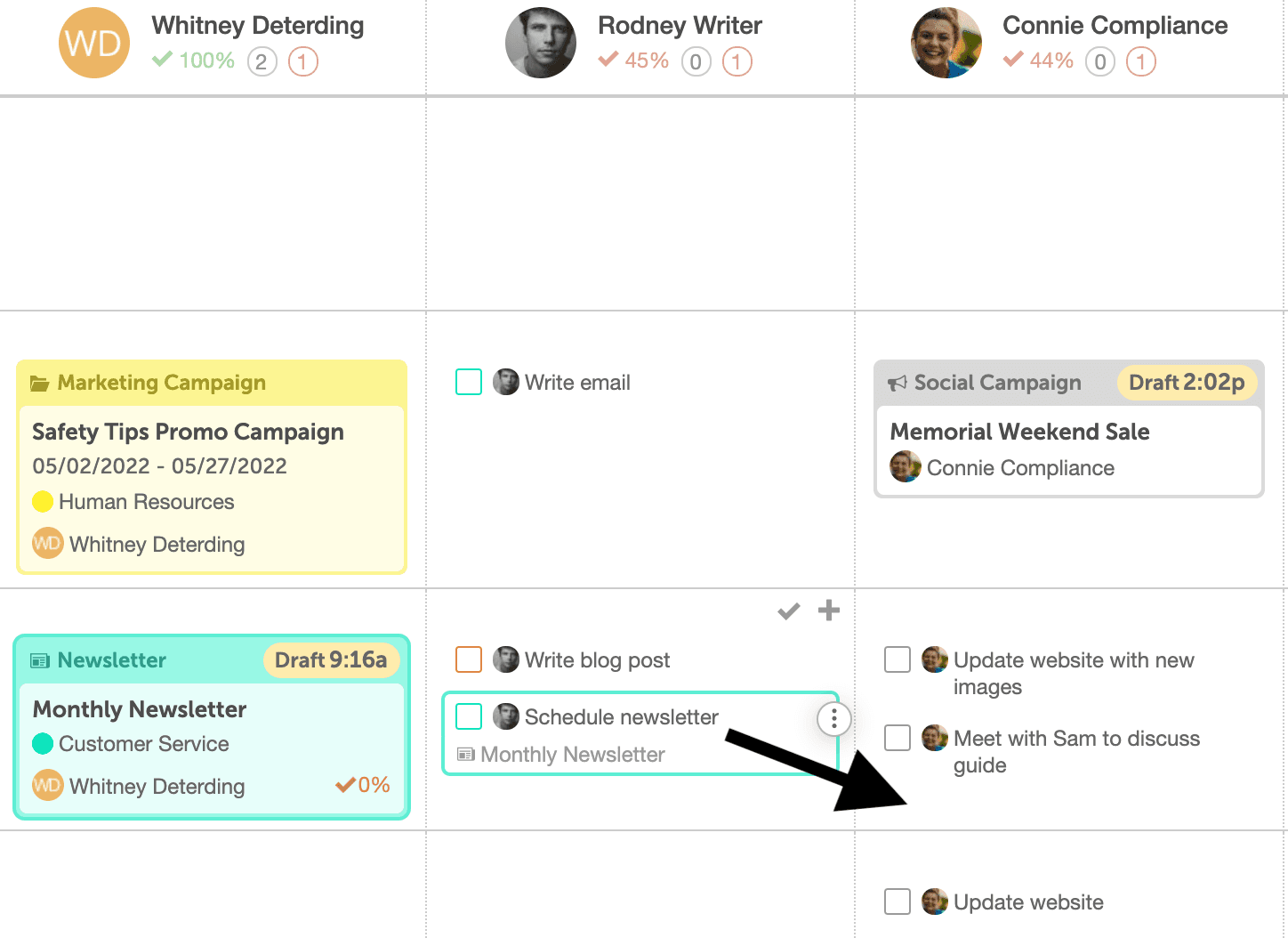 This helps you set realistic timelines with your stakeholders to create quality work without feeling rushed to get it done.
Proactively Plan For Time Off (Or Pivot When "Life" Happens)
You can't expect your team members to be working 5 days a week, 52 weeks a year.
There are paid holidays, vacation days, and maternity leave that you can proactively plan for.
If you know a team member is planning to be gone a few days (or longer), you can reassign their scheduled tasks or projects to another team member.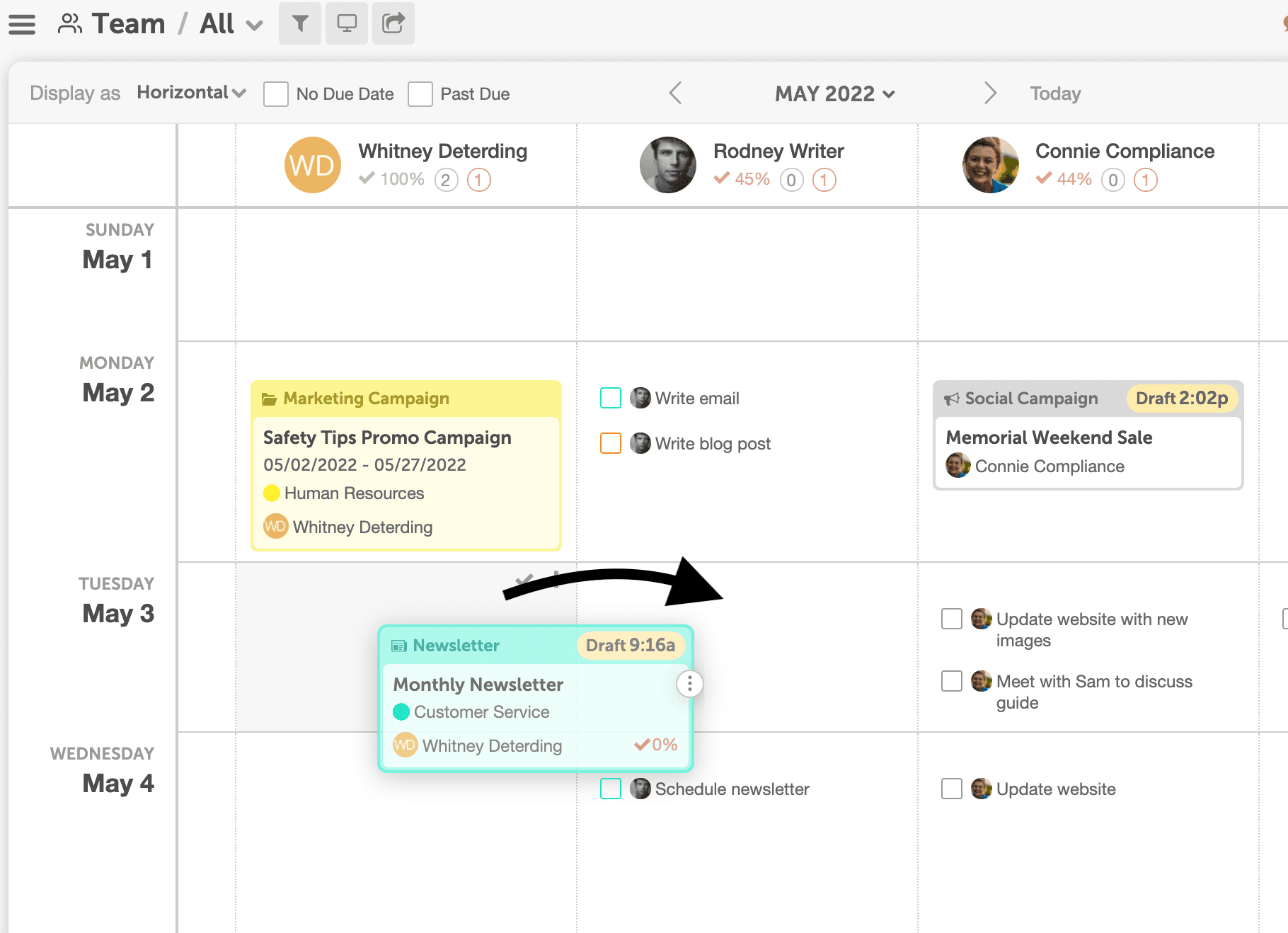 And inevitably, there will be unexpected absences due to sick leave, daycare closings, weather cancellations, etc. Jump into the dashboard to see what work was on that employee's list and reassign it or move deadlines as needed without worry.
Plus – all of the project details, assets, and progress will be in the CoSchedule project, so your team members can easily pick up where they left off and keep working.
This ensures work moves forward – even when someone is out of the office.
Review Work By Team or Role
If you have a lot of team members in CoSchedule or want to review work for a specific role on your team, you can create a Saved Team View to focus in on the work and team members you care about.
If you're a manager, create a view for your team.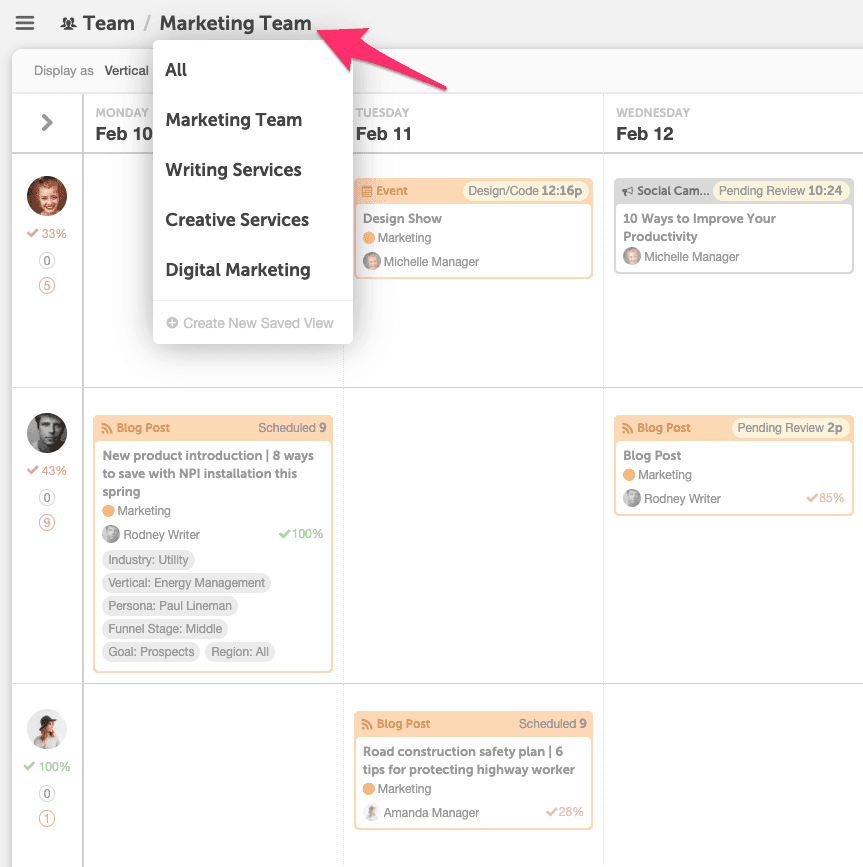 If you want to see how much capacity your design team has available, create a view for Graphic Designers.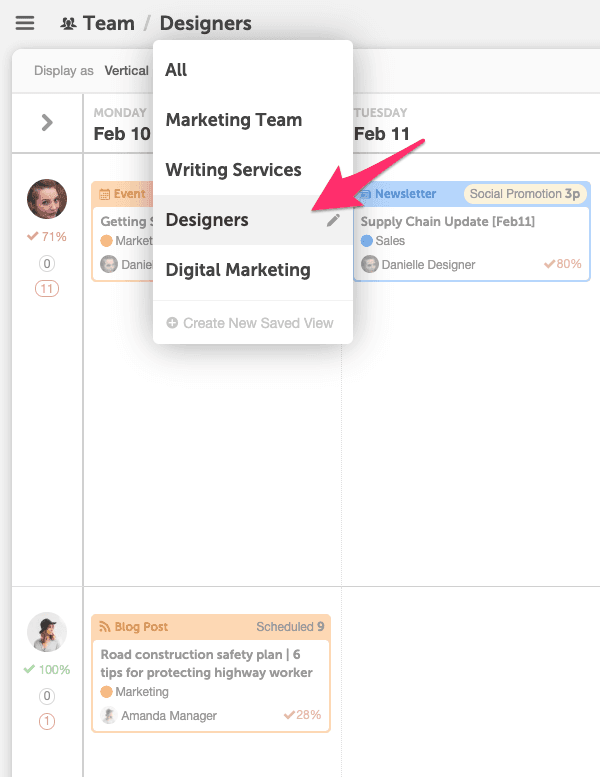 These saved views can be helpful when determining how much capacity your team has to take on new work (and complete their current list). This can provide much-needed context for your VP or CEO to confirm your staffing requests.
You can actually send a Read-Only view of your Team Dashboard to give leadership visibility into your team's work.
To learn how to use the Team Management Dashboard and create Saved Views, check out our Help Doc.