Marketing Campaign Report
Give stakeholders a high-level report of your marketing campaigns in an easy-to-read spreadsheet or PDF
Marketing Campaign Reports help you show stakeholders how your campaigns align with company goals & prove your effectiveness as a team.
In this Power Tip, you'll learn ideas for creating, exporting, scheduling, and sending Marketing Campaign Reports to give stakeholders a high-level view of your work.
Who's this for? Marketing Suite users.
Watch this video or continue reading below to learn five example ways to use Marketing Campaign Reports.
Demonstrate how marketing campaigns support business goals
Problem: You're preparing an annual report for your executive leadership team. You need to show stakeholders a quick snapshot of what your team accomplished for your company last year without all of the details.
Solution: Create & print an annual report that highlights all of your marketing campaigns from the previous year to include in your presentation handout.
Select "Show marketing campaigns from last year" from the example reports.
Click Export PDF or Export CSV to download the document.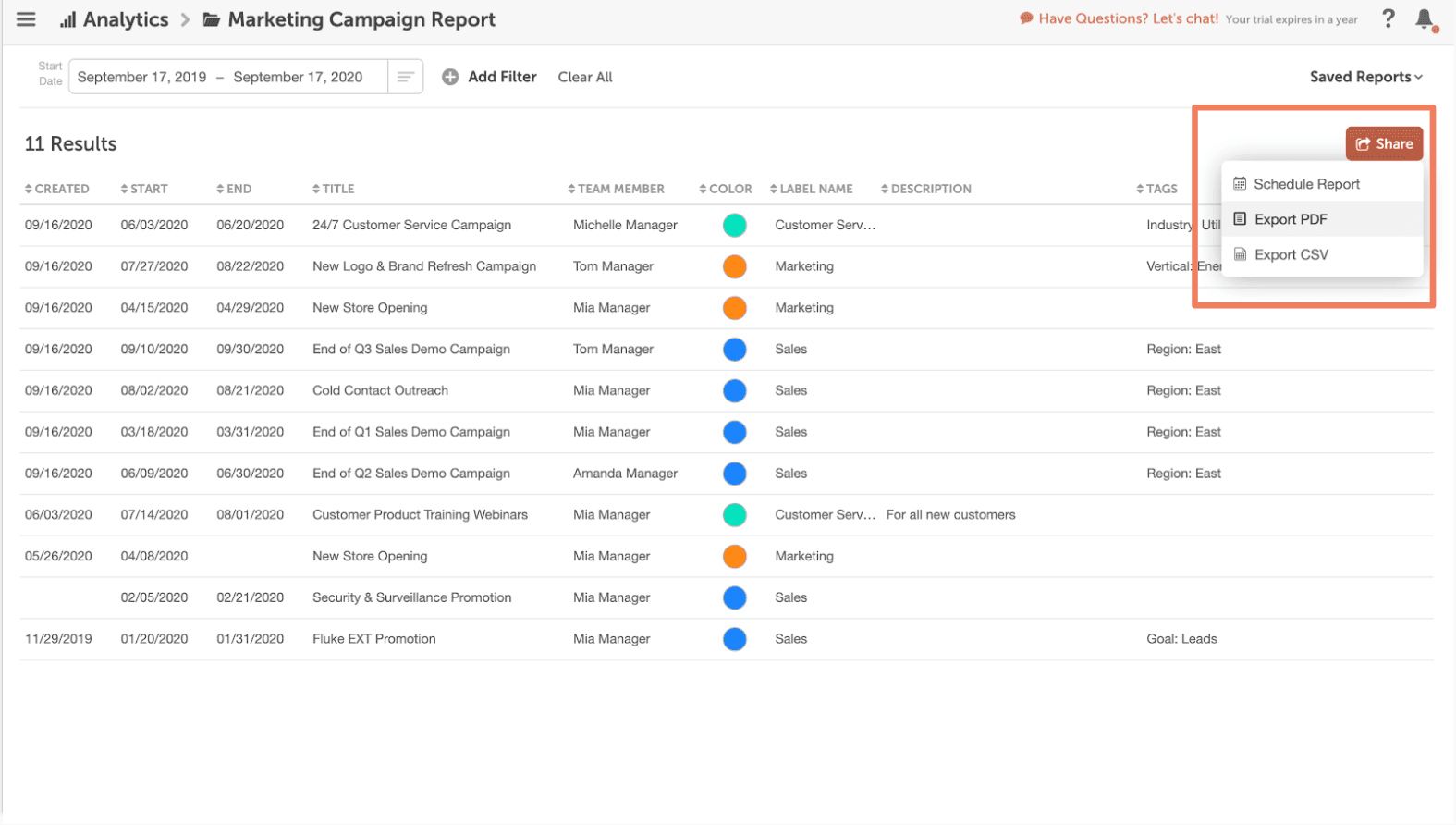 Evaluate your team's productivity & progress
Problem: Your team experienced a lot of changes in the past three months due to internal & external events. As a manager, you're concerned that productivity may be down & you want to check progress toward marketing goals.
Solution: Check if your team's output is on target for the year by comparing quarterly Marketing Campaign Reports.
Select "Show marketing campaigns from the last 3 months" from the example reports.
Adjust your date range to run a new report for the previous quarter.
Then compare the current report to the previous quarter's report to identify if your team is on track.
First Quarter Report

Second Quarter Report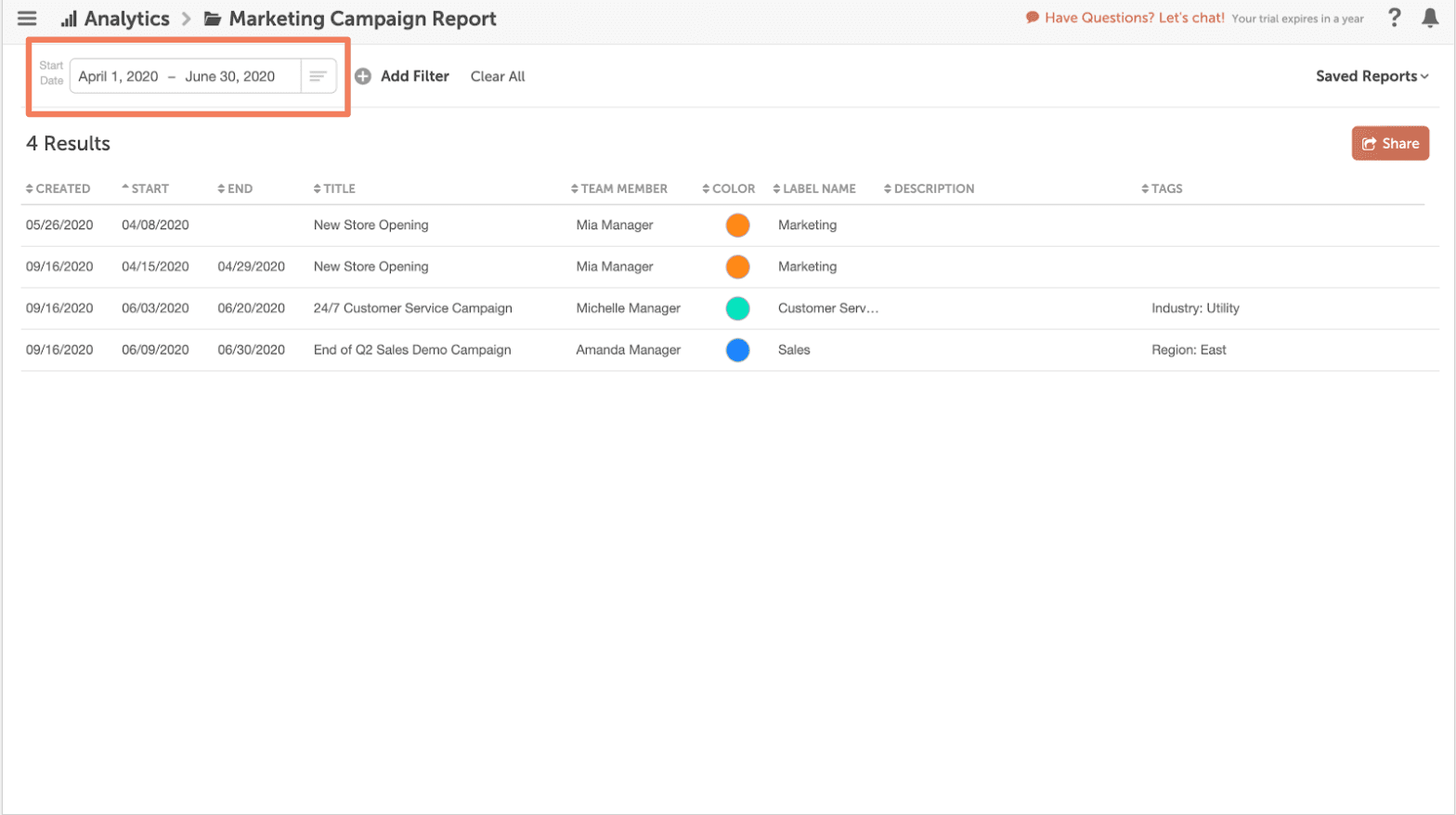 Give stakeholders a high-level view of all their campaigns
Problem: Your team executes campaigns for multiple company departments, and sending monthly updates creates a lot of unnecessary busywork. However, your regional sales teams want to see a summary of last month's campaigns on the first of every month.
Solution: With the Marketing Campaign Report, you can create a custom table that highlights their recent campaigns & schedule it to automatically send to team leaders on a weekly, monthly or quarterly basis.
Select "Show marketing campaigns with a color label."
Remove the color labels you don't want to include in the upper left-hand side. Add another filter to refine by tag, team member, or date.
Click Share and Schedule Report. Choose the frequency and add your recipients.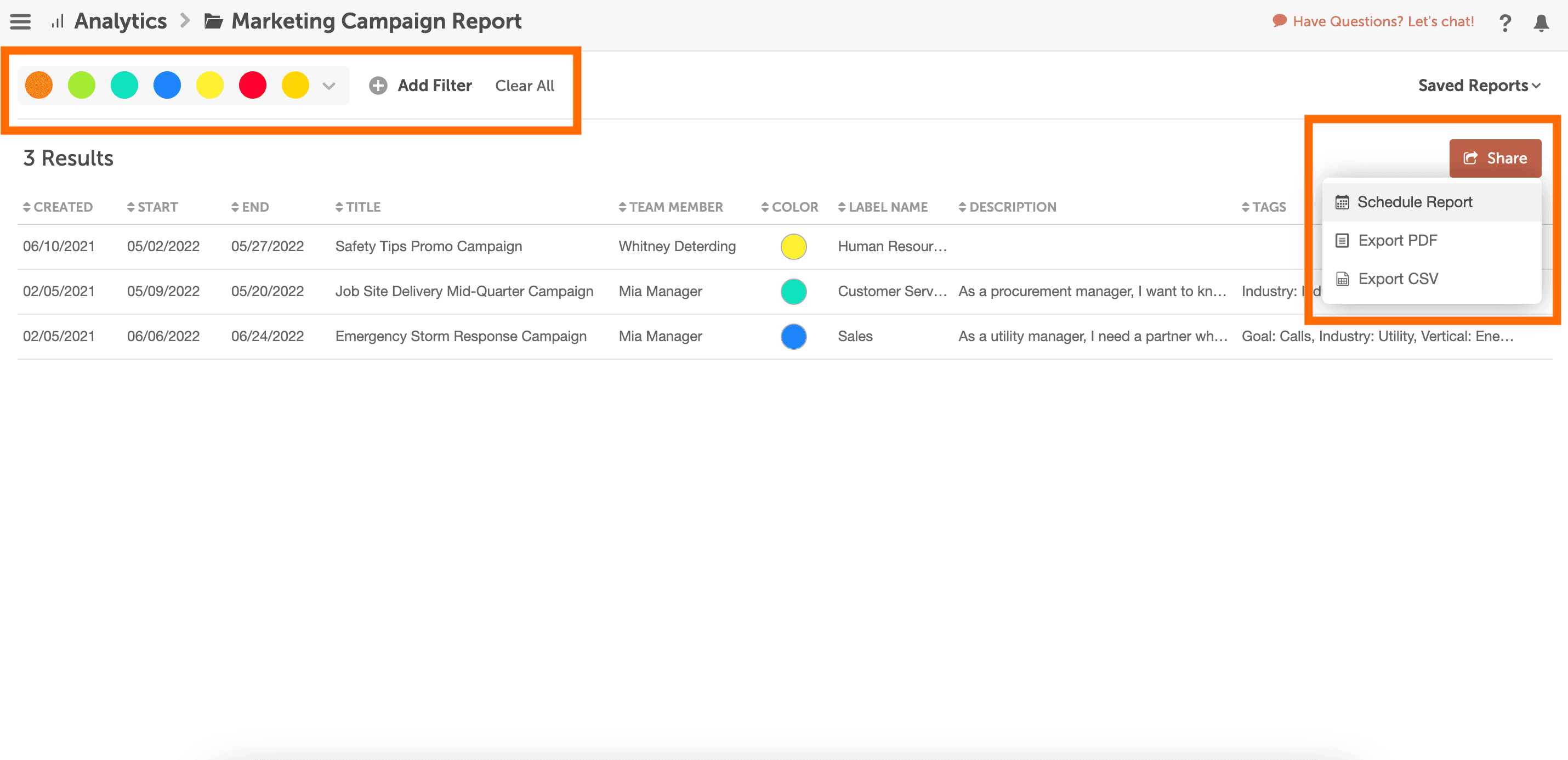 Plan ahead & stay on top of upcoming campaigns
Problem: Your calendar is great for managing important project details, but it's hard to get a true bird's-eye view of all your campaigns. Your marketing team is mapping out campaigns for the entire year, and you want to make sure everything fits together.
Solution: Creating a Marketing Campaign Report will give you a high-level view of what's ahead.
Select "Show marketing campaigns this year" from the example reports.
Adjust the date range if necessary.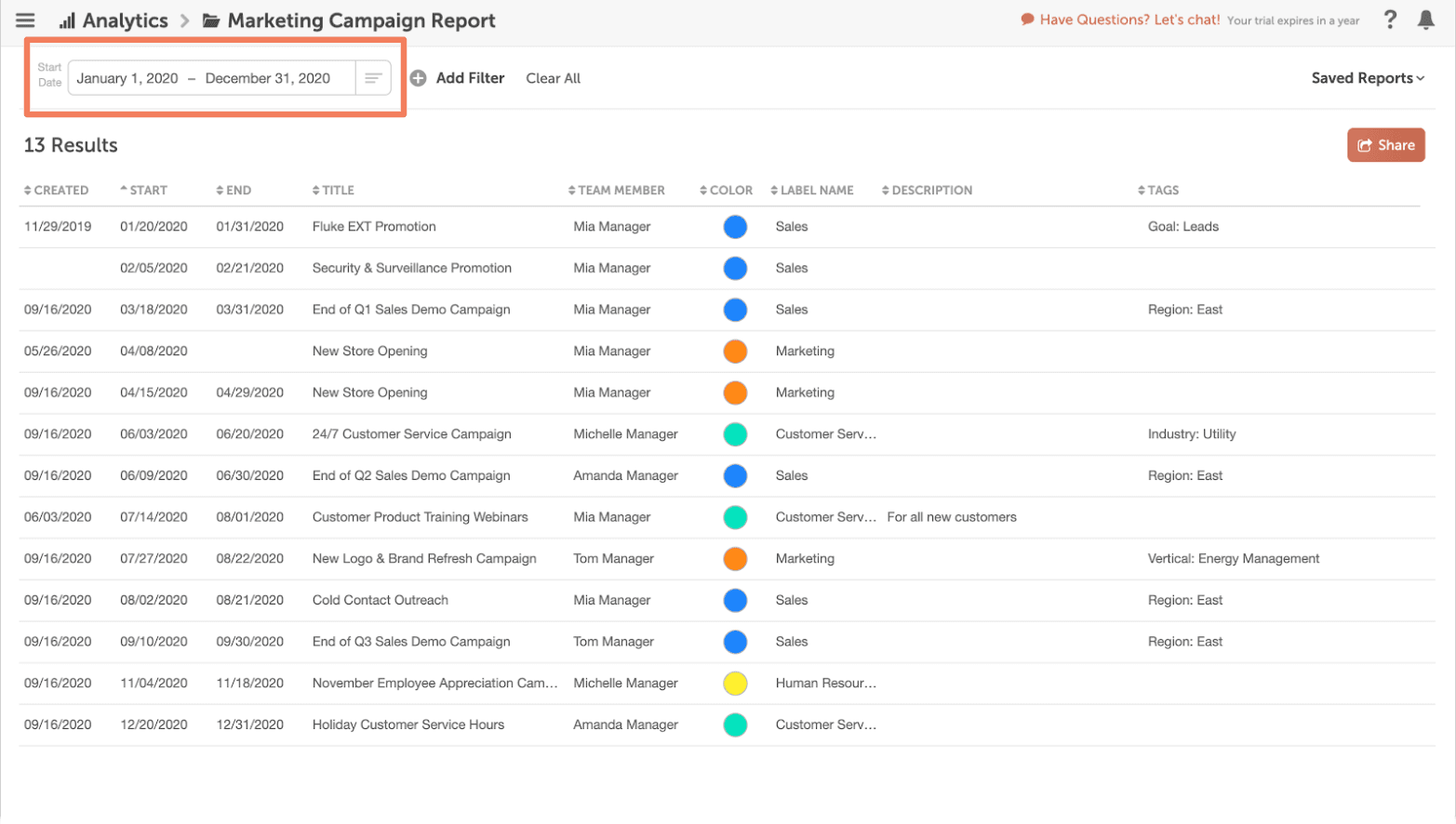 This gives you a list view of the campaigns you have planned, so you can identify overlap easily in a different view than your marketing calendar.
Showcase your successful campaigns during annual reviews
Problem: No two days in a marketing role look the same. It's hard to remember all of the projects you've managed or worked on throughout the year.
Solution: Before your annual review, you can refresh your memory of all of the different campaigns you created over the past year. Run a report to see a list of everything you've worked on & select an individual campaign to see its details on your calendar.
Select "Show marketing campaigns I am the owner of" from the example reports.
Hover over a campaign to see the option to expand it in a new window.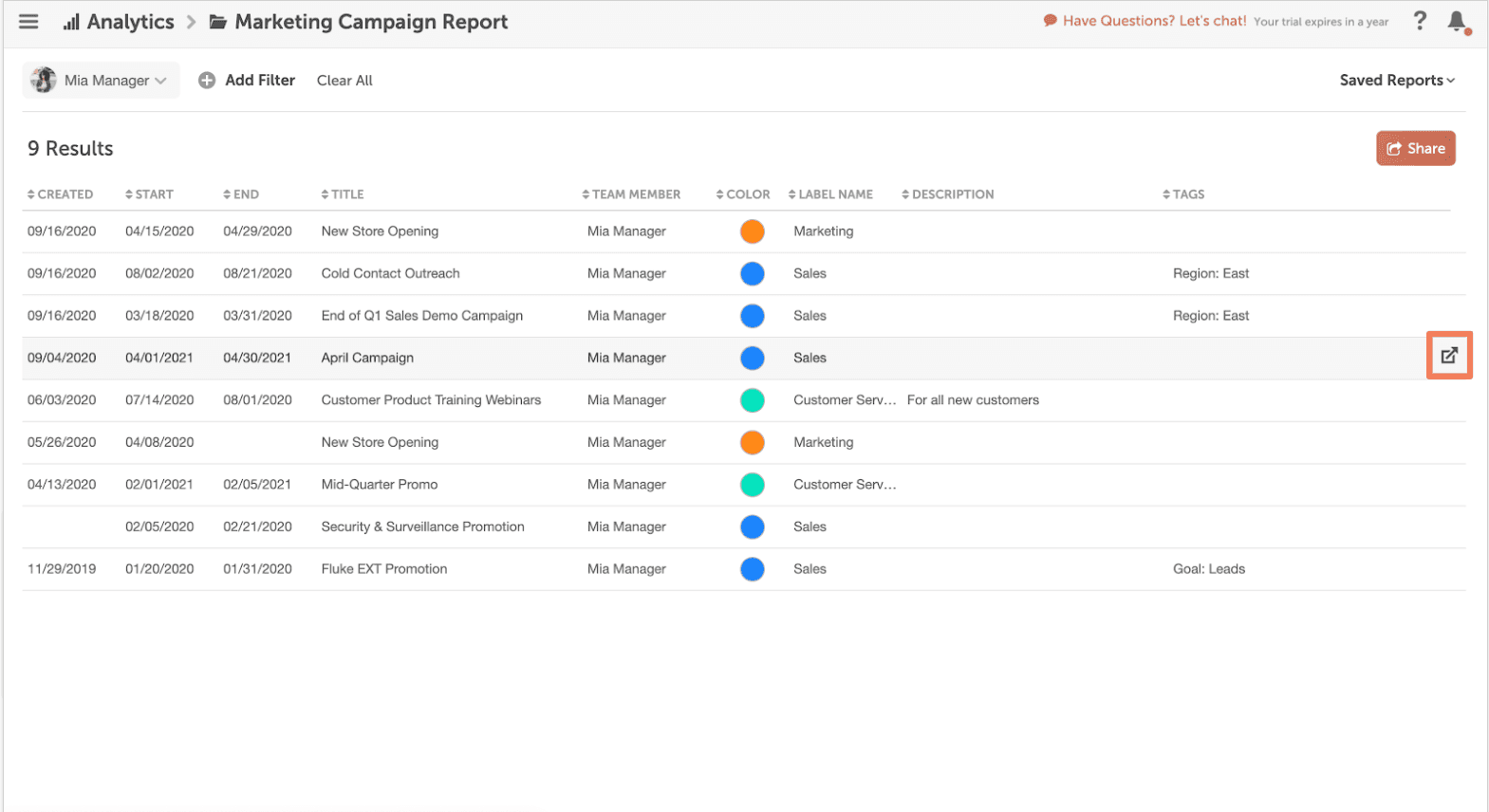 These "Owner Of" Campaign Reports are great for managers, too. Managers can create these reports for employees before their reviews, as well.
Did any of these examples resonate with you? Start proving your team's value to stakeholders & create a Marketing Campaign Report.