Project Templates
Use project templates to instantly improve your productivity. Create reusable templates to build out new projects in seconds – including important details like project owner, tasks, attachments, social campaigns, & more!
In this Power Tip, you'll find pointers and examples to use Project Templates to simplify your marketing project management process. 
Who's this for? Marketing Suite Owners & Admins
Marketing Suite users can apply templates to add new projects to CoSchedule, but they can't create new templates.  
Watch this video for a recap of this Power Tip or read through all of the Project Template examples in more detail below. 
Note: If you've never created a project template before, learn how to create them in this Help Doc. 
Create Project Templates For Frequently-Used Projects
Build Project Templates For Blog Posts
Build Project Templates For Email Newsletters
Build Project Templates For Webinars
Build A Project Template For Your Podcast
Build A Project Template For Your Website Content
Build A Project Template For Your Ads
Create Project Templates For Frequently-
Used Projects
Not sure what project templates you should create?
The easiest place to start is to look at your most frequently-used projects, like monthly newsletters, recurring webinars, vlogs, or blog posts. 
Pro Tip: Automatically reschedule recurring projects with project templates. 
In your Project Template, you have the option of setting it on a recurring schedule. This allows you to build out your repeating projects and schedule them automatically. Recurring Schedules eliminates repetitive, manual project building. 
Examples where you can use Recurring Schedules:
A weekly podcast 

A monthly webinar 

Blog posts

Email newsletters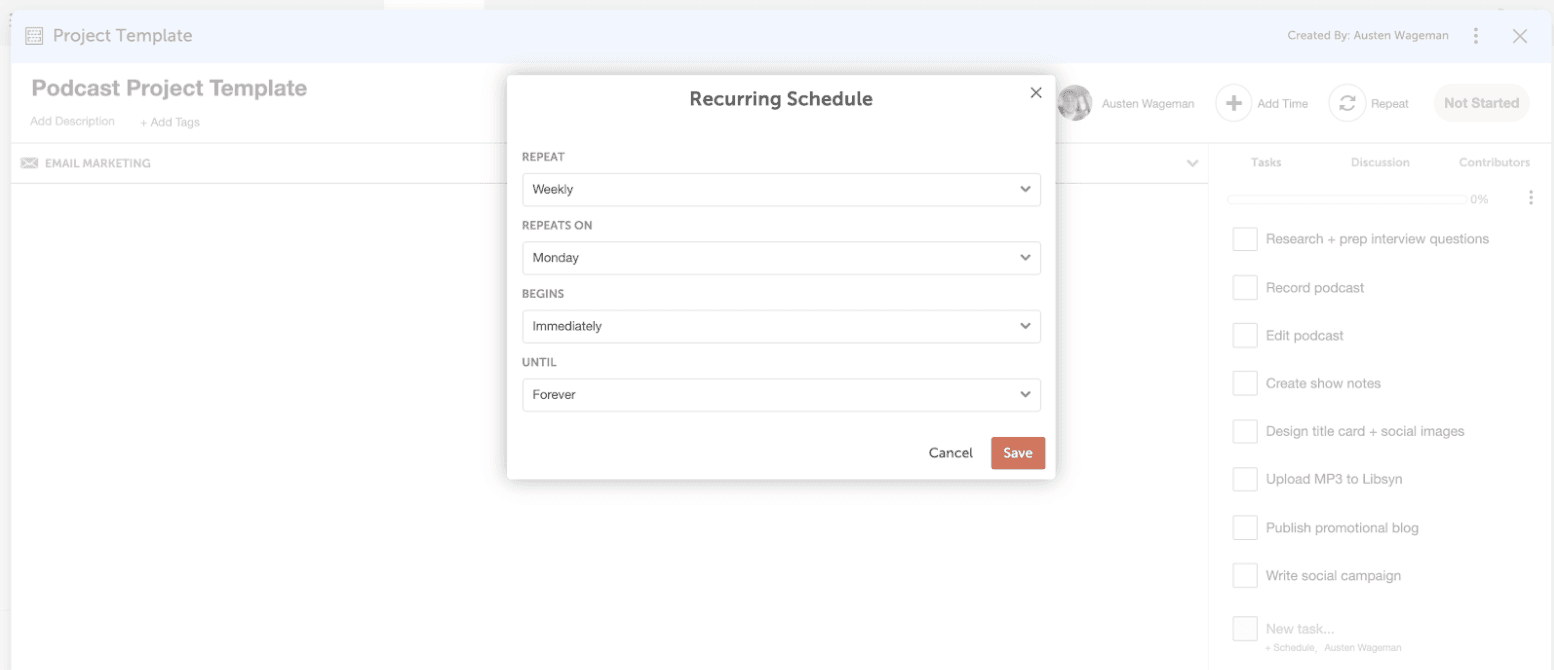 Build a project template for each of your recurring projects in your template library, so you don't miss steps or waste time when creating these repeating projects. 
Build Project Templates For Blog Posts 
Speed up the writing process for blog posts by adding specific, fail-safe steps for your team to follow in a blog post project template.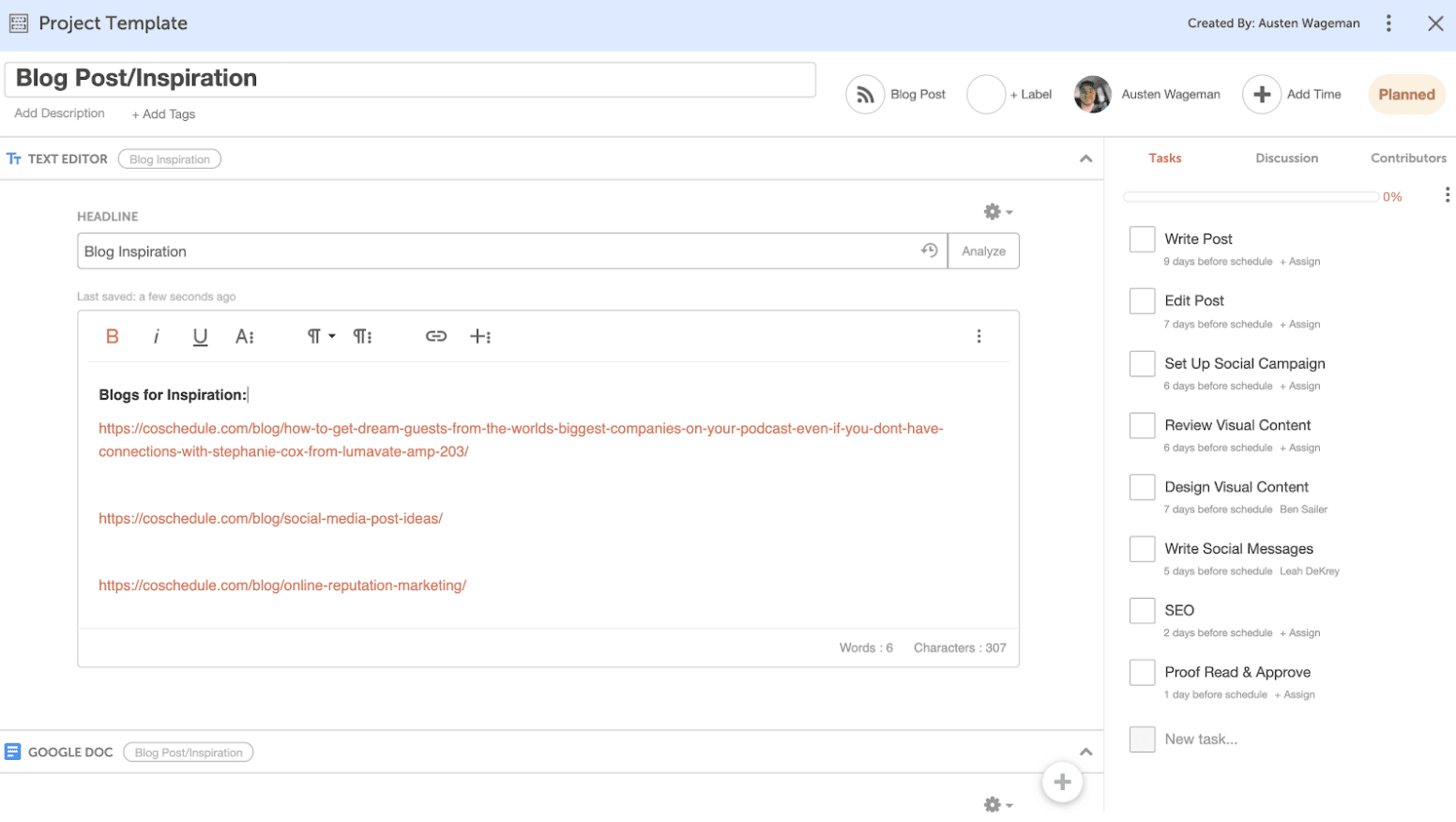 Save resources & key project details to your project template for blog posts. These could include: 
Add a template or outline for your blog posts to provide clear expectations & standards for your writers. This could be in the Text Editor or attached as a Google Doc. 

List out tasks that clearly define your team's process for creating new blog posts.

Add a color label that clearly identifies which stakeholder or initiative this blog is created for. 

Link to or attach a list of your target keywords for SEO – keep your SEO strategy top of mind & accessible when writing new blog posts. 

Add an attachment or link to a list of desired calls-to-action (I.e., trial signups, email opt-ins, visiting a product page, etc.) you regularly add to your blog posts. 

Add a list of previously published blog posts in the Text Editor for examples of your team's blog post standards. 
Use your blog post project template to efficiently manage your entire blogging process from start to finish. 
Most marketers regularly send out newsletters or repeating email campaigns to their email lists. Build a project template to easily add these ongoing newsletters to your calendar.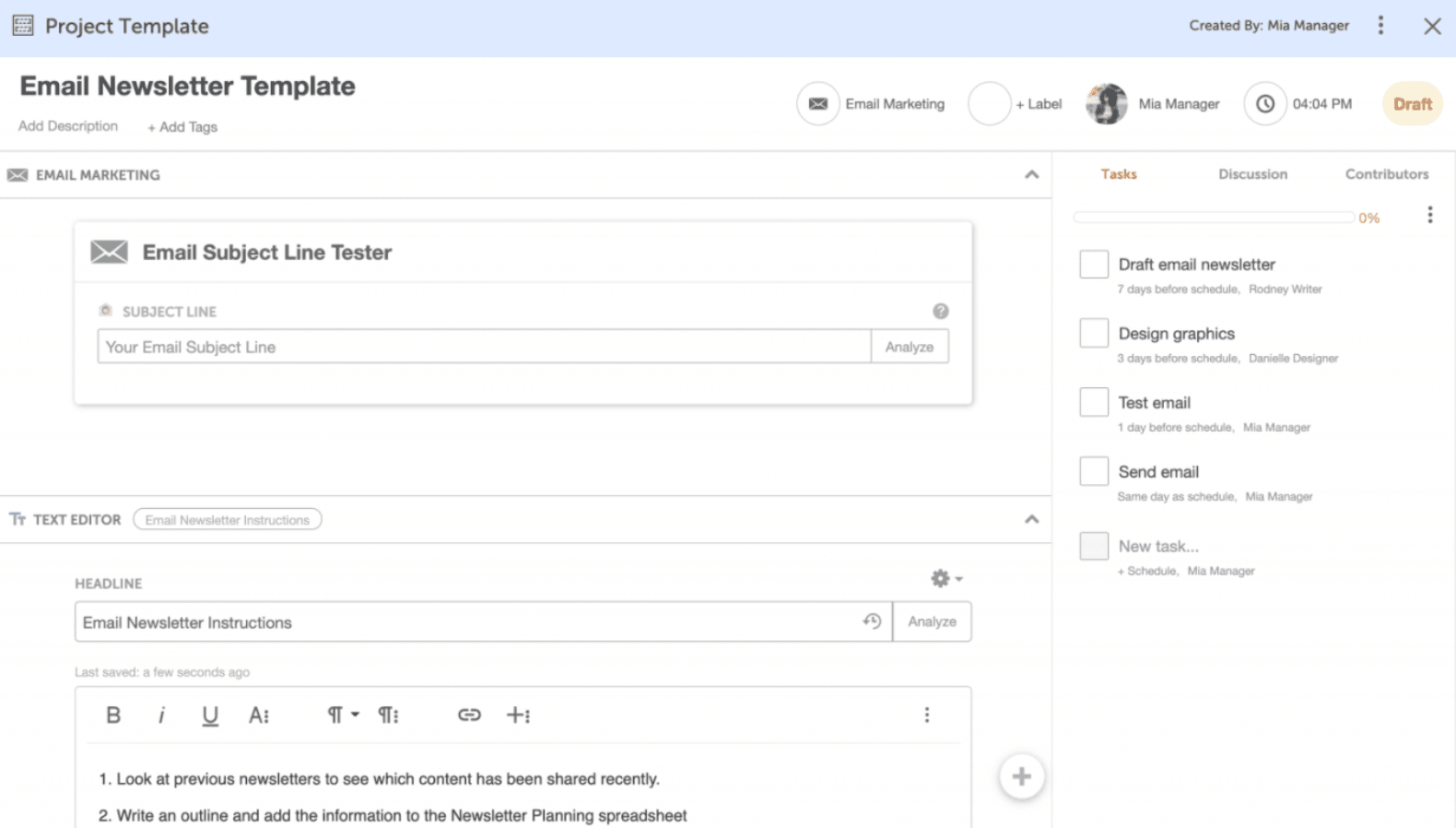 As you create a new project template for your email newsletters, here are a couple of details to consider adding to your template.
Pro Tip: Consider Segmentation If you send recurring emails for specific audiences – like leads, prospects, or customers – you may want to create a unique project template for each segment. 
In each template, you can provide your team with additional context, resources, & direction that is specific to the goals of each email newsletter. 
This may include important attachments, including a: 
Reporting spreadsheet you use to track email open rates for a specific newsletter

Word Doc or Google Doc that includes your copy or design template for email newsletters

OR images you use in newsletters every month. This could include your company logo or a designed header graphic.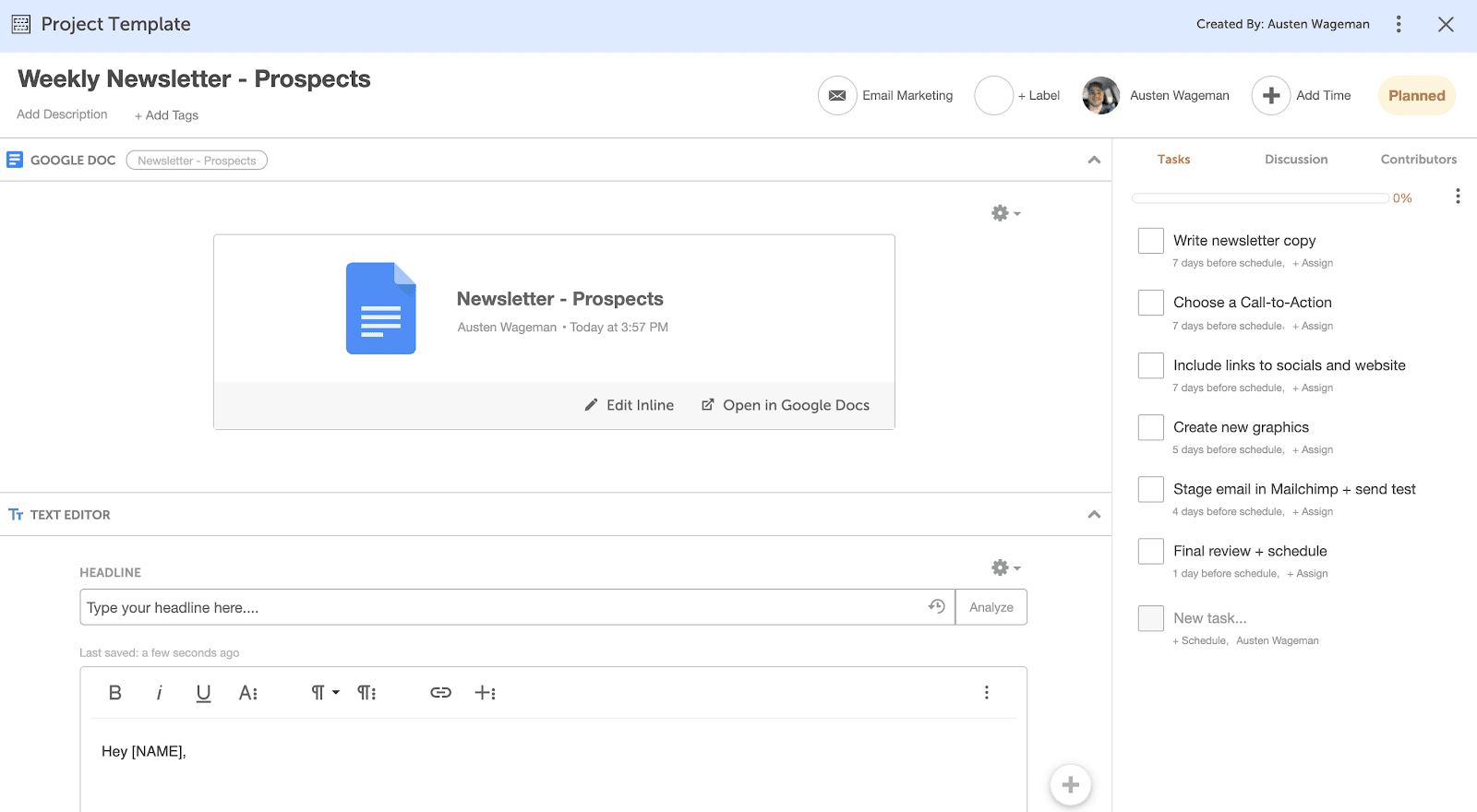 Pro Tip: A/B Test your email subject lines, copy, & design to better understand your audience & the success of your emails. 
If you want to take your email newsletter project templates to the next level, attach a Google Doc to your project template that tracks your past subject lines, so you can A/B test new subject lines quickly. 
Or you can include a list of different marketing resources in your template – like email copywriting best practices – to give your team quick-access to best practices or tactics they can test in copy and design. 
Build Project Templates For Webinars
If you use webinars in your marketing strategy, you know they can be time-intensive to plan. 
From picking a subject, a title, writing a script, creating slides, and promotion, you and your team have to be makeshift event planners to be successful. 
Create a project template for each webinar-related project, including:
Webinar Promotion
If you have a webinar scheduled, create and/or save an existing webinar social campaign as a pre-webinar promotion project template. 
Instead of creating a social promotion schedule for your webinar from scratch, you can apply a project template for your social campaign to add promotional social messages to your calendar at the right cadence.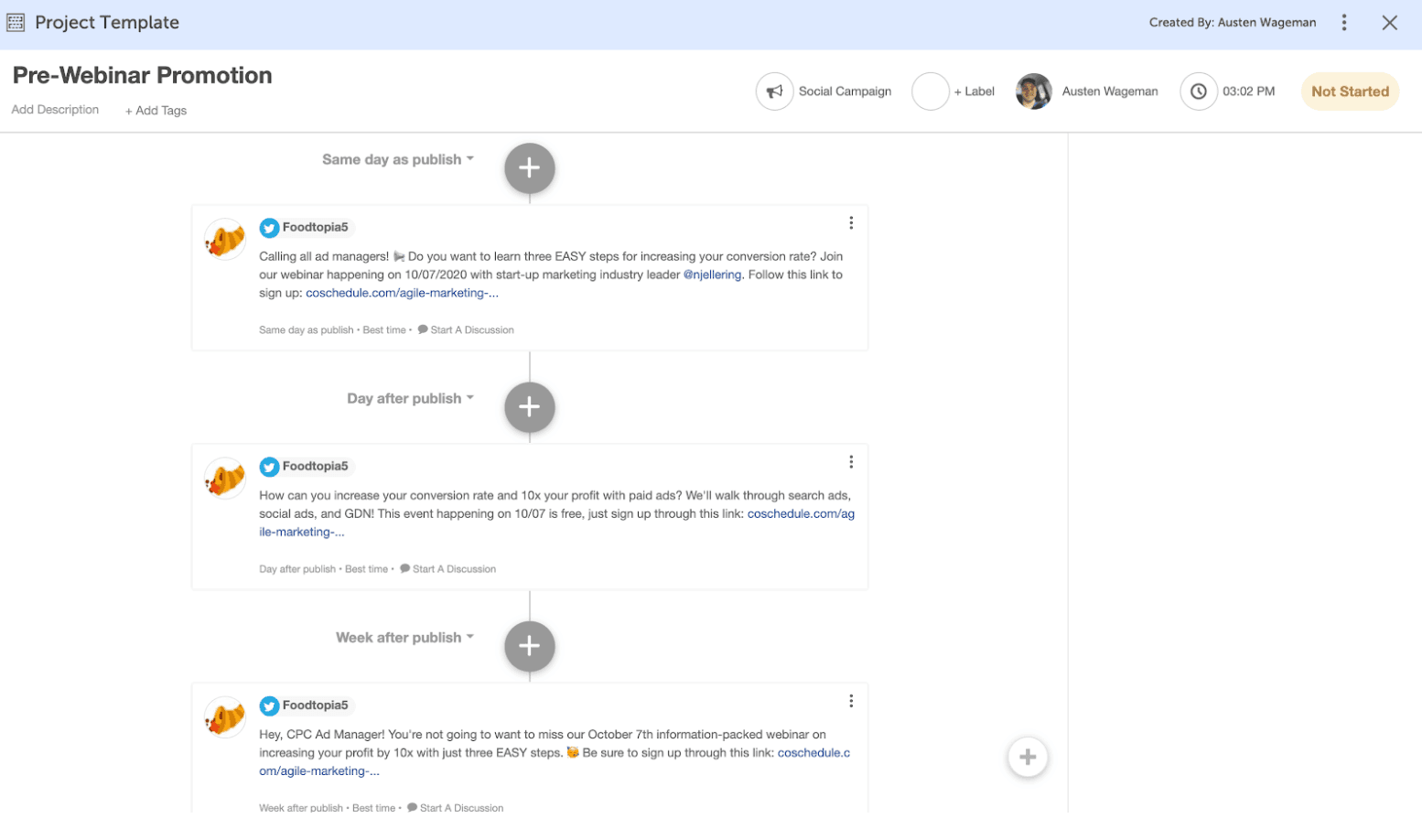 All you have to do is review & refine the messages in your template as needed. Then set it to "scheduled" to start promoting your webinar. 
Create project templates with social campaigns for specific promotional goals – including pre-event promotion, same-day promotion, and post-webinar promotions.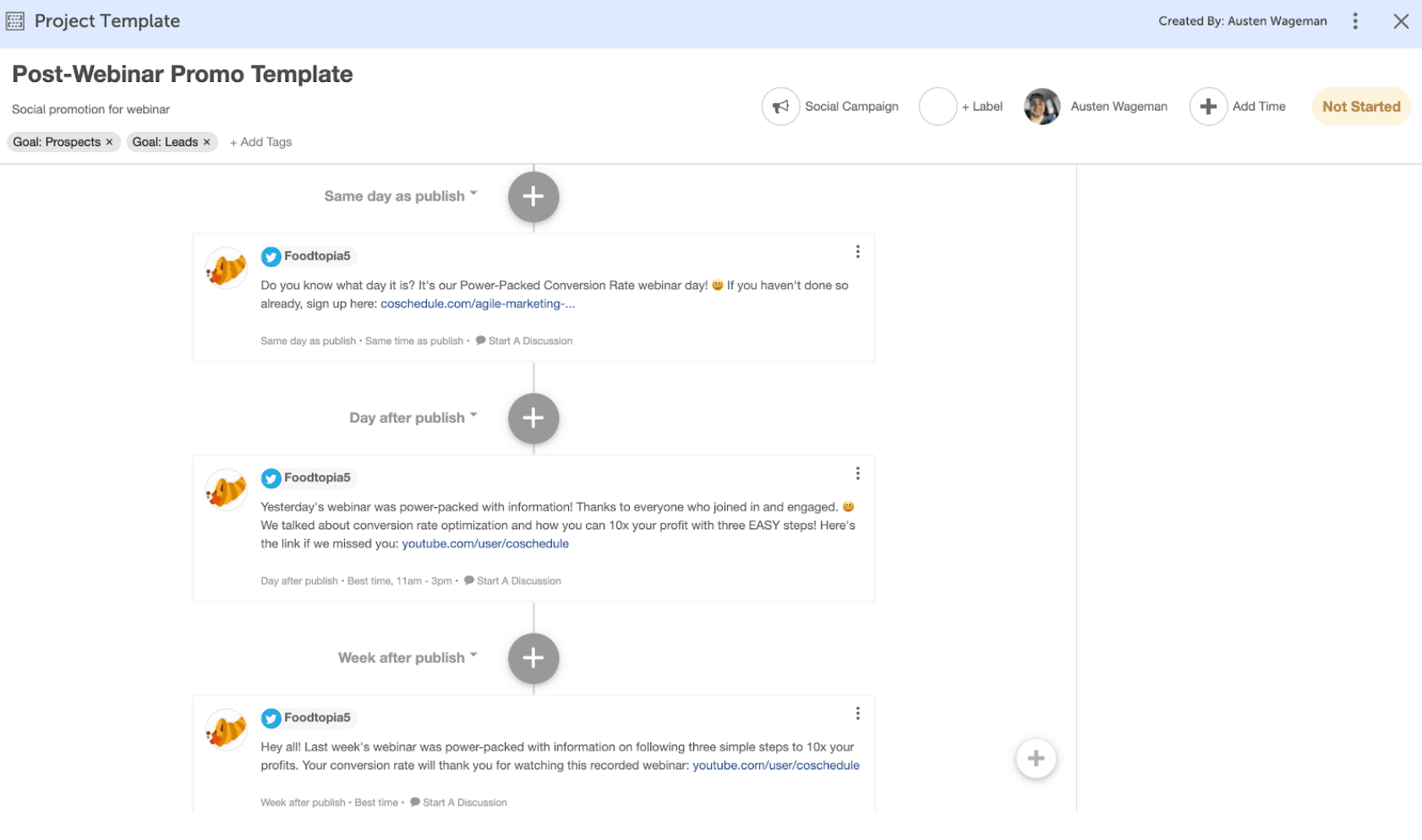 Reminder Emails 
It's always a good idea to send webinar reminders to your email list. Keep your "reminder" process documented in a project template. 
Instead of recreating the email every time you need to send a reminder, you can add the outline for your email in a Text Editor.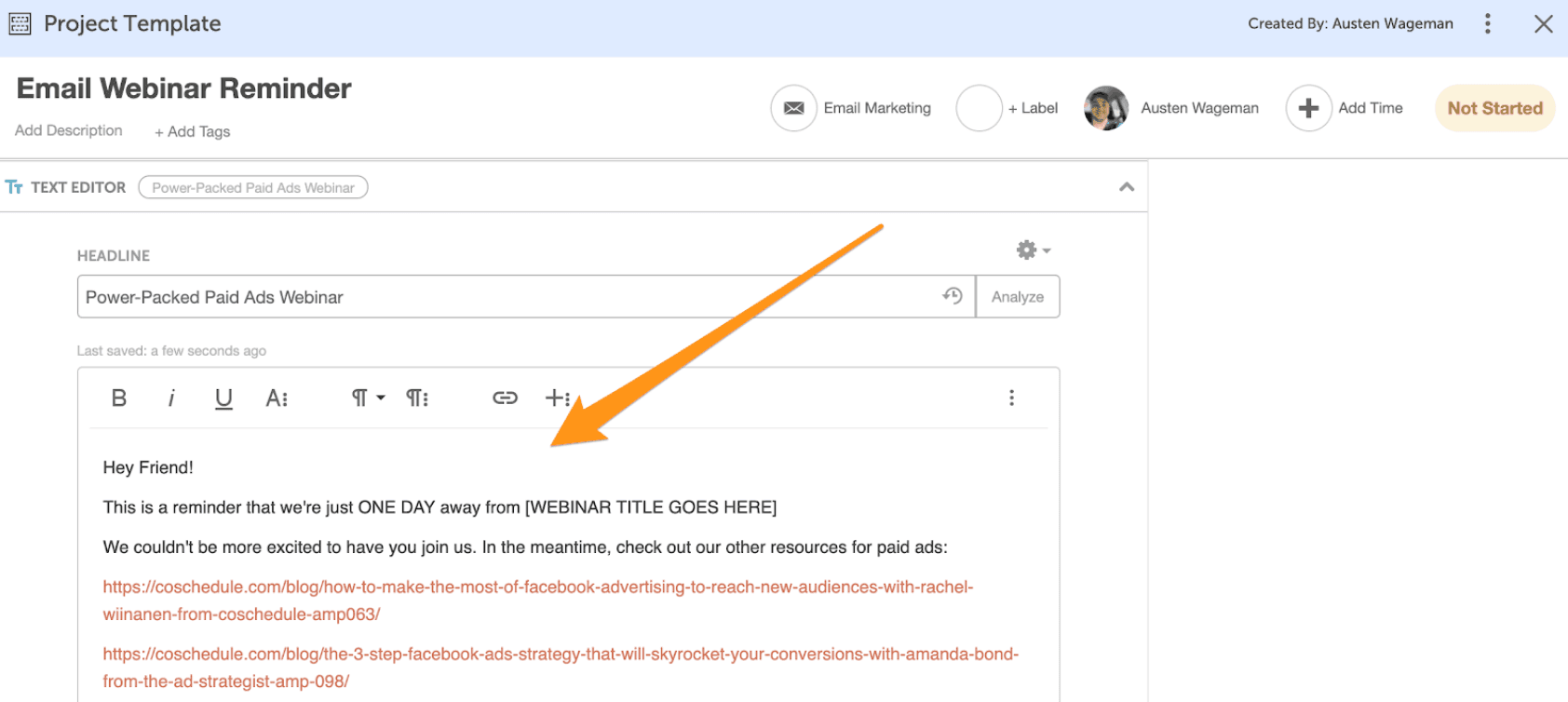 Planning Your Webinar 
With webinars, there are a lot of moving pieces in play. You want to make sure everything is ready to go (and functioning correctly) when it's time to go live.
Add tasks to your project template that outline your planning and testing checklist to ensure everything runs smoothly on the day of your webinar.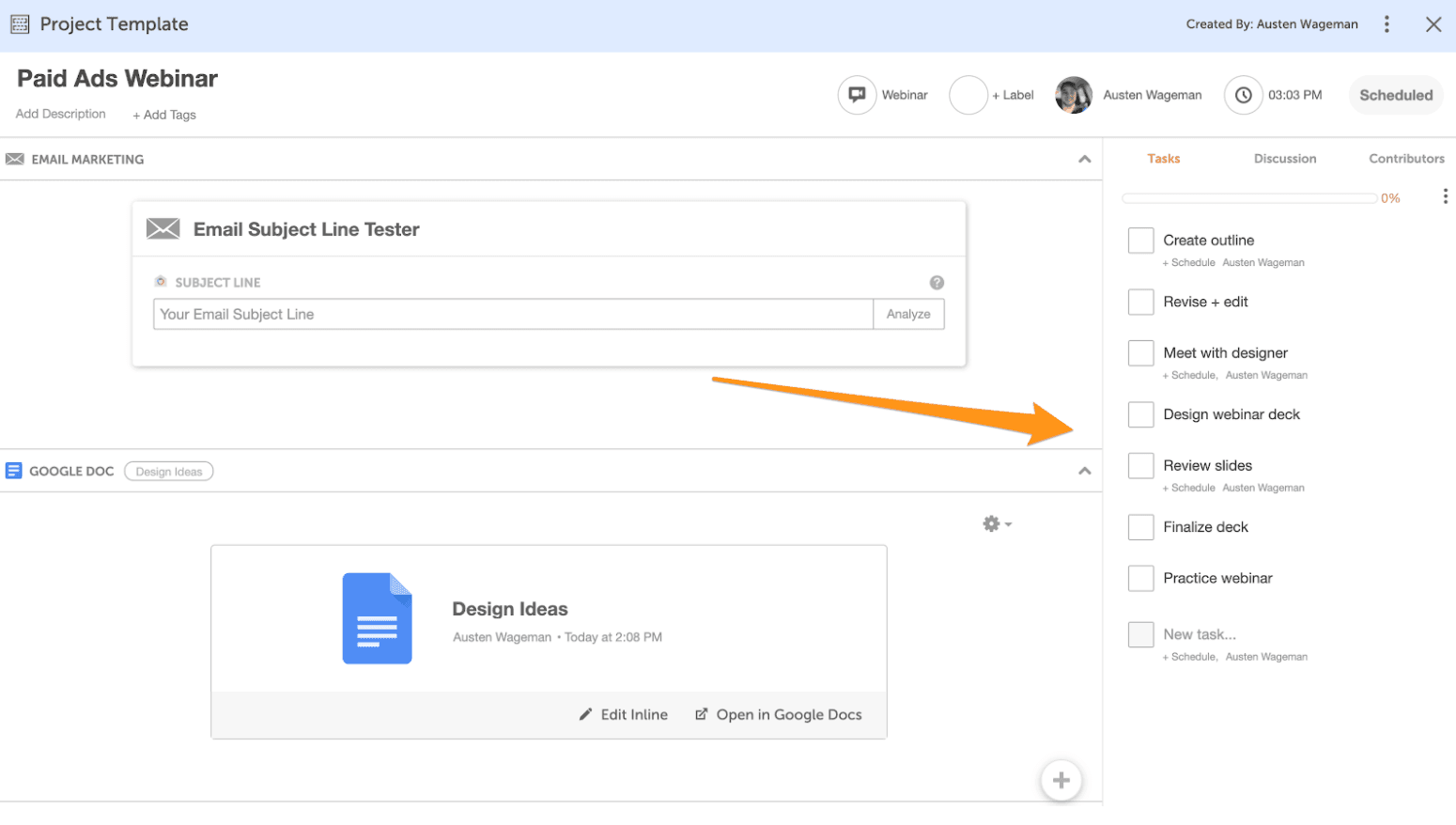 Creating a successful webinar takes consistency, excellent planning, and commitment. Thankfully, using project templates makes the process easier.
Build A Project Template For Your Podcast
Whether you're interviewing a guest, running with a solo episode, or orchestrating a panel-type podcast, it's essential to follow a checklist to stay consistent. You'll feel more organized, and your podcast will run smoothly. 
As you create a new project template for your podcast, consider adding:
Tasks to clearly define the process for podcasting

A Text Editor that includes your template to brainstorm interview questions 

Audio files of your intro theme and/or recurring ads 

A social campaign template to plan & publish social media messages that promote your new episode. 

A Google Doc template to create show notes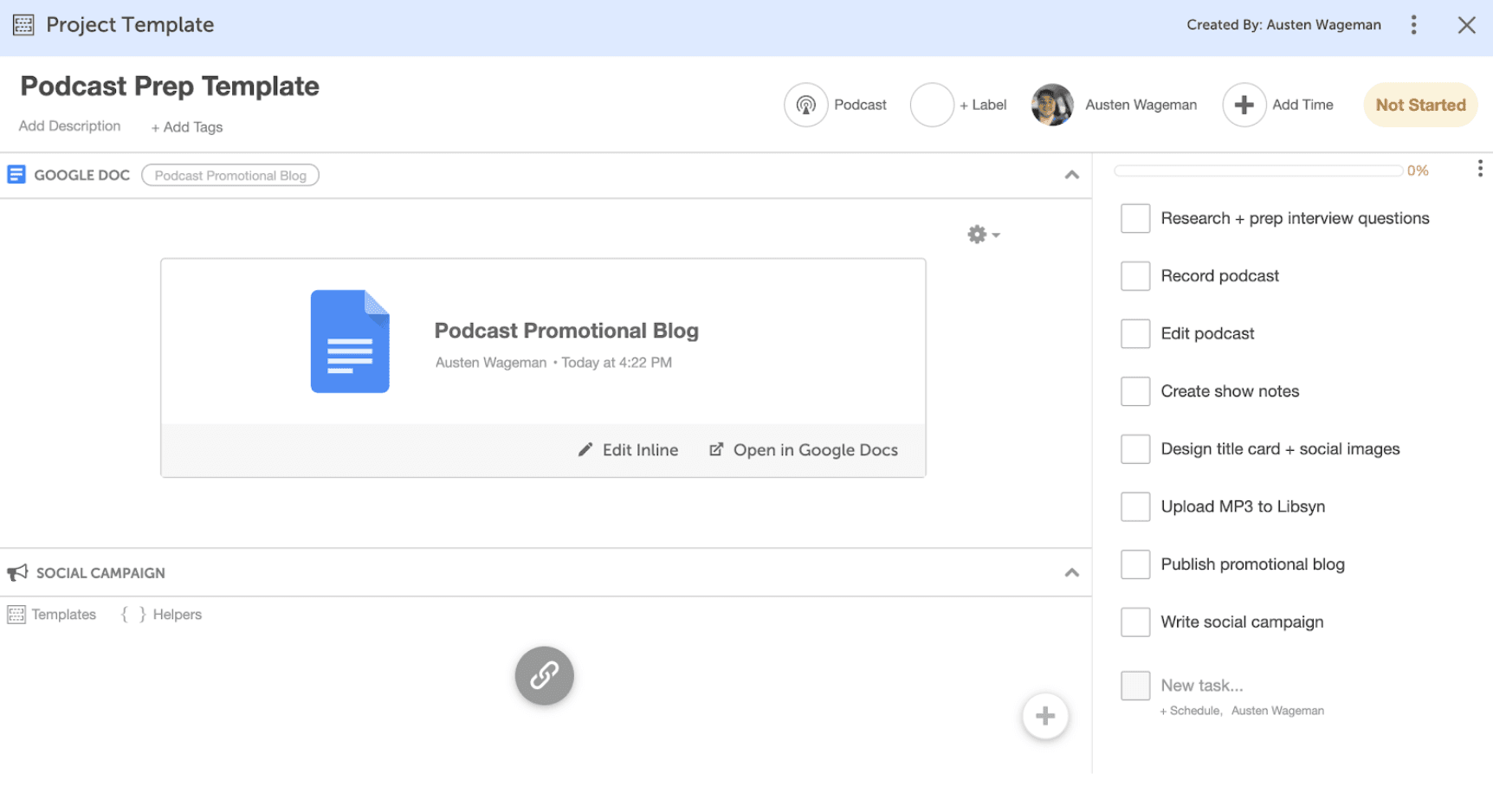 Build A Project Template For Your Website Content
You create a lot of different website content including product pages, webinar landing pages, employee bios, case studies, customer testimonials, and more! 
Create a project template for each of these website projects. 
If you haven't been doing so already, you can use project templates to: 
Share templates for website content in a Google Doc or Text Editor. 

Document style guides for products, FAQs, or page layouts. 

Attach resources for specific pages – i.e. case study interview questions list or specifications for image sizes & needs for your product pages.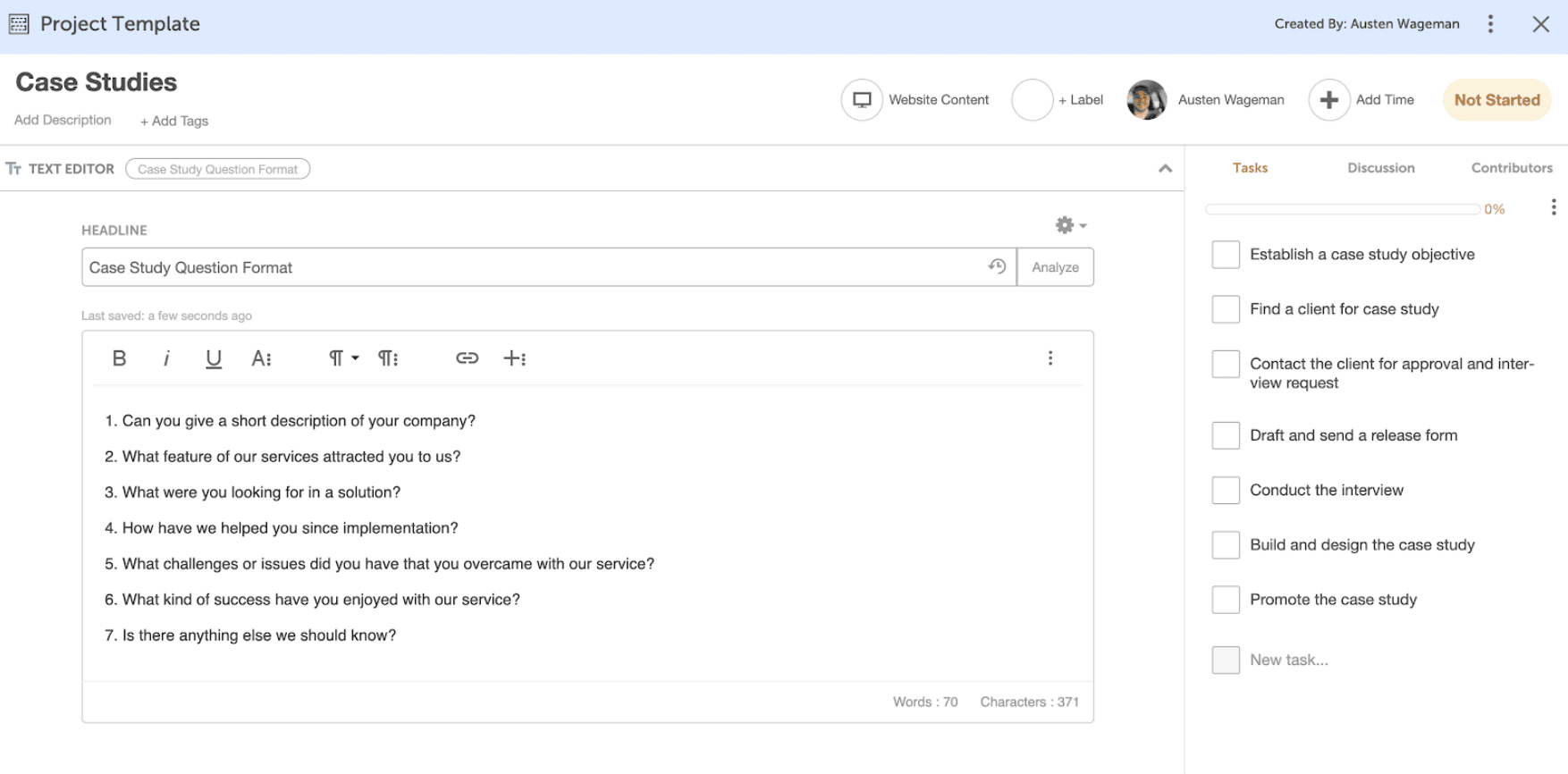 Build A Project Template For Your Ads
Creating ads that convert requires awesome copy, design, & strategy. To help you stay on track with digital ads, create a project template that includes: 
A Google Sheet that includes previous reports or stats on your ads to help you set goals for your new ads based on past performance. 

A clearly defined checklist to make sure your ads get launched without missing a step – graphic design, ad copy, UTMs, CPC strategy, etc. 

Or attach a Google Doc with your company's keyword research docs for easy reference.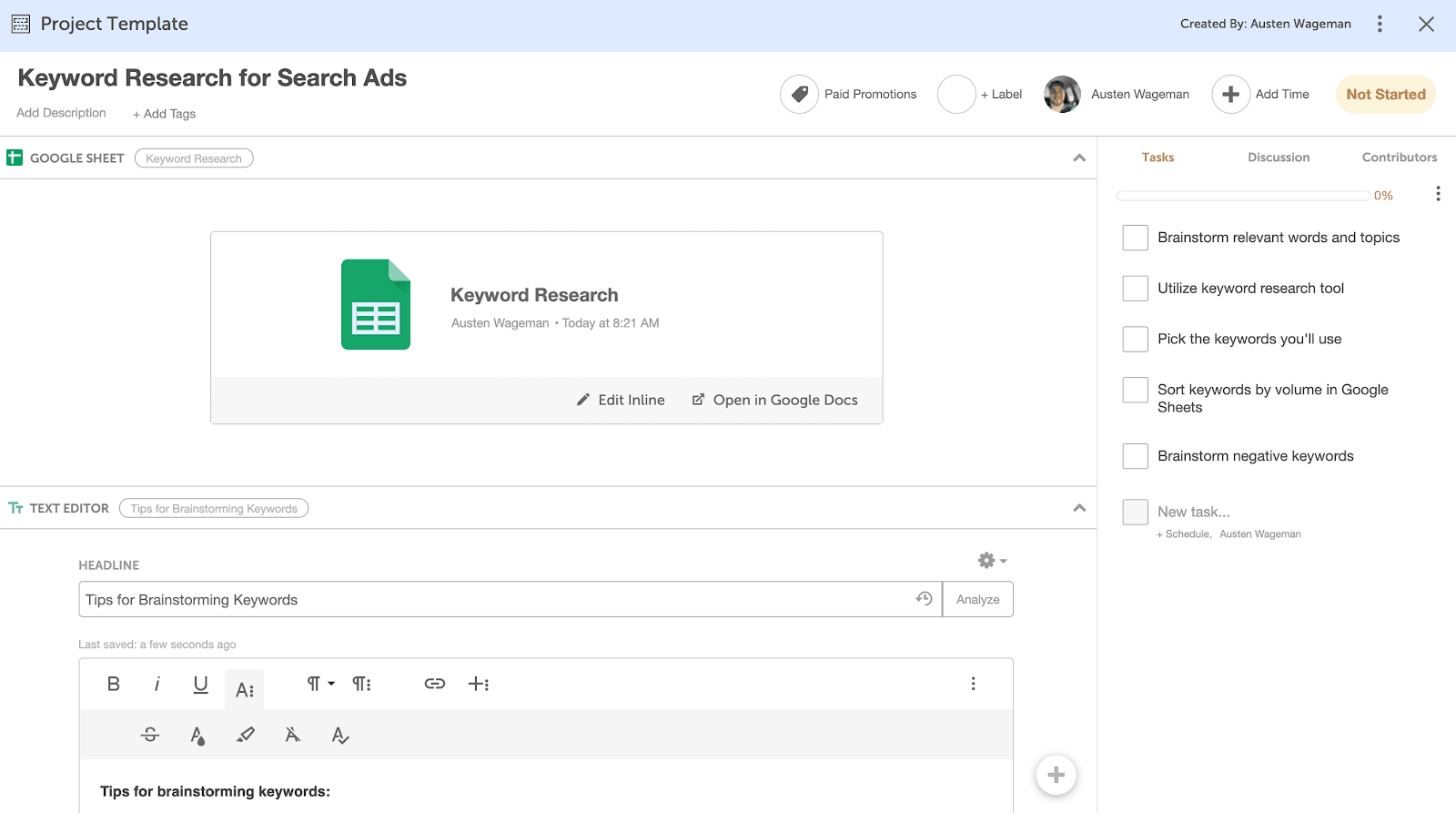 Advertising is more memorable when your targeting and copy are on point. Ads involve grueling optimization and testing, but you can get new tests & projects into production faster without missing a beat with a well-defined project template. 
Ready to create (or update) your first project template? Go to your CoSchedule calendar to get started. You can also create new Project Templates from scratch by heading over to Settings – Templates – New Template.
Need a little extra help? Check out this help doc.