Custom Fields
Custom Fields allow you to add specific metadata, information, and additional details to your projects. 
This could include Project Deadlines, Quantity, Print Size, Department, URL, budget, & more. 
With Marketing Suite, your Marketing Team can use Custom Fields to: 
Provide additional direction to your team,

so they have visibility of everything they need to know about a project. This could include budget, requirements, deadlines, & more. 

Create custom reports for stakeholders.

You can build out custom reports using Custom Fields as a filter, so you can easily build reports for your stakeholders. 

Standardize information you want to track.

This could include priority level, budget, the department that requested a project, external URLs (like a SharePoint link), etc. 

Capture required project details,

so you won't have to worry about missing information or sending many follow-up emails to complete work. You'll have everything you need before you start.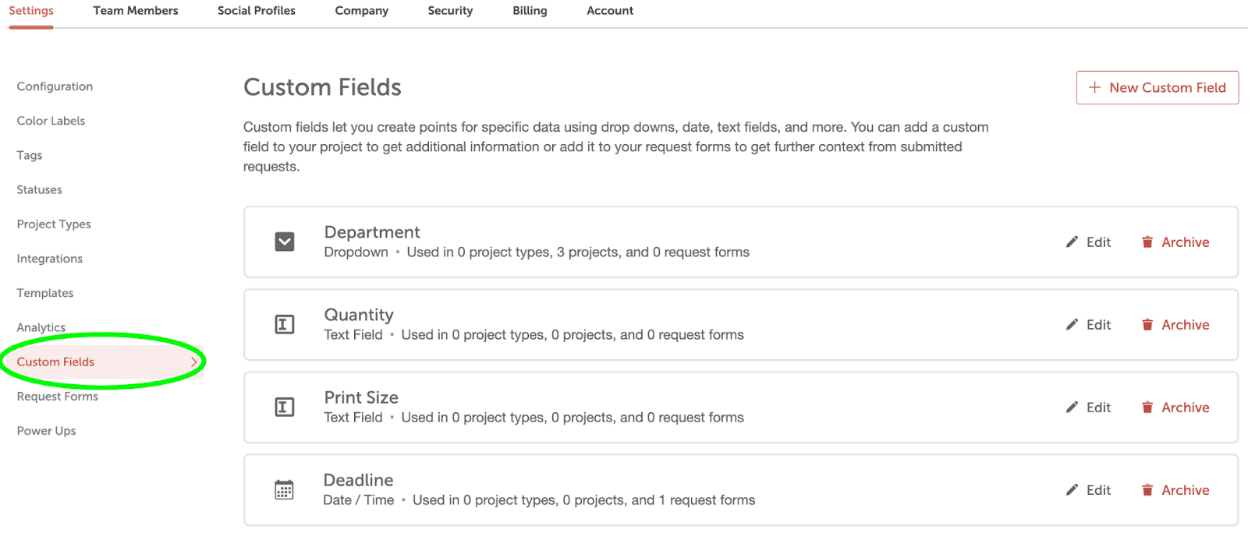 Popular Custom Fields Teams Create & Use
Not sure what types of Custom Fields you should add? Here's a list of popular Custom Fields used by Marketing Suite teams.
Priority level
Based on the types of projects you're working on, you can add a custom field to that project that will indicate what level of priority your project is. 
This allows you to then narrow your calendar view down by only showing low, medium, or high-priority projects.
Budget
Adding a custom field that filters out specific budgets are important when it comes to planning, moving forward & shipping a project.
Department
Filtering projects based on what department it belongs to is essential to keep everyone on track and in the know when it comes to who is responsible for what.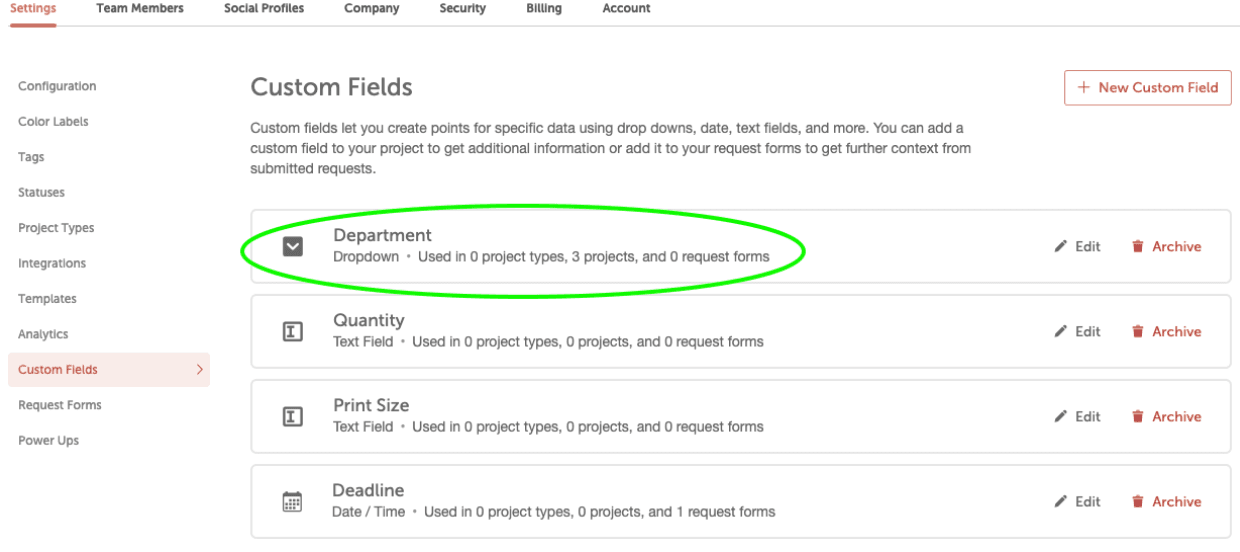 Quantity
Needing to filter your projects based on how many business cards or flyers are needed? 
The quantity custom field will filter based on the number of copies your client needs, and creates easier visibility for what they need.

Print Size
Add a print size custom field to any project to filter out what projects and tasks need a specified print size. 

Deadline 
Never miss a deadline by categorizing your projects based on deadlines to ensure you are staying on task & organized.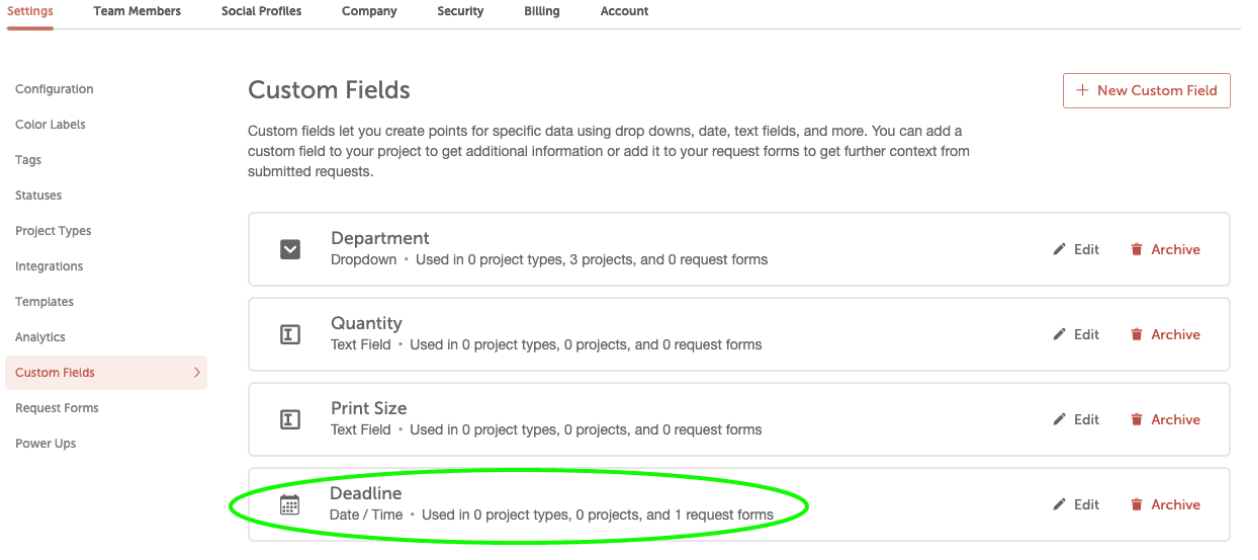 External URL
Link an external project or URL to your current project/task to maximize your integration process!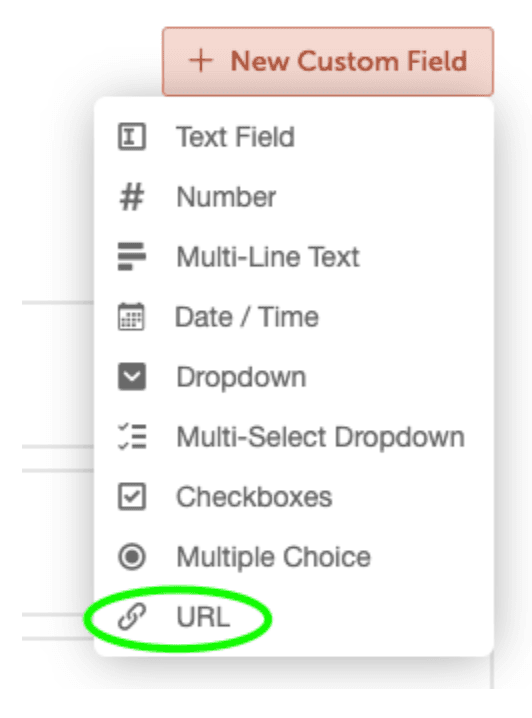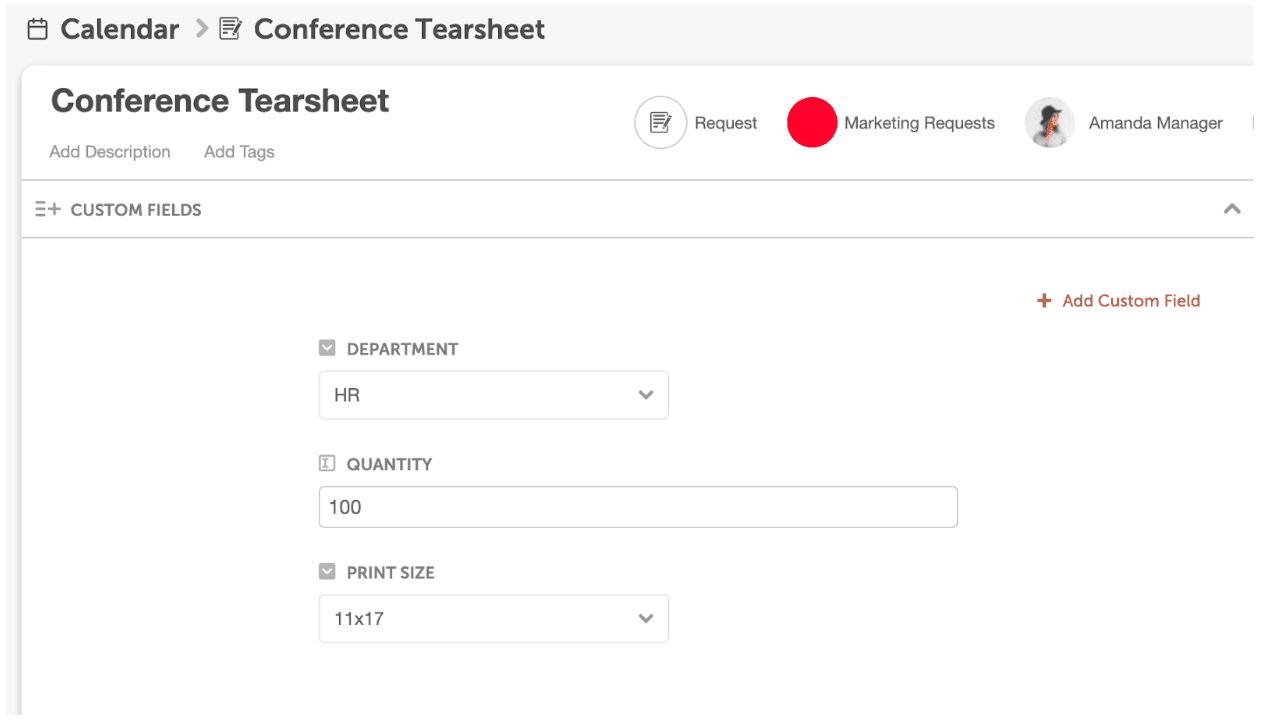 Ways To Use Custom Fields in Marketing Suite
Give Your Team Required Details They Need To Complete Projects
That eliminates back & forth communication with the requester regarding missing collected information. It can also prevent lots of revisions or versions, which slows down production timelines.
Provide additional direction to your team, so they have visibility of everything they need to know about a project. This could include budget, requirements, deadlines, & more.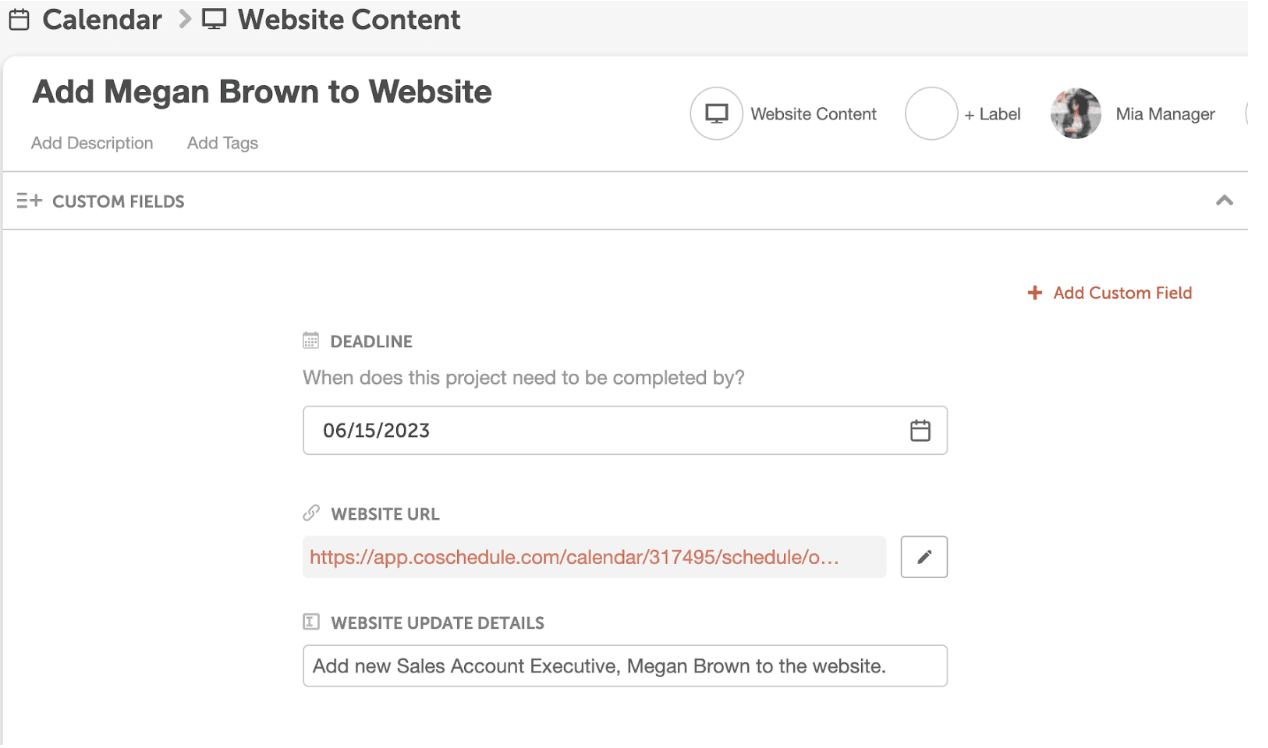 Create Custom Reports For Stakeholders 
If a specific department requests a project, you can create a custom report that allows you to run reports based on how many projects you did this quarter, such as:
HR

Sales

Leadership

Customer Service

Events
Standardize Information You Want To Track 
Wanting to track how many High Priority projects came in from sales vs. Medium and Low? 
You can track this information using custom fields, and share this information with your team to help re-prioritize your work.
This helps you and your team stay on the same page to help meet stakeholder expectations every time.
Capture Required Project Details In Request Forms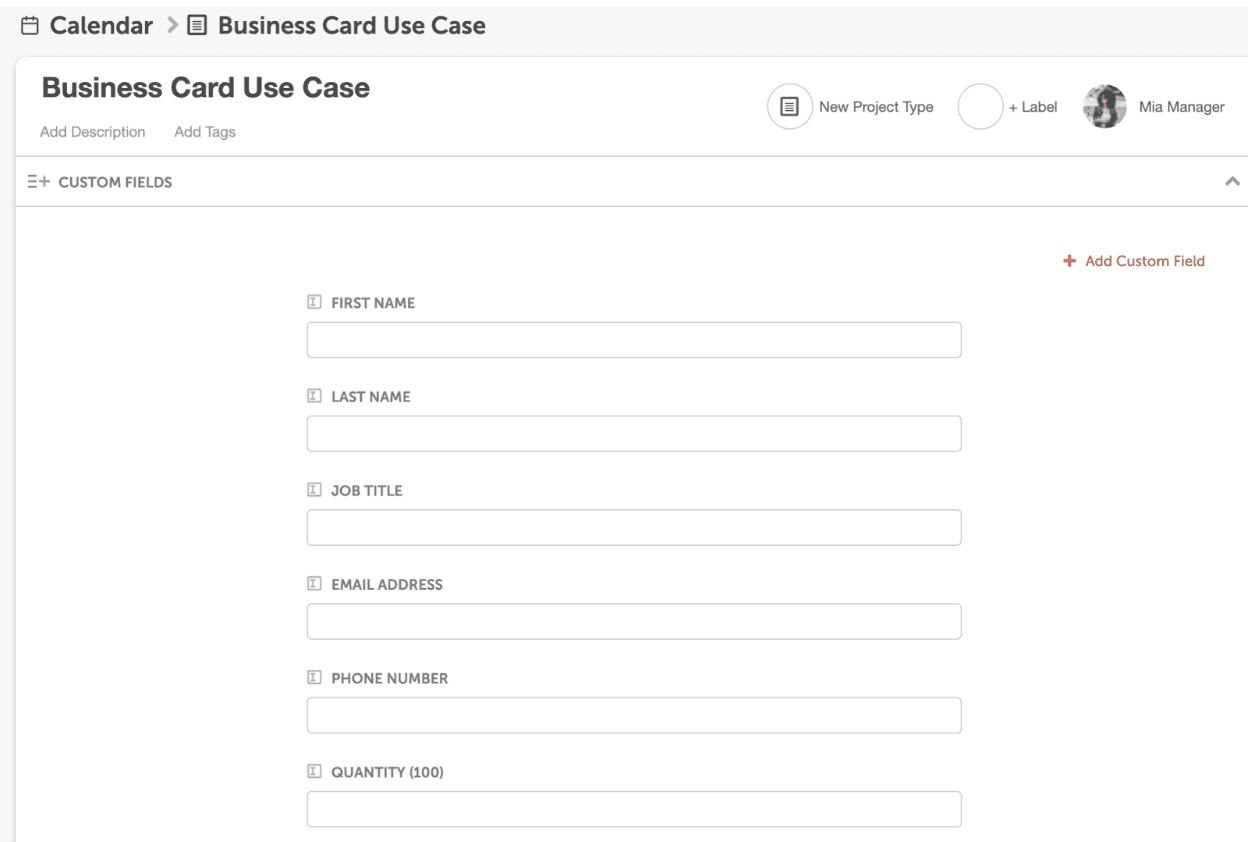 For the team to successfully complete the business card (for example), they need all the details from the requestor. 
But if the requestor misses some of these details outlined above, your team has to go back & forth to get those details which require more time from your team to complete. 
With request forms & custom fields, you can capture everything you need, so there's much less time wasted on process & detail gathering upfront.
Apply Them To Your Calendar
You can start by adding them to any project, project template, or project request forms.
Custom Fields are a great way to view your calendar based on your top priorities at the moment. Start adding them to your calendar today!
For more information, visit our help doc.