Tags
Use tags to group related posts, messages, and projects together to segment work in a way that makes sense for your team and stakeholders.
Not sure where to start with tags? We've got you covered.
Helpful Hint: Tags build an added layer of classification on top of your color labels. If you haven't defined your color labels yet, start with our Color Labels Power Tips and then dive into tags.
Create Your Tag Strategy
Before you begin adding a ton of tags in CoSchedule, you'll want to define how your team should use them. We've outlined a few of the most popular ways our customers use tags to group and classify their work to help you outline your tagging strategy.
Target Audience
Like most marketing teams – you are probably trying to reach multiple audiences through your marketing efforts.
Add a tag for each target audience to track what work your team is doing to reach them where they're at.
University Target Audience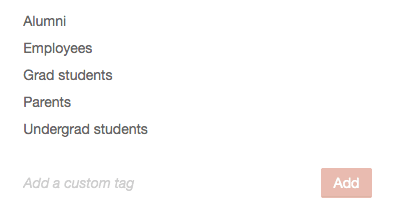 Funnel Stage Target Audience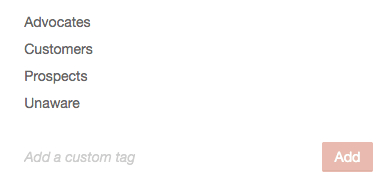 Content Themes
Other teams use tags to segment projects by specific content themes or pillars that are relevant to their business.
Think of the themes and topics that consistently drive your marketing – these may work well as tags.
General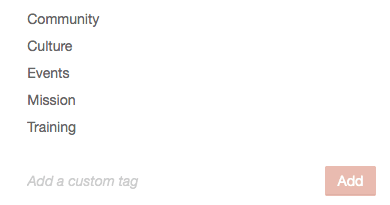 Finance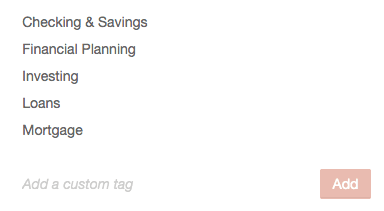 Healthcare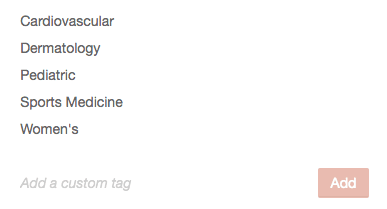 Marketing Objectives + Goals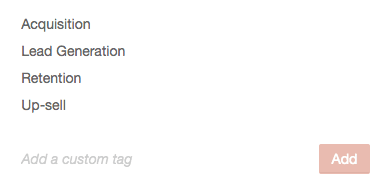 There are no limitations to how many tags you create. But it helps if the purpose behind each tag is intentional and well defined to make sure your team uses them consistently.
Create Focused Calendar Views
Once you've created your tags and shared your strategy with your team, it's time to add them to your projects.
One of the top benefits of using tags is to create saved views based on your tags. This allows you to focus in on the content you want to see (and filter out the work you don't).
Now you can quickly visualize messages, projects, and campaigns scheduled and planned for each tag.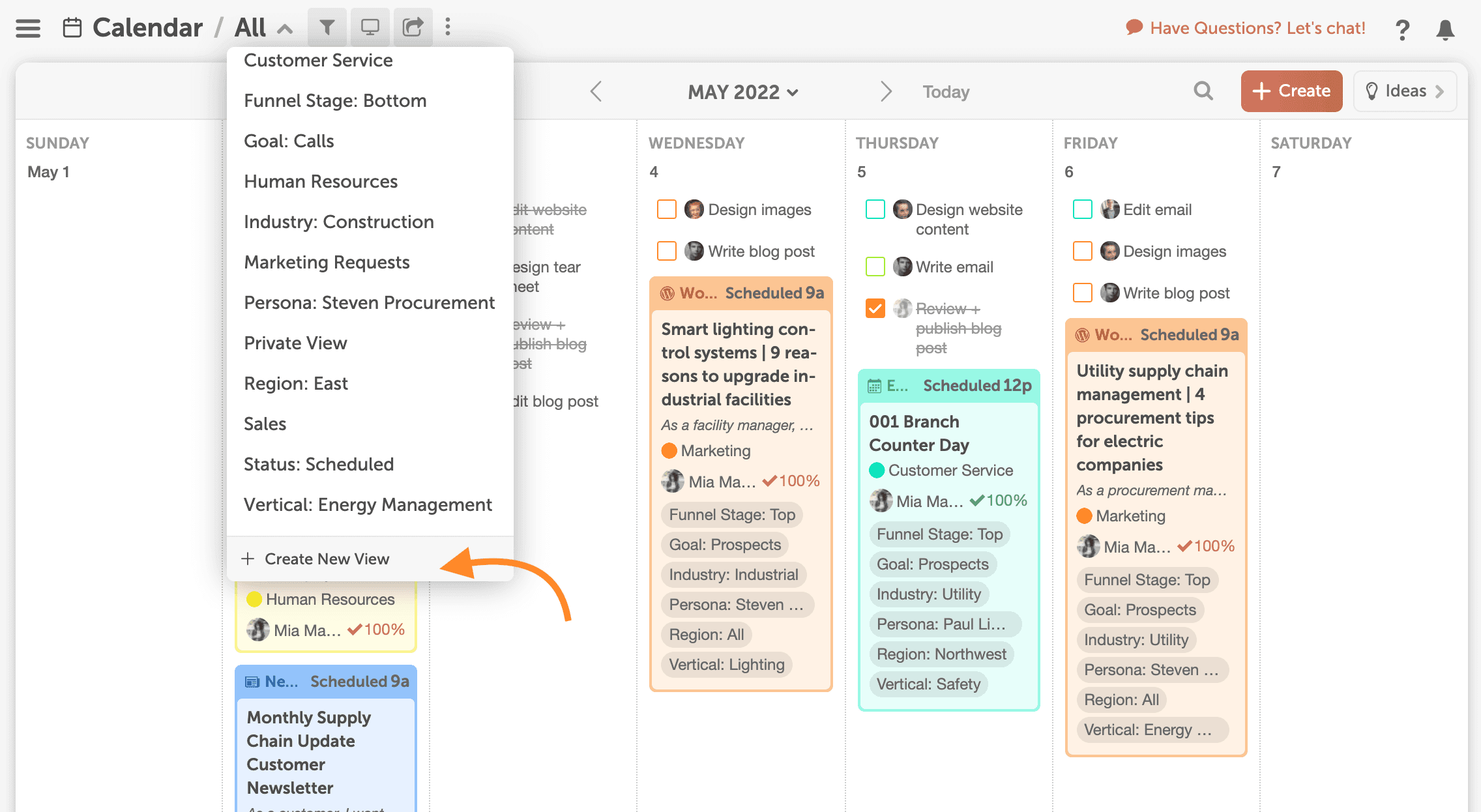 Share Updates With Stakeholders
Once your tag-specific saved views are created, share these calendar views with your stakeholders using Read-Only Calendars.
For example, if you've got a Sales Team interested in what you're working on for a specific audience, share a read-only view with them to keep them in the loop on plans and progress.
These shared views can help you stay connected with your stakeholders throughout the entire process and update in real-time.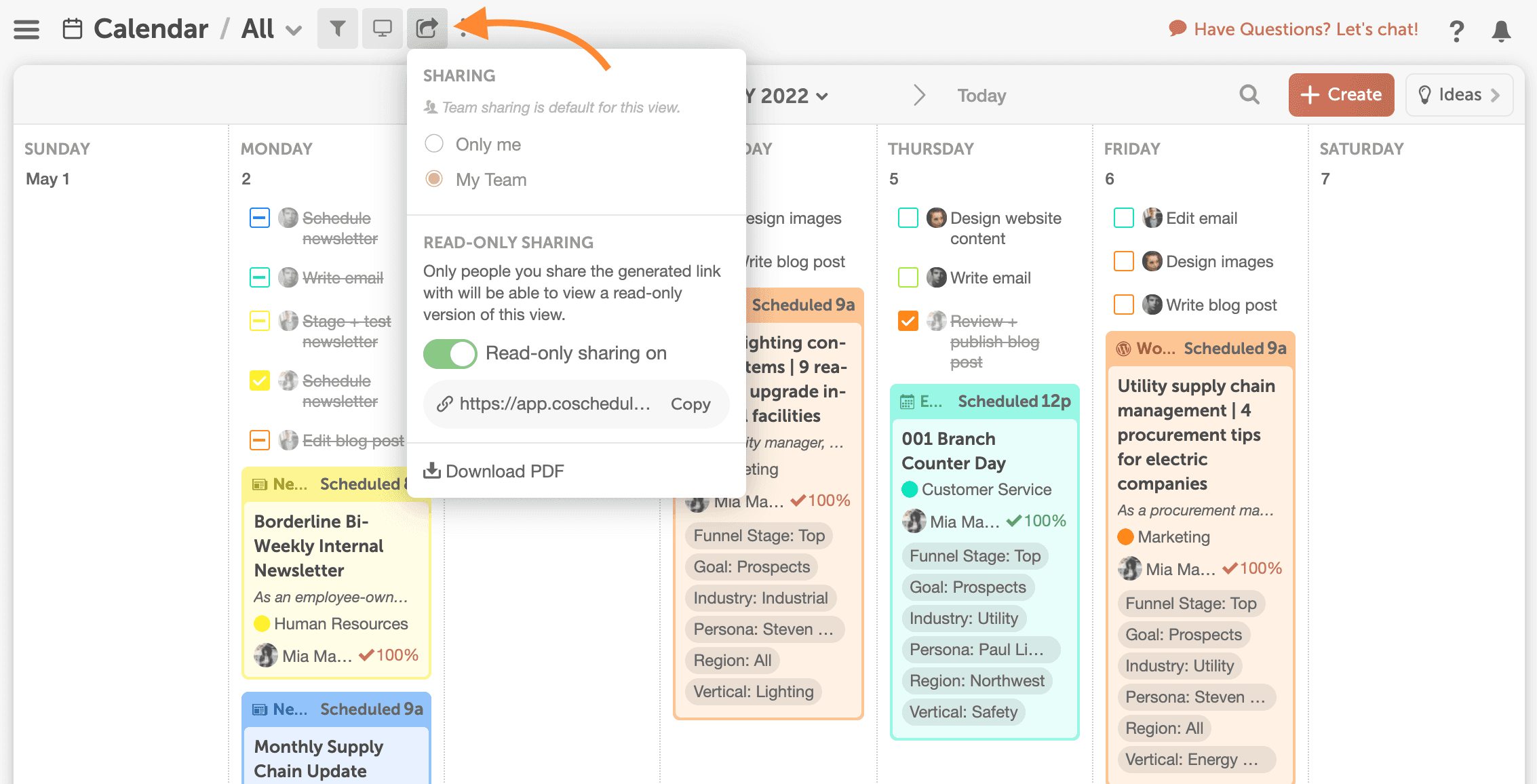 Create Custom Reports
**Social Reports are only available in Legacy plans. 
You can even utilize tags to create custom social reports.
If you add tags to your social campaigns, you can build custom Social Engagement reports based on tags.
This works great for tracking the performance of social messages targeting specific initiatives or audiences.

Tags can transform how your team views, shares, and reports on projects. Start creating tags to get organized!
Not sure how to create tags? Reference this help doc.