Blogging is an important part of content marketing. It's vital for organizations of all sizes, even small businesses with small budgets.
Blogging about relevant topics in your industry can build you a larger audience and increase your brand awareness. That's why you do it, right?
But it can be challenging. Finding topics, hitting deadlines, finding proper sources, and keeping your work organized are just some of the problems you might encounter.
That's why you need a blog planner. This is what these tools will help you accomplish:
Organize all of your blog planning in one easy-to-manage central hub.
Help your team communicate and edit projects easily.
Publish consistently and fill the gaps in your posting schedule.
Hit every deadline by following a repeatable workflow that will help you publish on time.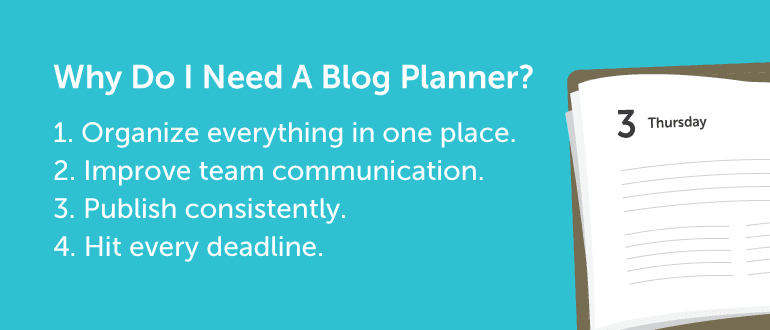 Curious if using a blog planner is the ideal solution for you? Keep reading to learn:
The benefits of blog planning.
How to use a blog planner.
What makes CoSchedule the best option for your blog planner.
How You Can Benefit From A Blog Planner
When writing a blog post for your business, it will likely be edited and proofread by another team member. A designer may need to create and add graphics. And your social media manager needs to schedule messages.
That means having multiple people working on one blog post can easily get unorganized.

Organizing and streamlining this process is where a blog planner can help. It will keep all your blog post content and communication (text, images, tasks, project management notes, etc.) in one place and allow your team to work together in one centralized hub.
Commenting functions allow you to communicate with your team effectively. These conversations are then kept for the duration of the project without getting lost like they can by using a separate communication tool (like email or instant messaging).
Blog planners have several more functions that will that help optimize your entire content marketing workflow. They can also connect with your social media profiles so you can promote your blog content on social media directly within one dashboard.
Here's how to use a blog planner to organize your entire process behind the scenes:
Why Is Publishing Blog Posts Consistently Important?
There are a few different reasons why consistent posting is important:
Publishing content consistently is necessary for maintaining an active audience and building brand relevance. It shows the passion you have for the industry.
Every piece of content that you publish is an opportunity to build a meaningful connection with a would-be customer.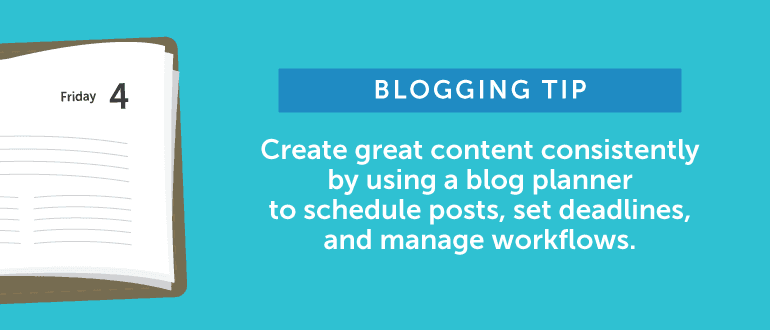 Find The Best Days For You To Publish Your Blog Posts Consistently
Finding the best time to post requires consideration for exactly what you're publishing. It's also something a blog planner can help you determine.
Different types of posts and content will do better at different times. What's even more challenging than finding the most effective time to post relative to the type of content is the what the desired outcome is.
For example, you're likely to get more traffic on a Monday at 11 a.m. but you're more likely to get more comments at 9 a.m. on a Saturday.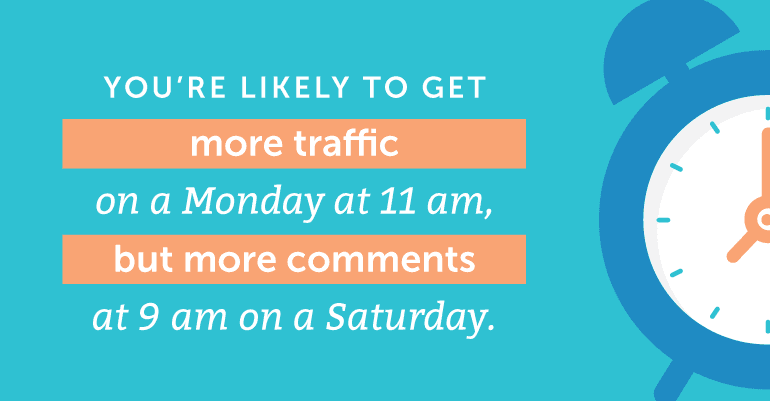 There are some great tools for finding out when your most effective times to publish are.
For example, Google Analytics will help you track the reach and engagement of all your blog posts. Using the information given from this tool will show you when you're doing the best and you can then decide when to post.
You can use this free Google Analytics custom report to view the days and times of the week when you typically get the most traffic to choose the best publishing schedule for your blog.
Conveniently, CoSchedule also integrates with Google Analytics to help you even further.
Also within CoSchedule, you can view the success of your blog post post with built-in social media metrics that show the number of shares each blog post received.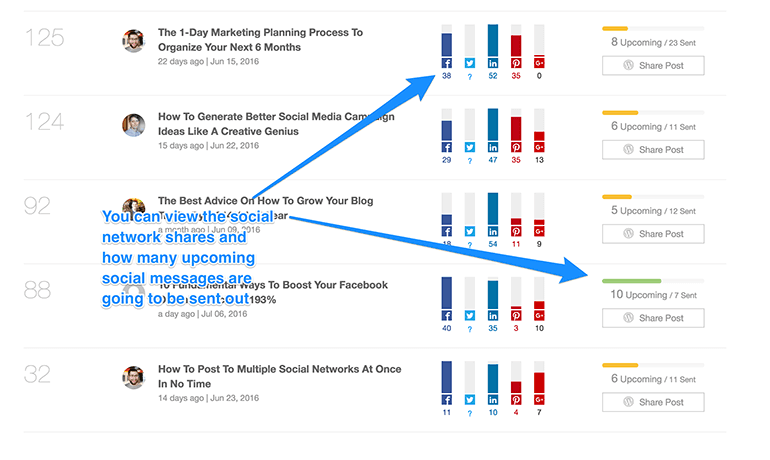 Create A Workflow To Simplify The Blog Publishing Process
The blog post publishing process may feel a bit overwhelming at times. Fortunately, creating a workflow can simplify the process.
A blog planner can take this a step further to help streamline and manage the workflow. CoSchedule's Task Templates allow you to create and reuse task checklists for assigning tasks and due dates.
Here's how to build a Task Template to help you with creating a workflow:
Within the project dashboard, select the Task Template button. At the bottom of the dropdown menu, click Create New Template.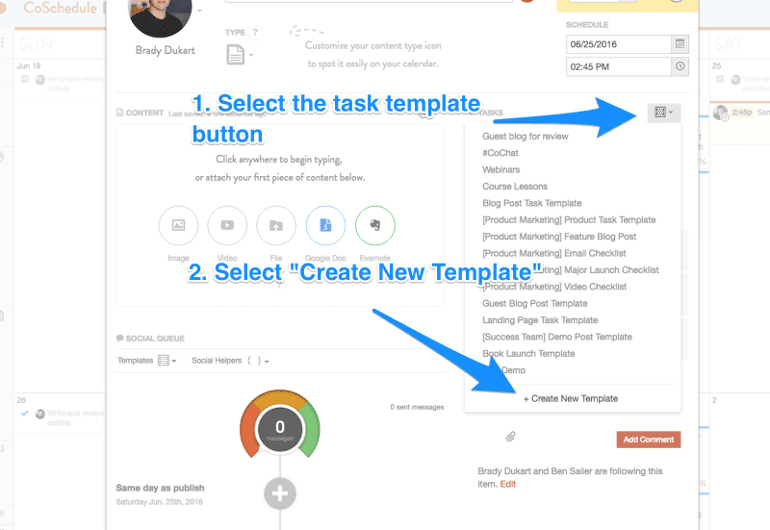 Give a name to the template, and enter the details of each task such as:
What the task is
Who it's assigned to
When it's due
Select Add Task.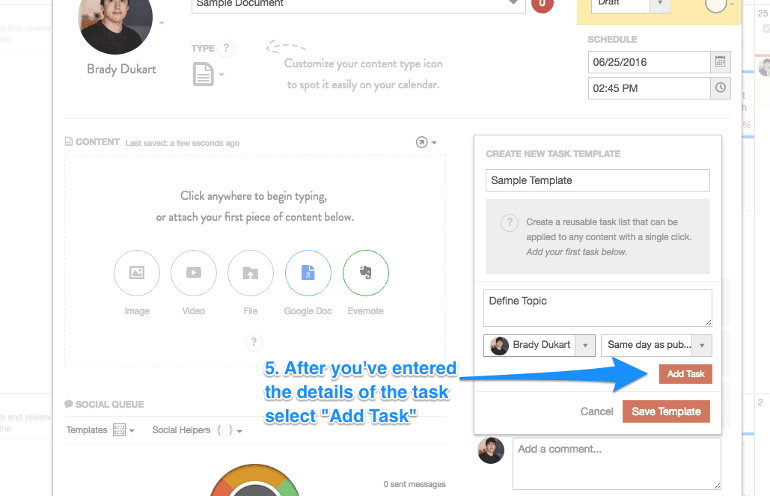 Add as many tasks as you want, then select Save Template. The task template is then built, and you can reuse it to plan as many blog posts as you'd like.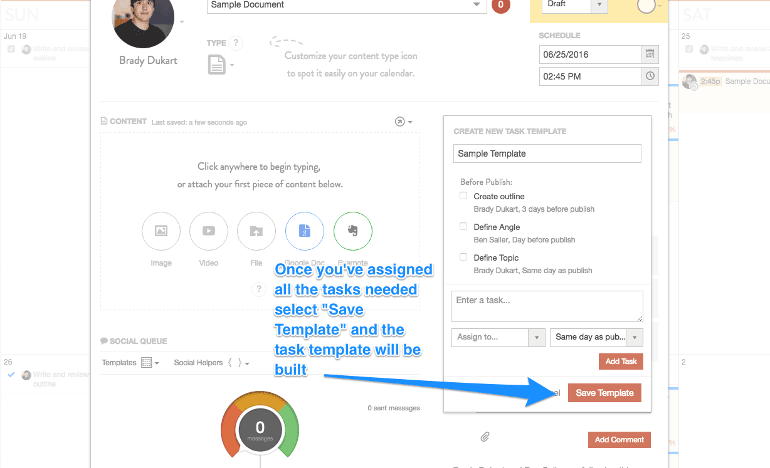 Now you have a repeatable process to manage all of your blog content creation, which makes publishing consistently much easier.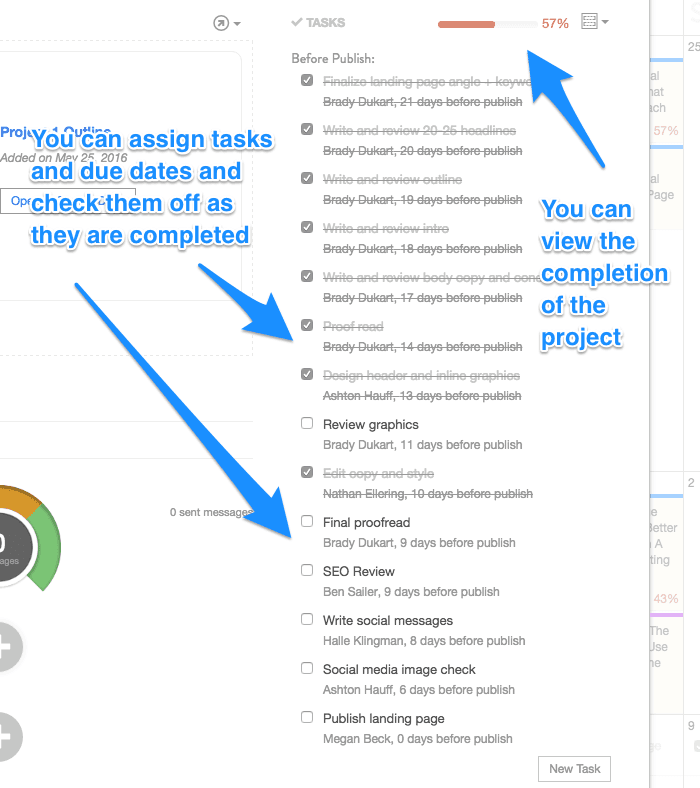 Let's take an example of writing a blog post and how to incorporate Task Templates into the process.
The goal is to break down your project into a list of smaller tasks so you can assign them to your team members, complete with a due date.
Determine your audience. Find out who you'll be appealing to. This is the first step because this allows you to get a general idea of what you're going to be writing about.
Define your topic and the angle. After you've decided on your audience and you know the general direction that you plan to go in, you can then decide on what you're going to be talking about. This can be fairly general until you decide on the angle.
Come up with about 20–30 possible headlines and build a bank of them. Coming up with the headline before writing the outline or the body will help you decide on the general direction.
Use the CoSchedule Headline Analyzer to help you find the absolute best headline for your blog post. The Headline Analyzer will give your headline a rating, the higher the number the better. The Headline Analyzer is built right into your CoSchedule blog planner and will instantly analyze each of your headline options to help you get more social shares, traffic, and search results.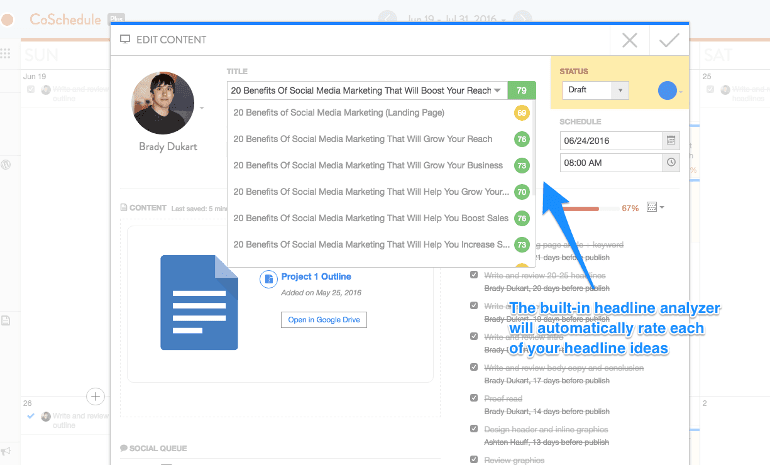 Create an outline for your blog post. After deciding on the audience, topic, angle, and headline, it's time to begin the actual writing process.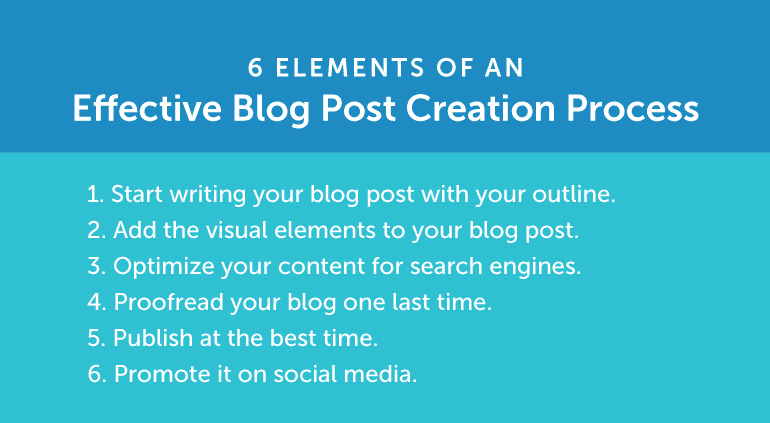 Start writing your blog post. Follow the flow in your outline.
Add visual elements. If you're working with a graphic designer, check out some of these tips on effective communication with your designer. If you're doing it on your own here are some great tips on creating graphics for blogs. CoSchedule makes it easy to manage communication between writers and designers through comments, keeping your project communication in one place for everyone to see.
Optimize your content for search engines. Check out some of these great SEO tips for assistance with this process.
Give your content one final proofreading before publish. Check for spelling and grammatical errors. Ensure that all the questions you sought to answer have been covered.
Finally, it's time to publish the blog post. You just found the best time to publish, so schedule your blog post on the best day and time of the week to help you reach your goals.
Promote your blog post on social media. Follow some of these tips to help you promote your content with social media.
When you translate that workflow into a Task Template in your CoSchedule blog planner, your process looks as simple as this: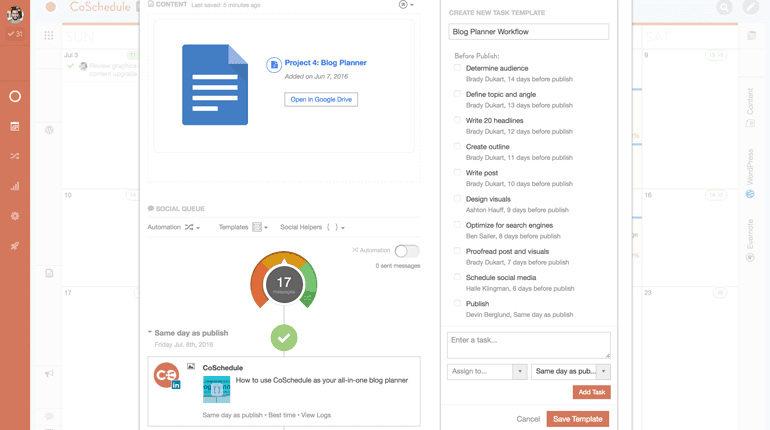 Build Habits That Will Ensure You Consistently Execute Your Workflow
Your workflow has now been established and designed to suit your blog and team working style.
Next, build habits that will ensure you execute your workflow consistently. Your blog planner can help build strong habits by following these three steps:
Set reminders: Reminders are notifications of when a task is assigned. This ensures accountability for those assigned to completing tasks. Notifications in CoSchedule will be sent 24 hours before each task is due.
Establish routines: The more often you complete tasks in the workflow, the easier it will be over time. You'll build up a routine, and you'll notice an increase in quality and efficiency.
Generate rewards: After you've completed your workflow and the post goes live, you should celebrate! Enjoy the work you've done. These celebrations can be small or extravagant. The more rewards you have at the beginning of your habit building process, the more it will help build the habit.
How To Use CoSchedule As Your Blog Planner
CoSchedule is a blog planning tool and editorial calendar that helps you optimize your workflow. You can also use the blog planner to manage and organize multiple projects in one central spot.
CoSchedule allows you to schedule your blog posts in advance and work on them with your team.
Here are several things to consider as you manage your blog posts and workflow using CoSchedule as your blog planner:
First, decide on the date you want to publish on. Then decide on what type of publish you're going to do:
Blog Post
Content
Social Campaign
Event
Note
Task
Social Message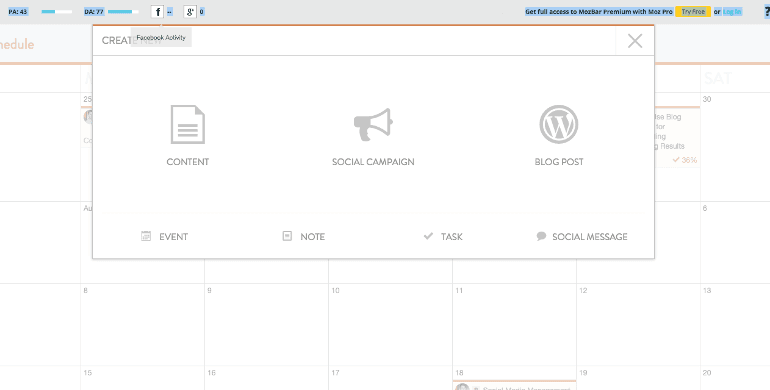 Once you've chosen blog post (since you're looking for a blog planner), you will enter your headline.

Your blog title will generate a score automatically with the Headline Analyzer. It will also make a list of the headlines you've entered.
Each headline in the list will also display the headline rating so you can consistently improve your blog titles.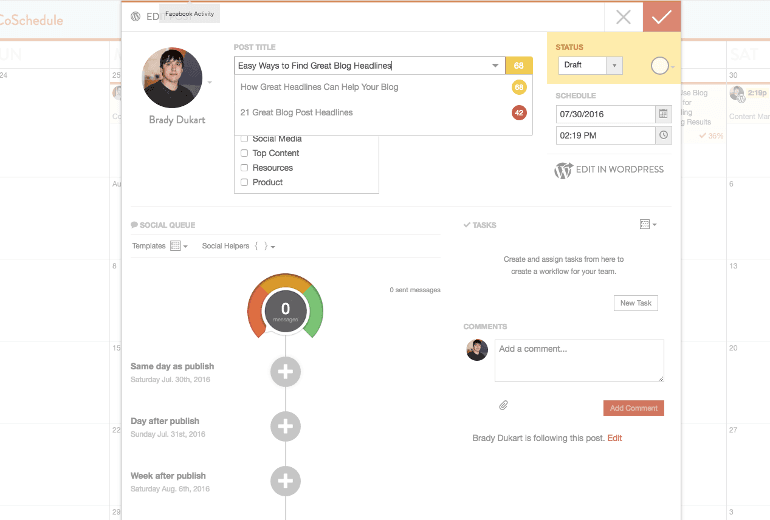 After you've entered your first headline, you'll be directed to the blog post dashboard. Here, you'll be able to start building your project.
The first step inside the dashboard is to build a Task Template for your blog post workflow so you can reuse it for similar projects. This is the step where you apply the Task Template that you built earlier.
Now that you've got your task template built, you can work on the content as a team within CoSchedule.
Communicate with your team on every aspect of a project with comments.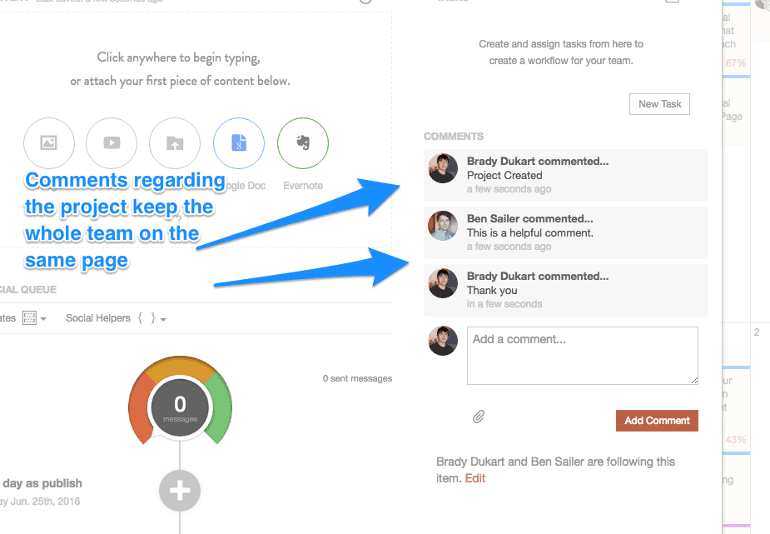 View the progression of projects in a percentage metric.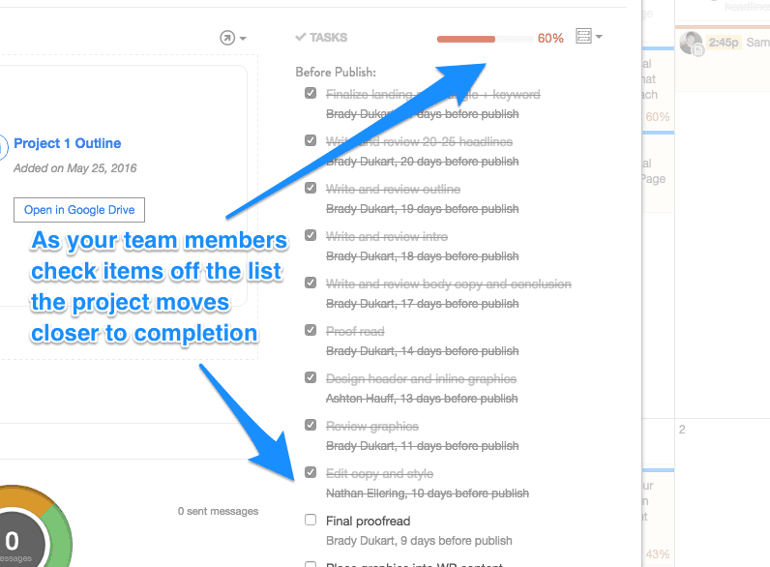 Upload documents like blog post graphics in comments to collaborate throughout the entire content creation process.
Once you've planned out your project and it has been executed, you can plan a social media campaign for the post.
Decide on what date you want your social message to go out. Think in terms of days relative to the blog post (same day as publish, day after publish, three days after publish, etc.).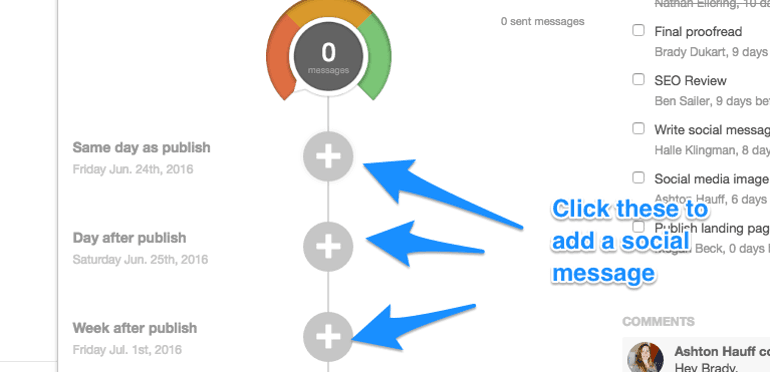 Then decide which network and profile you'd like to schedule a social media message for. CoSchedule can integrate with your multiple social profiles.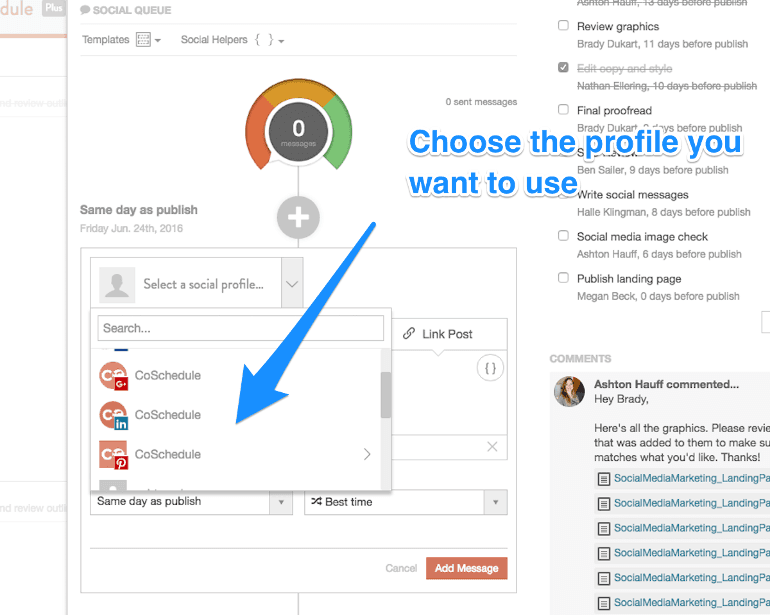 Decide what type of social media message you'd like to make. CoSchedule lets you choose from Text Posts, Image Posts, and Link Posts. Enter your social media post.
You can also preview your post.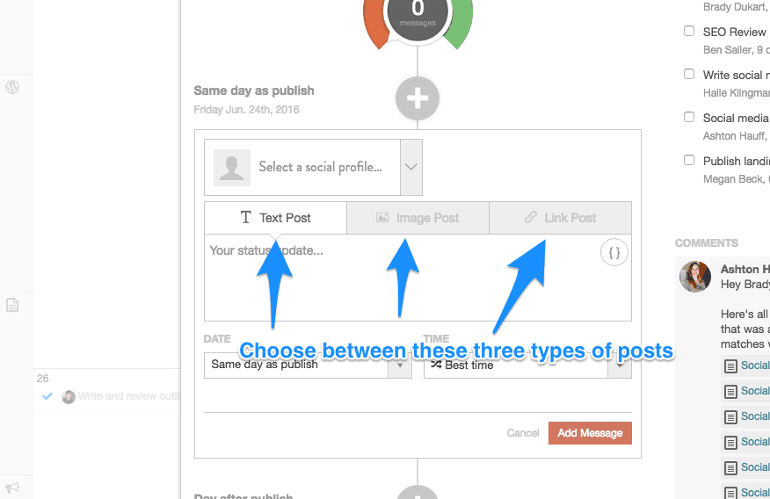 You can then set the date and time for the social message. This is where you can choose to use CoSchedule's Best Time Scheduling feature.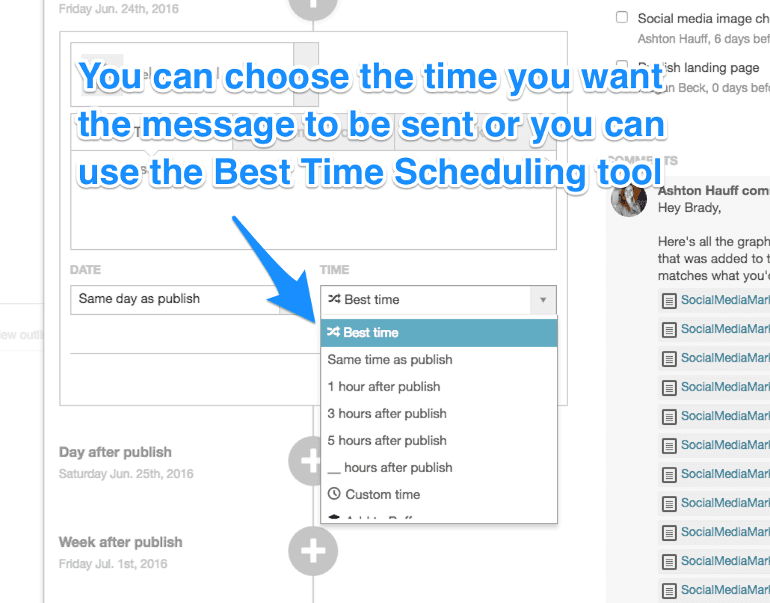 Now repeat! After you've scheduled your messages, you can even save your social media posting schedule as a reusable template to help you promote your next blog posts.
Use CoSchedule As Your Blog Planner Free For 14 Days
Want to try using CoSchedule to optimize your blog planning? You'll organize your entire blog post process by:
Scheduling your blog posts on the absolute best days with an editorial calendar view.
Planning the perfect workflow checklist to create blog posts as efficiently as possible.
Scheduling social media messages with every blog post to help you reach your audience.