5 Plugins Guaranteed To Help You Collect More Leads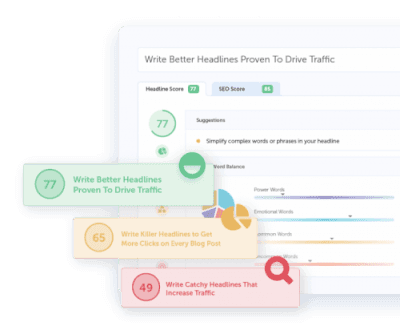 Content marketing is great for SEO, social media, and your audience, but it won't do you much good if you aren't also using it to collect leads and build an audience of readers. So, how do you start to collect more leads on your blog? 
Lead collection can be a sticky subject for bloggers. It is a topic that lives in a world of pop-ups, calls to action, and other methods that may seem distasteful some of us. But that doesn't make them something we can ignore.
We absolutely have to be collecting leads with our blog – that's a given. The real question is: how can we do it in a way that is respectful to our readers and the marketing process? Is there a way to bridge the gap between the two?
The answer is yes, and here are 5 WordPress plugins that might help you do just that.
Lead Collection Plugin #1 – OptinMonster
OptinMonster is no doubt the granddaddy of of all lead collection plugins built for WordPress. Launched in 2013, it is already one of the most mature ways to collect leads using your WordPress site, and is currently the primary method that we use here on our own blog.
One very cool thing about this plugin is that it allows for a wide variety of lead collection options depending on your own taste for pop-up boxes. There are six different types of lead collection methods available including a traditional pop-up, a footer bar or slide-in at the bottom of the page, or a simple widget that shows up at the end of a blog post.
OptinMonster integrates with many of the most popular email marketing tools including MailChimp, Aweber, and our personal favorite – Campaign Monitor. Design customization is also excellent, and offers a variety of options that anyone can use. A few of its other key features include conversion tracking, and a simple but effective A/B testing component so that you can use to compare different versions of your lead form and see which one works best.
OptinMonster is a paid plugin, but that is part of what makes it so worthwhile. Personally, I would recommend that users invest in the 'Pro' version that includes 'Exit Intent,' a feature that will automatically sense when a user is leaving the page and prompt them with a pop-up at that time. This is a great way to unobtrusively add a pop-up to your site, which is generally considered one of the most successful lead collection methods available.
Lead Collection Plugin #2 – Leadin
Leadin is a newer plugin for WordPress that promises to help you get to know your website visitors, rather than just collect their email address. This is a novel concept and begins to blur the lines between lead collection and a customer relationship management system like Salesforce or Highrise.
This plugin is particularly good if you are looking to collect sales leads, or something other than just an email address.
From Leadin:
When someone submits a form on your WordPress site, you want to know more about them. What pages they've visited, when they return, and what social networks they're on. Our WordPress marketing automation and lead tracking plugin gives you the details you need to make your next move. Because business isn't business unless it's personal.
Leadin works through the use of a traditional website contact form, or a simple pop-up in the right hand corner of the page.
On our own site, we have experimented with replacing the more obtrusive pop-up with a more subtle slide in method like that used by Leadin for the collection of email leads.
While it can work, in our own tests it was easily three or four times less effective than the traditional pop-up/lightbox method. That said, depending on your particular lead-building goals this might be the right approach.
Lead Collection Plugin #3 – SumoMe List Builder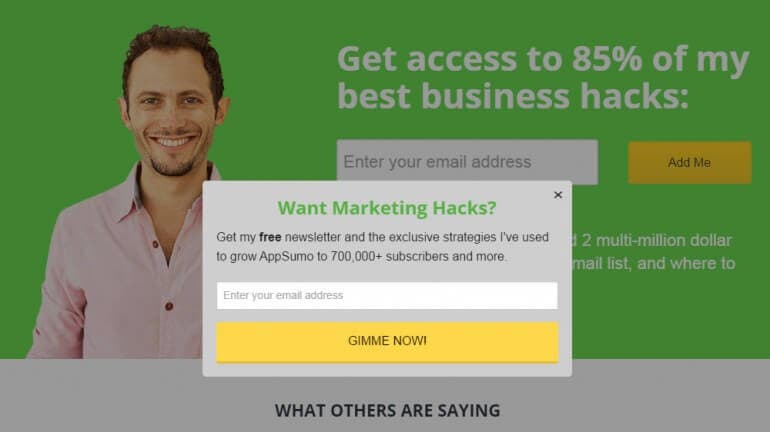 SumoMe is a free tool for WordPress (or other websites) that adds a list-builder element to any website.
This basic pop-up focuses on the message that matters most. While it offers far less customization than OptinMonster, it is free and super easy to implement. Like OptinMonster, it integrates with all of the major email marketing providers including MailChimp, Aweber, Constant Contact, and Campaign Monitor.
Like OptinMonster, SumoMe also offers an exit intent option, so you can wait until a visitor is leaving before you bother them with a pop-up request. From SumoMe:
Our lightbox popover can be customized to automatically popup after a certain amount of time, or you can use our smart mode to ask your visitors to subscribe when we think they're getting ready to leave your website. Now, people will find your blog, read your article, and subscribe via email to your MailChimp newsletter.
Lead Collection Plugin #4 – FooBar
Similar to the Hello Bar, Foo Bar is a WordPress plugin that allows you to add a simple notification bar to the top portion of your website.

FooBar is a neat and unobtrusive notification bar that sits at the top of the page that can be used to inform or announce specific info to site visitors. The collapsible bar can be used in unlimited scenarios, including displaying notifications, showing site announcements, product specials, competitions, giveaways, etc.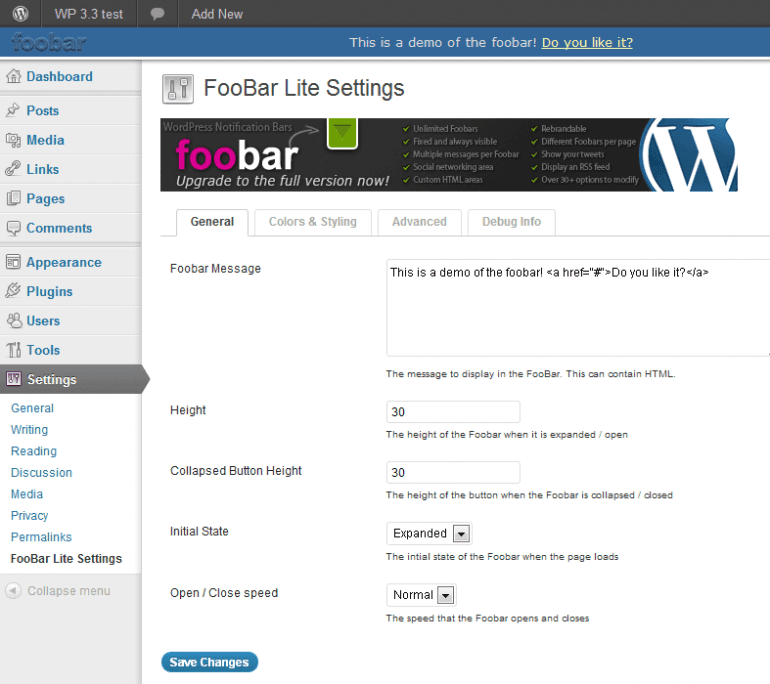 It is simple to install and setup, and can be completely configured right from WordPress. Of course, since this plugin is not specifically a lead collection plugin, you will need to link it to a page with a lead collection form. This extra click can be a deterrent for some users, so this method would work best if you use to to promote a unique type of content that you can give away.
For example, Neil Patel does this really well on his Quick Sprout blog by highlighting his professional consulting services using a top-of-page notifications bar. This link leads to a specifically designed landing page that collects and organizes his leads.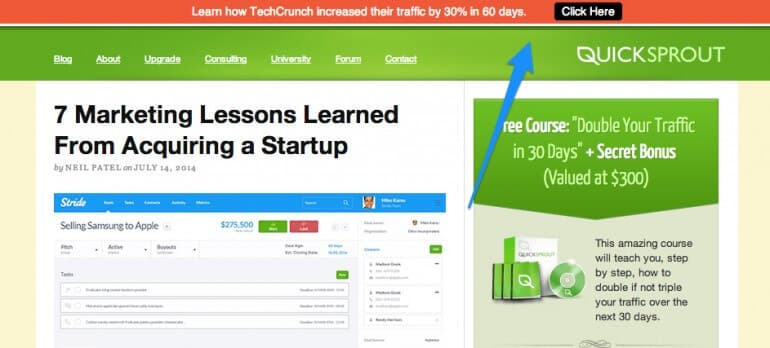 This  method relies heavily on the quality and hook of the copy used, so be to to spend extra time understanding what your audience will want to see there.
Lead Collection Plugin #5 – Hybrid Connect
Hybrid Connect is another long-standing lead collection tools for WordPress and can be used as a pop-up, sidebar widget, or a footer widget for use at the bottom of the post.
Overall, it is very complete plugin, offering more integrations that any of the options above, including a GoToMeeting integration, which is highly interesting if you are someone who offers a large number of webinars or live events.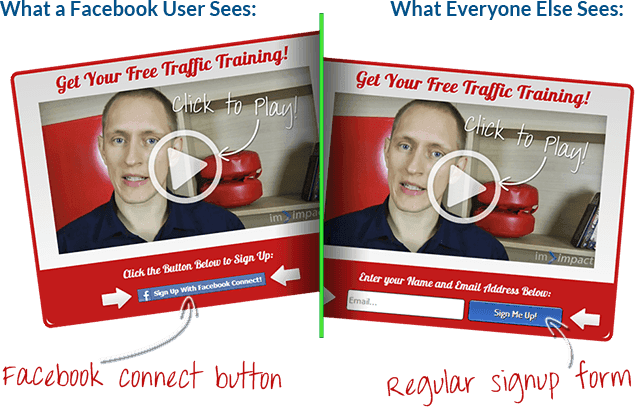 Hybrid Connect also offers a unique Facebook Connect feature, which will allow you to show a Facebook Connect button only to visitors who are logged in to Facebook. With the button, they can sign up to your mailing list in just two clicks!
Another excellent feature of Hybrid Connect is its ability to handle A/B testing. The plugin will automatically serve a variety of lead building forms to your audience in a distributed fashion and eliminate pop-ups that are underperforming.
—
Lead collection is an incredibly important part of being a blog owner, and we should make sure that we have an effective method in place. Theses plugins are just a few of the best options out there, and you should make sure that you find one that works (and performs) best for your particular audience.
One of the most important things that you can do when implementing a new lead collection method is to test it against other options. For example, does a sidebar option collect just as many leads as a pop-up? If this is the case, then you might opt to use the sidebar option instead of the more "obnoxious" pop-up.
The point is that you shouldn't simply base your lead collection strategy on the results of others. Check your strategy against your audience, and find the right fit for your own blog.
July 16, 2014