How To Manage Multiple Social Media Accounts In One Place The Easy Way 73
Headline Analyzer
The blog post headline analyzer will score your overall headline quality and rate its ability to result in social shares, increased traffic, and SEO value.
Test every headline before you publish. Try the Headline Analyzer »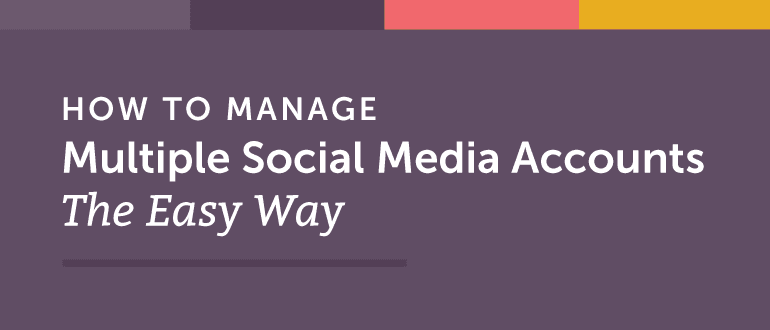 Wouldn't life be a whole lot easier if you could just manage multiple social media accounts in one place?
Imagine removing the hassle of logging in and out of every social network and profile, remembering how often to post to each network and when (and if you did or didn't), and setting reminders to write, approve, and post social messages without a defined process.
Your imagination is probably filling up with rides on unicorns over rainbow bridges at the sheer thought that managing multiple social media accounts doesn't have to be an organizational nightmare.
But it's true—your dream of getting organized can become a reality. And you don't need a unicorn (as cool as that would be). So today, let's take a look at how to manage all of your social media in one place.
Consider this a step-by-step guide to:
Organize your social media management to help you share faster than ever
Create one clear version of the truth for all of your social media accounts and messages
Plan all social media in one place to finally keep your sanity with social media while you manage everything else
Let's do this.
1. Gather All Of Your Profiles Into One Social Media Accounts List
Chances are, you have a handful of profiles on a bunch of different social networks. And to boot, some of these social media accounts are your company's profiles, while others are your personal professional profiles.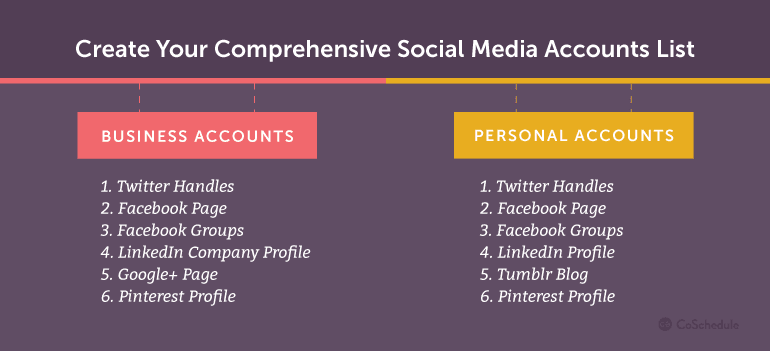 The first step to manage all of your accounts easily is to create a master social media accounts list that you can later enter into the tool where you'll manage all of your social media in one place.
At this point, you're not looking for anything fancy—use a napkin, spreadsheet, or Google Doc to simply list out every one of your business' social profiles. Make a list of your company's:
Twitter handles
Facebook page
Facebook groups
LinkedIn company profile
Google+ page
Pinterest profile
Next, create a social media accounts list for your personal profiles where you'll share your company's information.
Personal professional profiles are often on LinkedIn and Twitter where you've built relationships with your followers to share your company's content—along with industry niche content.
Again, make a list of your personal accounts across your networks:
Twitter handles
Facebook profile
Facebook group
LinkedIn profile
Tumblr blog
Pinterest profile
Easy, right!? Your next step is to find the app that supports your social media accounts to help you manage all of them in one place.
Takeaway: Build a comprehensive list of all of your social media accounts. Make one column for your business profiles and another for your personal professional profiles to which you'd like to maintain private access (so your team can't post to your profiles).
2. Create A Checklist To Find Your App To Manage Multiple Social Media Accounts
At this point, you're pulling together a checklist of requirements to help you choose the tool that will work best for your unique needs.
Here are a few requirements to kick off your checklist as you search for your app: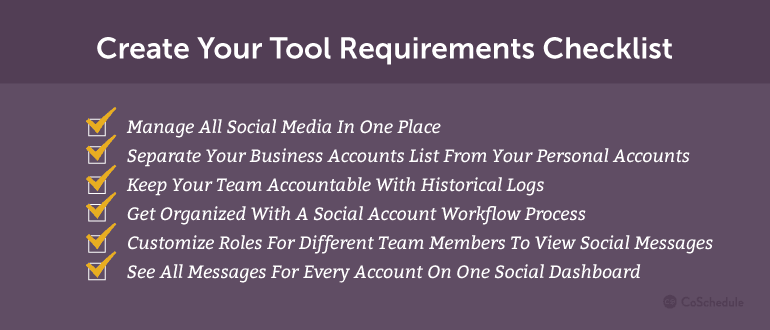 Manage All Social Media In One Place
Use the list of social media accounts you just created to help you find a tool that supports those networks. The goal here is to find a tool that'll eliminate the hassle of logging in and out of social networks and profiles.
For example, if you use Twitter, Facebook, and Pinterest to reach your audience, find a tool that will help you post to those social networks.
Separate Your Business Accounts List From Your Personal Accounts
It makes sense to share access to your business' social media accounts with the rest of your team. But you probably want to keep your personal profiles private while still getting the benefits of bonus traffic from those accounts.
Find a tool that helps you keep your privacy—so only you can post to your personal profiles—while giving the right team members access to your company's accounts.
That will help you stay organized by managing all of your social media accounts in one tool while avoiding any *surprises* on your personal profiles.
Keep Your Team Accountable With Historical Logs
Know exactly who posted what, when they posted it, and which accounts they posted to.
A historical log to help you see changes, edits, and what was eventually posted will help you keep the team accountable for reaching deadlines while keeping you organized.
Get Organized With A Social Account Workflow
Chance are, your campaigns run on multiple social media accounts. Find a system that helps you define a workflow to make your content creation and approval process painless while also helping you and your team stay organized.
This way, you can manage everything in one app rather than maintaining a separate project management tool.
If you're creating a social media campaign, you'll need some help from your team to write social messages, design awesome social media images, schedule your messages, and approve your campaign. A workflow built into your tool—right where you create your social media content—will help you stay super organized with the entire process.
Customize Roles For Different Team Members To View Social Messages
Sometimes, it's nice to help certain people in your company see social messages but not let them edit your hard work.
Have a plan to keep those nit-pickers out of your social media messages by letting them just see what's going on without letting them change your projects.
Features like this help with approval processes for those folks in your company who "just want to see everything going out."
See All Messages For Every Account On One Social Dashboard
A great tool will help you plan the messages you'll share to each social media account before your content publishes.
Imagine creating an entire social media posting schedule for a blog post or landing page a week before your content is set to launch. You'd avoid the last-minute promotion frenzy, strategically plan your social messages, and get super organized.
Find a tool where you can see all of your messages for your own content—and curated content—on one social dashboard.
For example, social media editorial calendars serve as a perfect way to see every message you're planning for every single account—including messages that are already published and those that you will share in the future.
This type of social dashboard is handy because you can visually see the times, days, networks, and specific accounts in an at-a-glance view.
Takeaway: Use these requirements as a starting point, then define a complete list of features you'd like your social media account manager tool to have. Create a checklist of your requirements to help you find the app that is the right fit for you.
3. Commit To Managing All Social Media In One Place
Since you're looking for a solution to manage multiple social media accounts in one place, I'll fill you in on a little secret: CoSchedule can help you do just that.
CoSchedule is a content and social media editorial calendar that combines blogging, content marketing, social media, and project management all into a single tool. It's perfect for managing all of your social media in one place—and will help you get super organized.
Let's explore how to use CoSchedule to remove the time-sucking hassle of managing multiple social media accounts:
Manage Every Profile From Your Social Media Accounts List
Integrate the accounts on your list into CoSchedule. Simply log in to your social networks, then connect each of your accounts with a couple simple clicks:

From here, you'll have a complete list of your social media accounts all in one place. Now all you need to do is check which accounts you'd like to remain private so only you have access to share content to those accounts:

So now you have one list of social media accounts you manage, yet they are separated into public and personal profiles:

What's cool is that the rest of your team can also have personal profiles that only they see, too. That means all of you get the benefits of privacy and still get lots of traffic from employee advocacy.
Win-win!
Organize Your Social Media Content Creation And Approval Process
Chances are, if you're focusing on social media, you're also creating awesome content. So why not plan to share to your social media accounts in the workflow you're already using?
For example, on a blog post like the one you're reading right now, you'd probably like to share to multiple social media accounts. So create the blog post first, then collaborate with your team to plan how you'll share the content on social media.
This is what your workflow might look like in CoSchedule: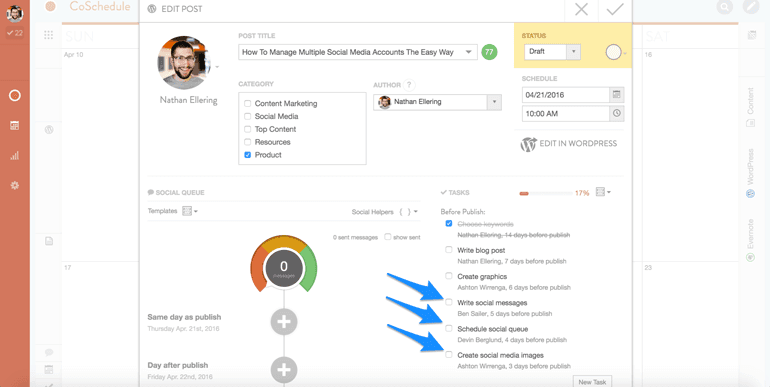 Now simply follow the workflow step by step. And when your team has questions or progress updates along the way, they can check off their tasks and use comments to fill you in.
Start by writing your messages in CoSchedule using social helpers: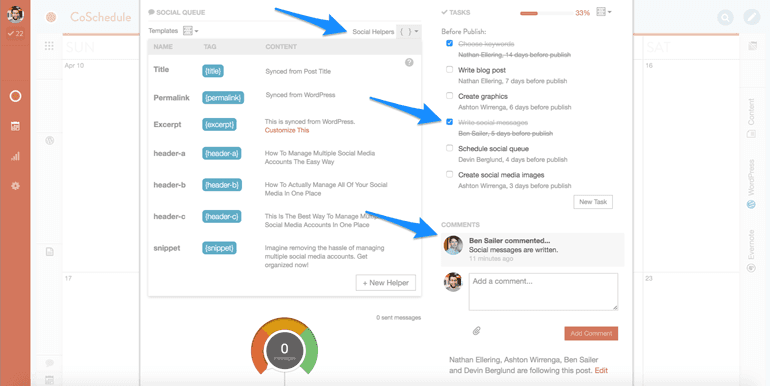 Then schedule your social messages for every account using the social queue. Since you wrote your messages in social helpers, you don't need to copy and paste, but instead, simply write the tag into new messages to easily reuse what you've already written: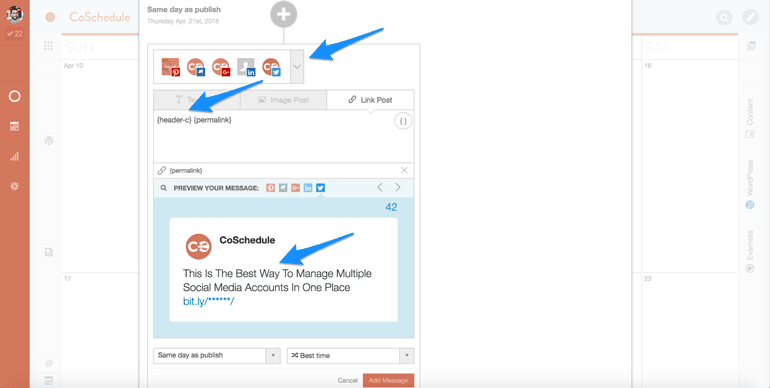 And finally, add in images and graphics into your social messages with the image selector: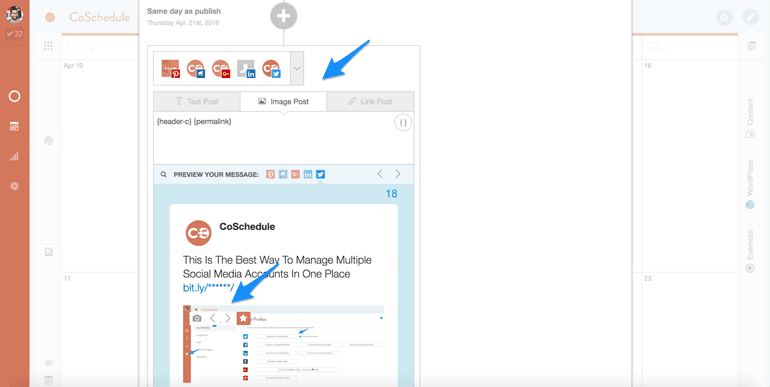 Now you have a social dashboard view of all the messages scheduled on all of your social media accounts for a single campaign—complete with days and previews, and best time scheduling so you will get the most engagement possible for your content: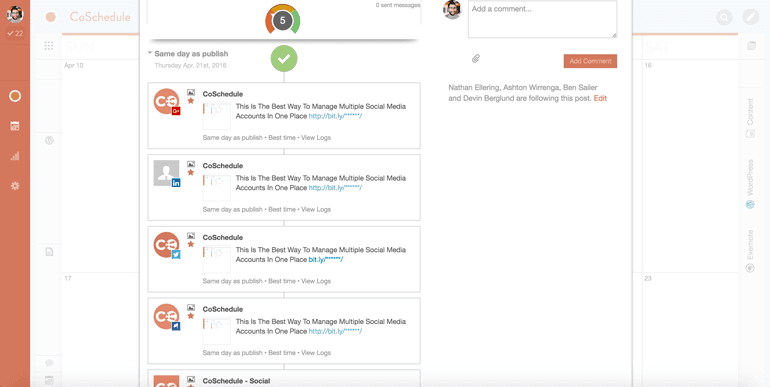 If Your Social Media Approval Process Gets Advanced…
If your workflow requires some higher-ups to see your content for approval (but let's just say you don't want them to edit your hard work), you can let them see your progress with custom roles.
Just build a custom role in CoSchedule, then add them to your team and assign them that role: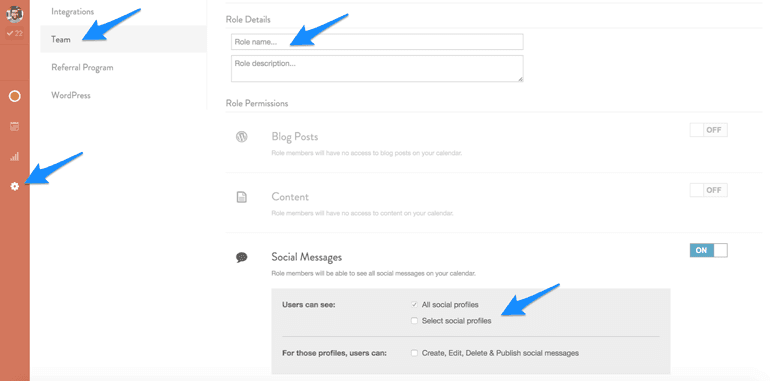 You can also keep everyone accountable (and keep those big wigs happy) by knowing exactly who did what, when they did it, and to which social media accounts they sent messages with security and access logs: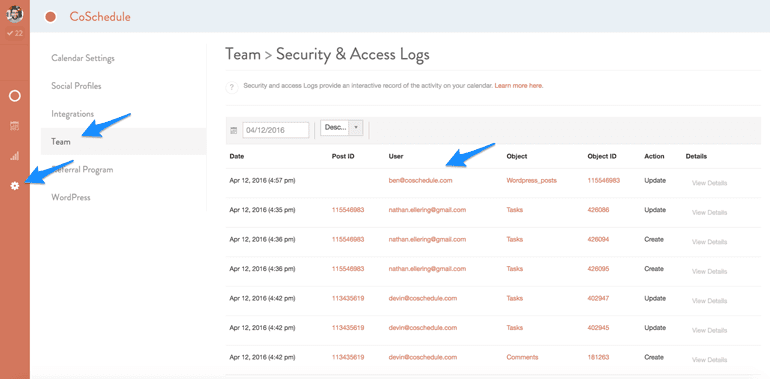 Use One Social Dashboard To See Messages For Every Social Media Account
At this point, you have a full list of all of the messages for every social media account for a single campaign. That's a terrific view to understand how you're sharing a specific blog post—or any piece of content, really.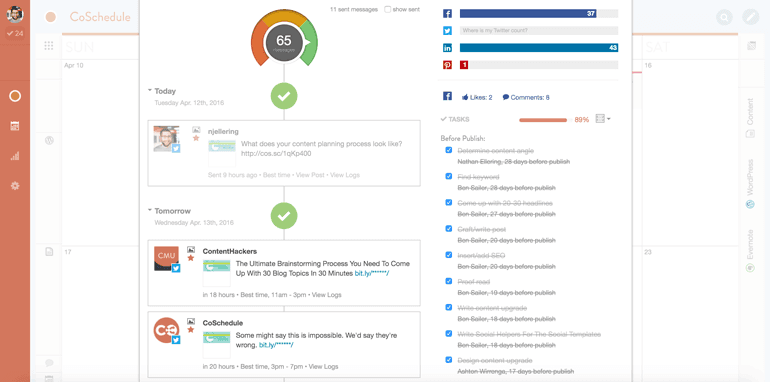 When you step out of the view of working on just one piece, however, it's natural to want to see every message you'll send to every one of your social media accounts.
So what better way is there to do that than with a calendar that shows you the specific date and time your messages will send?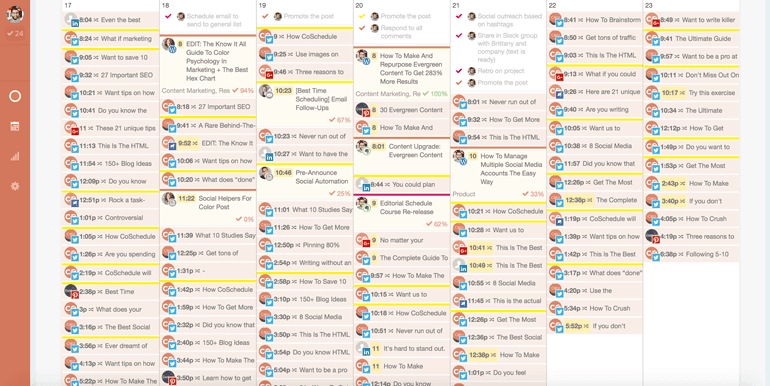 At this point, you can see when certain days have more social messages scheduled than others—and to which accounts—so you can easily drag and drop messages from any account from one day to another.
That will help you avoid bombarding your followers with too many messages while consistently connecting with them to get the most engagement.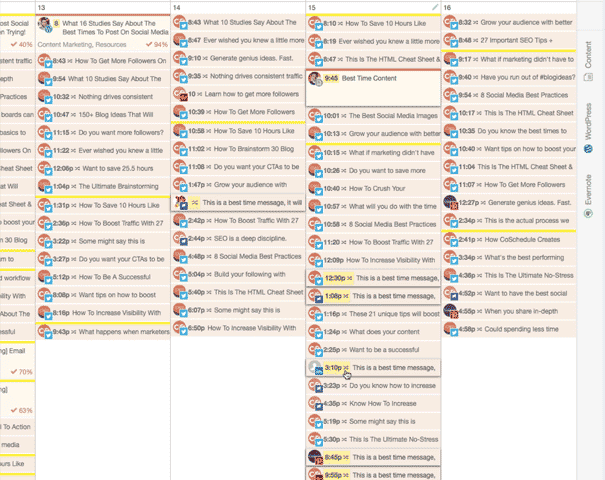 Use Your App As Your Personal Social Media Organizer
Whatever tool you choose as the app to manage your multiple social media accounts, make sure it helps you eliminate the tediousness of using multiple tools to complete the work that one could really help you do.
Here's another way to think about this: You could manage your social media accounts with multiple tools, but consolidating and automating at least some parts of your process will help you get organized, stress a whole lot less, and save a ton of time.
And if CoSchedule seems like a great place to get started to manage your social media accounts, take advantage of the 14-day free trial to get your feet wet. I promise you, it's the tool I'd use if I were in your sopping shoes. :)
(I know… sorry about the lame jokes.)
April 21, 2016