Case studies are effective tools for converting leads into customers. They help establish your brand as a topical authority, demonstrate how your product solved a real problem for a customer, and help leads see how they could experience similar success with your services.
What makes this such an effective content format? Consider the following points:
They directly position your product as the best solution. There's a lot of debate around whether or not content should directly sell products. In this case, the answer is yes.
Your claims are backed up by real results. Who can argue with data from a real-life scenario?
Not everyone is creating them. While blog posts are a dime a dozen, an effective customer story is much harder to duplicate.
However, they take time and effort to put together. Fortunately, you can streamline the entire process with this post. It includes:
Everything you need to know about doing effective research.
A simple 7-step process for creating case studies from start to finish. 
Tons of examples for inspiration and templates to save you time.
Plus, like every type of content or marketing project out there, you can manage the entire workflow on one platform with CoSchedule.
Create Great Marketing Case Studies With Four Free Templates
This can be a time-consuming process. So, grab this free template bundle to streamline your workflow. Here is everything it includes:
Three Case Study Templates (Word): Use this Word template to create a case study you'll either print or make available via PDF. We've included three copies in green, red, and blue header colors.
Three PowerPoint Templates: If you would prefer to create a slide deck or presentation, use this PowerPoint template. It's also available in three different color schemes.
Case Study Template (Web): Use this template to write your case study content as a web page.
What Is A Case Study?
According to Top Rank Blog, a case study is:
"An analysis of a project, campaign or company that identifies a situation, recommended solutions, implementation actions and identification of those factors that contributed to failure or success."
Here's a case study video example from a brand you might even be drinking right now (if we had to guess, we'd say marketers love their Starbucks):
TL;DR? Check out this Slideshare if you want a quick overview on developing case studies:
What Does A Case Study Look Like?
Next, take a look at some real-life samples, and learn what makes each one effective.
Vega Case Study Sample
Here's an example of a case study CoSchedule created for Vega, a customer specializing in premium plant-based lifestyle products. It makes it clear who they are and exactly how CoSchedule has improved their business.
Red Bull Marketing Case Study Sample
Red Bull is known for its amazing content marketing. This case study from Link Humans turns a typical blog post into a full-blown case study examining how the brand executes its wildly innovative strategy: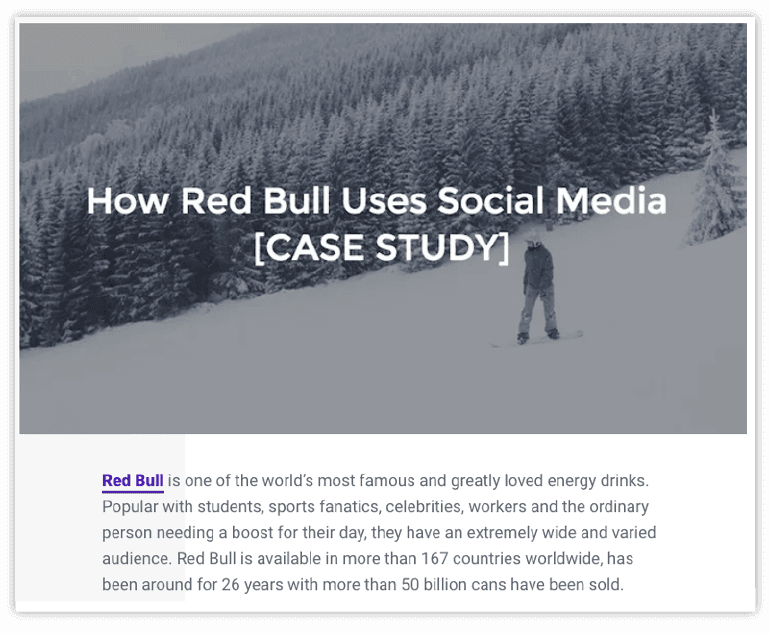 Automotive Case Study Sample
Why does this case study work? It's about an automotive company, and it's coming from one of the biggest family brands ever: Disney.
It's also concise and to the point. There is no fluff that would distract the reader from the most important information. Plus, it helps Disney raise awareness of their corporate training programs. That's something most people probably don't know they offer, and so it's a great topic for a case study.
Big-Box Store Case Study Sample
Target is a big brand box store that is branching out and trying new things to interact with its customers. This case study from TED landed on our highlight list for two reasons.
It includes visually appealing images that reinforce the Target brand.
The team at TED formatted the study for the web. It's concise and chunked into skimmable paragraphs.
Hotel Case Study Sample
This case study from Hilton is a great example of how a company can conduct a study on itself. This brief document is a perfect example of how to format a case study for easy printing.
How Should a Case Study Be Formatted?
Generally, they may use one of the following formats:
Downloadable PDF: This may be the most common.
Website Page: Company websites will often include a section on customer stories.
Slidedeck: Slide presentations can also be effective for this purpose.
Videos: If you have the capability to shoot high-quality video, this may be another option.
The information in your content is more important than the format. Here are all the elements you'll find in a typical case study:
Title or Headline: Ideally, it should summarize the customer, their problem, and the result.
Executive Summary: This is a one or two paragraph section summarizing the case study's contents.
The Subject: Who is this about?
Problem or Challenge: What did they have trouble accomplishing?
Solution: How did your company or product resolve the issue or drive a benefit?
Results: Use percentages if possible.
7 Steps To Writing a Strong Case Study
The case study writing process includes several moving parts. However, by streamlining your workflow from start to finish, you can ensure no steps get missed. Here are the seven steps this post will cover to get the job done.
Step One: Finding the Subject of Your Case Study
The first step in any case study writing process is deciding who you want to write about. It could be your organization, a client or a customer.
Here are three criteria to consider:
How much does the customer use your product or service?
Have they experienced dramatic positive results that would make a good story?
Did they switch to your product from a competitor?
To find this information, consider:
Talking to your sales team to see if there are any prospects who may be willing to participate.
Asking your customer support department if they have any exceptional customers.
Review recent new customers to see if any prospective candidates have bought from you.
Step Two: Ask For Permission to Use Their Story in Your Case Study
It's one thing if you're writing about your organization, it's another if you're writing about customers or clients. Don't just pull information about them and throw it into a case study. Ask them before you start.
Create a Permission Letter
If you are creating multiple case studies, design a pre-written permission letter. It will help move your writing process along.
Your letter should include:
What the case study undertaking is going to look like.
What they get out of the case study.
Here's a copy-and-paste template you can tailor to your needs:
Hi [Name of person],

Our team is conducting a case study, and we would love to tell the story of [company]. Would you be interested in working with us to create a case study around the use of our product?

Here's a description of our process and what we would need from you:

What we'd like from you:

High-resolution company logo (basically as big as possible)
High-resolution images of your team, company office, etc – stories with photos of your team will drive more traffic (people like seeing that there are humans behind a story)
Stats: before [Company] / after [Company]

What does the process look like?

1 [phone/video call/coffee] interview with [person].
Our team will then take your interview and build a story out of it.

2-3 email conversations may be necessary to gather extra information.

Once final draft is complete – we'll send it over to your team for review.
We'll then finalize the story, create a landing page, and build a campaign around it.
Once live we'll share final story with you (for your marketing efforts)

Average Turnaround Time: 1 month (subject to change based on response times and edits).

What's in it for you?

Perk One
Perk Two
Perk Three
Perk Four
Perk Five

Best regards,

[SIGNATURE]
Consider Using a Legal Release Form
Another potential step in the process is asking your case study subjects to sign a legal release form so you can use their information.
You do not have to take this step in your case study creation process. If you do decide to have your subjects sign a form, consult with your legal team first.
Step Three: Send Them An Introductory Questionnaire
Once your client or customer has agreed to participate, you should begin to format your introductory questionnaire.
This questionnaire will help you get the information you need to shape the story of your case study.
Some potential questions to include could be:
What problem did you experience before using our product/service?
Why did you select our product/service instead of a competitor?
How did our product/service solve a problem you were experiencing?
What are your goals as a business or organization?
Are you comfortable sharing data and metrics demonstrating your success?
You can adjust your questions based on how your customer uses your product to get specific answers or quotes that can be highlighted in your study.
Step Four: Format Your Case Study Interview Questions
Once your client or customer has completed your initial questionnaire, it's time to draft your interview questions.
Asking quality interview questions is critical to ensure that you get the information you need to write a full case study. Remember your clients or customers are busy, so you don't want to have to ask for more details multiple times.
Based on the responses that you received from your initial questionnaire, you can adjust questions to get any additional information you need.
Here are 25 case study questions to add to your interview.
Getting To Know Your Subject
These questions should be similar to the ones you sent in your questionnaire. These should help you gather any information you may have missed.
Potential examples are:
What industry is your company in?
How long have you been using our product or service?
What is your work process like?
How many members are on your team?
What goals do you set for your team?
What Problems Were They Experiencing?
Your case study participants were obviously experiencing some problem before they turned to your organization for a solution. Give the readers of your case study, even more, context by getting as much information about their problem as possible.
Some possible questions to include in your interview are:
When did your team first realize there was a problem?
What solutions did you try before you came to us?
Did your problem happen suddenly or did it occur over time?
How did the team come to the decision that outside assistance was required?
What factors led to the problem developing?
[Tweet "Writing a case study? Here are five questions to ask when identifying your subject's core problems."
What Helped Them Make Their Decision?
Finding out what helped your client or customer decide to work with your company is not only informative for potential new business, but it can help your organization determine what materials to publish.
Try these questions out during your interview:
What materials did you read or watch that influenced your decision?
What criteria did you have when you were looking for a solution?
What competitors did you look at (if any)?
How did you convince your team to make a change?
What sealed the deal for you when you choose to work with our organization?
How Does Your Solution Help?
Talk to your customer or client and find out how your solution is helped them fix the problem that they were previously experiencing.
Add these questions to your interview list:
What [product/service] helped solve your problem?
What did our product or service replace in your current work process?
What tasks did our [product/service] simplify for you?
How much time do you save?
What tasks did our [product/service] eliminate?
How Did They Implement Your Product?
Another relevant question to ask during your interview process is how your subject implemented your solution into their work process. This could help eliminate nerves from other potential new customers.
Here are some questions to ask during your interview:
How easily did your team adapt our product into their routine?
How was your onboarding process?
What process did you use to switch over to using our product?
What difficulties did you face in the transition process?
What advice do you have for anyone implementing our product into their work process?
What Results Did They See?
Results speak volumes so why not let your customer or client data do the talking for you? Remember that you may not be able to gather or showcase all the data you ask for.
Try adding a few of these questions to your list of questions:
How much faster are you at completing [task] now that you use our product?
How did we help you reach your goals?
Did you see any significant jumps in the data that your team collects?
How has your productivity changed since implementing our [product/service]?
What positive results have you seen?
Want to keep these questions somewhere handy for reference? Save this cheat sheet:
Step Five: Schedule the Interview
You've found your subject, and your interview questions are at the ready. The next part of your process is going to involve setting up your interview.
First, you need to set up a time for your interview on a synced calendar.
Then you need to decide how you're going to conduct your interview. Here are some options:
Phone interview. Use a phone call recording app like [Include some options here]. Make sure you have permission to record your call.
Video call. If you're using a Mac, Quicktime makes it easy to record video calls on your desktop for free. Windows users can use Skype.
Face to face meeting. If your client is local, this may be the easiest and most personable option.
Once you and your client/customer have decided on an interview time and place, make sure that you have a way to document your interview, either through a recording device or note taking (we highly recommend recording your conversation for accuracy and peace of mind).
Step Six: Write Your Case Study
Finally, you have all of your information collected in one place. Now comes the fun part; putting it all together into the case study template you downloaded earlier.
Writing Your Title
The first part of any good case study is a catchy title. Your title should include the name of your client or customer as well as their logo. Your subhead should also be short and included information on what product or service they used that helped them solve their problem. In your template, add your title (and your subject's logo):


What does a quality title look like? Well, it doesn't have to be complicated. It should:
State who it's about.
Explain what was done.
Communicate a clear result.
Take a look at this example from bit.ly: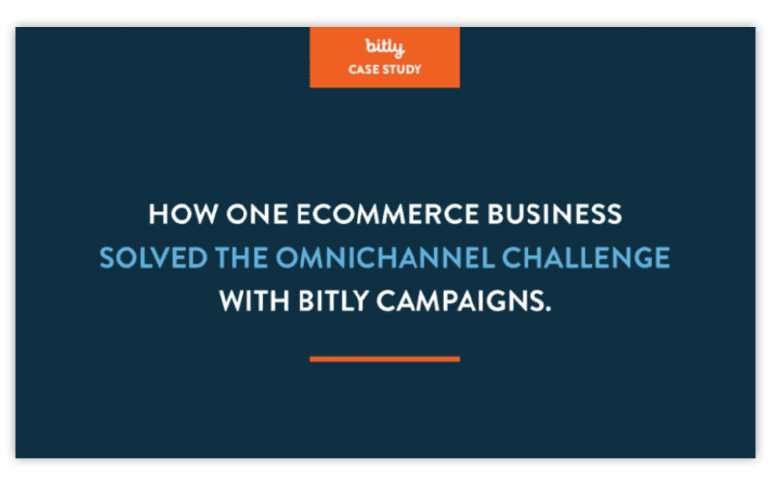 This title works because of it explains:
The problem the company faced.
What type of company is involved in the case study?
How bit.ly helped them tackle the challenge.
Executive Summary
Your executive summary should be a two to three sentence paragraph that describes the story of your client/customer. You can also include a statistic or two to help illustrate the success of your case study subject. Here's what this section looks like in your template:

Check out this executive summary example about Patagonia:

Who is The Case Study About?
The next part of your case study should explain who your case study is about. This is where the information that you gathered from your initial questionnaire would go. Here's what this section looks like in your template:

To see what this section could look like here is an example from Adobe and LinkedIn: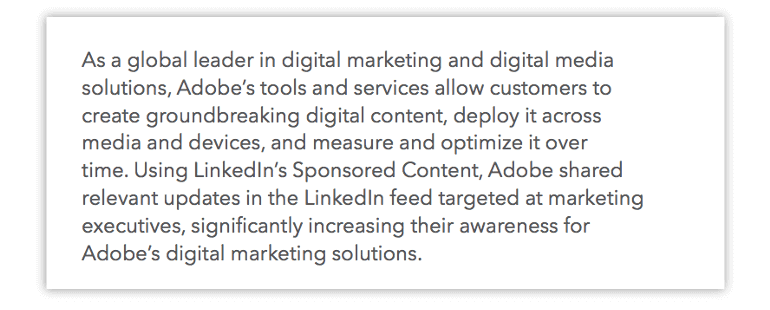 Problems They've Faced
In this part of the study, write about the top two to three issues that your case study participant was experiencing. You should summarize what challenges they faced as well as their previous goals.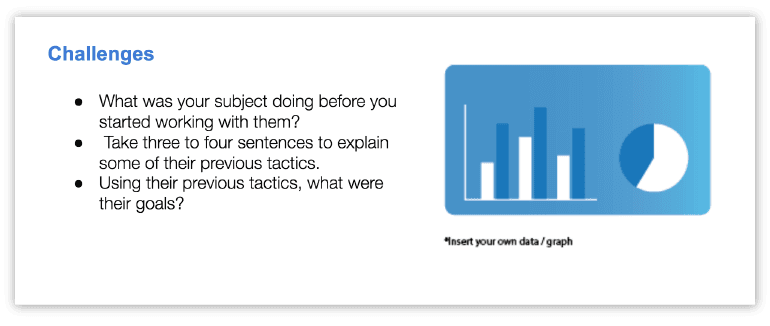 Cirque de Soleil's case study is a great example of address problems a company faces in a case study:

How Did You Help?
This section of your case study is going to show off the solutions that your customers and clients use. It should highlight the changes that you've brought to their team.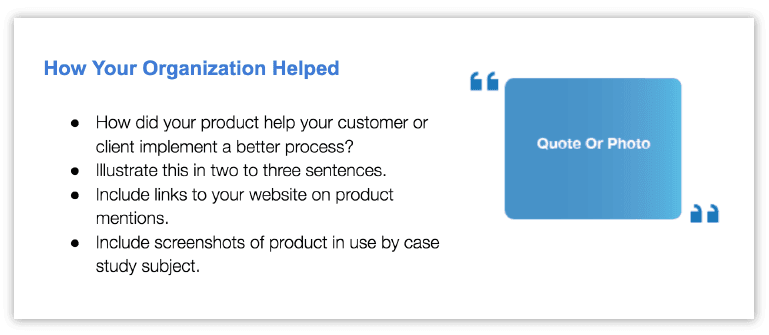 Callaway Golf is another great example of a case study that explains how it's researcher helped solve their problem.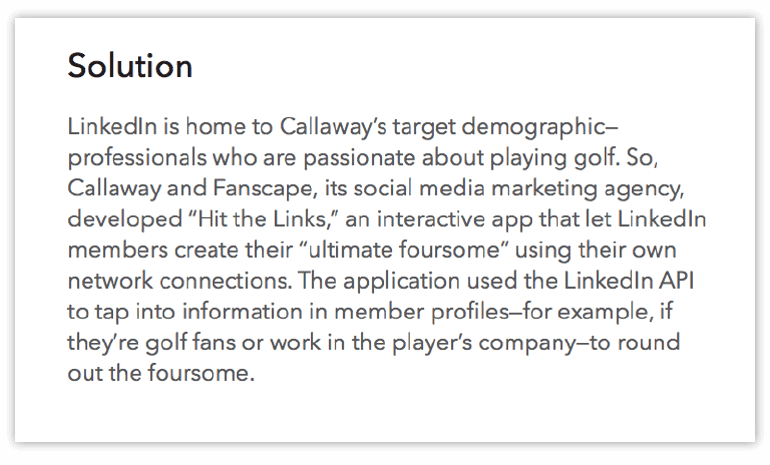 Progress and Results
The final section of your case study should feature the progress that has been made since your customer or client began to use your services. This could be shown through progress towards their goals, changes in metrics they track, and more. Here's what this section looks like in your template: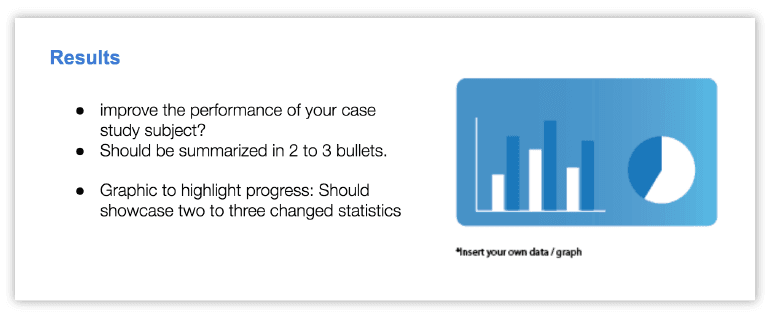 Take a look at the results section of a case study from Contently on Weebly.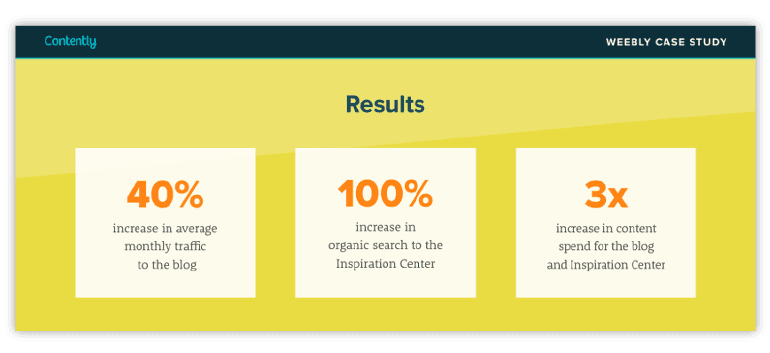 Using Visuals In Your Case Study
Visuals can help add the extra oomph you need to make a great case study. It can also help make the document easier to skim.
Whether that means graphs, logos, or photos, visuals can make a huge difference.
Here are a few extra resources to help you create solid visuals for your case study.
Step Seven: Promoting Your Case Study
Now, your case study is finally complete, and the customer has approved your work.
Now what?
You did all that work, don't forget to get it out there for the world to see.
Promote your case study by:
The great thing about case studies is that they are an easy piece of marketing material to tack on to any additional campaign.
Now Go Write An Awesome Case Study
The fear of creating a compelling case study is gone. You have great examples to follow and two different templates to help you format the information you gather.
We can't wait to see what you come up with.
Do you have a question or two about formatting case studies? Let us know in the comments below.