36 Creative Ideas To Post On Social Media For Business 70
Headline Analyzer
The blog post headline analyzer will score your overall headline quality and rate its ability to result in social shares, increased traffic, and SEO value.
Test every headline before you publish. Try the Headline Analyzer »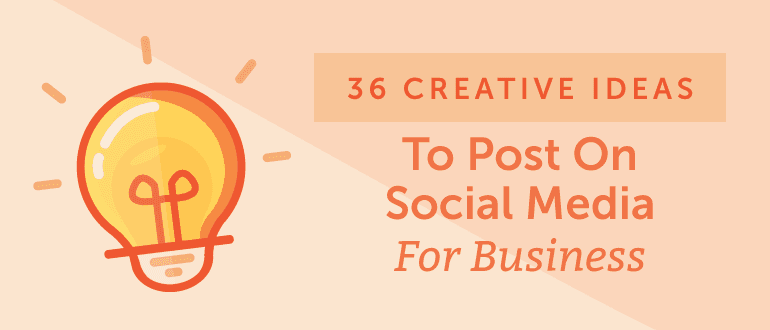 You may find yourself staring at the post button on Facebook thinking "is this content even worth posting?" Only to scratch the whole thing and search the internet for different content.
Many marketers struggle with posting valuable content on social media, but it doesn't have to be this way.
Let's take a look at what businesses should be posting on social media.
Ready. Set. Go!
The three most important things to keep in mind when posting content on social media are:
What's in it for my audience?
Would I click on this?
Is this relevant to my business?
If you can check off these three things when reading a piece of content, then it's worth sharing. But what kind of content is good content to be sharing?
But First, Here Are Some Free Social Media Resources
If you're going to succeed on social media, you need the right tools. These freebies will help you do something with the inspiration you'll get from this post:
Social Media Calendar Template: Plan all your posts ahead of time.
How Often to Post On Social Media Infographic: Learn exactly how to map out your posting schedule.
Social Media Strategy Checklist: Build out a comprehensive strategy for your social media content.
Types Of Content To Post On Social Media For Business
There's an endless possibility of content to share on social media. But these are the types of content that your audience will appreciate.
1. Your Company's Blog Posts
Does your business have a blog? The best way to get your blog seen is to share it on your own social media platforms. You know it's relevant to your business because it came from your business. 
Here at CoSchedule we are constantly sharing our blog posts on our social media because we write our content specifically to benefit our audience.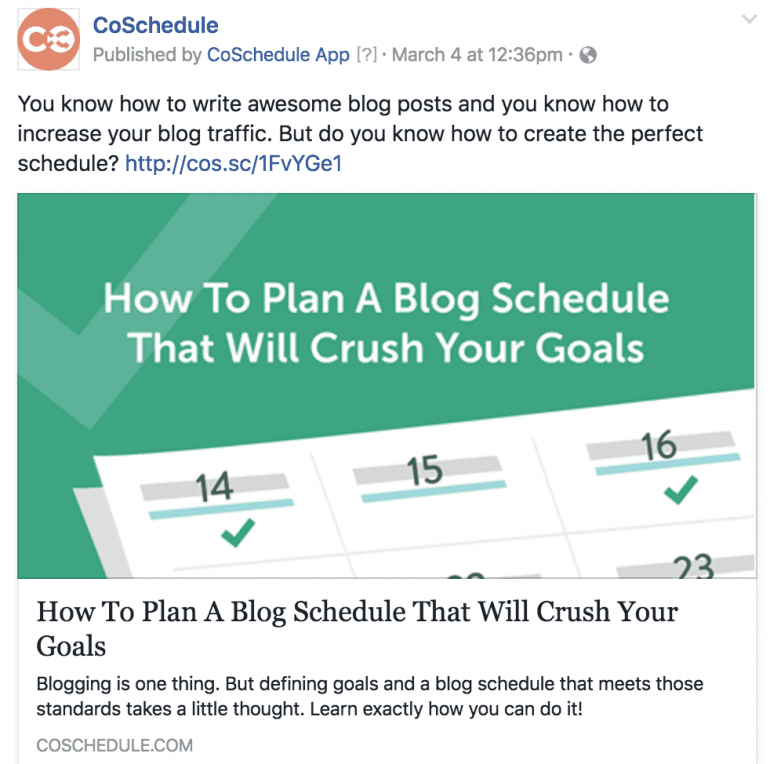 Be sure the content you're writing for your business blog is valuable and will connect with your audience. The best way to do this is by writing actionable content such as "How to" posts.
2. Posts Showing Your Company's Culture
What better way to showcase your business then by sharing a culture post?
A culture post is an image or article that highlights what your business is all about. It could be a behind-the-scenes image of your employees doing something quirky or an article about how your business does something a certain way.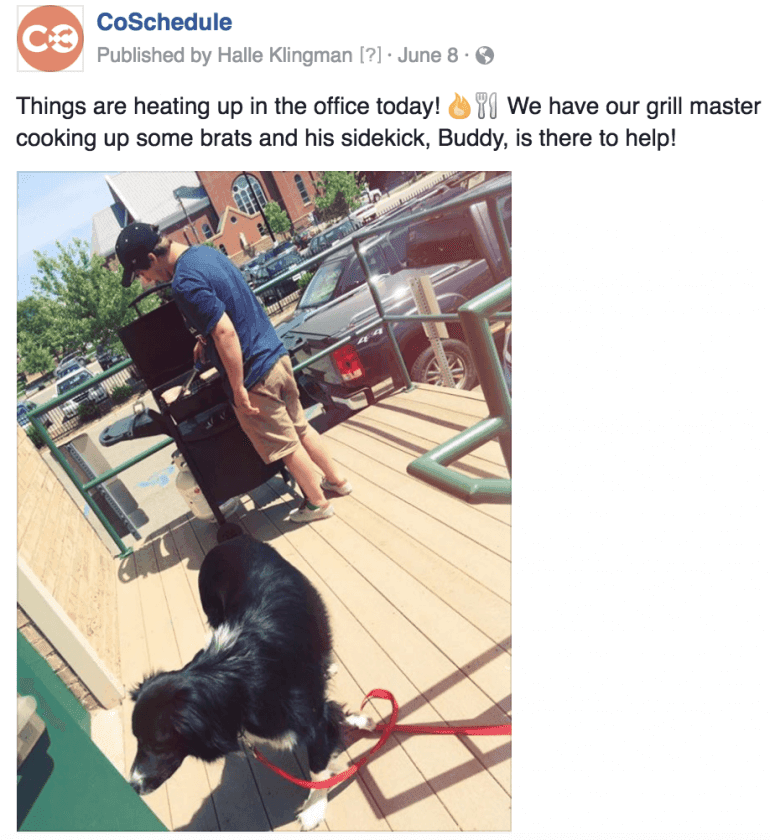 3. Industry News
In raw numbers, news articles get more social shares than any other type of article.
Most businesses that produce content are focusing on deep long form content rather than as-it-happens breaking news.
Create a list of news sources in your industry. This could include trade publications or websites. Then, find those sources on Twitter and follow them. When they share something interesting, retweet it to your followers (or share it on another social network, like Facebook or Google+).
4. Curated Content
Content curation is simply sharing the content of others in your niche. Sometimes the things you want to share with your audience have already been written. So rather than spending the time crafting an in-depth post, you can quickly share one that's already been written (by giving them credit of course.)
At CoSchedule, we use our handy-dandy Chrome Extension tool to help with our content curation. Here's an example of a post we shared from Social Media Examiner: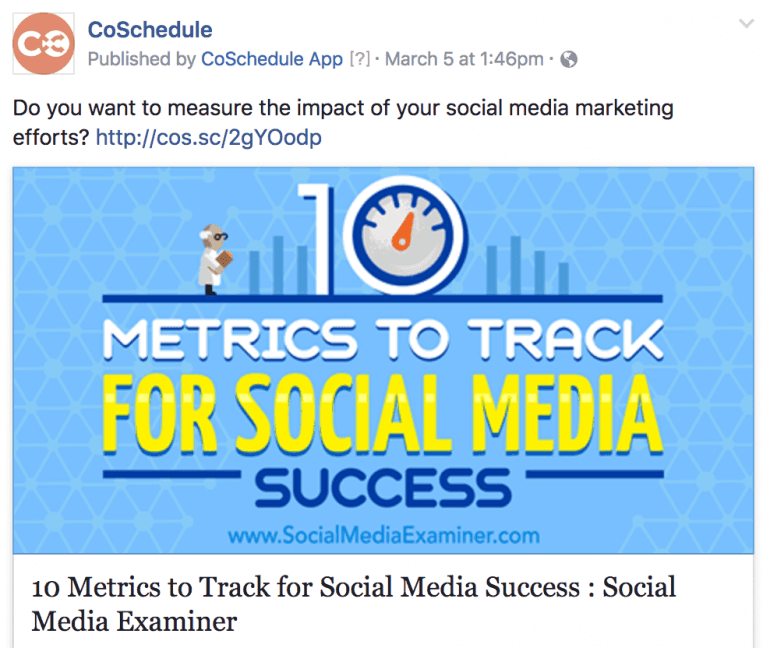 5. Question Posts
Not everything you share on social media has to be a blog post or article. Get your audience talking and engaging with one another by asking a burning question. For example, you could ask "What sort of content should I blog about next?" It's the best way to know what your audience really wants to read.
Asking a fun question or creating a Twitter poll is a good way to get your audiences' insights.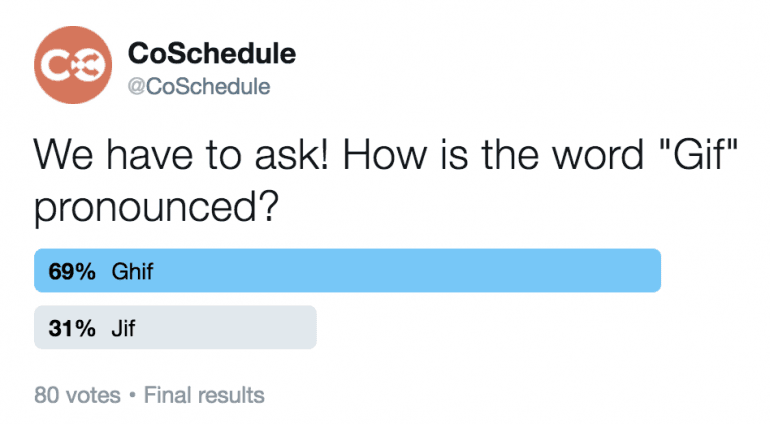 6. Product/Company Videos
Visuals are eye-catching when your audience is scrolling through their news feed. It's been proven time and time again that visuals help improve engagement, but what about videos?
Research shows that videos have a 135% greater organic reach compared to photos. That's a crazy high number.
Take advantage of this organic reach opportunity by sharing videos about your company or a new product you have.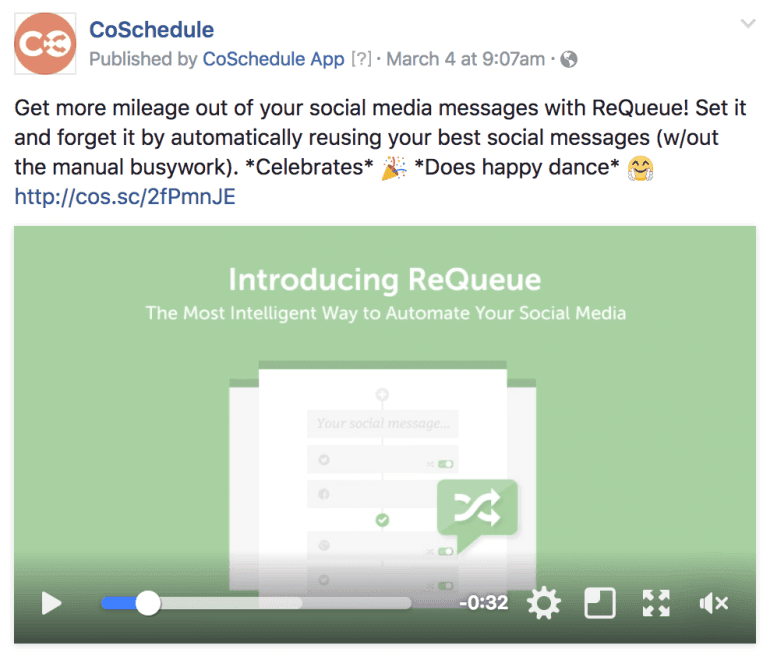 7. Customer Reviews And Testimonials
Does your company have dedicated fans!? Let their voices be heard and share their thoughts on your social media.
You can do this by retweeting their kind words or creating a graphic with their testimonial directly on it. Don't forget to include their name/handle!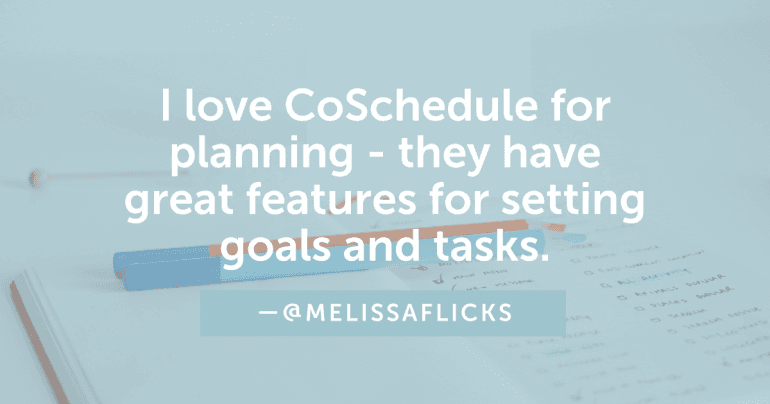 8. Quick Tips And Advice
Aside from sharing an entire 'How to" post giving in-depth tips and advice, you can share a few tips that you think are the MOST important.
Sharing a simple tidbit is an easy way to share valuable information with your audience.
Here at CoSchedule, we call them "Pro Tips."

9. Memes or GIFs
Aside from sharing images to your social media, you can use memes and GIFs when publishing your content. This adds a fun spin to your plain post and will be too irresistible for your audience to scroll past.
"GIFs are a great way to showcase your brand's personality, stay trendy, and have fun" -HeyOrca.
Memes and GIFs are becoming extremely popular among top companies. At CoSchedule, we've recently started using memes and GIFs on Twitter and have found that they receive far more likes and retweets than regular images.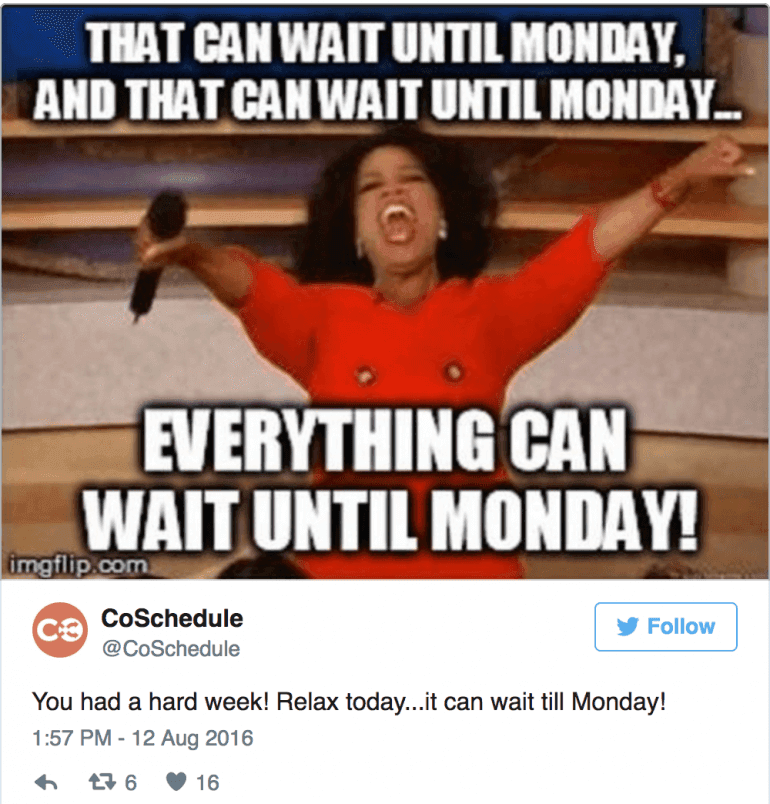 Just remember to keep the meme or GIF relevant to your company and audience!
10. Contest Posts
Encouraging people to participate in a social media contest that is related to your brand will boost engagement with those who are already followers and can help you increase subscribers by requiring those that don't follow or like your page yet to do so in order to participate.
Be clear about your objectives and exactly how you want your audience to participate for the best outcome. Define easy, simple rules before you launch your contest.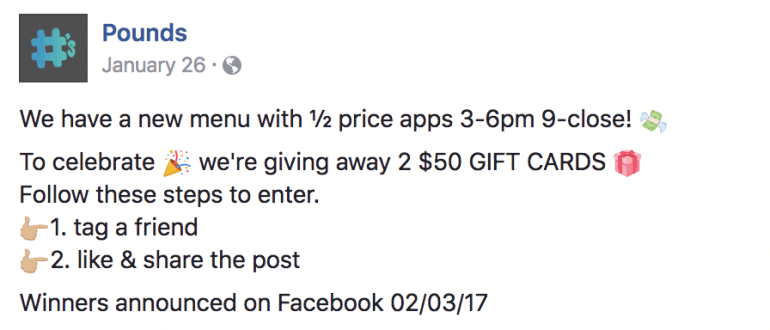 11. Holiday Posts
No matter where you live, holidays are a big deal. Show your holiday spirit by sharing a holiday related post on your business page.
Whether it be an image, video or article your audience will appreciate that your business has real people that also get excited about holidays!
Starbucks is known for getting exceptionally excited during Christmas season: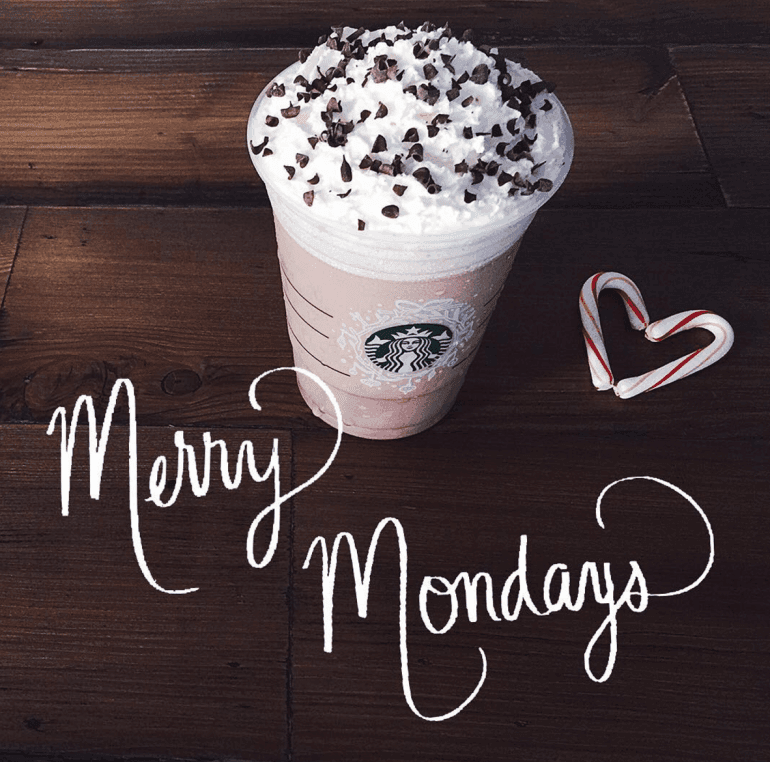 12. Photos From Company Events
We discussed sharing culture posts that showcase your company's personality, but you can take that a step further by sharing photos from a company event.
If your business hosts a charity event or fundraiser, a great way to spread awareness is by sharing it on social media.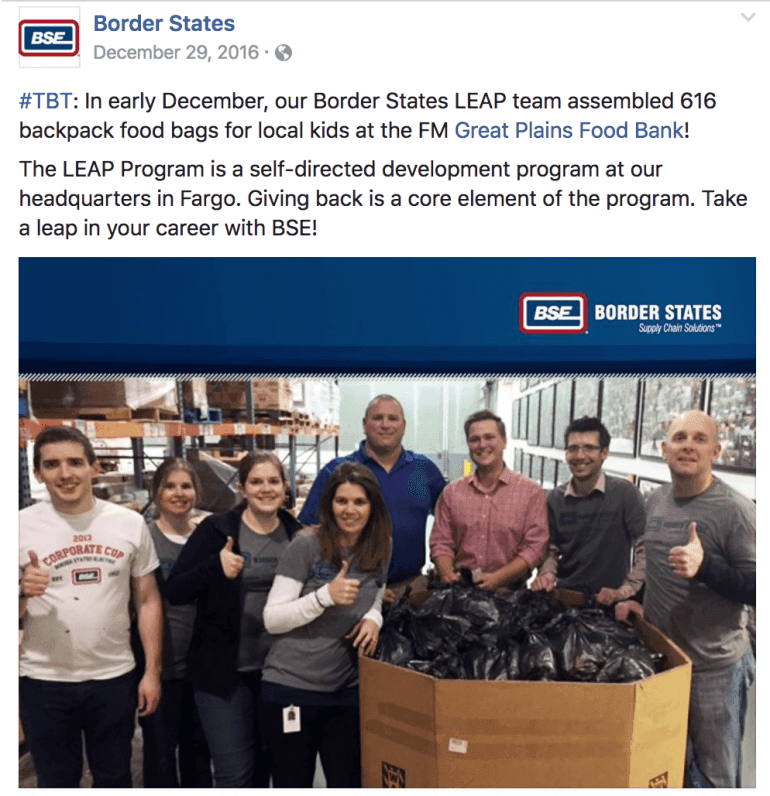 13. Post An Answer To A Commonly Asked Question
Are you receiving the same question over and over again from your audience?
Instead of constantly responding to this question one by one, solve it once and for all by sharing a post with the answer.
Make sure to "pin" the answer to the top of your social media page so that your audience can easily see it. Here's how to pin posts on Facebook and on Twitter.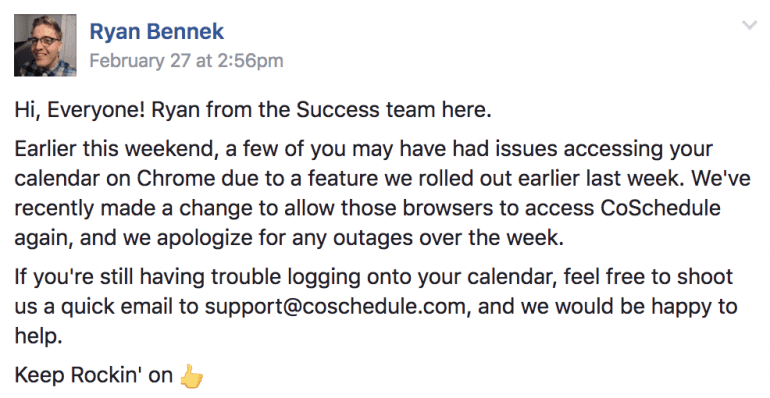 14. Share Infographics
Infographics are a fantastic way to show a step-by-step guide, especially on Pinterest. (Hello! DIY) Infographics allow you to share a ton of information with the use of visuals. They make boring statistics look appealing!
Whether it be your own or a curated infographic, your audience will be drawn to the visual aspect and be sure to keep reading.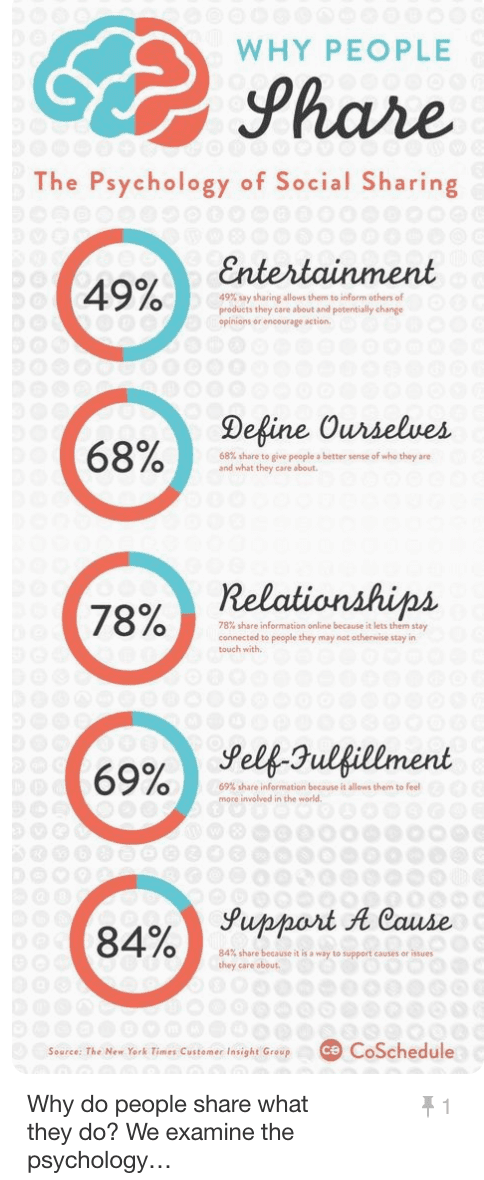 15. Start A Conversation With A Leader In Your Industry
Cross-promote yourself by getting your name out there, the best way to do this is to start a conversation with somebody in your niche.
Twitter is a great way to start up a conversation that your audience will see. Find an industry leader's Twitter handle and make the first move!
16. Links To Free Resources
Who doesn't love free stuff!? Whether it be ebooks, white papers, or other downloadable content, your audience will appreciate the free resources.
Put together a content bundle, or a downloadable infographic so your audience can use it for reference.
(Psst! You can get all of our bundles for FREE here!)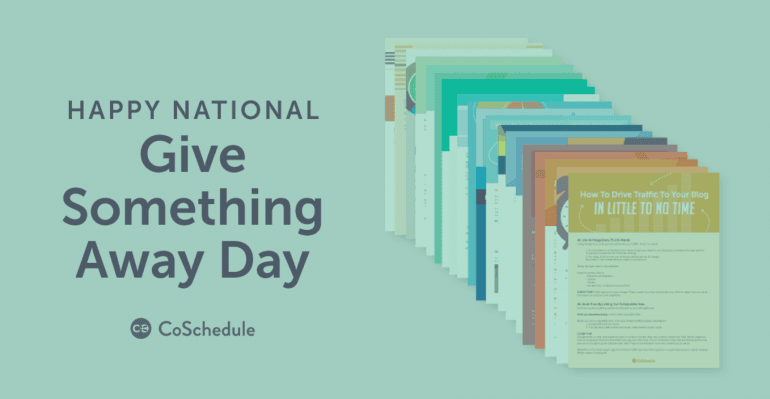 17. Podcast Episodes
Sometimes reading content can be time-consuming, so give your audience's eyes a break and share a podcast episode. Or even better, start your own!
We recently started our own podcast and have had great success with it! We cover topics and challenges our audience faces.
If you decide to start your own podcast, check out this post to help get you started.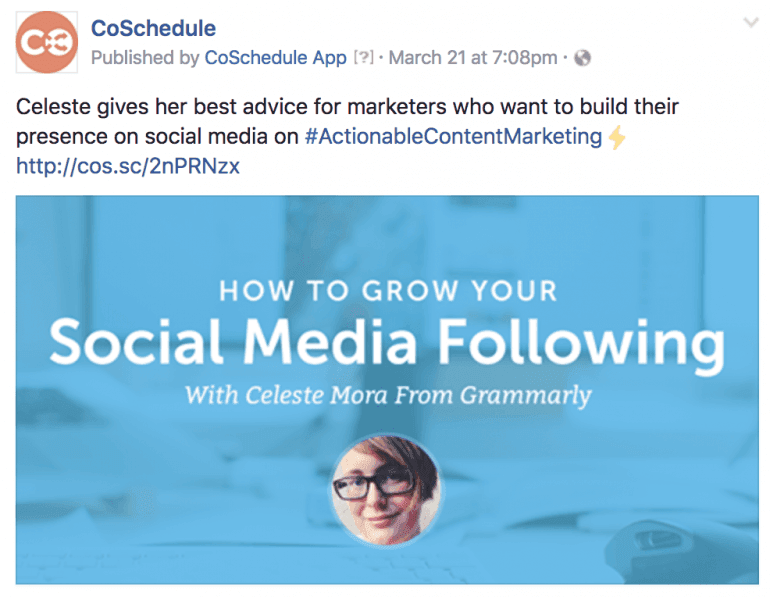 18. New Job Listings
Is your team expanding? Let your audience know! Who better to work for your company than a dedicated fan who's watched your company grow? Or maybe they have a friend who would be interested in working for you.
Be sure to list what positions are open like Spotlight Media does in this example: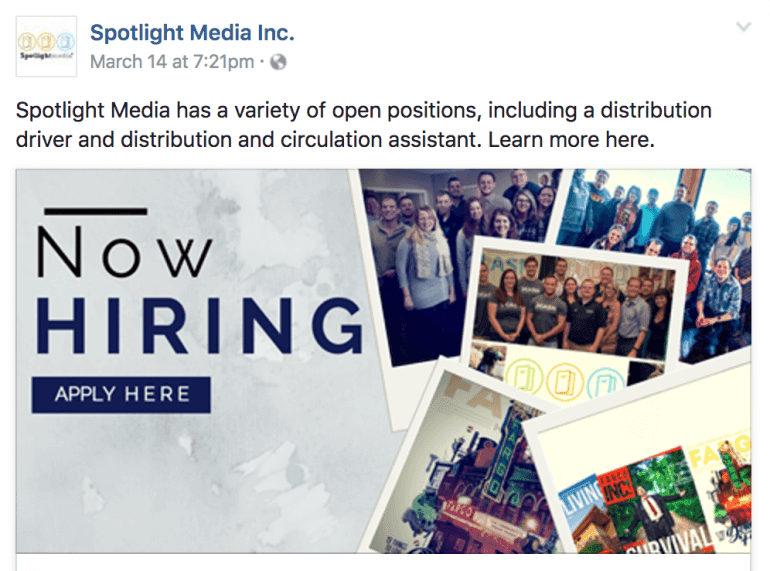 19. Hiring Announcements And New Team Members
After posting your job listing, you're likely going to find the right candidate. Once you've found the right candidate(s), take it a step further and show them off to your audience! Let everyone know that you're excited to have them be part of your team 🤗.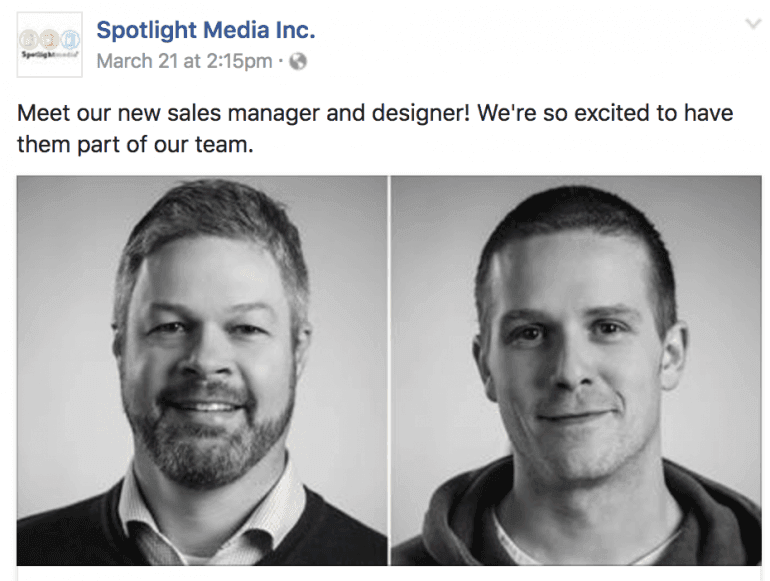 20. "On This Day In History" Posts
The Huffington Post shares "on this day in history" articles everyday. Take this approach and use it in your own social media strategy. Find something interesting that happened in your town or city and let your audience know!
You can also share "National Day" posts. Check out NationalCalendarDay.com to find things like National Coffee Day (and tons of other days you probably never knew existed), and create some posts for ones relevant to that day.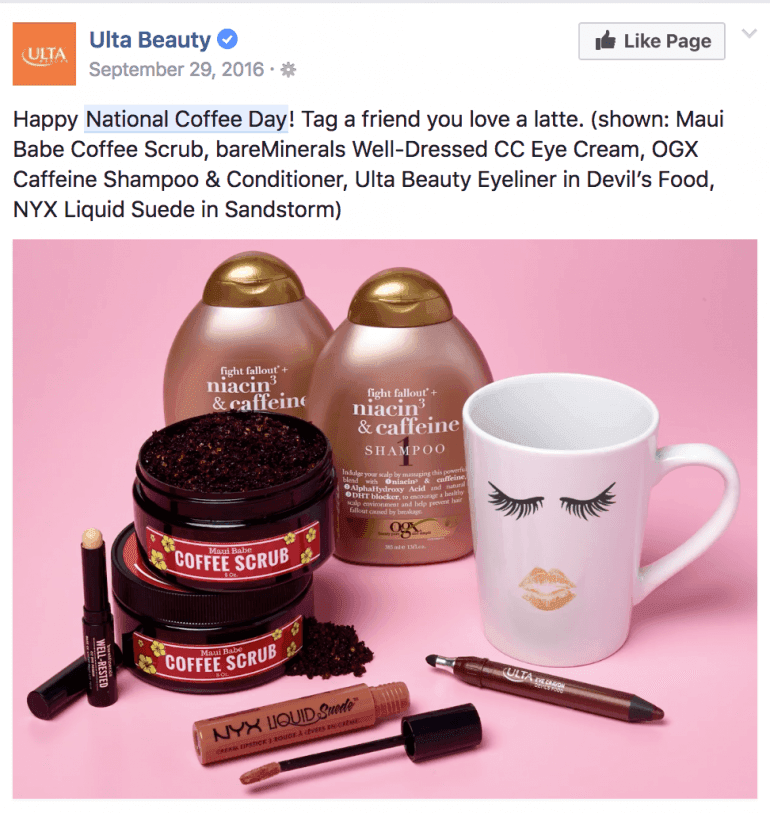 21. Event Promotion
If an event happens and nobody hears about it, did it really happen?
You can create an Event Page on Facebook to make your event feel more personable to your audience. Then promote the heck out of it on your social media channels!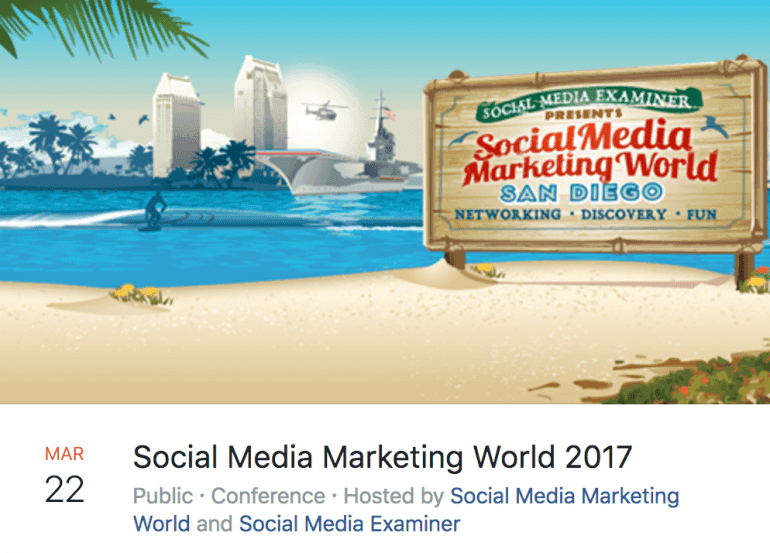 22. Live Videos
Live videos have become huuuuge on social media recently. Facebook, Twitter, Instagram AND Snapchat have options for going live. Find the right platform that works best for you and where you will get the most views from your audience.
Try to make it a weekly video. For instance "Tip Tuesday" or "Fun Fact Friday." This way your audience will be sure to tune in on those days.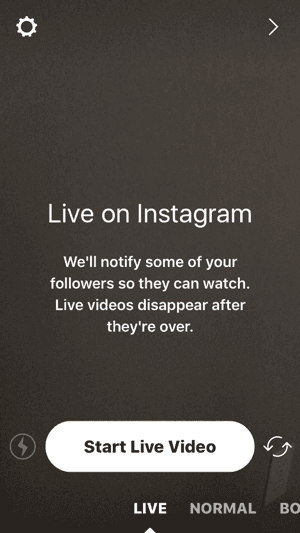 23. Promote Sign-Ups
If you want your audience to attend a webinar or demo (surprise!) you'll need to let them know by promoting the sign-up link on social media. Promote signup forms for webinars, demos, email newsletters, and so forth.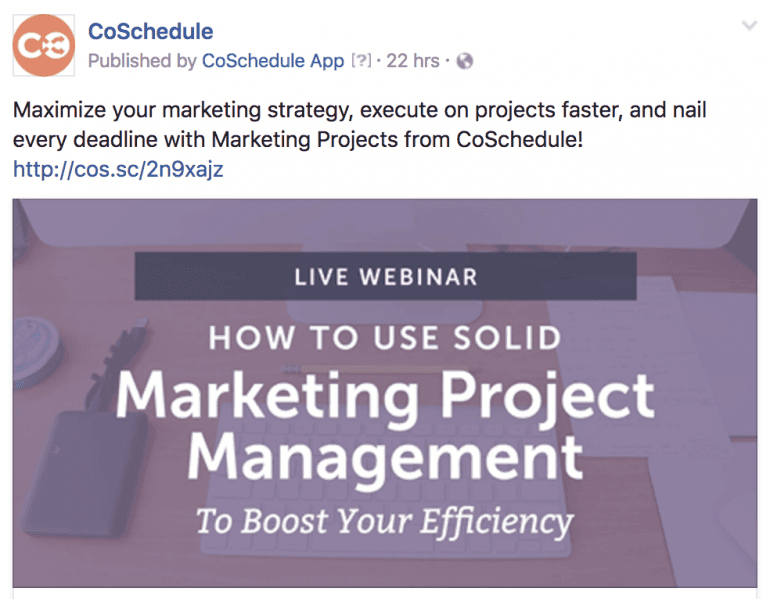 24. Image Scrambles
You'll have your audience scratching their heads in no time when you post image scrambles. Image scrambles can be posts where an image is scrambled up or zoomed in so your audience has to guess what it is.
This is a great way to get engagement from your audience.
What is this a picture of?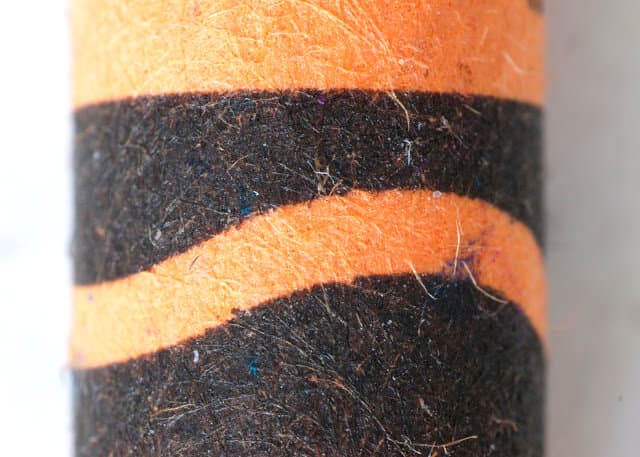 Answer: It's an orange crayon!
25. Inspirational Quotes
Okay, I know. Inspirational quotes can be cheesy, but if done correctly they can be effective. At CoSchedule, we use quotes from industry leaders that we know our audience will relate too.
Find quotes from leaders in your industry or testimonials from your audience that will resonate with your target audience.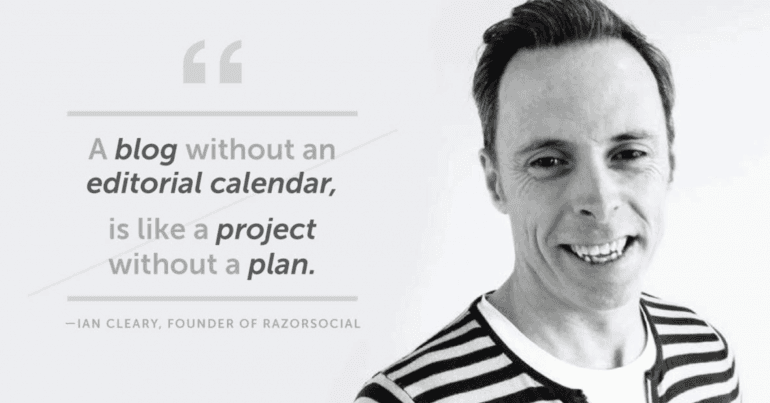 26. Company Accomplishments
Believe it or not, your audience cares about you and they want to see you succeed. Share your successes with them on social media and celebrate together!
Whether it be awards you've won, reaching a certain number of customers, etc. let your audience know!
27. Host A Twitter Chat
What is a Twitter chat? It's a conversation around one unique hashtag. This hashtag allows you to follow the discussion and participate in it. Twitter chats are usually recurring and on specific topics to regularly connect people with these interests.
When hosting your own:
Decide on a clear and brief hashtag that represents your brand.
Choose a day and time that you can consistently hold Twitter chats.
Come up with an appropriate topic and questions.
Plan and promote your chat via Twitter.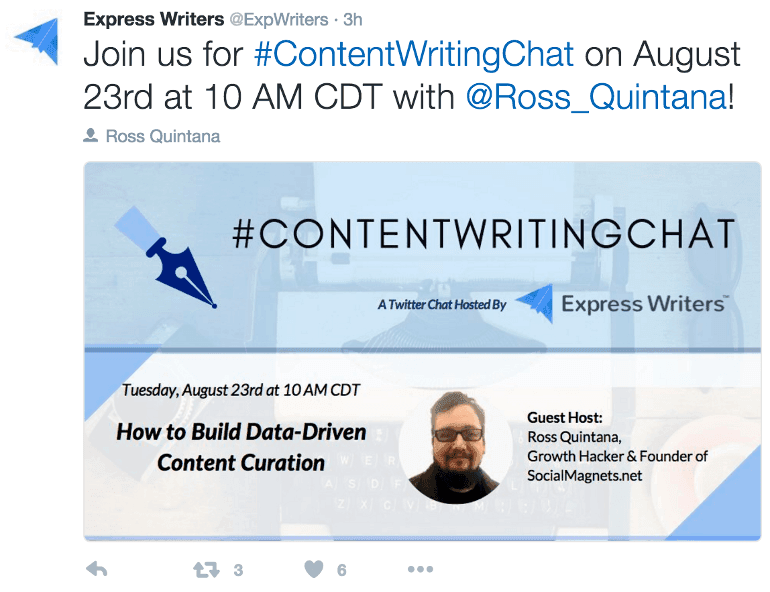 28. Ask For Customer Feedback
Not sure how your audience will respond to a new feature, event, or your next post? Find out how they will respond before it happens by getting customer feedback.
"Would you be interested in a social media event?"
"Would you like if we created a custom label feature?"
"Would you like if we wrote a blog post about email marketing?"
You can even do this via Twitter poll to get your answer.
29. How-To Videos
Aside from going live, you can create simple and short how-to videos explaining how a feature or tool works. These videos will give your audience an inside look and make them more likely to try out your tool after seeing how it works.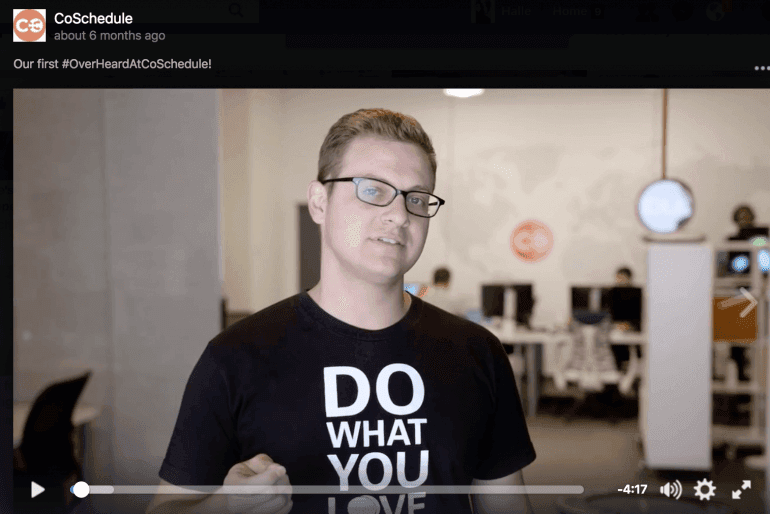 30. Product Reviews
User reviews are proven sales drivers, and something the majority of customers will want to see before deciding to make a purchase. Many people read online reviews before deciding to buy something (I'm guilty of this too!)
This is a great tactic if you're working in e-commerce. Try sharing reviews of products you carry.
Or, you could review a tool that your company uses or integrates with to help drive sales.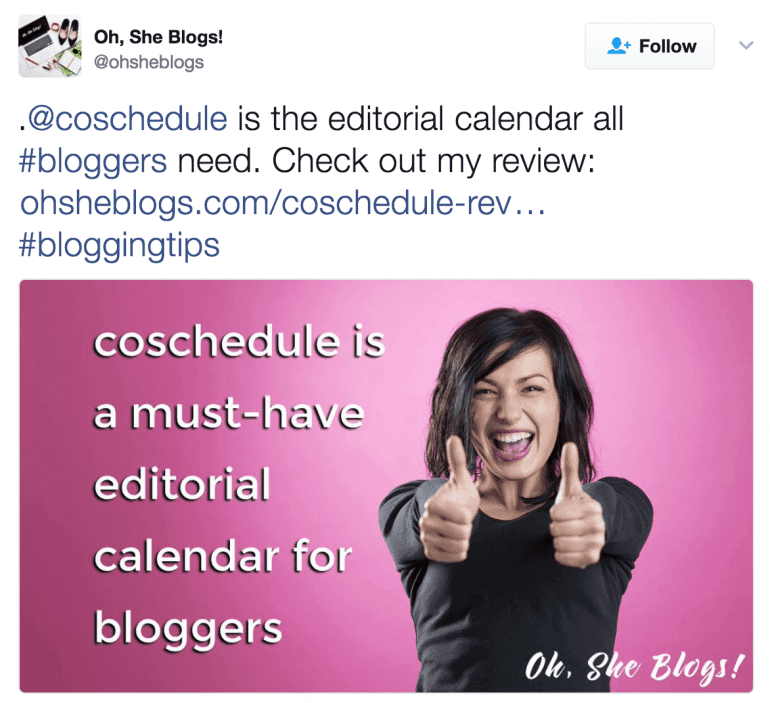 31. Images Or Videos Of Your Product
The best way to show how something works is through visual representations. You would never buy a car without test-driving it first, just like you wouldn't buy an online tool or product without seeing how it works first.
Give your audience a firsthand look at how your product works, and maybe even throw in a cool tip they might not know if they didn't see the image or video.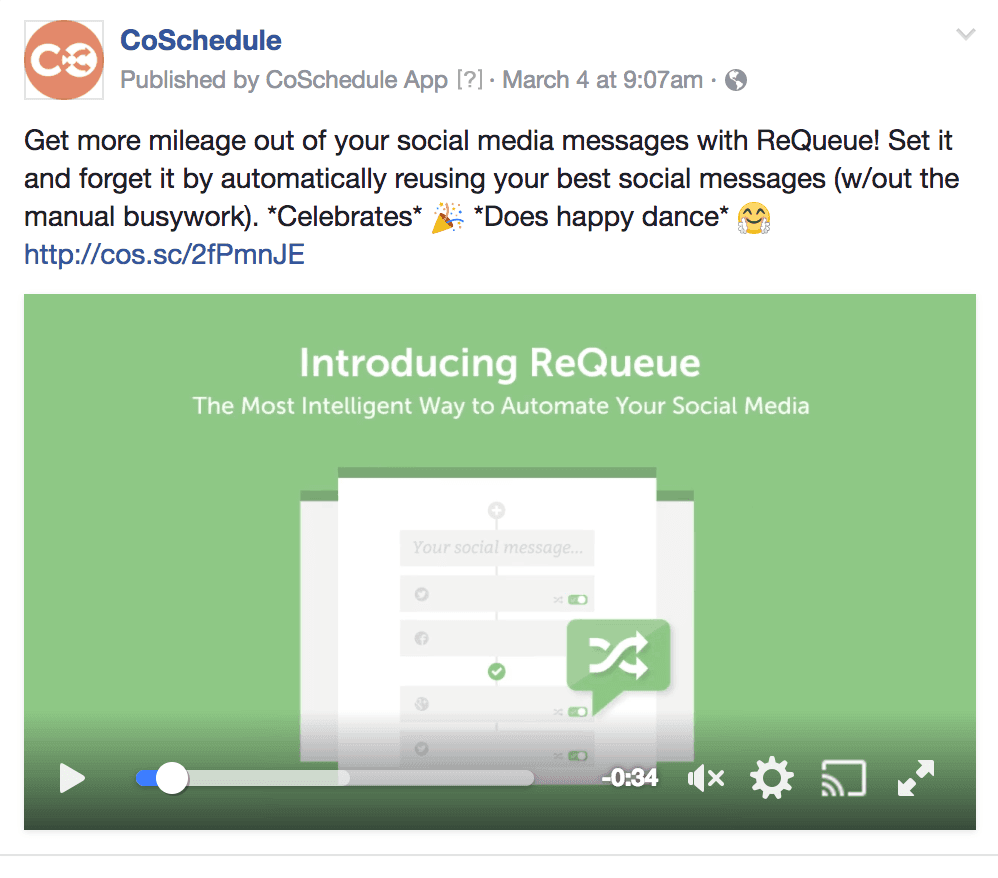 32. Twitter Q&A Sessions
Sure you could do a Twitter chat, but your topic has to be relevant PLUS there's a great deal of planning involved. By simply hosting a Twitter Q&A session, this allows your audience to ask a variety of questions. Your audience can finally get their burning questions answered and you can interact with your audience in a new way.
Check out this post from Passion Digital on how to host a Q&A session.
33. Spotify Playlists
If you want to share music or whole playlists with friends, posting a Spotify playlist is the way to go. Sharing music with friends is a time-honored way to discover new bands, talk over your music tastes, and learn a bit more about the bands that you love.
Spotify has fun and useful playlist sharing features. You or a friend can build a playlist packed with your own music or music you've discovered through Spotify's massive music library, and you have the option of sharing that playlist directly with others by passing around the playlist URL or Spotify link. Let your audience know what you're listening to and get them inspired!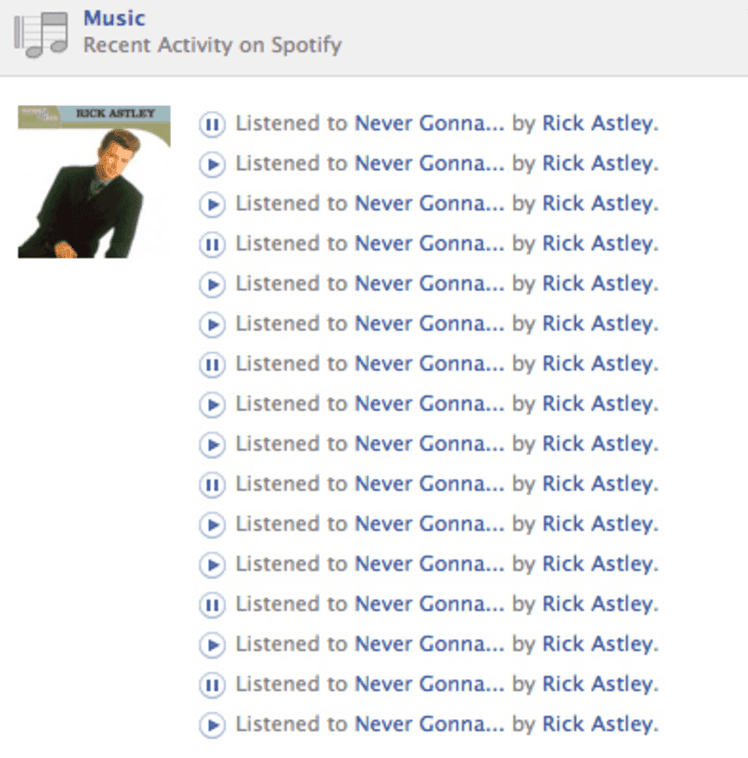 34. User-Generated Content
We know you have super fans out there! Don't be afraid to show them off by posting fan-worthy content.
Here at CoSchedule we send out 'swag' to those that grab our attention on social media or leave killer product reviews. Those people often share pictures of themselves decked out in our swag, and it's so awesome to see!
I LOVE my new Coschedule swag. Thanks, @CoSchedule! #happybirthdaytome pic.twitter.com/JNkXCvhs41

— Amanda Huggett (@AmandaHuggett) October 10, 2016
If a fan shares anything noteworthy about your company, give it a share!
35. Posts Showing Off Your Company History
Has your company been around longer than microwave popcorn? Then you have some history to share! It's always fun to see how far a business has come and where they started. Sharing a quick tidbit or piece of history is sure to intrigue your viewers.
At CoSchedule, we are a start-up company, which means we're constantly changing and evolving (and even getting a new space!)
New office decor arrived at @CoSchedule today!
Thanks @jnhartford 😊 pic.twitter.com/UpvrgfznpH

— Ashton Hauff (@ashtonhauff) March 23, 2017
36. Company News Announcements
Speaking of sharing your history and getting a new space, let your audience be in the loop! Getting a new space? Launching a new product? Just have big news in general? What better way to get the word out than by sharing the news with the people who care.
Make it fun and make it big! Get your audience as hyped about the news as you are.
What Will You Post On Social Media?
Phew! That was quite the list we ran through. Hopefully, you can implement these tactics into your own social media strategy, but those aren't all the things you can share with your audience.
Do you have something you like to share on social media? Let us know down in the comments!
April 12, 2017