The Best Social Media Image Sizes Guide For Marketers 72
Headline Analyzer
The blog post headline analyzer will score your overall headline quality and rate its ability to result in social shares, increased traffic, and SEO value.
Test every headline before you publish. Try the Headline Analyzer »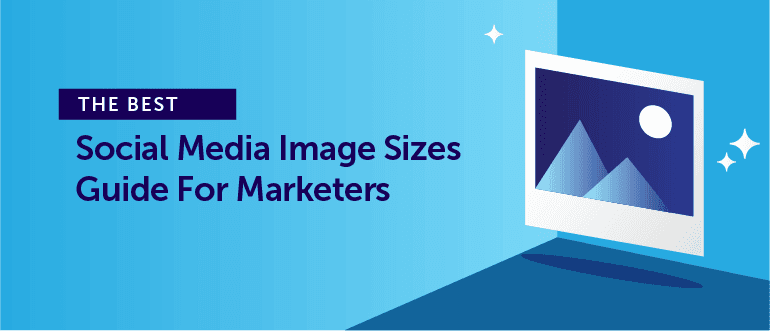 Social media image sizes change from time to time.
If you're not constantly paying attention, you might inadvertently ask a designer to create an image that doesn't use proper dimensions.
That leads to posts that look, well, weird.
Plus, with multiple post and content formats on several different networks, keeping tracking of everything in your head can quickly become impossible.
Fear weird posts no more. With this complete and updated bookmarkable resource, you can easily find the best dimensions for every post and visual element you need on each major social channel.
In addition, this post will also explore:
The best tools for creating social media visual content

. Even if you don't have access to a designer, you can still create great graphics.

Max file sizes for video content

. Along with static images, video is only getting more important on social media.

Examples of what different types of social posts and images look like

. Don't worry if there are any profile elements or post image types you haven't heard of. You're about to be an expert.
Download 100+ Free Images You Can Use on Social Media
You're busy, stock photography is expensive, and you want high-quality social media images. Here's 100+ royalty-free photos and images you can use to create your own posts (along with a free Photoshop CC action to make resizing them easy). Plus, an included social media calendar template will make it easy to plan every post before you publish.
TL;DR: The Complete List of Social Media Image Sizes
Just looking for some quick answers? No worries. Here's the full list of dimensions this post will cover (all dimensions listed by pixels):
Facebook
Profile Photo:

180 x 180

Profile Photo Thumbnail (Across Facebook)

: 32 x 32

Cover Photo:

820 x 312

Newsfeed Post:

1,200 x 630

Milestone:

1,200 x 717

Shared Link

: 1,200 x 627

Shared Images:

1,200 x 630

Highlighted Images

: 1,200 x 717

Event Image:

1920 x 1080
Instagram
Profile Image

: 110 x 110

Page Thumbnails

: 161 x 161

Image Posts

: 1080 x 1080

Stories

: 1080 x 1920
Pinterest
Profile Image

: 165 x 165

Pins

: 236 px.

Expanded Pins

: 600 px.

Board Display

: 222 x 150
Twitter
Profile Image

: 400 x 400

Twitter Header Image

: 1,500 x 500 (3,000 x 1,000 may display better)

Background Image

: 1,920 x 1,200

In-stream Tweet Photo

: 440 x 220 (minimum)

GIFs

: 1280 x 1080 (recommended)
LinkedIn
Company Logo

: 300 x 300

Cover Image

: 1536 x 768

Overview Tab

: 1536 x 768

Hero Image

: 1128 x 376

Custom Modules

: 502 x 282

Company Photos

: 900 x 600
Google+
Profile Image

: 250x250

Cover

: 1,080x608

Maximum Image Size:

2120x1192
Tumblr
Profile Image

: 128x128

Posts

: 500x700

Image Size Limit

: 1280x1920
The Full List of Supported Image File Types and Sizes (By Network)
In addition to understanding the best dimensions for social media images pixel-wise, it's also important to know which file types are supported, and how large they can be. Follow this easy chart:
Facebook
Supported Image File Types

: JPG, PNG, and GIF.

Maximum Dimensions

: 2048 by 2048 pixels.

File Sizes

: Less than 100 KB is recommended for cover photos. No apparent limit on news feed posts.
Instagram
Supported Image File Types

: JPG, PNG.

Maximum Dimensions

: 2048 by 2048 pixels.
Twitter
Supported Image File Types

: JPG, PNG, GIF, WEBP.

File Sizes

: 5 MB or less for static images. 15 MB or less for GIFs.

Number of Frames (GIF)

: 350 or less.
Pinterest
Supported Image File Types

: JPG, PNG, GIF.

File Size

: No apparent limit.
LinkedIn
Supported File Types for SlideShare

: PDF, ODP, PPT, DOC, RTF, ODT, TXT.

SlideShare File Size Limit

: 300MB.

Supported Image File Types on LinkedIn

: JPG, PNG, GIF (static).

Image File Size Limit for Pulse Articles

: 10MB.

Logo

: 4MB.

Banner / Hero Image

: 2MB.
Google Plus
Supported Image File Types

: JPG, PNG, GIF.
Tumblr
Supported Image File Types

: JPG, PNG, GIF. Must be RGB (not CMYK).

Static Image File Limit

: 20MB for static images.

GIF File Limit

: 3MB.
YouTube
Channel Profile Images

: JPG, PNG, BMP, GIF.
The Complete Visual Guide to Social Media Image Sizes
Here are all the most important sizes and dimensions you need to know, presented in one infographic:

Why Does Any of This Matter?
That's a fair question that can be answered in two parts:
Using sub-optimal image sizes looks bad

. You put too much work into social media marketing to get sloppy.

Not knowing acceptable file types and sizes can lead to frustration

. Not to mention time wasted trying to get files down to size.
Time saved equals greater opportunity for more productivity.

Facebook Image Sizes
Facebook has been embattled in a number of recent controversies. It has also been getting harder to generate organic reach on the platform over the past few years. But, with 2.19 billion active users, it'd be foolhardy for any company to ignore it. Make sure you're representing your brand well by following these image guidelines.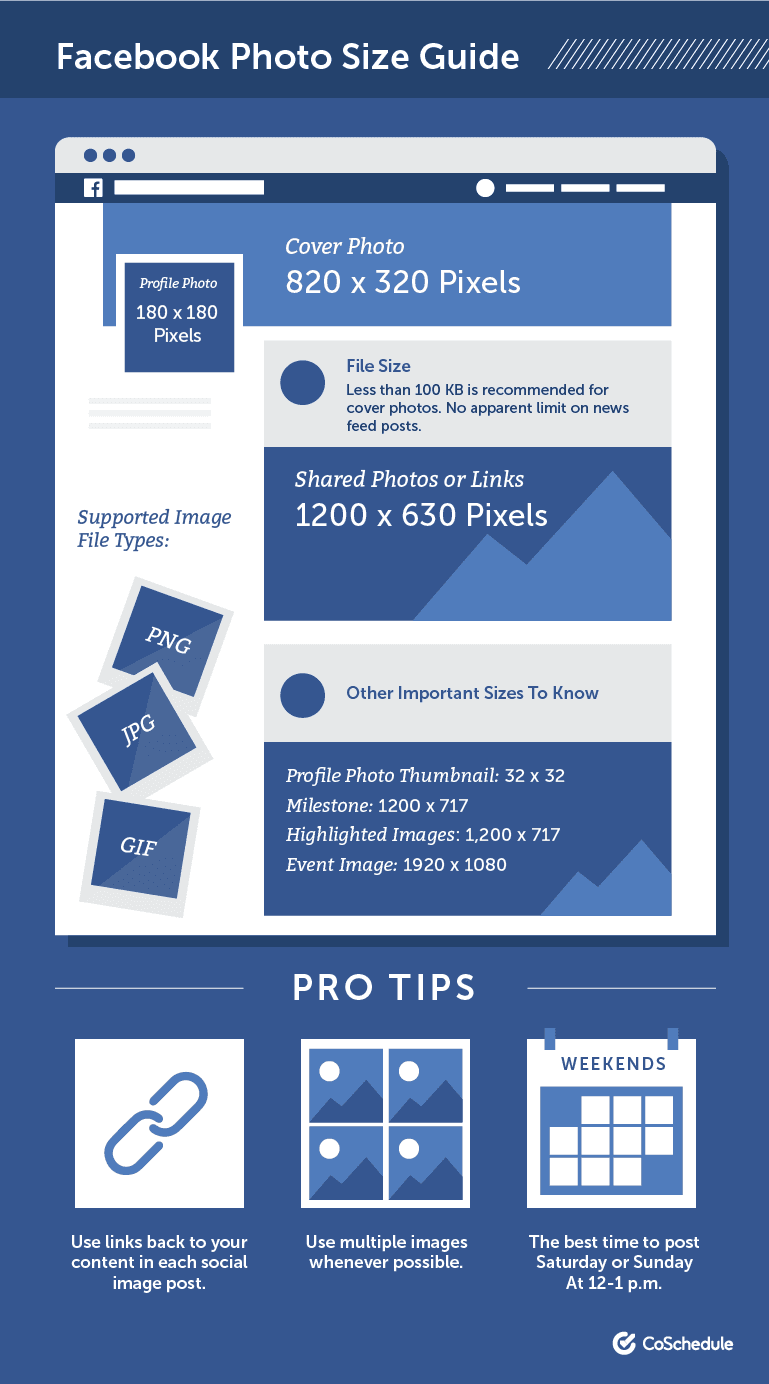 Profile Photo Dimensions: 180 by 180 Pixels
In most cases, the best option for a business page profile photo is your logo. If you're a solo consultant, you might also consider a headshot. But, like we said, logos are always a good idea.
Facebook Cover Photo Size: 820 by 312 Pixels
Your cover photo offers lots of visual real estate to communicate what your brand is all about. For example, the CoSchedule cover image clearly displays the company's mission: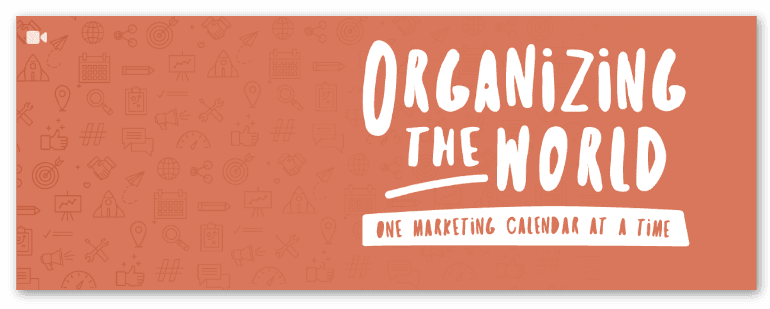 Rather than a static image, you might opt for a cover video, like this example from Red Bull:
Posted by Red Bull on Thursday, May 3, 2018
Shared Images: 1,200 by 630 Pixels (Appears 470 Pixels Wide)
When an image is shared, it appears in the user's followers news feeds. It's recommended that they be uploaded at 1,200x630 px, although they'll appear smaller in news feeds. This is likely to ensure they look sharp and maintain quality resolution. The height of these images may vary.
Milestone Images: 1,200 x 717 Pixels
Milestones are an effective yet underappreciated aspect of Facebook business pages. For brands with rich history, they're a great way to show off how far your company has come, and what you've accomplished. Here's an example from Ford Motor Company: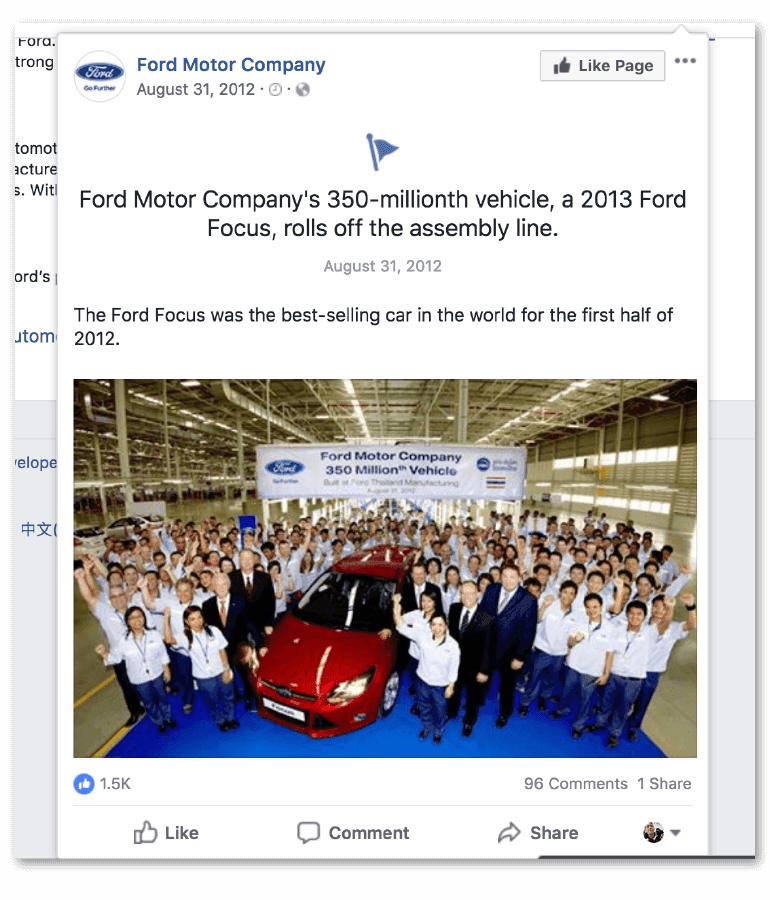 Event Images: 1920 by 1080 Pixels
Facebook events remain powerful for attracting audiences. While they appear smaller in news feeds and on actual event pages, they expand considerably when clicked (where captions can also provide more context). Here's an example:
Instagram Image Sizes
Instagram is all about strong visual content. And, as of September 2017, it had 800 million active users. That's a potentially enormous audience that might see your posts. So, make sure every post looks its best by following these image guidelines.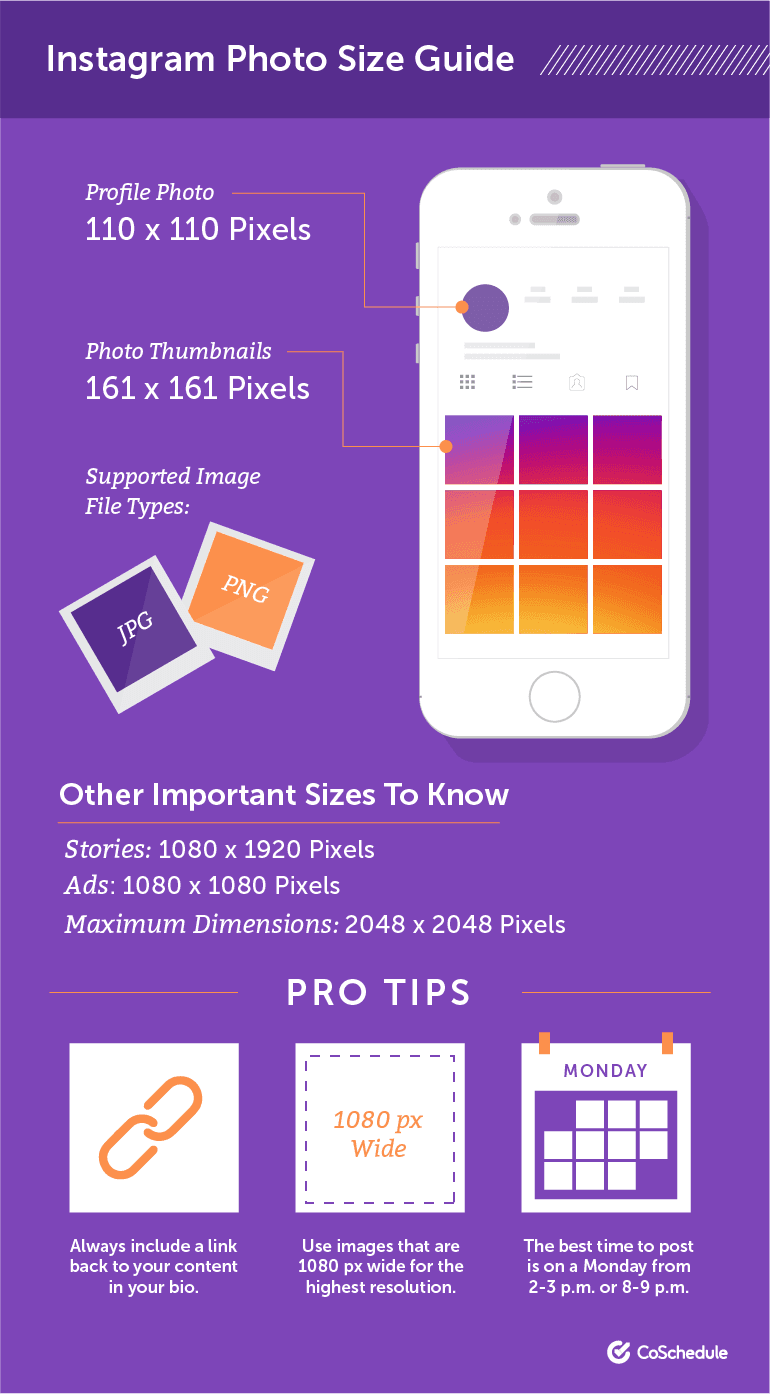 Profile Photo: 110 by 110 Pixels
Again, similar to Facebook, it's recommended to use your logo. No need to get too creative here. What could be more iconic than this example from Nike?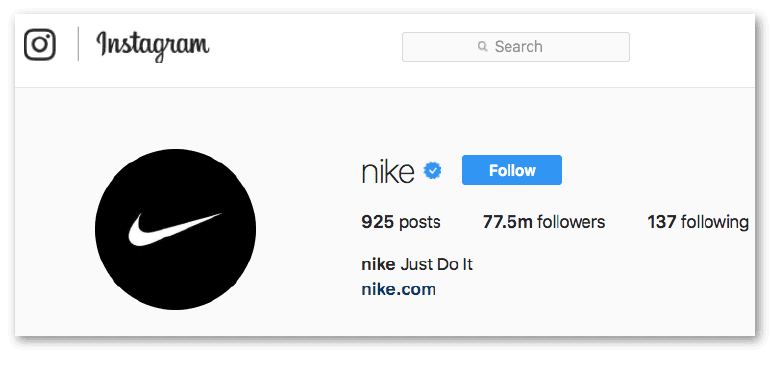 Profile Thumbnails: 161 by 161 Pixels
These are thumbnails for each post that appear on profiles. For context, here's what these look like on Red Bull's Instagram page: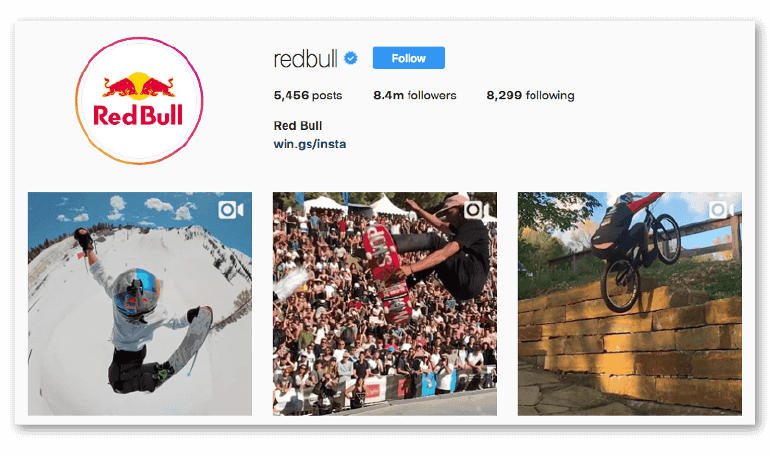 In-Feed Photos: 1080 by 1080 Pixels
So, what about actual Instagram posts? They appear as 1080 by 1080 squares. Here's an example from Mod Cloth:
Instagram Stories: 1920 x 1080
Instagram Stories appear taller than standard posts. Here's an example from Vans: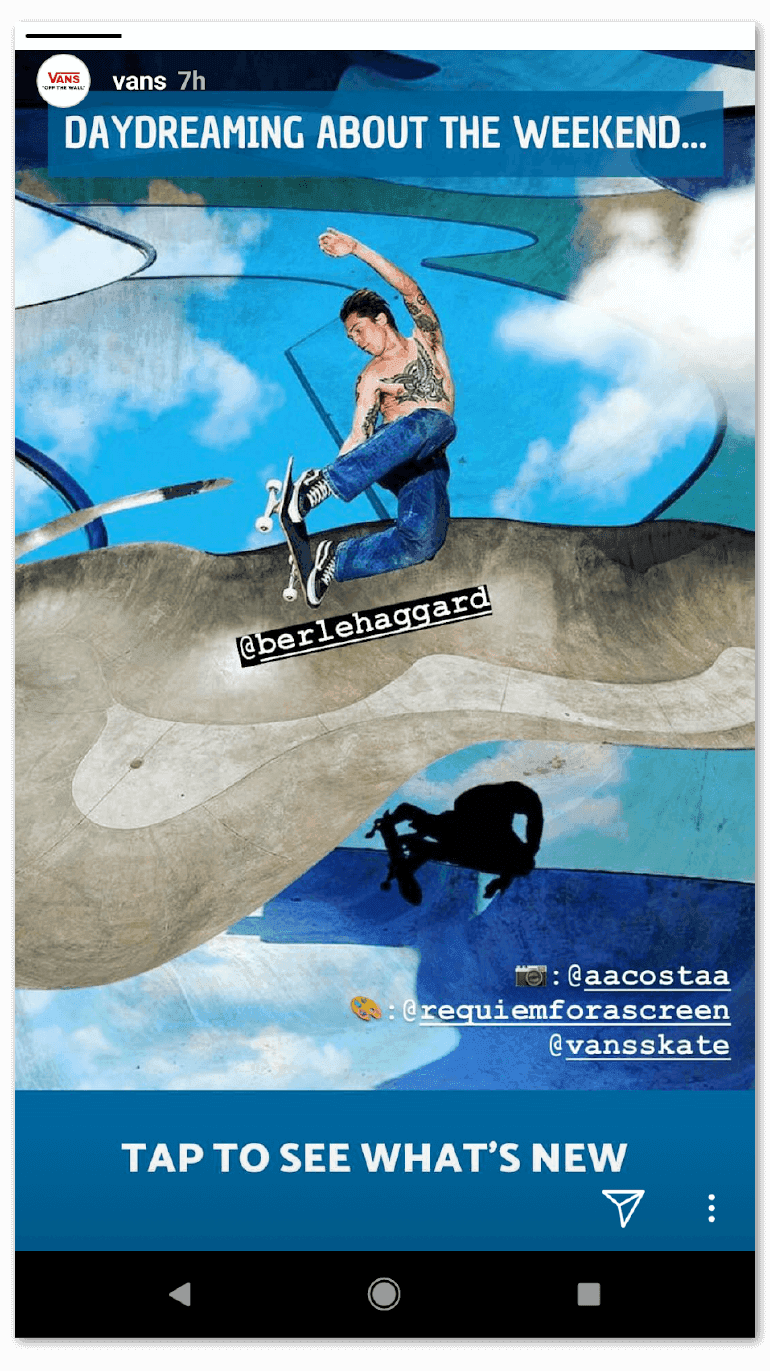 Back to the Top

Twitter Image Sizes
By the end of the first quarter of 2018, Twitter had 318 million monthly active users. That may not be as many as Facebook or Instagram, but it's nothing to overlook, either. Here's how to help make sure your Twitter presence looks its best.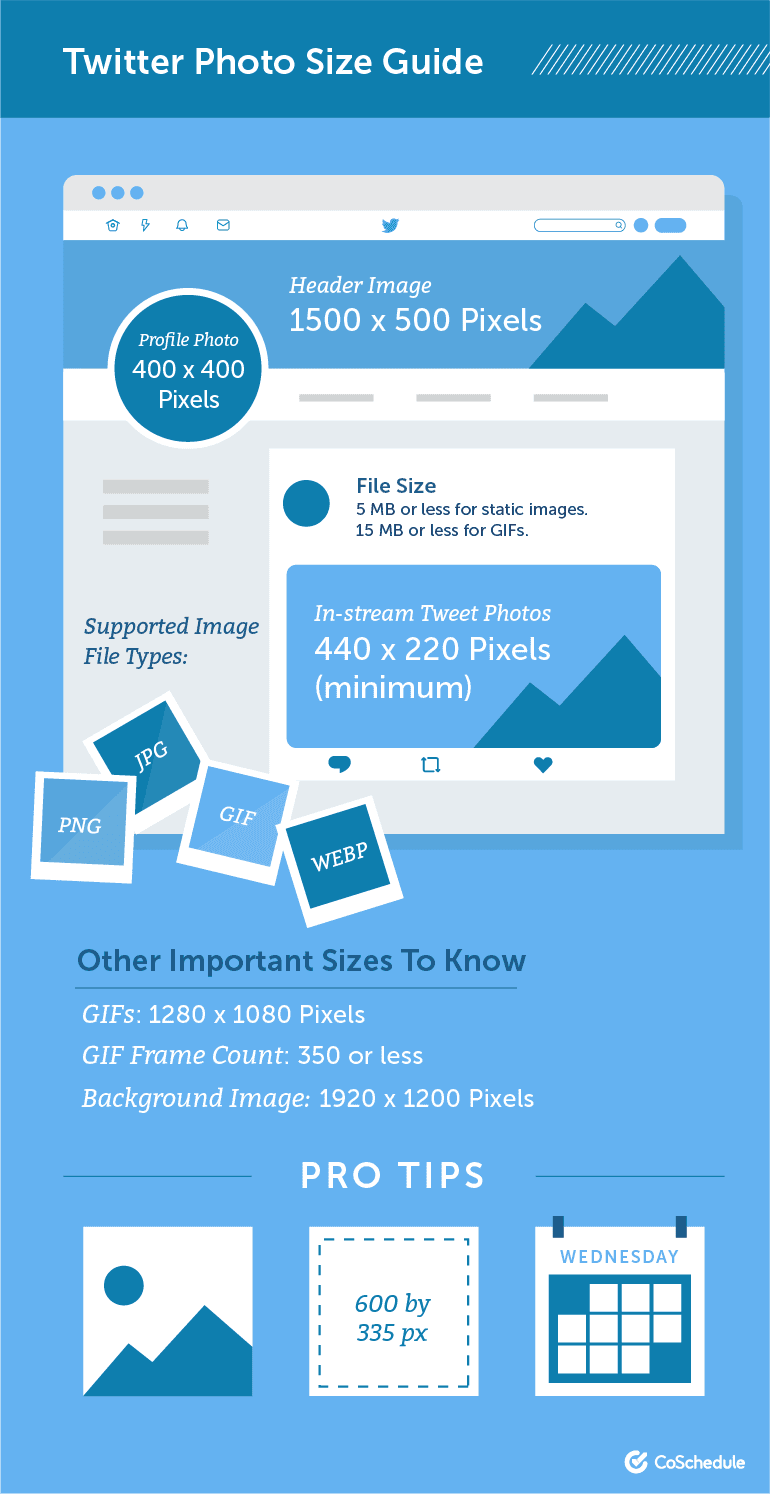 Twitter Profile Photos: 400 by 400 Pixels
You probably know what's coming next: for brands, logos are the way to go. Some exceptions might be logos for specific campaigns or events you're promoting. Here's a simple example from Casper, a brand that's mastered their Twitter copy (seriously, check them out if you haven't before):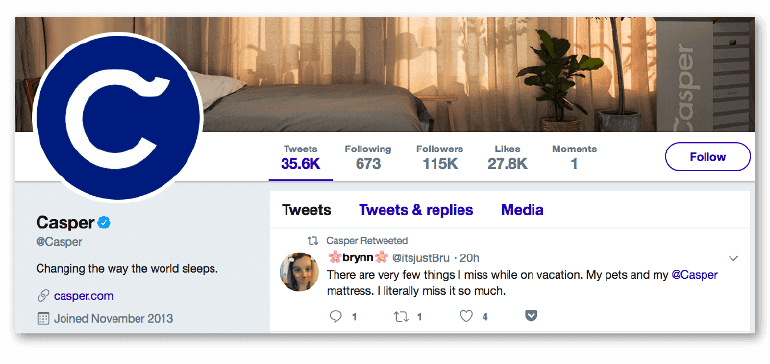 Ideal Twitter Header Size: 1,500 by 500 Pixels
Twitter headers are particularly wide. Striking photography and branding are key to make yours stand out, rather than be overlooked. They also offer plenty of room to promote new features or products. Here's an example from Stitcher:
In-feed Post Images: 440 by 220 Pixels (Minimum),
So, once your tweets are out in the open, what's the best image size? As long as they're 440 by 220 pixels, they should look okay (larger photos will scale down).
Back to the Top

LinkedIn Image Sizes
For professionals, LinkedIn is an invaluable networking and development tool. While it's sometimes overlooked, it reached 500 million users in April 2017. That's certainly nothing to sneeze at, and here's how to make sure you're making the best impression possible.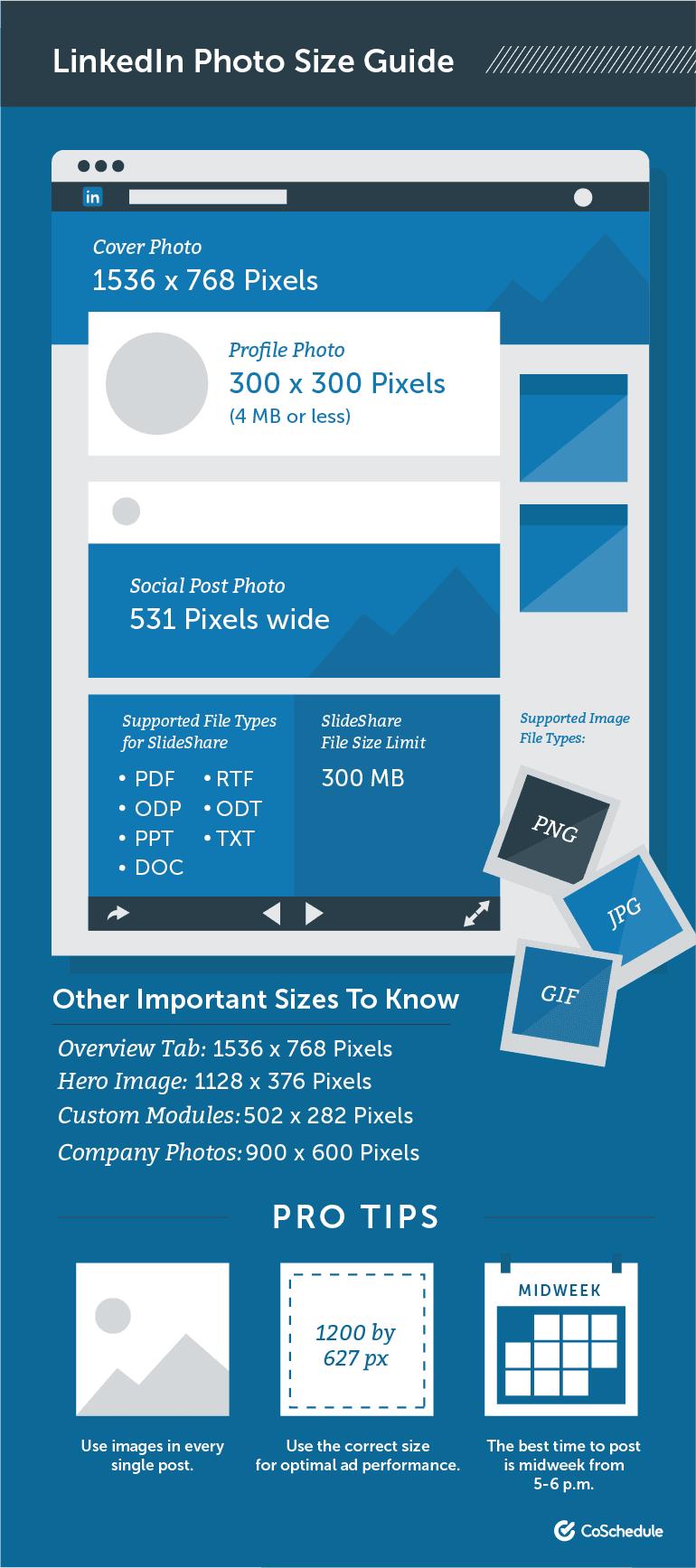 Company Logo: 300 by 300 Pixels
No surprise here. Getting your logo out there is important, and it's what people expect to see.

Cover Image: 1,536 by 768 Pixels
Similar to Twitter, cover images on LinkedIn fit the full width of the screen. However, they may be partially obscured by ads: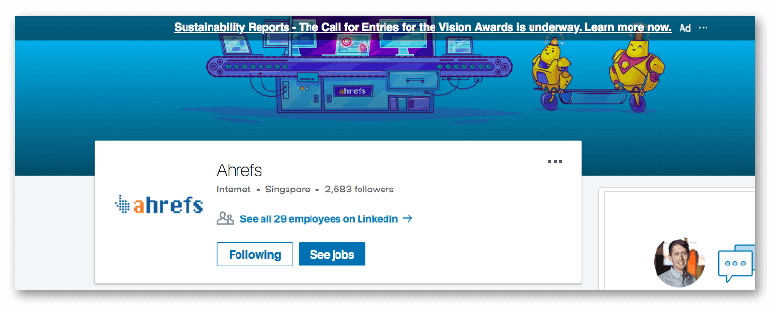 Overview Tab: 320 by 120 Pixels
Here's where you'll find the Overview tab on company pages: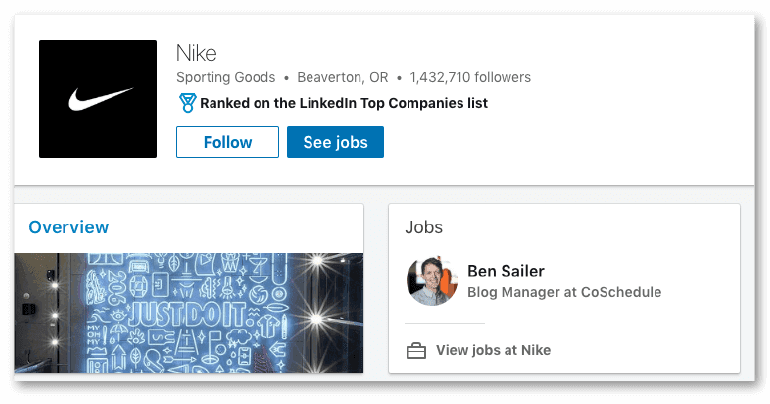 Life Tab Hero Image: 1,128 by 376 Pixels
This appears on a tab on the right side of your company page:

Here's how it appears when clicked: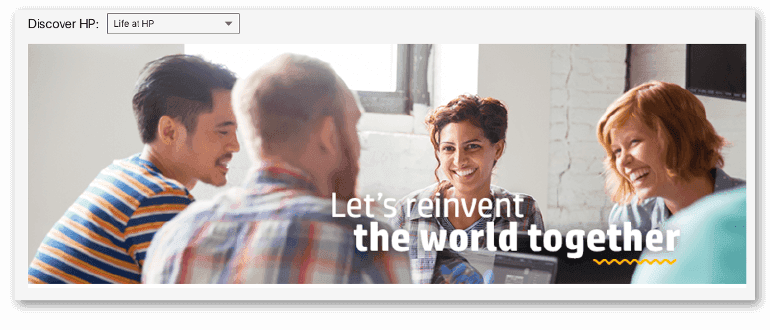 Career Page Custom Modules: 502 by 282 Pixels
Custom modules allow brands to add more copy and images to their company page. Here's what those look like:
Pinterest Image Sizes
Pinterest isn't just for sharing photos of dream projects and hobby ideas. With 200 million monthly active users, there's a large audience out there for companies to reach. Plus, since its often used as a platform for gathering ideas for projects and interests, there's opportunity to directly sell those products to customers that are actively in a research and shopping mindset.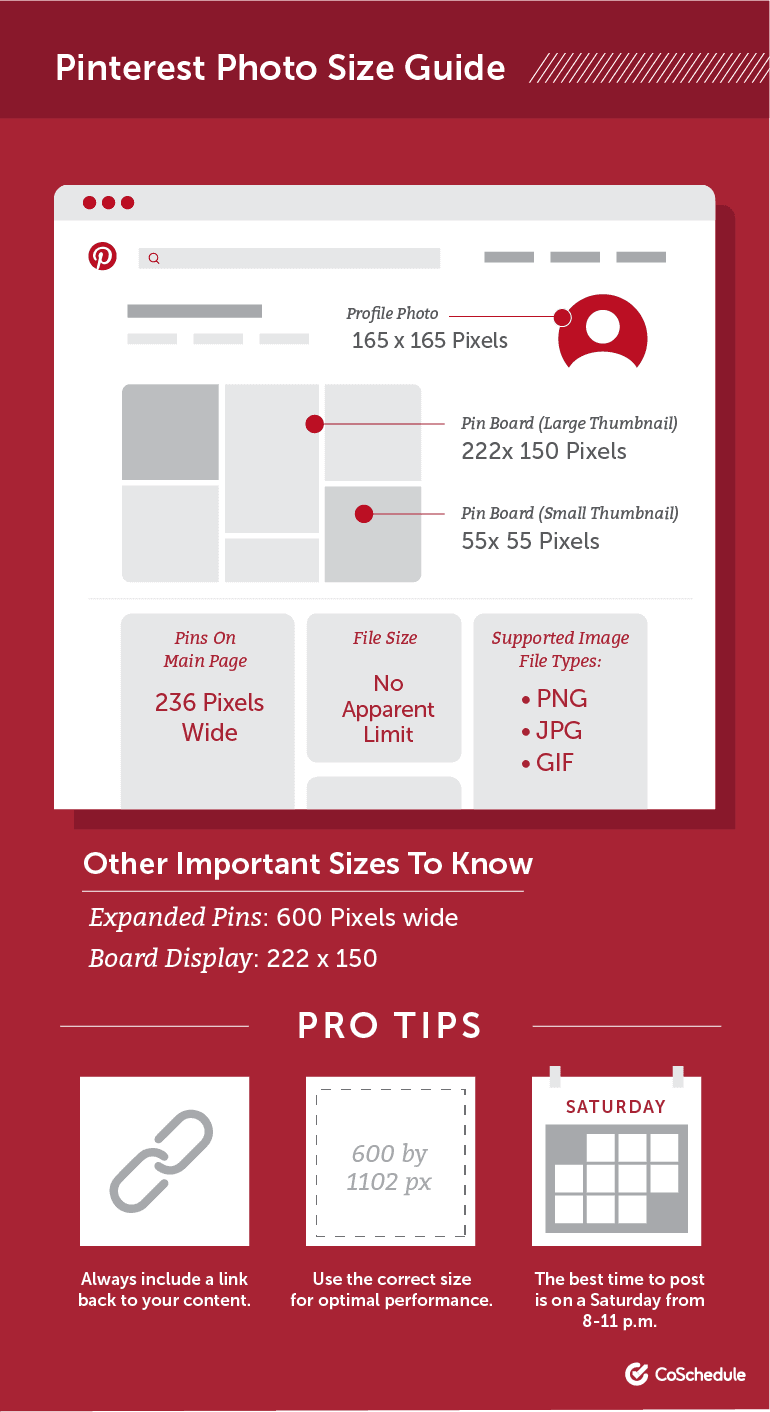 Pinterest Profile Photo Size: 165 x 165 Pixels
Logo it up!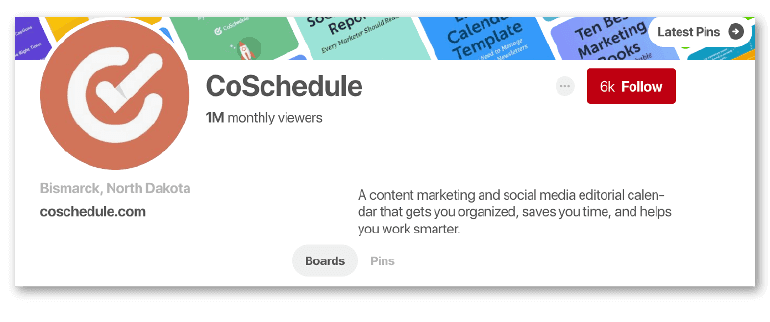 Board Covers: 222x150 Pixels
These are images that appear when visitors scroll through your boards. Rather than leaving them to default options, you can actually specify a board cover that conveys what that board is all about.
In this example, the board on the right doesn't use a board cover, and looks a bit cluttered. The one on the right does use one (the larger left-aligned guitar image), though, which helps create a cleaner, more uniform appearance across your boards.
Main Page Pins: 236 Pixels
Standard pins will appear at 236 pixels. That isn't too big, so make sure your Pins are clear enough that people will still be able to recognize what they are at that size: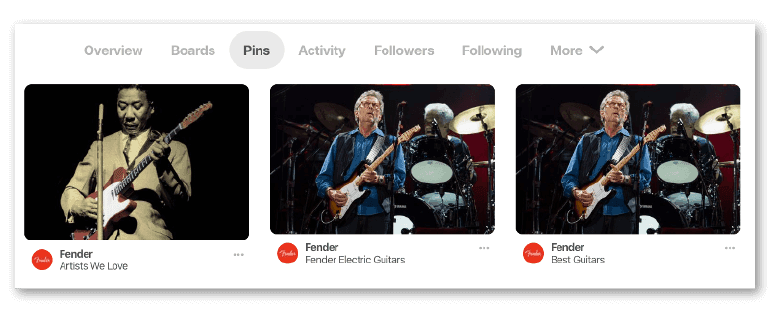 However, according to Canva, the optimal upload size is 735 by 1,102 pixels (with the understanding they'll be scaled down on your board).
Expanded Pins: 600 Pixels (Minimum)
When a Pin is clicked to expand, it will appear at a minimum of 600 pixels wide: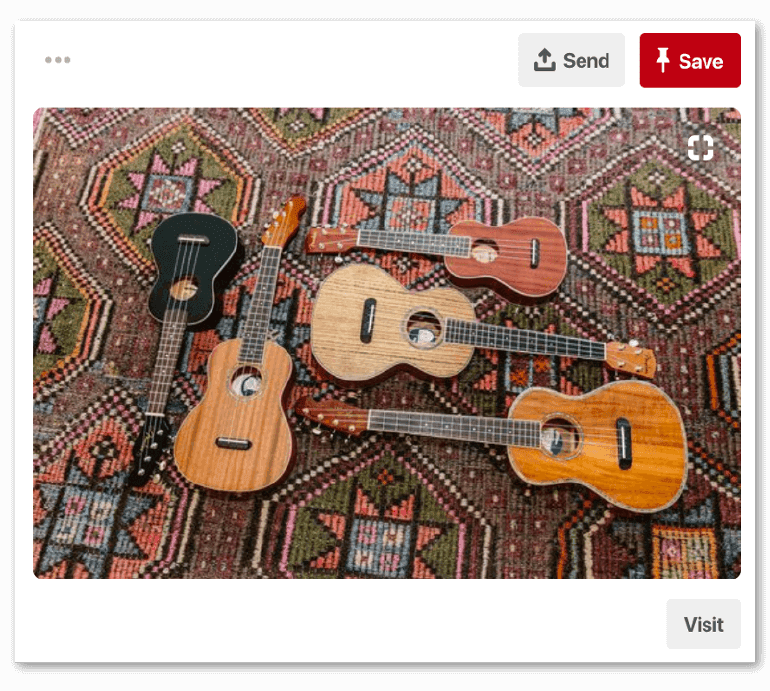 Google+ Image Sizes
Google+ is considered by many to be a social media ghost town. However, there are some organizations who still get use from the platform, particularly those who uses its Communities. If you're still getting results from Google's social platform, make the most of your visuals.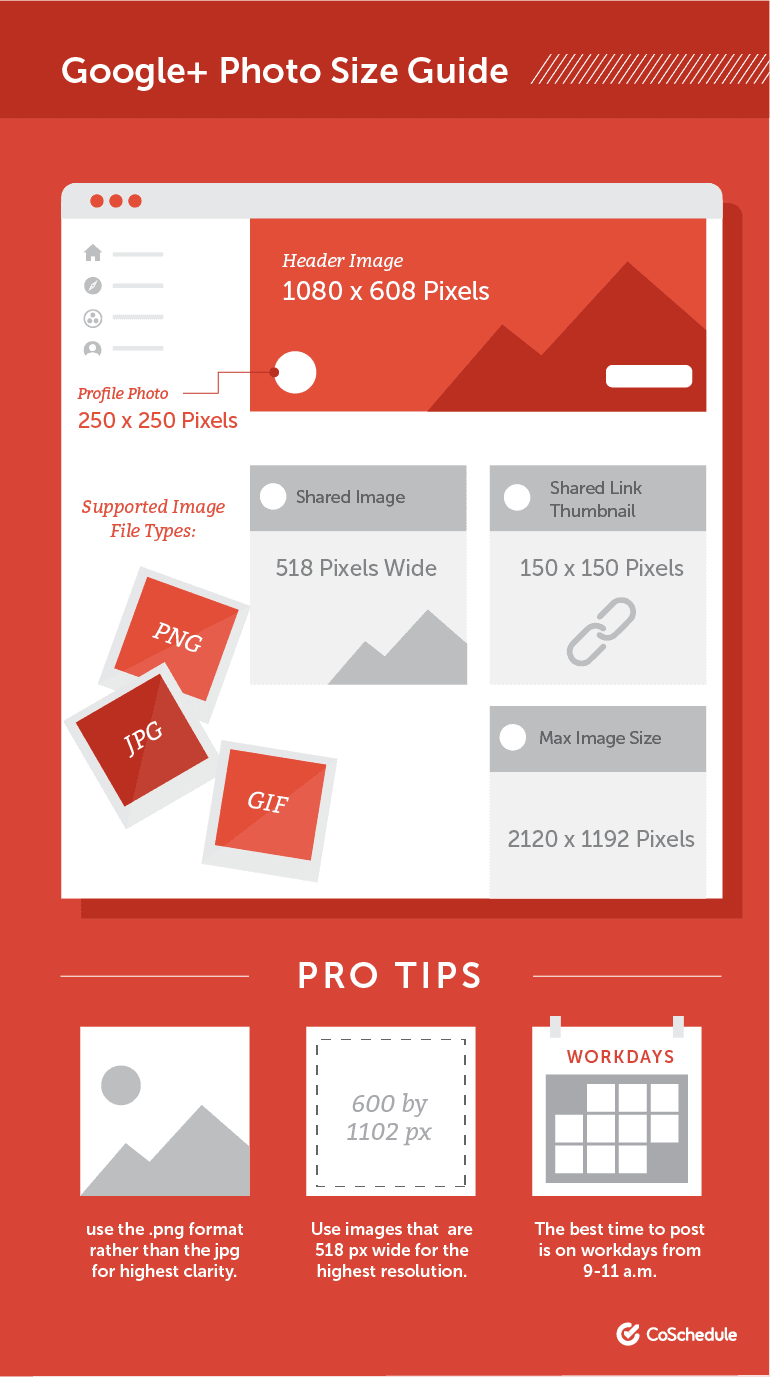 Google+ Profile Picture: 250 by 250 Pixels
And, once again, it's a good idea to make this your logo for branding and recognition purposes.
Google+ Cover Photo: 1,080 by 608 Pixels
Those may sound like oddly specific dimensions, but if Google+ has something going for it here, it's that the cover photo offers a lot of space to show off some creativity.

Tumblr Image Sizes
Tumblr is a social blogging and image sharing site that's tough to pin down. Since there are tons of different themes available, content might display differently depending on your account is configured. While somewhat overlooked by brands, it has 794 million active users per month, placing it just slightly behind Instagram.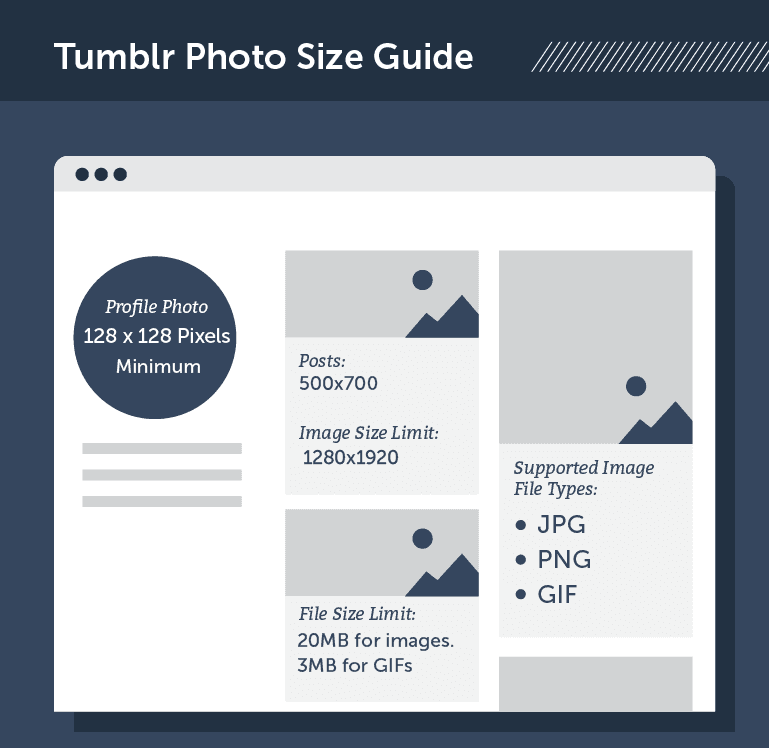 Tumblr Profile Photo: 128 by 128 Pixels (Minimum)
Your logo is once again a solid choice here, but keep in mind that beyond your home page, there aren't many places on Tumblr where it will appear. Here's a simple example from Denny's: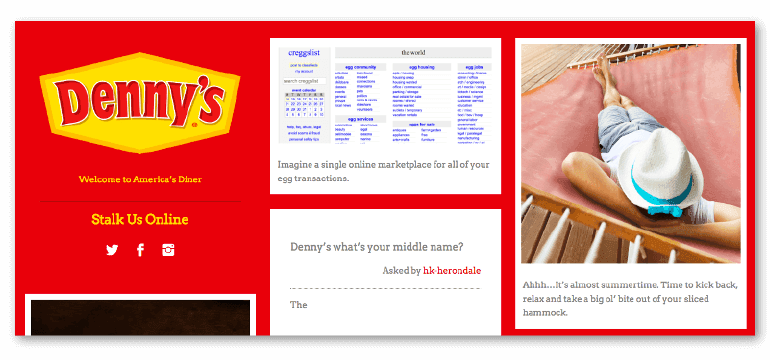 Image Posts: 500 by 750 Pixels
This is the width image posts will appear in user's dashboards.
Back to the Top

YouTube Image Sizes
YouTube is, of course, a video platform. But, profiles do need some static images, too.

YouTube Channel Cover Photo: 2,560 by 1,440 Pixels
That's tons of space to show visitors what your brand is all about. This example from Red Bull promotes upcoming events:

YouTube Channel Profile Image: 800 by 800 Pixels (Displays 98 by 98 Pixels)
Adding a high-def version of your logo will ensure it looks sharp.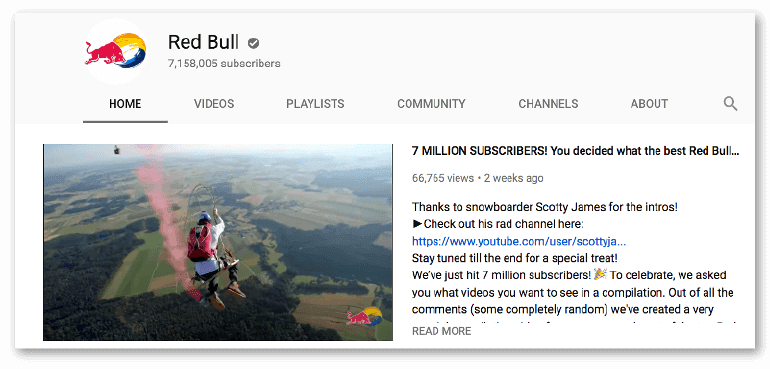 Free Tools For Creating Social Media Images
If you have talented designers on your team, then you likely won't need to use free tools on your own. But, if you don't have access to design resources, or if you need to create something yourself, there are plenty of ways to get the job done without resorting to creating a monstrosity with MS Paint (as much fun as that might be).
Canva
Canva is an incredible freemium tool for creating all kinds of graphics. Social media images and posts are no exception. It's browser-based, and all you need to do is create an account to get started:
Piktochart
Piktochart is another great option for creating infographics, which are awesome for social media (particularly on Pinterest). It starts free, then offers three tiers of pricing for more advanced functionality.
Get started with Piktochart here.
Infogram
Infogram is an excellent choice for making infographics. Similar to Piktochart, it starts free, then pricing scales up depending on how much power you need.
Get started with Infogram here.
Manage Social Media Marketing With CoSchedule
Social media content doesn't exist in a vacuum. It's most often part of a larger cross-channel campaign or promoting content. Plus, you have plenty of other campaigns and projects you're likely working on.
Enter CoSchedule. With a single marketing management platform, you can schedule every post and manage team communication and workflows all in one place.
Schedule a demo or start your free 14-day trial now.
That's a Wrap
Social media image sizes frequently change, and this post contains a lot of granular data. If there's anything we missed, let us know below and we'll get it updated.
This post was originally published on June 7, 2017. It was republished with significant updates on June 11, 2018.
June 11, 2018