For all of you who aren't sure how to get started with your social media management, there's never been a better time to toss your hat in the ring. With so many great social media networks and apps on your phone–it's easy as ever to publish content for the world to see.
And, conversely, it's never been more confusing.
Because everyone is telling you how to do social media right, and it can seem pretty complex (right time, right tools, right photographs, right measurements…aaargh). There are simply way too many fantastic and in-depth blog posts out there telling you how to do social media. If you're anything like me, you suffer a bit from the paradox of choice and are simply paralyzed.
Where do you even start?
Want to use Click to Tweet on your blog?
Get Your Download Now
Plus, join our email list to stay up-to-date.
Success! Your download should start shortly.
Tired of the marketing mess?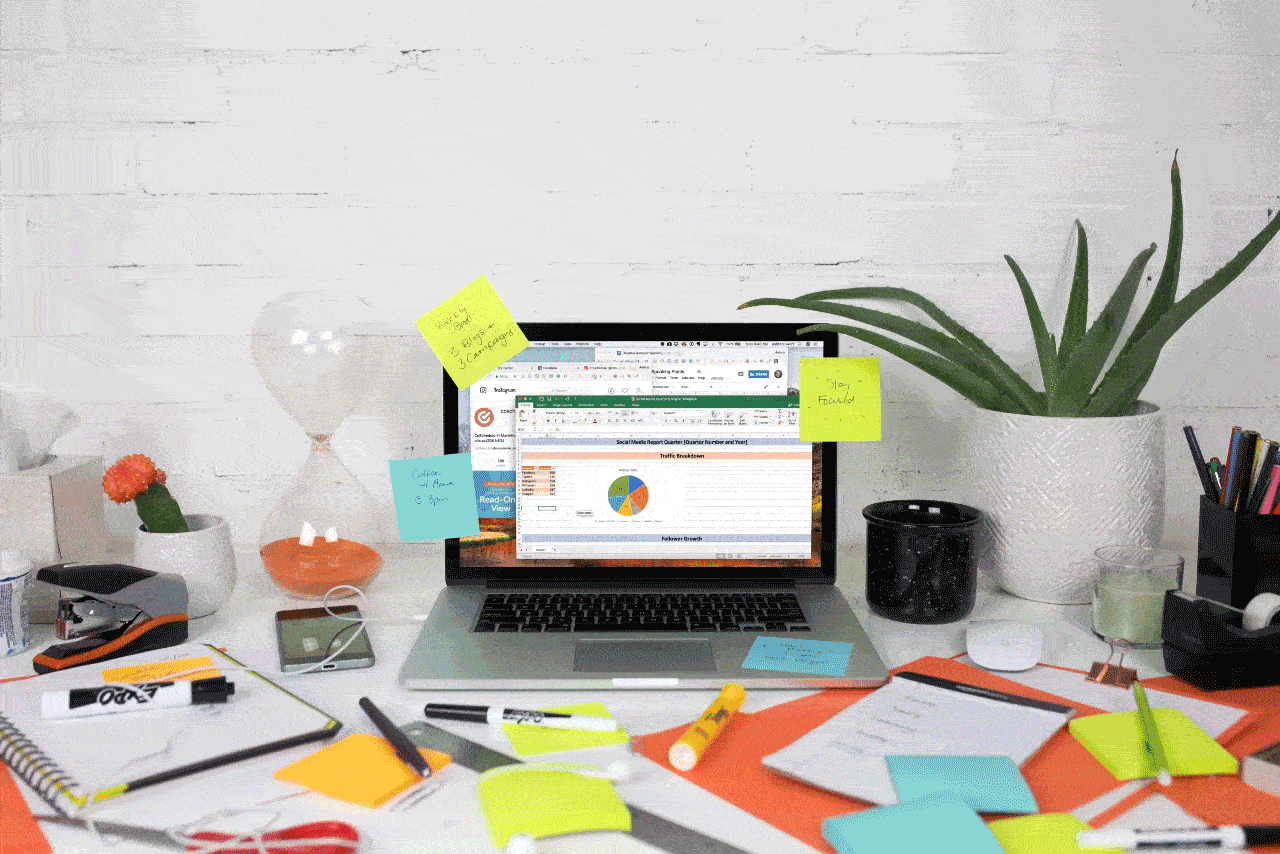 Awesome news! You're invited to a 1-on-1 marketing demo of CoSchedule! In 30 mins or less, you can see how to:
End the frustration of missed deadlines.
Get total visibility into ALL of your marketing in one place.
Save 20 hrs this week alone (and every week after).
If you've ever kicked the tires on CoSchedule, now's the time to see what it's really like.
Success! Your download should start shortly.
Clean up the chaos with your CoSchedule editorial calendar!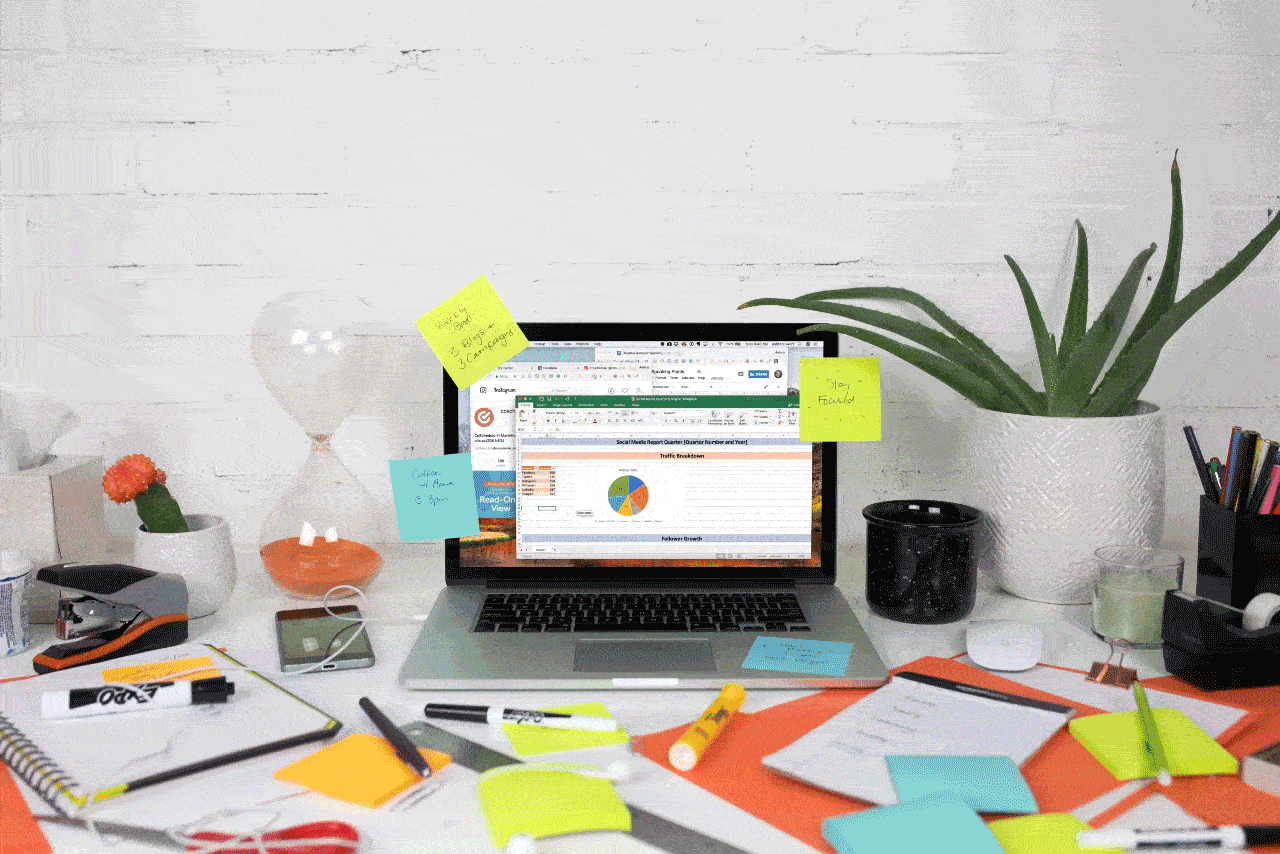 With CoSchedule, you'll:
Save time with blogging, social, and email (think HOURS every week)
Schedule your social posts in batches (and increase your posting frequency) super easily
Get your sh*t together (and hold yourself accountable to publishing like the boss you are!)
Now's the perfect time to start your 14-day free trial to see for yourself!
Social Media Management For Beginners
First off, this post is geared toward beginners or those trying to build better social media habits. Some of you might not have even signed up for an account on a social network yet. If that's the case, I'd recommend starting with just a few high performers. You can always branch out later.
If your niche is crafts, foods, lifestyle, or visual arts, get accounts on Facebook, Pinterest, and Instagram.
If your niche is marketing, business, or a professional presence, get accounts on Twitter, Facebook, and LinkedIn.
This isn't written in stone; you'll probably find as you get going that other networks will be valuable, too. These are just basic guidelines to get started.
There Is No Secret To Social Media Time Management
Remember how we suggested that multitasking didn't really work? You can't do everything at once. In the same sense, doing all of your social media activities every day isn't going to work so well, particularly if you're just getting started or trying to establish good habits.
Breaking your social media management into daily, weekly, and monthly segments will help you manage your time better.
What to do each day.
There are some things you should do every day if you want your social media efforts to be successful:
Engage with your followers: By this, I mean that you should reply to followers, respond to mentions and blog comments, and in general, show signs of life on your social media accounts.
Instigate engagement: Find influencers to engage with on social media. Follow or somehow connect with someone new.
Share the latest interesting content: Look through your social media feeds, and share any interesting and worthwhile content you see in it. Share a link to your own content if it fits with what you're seeing in your news feed. This is an easy way to capitalize on what's popular, trending, or new right now. Spend time in your news feed and count it as part of your overall social media curation plan.
Rather than being constantly distracted throughout the day, set aside three or four specific times that you'll hop in and do these things. Otherwise you'll find yourself never leaving your social media accounts, and you won't get your other content marketing done.
Do these three activities at 8 a.m., 11 a.m., 3 p.m., and 5:30 p.m.
Want to use Click to Tweet on your blog?
What to do each week.
Many content marketers will give you a long list of things to do every day when it comes to social media management. You may be able to pull it off down the road when you've established your own habits and rhythm. I'm going to suggest that, when starting out, you set some of those activities as weekly activities so you don't feel overwhelmed and give up. So, choose a different day of the week for each of the following:
Trends and keywords: Look for trends and keywords that are popular in your social media feeds and plan content (or curation) that will use them. Monitor topics and words that matter for your niche. For fast-moving networks like Twitter, a weekly approach won't really work all that well. But for other networks (e.g. Pinterest), it will. Start weekly. You can do this daily eventually, as you get more adept with it.
Brand monitoring: Do a search on your name, your blog's name, or your brand's name on social networks. Is there anything you need to respond to or be aware of? Do the same for your competitors or others in your niche. Find out what people are saying and how you can tap into it for your benefit.
Find content to curate: Remember how important curation is? Find outside content to share with your followers and add it to your CoSchedule calendar for the upcoming week. You can always add interesting new content to your curation schedule that you stumble on during the week. Set aside time to schedule it so you know you are curating well.
Schedule your own content on social media: Set aside a day or two where you will block out some time to simply schedule your own content to publish on social media. Part of this should include sharing your older, evergreen content that performed well, as well as any other content you want to bring back in front of your social audience.
Here's an example schedule:
Monday: Schedule social posts for the new content you'll be creating this week.
Tuesday: Schedule social posts from your older, evergreen content, at least two a day for each network. Add to your calendar for the next seven days.
Wednesday: Find content to curate and add to your schedule for the next seven days.
Thursday: Look up keywords and find trends. Does your current publishing calendar fit with these?
Pick a schedule that works for you. The key is to take some of the load off the daily obligations and break it up over a week. Instead of having 15 things to do for social media every day, you have the quick daily schedule of three tasks at four points during the day, and a block of time for a weekly duty.
Want to use Click to Tweet on your blog?
What to do each month.
Every month, you should be:
Checking your data and analytics.
Do this at the start of the month. Check your stats and analytics to see how well your social content is performing. Look for trends in traffic, topics, networks, time and date shared, and type of content shared. Discover what's working and what isn't. For a beginner, I'm going to put this on a monthly basis. As you get better at social media management and find you can handle the extra load, I'd recommend moving it to a weekly basis.
Actionable Takeaways:
Write at least 25–30 headlines and use multiple in your social messages to pick the best ones for the content you're sharing. You can also play with the headline analyzer. Think of trying this out with your social media headlines as well.
Get Google Analytics, if you don't already have it.
Learn more about the demographics of your blog and use what you find to come up with new ideas for your content.
Adjust any paid advertisement.
If you're running ads on social media networks, you'll want to review their performance each month. Paid advertisement is definitely not "set it and forget it".
Actionable Takeaways:
Do some research on ads before you start doing them. Thinking about your budget. How much do you want to spend? And also think about what kind of ads. Some people do photo and/or video ads.
Set a goal, then test your ads to see if they work. Try a few different versions of your ad to improve your conversions.
Adjust your goals.
Set (and change) your social media goals according to what your monthly analytics review is telling you. Maybe you need to be sharing more (or less), or at a different time. Create A/B tests to run the next month that you can use for better decision making the next round.
Actionable Takeaways:
Ask yourself, "What tasks do I need to finish in order to be done with this project?" Then write all your tasks down inside CoSchedule. Get your 14-day free trial.
Check out the best times to post on social media. Play around with the different times to see what works best for your social networks. Then change them accordingly.
Plan your content.
Plan your upcoming monthly content marketing in regards to social media. Think of the blog content you'll be creating, any campaigns or themes, and plan and create that content that you'll be publishing. Get it on the calendar.
Actionable Takeaways:
Every month, check your site for possible post ideas in your readers' comments. Are they wanting any specific answers to their questions? Use those as topics.
Ask your followers what they'd like to see more of. Then deliver that.
Want to use Click to Tweet on your blog?
The 30-Day Social Media Challenge
Have you ever heard of NaNoWriMo? It's a challenge to write a 50,000-word novel in the month of November. Each writer who takes up the challenge must write 1,667 words a day to finish the challenge.
Don't worry. We're not asking you to write a novel, but we're offering a different kind of challenge to you: 30 days of focused social media management to create new habits!
I've tried to pare down all the (massive) social media advice out there and focus not on the complexities, but on the easiest path to get the hang of it. Use the suggestions in this post for scheduling your social media tasks, and see if you can make a noticeable difference in both how consistent your social media becomes and how quickly you can do it.
Let us know how things go for you during your 30-day social media management challenge. Tell us what worked for you and what didn't, and which methods you used.
For Further Reading
If you've gotten the feel for social media management and want to learn more, we have some great articles on this blog to keep you going:
Want to use Click to Tweet on your blog?