Make marketing easier and do better work with these templates and resources. From strategy to execution to measurement, there's something here you can use today.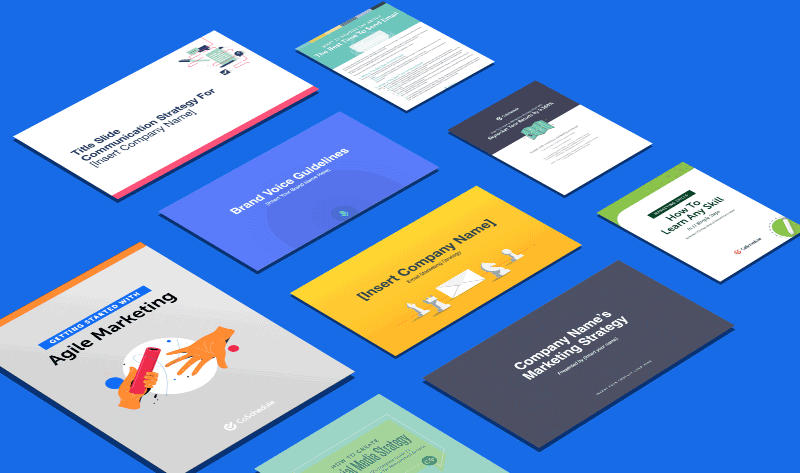 Your bundle includes:
Content Calendar Template: Plan all your content in one place.
Social Media Calendar Template: Create and schedule every post in advance.
Email Marketing Calendar Template: Plan your email content and send dates and times.
Annual Marketing Budget Template: Set and document an accurate budget for the year.
AP Style Cheat Sheet: A useful reference with the AP style guidelines marketers will need most often.
Brand Voice Guidelines Template: Document your brand voice guidelines to keep all your content and assets on-brand.
Content Performance Tracking Template: Measure performance on every piece you publish.
Content Writing Template: Keep your content and copy organized before handing it off for review or design.
Editorial Style Guide Template: Create a clear and easy-to-use style guide.
Agile Marketing Guide (PDF): CoSchedule's comprehensive how-to guide to getting started with agile marketing.
Email Marketing Report Template: Gather and share the data you need to prove email marketing success.
Email Marketing Strategy Template: Have a purpose for every message you send and make your email marketing more successful.
Email Subject Line Templates: Fill-in-the-blank templates to write better email subject lines.
Email Subject Line A-B Test Template: Document and analyze email A/B test performance.
Emotional Power Words Cheat Sheet: Incorporate these terms into your copy to inspire readers to take action.
File Naming Convention Template: Establish clear guidelines for how files and assets should be named and never again get confused over which file versions are most recent.
Keyword Research Template: Store all your keyword data and select the best topics to create content around.
Landing Page Writing Template: Organize all your copy and meta data before handing off your copy doc for landing page design.
"Learn Any Marketing Skill" Guide: A simple and actionable framework to make learning new skills feel natural and easy.
Marketing Project Checklist Template: Never miss a step on any project ever again.
Marketing Time Tracking Template: Keep track of how long tasks take so you can estimate time more accurately in the future.
Marketing Strategy Template: Document your entire marketing strategy.
Press Release Template: Write better press releases that are easier to read and more likely to earn coverage.
UX Copy Doc Template: Organize UX copy in a way that's easy for designers and developers to interpret.
Video Script Template: Unsure what your video script needs to include? It's all here in this template.
Website Content Template: Organize website copy for review before uploading to your CMS with this template.
"What is Makeshift Marketing?" Infographic: It's a quiet productivity killer and you can learn all about it on this infographic.
Plus, you'll receive weekly email updates packed with more actionable advice and templates. Sign up now and level up your marketing career with CoSchedule.