Social Conversations Inbox
**Social Conversations Inbox is only available in Legacy plans. 
With Social Conversations Inbox, you can manage conversations with prospects and customers across Facebook, Instagram, and Twitter from a single inbox.
Not sure how to get started? Here are a few ways social media pros are using Social Conversations Inbox to provide incredible customer service and build a loyal social community.
Customize Notification Settings
In most organizations, there are specific team members who handle communication with customers or fans on social media.
Inside CoSchedule, you can update and customize your personal notification settings to fit your level of responsibility for social conversations.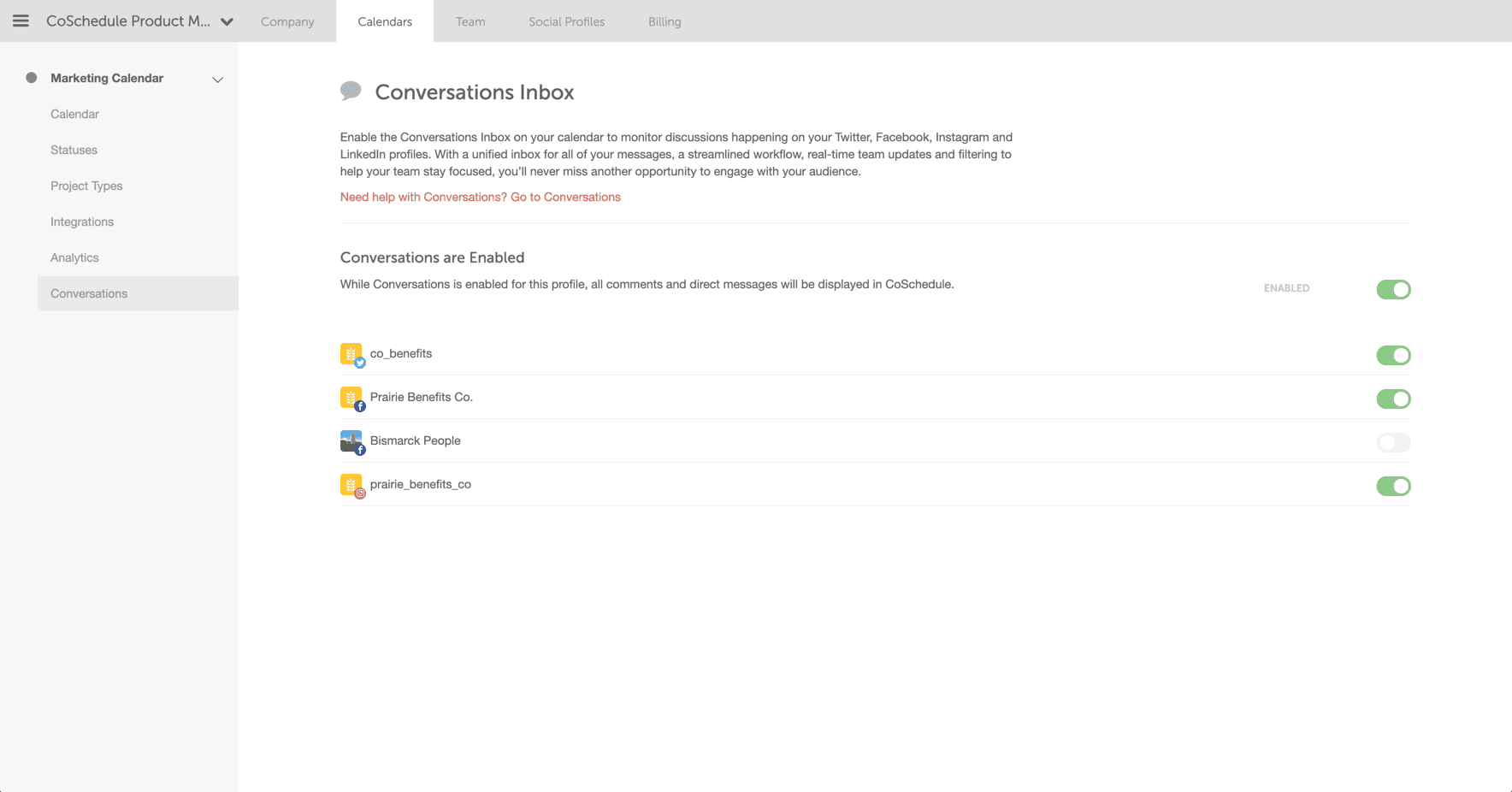 If responding to conversations on social media is a key responsibility, turn on browser notifications. You'll receive real-time updates as you see new activity across your profiles. This will help you respond quickly.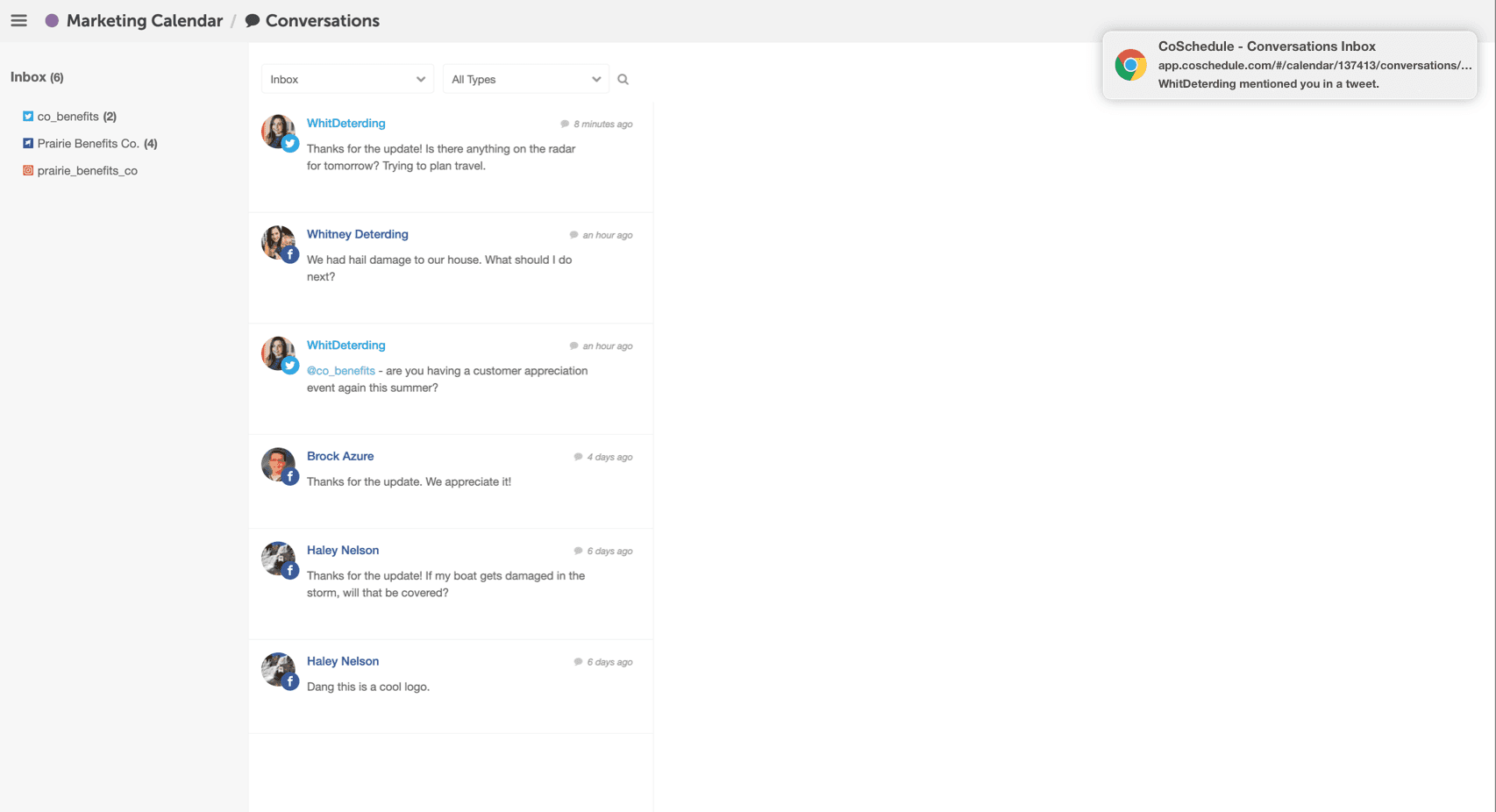 If you aren't as involved in daily management, but you still want to stay informed – turn on email notifications.
You'll receive a daily rollup email with updates on new messages.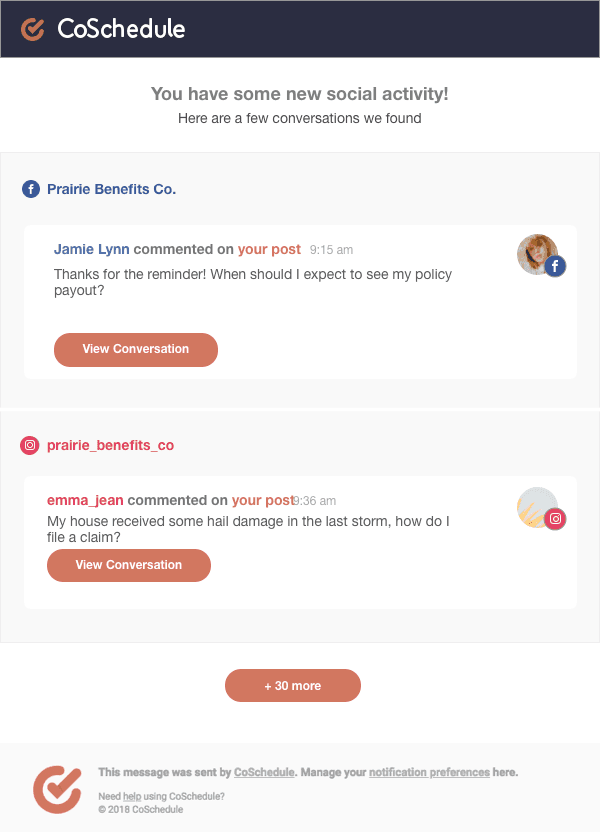 If you don't need an update at all, you can disable all notifications.
Triage Incoming Messages
Depending on the size and scope of your marketing team and social strategy, you probably don't have a designated employee that can respond to comments on social media 24 hours a day, 7 days a week.
But it's still extremely important to respond to these messages and mentions – especially sensitive ones – in a timely fashion.
With Social Conversations Inbox, you can easily triage incoming messages, comments, and mentions based on priority.
Each morning, review your inbox for new, unread messages.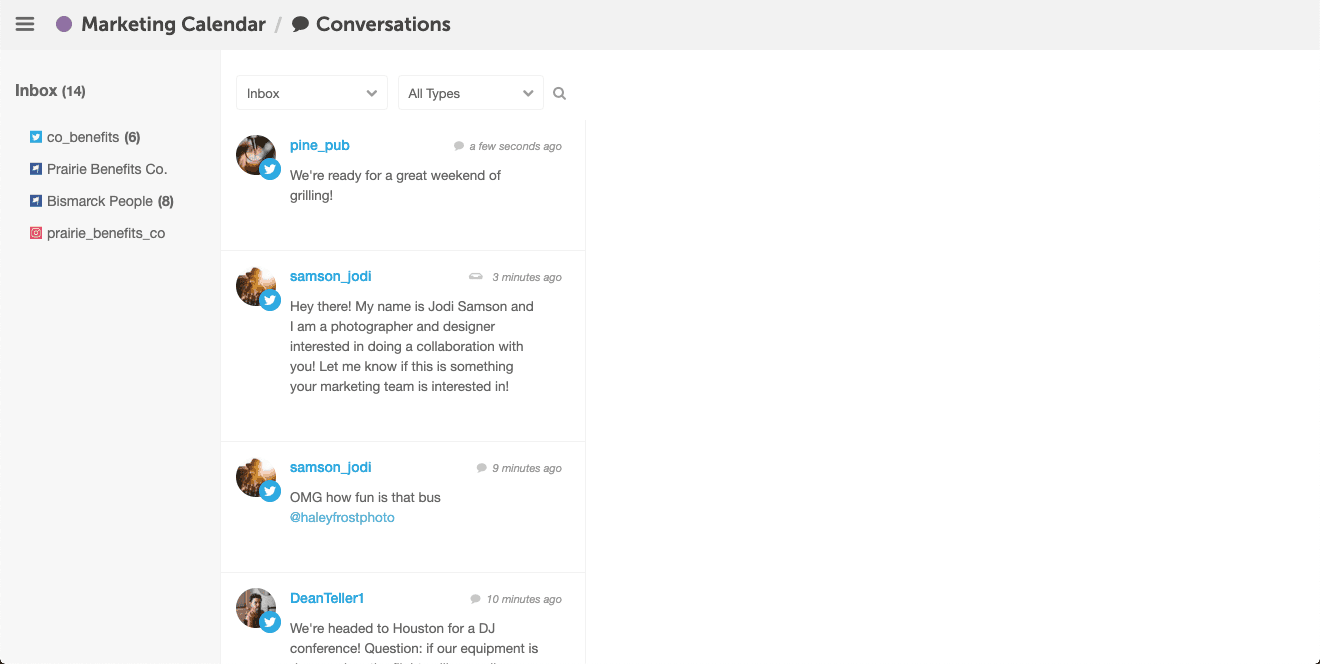 Filter your messages by profile and message type to quickly find messages that require your direct attention.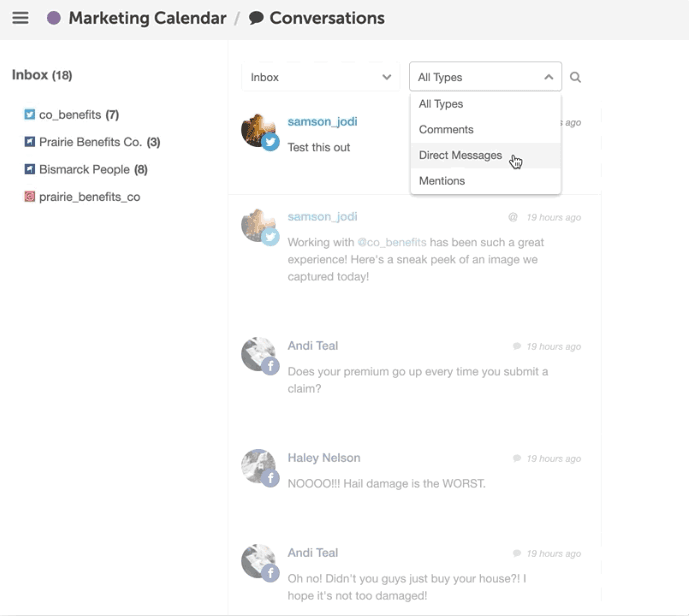 This may include:

Time sensitive questions
Questions about your product/services
Customer complaints/feedback
Reply and respond to the messages that are most important, and revisit and respond to the remaining mentions and comments later.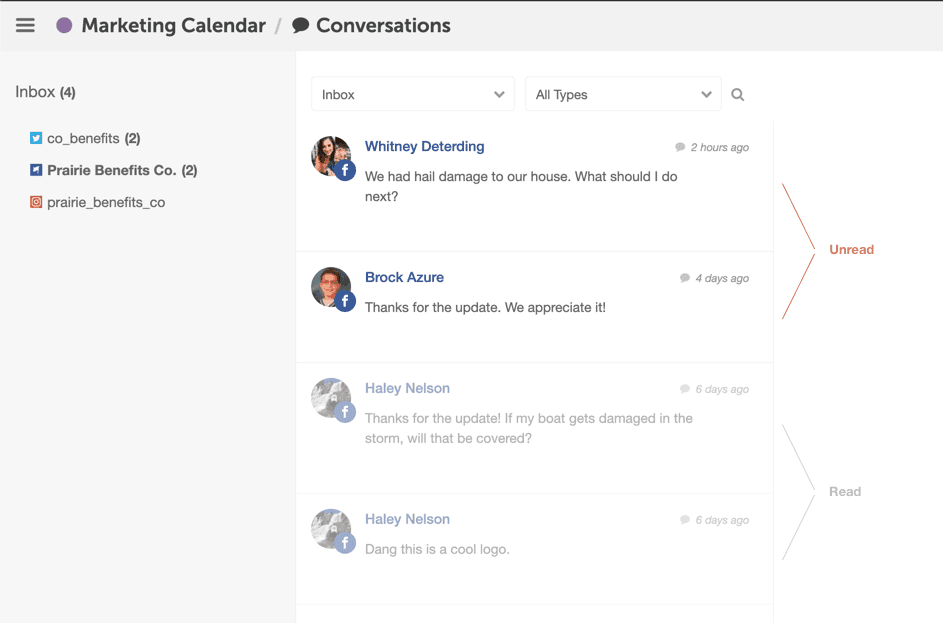 Provide Real-Time Customer Support
Social media gives your customers a direct way to contact your company.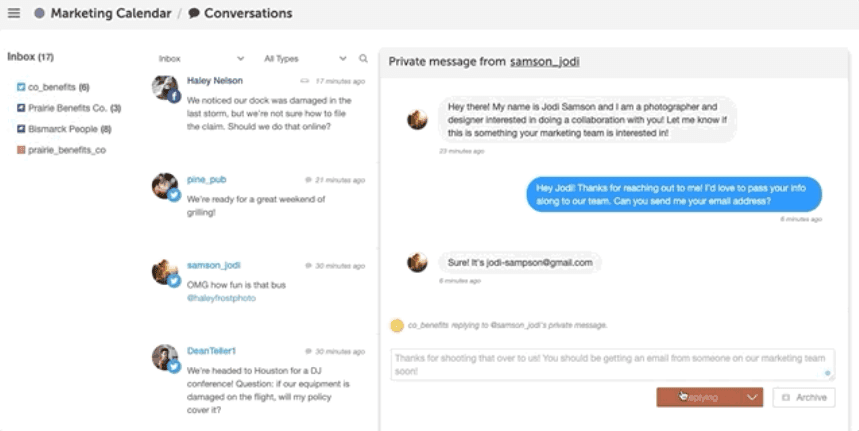 Review your incoming social messages. Then reply to them in real-time to provide your audience with the support they need.
Engage With Customers To Build Your Community
And use Social Conversations Inbox to connect with your fans and followers that love your brand on social media.
Join customer conversations.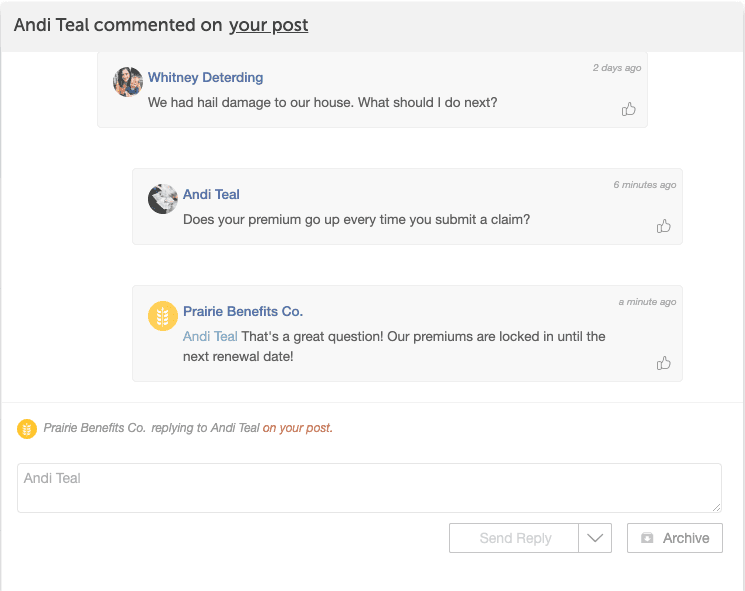 Show appreciation for your customer support. Give love by liking posts right inside Social Conversations Inbox, too.
And/or reply with a genuine thank you response.
Review these messages to learn what customers love about your company, give your team feedback on what's working, and continue to provide a positive experience for your customers.
Now, more than ever before, social media is a place where companies can deliver a personalized, human experience for customers. These experiences create loyal customers.
Never miss an opportunity to engage with your customers. And keep your inbox at "Goal Zero" to ensure your social following is cared for and heard.
Ready to start using Social Conversations Inbox? Let's get started! Don't have Social Conversations Inbox Contact support@coschedule.com or your Customer Success Manager for more info.
Or learn how to use Social Conversations Inbox in our help docs.