ReQueue
ReQueue continuously promotes your best social messages for you again and again.
In this Power Tip, you'll find examples and inspiration for creating new ReQueue groups to help automate your social sending. This includes group ideas to:
Whatever your goals or strategy, you'll find new & unique ways to use ReQueue to get more results from social media with less effort.
Watch this video for a quick recap or read through all of the ReQueue group examples in more detail below.
Reshare Your Most Popular Content & Blog Posts
The easiest place to start is building an intelligent group with social messages around common themes or topics that are relevant or important to your brand.
Reshare your most popular blog posts, programs, products, customer stories, and other valuable content.
Add social messages to an intelligent group surrounding specific content themes, including:
Popular Blog Posts: Drive more social traffic to the blog posts your target audience loves.
Customer Testimonials or Quotes: Showcase customer testimonials & quotes to build credibility to new followers & fans.
How-To Videos: Add messages to share how-to related content & provide value to your customers.
Product or Service Pages: Add messages to peak interest in your company's products or services.
For more inspiration, here are a few industry examples for using ReQueue:
A literature blog showcases their Best History Book reviews throughout the year.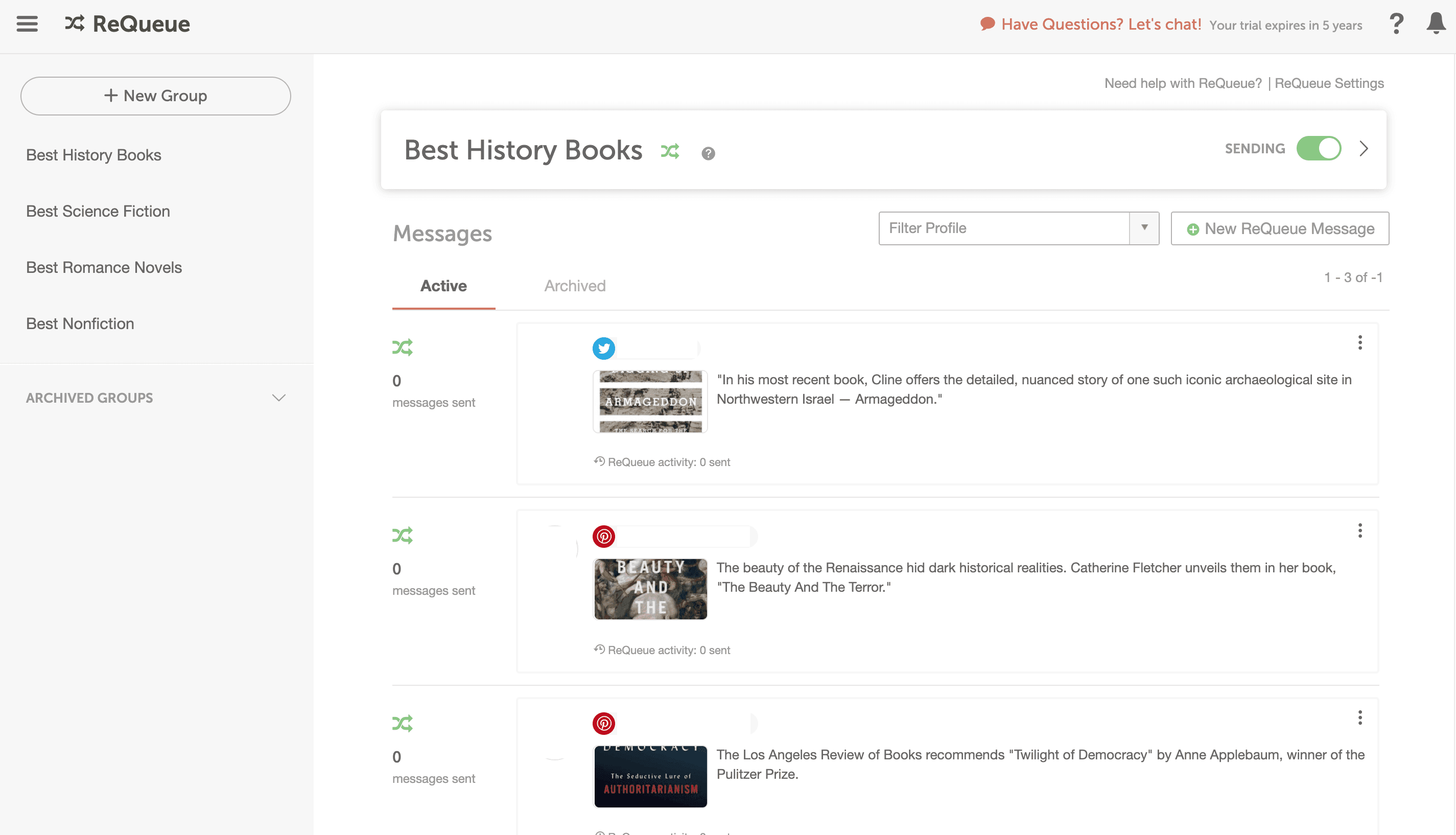 A local gym highlights their popular Fitness Center Classes each week.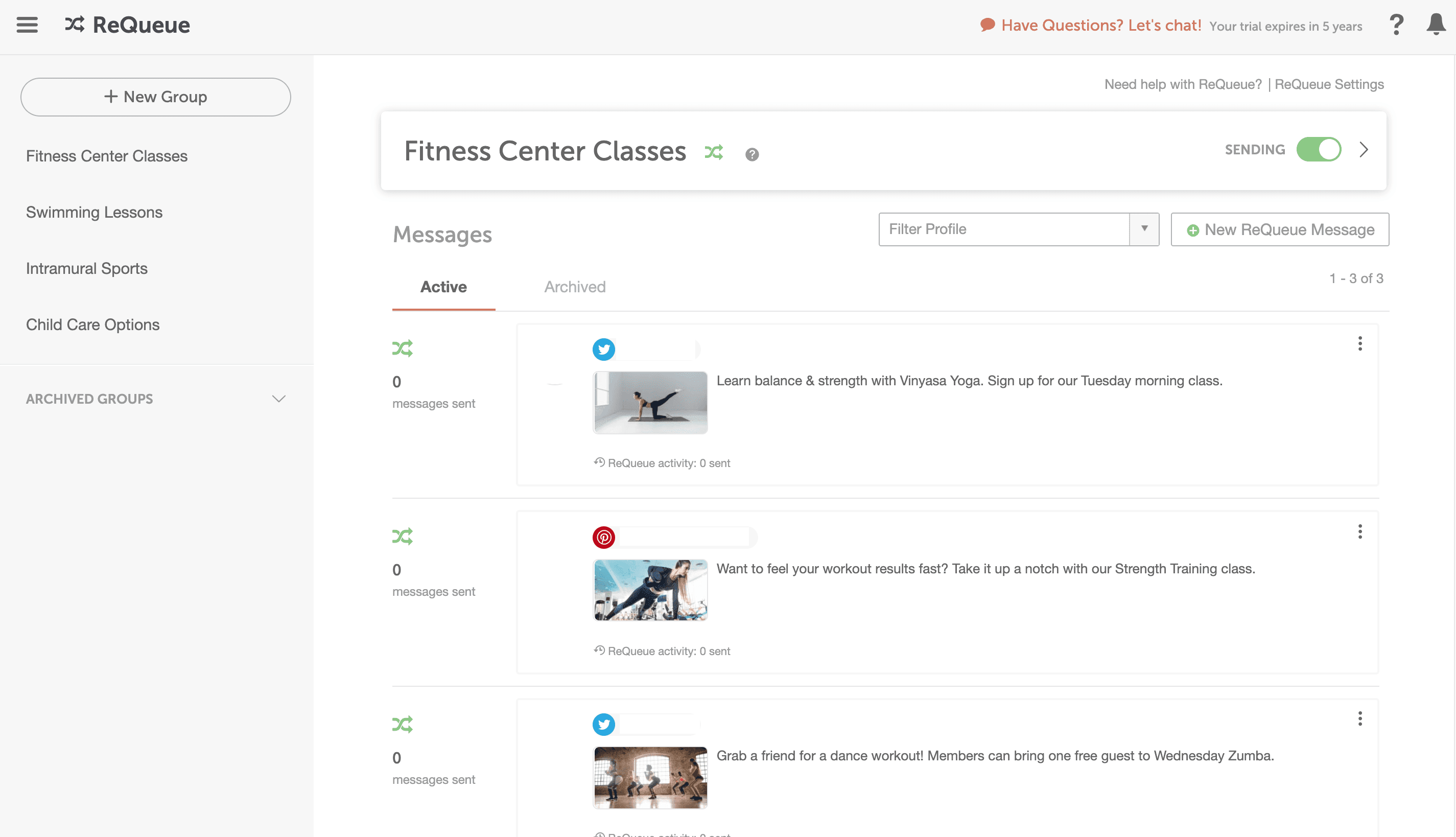 An insurance company republishes reviews from satisfied customers.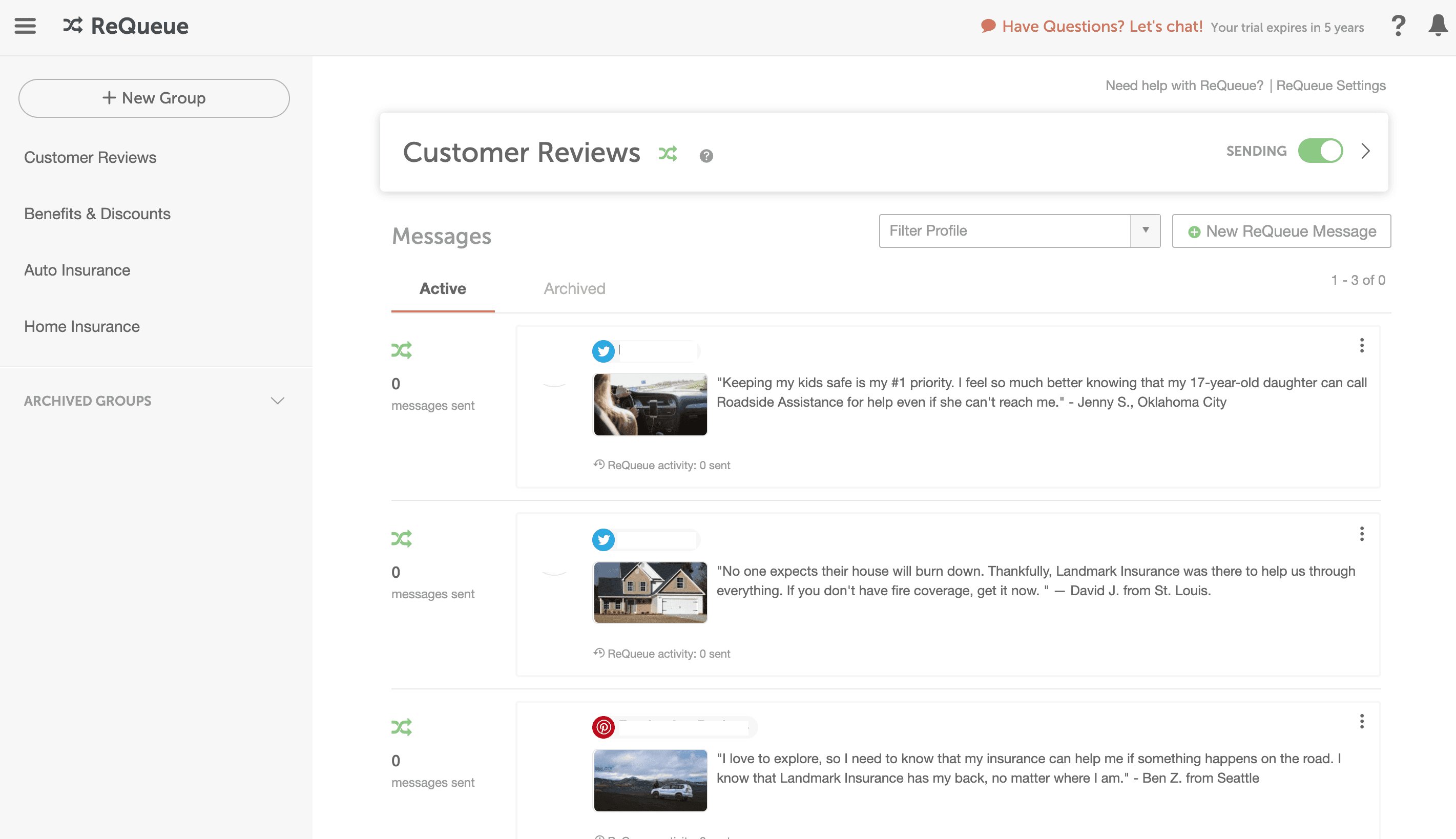 Create Groups That Help You Reach Your Marketing Goals
Looking to accomplish a specific marketing goal, like increasing the number of email subscribers? Create Intelligent groups to support specific marketing goals.
Add social messages to an intelligent group that promote:
Email Newsletter Signups: Share social messages that highlight sneak peaks of subscriber-only content & encourage new email newsletter sign-ups.
Webinar Promotion: Add social messages with a link to your Upcoming Webinars Landing Page to increase registrations.
Social Engagement: Add social messages that promote your weekly Twitter Chat to invite Twitter followers to join.
Check out these industry examples for inspiration:
A business coach schedules messages to drive traffic to a Free eBook Download landing page.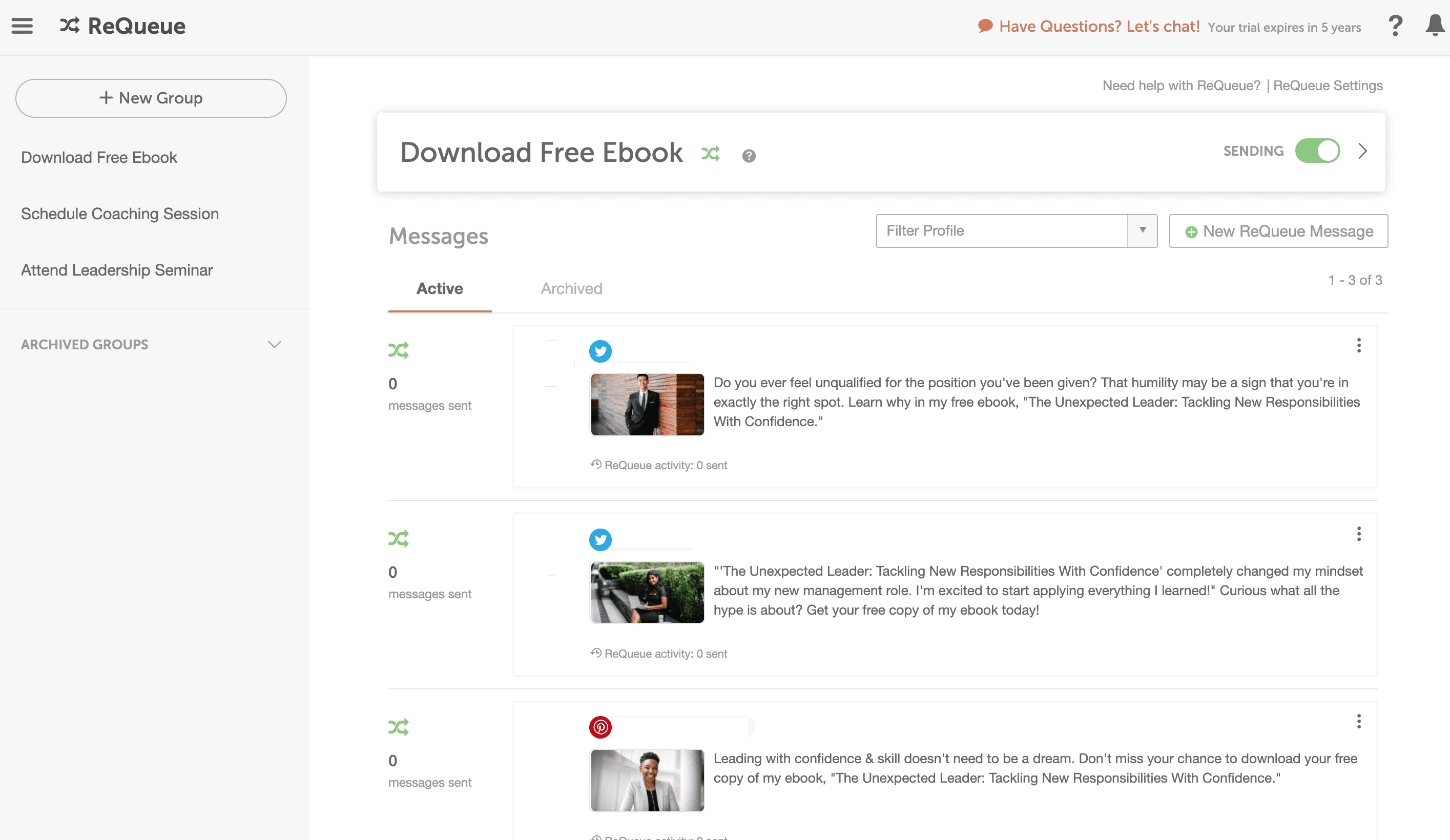 A middle school shares pep band, volleyball & math league photos to boost Extracurricular Activities Registration numbers.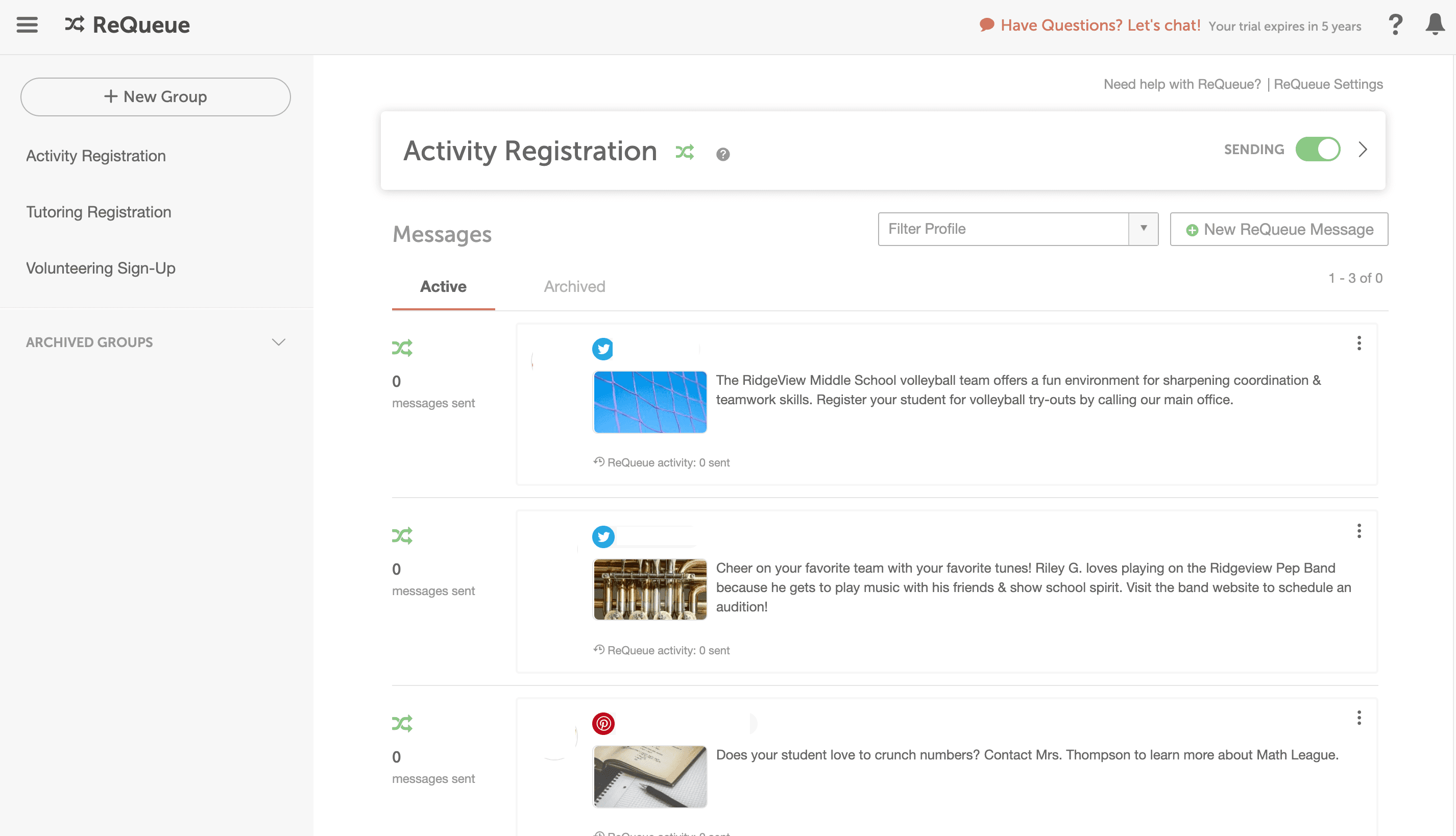 A furniture retailer promotes their introductory offer to increase Email Subscribers.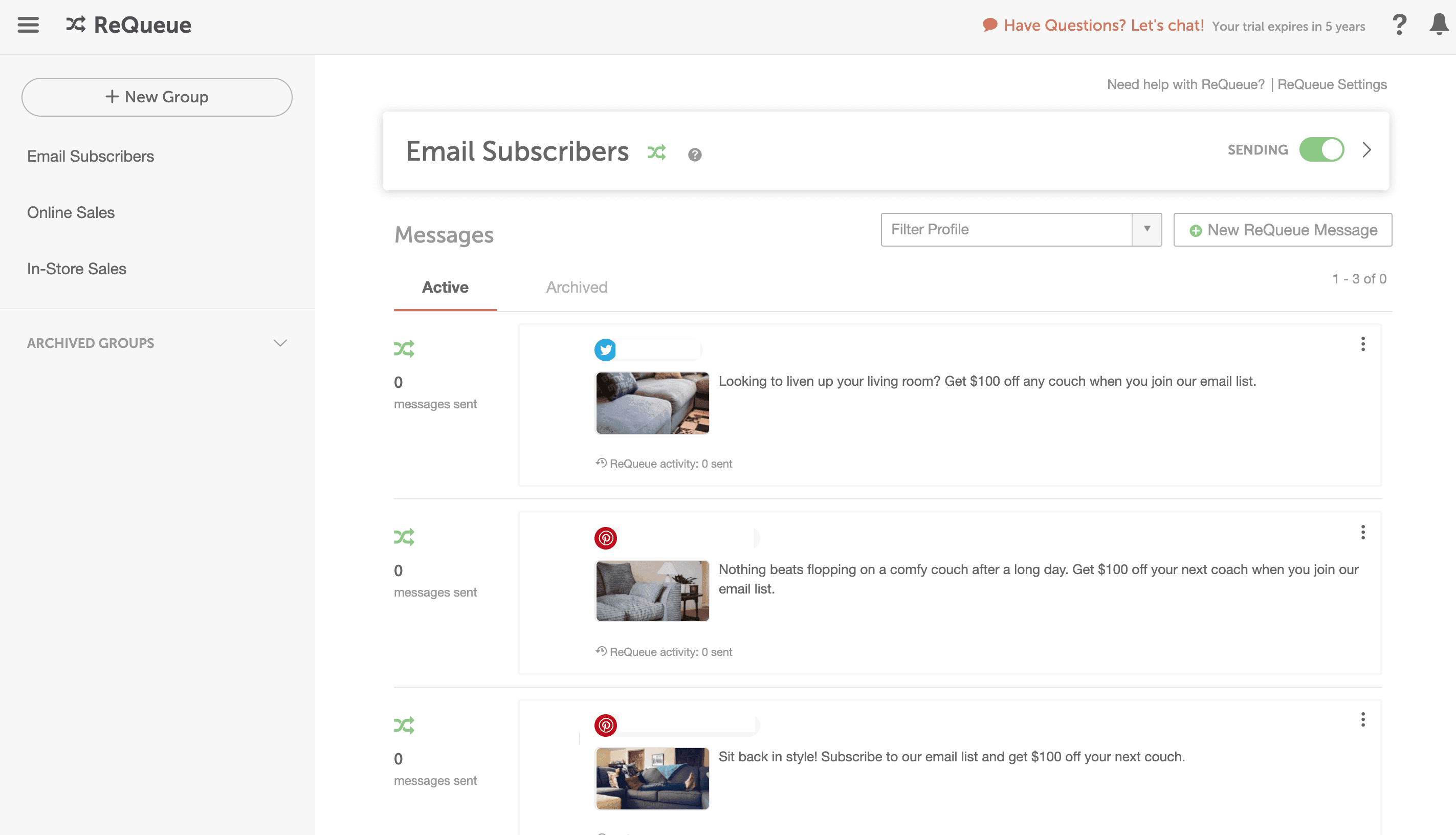 Promote Repeating Events & Campaigns With Placeholder Groups
Set up Placeholder groups to remind followers about recurring events, monthly campaigns, day-of-the-week hashtags, time-sensitive information, and more.
Create Placeholder Groups and add routine messages like these:
#ThrowbackThursday: Add messages that reflect on company history or encourage followers to comment memories. Set them to publish every Thursday.
Weekly or Monthly Events: Schedule regular invites to join online or in-person events.
Store Details: Push for in-person visits by sharing regular hours and locations.
Monthly Giveaway: Add photos of available prizes to promote a monthly contest or sweepstakes.
For more inspiration, here are a few industry examples:
A beauty blogger pushes an Instagram Live Reminder five minutes before her weekly tutorial.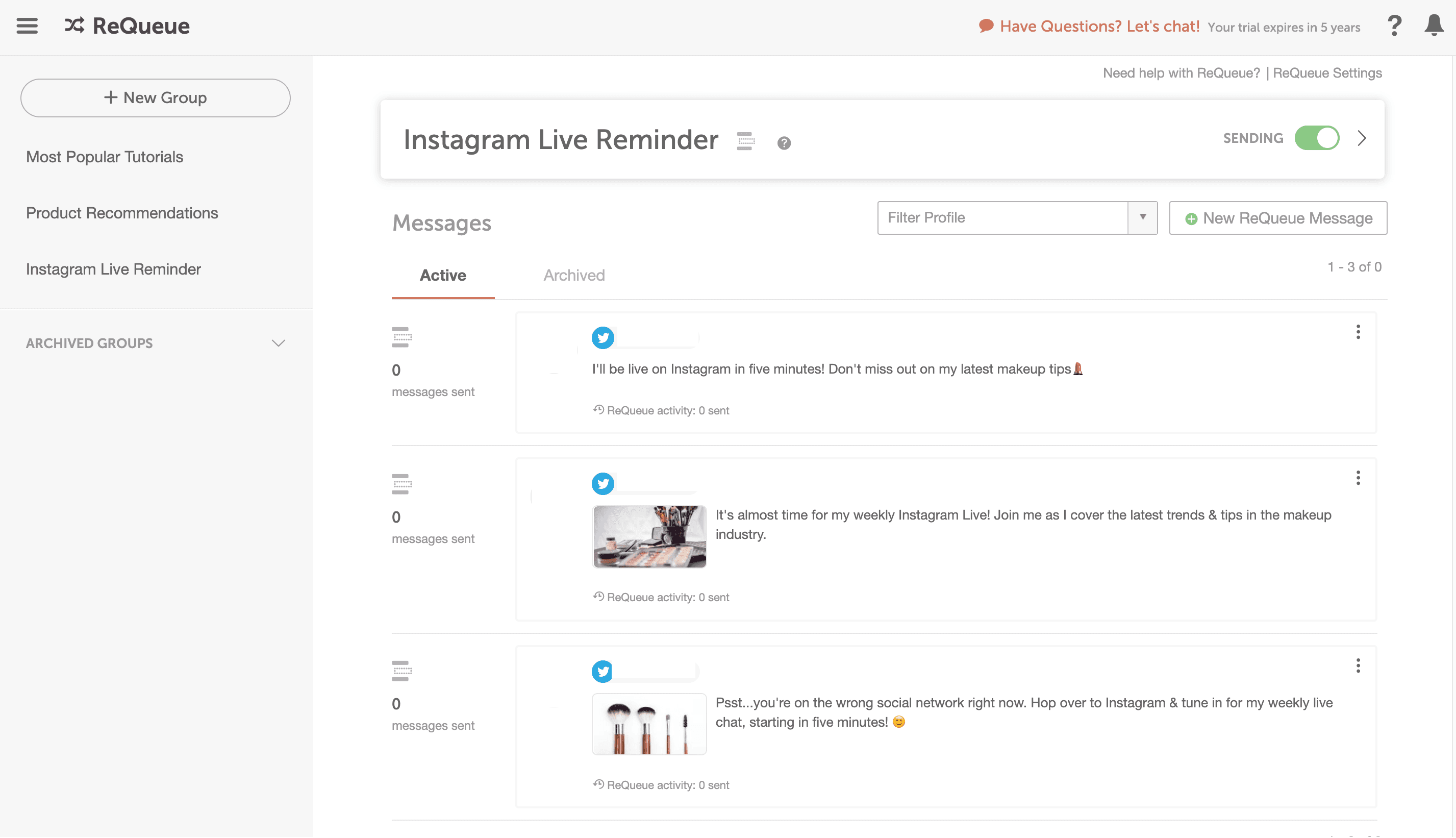 A local farmer's market posts their Hours & Location information every Saturday morning.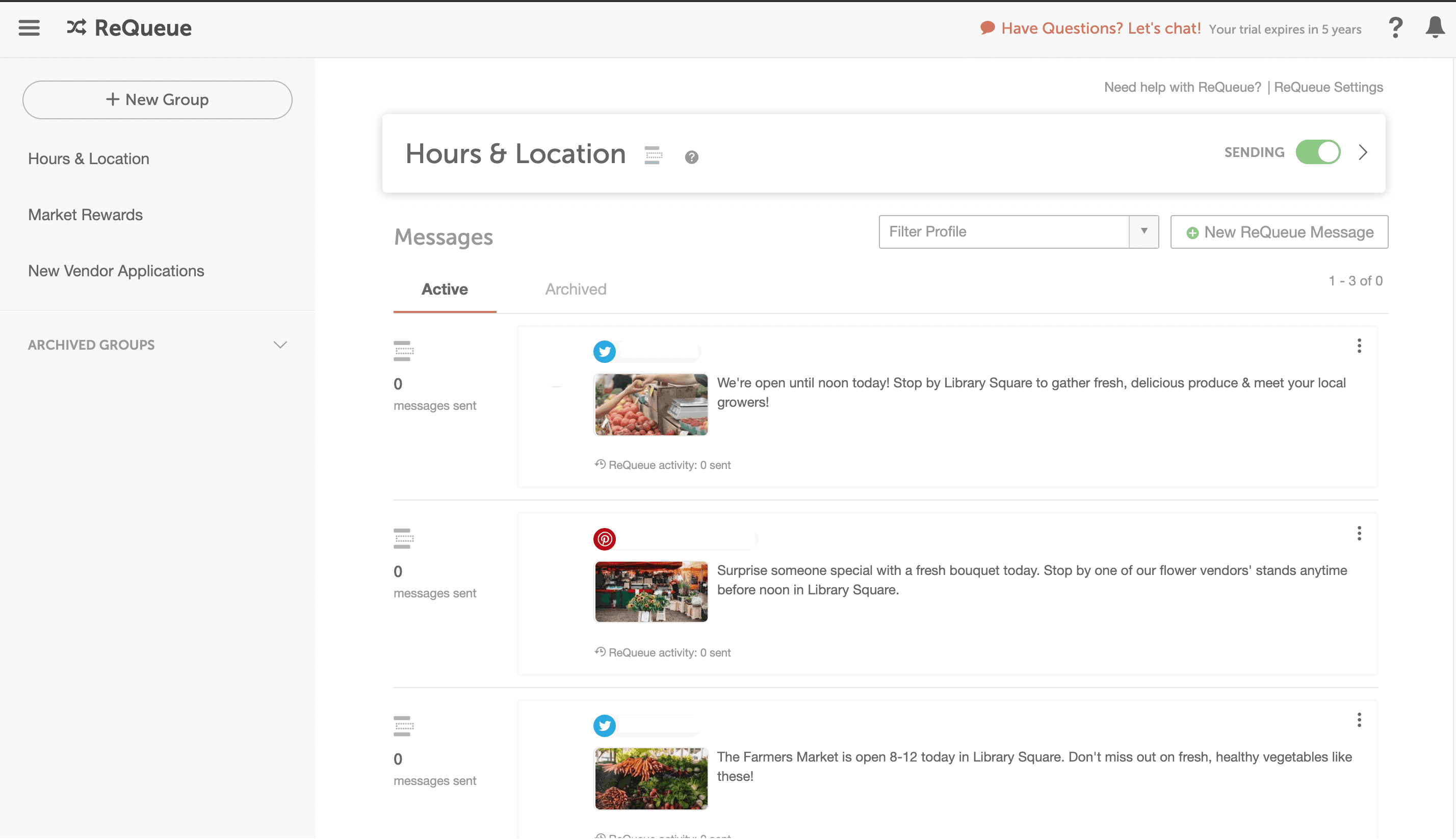 A car manufacturer shares details about the grand prize of a Monthly Giveaway at the beginning of every month.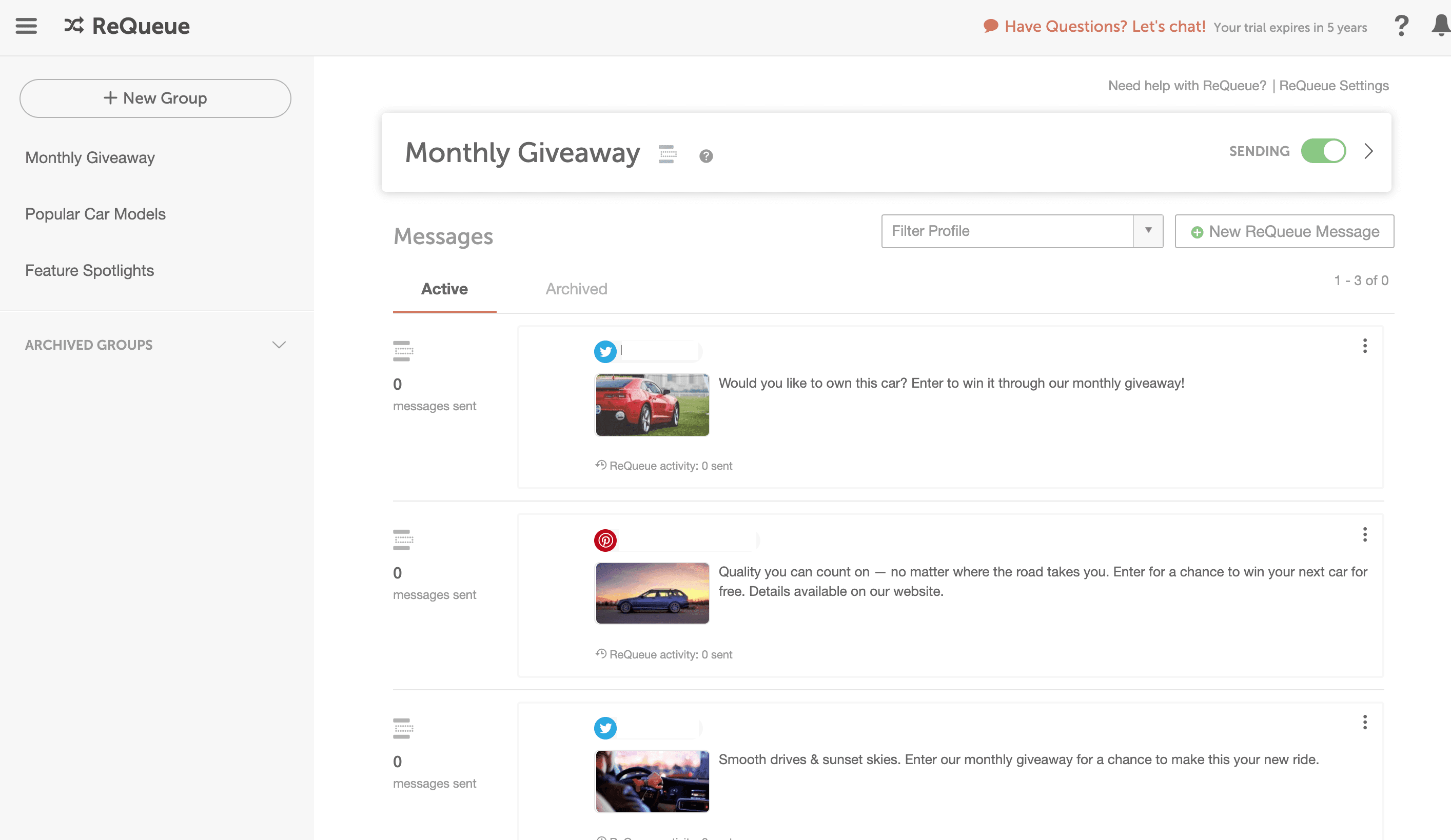 Support Other Teams & Company Initiatives
Promote content that supports other teams in your company and their initiatives. Create Intelligent groups for specific departments, teams, product lines, or another part of your organizational structure.
For stakeholder-focused inspiration, look at the color labels and tags on your CoSchedule calendar. Then create Intelligent Groups to promote their initiatives on social media:
Products & Services: Curate product photos, specifications, & reviews to balance promotion of each product line.
Departments: Prove social media value by sharing messages for sales, HR, customer service & other teams in your organization.
Regions: Add variety to your social channels by sharing stories from different branches, chapters, & locations.
Check out these industry examples for inspiration:
A gardening blogger features quick tips from each of her Indoor Plants, Perennials & Annuals online courses.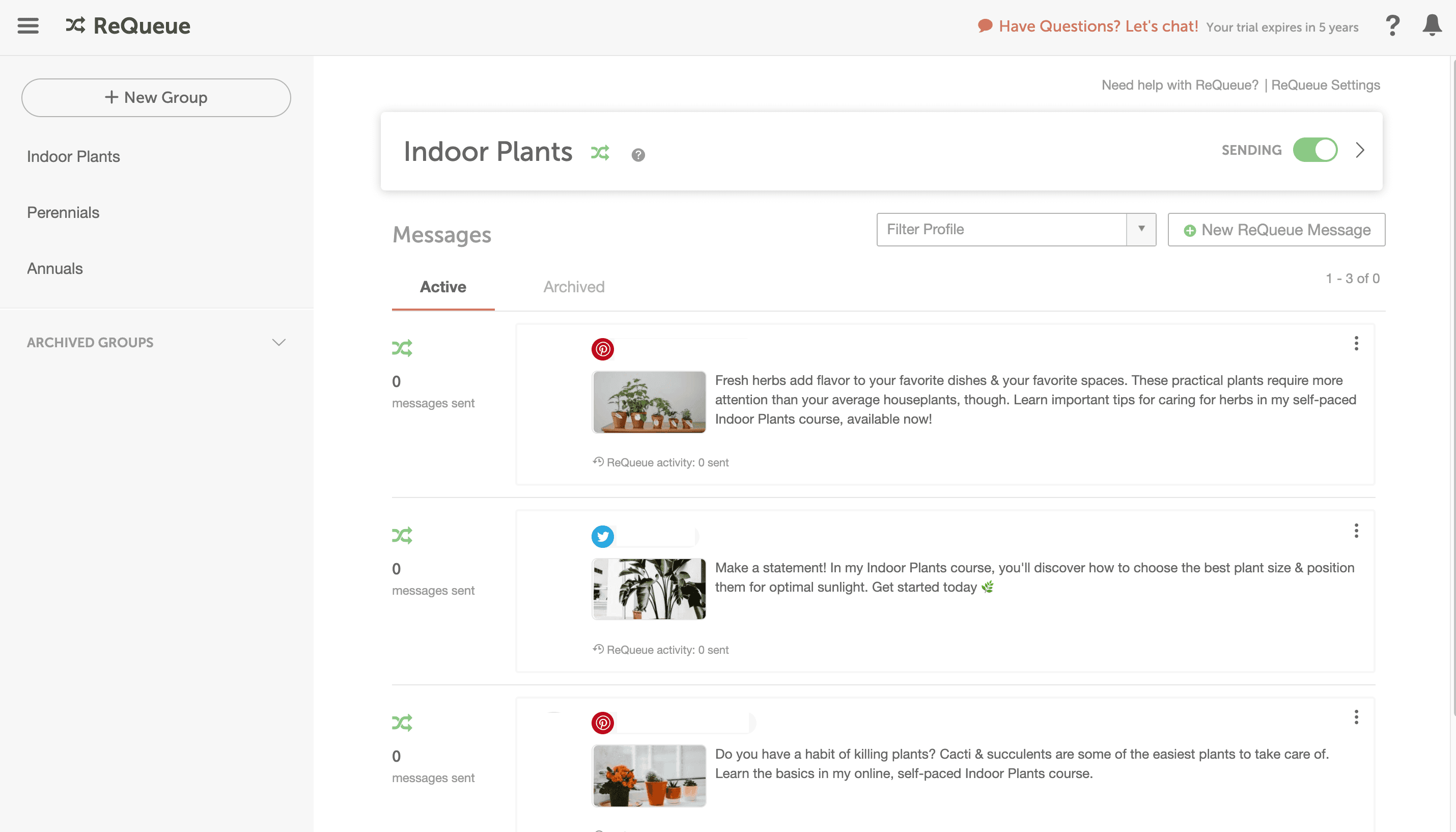 A local clinic shares interviews with medical doctors from Pediatrics, Oncology & Occupational Therapy.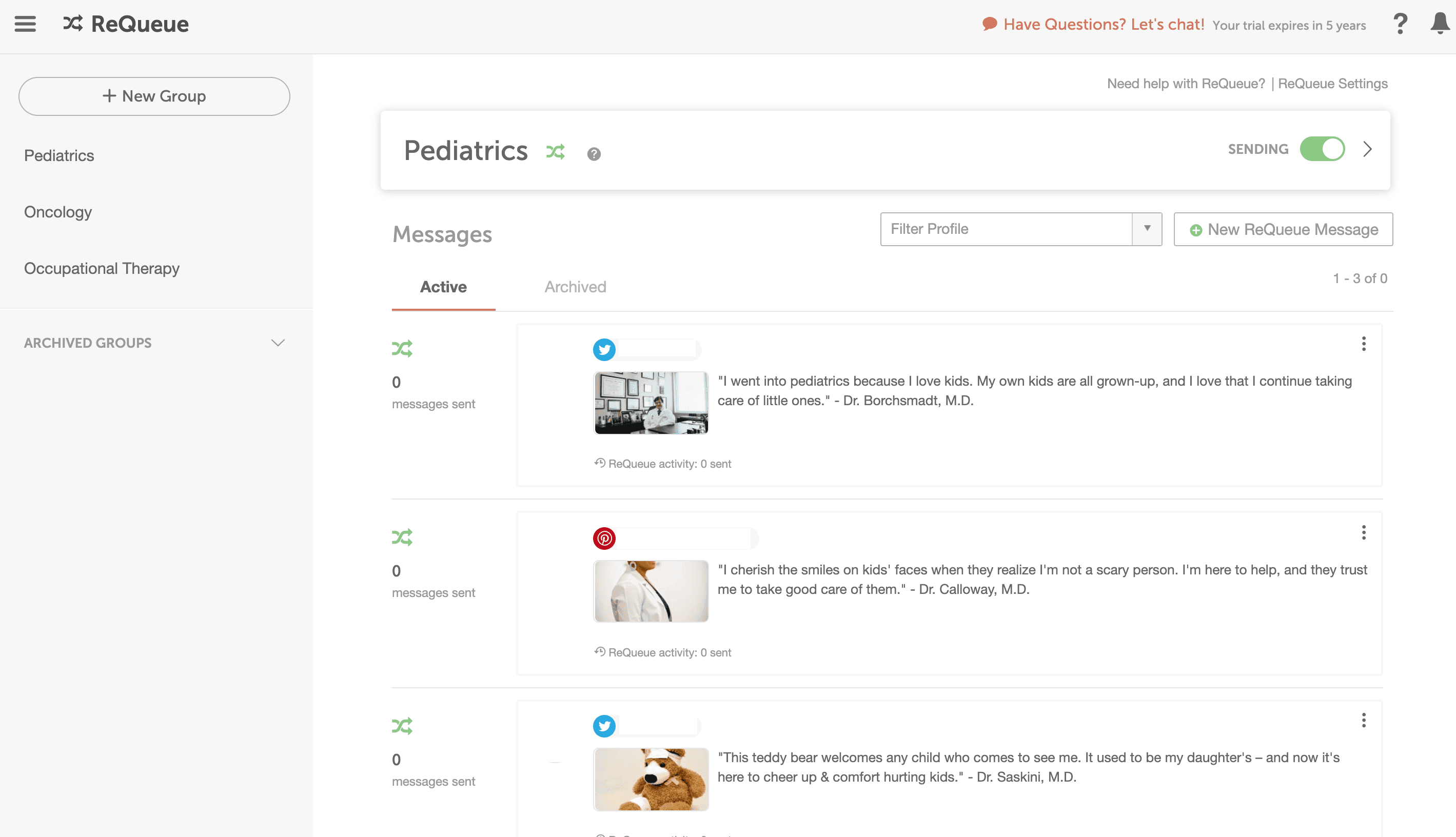 A national nonprofit showcases chapter achievements from its Midwest, Northeast, South & West regions.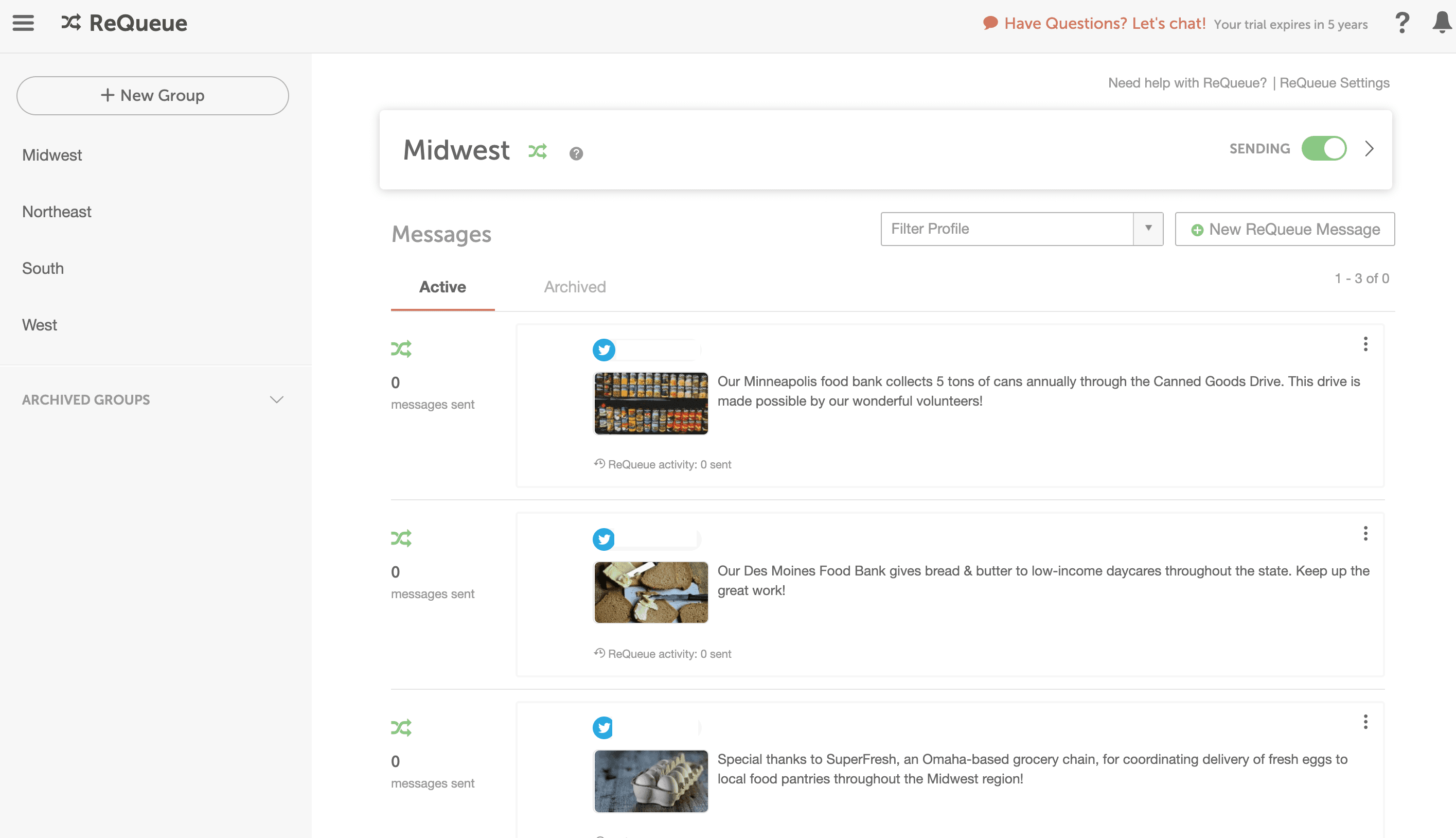 Promote Social Messages Based On Seasonality
Many industries have seasonal trends that impact their marketing strategy. With ReQueue, you can create a group of messages that promote your seasonal messages and archive it when the messages are no longer relevant.
Create Intelligent Groups or Placeholder groups to turn on & off during the year as needed:
Holidays: Share social messages for specific holiday seasons that may impact your business or sales promotions, i.e. Black Friday/Christmas shopping season.
Popular Products/Services by Season: Promote products or services during the months they have the highest demand from your audience.
Check out these seasonal examples for inspiration:
A health food and supplement company shares Fall Recipes using their products from Labor Day – Thanksgiving.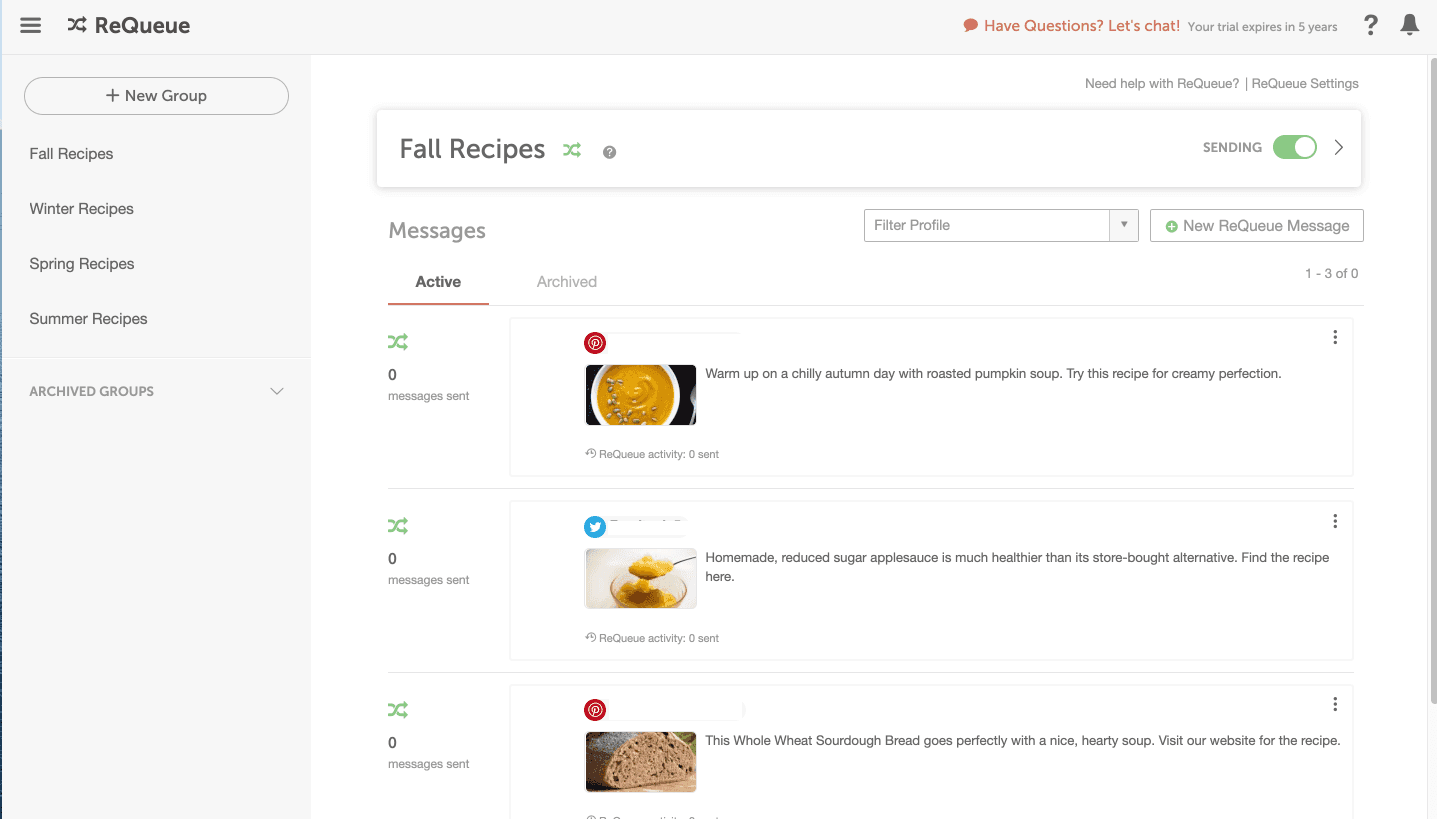 A large healthcare organization shares back-to-school healthcare reminders about sports physicals, flu shots, and vision/hearing tests in the months leading up to the first day of school.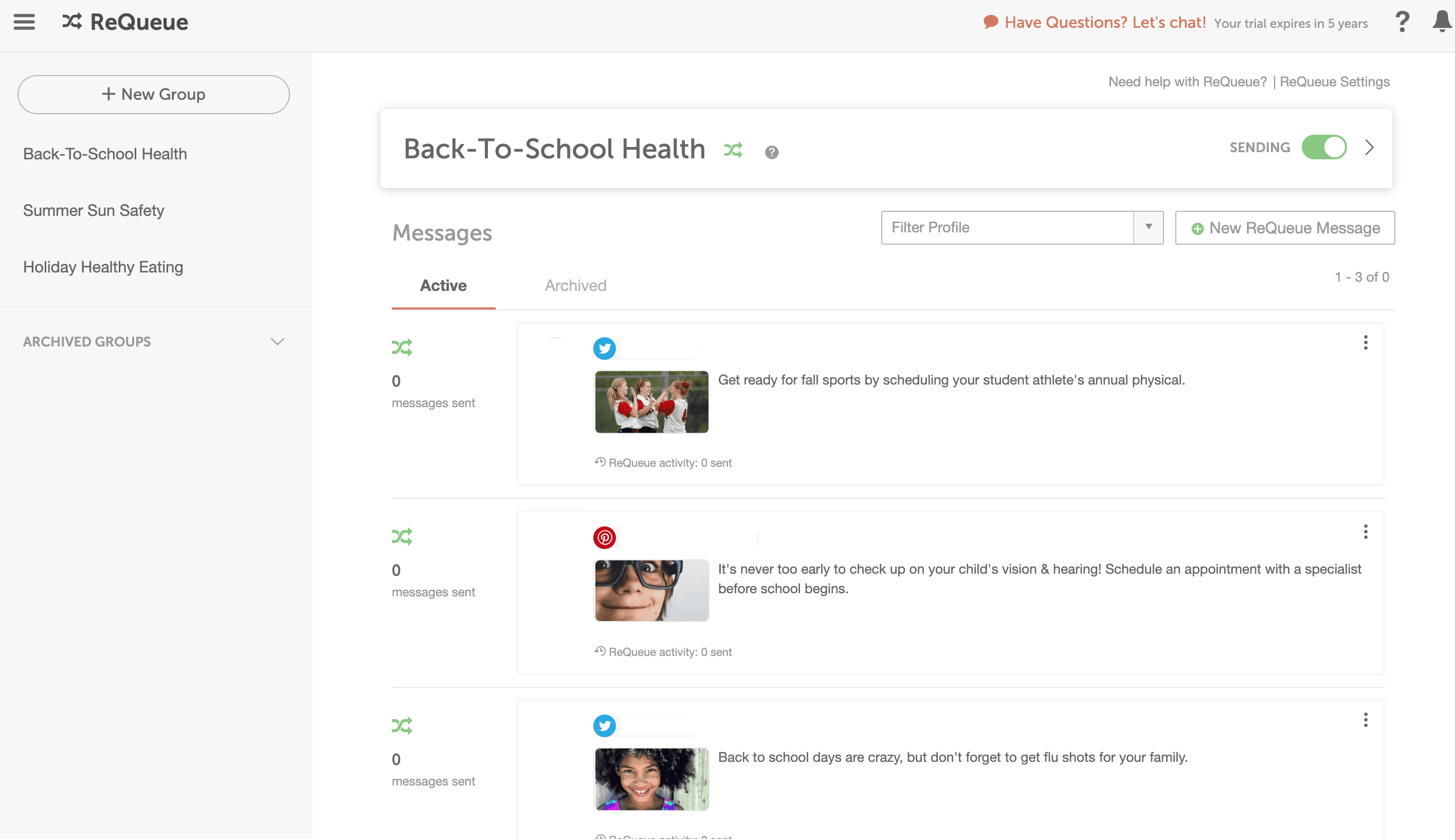 A travel agency promotes popular beach vacation destinations & ski vacations during the fall & winter months.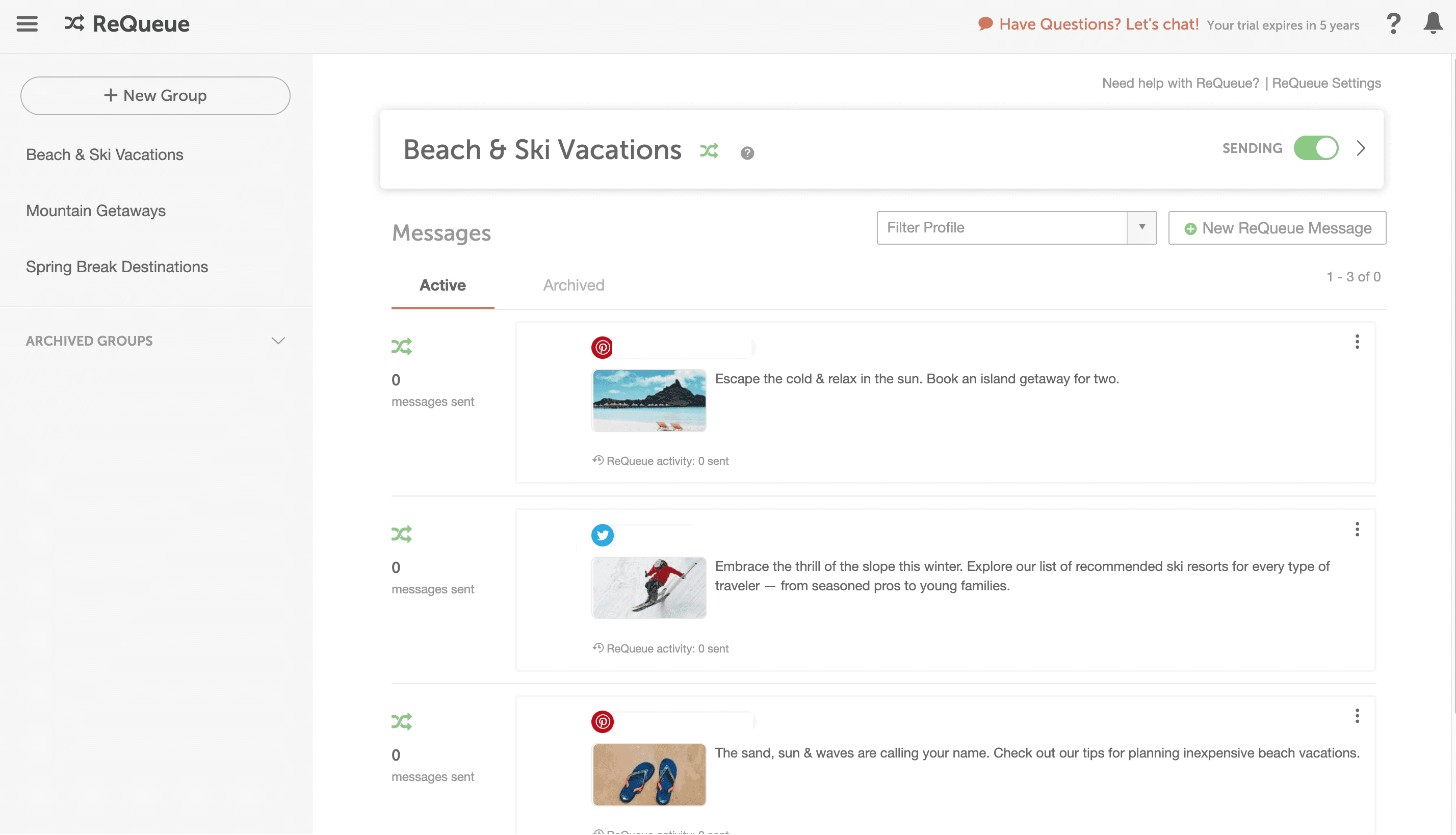 Click Archive to stop sending social messages from this group.

Best of all – you can unarchive it and reshare your best seasonal content again year over year.

Ready to set up ReQueue groups to automate your social strategy? Let's get started!
Or learn more about ReQueue Groups in our ReQueue guide.