Note:
Advanced user role permissions are only available in
Marketing Suite
.
Customize team member permissions to create flexibility within your account.
---
How to Manage Advanced User Role Permissions:
Go to

Settings

.

Select the

Team Members

tab.

To edit, click on each team member and change their permissions.
Advanced Settings:
 Tab Access: These settings grant access to the different tabs in the calendar.

By default, every user has access to the calendar tab.

Access Social Content: Team members will be able to view, create, modify, and delete social content for profiles that are checked.

Unchecking all profiles will restrict access.

Toggling Access Social Content off will hide all profiles and content for that team member.

Access Social Content is off by default for Guests and cannot be modified.

Team Member Advanced Permissions: These settings allow for additional access customization for team members.

Some permissions are OFF by default for Guests and cannot be modified.
These permissions applies to projects only and does not include stand alone social messages.
Color Label Access: These settings grant the user permission to add, edit, and create content with the color labels that are selected.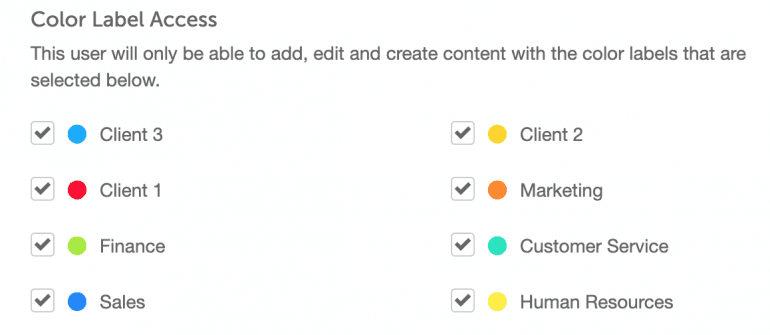 Custom Role Groups: This setting allows users to be put into custom role groups. Each user in the specific role groups will have customizable access and permissions.
---
Frequently Asked Questions
What happens if a user has social content turned off but the ability to create projects and change publish dates turned on?
The user has permission to publish projects that could contain social messages from profiles they do not have access to. We recommend users with publishing access have access to all social profiles.
What happens if Access Social Content is turned on but all social profiles are turned off?
The user will not have access to any of the social profiles that have been manually turned off. But any new social profiles that get added will automatically be turned on for the user.
If Access Social Content is turned off for a user, can they still see social campaigns that other users have created on the calendar?
Yes. This user can still see and access social campaign projects. However, they will not be able to see social campaigns added as an attachment to a project.
Can a user still schedule and publish standalone social messages if their ability to create projects and change publish dates has been turned off?
Yes. Project Permissions apply to projects only and not standalone social messages. To restrict a user's ability to schedule and publish social messages, you can do so in the Access Social Content permissions section.
---
Do you have any specific feedback for us?
We appreciate any feedback you're willing to share.