Our AI-powered blog post title generator produces eye-catching blog titles that eliminate the need to start from scratch and help you drive more traffic to your website — for free.
What Is A Blog Post Title Generator?
A blog post title generator is a tool marketers use to create high-performing blog titles their audiences would want to read.
This tool helps marketers overcome creative/writer's block, create multiple blog post titles in less time, and create titles that follow SEO best practices.
What Is A Blog Post Title
A blog post title is the first part of your post that your audience sees — which often determines whether they'll read the rest of your post.
Just as people judge a book by its cover or title, so too do they judge your blog post by its title. That's why you need strong blog post titles.
Your blog post's title needs the right mix of keyword research, analysis, and creativity to rank high on search engine results pages (SERP) and attract your audience's attention.
How To Use The Blog Post Title Generator
Using this free blog post title generator is a breeze. And it doesn't matter what industry you're in or how much tech expertise you have.
Here are the four simple steps to get the most out of this blog post title generator.
Step 1: Enter the topic or keyword
Start by choosing a topic or keyword you want to write about. Your topic or keyword should be relevant to your audience and be a search query your audience already uses online.

Step 2: Show optional fields to add additional information
You can tailor your blog titles by clicking the "Show optional field" on the title generator.
The optional fields allow you to define your target audience and your brand's tone of voice.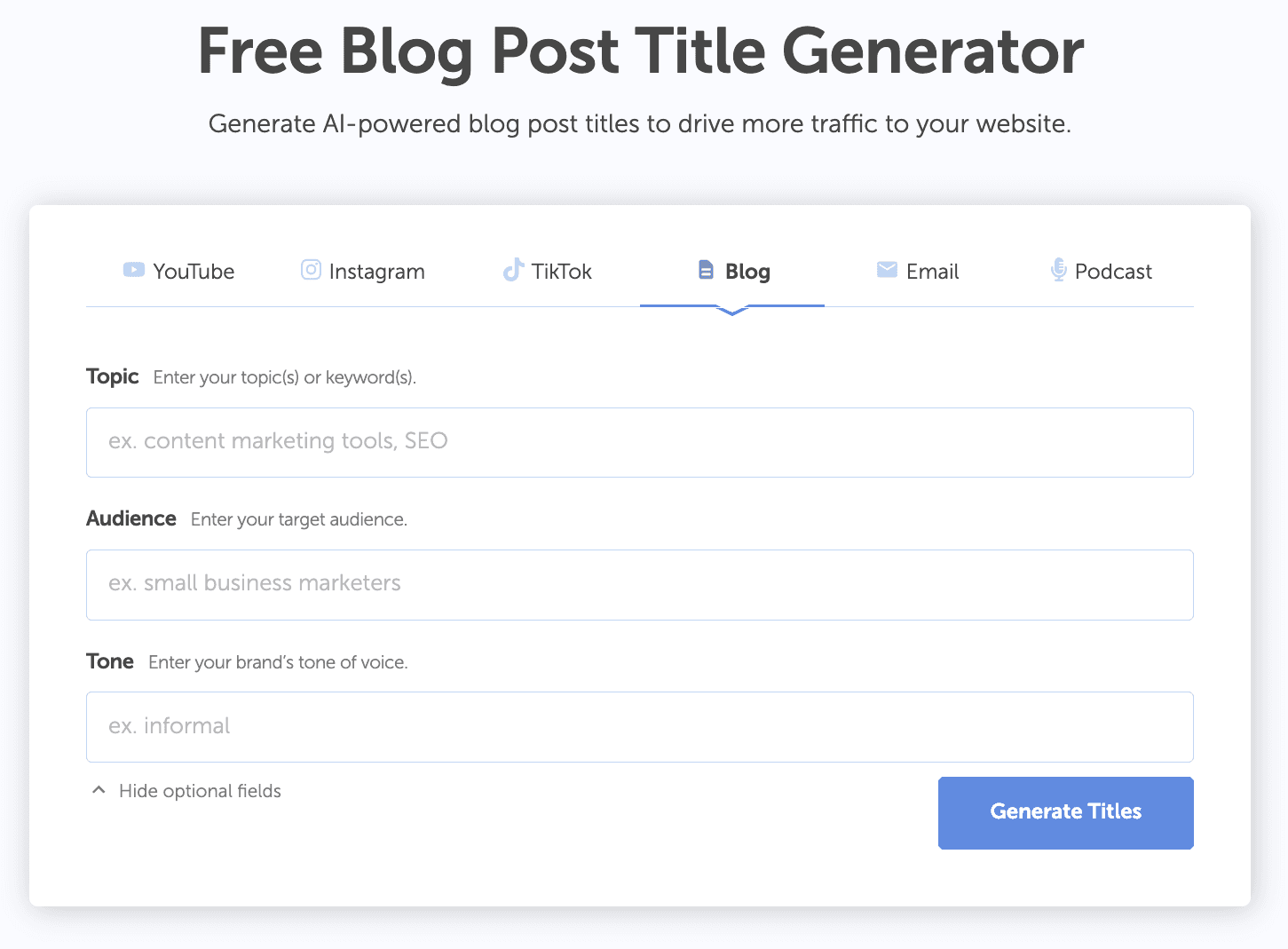 Filling out these fields will ensure the generated blog topics resonate with your specific audience and sound like your brand.
Step 3: Generate titles
Now that you've chosen your topic, target audience, and brand tone, what's left is to click "Generate Titles."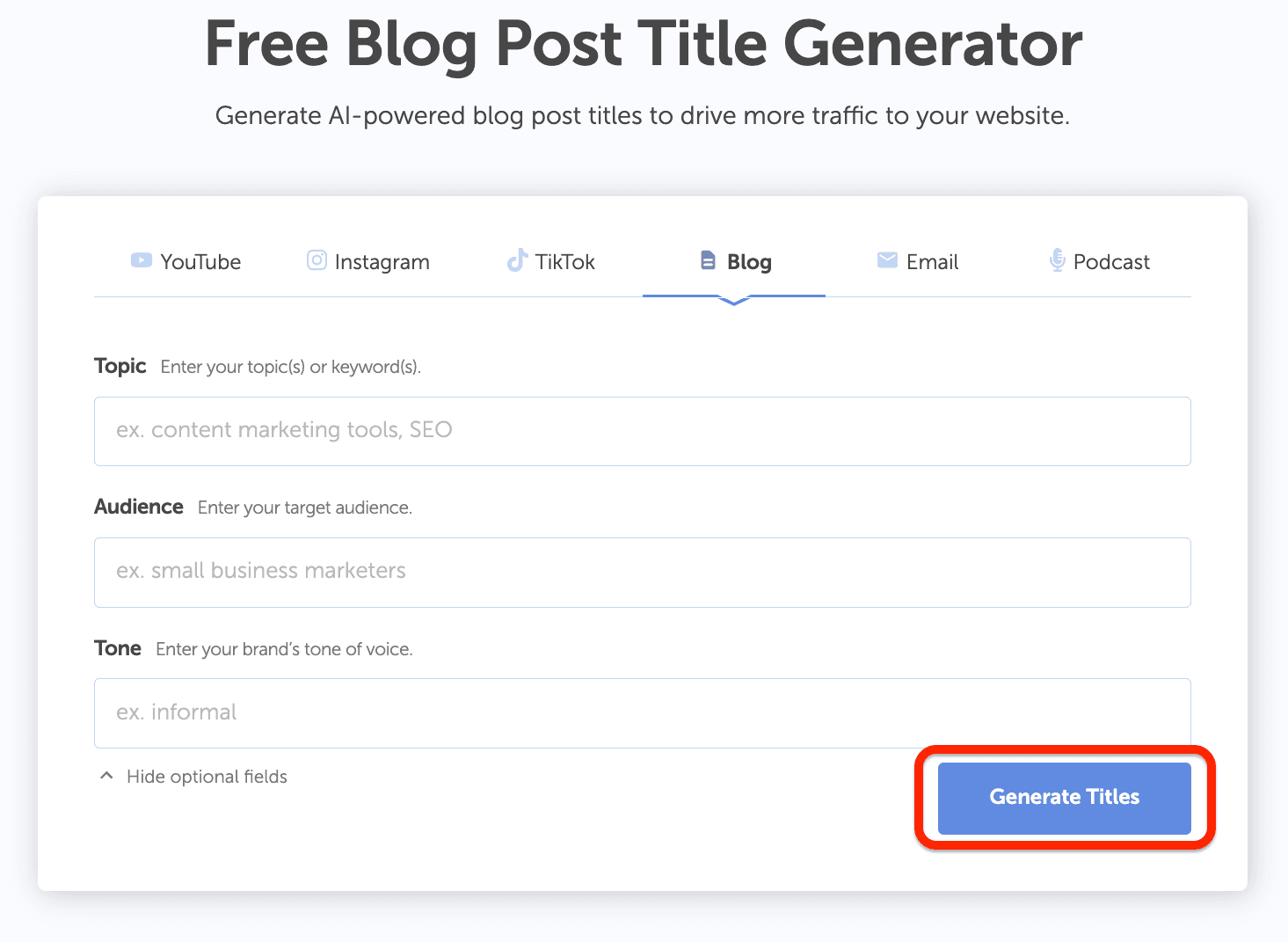 You'll wait less than 10 seconds for our title generator to deliver a list of 10 blog titles you can use immediately.
If you don't like any of the blog titles delivered, you can input your keyword into the search bar from Step 1 to get new titles.
Step 4: Optimize your title for engagement & SEO (Headline Studio)
Found a blog title you love? You can make it even better by using CoSchedule's Headline Studio to optimize it for engagement and SEO.
To optimize a title you like, click the "Optimize" button on the title's side.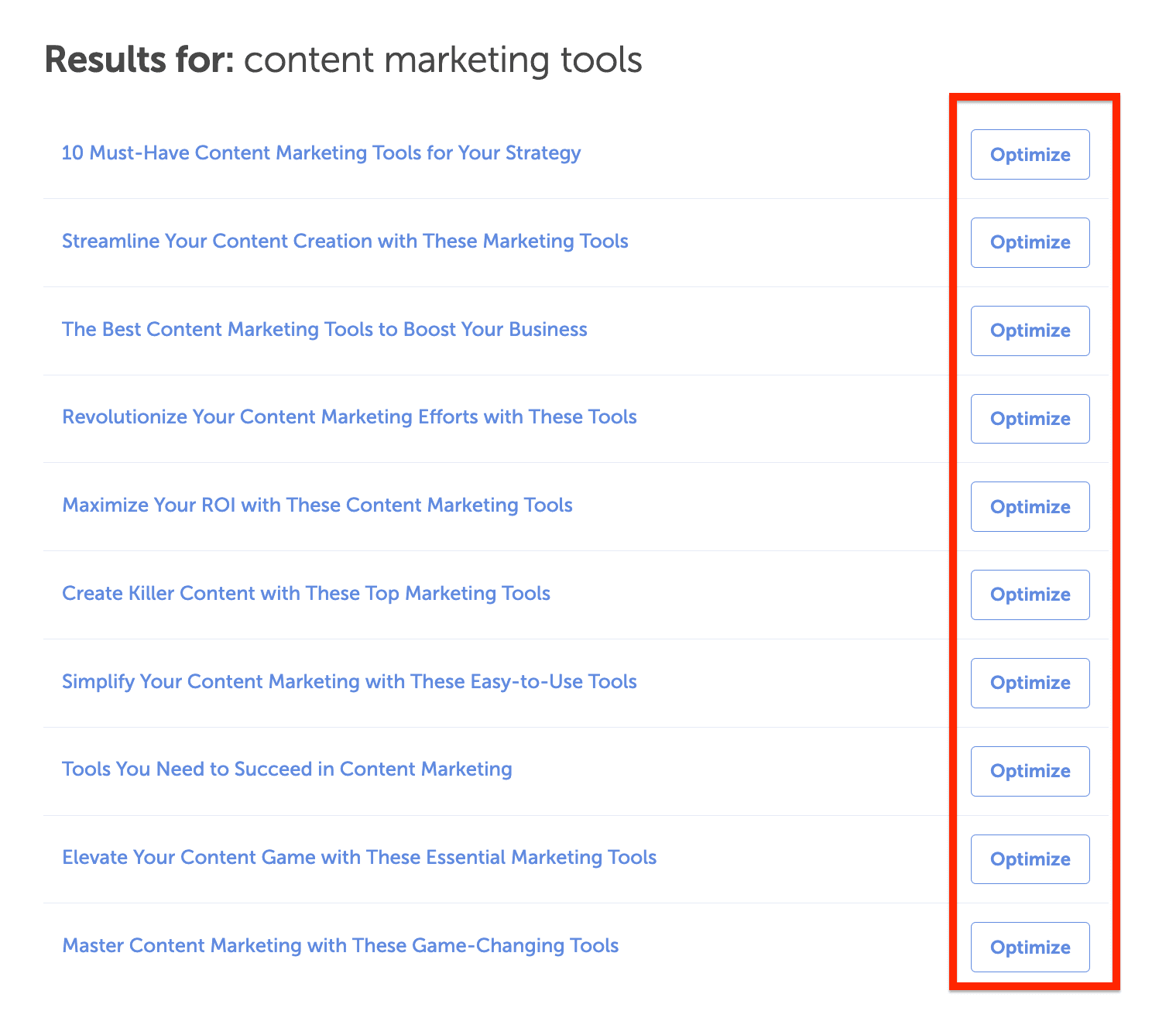 Once inside the Headline Studio, you'd have access to data-backed headline scoring, suggestions, and SEO information that'd help you create blog titles that:
Rank high and are more visible on search engines
Hook readers and boost click-throughs on your content
Drive traffic back to your brand & convert more readers into customers
Benefits Of Using A Blog Post Title Generator
Here is what you can gain when using this blog post title generator.
SEO Friendly Blog Post Titles
The headlines that blog title generators deliver are usually optimized for search engines — thereby giving your content a better chance of ranking higher and getting in front of more people.
Create Engaging Headlines
Aside from ranking, your headlines must be engaging enough for people to click on them. Using a blog post title generator combines the best practices or elements needed for engaging headlines.
Save Time
You no longer have to stare at a blank page or spend hours thinking of headline ideas. With a few keystrokes, you can generate multiple headline ideas using a blog post title generator.
Generate Options
You're no longer stuck with 2-3 headline options for your blog, as a blog post title generator delivers at least ten blog titles you can use.
<div-section> How To Write Great Blog Post Titles
Although a blog post title generator does most of the work for you, knowing what makes a blog post title great is crucial. That way, you'd always be able to write one by yourself and identify how to improve an existing blog post title.
Know Your Audience
Before you write a blog post title, you must know who you're writing for or who you expect to read it.
To define your audience, ask questions like who are they? What are their top problems (that your business can solve)? What kind of content do they consume? And so on.
You can also interview your current customers, use social listening, and other forms of market research.
Put Keywords At The Beginning Of The Title
Front-loading or putting keywords at your title's beginning helps you quickly grab your audience's attention. SEO experts also recommend using your keywords early because it makes them more relevant and gives your title a visibility boost.
Say you want to write a title about Twitter threads, you could use a headline like "Twitter Threads 101: Everything You Need to Know."
Be Conscious Of the Length
Analysis from our Headline Studio shows that headlines or titles with around 8-13 words and 60-90 characters tend to earn the highest click-throughs.
While your title's length might not directly influence your rank on search engines, it significantly affects engagement.
Use Persuasive Language
You should use words that evoke feelings or emotions in your audience. These words often stir up emotions that cause an audience to open a headline whenever you use them.
Examples of these power or emotional words include free, masterpiece, you, envious, etc. We have a list of over 1900 of these words you can use in your next headline.
Research Similar Blogs And Build A Formula
Researching what other blogs in your industry are doing can give you insights into how to structure your blog titles.
For instance, you might notice that most blog titles are in listicle formats or a comprehensive how-to guide. Whatever the case, you should model (not copy) after these headline types.
Stay On Top Of Blog Post Title Trends
Your audience's preferences and industry best practices are constantly changing. As such, it's essential to stay on top of blog post title trends to get the desired results.
Test Blog Post Titles
As much as you try, you can't exactly read your audience's minds and tell the headline they'll click. The closest you can get to reading their minds is by performing A/B tests.
These tests allow you to vary different elements of your blog post title, like the length, words, keyword placement, etc., to determine the best combination.