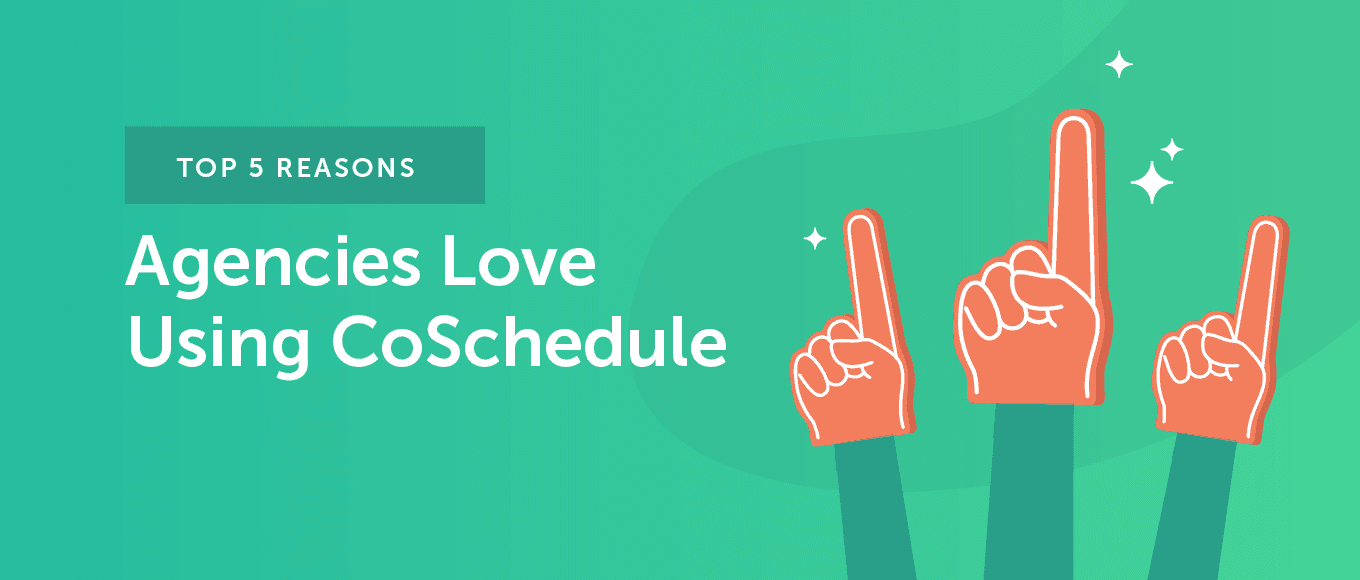 Successfully coordinating projects and campaigns for multiple clients requires the right tools and processes.
With CoSchedule, agencies can finally organize every client's marketing in one place.
Instead of managing work in spreadsheets, email threads, and different, single-function tools that are unique for each client, CoSchedule brings together all of your clients' marketing in a single solution so your team can complete more work.
Looking for a better work management solution for your agency team?
We've compiled a list of the top 5 reasons agencies love using CoSchedule to organize their clients' marketing.
With CoSchedule, your team will:
#1 – Know your availability to take on new work
You'll finally get an accurate gauge of your team's bandwidth to increase the number of projects you deliver.
Without complete visibility of your employees' work, it's impossible to know if you have the capacity to take on new projects.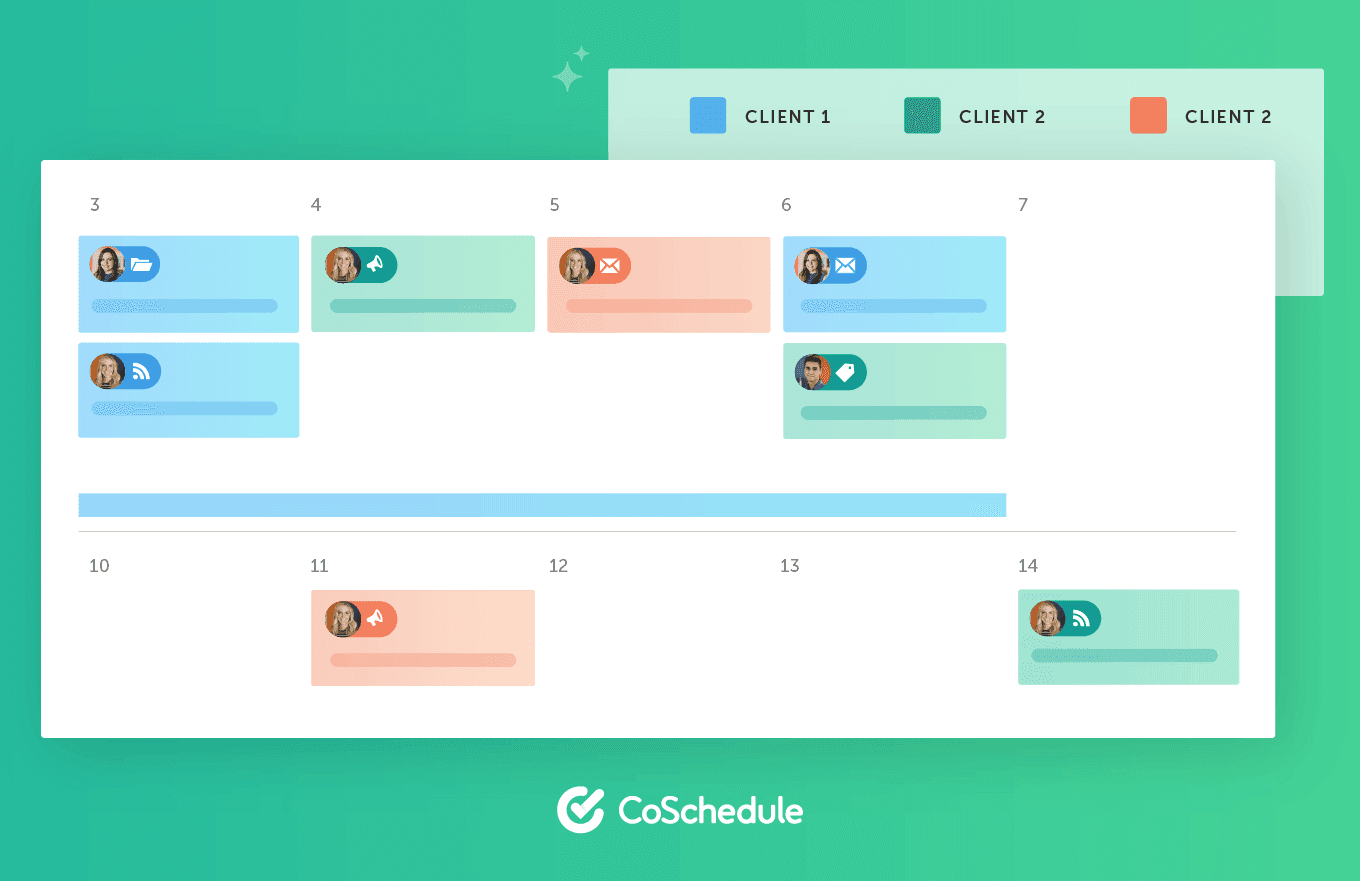 With CoSchedule, you'll see your employees' projects for every single client in one place. You can pre-plan and evaluate your team's availability and keep production schedules full.
The last thing agencies want is available time on production schedules. That's time that could be filled with new client projects.
Or even worse – your team ends up stressed and overworked, scrambling to meet client deadlines at the last minute. All because you took on too much without enough internal resources to get it all done.
#2 – Create quality content instead of coordinating it
By standardizing workflows in CoSchedule, your team will have clear direction on campaign details and deadlines.
Map out project timelines and assignments in CoSchedule to keep these projects on track. Your entire team stays on the same page and has the context and details they need to get work done – like brand assets, client feedback, and deadlines.
Your team was hired to create inventive campaigns, stellar branding, and drive conversions for your clients.
This structure lets employees spend less less time replying to emails, sharing files, and asking for feedback.
Instead, spend your productive time completing the projects your clients hired you for – design, copywriting, web development, and beyond.
#3 – Increase profit margins on client work
Agencies that use CoSchedule shorten production timelines and generate higher ROI on client projects.
For agencies, time is money. Whether you bill hourly or flat-fee for client work, inefficient processes negatively affect your bottom-line.
Use CoSchedule to streamline your workflows and minimize wasted effort and unnecessary edit loops.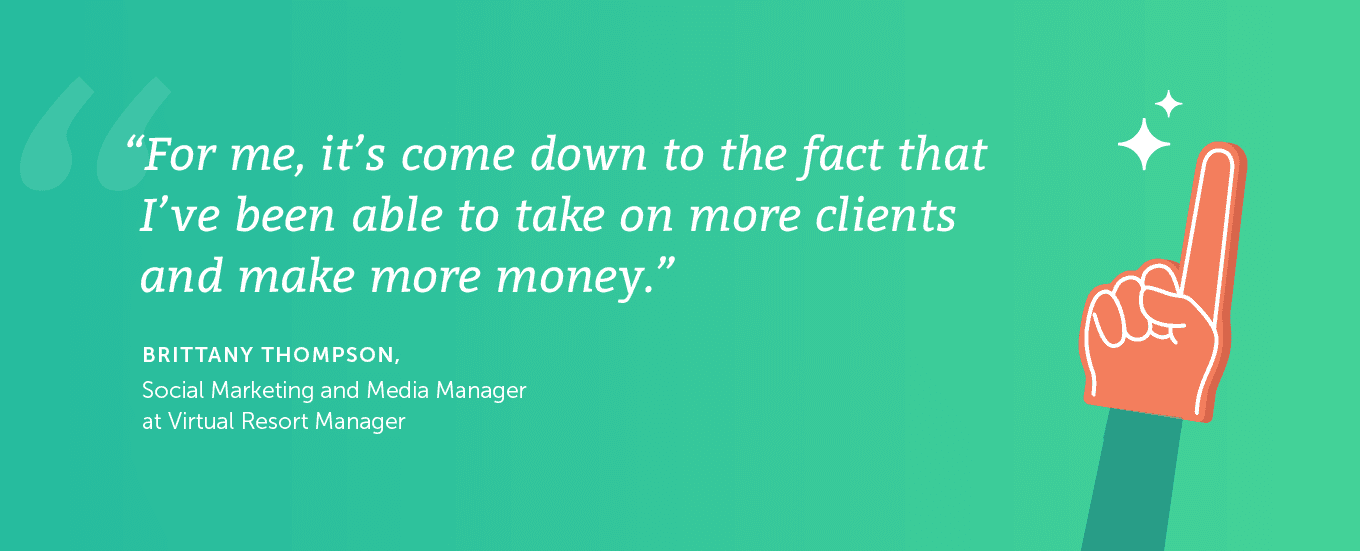 When you add new projects in CoSchedule, you can get them into production and your team up to speed quickly, so you can complete work faster and with fewer roadblocks.
This reduces wasted effort and wasted time, so you can increase profit margins on client projects.
#4 – Improve client relationships
With CoSchedule, you'll give clients total visibility of their projects in real-time to eliminate unnecessary meetings, email, and phone calls.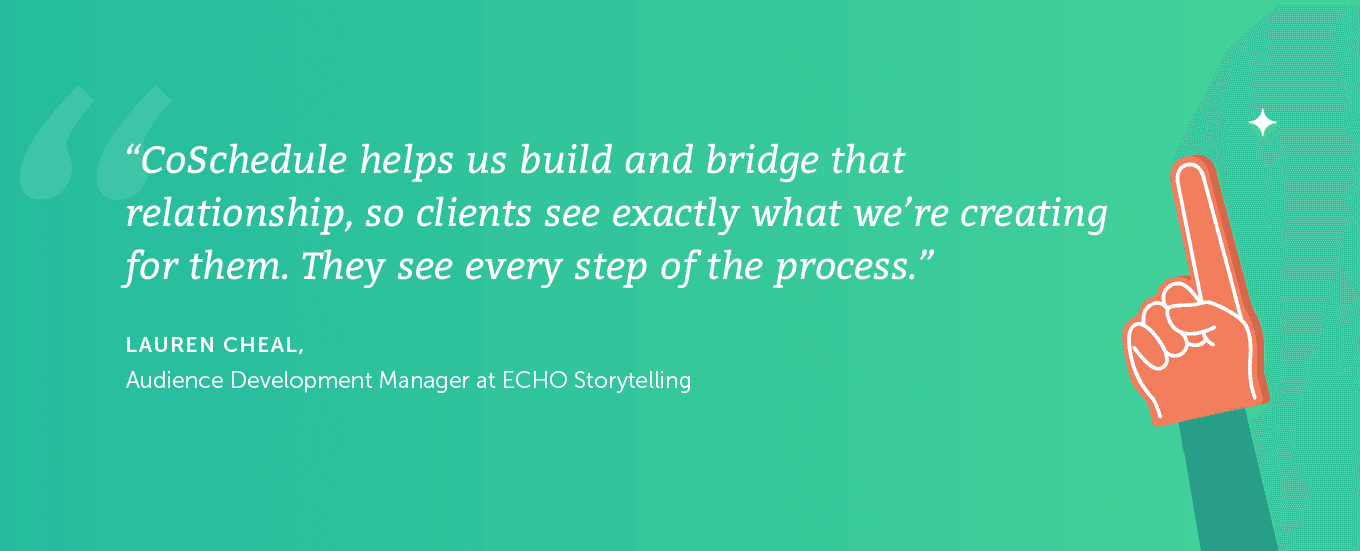 Trust is key in forming long-lasting partnerships with your clients. This visibility (even if it's only read-only access), gives them a live view of their active campaigns.
By providing them with this information up front, clients can get updates on your team's progress on their own.
Your clients expect their deliverables when you promise them. CoSchedule helps marketers complete projects on time, so you can meet deadlines every time and keep your clients happy.
#5 – Prove your value with professional reports
Instead of manually formatting data, you can schedule and share white label reports in CoSchedule to showcase the impact of your team's work.
Your clients hire you as partners in their success. To maintain their trust, you need to prove the work you do is valuable to their company.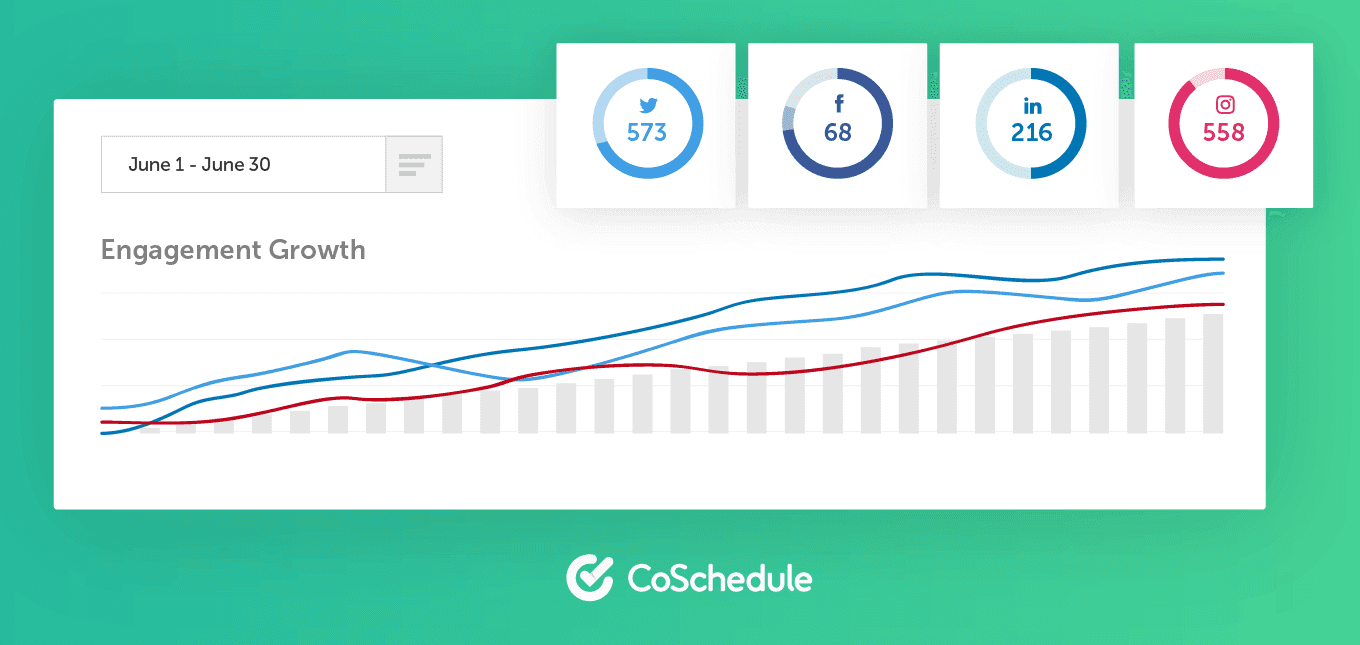 But creating marketing reports that are easy-to-understand and demonstrate the impact of your agency's partnership – they take a ton of time to create.
CoSchedule lets you easily generate professional reports for your clients.
Then schedule recurring reports, so you can automate reporting and deliver data straight to their email inbox.
CoSchedule Organizes All Your Client Work In a Single Tool
CoSchedule is the only tool that lets agencies organize work for every client in a single place.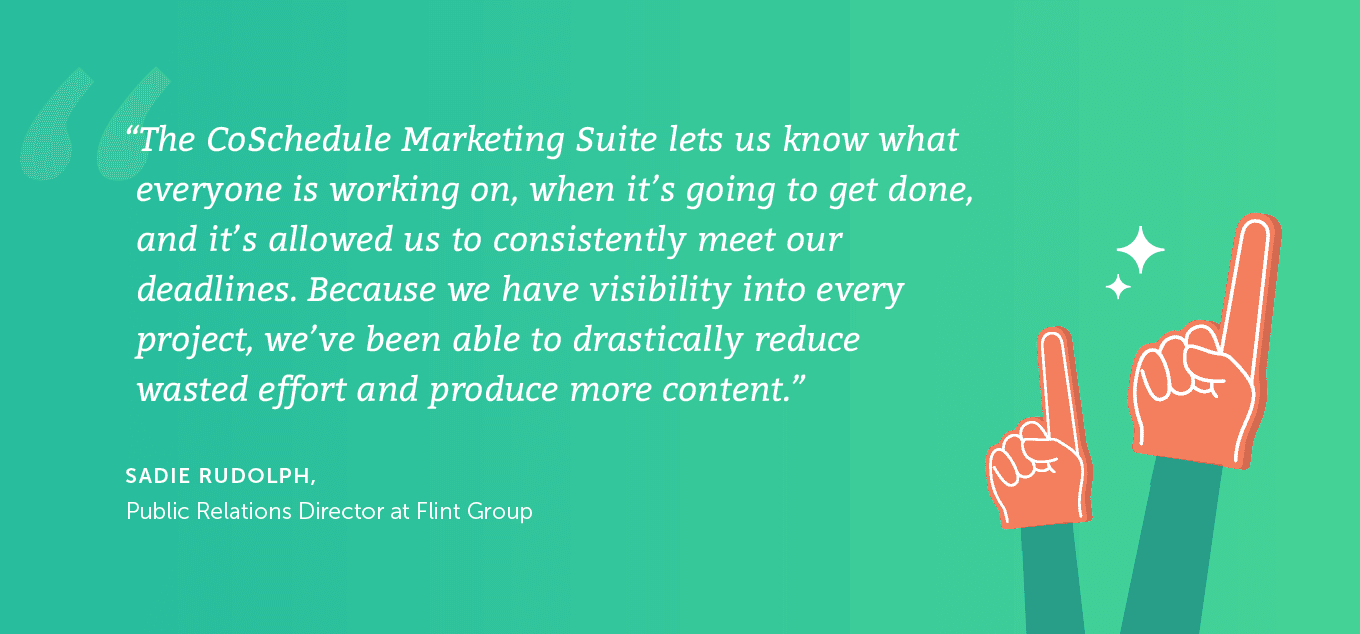 You can finally ditch the spreadsheets and other makeshift workarounds for good. CoSchedule gives you a single source of truth for your client work in progress, future work, and production timelines.
Help your agency complete more work, deliver projects on time (every time), and prove the value of your work to your clients with CoSchedule.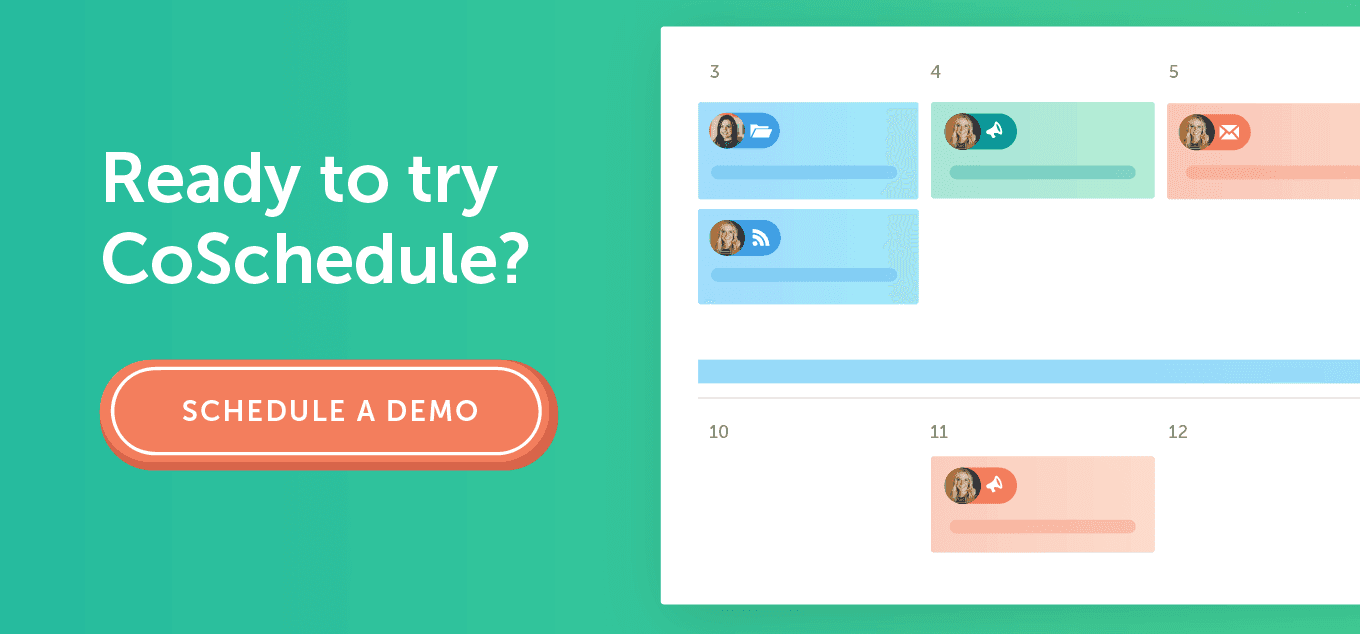 September 24, 2019