Content Governance: How to Establish Processes That Drive Great Content
What does your ideal day at work look like? Does it involve constant emails and messages, digging through files just to find the right one, and worrying about missed deadlines… ...or is it filled with managing high-performing content and working with a happy marketing team? If your current situation looks more like the first scenario, you're missing a key ingredient: content governance. I know it doesn't sound like a hot, interesting topic, but implementing it will transform the way you work. So far, you may have focused on simply managing your content, but content governance digs deeper. It goes beyond content and into your processes, people, and resources.
One study revealed
 that 72% of marketers feel their brand struggles to manage content strategically. Only 12% feel successful in doing that. If you want to be part of the 12%, this guide is for you. In it, you'll learn:
How to lay a foundation for a hyper-productive marketing team that remains in sync no matter the challenges.
The most impactful tools and strategies that will eliminate content chaos in your company.
The best ways to streamline and automate your workflows so you can focus on the projects with the highest impact.
Content Governance: How to Establish Processes That Drive Great Content by @MarijanaKay via @CoSchedule
Click To Tweet
Download Your Content Governance Templates
Make successful implementation of your content governance processes easy with these four templates:
Marketing Project Checklist Template: Create and enforce clear and easy-to-follow processes.
Creative Brief Template: Establish clear expectations for every piece of content your team creates.
Content Style Guide Template: Ensure every piece of content you create meets consistent style and brand standards.
Content Calendar Template: Keep your publishing schedule organized.
What is Content Governance?
Content governance is a set of procedures and systems that define how your content is planned, created, and published.
It allows everyone involved in the process of content creation to know exactly what to focus on to maximize their impact. In other words, content governance helps you define guidelines, roles, and responsibilities. The result? A content
management
process that helps your company hit and exceed its business goals. Content governance determines the long-term approach to your content strategy and translates it into your day-to-day processes, tasks, and activities. The most successful marketing teams rely on content governance daily. Consider
these numbers
:
The majority of marketers (82%) don't have the right technology, or any technology at all, to manage their marketing assets.
Only less than half of marketers (42%) have a documented strategy for managing their content as a business asset.
The good news? It doesn't have to be this way, and having a content governance system in place pays off.
CoSchedule's survey
 of 3,000+ marketers revealed that:
Most organized marketers are 397% more likely to report success.
Marketers with a documented strategy are 313% more likely to report success.
Marketers who proactively plan projects are 356% more likely to report success.
The structure of content governance will help you and your team easily determine priorities and take ownership of content.
Why Does Content Governance Matter?
The short answer: content governance matters because it brings order to the chaos of your content workflows. There's more to it, though—let's look at some of the key benefits that this order will bring you.
Create a Consistent Experience For Your Audience Across Channels
If you struggle with omni-channel marketing, you're not alone—
45% of marketers
 feel they don't have the talent, technology, and processes they need to make it work.
Source: ZoomInfo Content governance will help you with this. Why? Because it provides the foundation for every channel you're using and every message you hope to deliver. It's the backbone of every marketing project you tackle—blog posts, webinars, emails, social media, and beyond.
Run a Hyper-productive Marketing Team
This sounds overly simplified, but hear me out: having a productive marketing team is like having a superpower. When I talk about productivity here, I'm not talking about completing as many tasks as possible. I'm talking about completing the right tasks—those that bring the highest value both to your customers and your business. At CoSchedule, this is something
referred to as 10x projects
. Unlike 10% projects (for example, fixing typos), 10x projects let you prioritize the work that will help you reach your marketing goals 10 times faster.
Focusing on 10% projects means you'll often switch between projects and lose focus as a result.
One study
 shows that task switching can cost up to 40% of someone's productive time. That happens in two stages:
"Goal shifting," which happens when you make a decision to move from one task to another.
"Rule activation," which means you need to wrap your head around a new set of rules and parameters for the next task.
With content governance, you won't just help your team focus on the right projects with clear goals in mind; you'll also outline the exact way to do them. No delays and no second-guessing.
With content governance, you won't just help your team focus on the right projects with clear goals in mind; you'll also outline the exact way to do them. No delays and no second-guessing.
Click To Tweet
Empower Your Whole Company to Contribute to Your Content
If you ever worry that your content looks identical to your competitor's, you'll love the idea of content governance. Why? Because it helps you maximize a resource no one else has or can copy: your internal expertise. In your company, there are people who are excellent at what they do, but they're not marketers or professional writers. Content governance will empower these subject matter experts to participate in brainstorming, creation, and/or approval of your content. As a result, your content will become
competition-free
. In his book,
The 10x-Marketing Formula
, CoSchedule's CEO Garrett Moon emphasizes the value of creating content with a unique approach because no one else can compete with it, and it renders competition irrelevant.
No one else but you has access to your colleagues' wisdom and your company's internal expertise. Content governance will help you make the most of it.
Which Tools Are Essential For Content Governance?
Each company has their own way of adopting content governance. That, of course, means that no toolkit will be the same, and no list of tools is an ultimate one. Use our list of tools below to get inspired, to imagine what's possible when you make the most of content governance, and to introduce it to your company in a way that will make it sustainable.
Editorial Calendar
The smartest way to get rid of the content chaos is to centralize everything you publish in one place. When you get a visual overview of the key dates for your business—product launches, for example—you can organize everything you publish based on that. Let's say you're releasing a new product at the end of June. You could haphazardly and sporadically post on social media and send a few emails about it… Or you could visualize the timeline leading up to the launch on a calendar. This way, you can plan, prepare, and execute projects like educational blog posts and all supporting content in time to warm up your audience for the launch. CoSchedule's
Content Organizer
 is the easiest way to ideate, schedule, create, and publish timely content that's in line with your strategy and big-picture goals.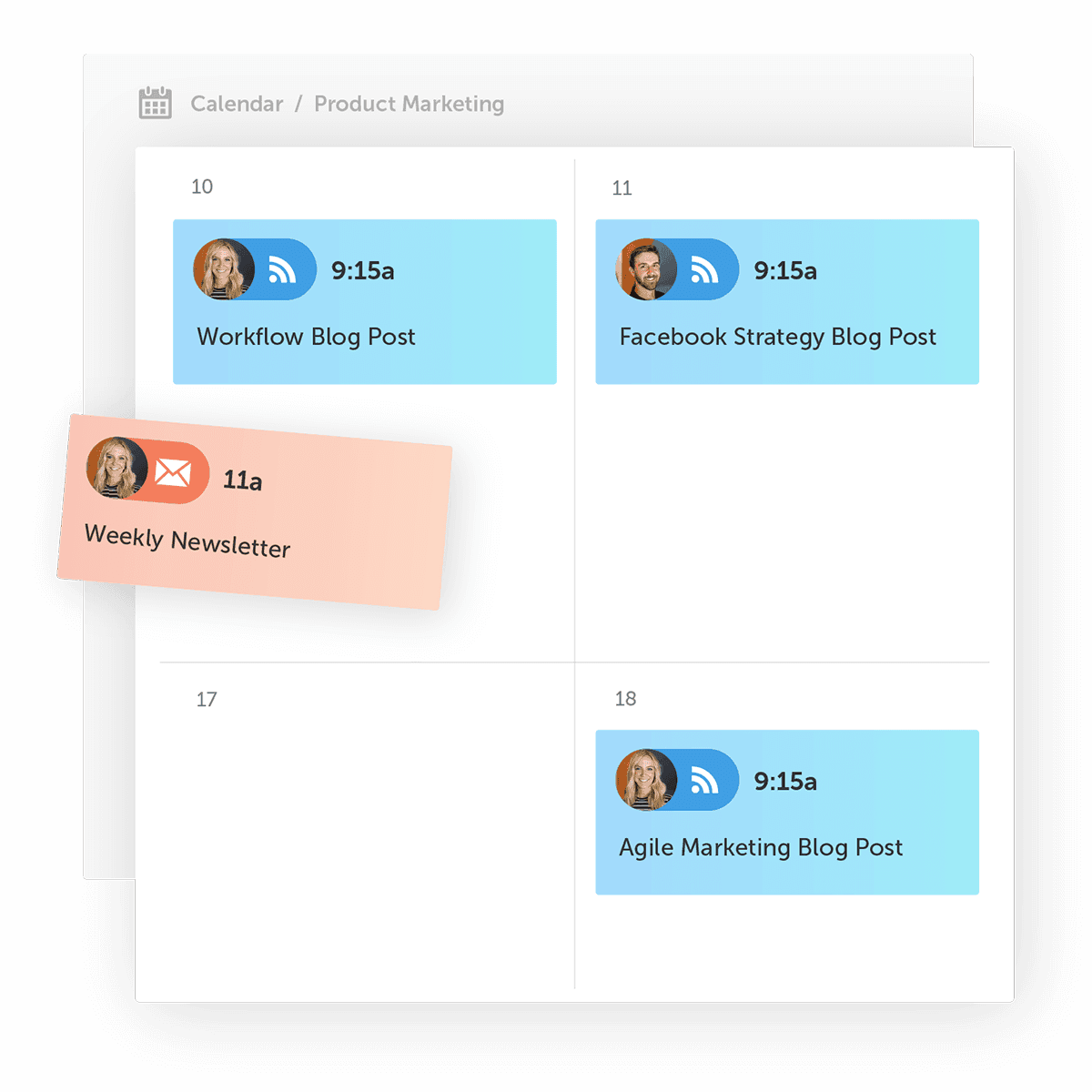 Content Workflows
Who in your marketing team is doing what and when? Is there anyone with their plate too full, falling behind? Does everyone know what they should prioritize now and what to work on next? Strong
content marketing workflows
 can answer all these questions (and more) at a glance. They define elements of your content process such as:
Which tasks need to get done and in which order
People responsible for those tasks
People who approve content outputs (messages, design, etc.)
Due dates for these tasks
This short, but powerful list can bring instant clarity to every piece of content you create and solidify your content governance systems.
Bring instant clarity to every piece of content you create and solidify your content governance systems.
Click To Tweet
Editorial Style Guide
An editorial style guide
is a document that outlines the expectations that every piece of your content needs to meet. Most often, this includes guidelines on grammar, spelling, design, subheader capitalization, and more. Your editorial style guide will keep your content consistent, save time for you and your team when reviewing content, and set clear standards for your content.
CMS and Other Relevant Platforms
Which platforms are you using to create, publish, and promote your content? Think: your content management system, social media platforms, social scheduling platforms, email marketing providers, and more. Other than listing all of the software you're using, here are some useful questions to answer for each:
Who needs access to this platform?
What are their roles on the platform (e.g. creation, editing, approval)?
Can they have unique login details, or does everyone need to use the same username and password?
Do you need to set up specific permissions, and does the platform let you do that?
Content Brief Form
A
templatized brief form
will make it easy to set expectations for a piece of content every time. It will define the scope, clarify the timeline, as well as details such as word count, target audience, keywords, goals, call to actions, and more. Paired with your editorial calendar, workflows, and style guide, you'll start to see your content projects completed faster and bring better results.
Content Library
Finally, a centralized library of all the content you create will keep everyone organized, both inside the marketing team and out. Instead of referring to one place for drafts, another one for finalized versions, a third one for training videos… You can keep them all in a single library and shorten the time it takes you to fetch the exact file you need.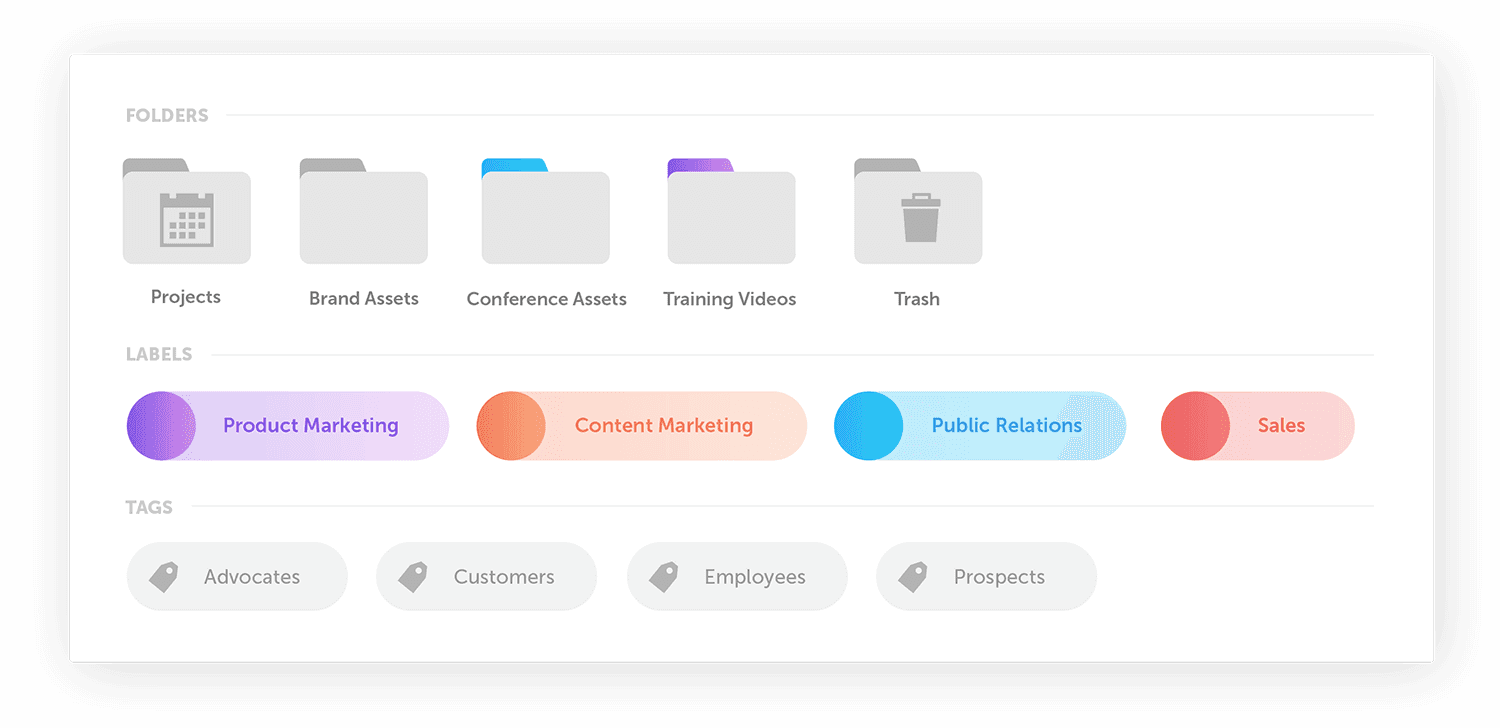 CoSchedule's
Asset Organizer
 makes it super easy to store and index your content. It will help you:
Have a unified structure across all files
Always work with the latest file version
Avoid duplicate work
Share files with stakeholders in a secure way
Implement Content Governance in 5 Easy Steps
If you try to make content governance happen in your company by simply forcing the above tools on your team (and other teams), you'll likely run into some resistance. The good news? There's a better way. Use these steps to make content governance happen in your company.
Step 1: Audit Your Current Processes and Workflows
The best way to get ahead (with anything!) is to know where you are right now. Auditing your current content processes and workflows will show you what worked, as well as uncover any gaps or issues. Here are some questions you'll want to answer in this step:
Which pieces of content have brought our company closer to its goals?
Which pieces of content have underperformed?
How long does each piece of content (within each format) take to create from start to finish?
How many people are involved in these processes? Who is working under or over their capacity?
If there are any bottlenecks, is there a pattern across projects?
How often are publishing deadlines missed?
Do you have an approval process in place?
Some of these questions will be easier to answer than the others. Refer to your analytics platforms, project management tools, personal and team calendars, whiteboards, and other places to find these answers.
Step 2: Establish Processes For Your Content Strategy, Start to Finish
To make your
content strategy
 happen, break all its processes into tasks. That's the only way to know what exactly needs to happen for you to hit your goal. First, list all the formats that are part of your content strategy. For example:
Blog posts
Content upgrades
Email newsletters
Instagram posts
Live webinars
Then, outline the tasks that need to get done for each format to come to life, in the order they need to happen. For example, for your newsletters, it may be:
Decide content
Layout email
Choose or design images
Write email copy
Write & test email subject lines with the Email Subject Line Tester
Send test email
Review test email
Revise
Schedule or hit send
Review, track & analyze
If you need inspiration for other formats, check out these
marketing workflow examples
. Knowing exactly what needs to be done will help you build templates later on. In CoSchedule, this is possible thanks to
Task Templates
 and
Task Approvals
: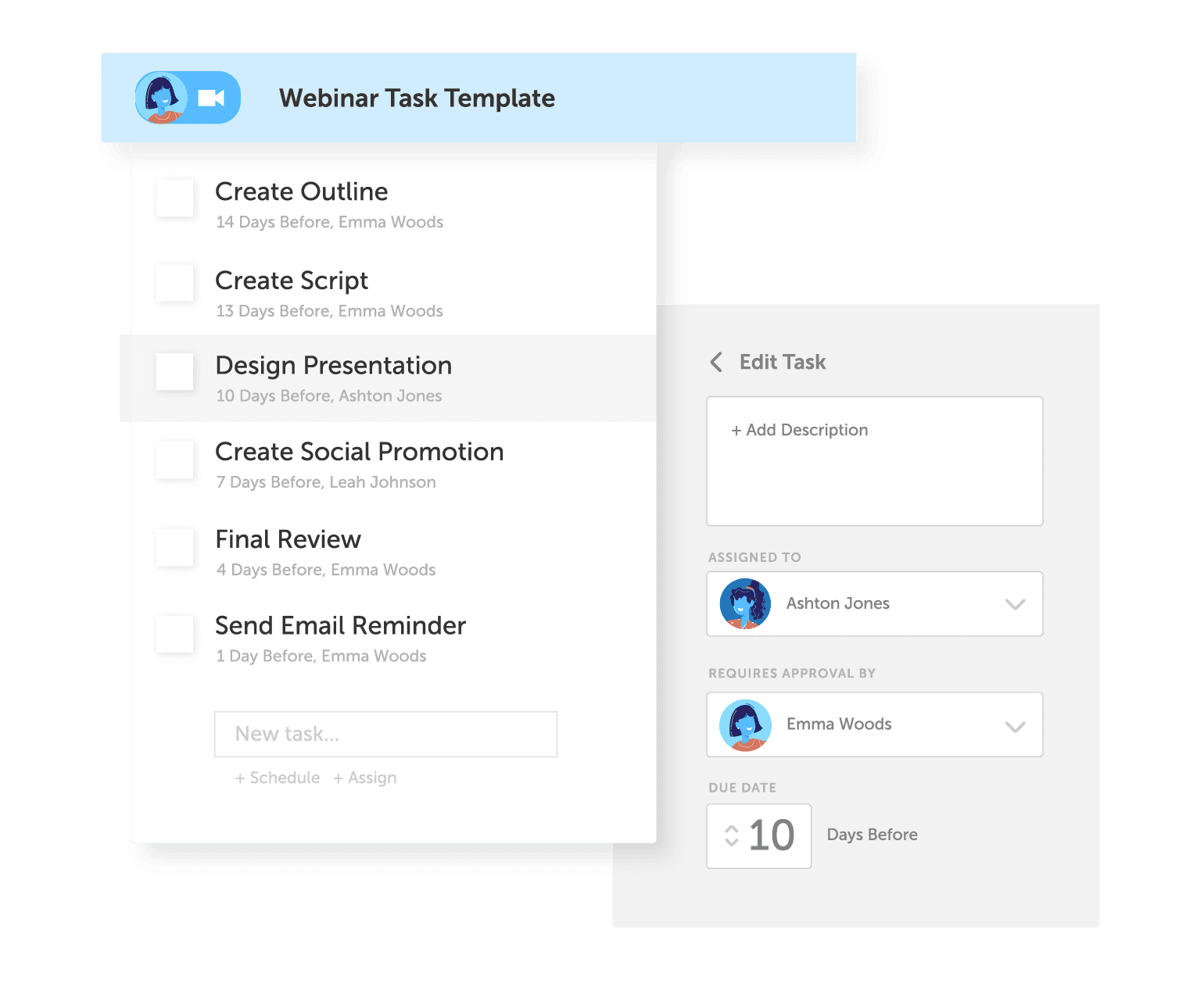 Remember to add other related tasks to your workflows, such as
content marketing brainstorming
 or
recurring weekly meetings
. They're an essential part of your content processes, too, and this is how you'll make sure they happen exactly when they have to. Bonus tip: Write your tasks using clear language and with full sentences, for example: 'write blog post' or 'edit blog post' instead of just 'blog post.' This will make all of your
marketing checklists
 actionable, and it also makes the next step more straightforward.
Step 3: Determine Team Roles Responsible For Each Task
With all of your processes and tasks in place, decide who's in charge of each task. No matter how big or small your team is, don't skip this step. If you're unsure how to structure your
marketing team
 to maximize everyone's performance, this is a great starting point:
Small team: writer, designer, analyst, project manager
Large team: VP of marketing, team leads, writers, designer, analysts, project managers, content strategists, specialists (SEO, email, social, etc.), PR
Assigning an owner to each task is one of the most powerful elements of content governance. It gives everyone clear and specific jobs to do with set deadlines, it clarifies expectations, and it removes any guesswork. It also helps your entire team understand the exact stage each project is in.
Step 4: Set Guidelines and Editorial Standards For Each Piece of Content
Guidelines and editorial standards are another surefire way to remove guesswork and create consistency in your content. With these documents, your writers, editors, designers, and other team members will feel empowered and confident about the work they're doing. Doing this step right means saving hundreds of hours in the long run. Why? Because there will be less questions to answer, less mistakes to fix, and less repetitive work to be done. Here are some examples of what you may include in your editorial guidelines for webinars:
The ideal length of the webinar
How to structure and format webinar's title, with examples
Guidelines and settings for the webinar software
Tips on outlining the webinar
How to write email reminders, and when to drip them out
How to write the post-webinar thank you email
Guidelines on editing the webinar recording
Another example is
blog formatting guidelines
. These can help you define:
Ideal sentence and paragraph length
Minimum word count, or the range to aim for
Image placement and styling
Lead magnet placement and wording
Specifics about linking
Subheader structure
Step 5: Automate Processes and Tasks
Automating your workflows has two huge benefits over manual task management: it makes things happen faster, and it reduces mistakes. Your final step is to automate any tasks you can. This will help you move your projects seamlessly through your team's workflow. In CoSchedule's
 Work Organizer
, you can do this by setting up
Task Rules
. On top of that, Task Approvals remove the need for email reminders, messenger pings, and in-person follow-ups. They happen automagically.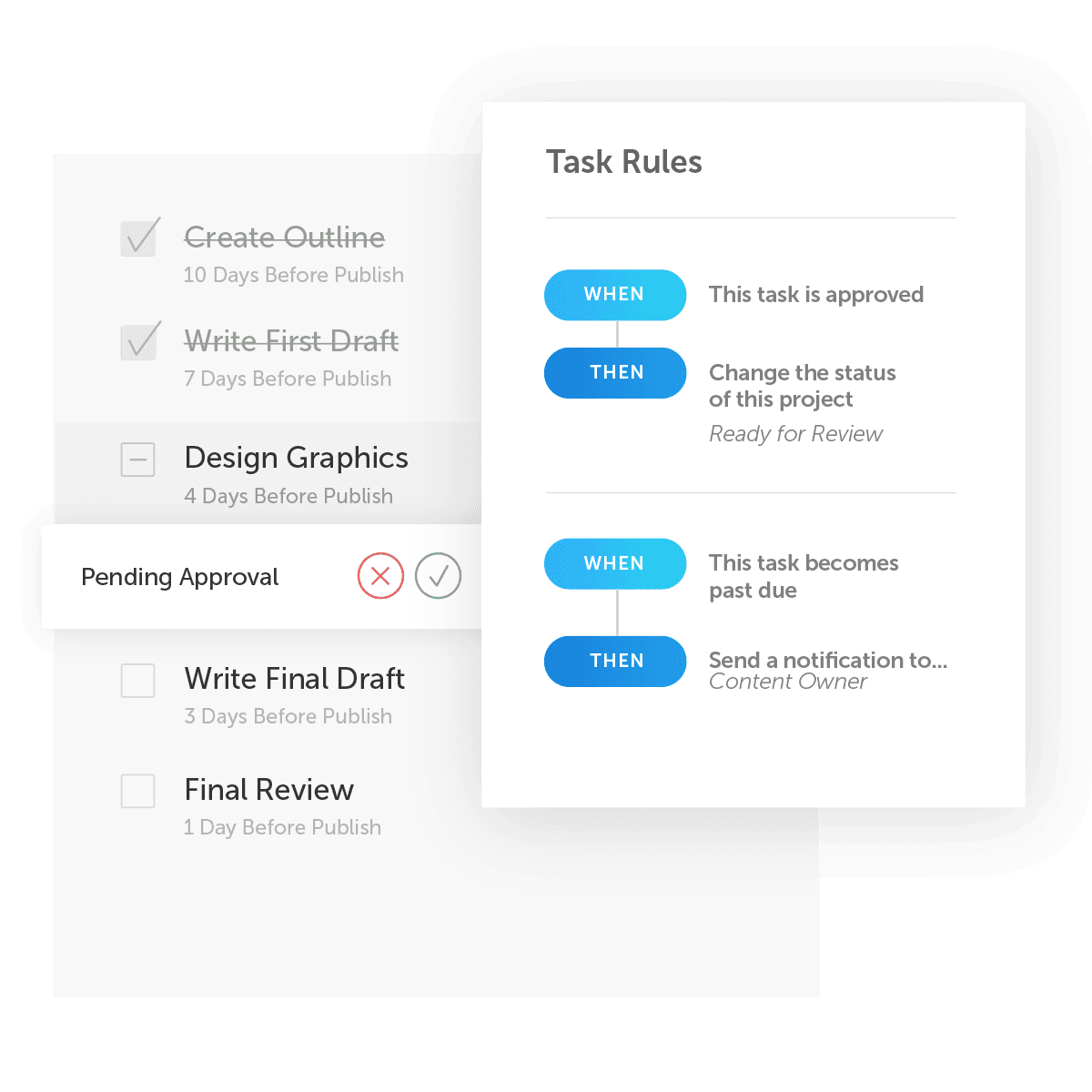 With Task Rules, you can set up triggers that move your projects to the next stage, send an overdue notification, and more. For example, when your copywriter's blog post is approved, your designer gets assigned to design it. Another way to streamline your workflows is with
Task Templates
. Instead of building the to-dos for each project from scratch, you can create, customize, and apply templates that will get your team to work right away.
Let Content Governance Power Up Your Results
With the right workflows, systems, tools, and tasks in place, you'll never hear the dreaded "What should I work on next?" question. Instead, high-impact work will get done. Everyone on your team will get to use their talents and skills in a way that brings results.