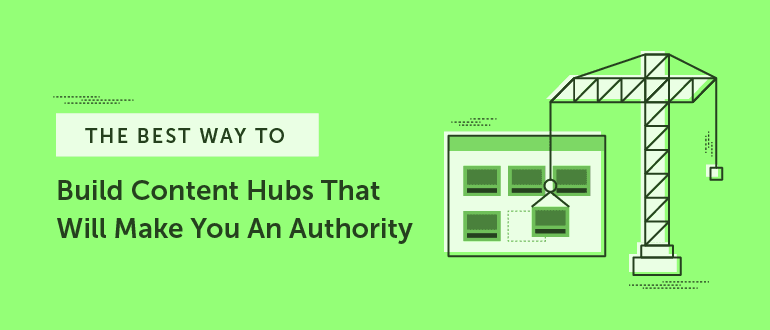 How does content marketing help companies become topical authorities?
It's a seemingly simple question. One that definitely falls under the banner of "marketing 101." Something so basic you almost shouldn't have to ask, right?
Well, sure. Most marketers would probably say so out loud.
In their minds, though, they'd also be wondering whether their own content is actually authoritative. Project confidence to protect your reputation (or even your job) but internally struggle with doubt.
In actual practice, building an audience and converting that audience into a customer base isn't easy nor basic at all. Certainly not when content is your primary vehicle for reaching that destination. And if no one sees you as a topical authority, well, you can see how all of this is going around in a circle.
So, what's something concrete marketers can do to establish their expertise and attract more customers looking for the best solution to a given problem?
Start with creating content hubs.
Instead of dabbling around with numerous loose topics, focus your energy on creating content around one specific thing. Make it look good and easy to navigate, too. Oh, and be sure to link back to that content and give it some solid promotion.
Do that consistently enough, for long enough, and eventually, you'll start to see a shift. People start coming to you with a clear awareness of the problems you solve, and the things your product or service are meant to do. And if you're seen as authoritative enough, they might not even bother considering your competitors.
Templates to Get Started
This post includes a few different templates to help you implement each step in the process of creating a hub. Here's what you'll need (and find in the template bundle below):
Marketing Calendar Template

: Map out project timelines and deadlines.

Keyword Research Template

: Store keyword ideas for your content hub.

Content Audit Template

: Sort through the content you already have to find pieces you can repurpose.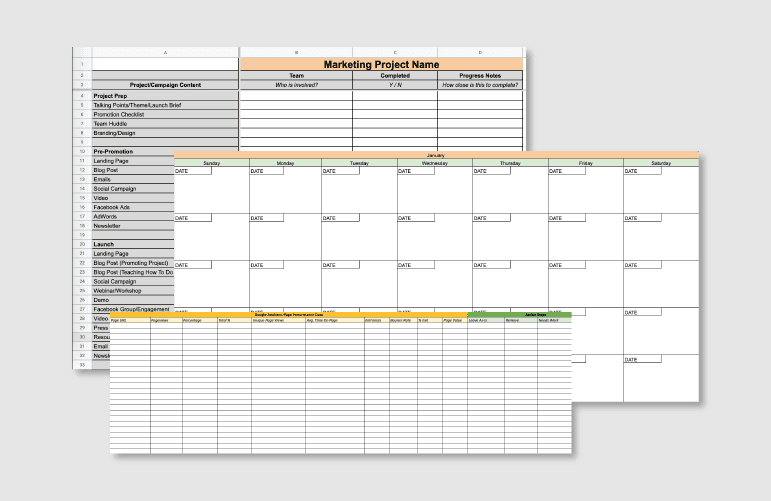 Get Your Download Now
Plus, join our email list to stay up-to-date.
Success! Your download should start shortly.
Tired of the marketing mess?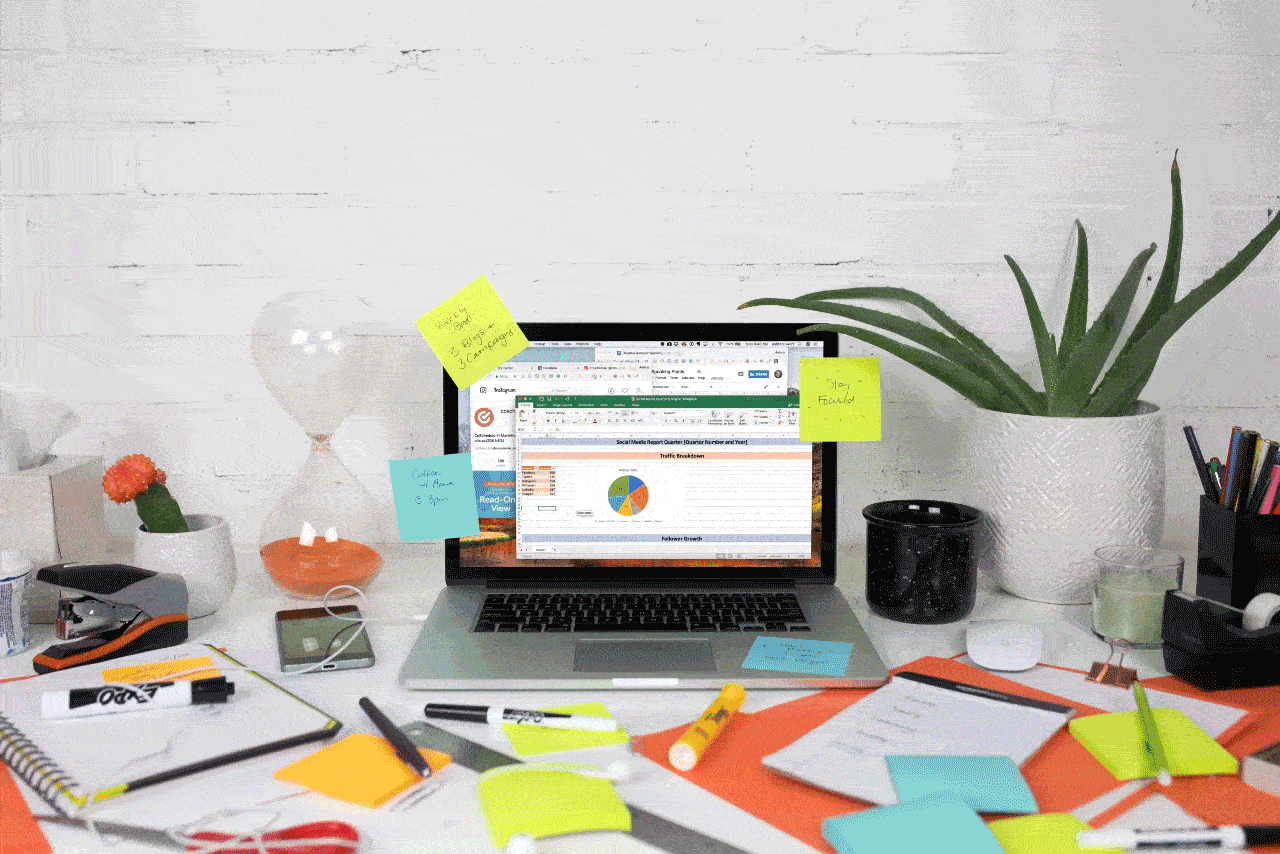 Awesome news! You're invited to a 1-on-1 marketing demo of CoSchedule! In 30 mins or less, you can see how to:
End the frustration of missed deadlines.
Get total visibility into ALL of your marketing in one place.
Save 20 hrs this week alone (and every week after).
If you've ever kicked the tires on CoSchedule, now's the time to see what it's really like.
Success! Your download should start shortly.
Clean up the chaos with your CoSchedule editorial calendar!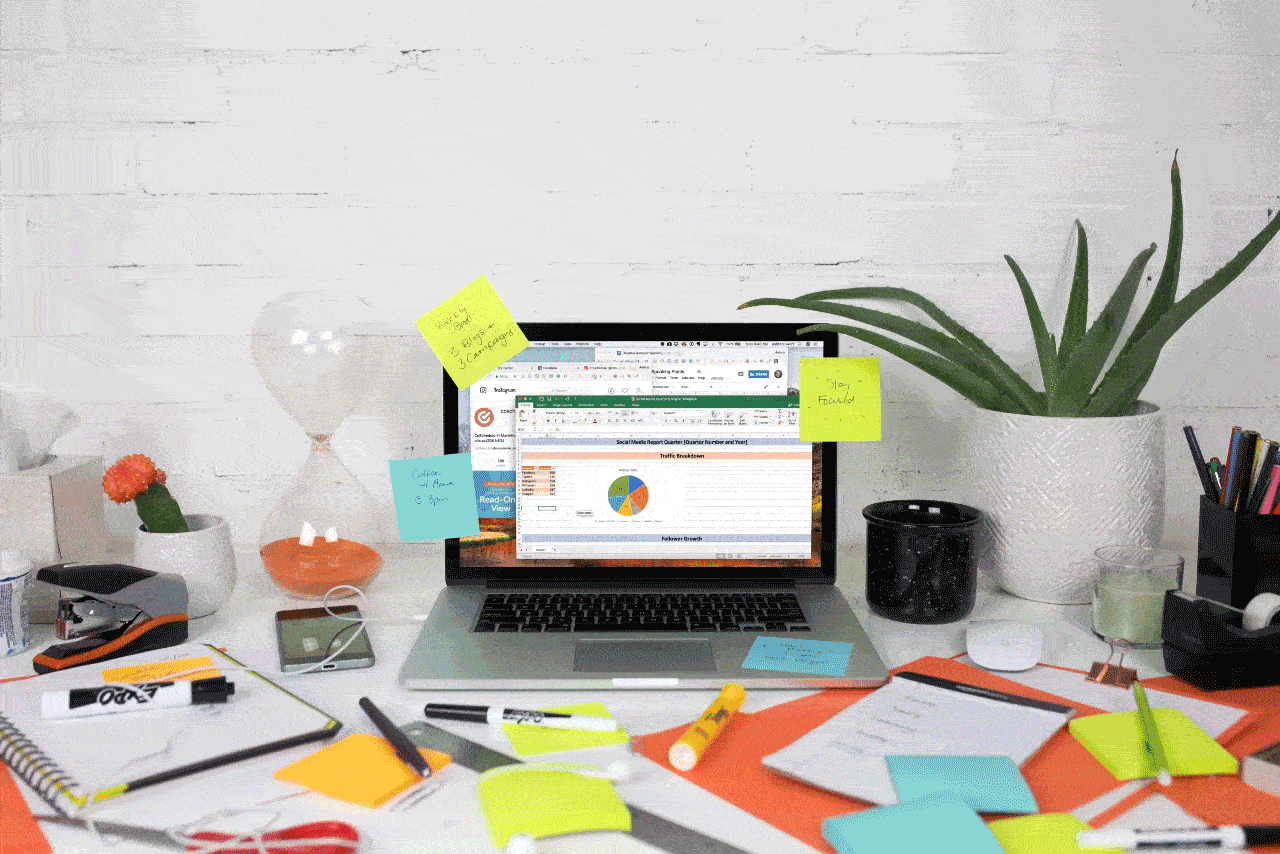 With CoSchedule, you'll:
Save time with blogging, social, and email (think HOURS every week)
Schedule your social posts in batches (and increase your posting frequency) super easily
Get your sh*t together (and hold yourself accountable to publishing like the boss you are!)
Now's the perfect time to start your 14-day free trial to see for yourself!
What Exactly is a Content Hub?
The most simple answer is it's an interconnected collection of content focused around a single topic.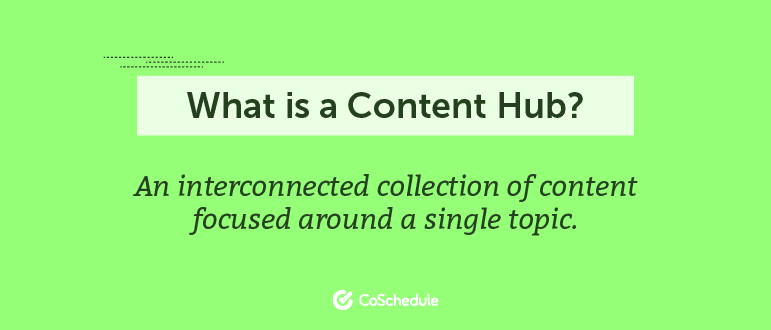 This is a bigger question than it seems. That's because there are several different ideas about how to implement this concept. One is not necessarily better or more valid than another, but it's worth understanding exactly what someone might be describing when they use the term "content hub."
Software-Based Tools
First, this term might refer to an actual software tool or platform that helps build a hub of content. You might consider CoSchedule's Content Organizer as very loosely fitting this definition, in the sense that it provides a software solution for organizing content management, production, workflows, and promotion (and it works well for those purposes too):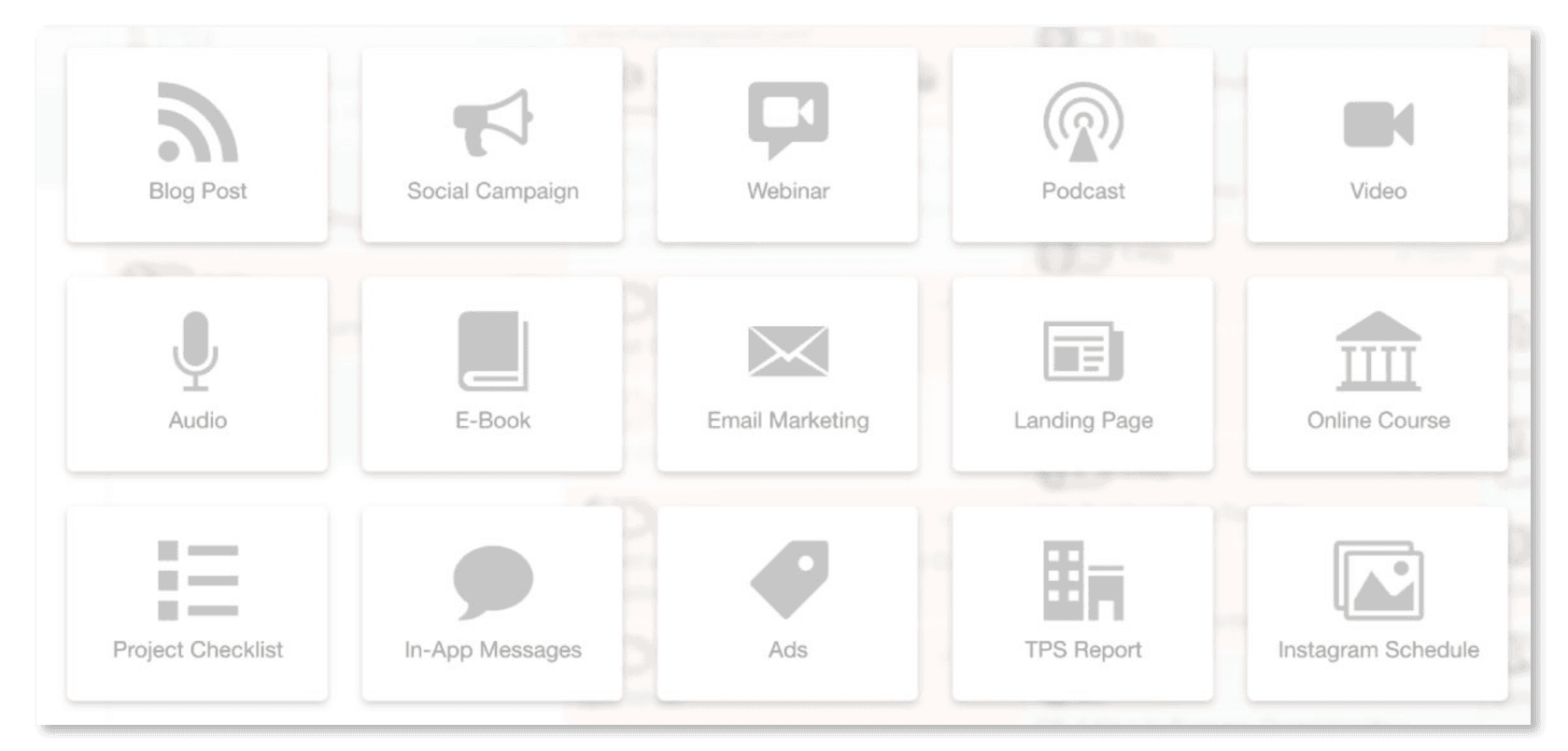 CAPTION: CoSchedule can be used to organize any type of content project.
It might also refer to products like Scoop.it too, which help companies create and host customer-facing content hubs that are more like what the rest of this post will discuss.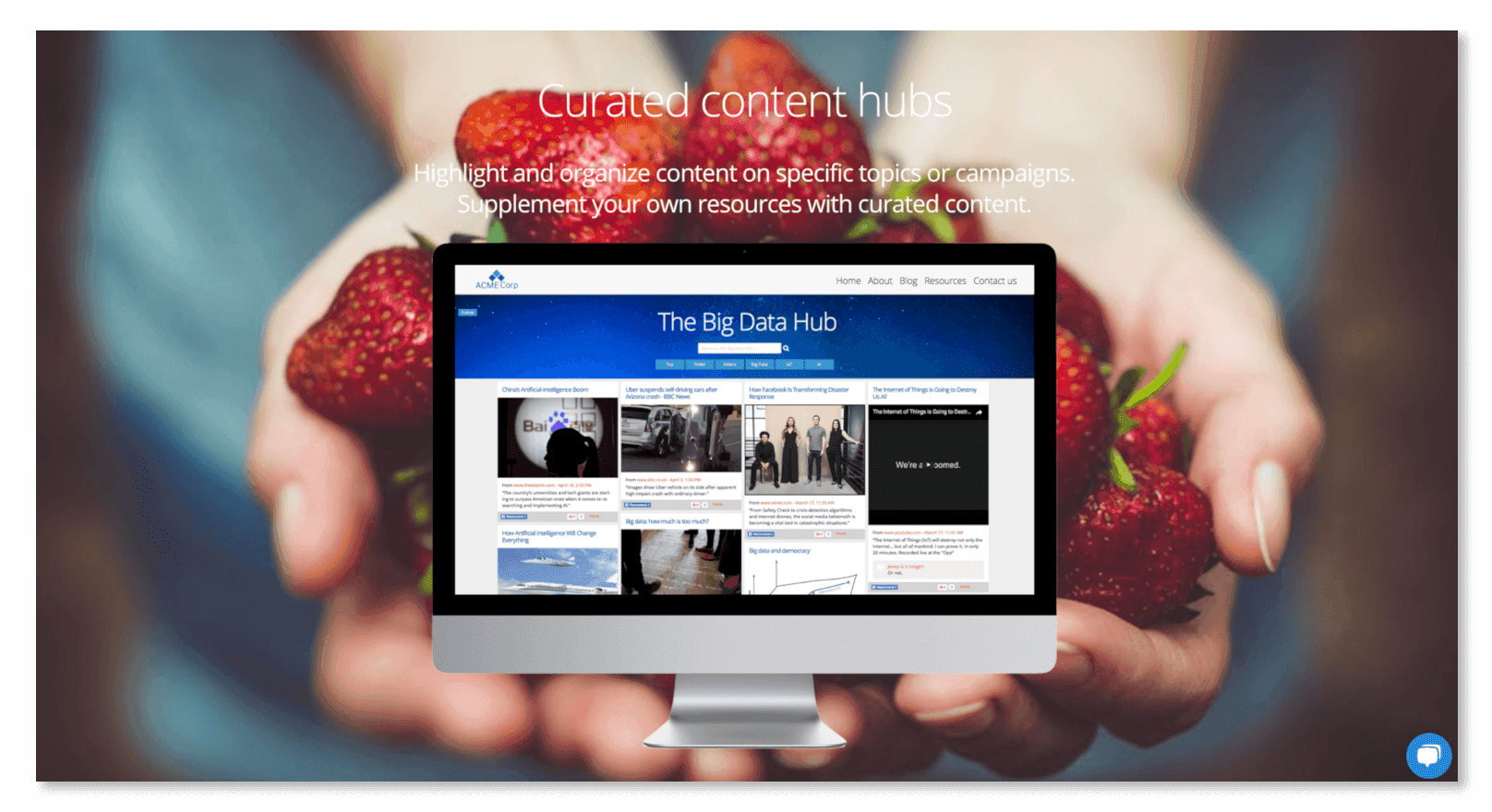 Source: Scoop.it
Multi-Page Guides (or Topic Clusters)
You've probably heard of the topic cluster approach to content creation. It entails creating a piece of "pillar content" targeting a popular topic, then creating and linking to supporting content targeting sub-topics around it.
The idea is that creating content that targets everything around a topic (and its associated keywords) helps establish authority, improve SEO performance, and produce better results than simply creating scattershot blog content.
The guide to agile marketing that CoSchedule recently created is an example of this approach in action: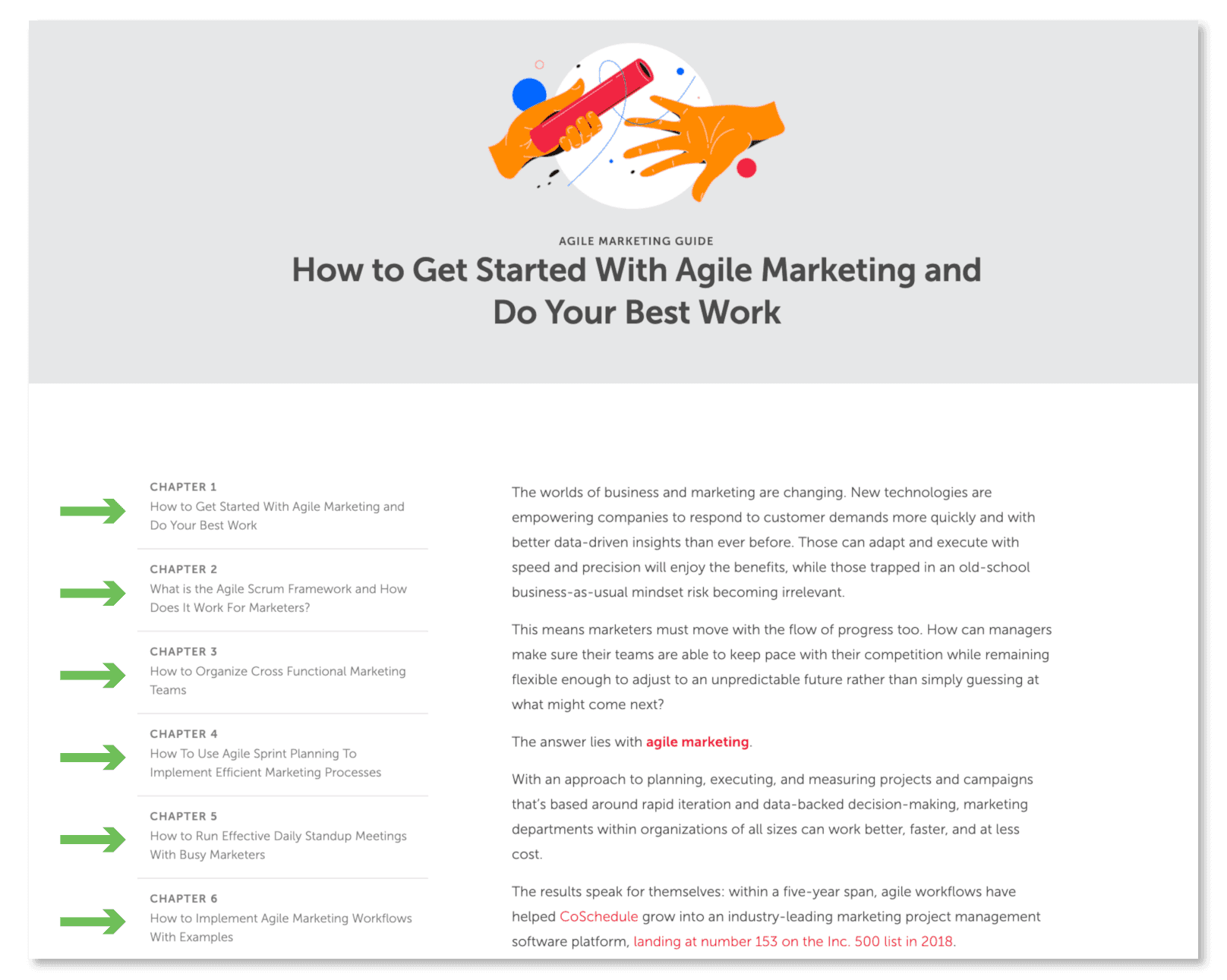 Topic-Focused Blog Categories
Another way to create a content hub is to publish a variety of content around a topic under a defined blog category. Any blog that's set up according to basic best practices will use categories, but making them useful by labeling them using a broad high-volume keyword, and consistently applying that category to fresh, relevant blog posts is key.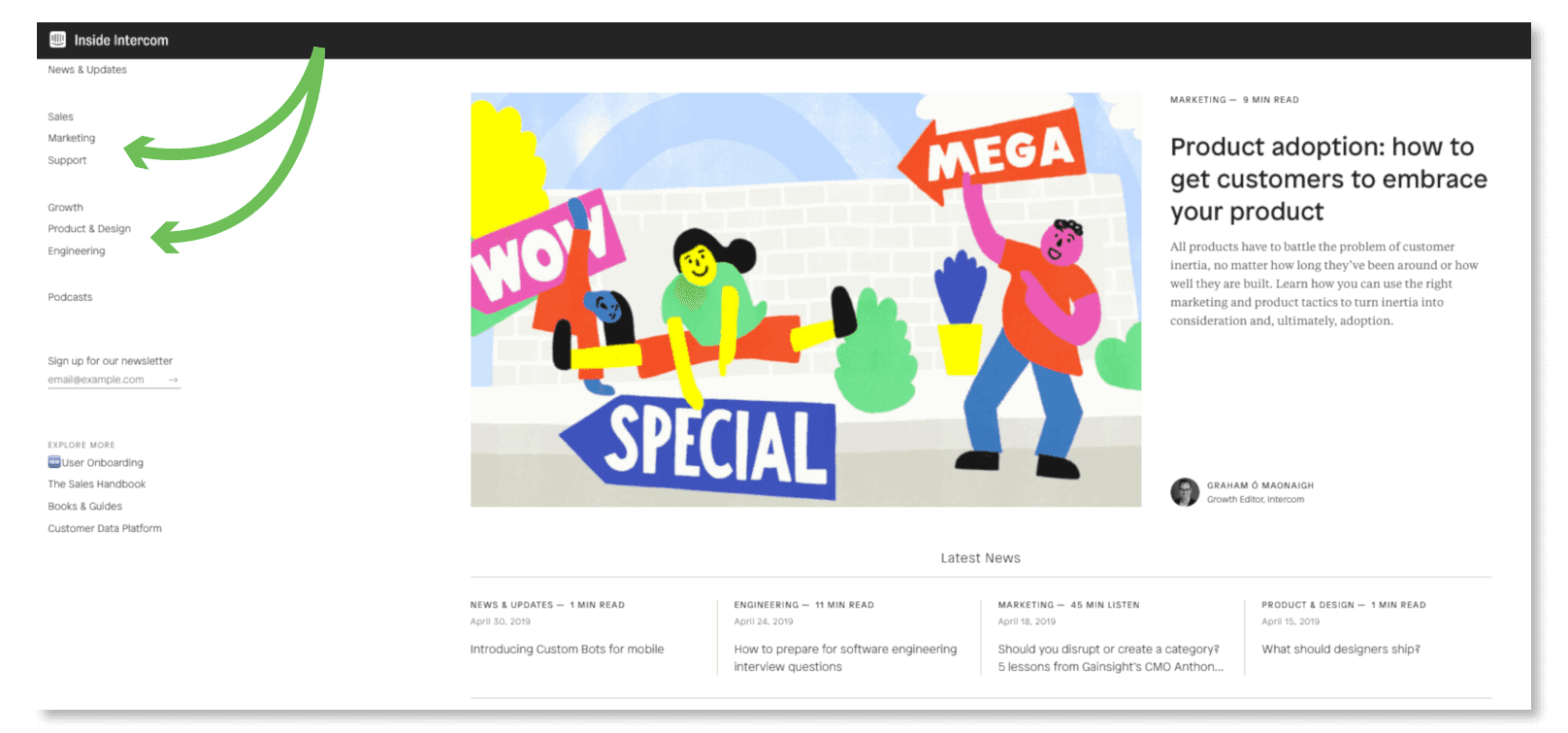 Curated Hub Pages
Bringing together related content from your blog, landing pages, guides, social media, and other sources is another way to build out a hub.
Take a look at this example from Moz: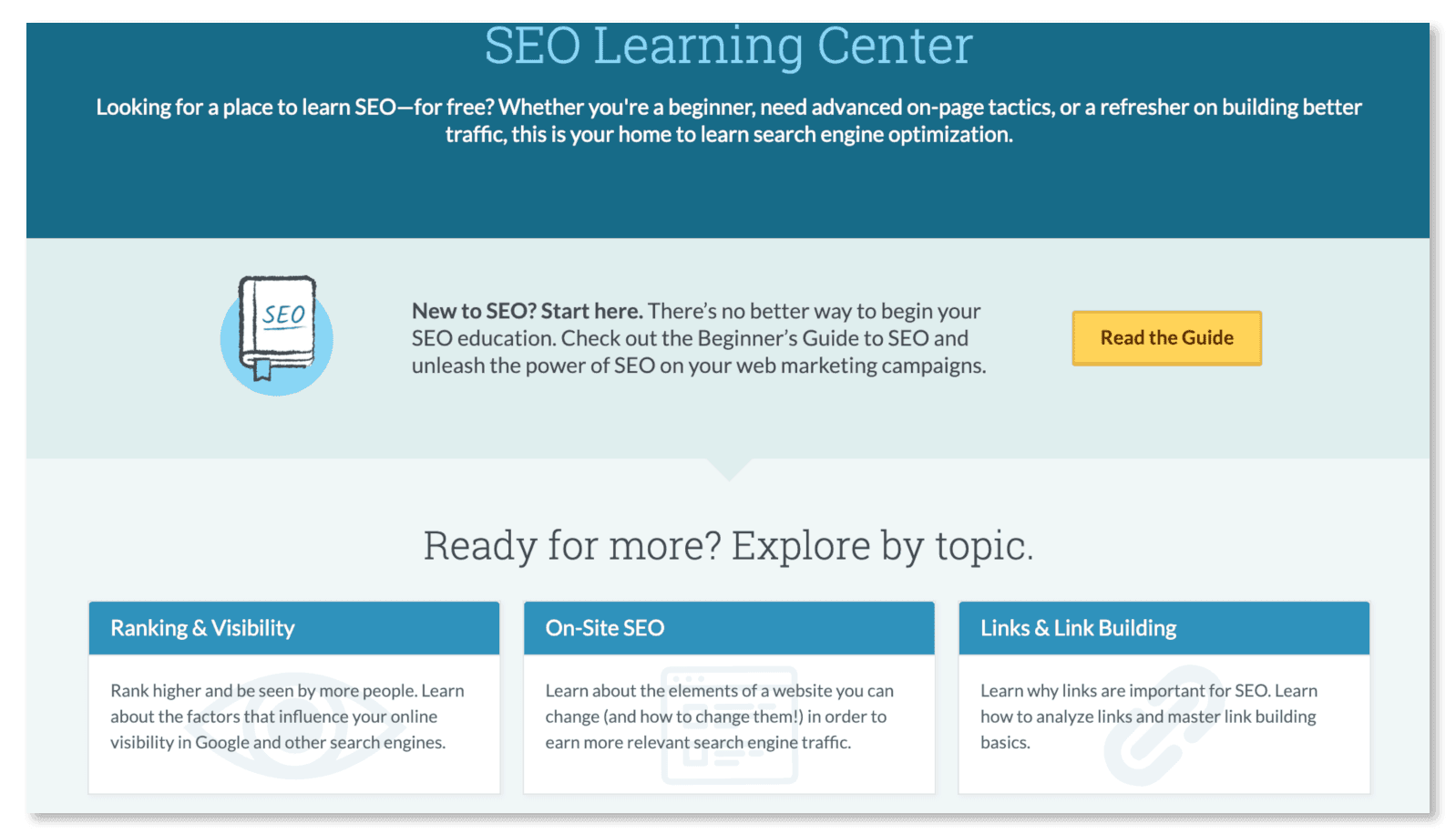 This primary hub page does an excellent job of laying out navigational elements for finding information on different aspects of search engine optimization. Here's what you see when you click into a section: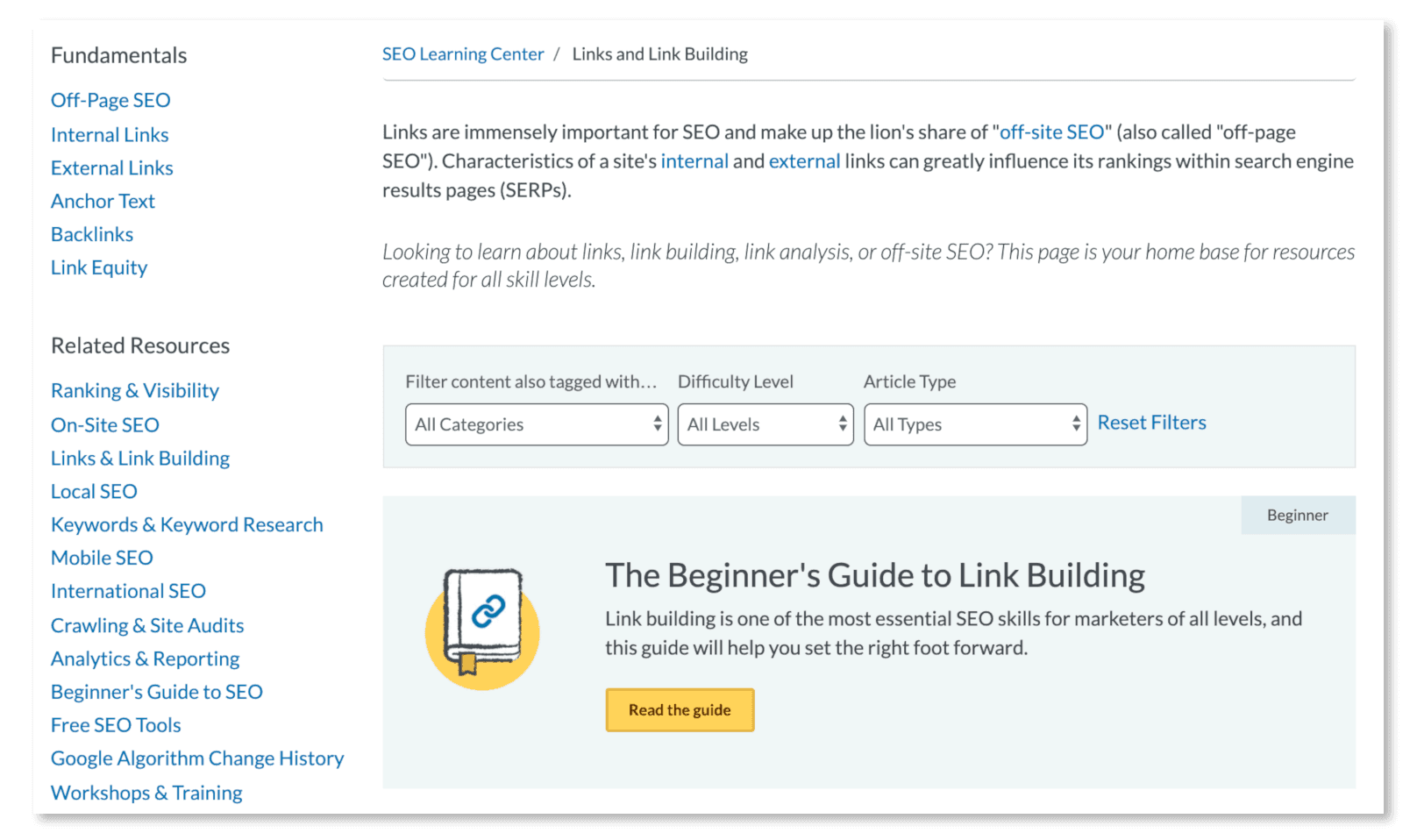 Then, beneath the top level navigation, you can find a curated list of content they originally published elsewhere on their blog and site: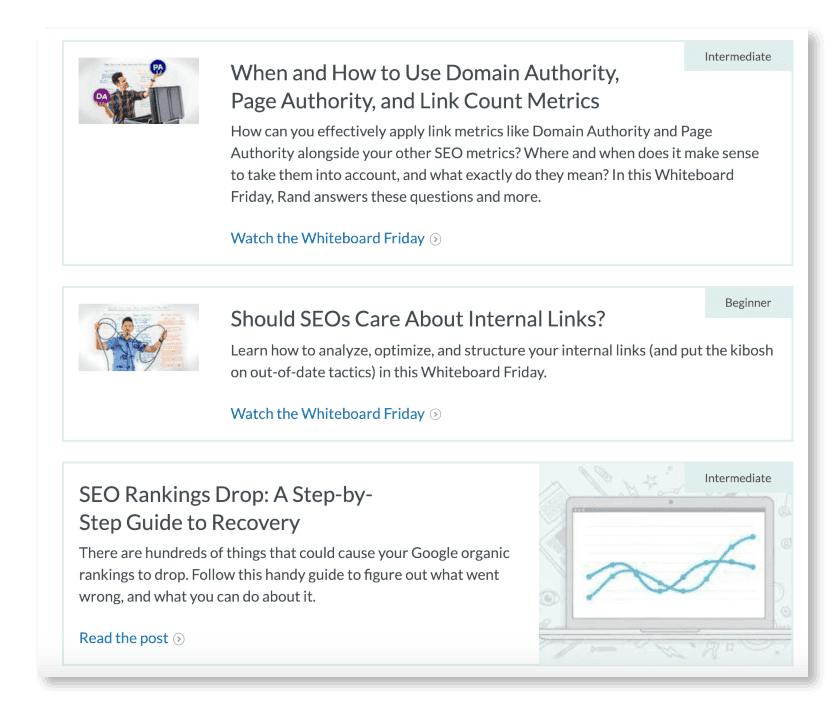 This approach helps put together a hub of keyword-focused content without a ton of effort, and while better serving readers by making related pieces easier to find in context with one another.
More Real-World Examples You Can Follow
Now you've got some idea of what people might mean when they're describing a content hub, and you've seen a handful of examples of what each might look like. Next, take a deeper look at even more examples and get an understanding of what makes each one stand out.
Musician's Friend
Musician's Friend's blog is literally called The Hub, and it provides a place for all their buyer's guides, how-to posts, videos, and more.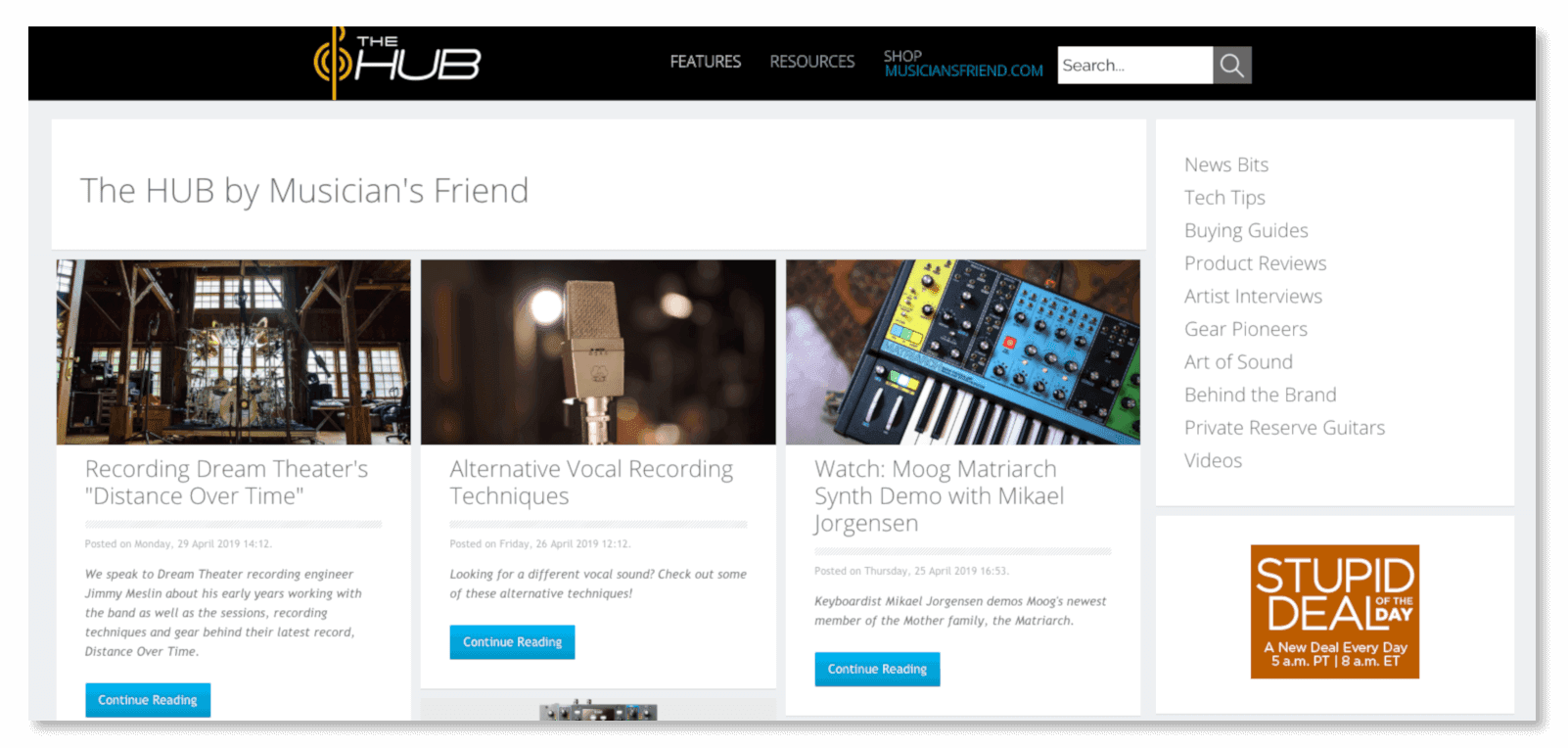 More than just a simple blog, it also features interviews, product demonstrations, and other types of content. They wisely use it to host content that they can link to directly from product category and product line pages too: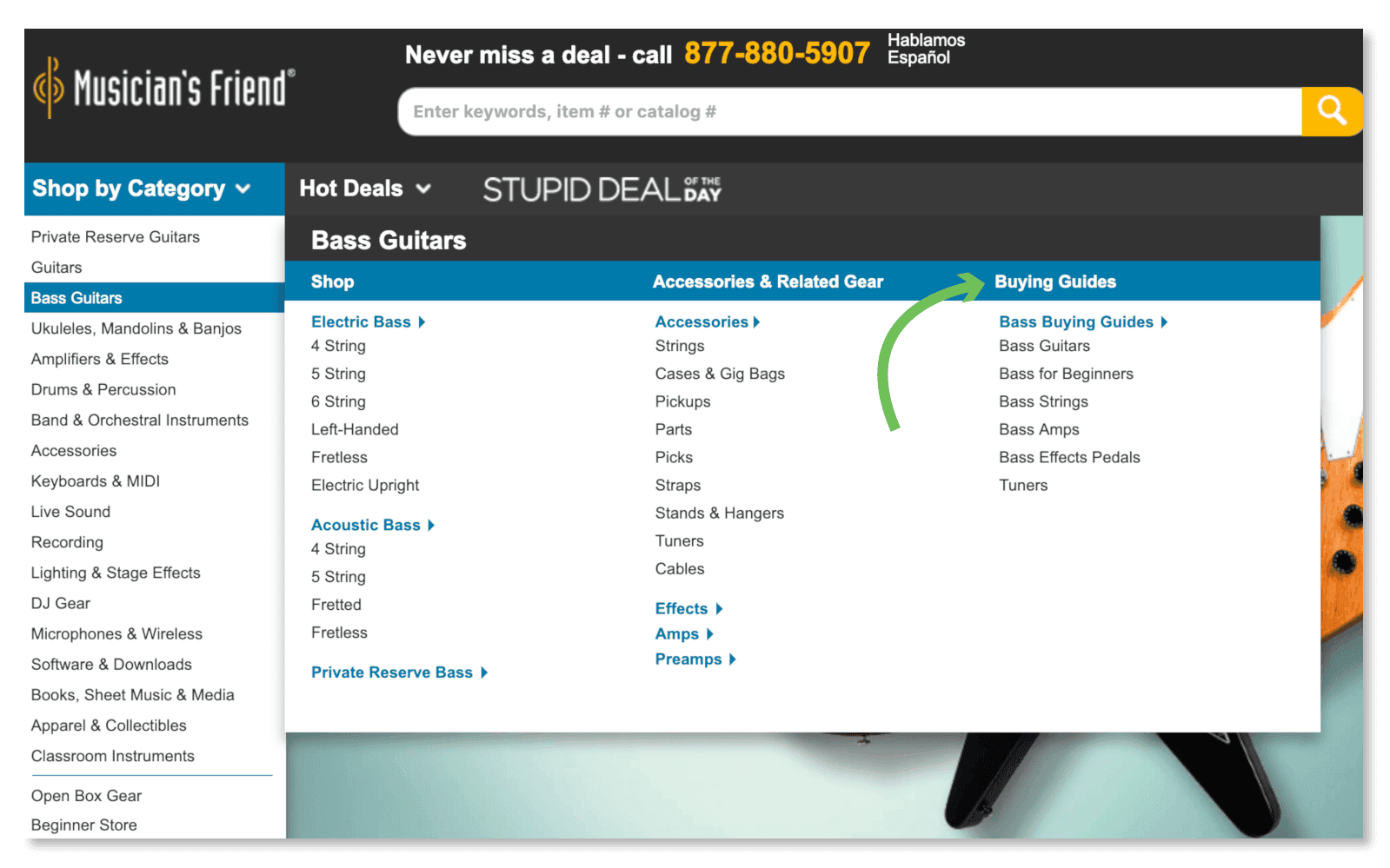 REI
Outdoor equipment retailer REI hosts tons of helpful how-to content in their Expert Advice hub. Here's a look at the main page navigation, which includes links to different areas and interests someone might research: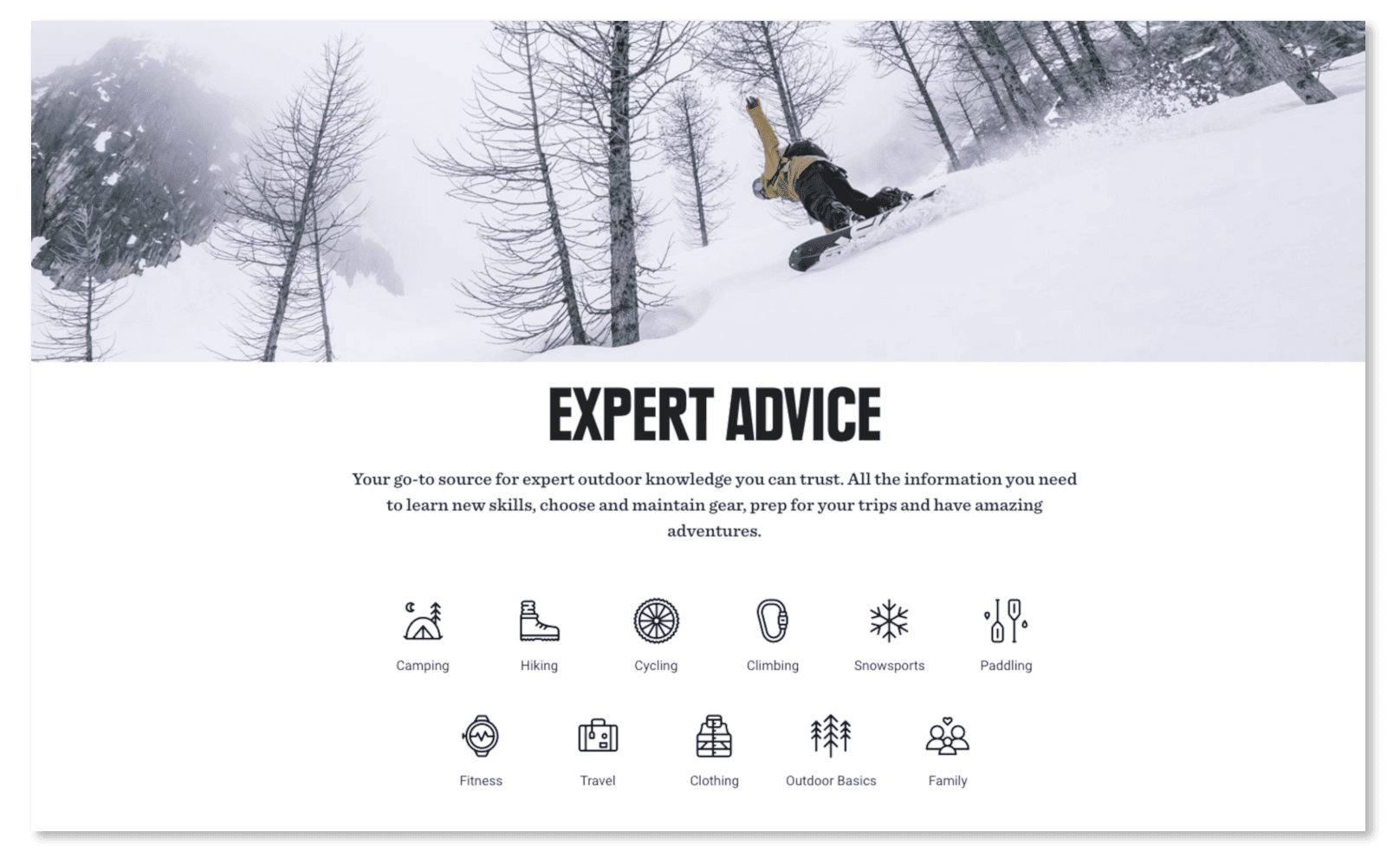 Scrolling down brings up a curated collection of popular content: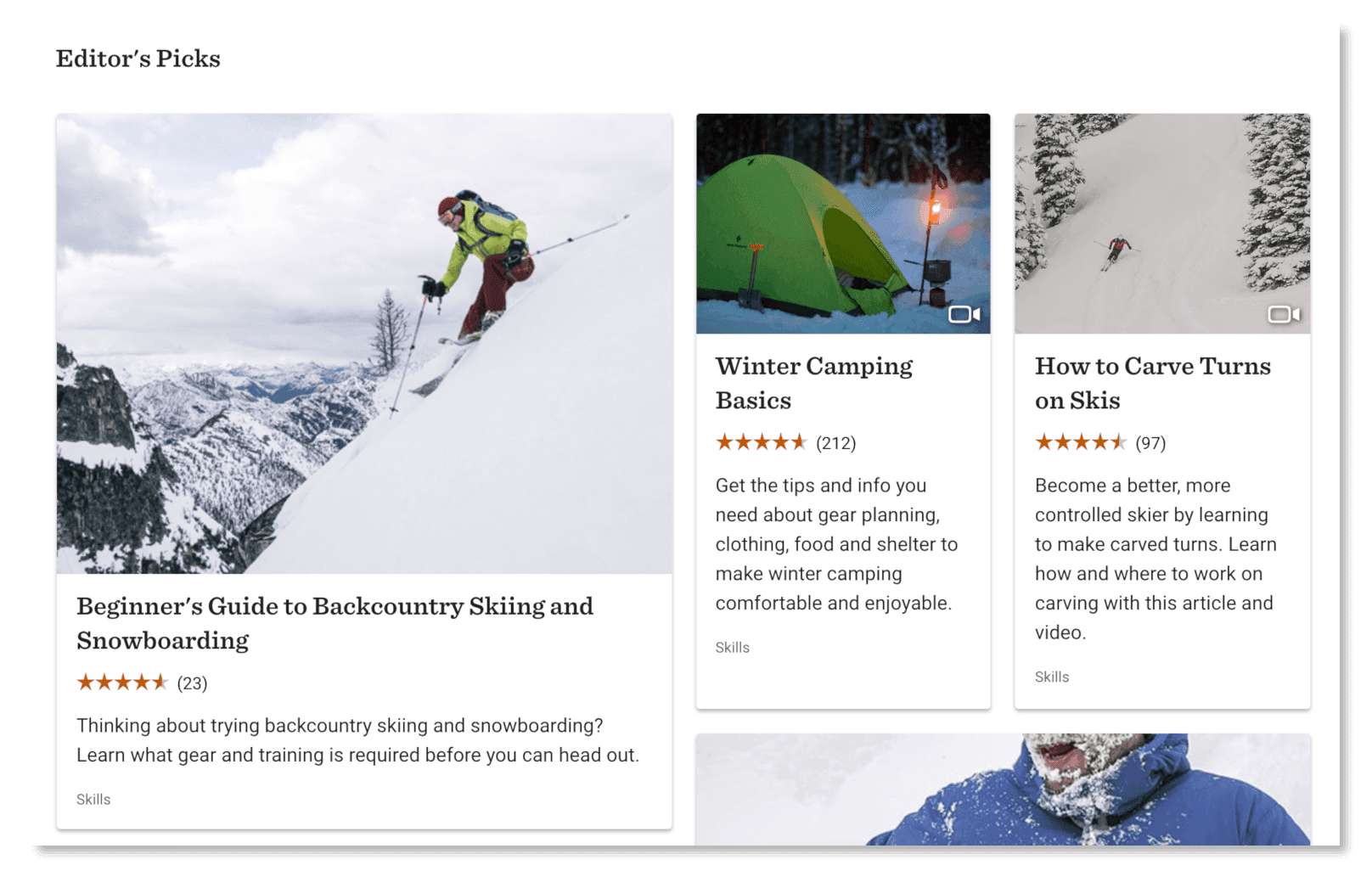 SB Nation
Popular sports news outlet SB Nation features tons of blogs focused on specific sports, leagues, and teams. Each of these could be considered a hub unto itself, helping build a high number of micro-communities that allow them to offer focused niche coverage: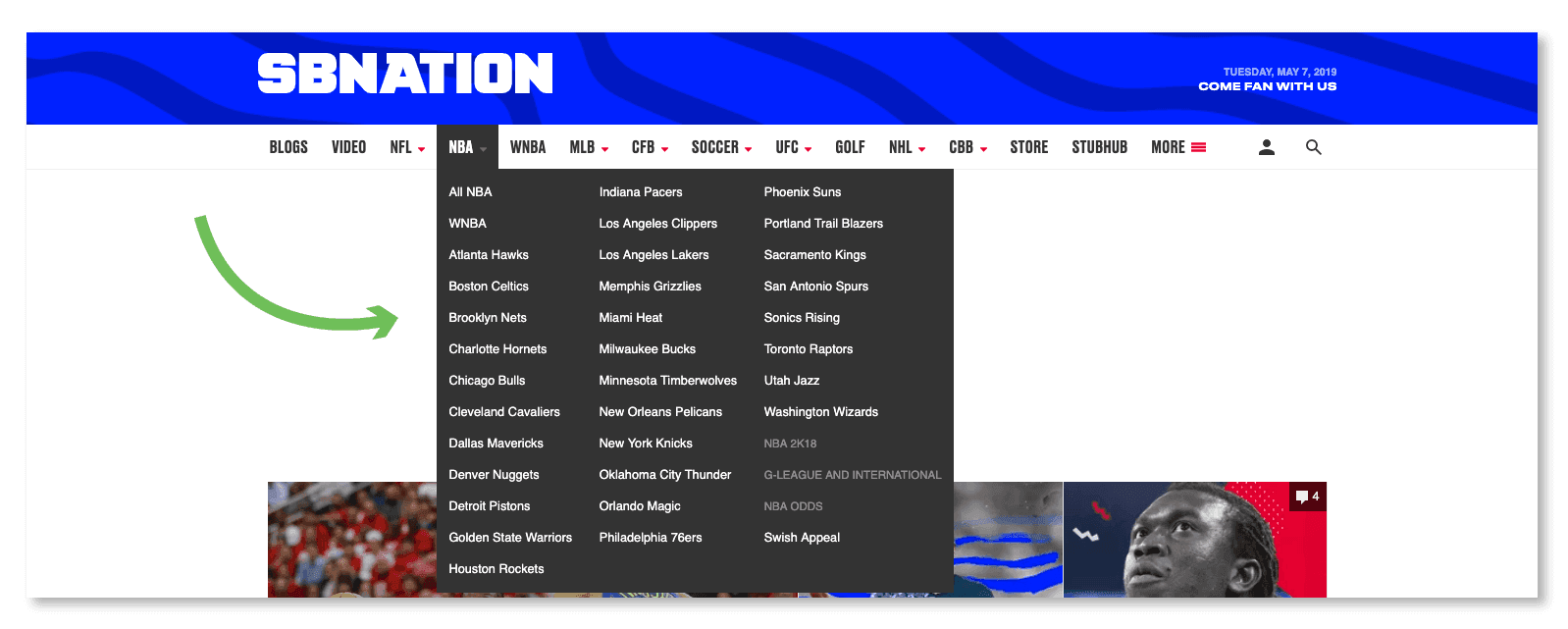 Burpee
Gardening seed and supply company Burpee forgoes a traditional blog in favor of hosting their educational content in a well-organized hub: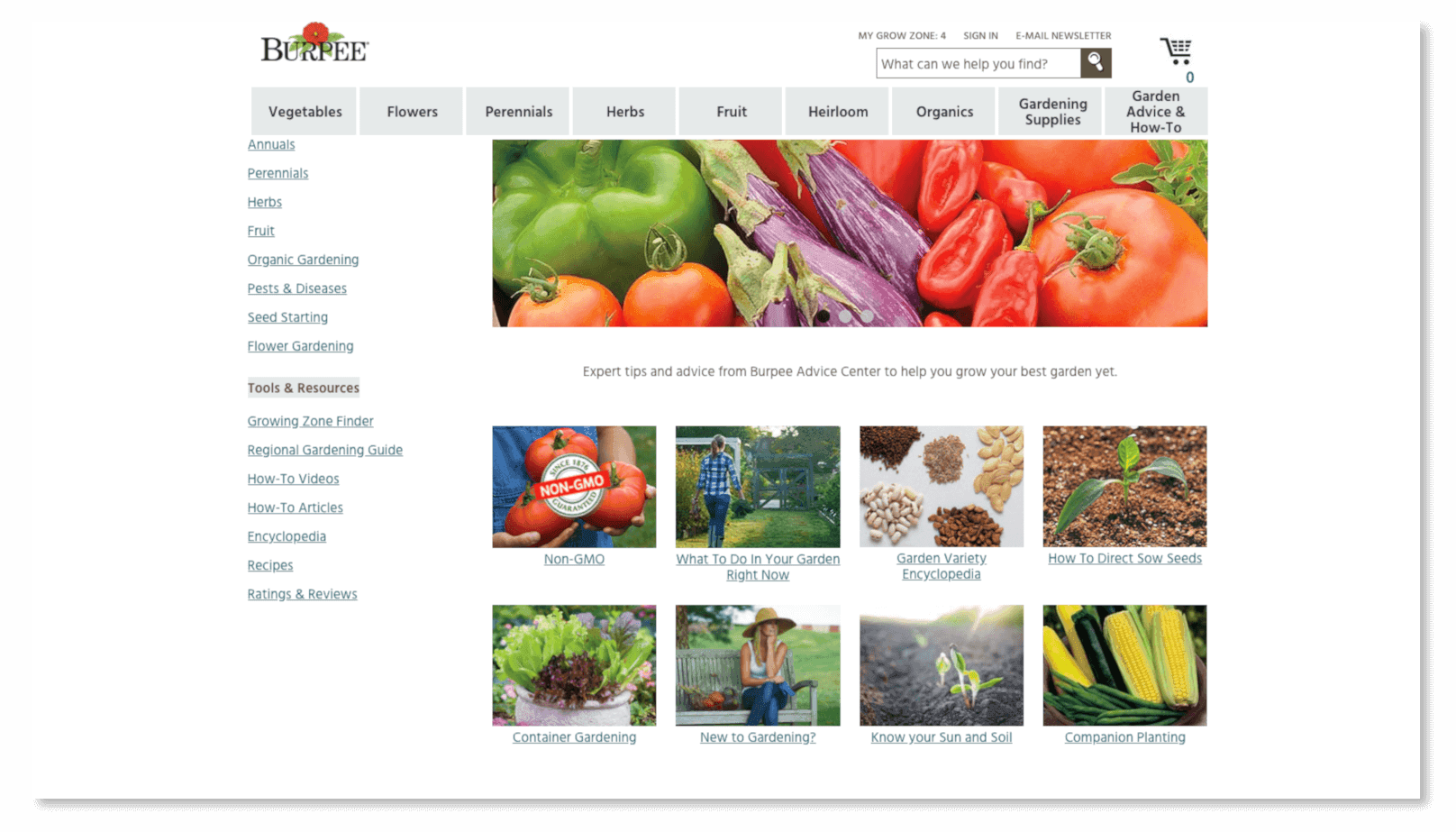 Microsoft AI
Another way to consider build a hub is to create a subsection of your blog that's focused completely on one niche, or creating a secondary blog that achieves this goal. Take a look at Microsoft's AI Blog: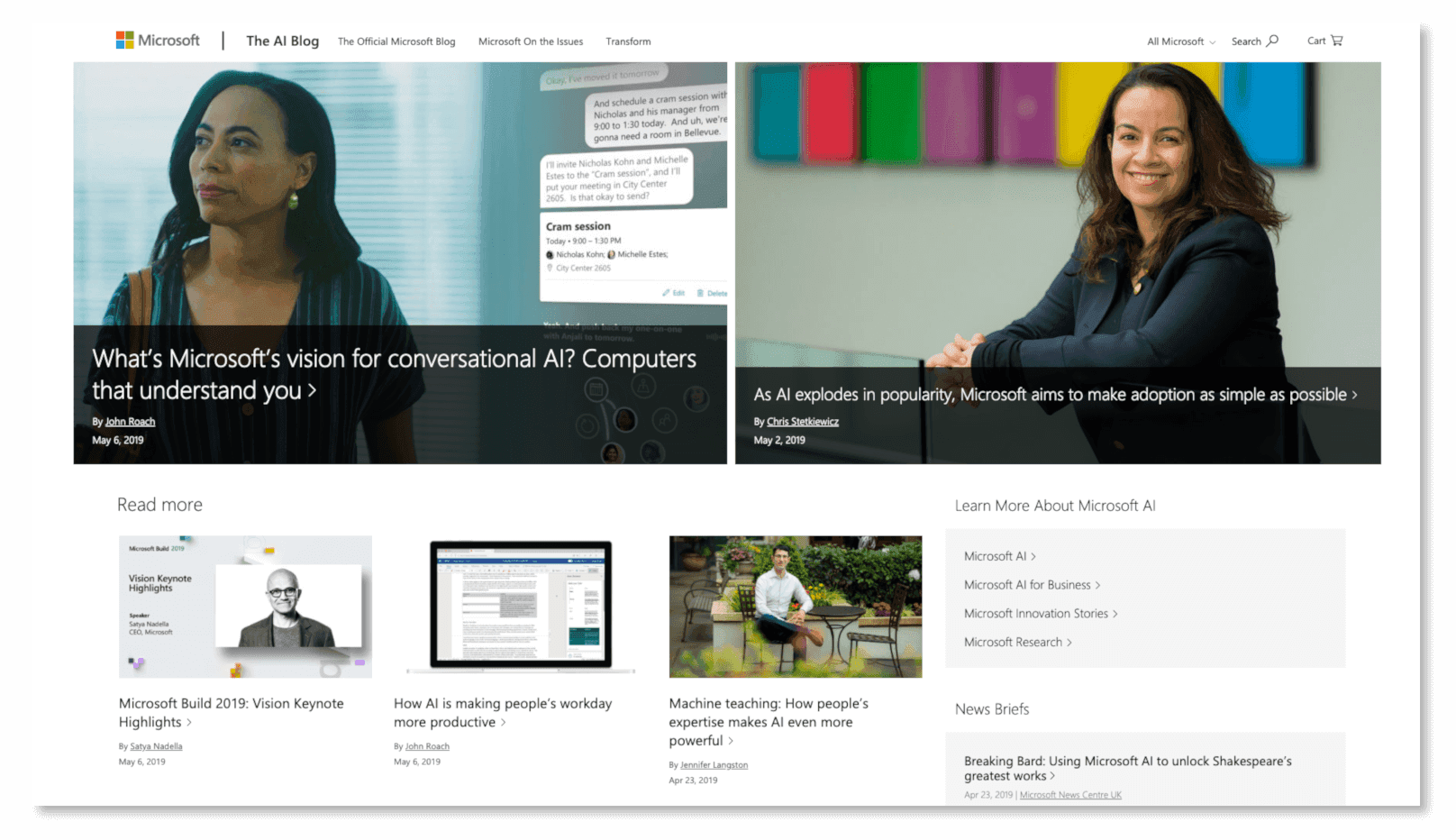 AirBnB
AirBnB applies the content hub concept to their home page, curating resources and information around specific destinations from elsewhere on their site: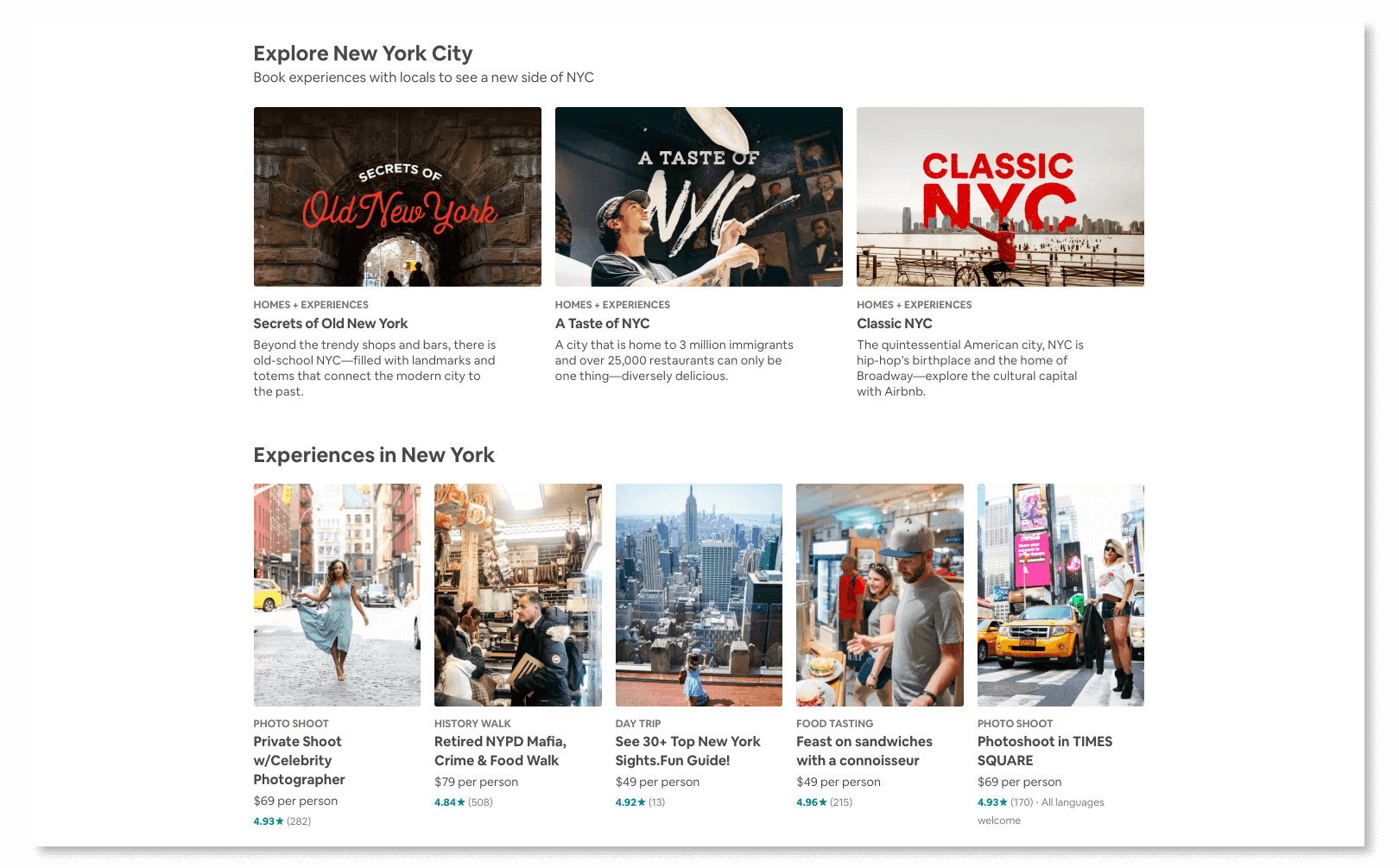 Lyft
Ride-sharing service Lyft brings their news and community content together under The Hub. It offers one place for drivers to go to find helpful information, like their driver's guidebook, upcoming events, and more.
IBM
IBM's research hub brings together all different types of content that's all related to showing what they're doing with cutting-edge research.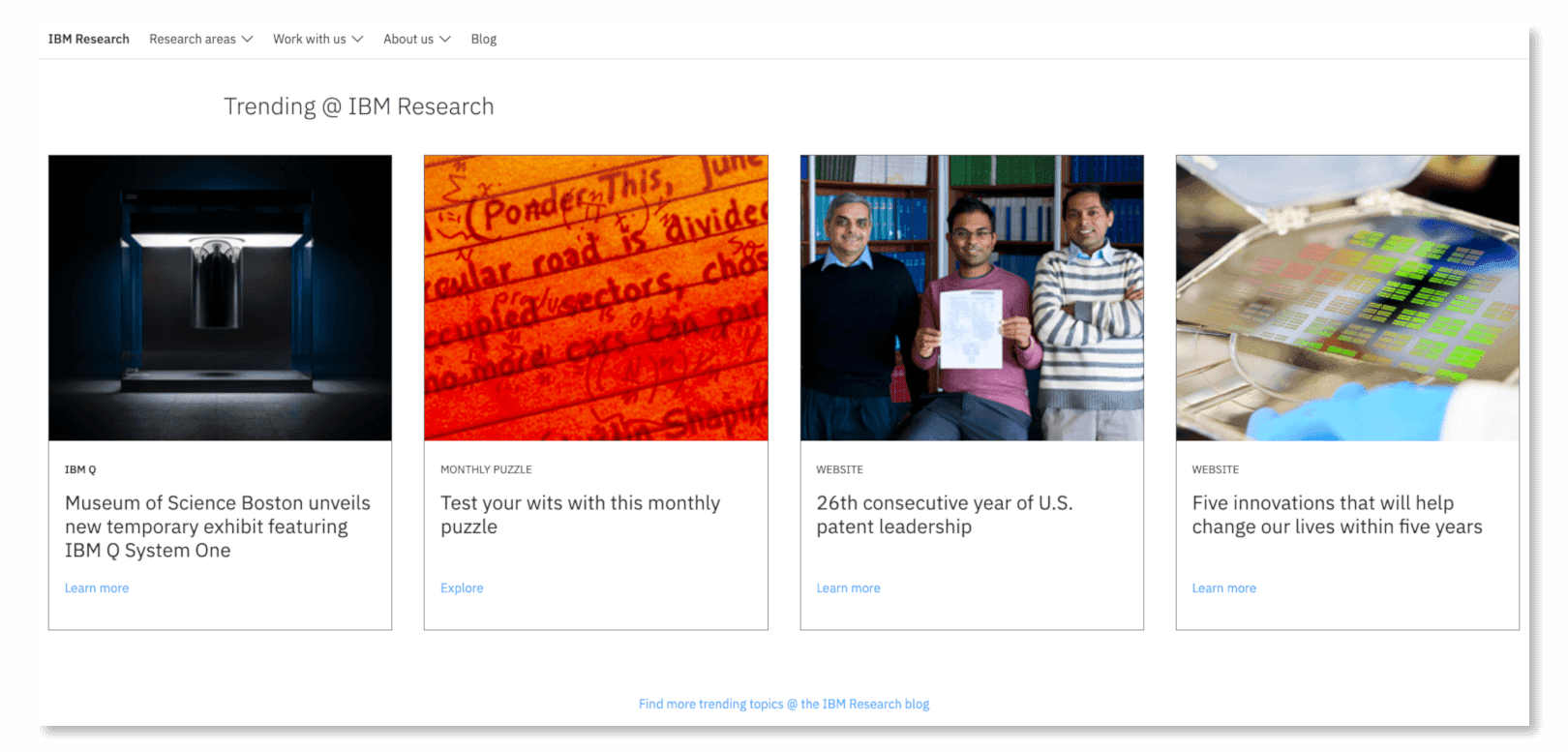 So, How Do You Start Creating a Content Hub?
Now it's time to dig into how you can actually create something like this yourself. It'll take some work, but following the process below will help guide you toward success.
How you actually do this depends on what you consider to be a "content hub," and what type of content structure makes the most sense in your own situation.
Regardless of how you approach this though, you should be able to follow most of the following steps to get the work done.
First, Determine Your Topic or Theme
What's something your company needs to be known for? Is there an area where you have particularly deep expertise? Are there broad topics that are currently underserved in your industry?
These are the types of topics that can be great for a hub.
Start with answering a few questions:
What does your company or service do?

This might sound overly basic. And, well, it is basic. But it's extremely important to understand in deep detail in order for your content to be even remotely effective.

Which topics are most important for your customers?

 Think top problems and current trends.

How might you bring content around those topics into one place?

Is the topic something you already have existing content on? Such topics might make the best places to start, since you've already done a lot of the leg work.
Next, Do Keyword Research
Doing this will require some premium keyword research tools and a clear process. Generally, you'll need a primary keyword and a set of secondary keywords for your main hub page or "pillar content," plus additional keywords for related pages.
Start with your SEO platform or keyword research tool. Popular options include:
Then, create a spreadsheet to store your ideas (or use the keyword research template that's included in this post—you can find it in the template bundle included after the introduction).
Here's what the spreadsheet looks like: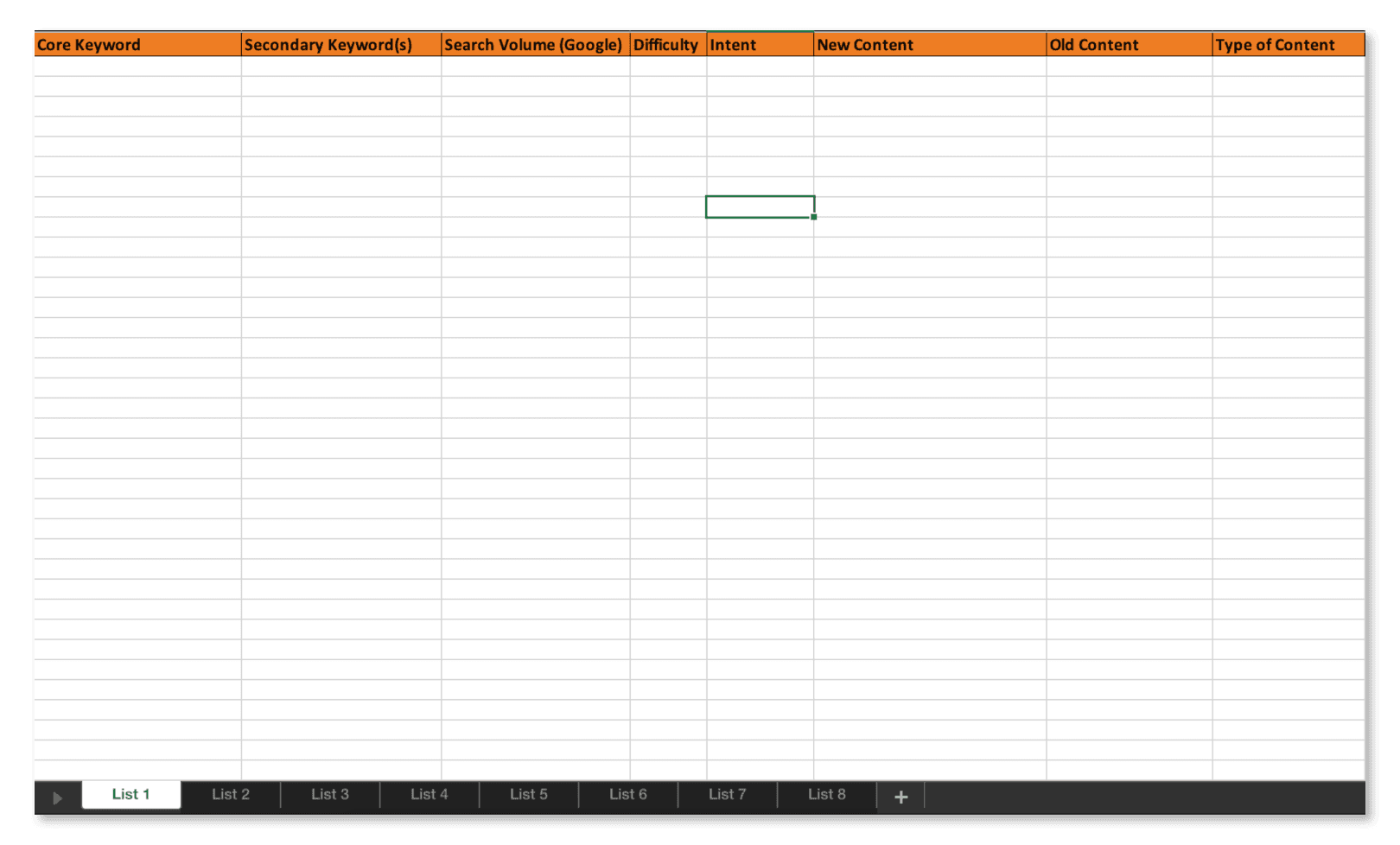 You'll find the following fields:
Core Keyword

: Enter your primary term here. This should be the highest-opportunity keyword that's the most closely related to your topic.

Secondary Keyword

: List secondary related terms in this column.

Search Volume

: Enter search volumes for each term (gathered from your SEO toolset).

Difficulty

: Same as above. Record how difficult it will be to rank on these terms.

Intent

: What is someone trying to achieve when they search for this keyword? Are they looking for information? Wanting to buy a product? Note the intent here.

New / Old Content

: Indicate whether you have existing content on this topic, or will need to create something new.

Type of Content

: Describe the type of content that best fits this keyword (ex: educational how-to content, bottom-of-funnel product content, etc.)
At the bottom of the spreadsheet, you'll see a number of tabs so you can create multiple lists. Create one list of keywords per tab (these will be used to determine which pages you should add to your hub in the next step).
Audit Your Existing Content on Your Chosen Topic
Now, once you have a topic and keywords lined up, audit your existing content to see if you have anything you can repurpose for your hub. While a full-blown content audit can be an extremely time-intensive practice, you can keep things simple and brief for your purposes here.
First, you'll need something to store your list of existing content. There's a content audit template included in the bundle in this post that looks like this:

You'll see the following fields (some of which you'll need to use Google Analytics, or any website analytics platform you might be using, to find):
Page URL

: Paste in the URL for each page that might be useful to include.
Page views: Useful to see if your old content has any value (or if it could use some updates).

Avg. Time on Page

: This can be a useful indicator of whether or not this content is currently getting read.
If your content is relevant to the topic but isn't performing, then note in the green section whether it needs work, and which team member is going to take on this task.
Next, do some simple keyword searches on your blog, using the keywords you've selected (this is helpful if you have thousands of posts on your blog, or if you aren't personally well-aware of everything you've published, especially if your blog has been around for a while):

You can also use Google Search Console to find existing relevant content: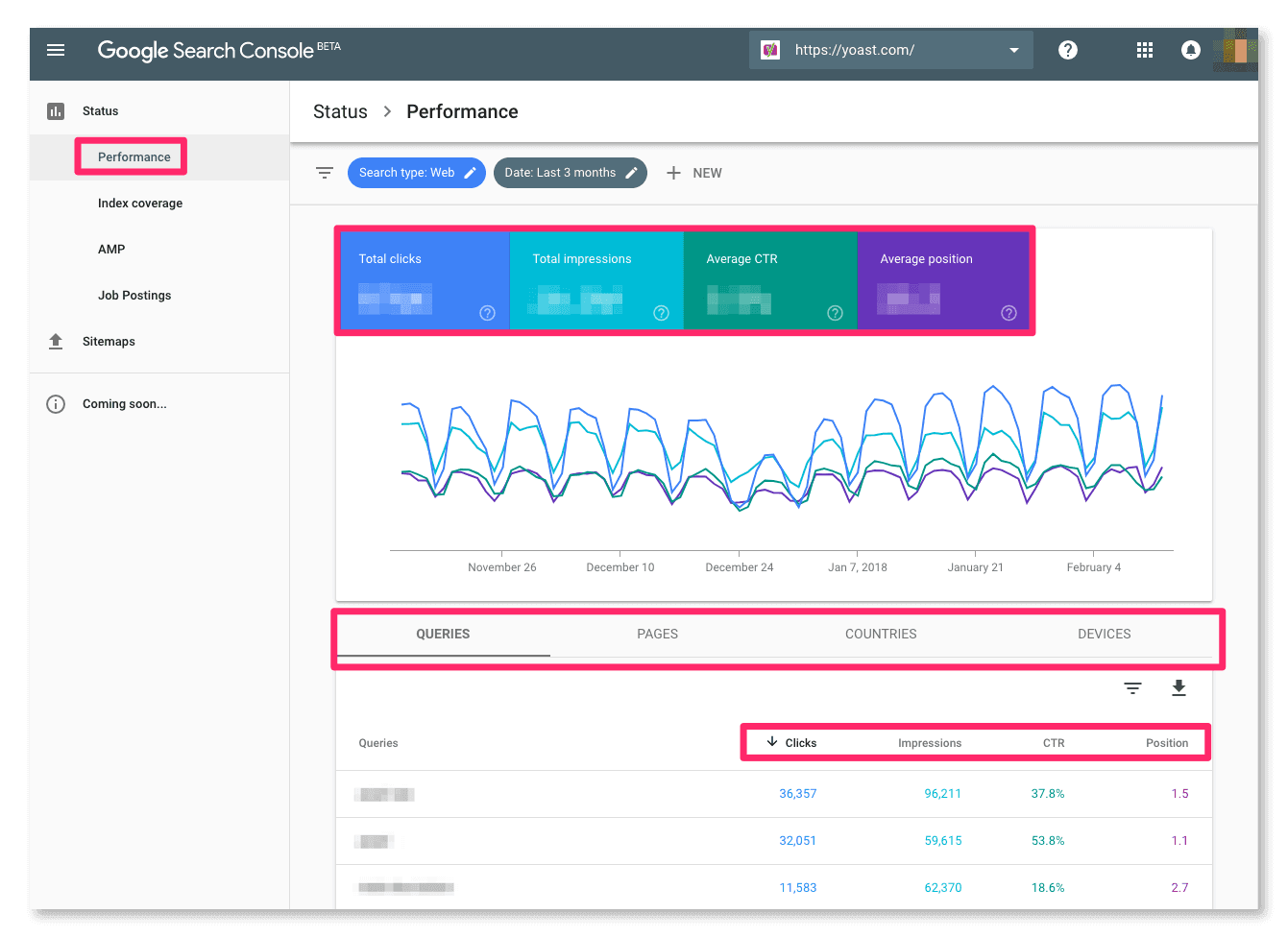 Image Source: Yoast
Or if you have access to paid site crawling tools like Screaming Frog or DeepCrawl, these are your best options for surfacing URLs on your site and blog. Check out this video from SEO consultant Chase Reiner on getting started with Screaming Frog if you've never used such a tool before:
Then, Plan Your Hub's Pages and Architecture
With your keywords and understanding of your existing content in hand, you're ready to start planning out the content that will round out your hub.
At a basic level, you'll need to determine the following:
The focus for your hub's main page

. A primary keyword and page title should be sufficient for now.

Additional top-level navigation pages

. Same as above, but for each additional top-level nav page (if you'll have multiple navigation pages--take a look at the Lyft example earlier in this post to see).

What content will go into each section

? This could be the specific pieces you'll place on each page, or just a general understanding of what types of content will go where.
NOTE:
You will probably need help from a developer and/or a front-end designer to figure out exactly what your team can do, and what your specific content and UX copy needs will be to get started. You'll likely need them to provide
wireframes
 so you'll know exactly how things will be laid out and how much copy you need to provide.
Some other more simple ways to create a hub (depending on your approach):
Creating a new top-level blog category

: Then, add new content underneath this category (or move blog content over, but be careful to keep your posts in a minimal number of categories—ideally just one, and at most, maybe two).

Planning a

topic cluster-style guide: Consider either creating new content, or port over content from your blog, and implement 301 redirects.

Using

Scoop.it

 to create a curated content hub

: This option reduces strain on development resources.
You can do this simply by creating a basic mini-sitemap in a spreadsheet (this doesn't need to be complicated, just something that lays out what will be included; even if you're doing something as simple as creating a top-level blog category and calling it a "hub," having an understanding of which content will go under it right away is helpful):

Create Your Hub's Home Page or Pillar Page Content
Now you'll need to actually start creating content. The first place to start is with your hub's "home page" or pillar page (which is effectively the main page targeting your hub's primary keyword, from which other supporting content either spokes off of, or is organized underneath).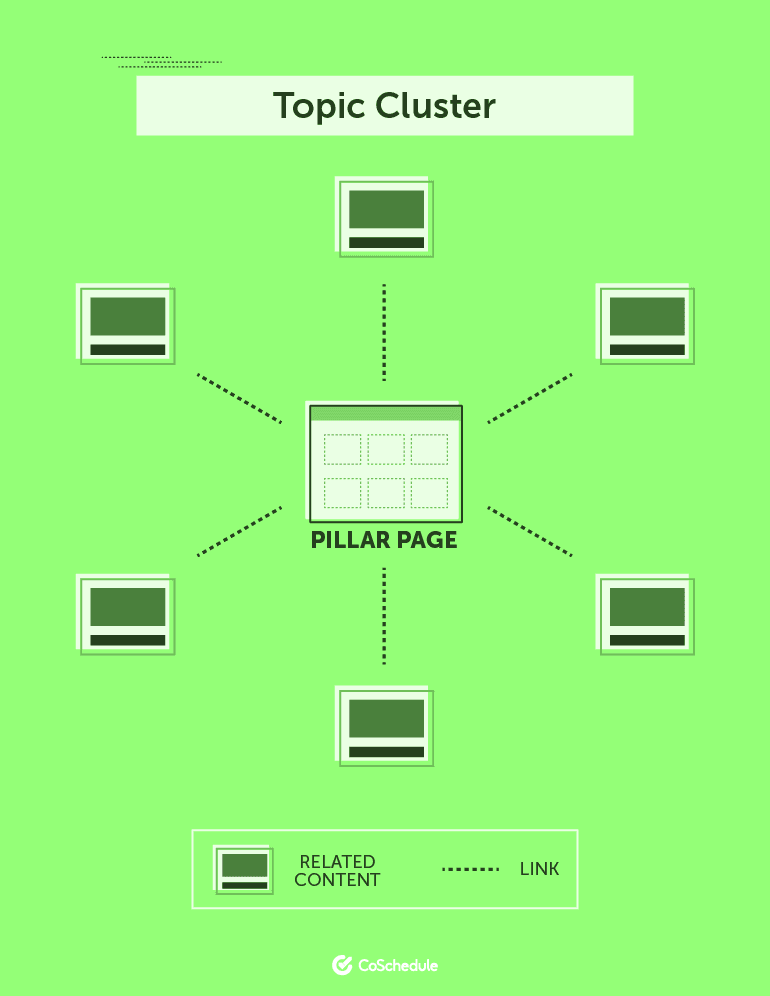 The home page for the hub will need the following copy elements:
Title tag and meta description

. These are important SEO elements that shouldn't be ignored. Use Spotibo's free SERP Preview Tool to test what they'll look like in search results before hitting publish.

Headline

. Use the Headline Analyzer to make sure it's optimized.

Body content

. Generally, there should be some copy somewhere underneath the headline and sub-headline explaining what your hub is about.

UX copy

. This includes button text, copy for different sections, and other navigational elements.
This is worth several posts by itself, so refer to the following pieces as needed here:
NOTE: When creating this content, make sure you're not duplicating effort elsewhere in your organization, or recreating content on topics that already exist on your site. This is particularly important in large enterprises where you may have multiple blogs or content teams. Ensure that each piece is unique to avoid possible duplicate content issues.
Add Internal Links Back To Your Hub
Once your hub is built and pushed live, be sure to add links back to it from existing content. Some quick ideas for linking wins include:
Footer and top-level navigation links

.

Links from blog posts

.

References and links from FAQ pages and other website pages

.
Internal links are important for both SEO and UX purposes, so make sure this step isn't neglected.
Promote That Content Via Email and Social Media
Launching something like this is a major initiative and it should be promoted accordingly. Here are several more resources to get started (or improve your practice) in those areas too:
Create a Hub and Get More Visitors Now
By now, you should have everything you need to get started. Here's a recap of what this post has covered:
What anyone is even talking about when it comes to this topic (and it could be one of a few similar yet different things).
The benefits of using content hubs to establish topical authority.
How to establish a clear process for getting a hub created.
All that's left now is to get down to work. Go establish yourself as a topical authority and build that hub.