Failure to plan is planning to fail.
We've all heard this expression before. However, that doesn't mean we always heed this advice. Sometimes we get busy and cut corners (and pay the price later).
We see this time and again when it comes to brands and their Facebook marketing strategy. Sometimes, their messaging misses the target. Or, they might not update consistently (or update too much). They might not be curating content, instead only talking about themselves.
You can probably list more common errors and oversights. We can count plenty we've made ourselves. It's time we all do better. That starts with better strategy and follow-through on careful, consistent execution.
Roll up your sleeves. We're going to dig deep.
Want to use Click to Tweet on your blog?
Get Your Download Now
Plus, join our email list to stay up-to-date.
Success! Your download should start shortly.
Tired of the marketing mess?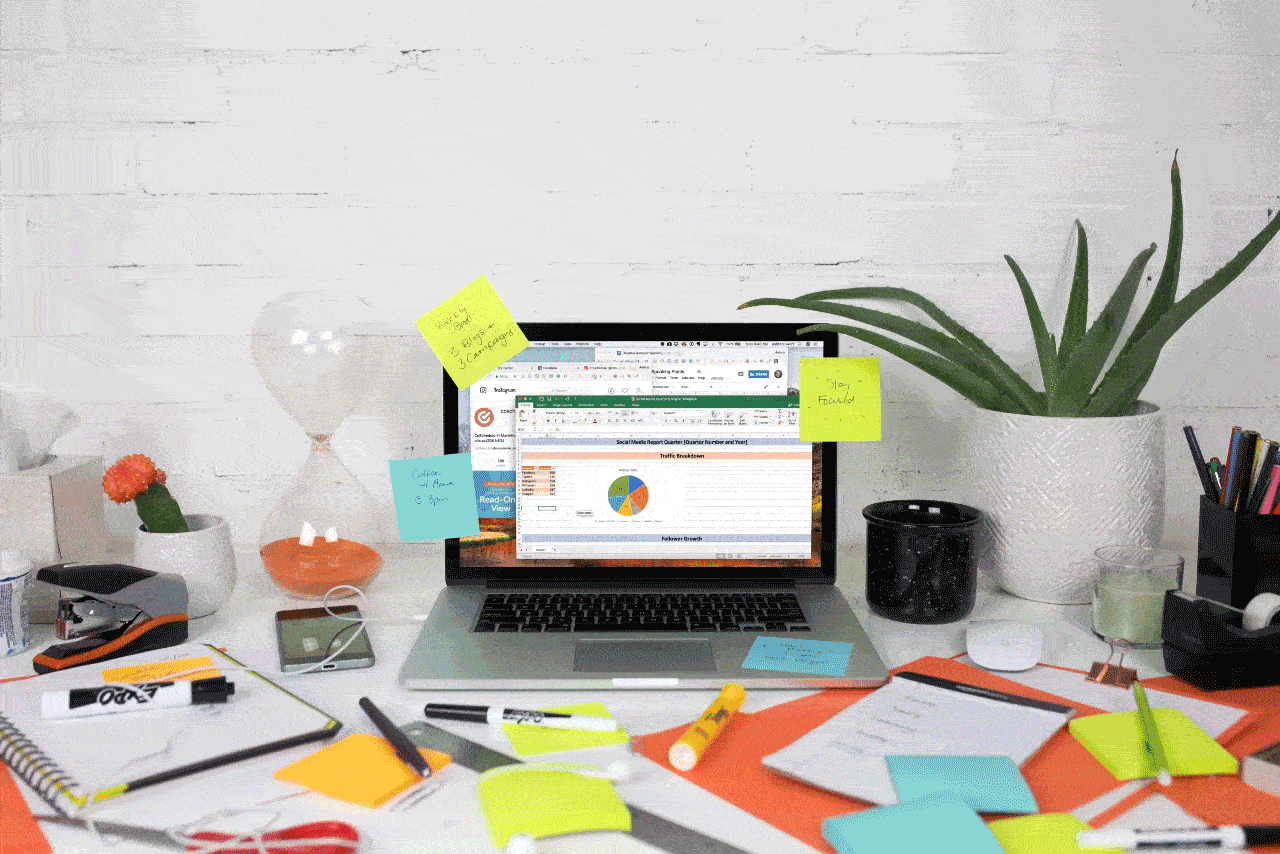 Awesome news! You're invited to a 1-on-1 marketing demo of CoSchedule! In 30 mins or less, you can see how to:
End the frustration of missed deadlines.
Get total visibility into ALL of your marketing in one place.
Save 20 hrs this week alone (and every week after).
If you've ever kicked the tires on CoSchedule, now's the time to see what it's really like.
Success! Your download should start shortly.
Clean up the chaos with your CoSchedule editorial calendar!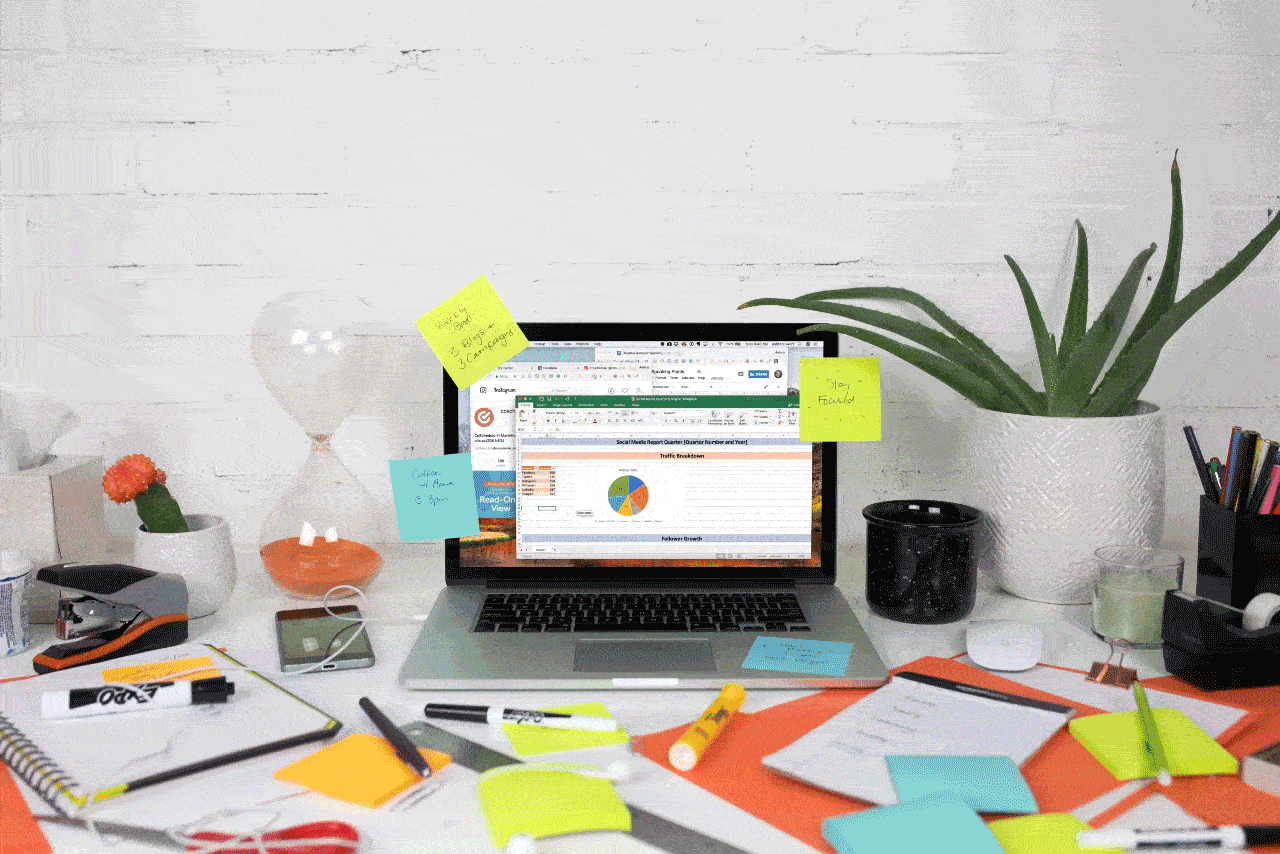 With CoSchedule, you'll:
Save time with blogging, social, and email (think HOURS every week)
Schedule your social posts in batches (and increase your posting frequency) super easily
Get your sh*t together (and hold yourself accountable to publishing like the boss you are!)
Now's the perfect time to start your 14-day free trial to see for yourself!
So, Why Do I Actually Need A Marketing Strategy On Facebook?
Working without a plan is stressful. It also tends to be inefficient and ineffective. Like we've said before, "Winging it is not a social media strategy."
Sometimes it's enough to simply try different things and see what works. However, without a coordinated strategy, your efforts may feel sporadic and disjointed. Your audience will notice. Strategy makes your efforts intentional. That makes your efforts more likely to succeed.
In other words, succeeding to plan is planning to succeed. It's as simple as that.
Want to use Click to Tweet on your blog?
Define Your Marketing Goals For Facebook
Before you know what to do, you need to know why you are doing it. It's easier to succeed when you give yourself a target to aim at.
Here are some common business goals for Facebook brand pages:
First and foremost, it's important to remember Facebook is a social platform. It's a two-way platform for communication. Treat it accordingly.
Want to use Click to Tweet on your blog?
Know Your Facebook Audience
It helps to know who you're talking to before starting a conversation. Knowing who your audience is on Facebook, however, can be a challenge. Fortunately, its own built-in analytics and other tools can make this task a bit easier.
Pay Attention To Conversations & Trending Topics
This is perhaps the simplest way to get to know your prospective audience. Sure, Twitter's demographics are typically somewhat different than on Facebook. However, Twitter is arguably a better platform for monitoring conversations.
Here are two simple ways to do this:
The old-fashioned way: Jump on Twitter. Follow accounts related to your niche or industry. See what people are talking about. Get involved in the discussion. This will give you an idea of what's important to your audience.
Use Social Mention: This freemium tool will surface mentions of a given keyword on blogs, videos, question-and-answer sites, and more. This can give you an idea of what people are talking about around a topic. This is important for narrowing down what content your audience may want to read.
How To Find Fan Insights In Facebook
Step 1. Visit your page (if you're the admin) and click Insights:
Step 2. Click on People. Here, you'll find a wealth of useful demographic information:
How to Find Audience Insights in Google Analytics
Google Analytics won't break down your Facebook audience directly. However, it does provide valuable data about who is visiting your website. You want those folks following you on Facebook too, right? Knowing what they like will help achieve that goal.
1. Log into Google Analytics and click on Audience:
2. Click Interests, then click Overview. This will give you detailed information about your audience's passions, hobbies, and interests.
3. Next, drill down into Affinity Categories. This will provide more specific visit information based on user interests.
4. Then, In-Market Segments will show you which industry verticals those interests align with:
Powerful stuff. Right?
Run A Survey
This is perhaps the easiest way to know exactly what your audience wants.
Sign up for Polldaddy or Survey Monkey.
Create a short list of simple questions asking your audience what they want to see on your Facebook page.
Promote your survey on social media and your email newsletter.
Analyze the results.
It's as easy as that.
Put This All Together To Build A User Persona
Remember that audience data we found in Facebook Insights and Google Analytics? It's time to put that to use by building a simple persona. In simplest terms, a persona is just a description of your average audience member.
Want to use Click to Tweet on your blog?
Use the Facebook Persona Template included in this post's downloadable content bundle.
Determine Your Messaging And Tone
You now know who you're talking to. It's time to figure out how you'll talk to them. This means establishing your brand voice on Facebook.
This doesn't have to be complicated. It just helps to understand how to make the voice of your brand work on social media.
Three Messaging And Tone Options To Consider
1. Serious
Are you in a highly-regulated industry?
If so, memes and Millenial lingo probably won't be your bread and butter on Facebook. This is also true if you're an organization where a casual tone would be inappropriate.
However, it is possible to be formal, professional, and interesting. For example, UNICEF creates compelling content that often carries immense emotional weight:
2. Casual
Let's say your brand is in a serious industry. How can you make your Facebook content conversational?
Capital One does an excellent job balancing audience expectations on Facebook with their brand:
3. Humorous
We all have friends who aren't as funny as they think they are. However, for the right brand, humor can work. Newcastle is an excellent example of a brand built on irreverence:
Use Literary Archetypes to Further Understand Your Audience
Brace yourselves. This is about to get deep. However, if you're a literature nerd, this will hopefully make some sense to you.
According to LiteraryDevice.net, an archetype is the following:
In literature, an archetype is a typical character, an action or a situation that seems to represent such universal patterns of human nature. An archetype, also known as a universal symbol, may be a character, a theme, a symbol or even a setting. Many literary critics are of the opinion that archetypes, which have a common and recurring representation in a particular human culture or entire human race, shape the structure and function of a literary work.
This is useful to understand not only in literature, but for marketing as well. Gianluca Fiorelli wrote an excellent post on incorporating archetypes into marketing. According to Fiorelli,
Being able to design a brand personality around an archetype that connects unconsciously with our audience is a big first step for: brand loyalty, community creation, engagement, conversions.
Those all sound like goals we outlined earlier for building your Facebook page.
According to Carl Jung, the founder of analytical psychology, there are 12 distinct archetypes.
Think of these archetypes as 12 different character descriptions. Your mission is to figure out which character they're most similar to. Then, craft content and messaging that would appeal to that audience. The trick here to learn A) which of these best describes your audience and B) aligning that with your brand messaging.
Want to use Click to Tweet on your blog?
For example, if your product is focused on helping people solve problems, they may fall somewhere in the Caregiver/Ruler/Creator spectrum (hey, that sounds like us).
If you were a hospitality brand, though, your audience might fall somewhere in the Safety/Understanding/Freedom area (think security and relaxation).
An organization focused on driving social change might fit in the lower right of the above diagram. If your goal is to build a community, then speaking to your audience as though they're in the lower left section may be best.
Determine Your Content Mix With 4 Different Kinds Of Facebook Posts
Now, let's figure out what kinds of posts you'll create. Depending on available resources, your options may include:
1. Video: Facebook wants to compete with YouTube. That means placing heavy emphasis on video. It's unsurprising, then, that video receives phenomenal reach on the platform.
You have two options here:
Posting video links (from YouTube or another source).
Uploading video files natively into Facebook.
2. Pro Tip: Video uploaded directly to Facebook tends to get the most reach. However, this means you'll need the means to shoot your own video.
3. Plain Text Status Updates: Images used to rule Facebook. That may no longer be the case. A 2014 study from Social Bakers shows photo posts get less reach than text posts with links, unlinked status updates, and videos.
4. Image Posts: The data above does not mean that images are dead on Facebook. It doesn't mean organic reach is dead, either. These are common myths. It's time we squashed them now.
There's a simple reason we recommend continuing to post images anyway: good content is good content. We think Jon Loomer said it best:
If you have a photo to share, it's because you have a photo to share. It's not because you want to drive someone to your website (there are rare exceptions). So if I have a picture of the mountains, should I just make sure to make that a link thumbnail? To… what exactly?
Chasing Facebook's algorithm leads to poor tactical decision making. Have a quality image to share? Go for it. If it's valuable to your audience, it'll resonate and get shared. If you have a link related to the image, add it. While images may get less reach, they may also help drive engagement by catching more attention.
Links: Curating content should be a component of any successful Facebook strategy. This means sharing links from other sources.
Figure Out Which Types Of Posts You'll Use
Determining which posts work best may depend on your business. If your product is heavily visual, then photos and videos will be must-haves. If your goal is to start conversations, then plain text status updates may be more effective.
Put together a plan to start.
Monitor performance.
Do more of what works. Do less of what doesn't.
Campaigns Vs. Adhoc Posts Vs. Curated Content
It's best to mix up different types of Facebook posts. For our purposes, we can break them down into three different categories:
1. Campaign Posts
These posts are part of a unified creative campaign. They may be a series of posts created to promote a blog post, contest, product, or other content. They may also be part of a creative campaign built to drive engagement. These will likely be your bread and butter.
2. Adhoc Posts
These are standalone posts. They're not part of a campaign. Rather, they tell their whole story in one post. Mix these in with your campaign posts.
3. Curated Content
These are posts shared from other Pages. Curation is a great way to share timely content your audience will find valuable. That helps position you as a helpful topical authority (rather than just another brand with product to push).
Want to use Click to Tweet on your blog?
Build Your Posting Schedule
Two common questions marketers often have are:
"What times should I post on Facebook?"
"And how often should I schedule posts?"
Use these numbers as starting points. Then, adjust until you find what works best.
Build Out A Facebook Content Calendar
To do this, you'll need to figure out:
How many times you'll post per day?
Which times you'll post at?
Which number of which types of posts you'll create?
Our recommendations above are, as we've said, a good starting point. However, you have room to experiment here. You'll also want to make sure your messaging on Facebook is consistent with your brand across other social networks. Using a calendar spreadsheet or app can help with this.
Here's what a hypothetical content calendar might look like:

This Excel template is available free in the Facebook marketing strategy template bundle included in this post.
10 Facebook Marketing Tips To Execute Your Strategy
Strategy is nothing without execution.
1. Video is king. Facebook is increasingly placing a heavy emphasis on video. Take advantage of this. You don't need a full-time videographer (although it helps). A simple handicam or iPhone is often enough to shoot compelling Facebook video.
2. Keep copy short. Brief messaing typically performs best on Facebook. You don't always have to go short. However, keeping it down to one or two sentences is advisable. Ford Motor Company nailed it in this example:
3. Paid promotion works. Test different types of organic posts and messaging. When you have a post do especially well, double down with paid promotion.
4. Use quality visuals. If you don't have a designer on your team, hire one (if you can). Otherwise, try creating your own with free tools.
Want to use Click to Tweet on your blog?
5. Engage. You can't afford to ignore comments or messages. Make time to respond. This will help you build connections with your audience.
6. Use cover photo CTA buttons. It's incredible how often brands and bloggers overlook these. This resource from Post Planner breaks down how to use them well.
7. Coordinate your cover photo with current campaigns. Here's a good example from Bark Post:
This cover photo is visually-appealing, coordinates well with their book promotion campaign, and includes a relevant CTA button. That's all the checkboxes for success.
8. Pay attention to your cover photo description. Again, these are overlooked too often. They're a great place to add descriptive copy (and maybe even a link to your site). Here's an example from Hyundai:
Want to use Click to Tweet on your blog?
9. Pin important posts. If you want to make sure something gets seen, pin it to the top of your Page.
10. Understand Facebook's promotional post guidelines. This is a big one. However, we see brands breaking this rule all the time.
Want to use Click to Tweet on your blog?
Facebook doesn't want sales-y sounding copy in users newsfeeds. If something sounds like an ad, then pay for it. If you have something to sell, then you'll need to get creative. Here's a strong example that gets this right:
How To Measure The Effectiveness Of Your Facebook Strategy
It isn't enough to just post content on Facebook. You need to show your boss why your efforts are important. This means tying your Facebook marketing performance to actual business goals.
Why Are These Metrics Important?
Likes and shares are often dismissed as vanity metrics. Granted, they're not as important as conversions or revenue. However, they shouldn't be ignored. They let you know what your audience wants. Each like and share is an opportunity to make a connection between your brand and your audience.
Want to use Click to Tweet on your blog?
Which Metrics Are Most Important?
This will depend on your goals. Follow this chart to align measurement with business objectives:
How To Monitor Your Facebook Marketing Performance
This video from Jon Loomer is a bit old. However, he sums up how to measure Facebook marketing performance well:
Four Ways To Gather & Measure Facebook Data
1. Build A Spreadsheet
Once you've watched the video, be sure to download the template bundle in this post. You'll find an Excel sheet you can use to track performance for your Facebook posts.
Using this template, you can track your per-post engagement data. Over time, this will give you a clear picture of what's working best. It's not much, but sometimes, simple solutions work.
2. Use Cyfe
Cyfe is an interesting software solution for data aggregation. It's a freemium tool that lets you gather and track all kinds of business data. That includes your Facebook metrics. Here's a brief demo:
3. Use Moz
Moz is best known for being an excellent SEO platform. However, their social media measurement capabilities are worth looking into as well. This is a paid tool that's useful for monitoring Facebook referral traffic, fan growth, and page interactions. It also allows you to compare your performance against competitors.
4. Use Google Analytics
Google Analytics is essential for measuring referral traffic from Facebook. Our post on content strategy covers how to get it set up.
It's Time To Build Your Facebook Marketing Strategy
You now have the knowledge and tools to build and execute your Facebook marketing strategy. There's no limit to what you can achieve from here.
Want to use Click to Tweet on your blog?
Were there any tips and tactics we missed that you'd add? Drop us a comment below!