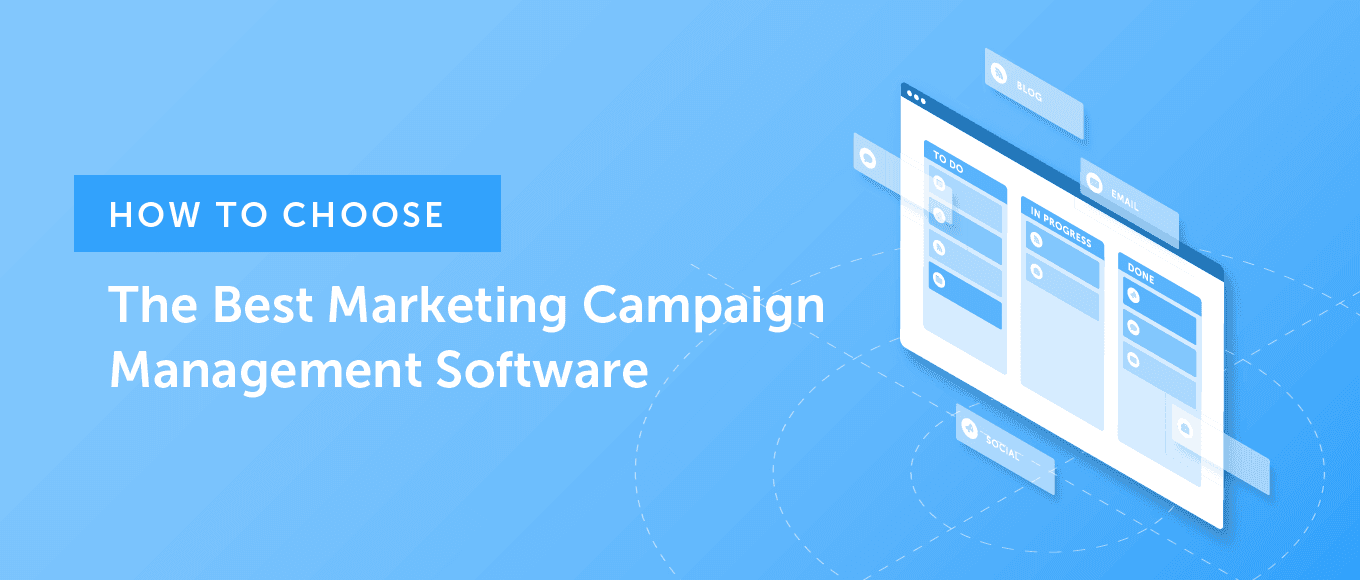 Running successful marketing campaigns requires coordinating tons of moving parts. From planning to execution to measurement, keeping things moving on track takes skill and experience. It also requires the right tools to visualize and manage all your work.
The question then becomes: which marketing campaign management software is best for you?
There's a lot to consider before settling on an answer, too. What do you need most to organize each piece of your campaigns? Will new tools support your existing workflows well, or will adjustments need to be made? How can you convince stakeholders the benefits are worth it?
That's what this blog post will dig into. You'll also see exactly how CoSchedule fits every need. By the end, you'll have everything you need to make an informed decision.
Want to use Click to Tweet on your blog?
What Exactly is Marketing Campaign Management Software?
This definition is less obvious than it might seem at first.
That's because there are lots of different products that fall into this category, and a lot of them tackle vastly different tasks, too.
As you might guess, that can make it difficult to find the best option for your own situation.
Without further ado, here's how this post will define this product category:
Marketing campaign management software supports the operational requirements for campaign execution. It helps marketing teams plan and organize everything they need to keep every piece of their campaigns synchronized, so they can effectively plan their work, hit deadlines, and achieve success.
While this could certainly cover a variety of types of tools, if it fits under this umbrella, then this post will consider it a campaign management tool. Some also consider CRM and customer contact management platforms to fall under this category too; while managing leads is certainly important, it's outside the scope of this post, and this particular definition.
One other caveat: this post excludes anything that isn't expressly designed for marketing purposes.
While you certainly can manage campaigns with spreadsheets and the like, generalist office and business software don't quite fit.
Examples of Campaign Management Tools
A quick search yields a lot of different options. Scrolling through most review sites yields software that handles individual pieces of campaign management, too.
But, which ones are actually made for marketers managing campaigns? Here's a short list of resources for comparison shopping:
Finding this kind of software using comparison services gets tricky fast, though. There are so many different tools used to manage different areas of marketing that it seems like the product category itself isn't necessarily well-defined. They typically go by a variety of other names (suites, platforms, etc.), but can do the work you're looking to get done (a byproduct of an industry loaded with terms that can, in various contexts, all mean about the same thing).
For that reason, this post will use its own definition, in order to address the work requirements of getting campaigns off the ground, managing their multiple moving parts, and measuring on-time completion for each component. Operationally, that all sounds like managing campaigns, right?
What is CoSchedule?
CoSchedule is a family of agile products that empower marketers to stay focused, deliver more projects on time, and make their teams happy. The CoSchedule suite includes:
Each organizer is available independently or all together in one marketing software suite. Together, they're a powerful option for managing your marketing campaigns.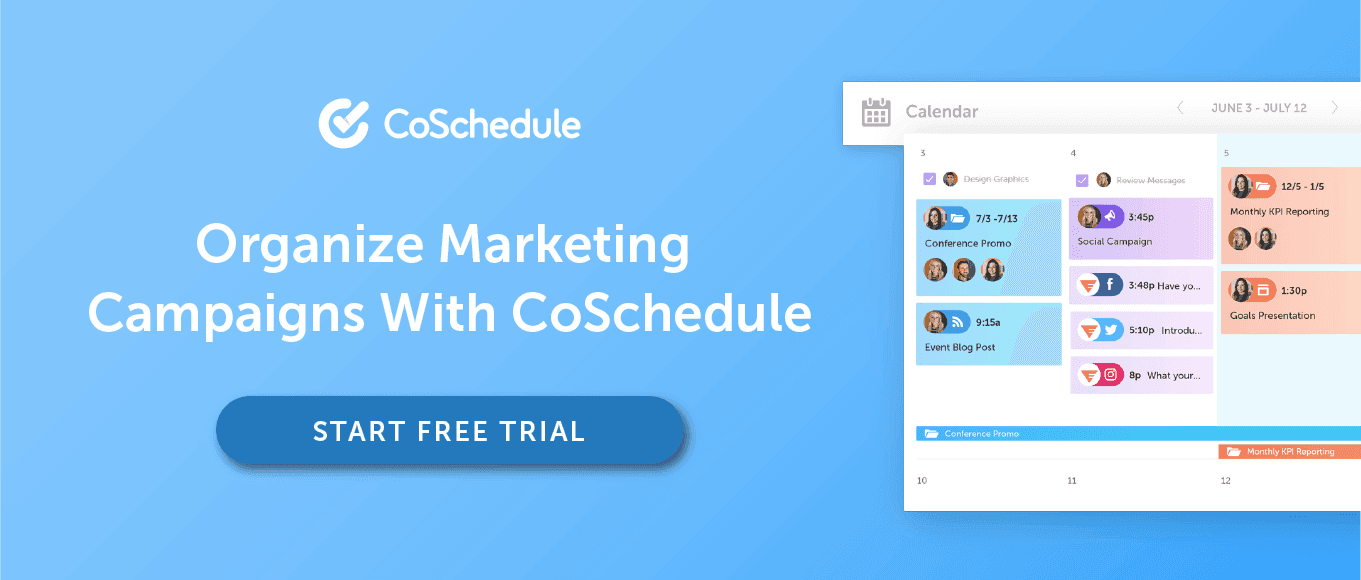 So … Why Do You Need This Kind of Thing, Anyway?
The simple answer is because you have campaigns to manage, which is tough, and you need some help.
A much better and slightly more complex answer is that having the right tools for the right job can lead to dramatically better outcomes (that means buying software that helps you do more things better or more easily is actually shown to improve results).
Consider this statistic: organized marketers are 397% more likely to report success.
397%.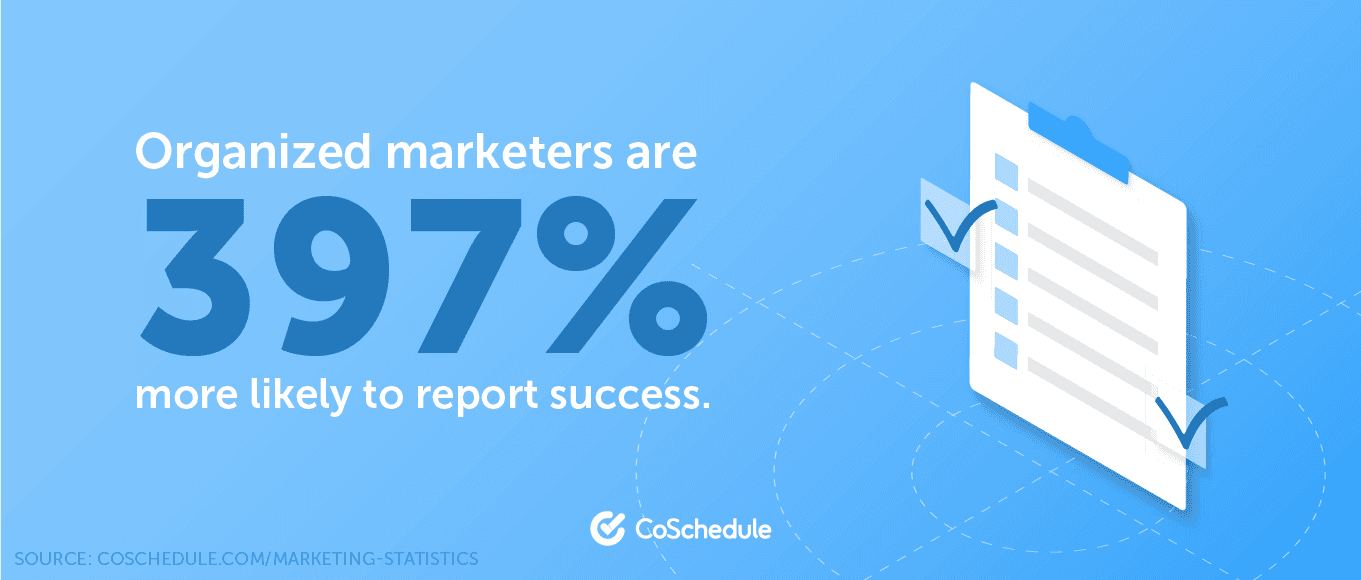 And how can you most effectively keep your campaigns organized? With a suite of products that are actually designed for that exact purpose (instead of retrofitting something else for marketing purposes).
Five Capabilities Your Campaign Management Solution Needs
That sounds straightforward enough. But, what capabilities should these tools include? Working within the definition outlined above, here's what to look for.
Developing Project Timelines
Any given campaign will have several different pieces within it. Mapping them out from beginning to end is vital for understanding how those pieces fit together. So, the ability to create clear visual timelines for campaigns is essential functionality for whichever tool you choose.
Visualizing Work With Kanban Project Management
With the increasing adoption of agile marketing, more teams are opting to use kanban boards to visualize workflows within campaigns. A solution that offers this type of view can be useful, especially or you're currently going agile, or considering moving in that direction.
Integrations With Key Marketing Tools and Platforms
Marketing teams often use tons of different tools for their work already.
Switching between tabs multiple times a day can quickly get tiring. Worse, it can result in mistakes and inefficient workflows when various pieces of a campaign exist in different places.
For example, your email newsletter is in your email service provider. Social posts are in your social media automation tool. Content, meanwhile, is in your CMS or on your marketing calendar.
Unifying these things can make managing campaigns exponentially easier.
Task Management + Workflow Automation
Tracking task completion throughout a campaign is essential for managing its progress. Automating task management and approval workflows streamlines that process too.
Having all this functionality in your tool means you'll be able to know who's getting what done, and whether they're on time, effortlessly.
Productivity Reporting and Analytics
Are your campaigns being managed effectively? One way to know is to track your on-time task completion and the team's ability to hit each of its deadlines. A tool that can automate this as well makes the process much less time-consuming (so you can focus on other things).
How Does CoSchedule Support End-to-End Campaign Management?
This all might sound theoretical so far, and you're looking for an actual, practical solution.
So, how do you actually manage a campaign with CoSchedule?
You're in the right place to find out.
Everything Starts With an Idea …
Campaigns start with an idea or a message you need to convey.
And if your marketing department is like most, you have more ideas than you know what to do with. That can make keeping everything organized a challenge.
CoSchedule supports ideation with Idea Board, which functions like a repository for your ideas (or a sprint backlog for agile teams).

Plan and Organize Marketing Campaigns
CoSchedule has a feature called (fittingly) Marketing Campaigns, which makes it easy to plan and organize campaigns with visual timelines on your Marketing Calendar: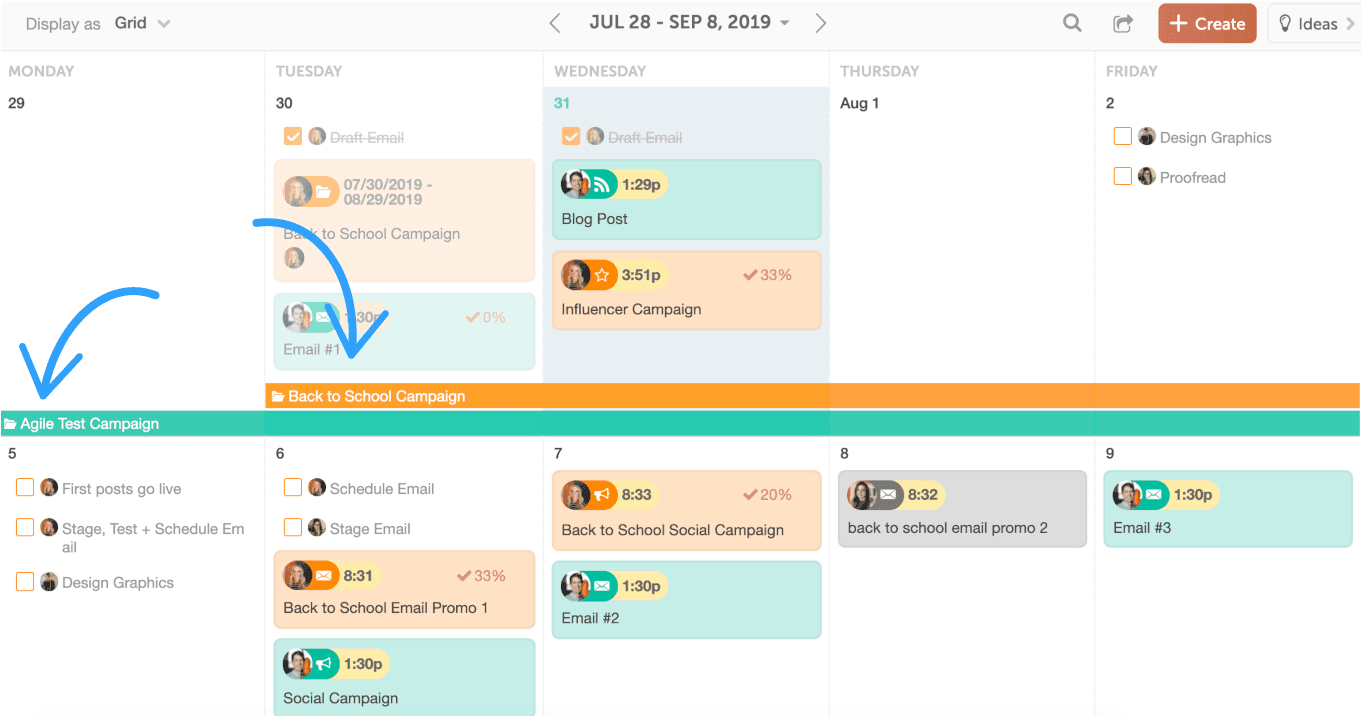 Here's a quick look at how it works. Campaigns in CoSchedule start with the Marketing Calendar. Click on the day you'd like work to start on the calendar, and you'll see an option for Campaign: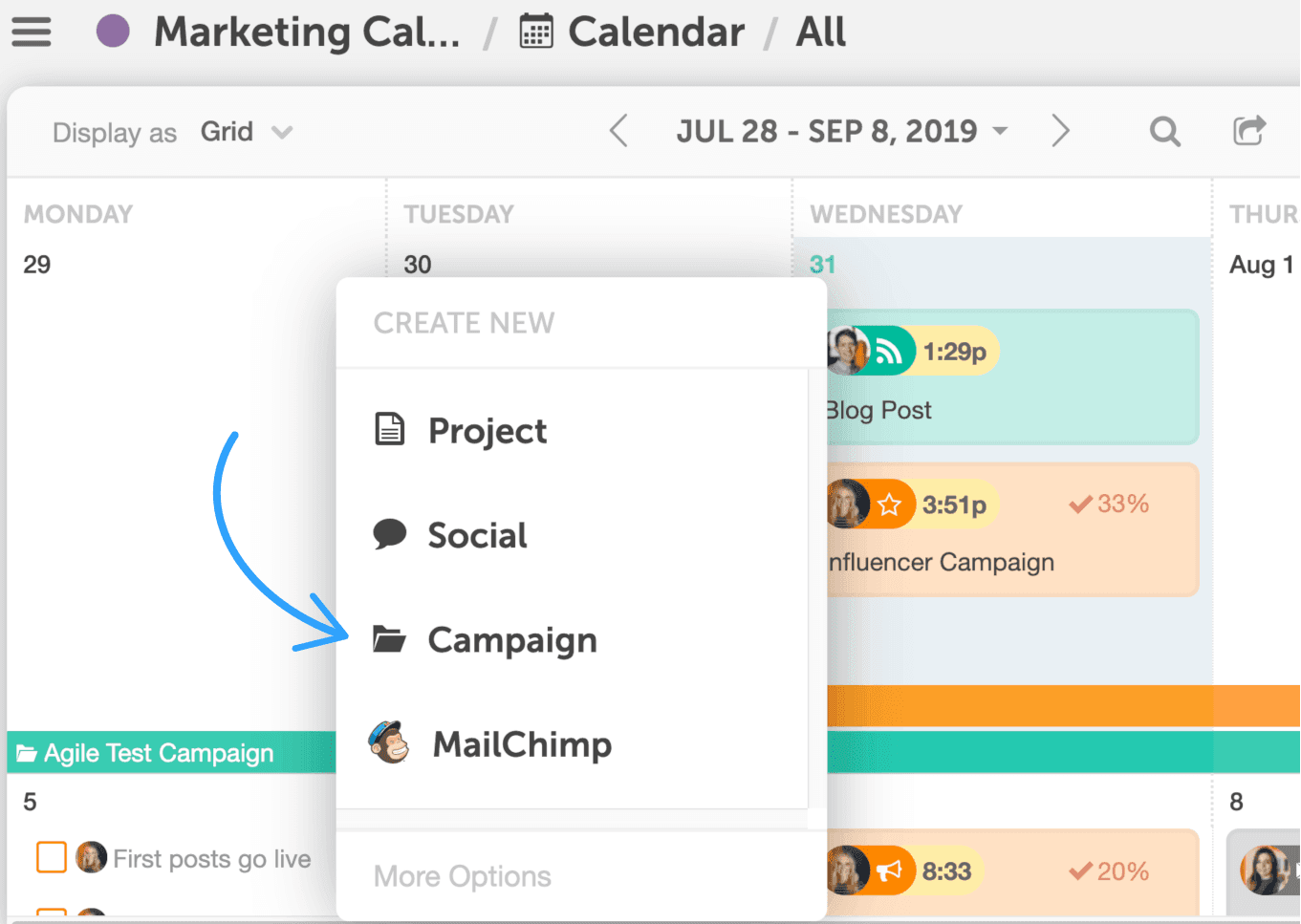 Then, give your marketing campaign a title, end date, and maybe even a Color Label: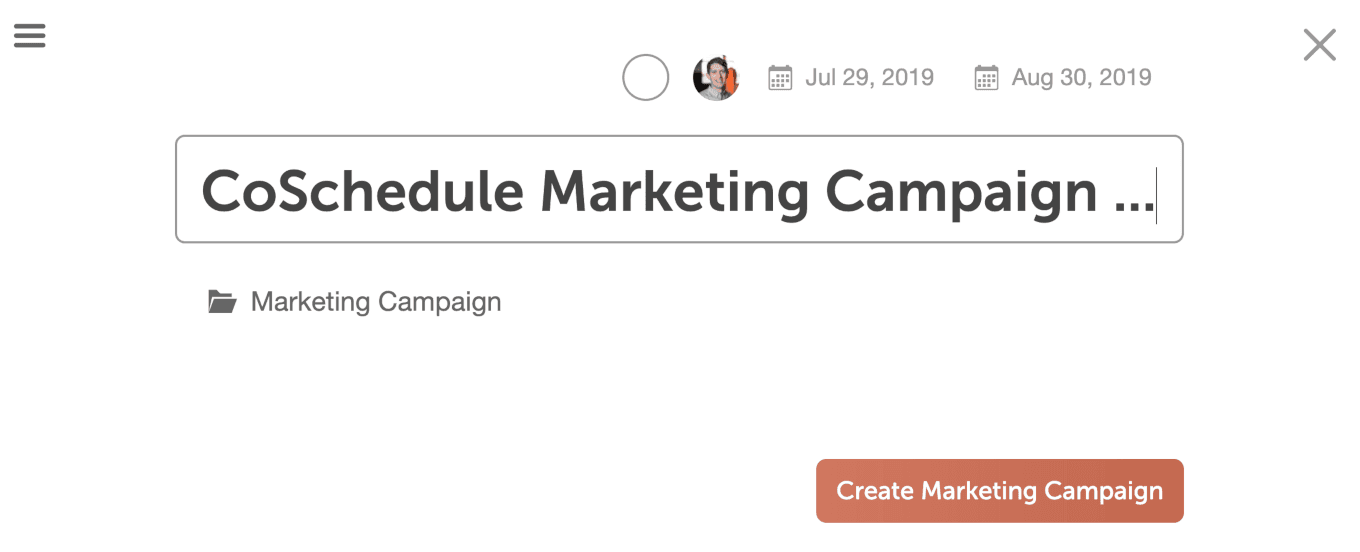 Click each day on the calendar where you'd like to add the individual projects and pieces that will comprise your campaign.
This can be anything you're working on (and with WordPress posts, social media content, and email, you can even leverage integrations to schedule that content to publish automatically):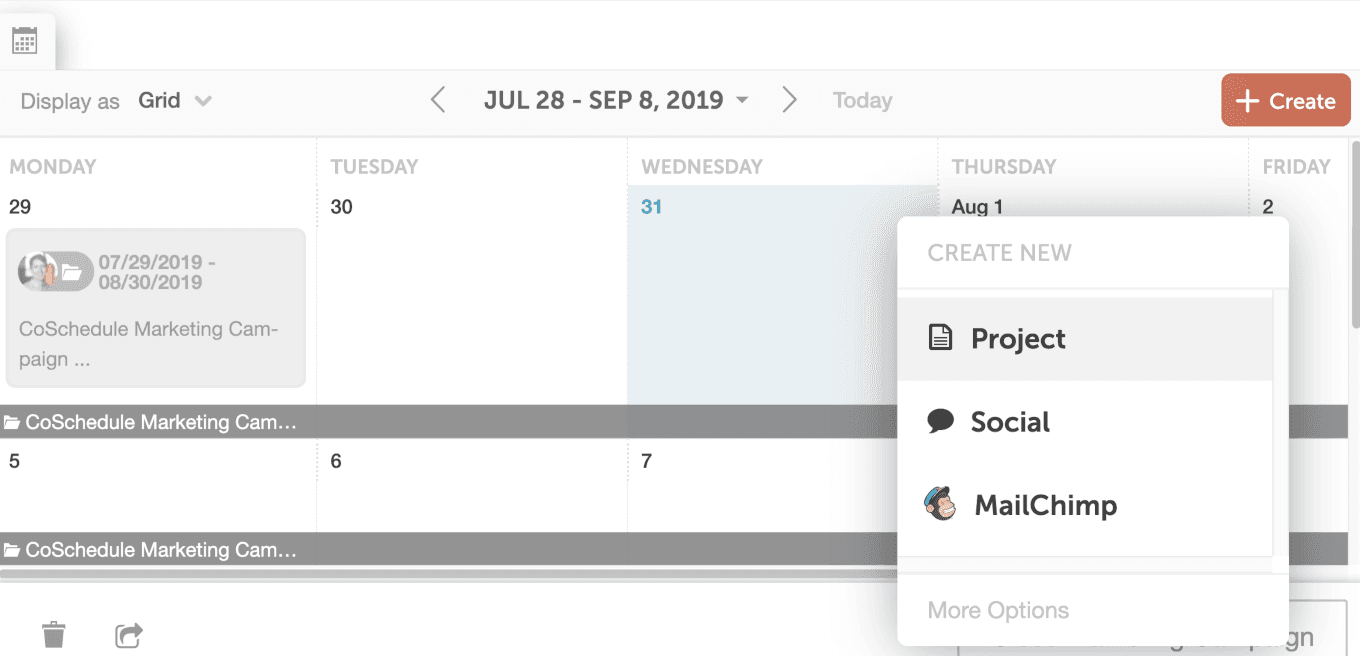 Here's what the calendar now looks like with some projects added to the campaign. Clicking into the color timeline for the campaign from the calendar will show only the pieces that are a part of this campaign, making it easy to visualize all the work and deadlines required: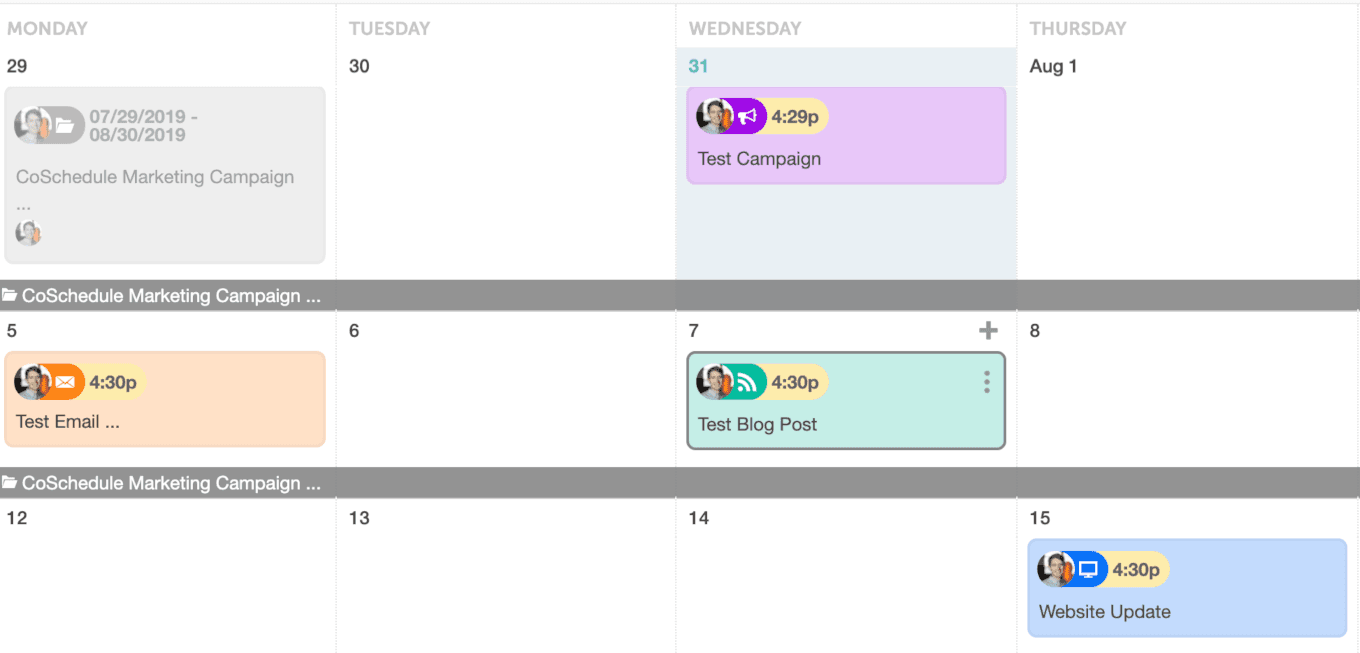 Pretty easy. Once you have a plan for your campaign together, getting it visualized and organized in CoSchedule is simple and intuitive.
Managing Campaign Workflows
Within each project, you'll need to manage the tasks that need to get completed, too. For example, if someone on the team is writing a blog post promoting your campaign, there are several steps they'll need to follow.
Here's a hypothetical list:
Do keyword research
Write an outline
Create a draft
Review and edit
Make suggested changes
Import into CMS
Schedule to publish
The specifics might vary, but you get the point. Every project your team executes within a campaign can be broken down into its own set of steps in a checklist.
With CoSchedule, you can build those checklists using Tasks and Task Templates. They're easy to set up, allowing you to add steps, deadlines, and assigned team members for every task: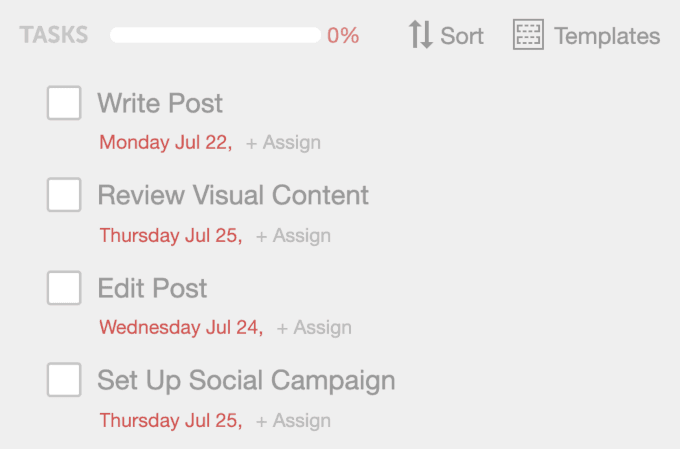 Plus, you can automate email notifications for team members each time a task is completed or changed. Even with a complex campaign, you'll stop missing steps, and work will get completed more accurately. That definitely makes management a lot easier, too.
Visualizing Campaign Progress With Kanban Project Dashboard
Want to view the progress of your campaigns using kanban boards? You can do that with the Kanban Project Dashboard:
Integrating With WordPress + Social Networks + Email Service Providers
Automating execution makes campaign management much easier. CoSchedule enables this with key integrations with WordPress, social media networks, and email service providers (MailChimp, Campaign Monitor, ActiveCampaign, and Constant Contact).
Here's what you can get done:
Automate WordPress content publishing.
Schedule social media posts to publish at the best times (and reshare your top posts, too).
Coordinate and schedule email content.
That makes meeting deadlines easier and frees the team's time and energy to set it and forget it.
Measuring Your Team's Campaign Output
Managing campaigns is all about making sure the work gets done on time. CoSchedule tracks and reports your team's productivity using a pair of reports: Team Performance Reports and Project Reports. Together, they help marketing teams show their work and prove campaigns are being executed effectively.
Use the Team Performance Report to track who's completing tasks on time (tabulated from the tasks you've assigned to each project in your campaigns). Plus, use Project Report to see the current status of all your projects (exportable as .csv or PDF):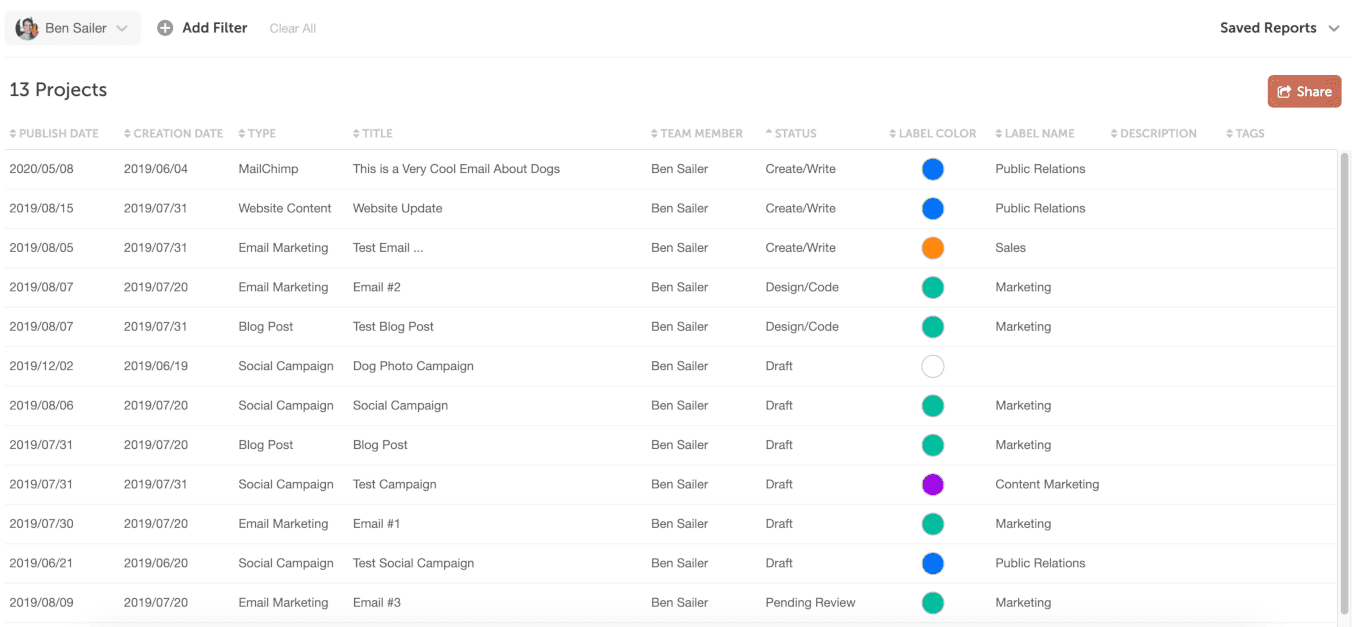 Building Your Own Campaign Planning Process
That's the 30,000-foot view of how CoSchedule supports campaign management. But, in addition to having the right tools, you need to have the right processes in place to make your campaigns successful. Here's a brief collection of resources to help with that:
Get Started With CoSchedule Free For 14 Days
If you're ready to get organized with CoSchedule, take it for a 14-day test drive to see how you can stay focused, deliver more campaigns on time, and make your team happy.