How to Boost Engagement with Micro-Influencers the Right Way
Every brand strives to drive engagement because without engagement, there may be no conversions. This makes your engagement rates an
important metric for determining your brand's performance
. But if you're having some trouble engaging your target audience, you could get micro-influencers involved. That's because micro-influencers tend to generate high engagement rates, and may even be
more engaging
 than top influencers. In this post, you're going to learn all about these micro-influencers, and how you can work with them to drive engagement.
Download Your Free Micro-influencer Outreach Templates
Successful marketing with micro-influencers requires smart preparartion and outreach. Use these three free templates to simplify the process:
10 free influencer email outreach templates: Save time writing while keeping your outreach personalized and effective.
Micro-influencer marketing checklist: Make sure you don't miss any steps in your process.
Micro-influencer outreach tracking template: Keep track of who you've contacted and monitor your success rate.
How to Boost Engagement with Micro-Influencers the Right Way
Click To Tweet
What are Micro-Influencers?
As their name suggests, micro-influencers are individuals who are influential, but not on a macro level. Their influence is often concentrated within a specific niche – be it beauty, fitness, tech, fashion, or lifestyle. The common definition of micro-influencers is influencers with a smaller number of followers than regular influencers. But there is no exact definition of what that number is.
Mavrck
 considers individuals with somewhere between 500 and 5,000 followers as micro-influencers. And
CNBC
 reports that micro-influencers are those influencers who have fewer than 10,000 followers. But according to
TapInfluence
, micro-influencers have anywhere from 1,000 to 100,000 followers. Despite these variations, what remains true is that micro-influencers have the ability to engage an audience.
Micro-influencers have the ability to engage an audience.
Click To Tweet
In fact, a
Takumi
 study found that engagement rate decreases as following size increases. People with 1,000 followers or fewer have an engagement rate of 9.7%. And the engagement rate of people with 1,000-4,000 followers is about 4.5%. And as the following size increases to 100,000 and over, the engagement rate drops to 1.7%.
These findings are consistent with the findings in a
Markerly
 study. This study found that people with 1,000 followers or fewer have an average like rate of 8%, while those with 10 million followers or more generate only have about a 1.6% like rate. As for comment rate, those with 1,000 followers or fewer drive 13 times more comments than people with 10 million or more followers.
How to Find Micro-Influencers in Your Industry or Niche
As mentioned earlier, micro-influencers often have influence in a specific niche. So the right choice of relevant keywords could help you discover potential micro-influencers to work with. On Instagram, you can choose a relevant keyword, and use it as a hashtag to discover relevant posts made by potential micro-influencers. For example, let's say you want to promote a line of skincare products made using all-natural ingredients. The
right keywords
here would be something like "organic skincare," "organic beauty," "organic makeup," etc. Let's try searching for the hashtag #organicskincare. You'll get results of top posts that use the hashtag, as shown in the following screenshot.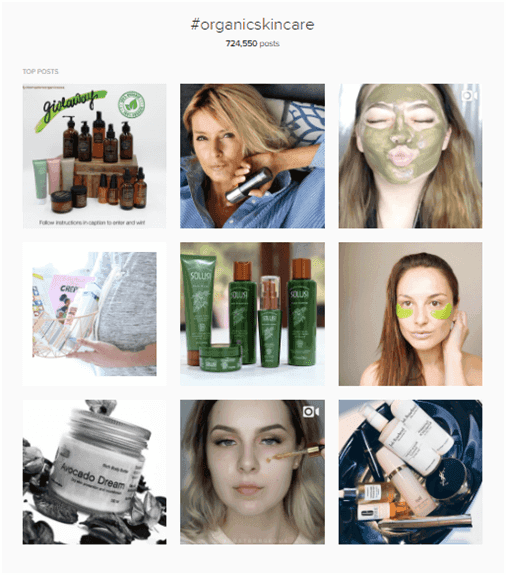 Then click on each of the posts, and check out the users who have posted the photos or videos. You just need to look at the number of followers they have to see if they have less than 100,000 followers (based on the TapInfluence definition of micro-influencers). Also check if they usually post content related to what you're selling. Let's click on one of the posts in the search results above. As you can see in the screenshot below, the post was from a user named
The Beauty Bloss
. If the post has any other relevant hashtags like in the following post, make a note of them to find more micro-influencers.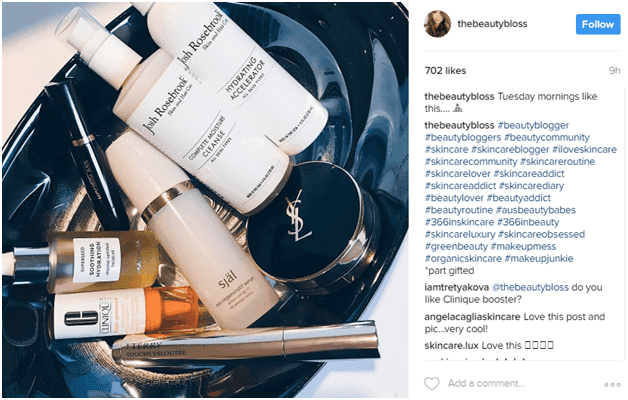 If you check out this user's profile, you can see that she has around 21,900 followers, qualifying her as a micro-influencer. And her posts are all related to makeup and beauty, which is perfect for the product you're promoting. So you can consider reaching out to this influencer.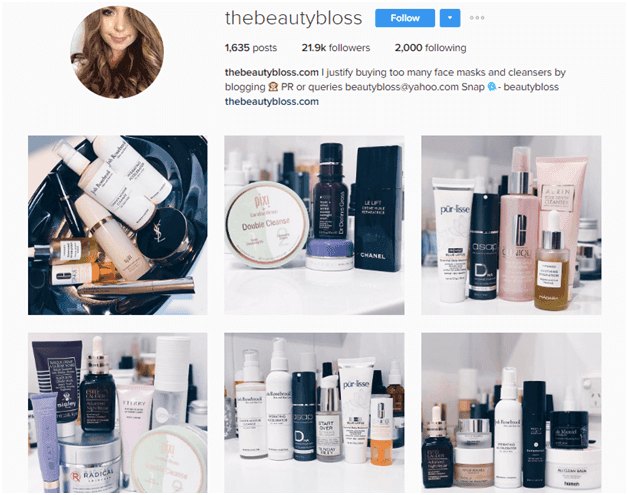 As for searches on Facebook and Twitter, manual search using a relevant keyword isn't going to cut it. The search results will prioritize the top influencers and celebrities relevant to the keyword, making it difficult and time-consuming to identify micro-influencers. So your best bet is to use tools like:
To search for micro-influencers on these platforms, you can pick several relevant keywords. Your search will bring up results of influential figures related to those topics. For example, BuzzSumo in the screenshot below, shows a list of influencers and bloggers related to beauty and skincare. You can make a selection based on their following size, page authority, etc.
How to Convince a Micro-Influencer to Work with You
Micro-influencer outreach is no different from regular influencer outreach. But in the case of micro-influencers, it's likely that they will be more receptive of your outreach efforts. Here's what you need to do to convince a micro-influencer to
work with you
:
Begin with small interactions.Before you start sending out emails and messages to micro-influencers, it's better to start off with small interactions. The idea is to get them to notice you, and remember your name. Try sharing their content, commenting on their posts, or asking them relevant questions on social media. You can also try commenting on their latest blog posts.
Develop a suitable compensation model. Make sure you're offering micro-influencers what they deserve in exchange for a promotion. Some micro-influencers may be more than happy to promote the free products you've sent them without any extra charge. But you shouldn't take that for granted.Try to develop a compensation model depending on what's most beneficial for your business. Maybe you could pay them a percentage of, or a fixed sum for every conversion. Or you could pay them for engagements and click-throughs. Some brands even pay micro-influencers a fixed sum for every post.
Send them an email. Once you've established an initial connection through social media or the influencer's blog, you can begin your email outreach. Your email should get straight to the point, and talk about why you wish to work with the influencer. For example, maybe their values align with yours, or you find their content intriguing. The email should also contain details like what you're offering in return for the promotion. In other words, it should provide micro-influencers with a compelling reason why they should work with you.
To make your influencer outreach easier and more effective, there are a few tools you can use:
Hunter can help you discover the email addresses of influencers.
BuzzStream can help you keep track of and manage your conversations with the influencers.
Pitchbox can help you create personalized outreach emails as well as automate your follow-ups.
How to Boost Engagement With Micro-Influencers
Based on the Markerly and Takumi studies mentioned earlier, you already know that micro-influencers can generate a lot of engagement. You can harness their ability to engage to boost your own engagement rates. And here are some tips to help you out:
#1: Honest Reviews
Micro-influencers don't beat around the bush when interacting with their followers. They get straight to the point, and are honest when expressing their opinions about something. As a result of this honesty, people trust their opinion about a product or a service. In fact,
Experticity
 found that 82% of consumers would follow a micro-influencer's recommendation. You can take advantage of this established trust by getting micro-influencers to share honest reviews about your product or service. Depending on which influencers you choose to work with, you can either have them write a blog post reviewing the product, or create a review video. Or you can even get them to
create a social media post
reviewing the product. Regardless of the medium, the review needs to be honest.
In order to get an honest review from a micro-influencer you need to:
Choose micro-influencers who often create review content, and who aren't afraid to mention the negatives.
Be very clear when communicating your expectations in your outreach email.
Propose to send them free samples or exclusive previews of your product. And stress on the fact that they shouldn't feel obligated to give a beaming review.
Make sure you mention that all you expect in return for the free products is their honest opinion from an expert like them.
Here's an example of an honest review of 100% PURE serum by beauty influencer Adri (
@sortofobsessed
). As you can see in the caption, she talks about how she loves the feel of the product on her skin but she doesn't like the texture. She also talks about some of the issues she faces when using the product.
#2: Giveaways
Giveaway campaigns are an excellent way to engage an audience. This is likely because of the possibility of them winning something. And to leverage your engagement efforts, you can get a micro-influencer to host the campaign. Here's what you need to do to work with micro-influencers for a giveaway campaign:
Determine the prize of the contest. It should be something that would appeal to the influencer's followers while helping promote your brand. The prize should help compel the target audience to take action.
Come up with the rules for participation. Maybe you can require them to like the influencer's post, follow them and your brand, and tag their friends in the comments. Or maybe they simply have to submit an online form through a link promoted in the influencer's blog.
Pitch the giveaway concept to a micro-influencer in your email. The email should highlight what's in it for the influencer in addition to the compensation. For instance, you could talk about how this could help them boost engagement among their followers or even grow their following.
Savory Experiments
, hosted a contest sponsored by the Mussel Industry Council of Prince Edward Island. All participants had to do was to choose their favorite recipes created using Prince Edward Island mussels. The recipes were created by various micro-influential food bloggers including Jessica. And by voting, participants got a chance to win a free trip to the island.
  This contest involved a giveaway of an experience as opposed to an actual product, but it's still an effective engagement tactic nonetheless. Jessica also mentioned at the beginning of the post that she was compensated to write the post, but all opinions expressed were her own.
#3: Tutorials and How-Tos
The previously-cited Experticity study also found that people considered micro-influencers to be better than everyday consumers at explaining how products work, or how they can be used. It is for this reason that you should consider getting micro-influencers to create tutorial content around your product. If it's a product that doesn't require much explaining, they could still offer creative tips and ideas on what consumers can do with it. For this tactic to be more effective here's what you need to do:
Look for micro-influencers who often create tutorial content – videos, blog posts, or social media posts. You'll basically need to check out the various pieces of content created by influencers you've shortlisted for your campaign.
Analyze their tutorial content and determine if the quality lives up to your expectations. In other words, see if the content is both intriguing and educational. And try to look at the comments, shares, and/or likes in the content to understand how well their tutorials engage the audience.
Reach out to them by email and pitch your idea. Like before, your email should highlight the benefits of working with your brand and what's in it for the influencer. You could offer them exclusive access to the product along with a competitive compensation.
Makeup and beauty influencer
Tamira Jarrel
 created a sponsored video for True Botanicals. In the video, she talked about some of the various products that worked for her. And she explained how to use them and what works for what. She even provided her fans with a unique discount code so they can purchase the products for less.
#4: Original and Authentic Sponsored Content
Every now and then you may have come across influencer content in which they promote a product. But unlike their regular content, this one seems uninteresting and maybe even too promotional. This is hardly going to do anything for brand engagement. Usually, this kind of bland and overly-promotional content happens because the brand is trying to control everything about the production. You chose micro-influencers because they can engage their audience with
original and creative content
. If you want your brand sponsored content too to engage the same audience, you need to provide them with something equally interesting. This means you need to trust the content creation in the hands of the influencer. Encourage them to come up with something original that blends in with their usual content.
Encourage micro-influencers to come up with original content that blends with their usual content.
Click To Tweet
A survey conducted by
Crowdtap
 found that creative freedom is highly valuable to influencers. In fact, 58% of those surveyed said that their favorite projects were those in which the brand gives them creative freedom. And 77% said that they'd be willing to work with a brand more than once if said brand provides them with creative freedom.
77% of influencers are more likely to work with brands more than once if they have creative freedom.
Click To Tweet
These findings suggest that being too restrictive with your content guidelines could negatively impact your relationship with the influencer as well. So, here's what you need to do if you plan on letting the influencer be in control of content creation:
Provide them with basic guidelines such as the kind of vibe you want to give out, the important points you need them to cover, etc. This will ensure that the influencer content delivers exactly what you need.
Make sure the micro-influencer understands your goals from the campaign and trust them to deliver. You need to communicate your expectations without trying to control the content creation.
Be transparent about what you don't want so the influencer knows what to exclude in the content. For instance, maybe you don't want the content to have swear words in case you want to share it on your site.
When communicating these
guidelines and expectations
, make sure you do so in a respectable manner. Remember the saying "it's not what you say; it's how you say it". You don't want to come off as rude or bossy when communicating with the influencer. Instead, talk to them as friends and let them know that you trust them to create something new and intriguing.
When communicating guidelines and expectations, do so in a respectable manner.
Click To Tweet
The
Cherished Bliss
 blog perfectly executed the promotion of Delta Faucet in tune with the usual blog posts. The blogger behind Cherished Bliss, Ashley normally covers home improvement, home décor, and DIY tips. In this case, she implemented the sponsored content in the form of a kitchen makeover using products from Delta Faucet.
#5: Social Media Takeovers
When it comes to influencer
marketing campaigns
, social media takeovers fall under one of the most popular tactics. This tactic is highly effective for driving engagement and
growing your following
. It involves having an influencer take control of your social media account for a fixed amount of time such as a day or an entire weekend. When you execute a social media takeover with a micro-influencer, the influencer will invite their fans to your brand's account. This means you're going to draw in the micro-influencer's highly engaged audience. And it's also a chance to bring a refreshing change to your usual content, which could newly engage your
existing audience
.
Pitch your idea to the micro-influencer in an email or private message. Here, make your offer more compelling by talking about what's in it for them. In addition to sufficient compensation, it could be a chance to gain recognition among your existing audience, for instance.
Establish some ground rules that the micro-influencers will have to follow when taking over your account. For instance, maybe you want to avoid using swear words because of your brand identity.
Talk about the requirements and expectations of the campaign. For example, maybe the takeover will be for an entire day on one specific platform such as Instagram or Snapchat. And during this time, the influencer will have to post at least two images relevant to a given theme.
I Amsterdam
, for example, worked with micro-influential photographer
Arjen Noord
 for an Instagram takeover. For three days, the influencer posted photos guiding the audience through various sights and locations around Amsterdam.
  The influencer also promoted the takeover through his Instagram account. And he invited fans to visit the I Amsterdam Instagram account for his posts.
Ready to Start Working With Microinfluencers?
You now have a detailed guide explaining all about micro-influencers, how to find and approach them, and how to work with them to drive engagement. If you have any doubts about any of these tips and tactics, feel free to ask them in the comments.