With ReQueue, you can fill the gaps in your social schedule by using both intelligent groups and placeholder groups.
Need inspiration? Here's a list of the most popular ways teams are using ReQueue to automate their social strategy and get more mileage out of their top social messages.
Evergreen Blog Posts
Your team works hard to publish quality blog content for your audience. But let's be honest…once it's been posted once, how often are you actively resharing these blogs on social media?
Keep your best content in front of your evolving audience and build a ReQueue group to consistently share your evergreen content.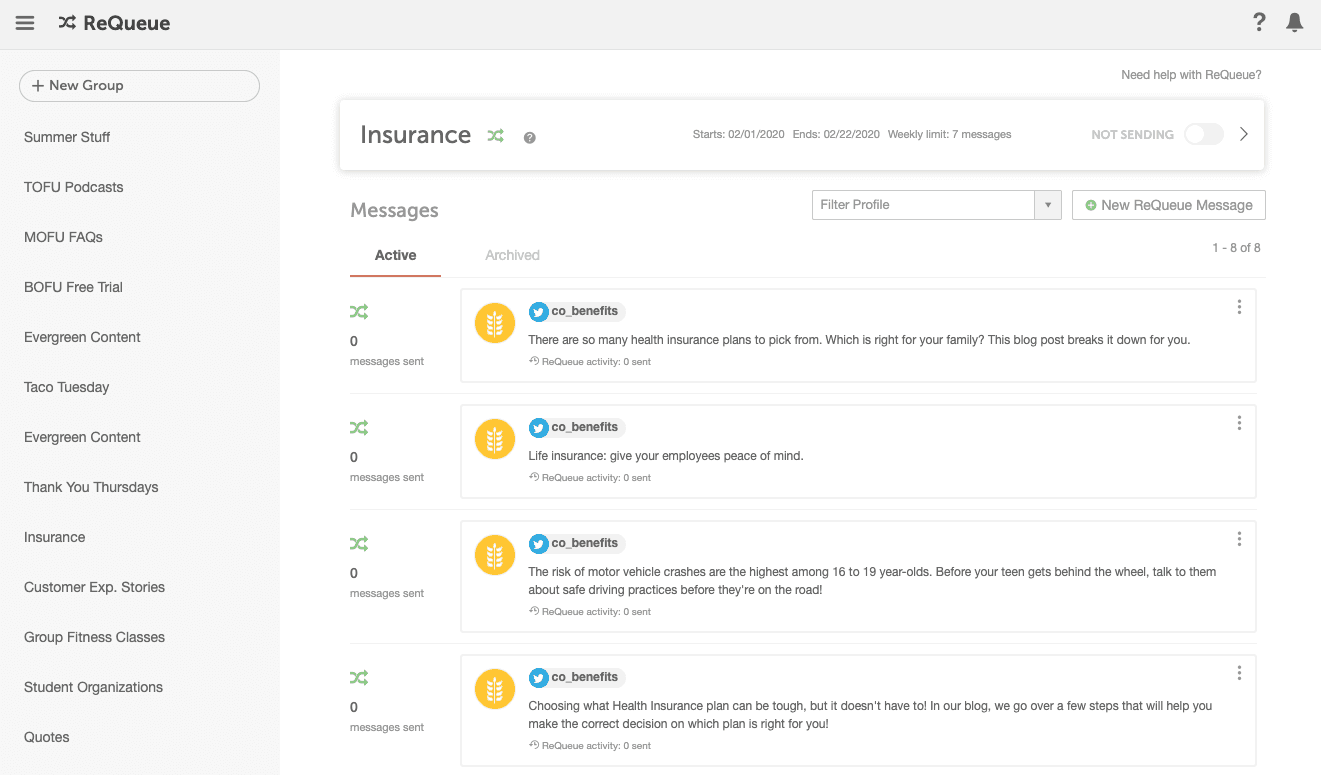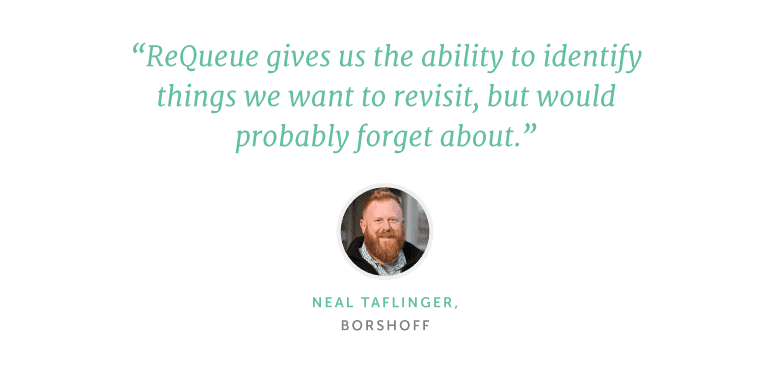 Customer Stories + Quotes
Social proof is a very powerful part of your marketing strategy. If you have feedback and quotes from customers don't miss out on the opportunity to share them.
Sample messages may include: positive reviews, pull quotes from customer interviews, customer stories, videos, etc.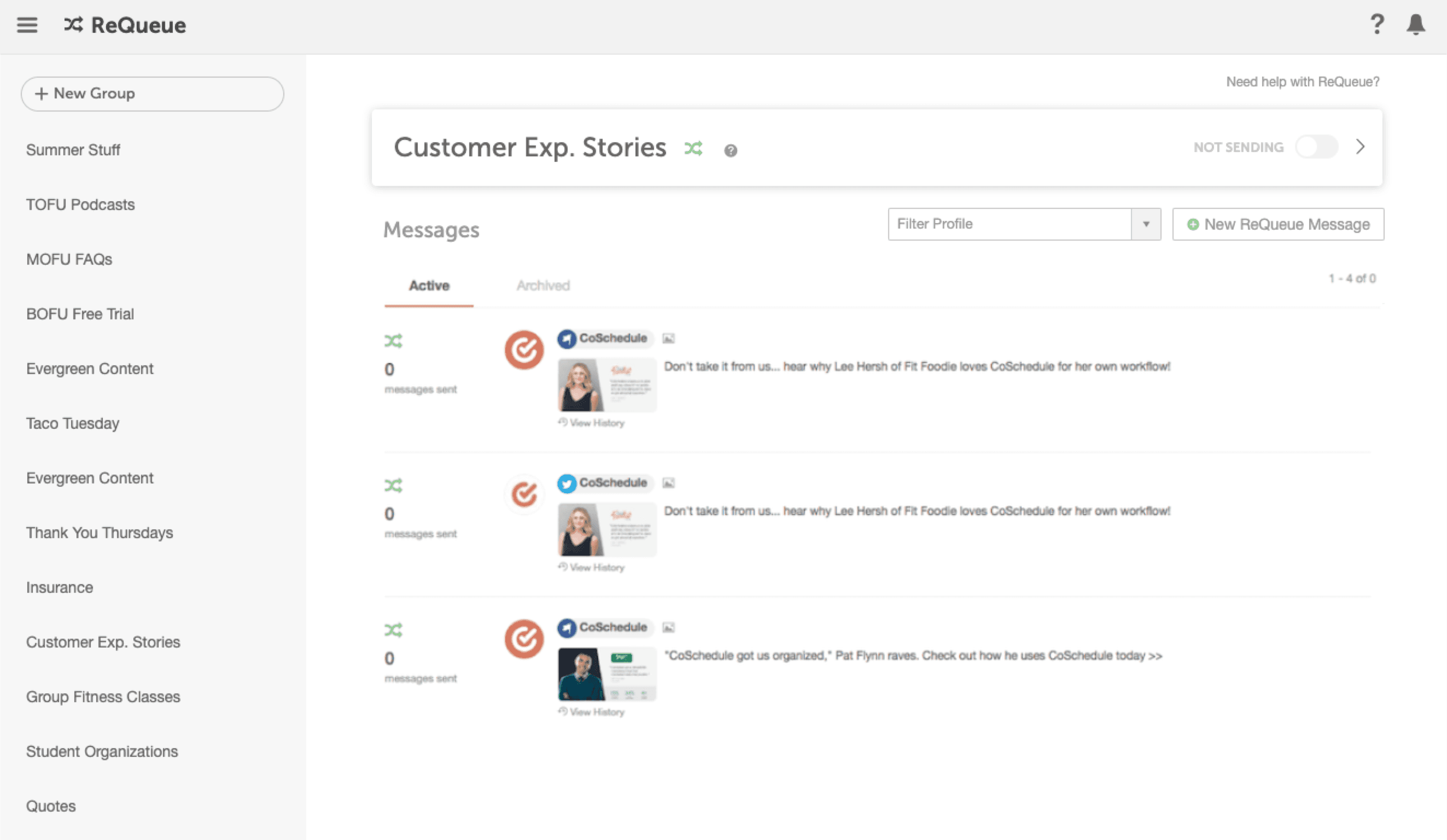 Recurring Content Themes
If you create recurring, promotional campaigns on a weekly, biweekly, or monthly basis, build a  Placeholder Group to share your messages.
These may include ideas such as #MotivationMonday and #ThrowbackThursday. These types of recurring campaigns help autofill your social calendar and create content your audience loves and expects every week or month.
#MotivationMonday – Share motivational quotes, resources, or stories on Mondays at 9:00 AM.
#ThrowbackThursday – Share photos, videos, stats, facts from the past.
These popular campaigns aren't the only recurring ideas you can add to your strategy. Create your own recurring themes that fit your business's goals.
Taco Tuesday – to feature their extensive taco menu, a Mexican restaurant created a Taco Tuesday campaign to highlight a different taco every week.
Thank You Thursday – to recognize corporate sponsors, a nonprofit organization shares a thank you post to feature a donor every week.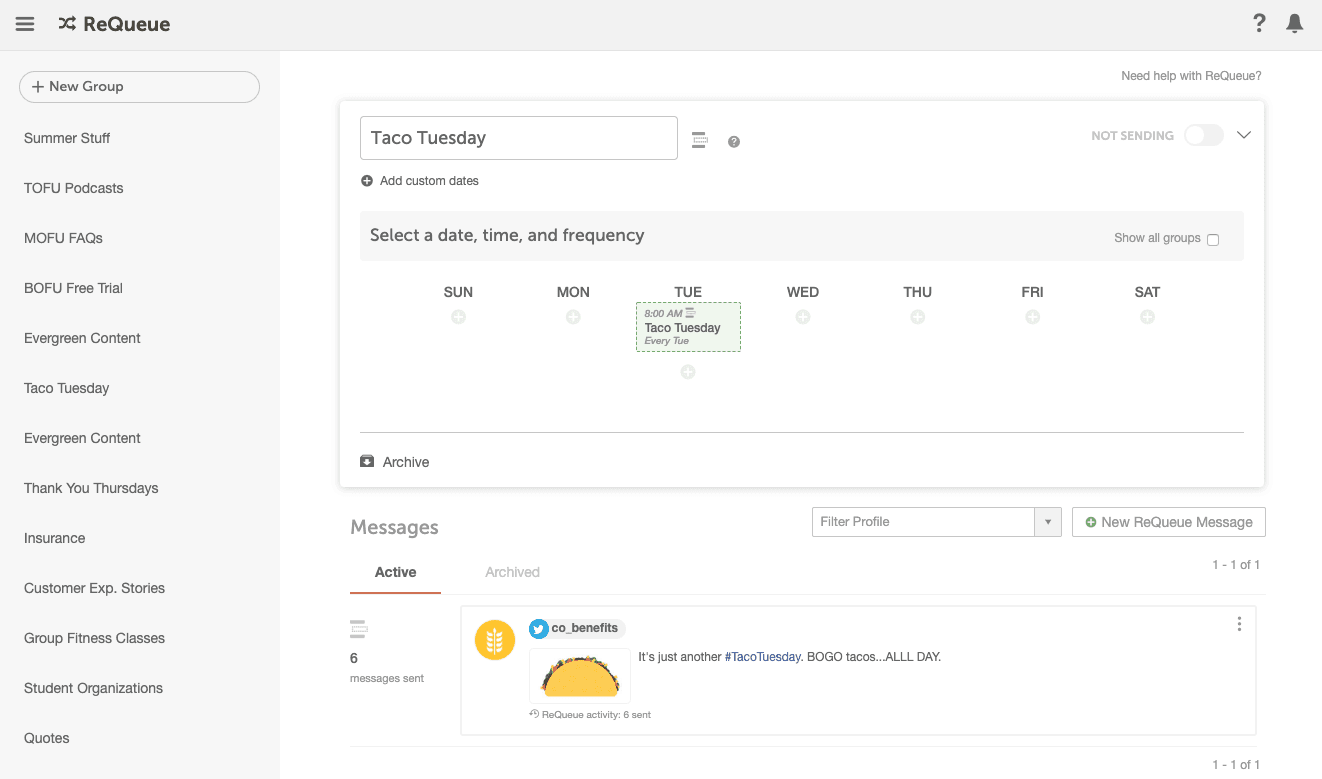 Group Fitness Classes –  to continuously promote their group fitness classes, a gym features a different class (Yoga, Zumba, Spinning, Tabata, Pilates, etc.) with a link to their group fitness class calendar 2x per week.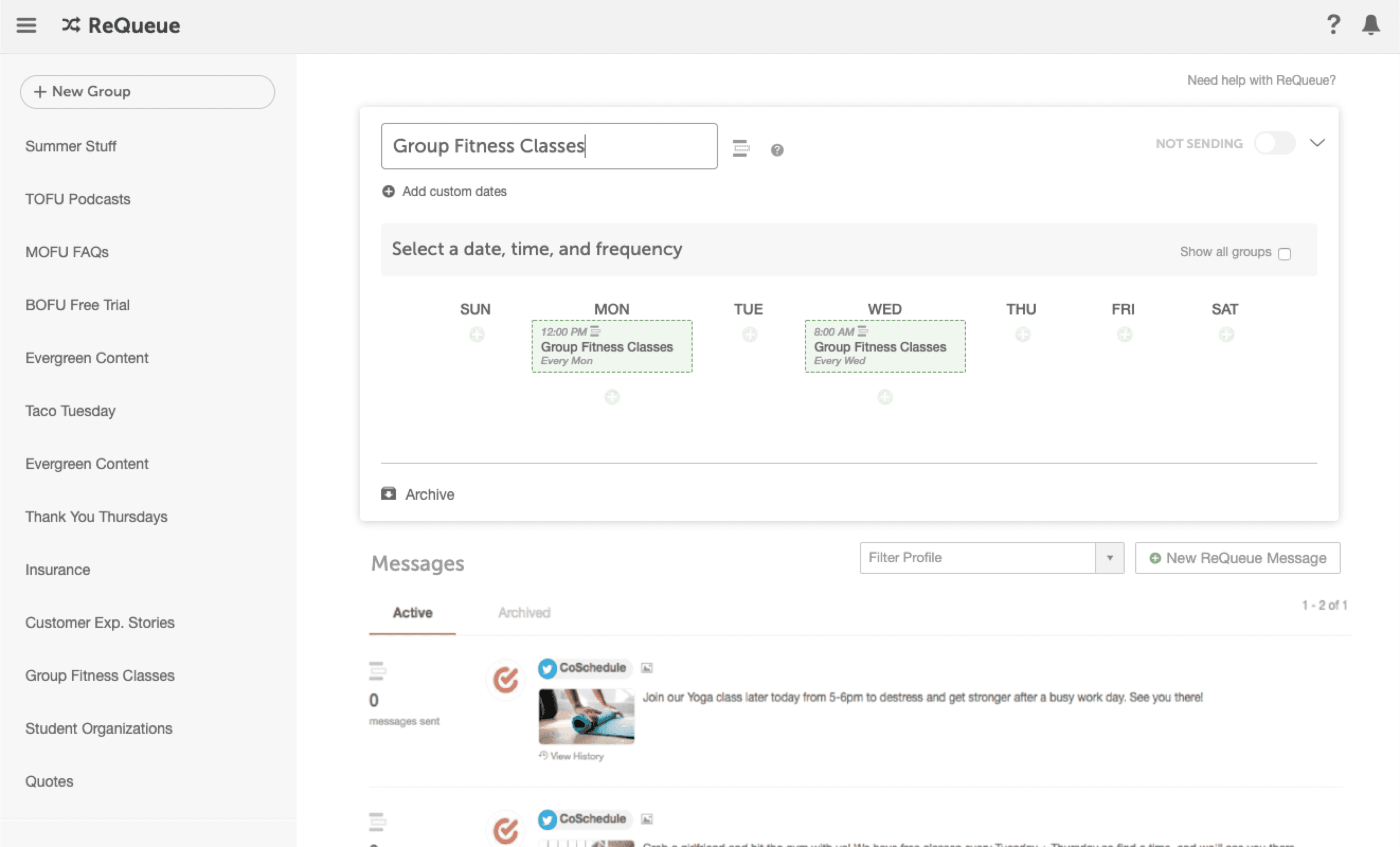 Student Organizations –  to educate incoming and current students about the wide variety of student orgs on campus, a university set up a Student Organizations ReQueue group to share links to the groups' website pages and social channels.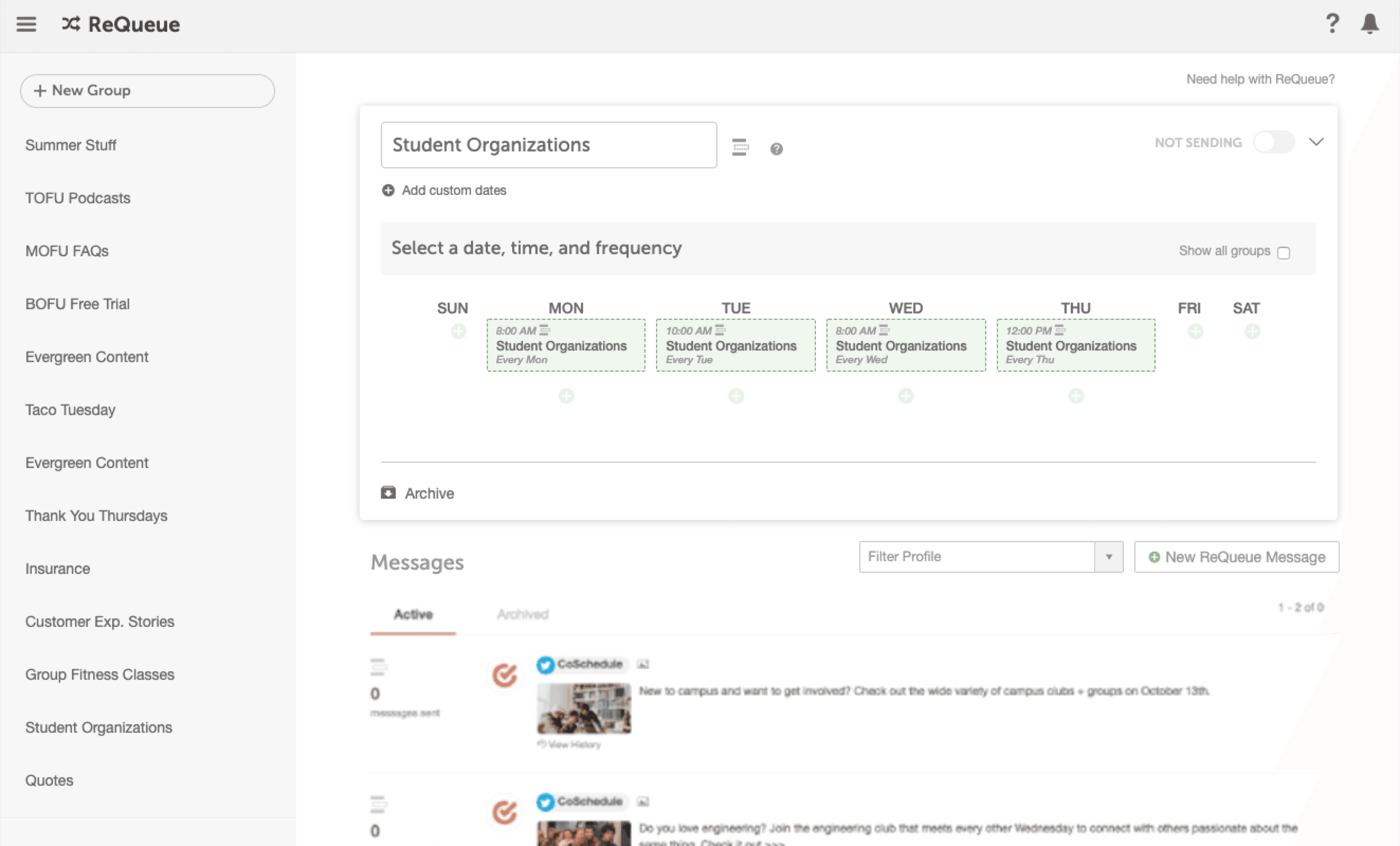 Seasonal Content
Many industries have seasonality that impacts their marketing strategy. With ReQueue, you can create a group of messages that promote your seasonal messages and archive it when the messages are no longer relevant.
Fall Recipes – a health food and supplement company shares fall recipes using their products.
Holiday Favorites – a retail company shares popular gift ideas, clothing, and decor for Christmas, Hanukkah, Kwanzaa, and other winter holidays.
Back To School Healthcare – hospitals can share back to school-related healthcare messages with parents including reminders about sports physicals, flu shots, immunizations, and vision/hearing tests.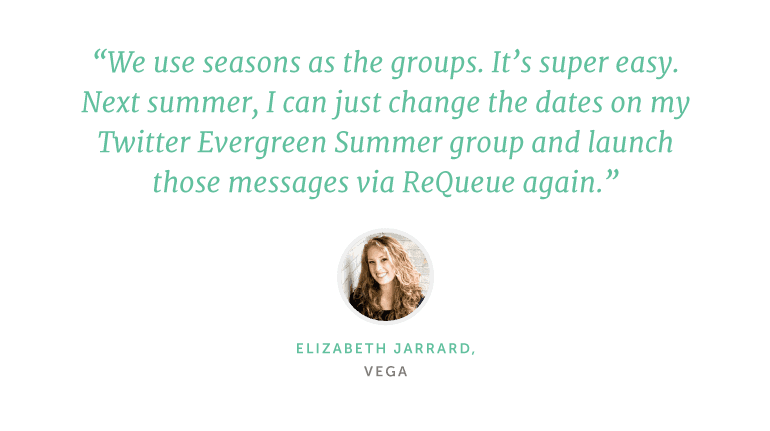 Best of all – you can unarchive it and reshare your best seasonal content again year over year.
Top, Middle, and Bottom of the Funnel Content
Your team creates a lot of content that drives your customers through the marketing funnel.
Make a list of the content your team has created for every stage – i.e. case studies, podcasts, infographics, quotes, videos, downloadable content, templates, online courses, recurring events, etc. – and create unique ReQueue groups for every stage.
Top of the Funnel – Share content designed for your audience in the "awareness" stage. For example, educational blog posts, podcast episodes, free templates, etc.
Middle of the Funnel – Share content designed for your audience in the "evaluation" stage. This could be FAQs, webinars, demo recordings, etc.
Bottom of the Funnel – Share content designed for your audience in the "purchase" stage. This could be free trial CTAs or promotional coupons/discounts.
Use these ReQueue groups to build out a good mix of content for your audience at every stage of the buying process.
Ready to setup ReQueue groups to automate your social strategy? Let's get started!
Or learn more about ReQueue Groups in our help docs.