Table View
Table View is designed to give you total visibility of all your projects & campaigns across every stage of the process in a single, easy-to-scan list. 
With Table View, there are unlimited possibilities to build custom views of your projects and campaigns using key project details, so you can easily make strategic decisions about your marketing roadmap. 

Not sure how to use Table View? 
Here are the most popular ways customers use Table View to help you get started: 
Strategic Planning –

Create & provide updates on your marketing plan for every month, quarter, & beyond. 

Campaign Planning –

Visualize & share your annual campaign schedule. 

Project Prioritization

– Easily prioritize the right projects when planning work for your team. 

Tracking Content Output

– Track & reach your content output goals. 

Monitor & Report On Work In Progress – 

Quickly visualize the status & state of your team's work-in-progress. 

Align Work With High-Level Company Objectives –

Demonstrate how planned & completed projects align with company goals.
Table View is available in CoSchedule Marketing Suite plans. 
Provide Real-Time Progress Updates For Every Month, Quarter, & Beyond
Take strategic planning to the next level. With Table View, you can create real-time progress updates for the next month, quarter, or year. Best of all, you can easily share these updates with your internal team & stakeholders, too.  
Use filters to create a complete list of all of your campaigns & projects from last month, last quarter, or any custom timeframe.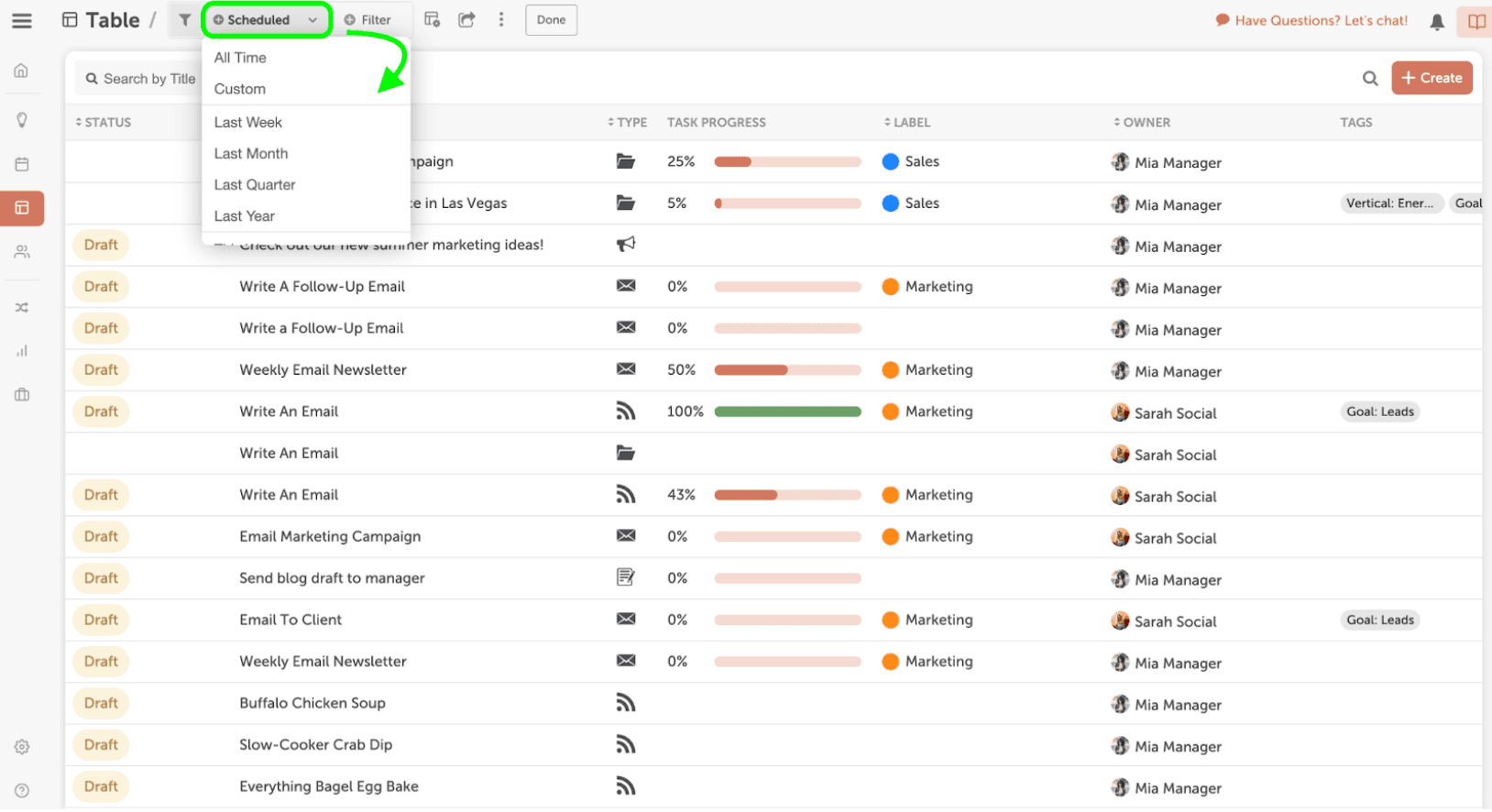 Is leadership looking for an update on the projects your team completed last quarter?  Easily pull together a list of all the completed & published projects for the last 3 months.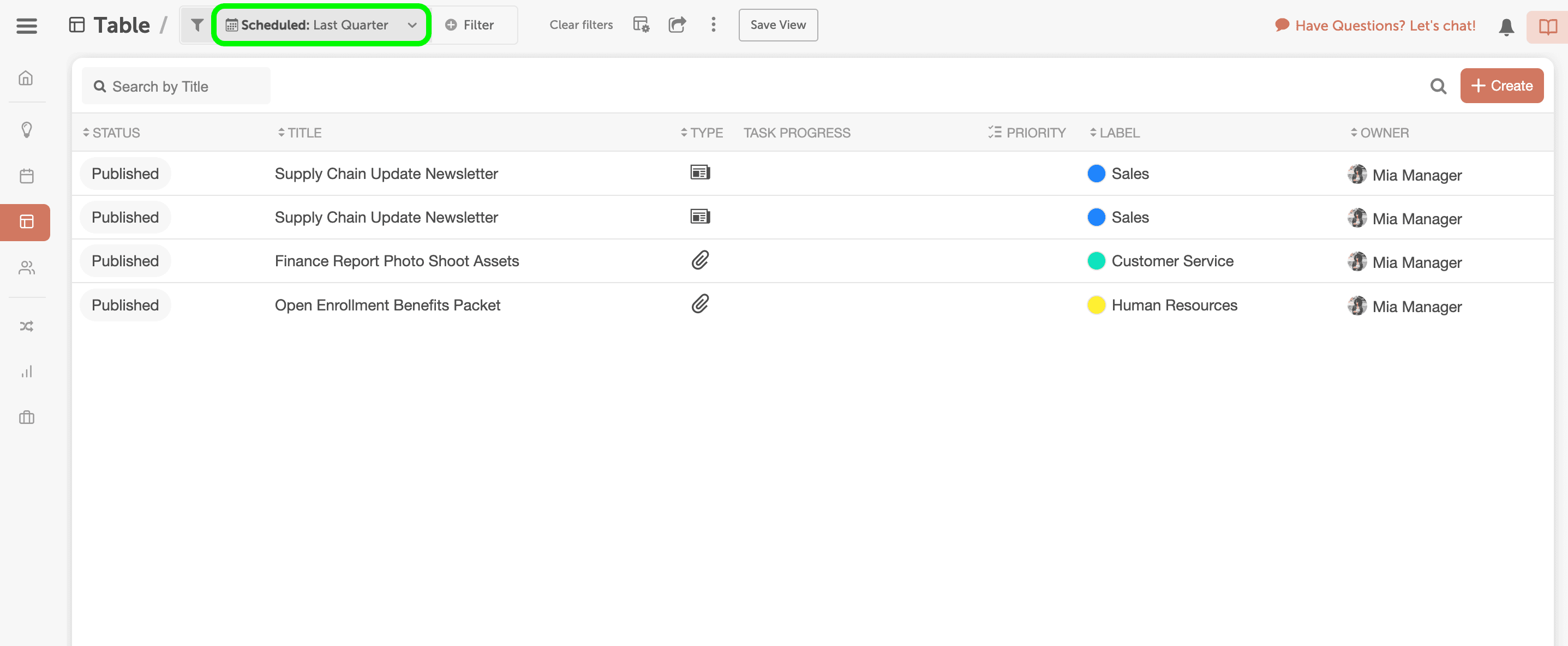 Visualize & Share Annual Campaign Schedules With Stakeholders 
Filter your Table View to include Marketing Campaigns. You can review the schedule date for these campaigns & sort them by start date to see how they may overlap. 
This identifies gaps in your campaign schedule to find opportunities for promotions, product launches, & other campaign ideas. 
To include your Marketing Campaigns, filter by Project Type.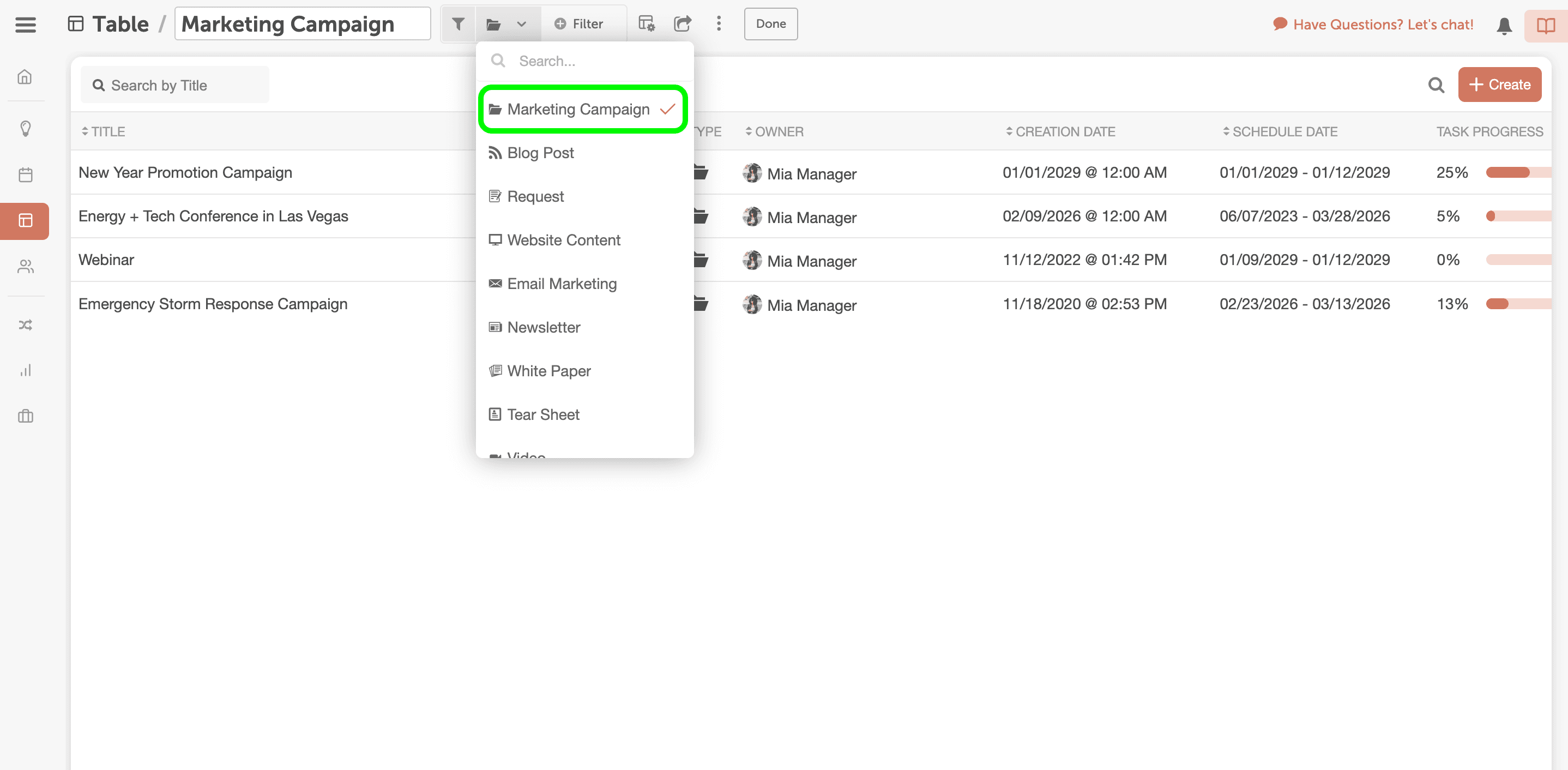 This show projects that are classified as "Marketing Campaigns", for example.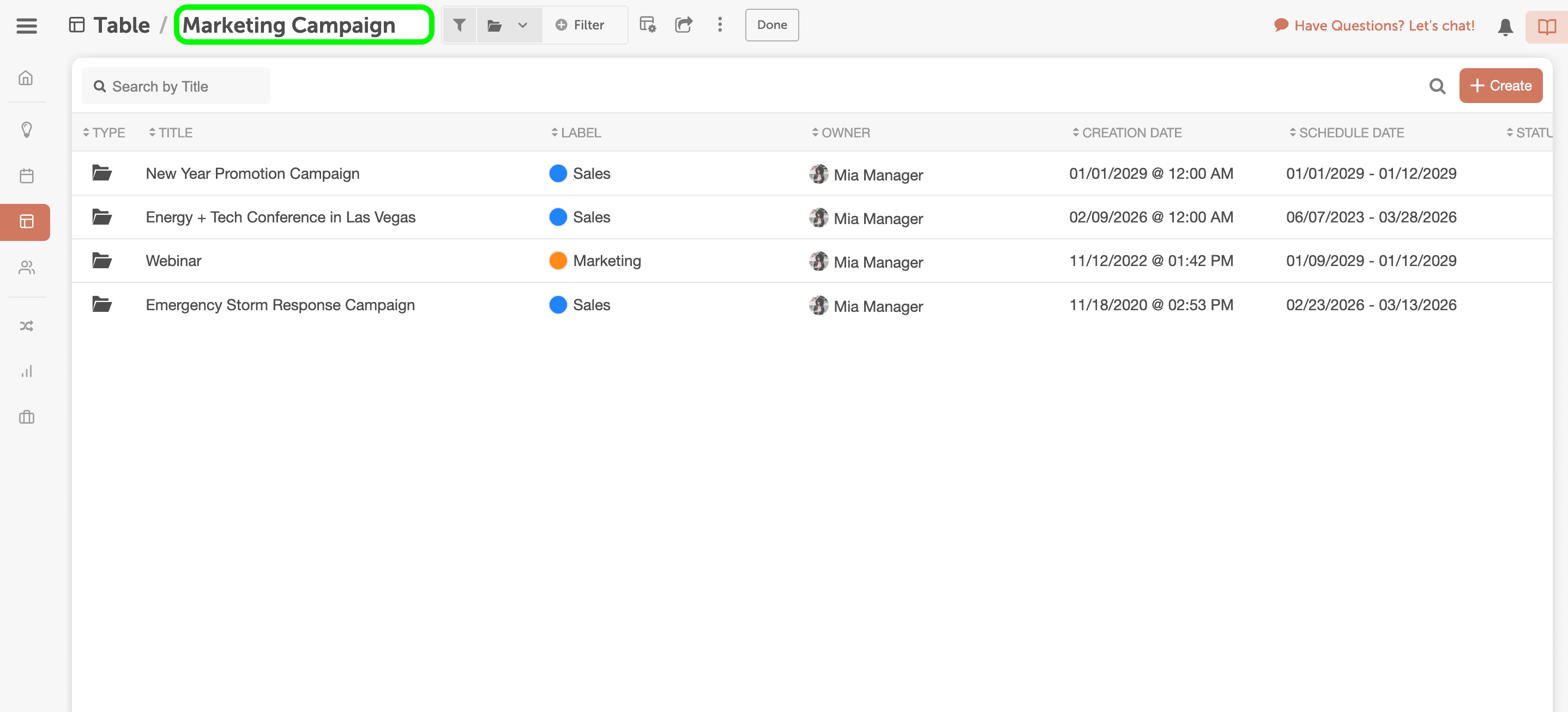 Now you can save this view & change the name, so you can easily review your campaign schedule whenever you need it.
Share Campaign Plans With Stakeholders
Table View makes it easy to share these campaign plans with your stakeholders to keep them in the loop when projects are in progress, need review, and are ready to be shipped.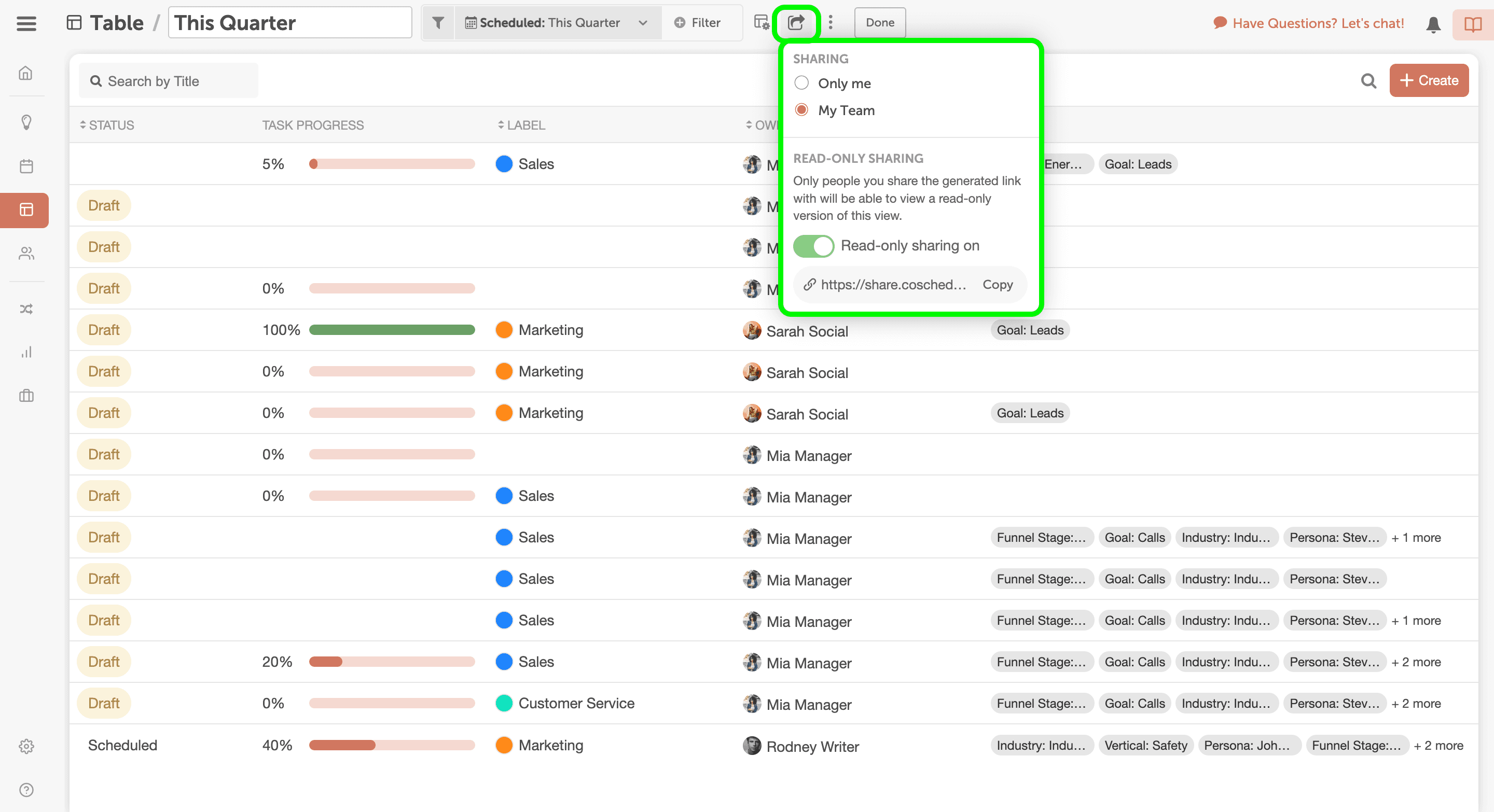 Enable Read-Only sharing on any saved Table View. Then share the link with your boss, department leads, & other stakeholders.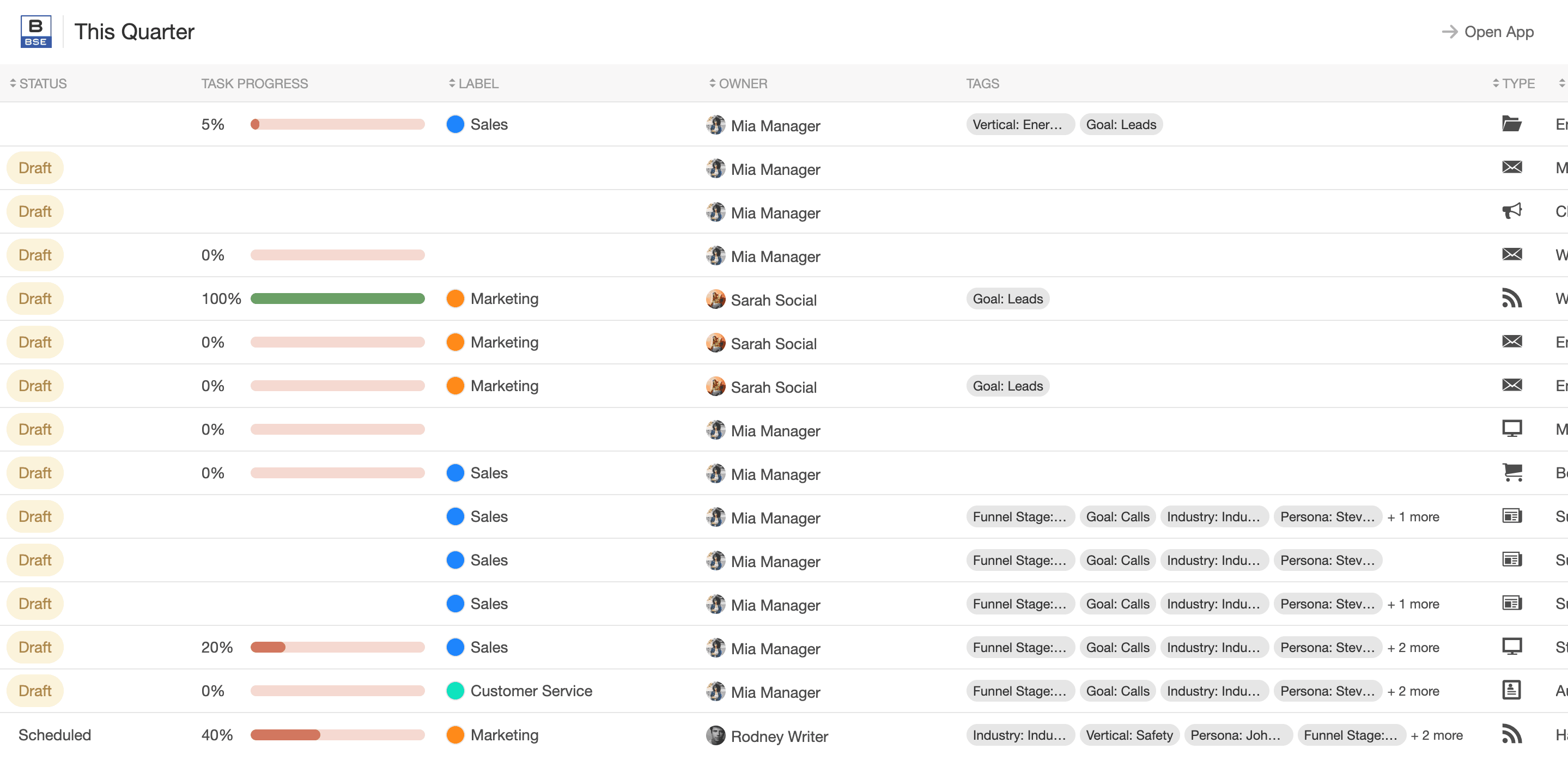 Create, save, & share any Saved Table View with your boss or department heads to keep them in the loop on specific campaigns, requests, or projects for specific initiatives in real-time. 
Prioritize The Right Projects When Planning Work For Your Team 
Having difficulty prioritizing projects? Create a custom field for priority level (low, medium, high) to see what projects and tasks need to be focused on first.
Add this custom field to every project you add.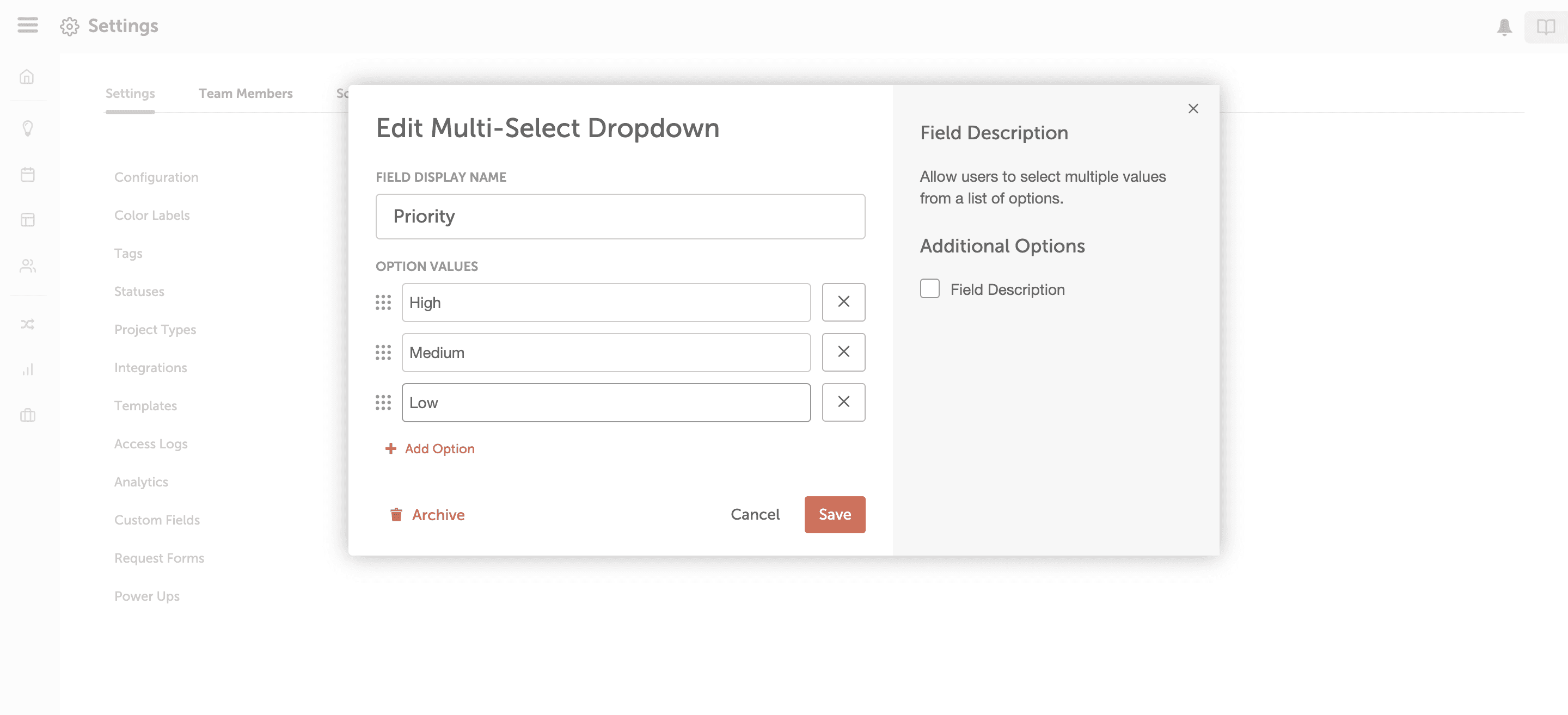 By adding this Custom Field to your projects, you can use Table View to help determine which blog post idea, video, customer guides, or other project should be tackled next.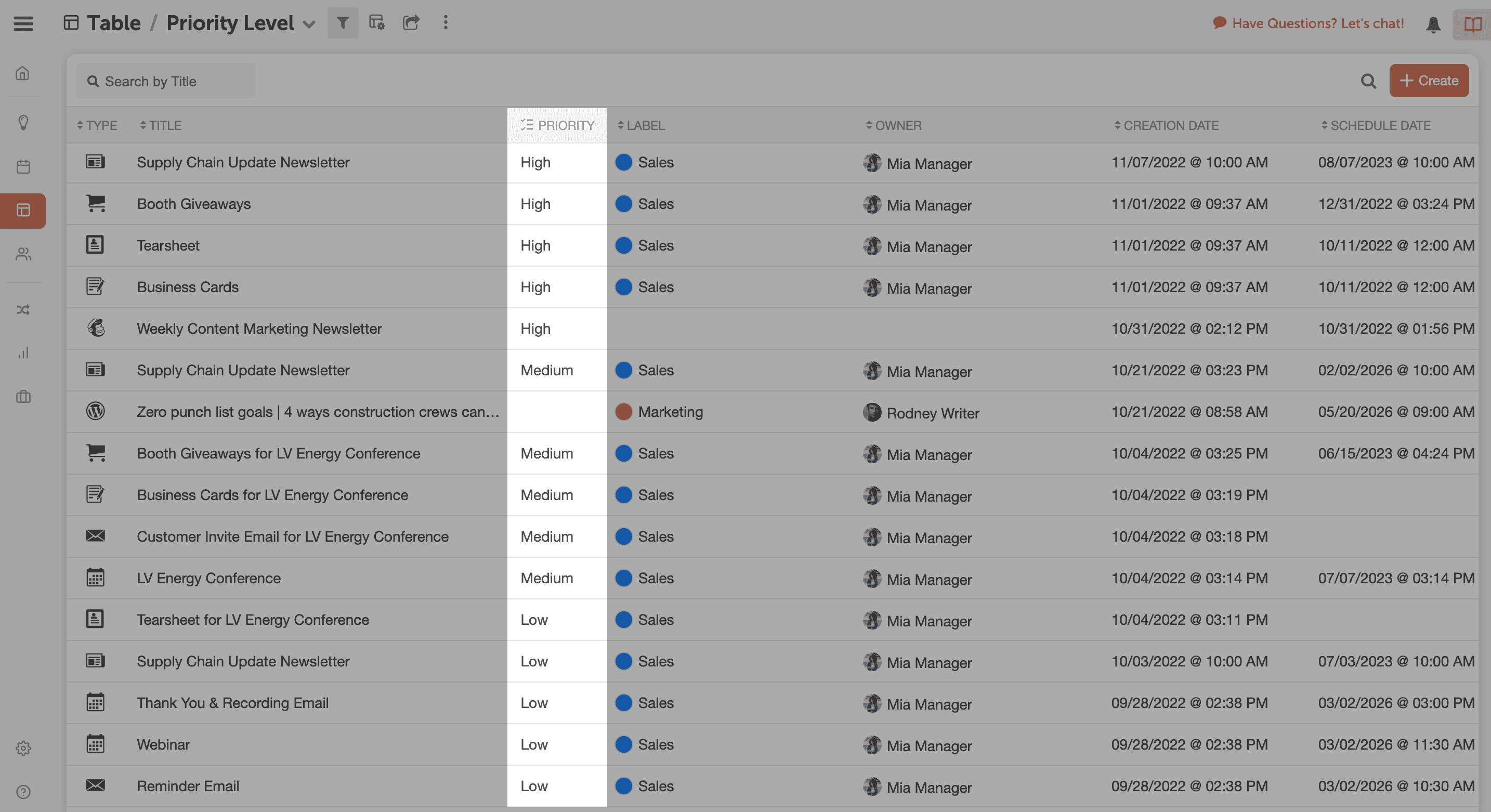 You can even create custom views of High Priority projects, so you can stay focused on the work that matters most.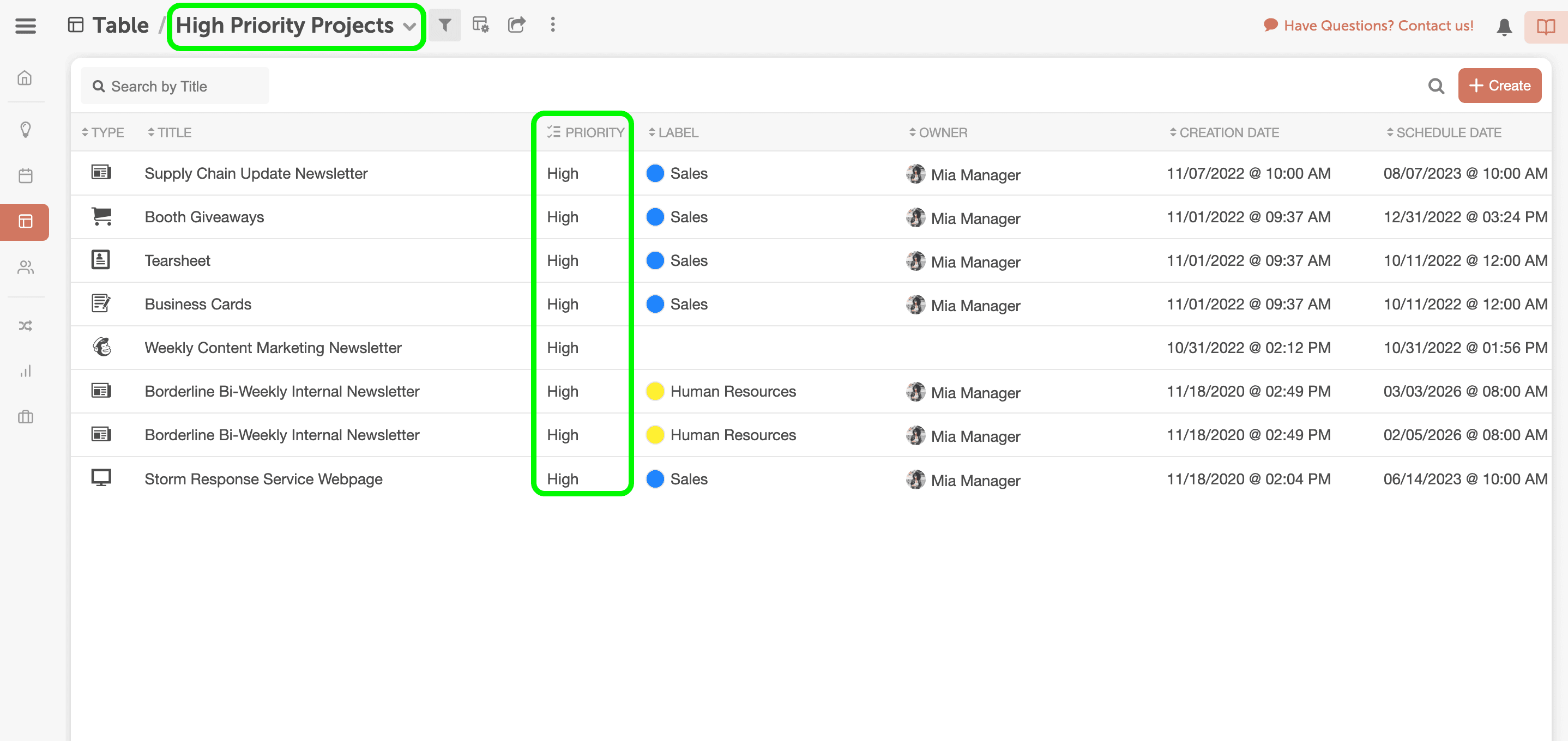 Track & Reach Your Content Output Goals 
Create a Table to track how many blog posts (or any specific content) your team creates. 

Review which blog posts you have scheduled for the month to see if you are currently on or off track to hitting content publishing goals.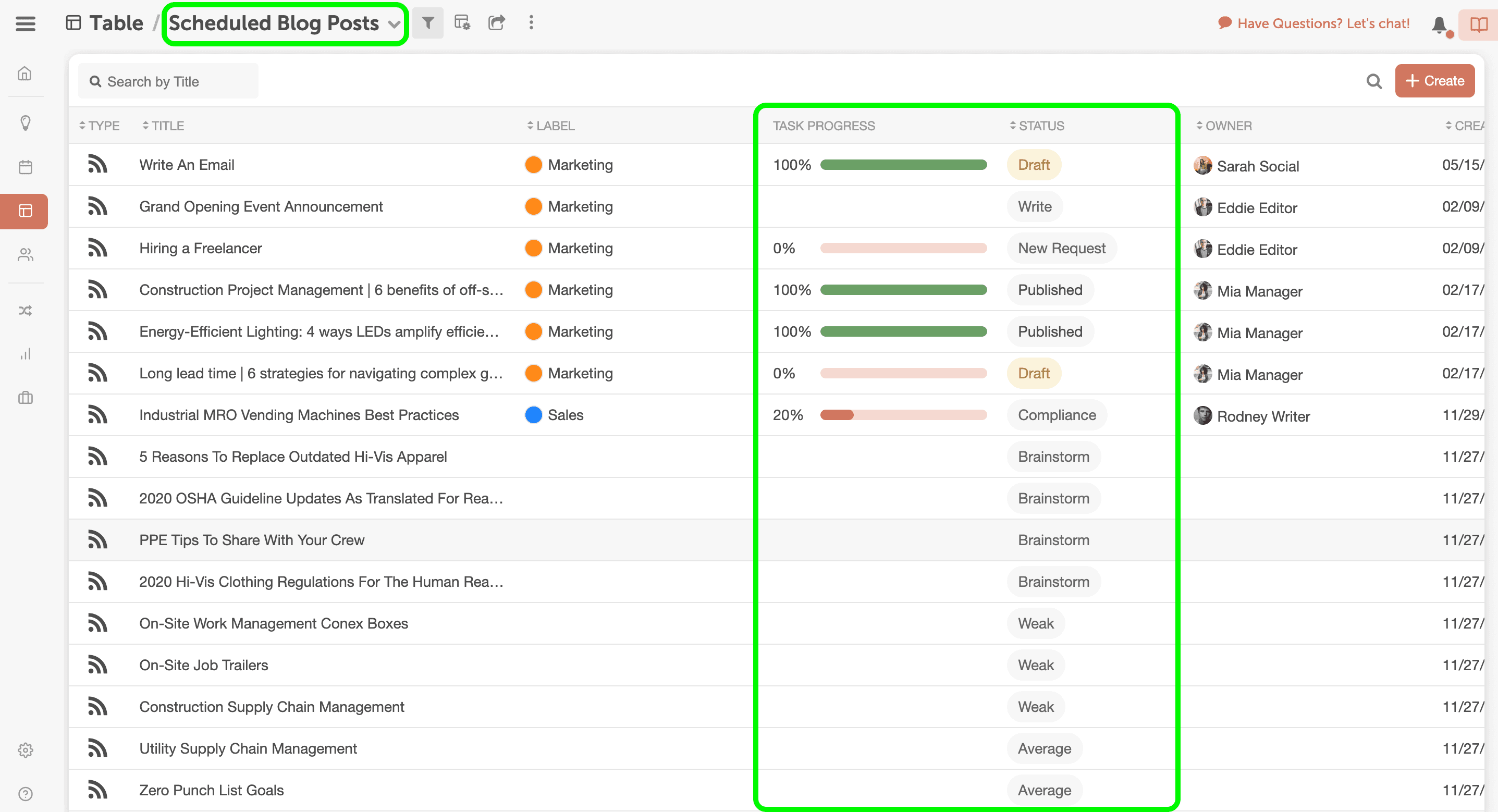 If you aren't on track, add new blog post ideas to your team's roadmap as your team has capacity for new projects.
You can also share this view to demonstrate your team hitting goals.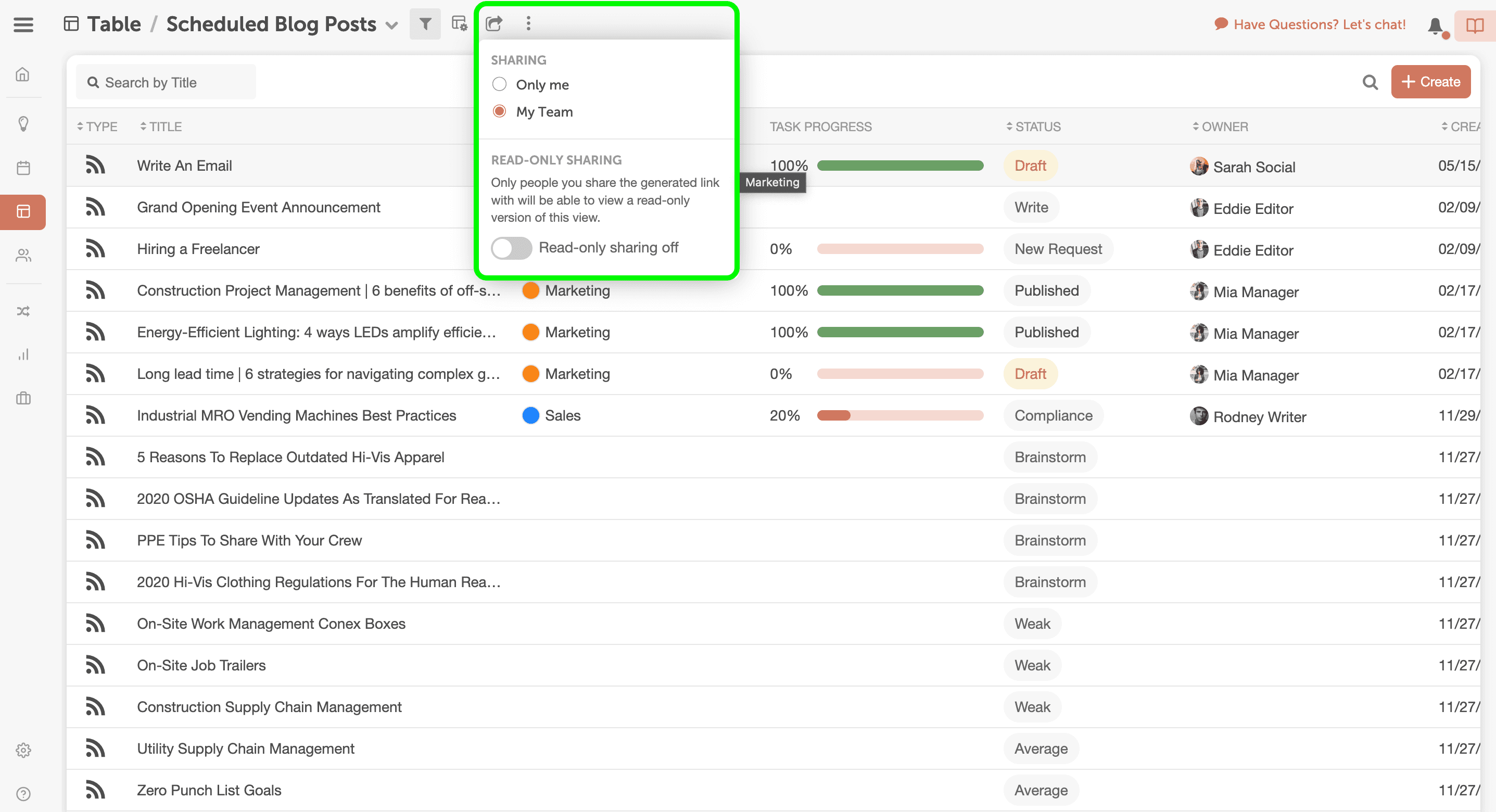 Monitor Project Progress Across Active Projects 
Create a saved view for specific work in progress statuses to get a good outlook on what projects are currently in motion.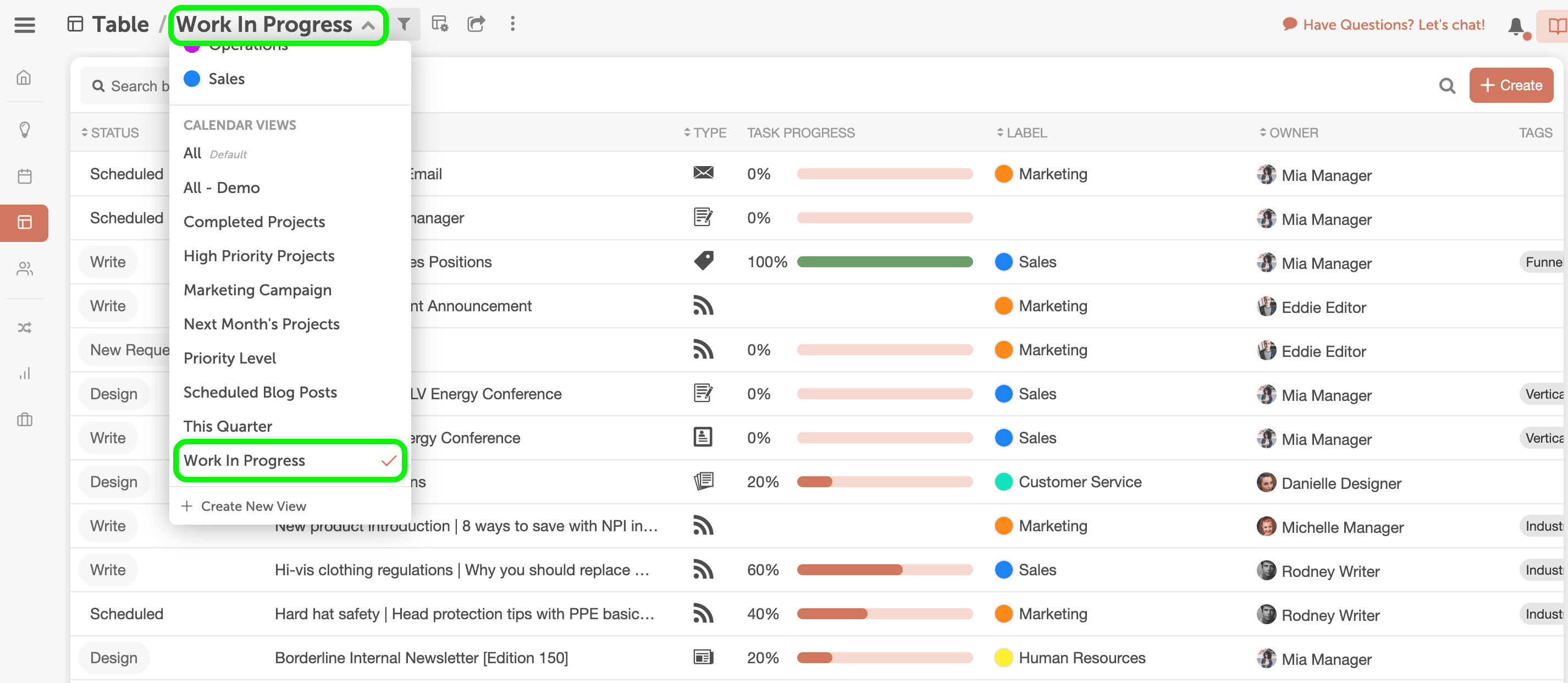 If you use statuses to track your workflows, create a "Work In Progress" Table featuring your "Work In Progress" project statuses. This may include "Write" or "Design" for example.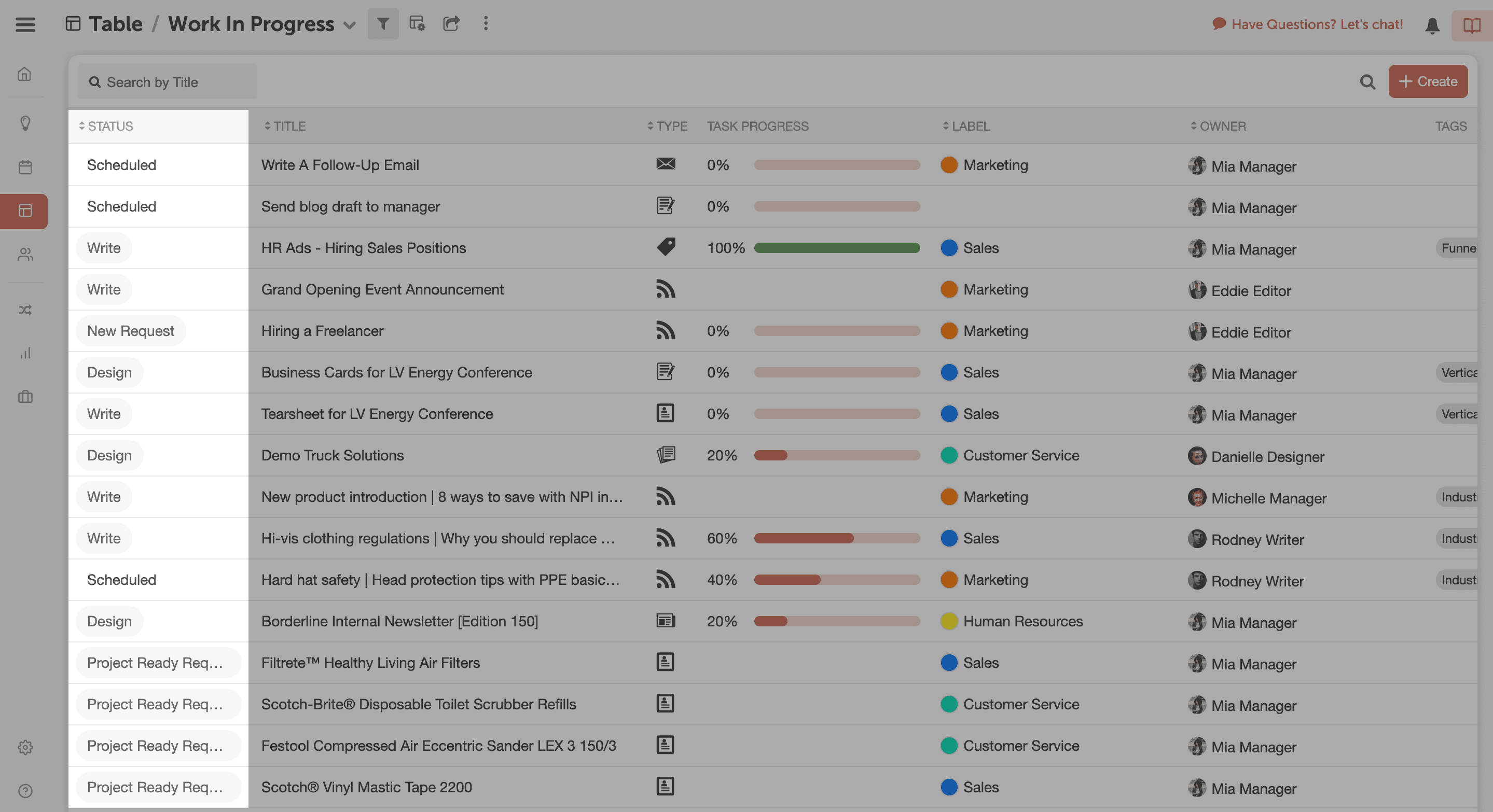 Or you can switch the date range to review work that is scheduled for the next month to see if work is on track to meet deadlines. 
This way you can confirm you're prioritizing the right projects when you share updates with stakeholders.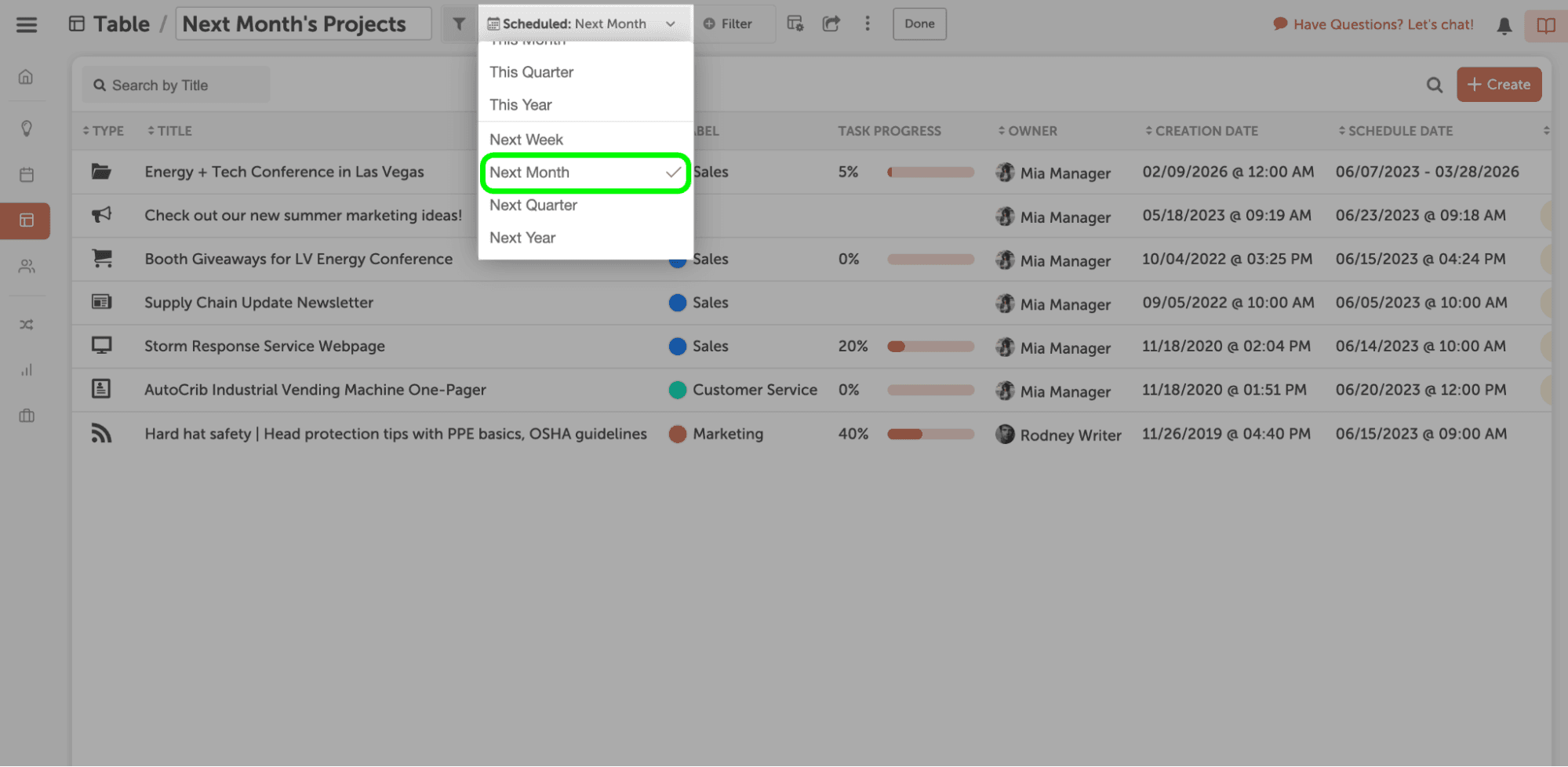 With Custom Fields, you can see what projects are in high, medium or low priority.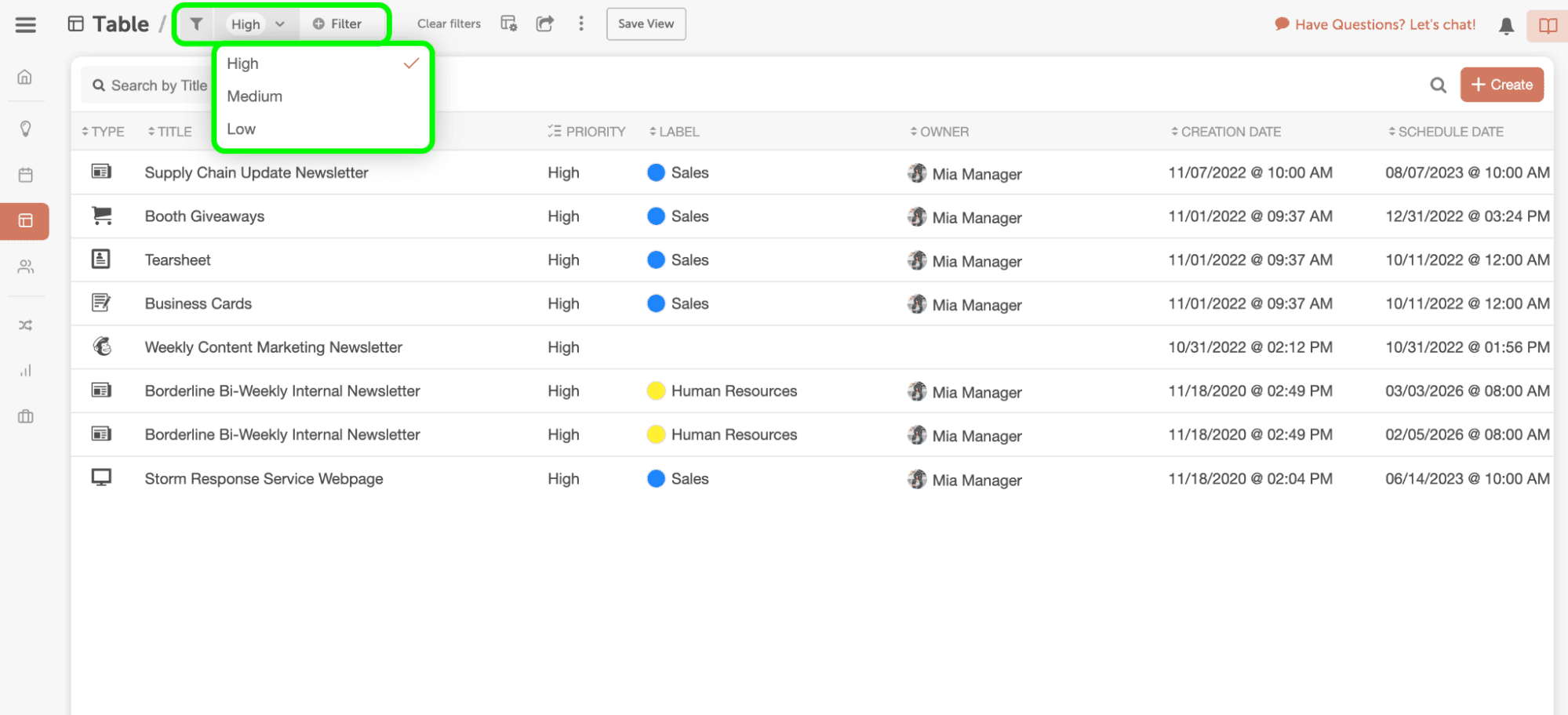 Review progress using the progress bar in the report to see what projects have/have not been started.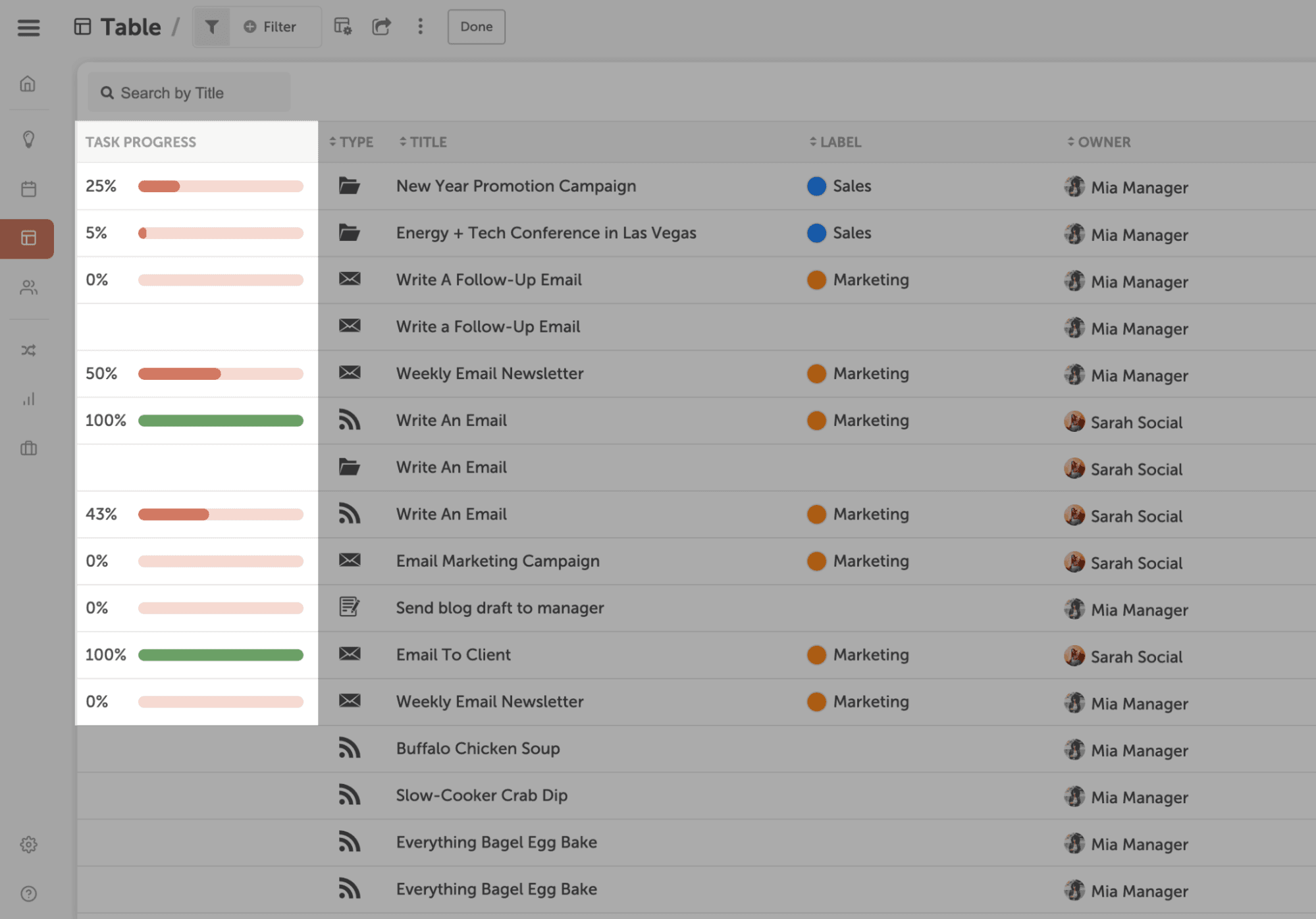 Quickly jump into projects from Table View to see how they're progressing.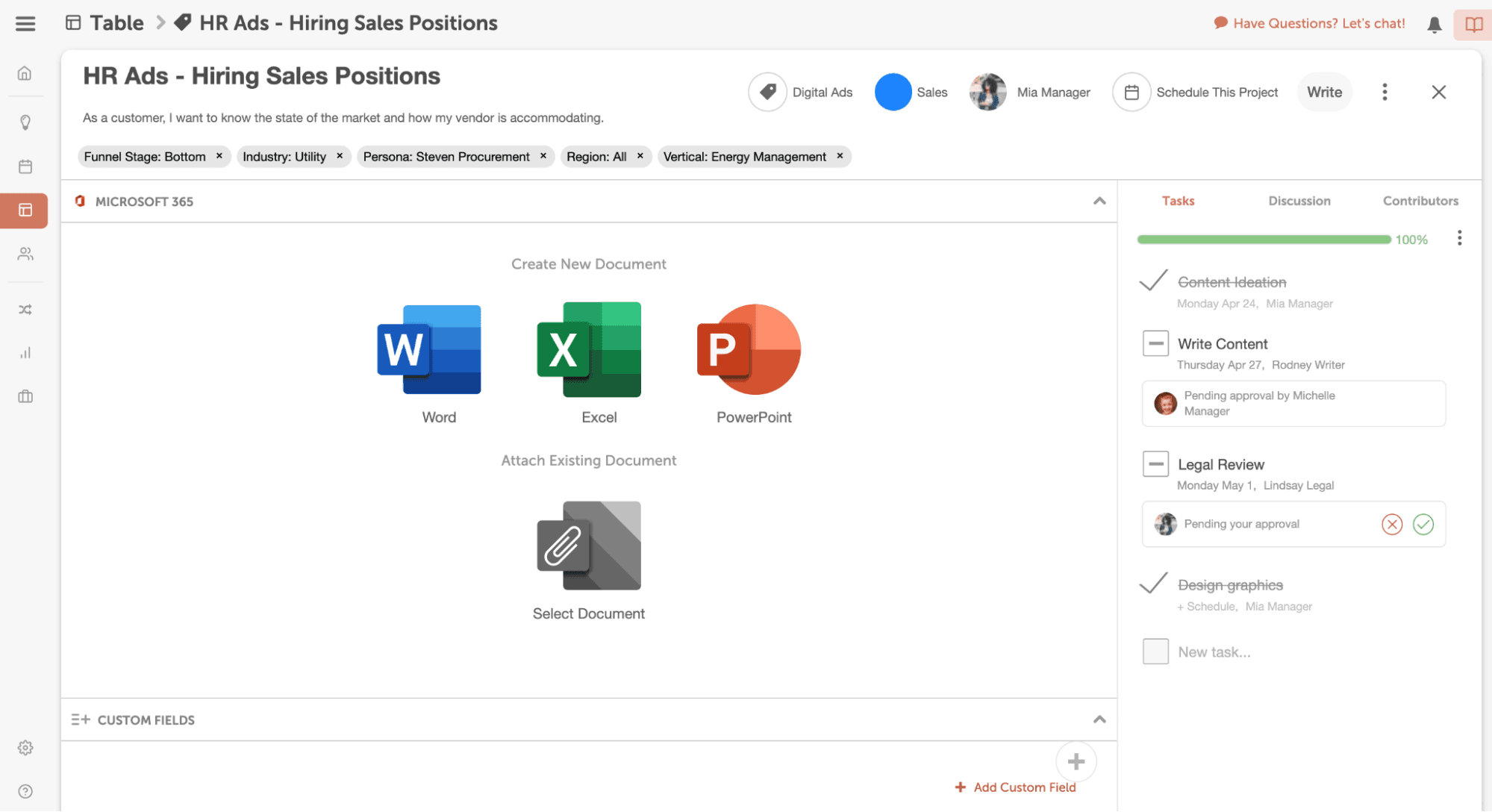 Customize the layout of your table by selecting the "Customize Table" button on the top next to the "+Filter" to modify your columns just the way you like.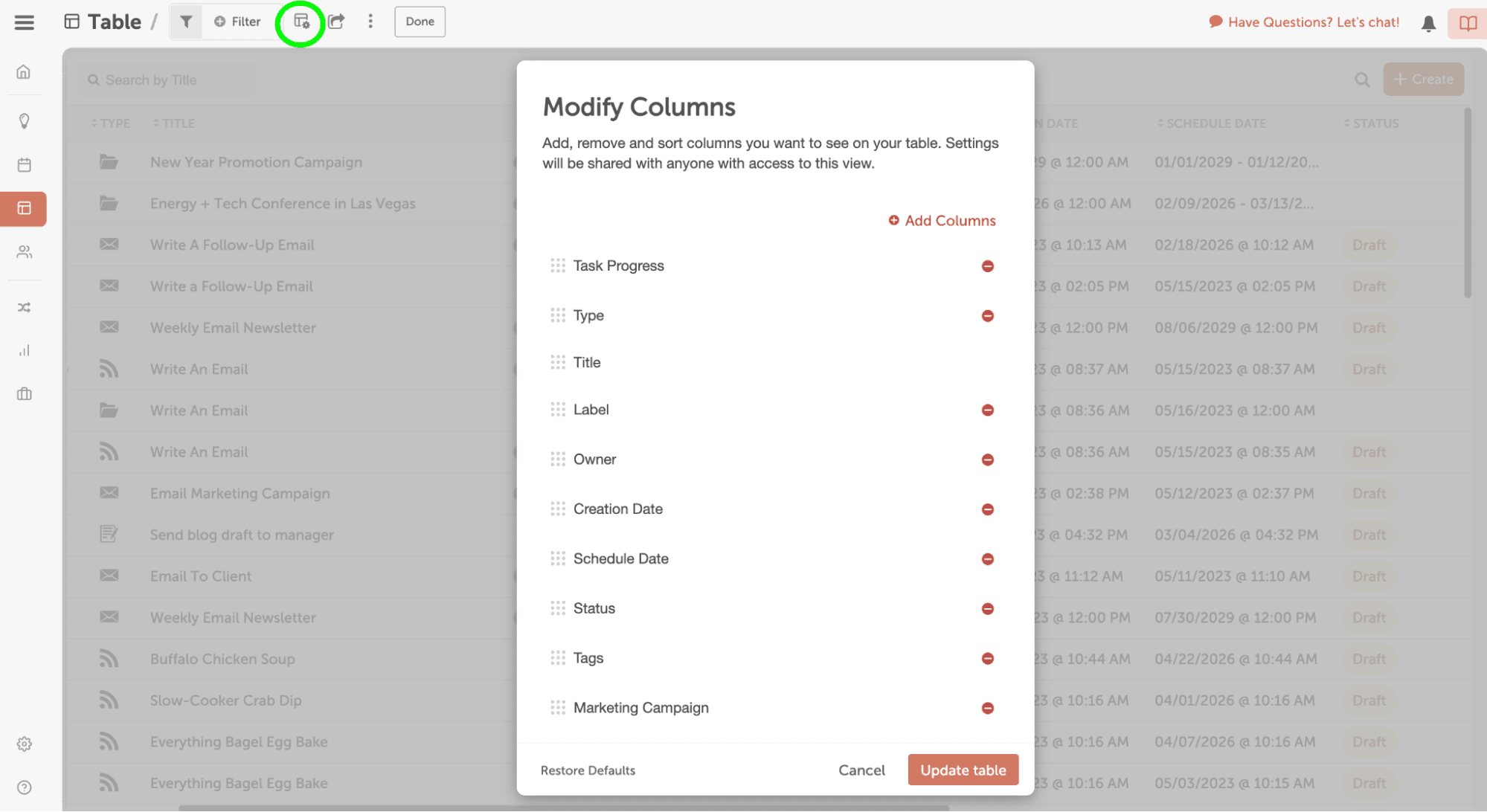 Move and remove columns to update your Table, so your team can focus on the project information that is most important.
If you want to monitor progress for specific projects, you can also search by keywords to filter your project list.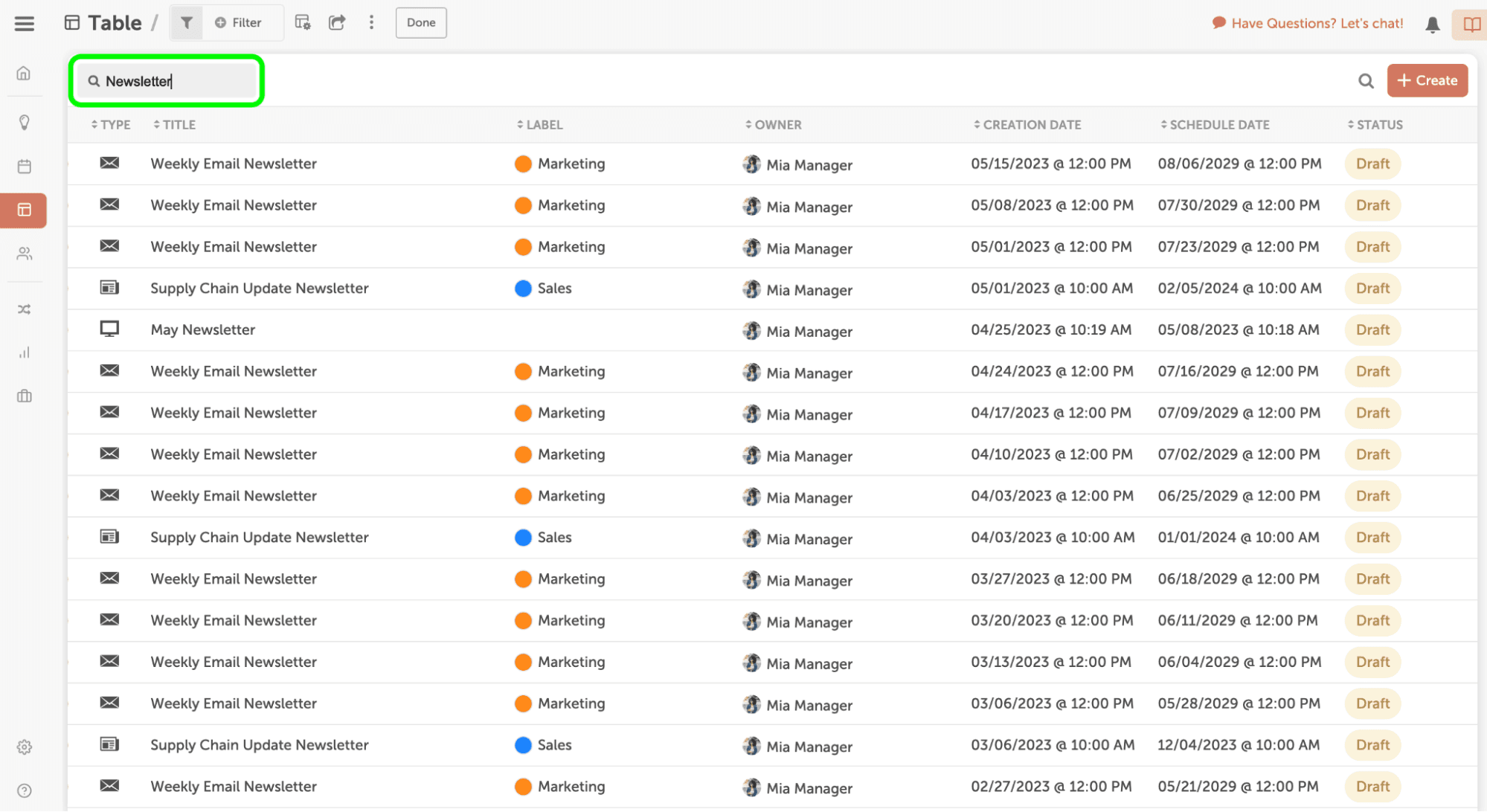 For example, you can search "Newsletter" to easily find all your previous & future planned customer newsletters. 
Review the list to make sure everything is happening according to your newsletter cadence & strategy by quick-scanning the list. 
Align Work With High-Level Company Objectives 
You can create a Custom Field with your company's high-level objectives and goals, in order to streamline your process and create an optimal view for you and your team.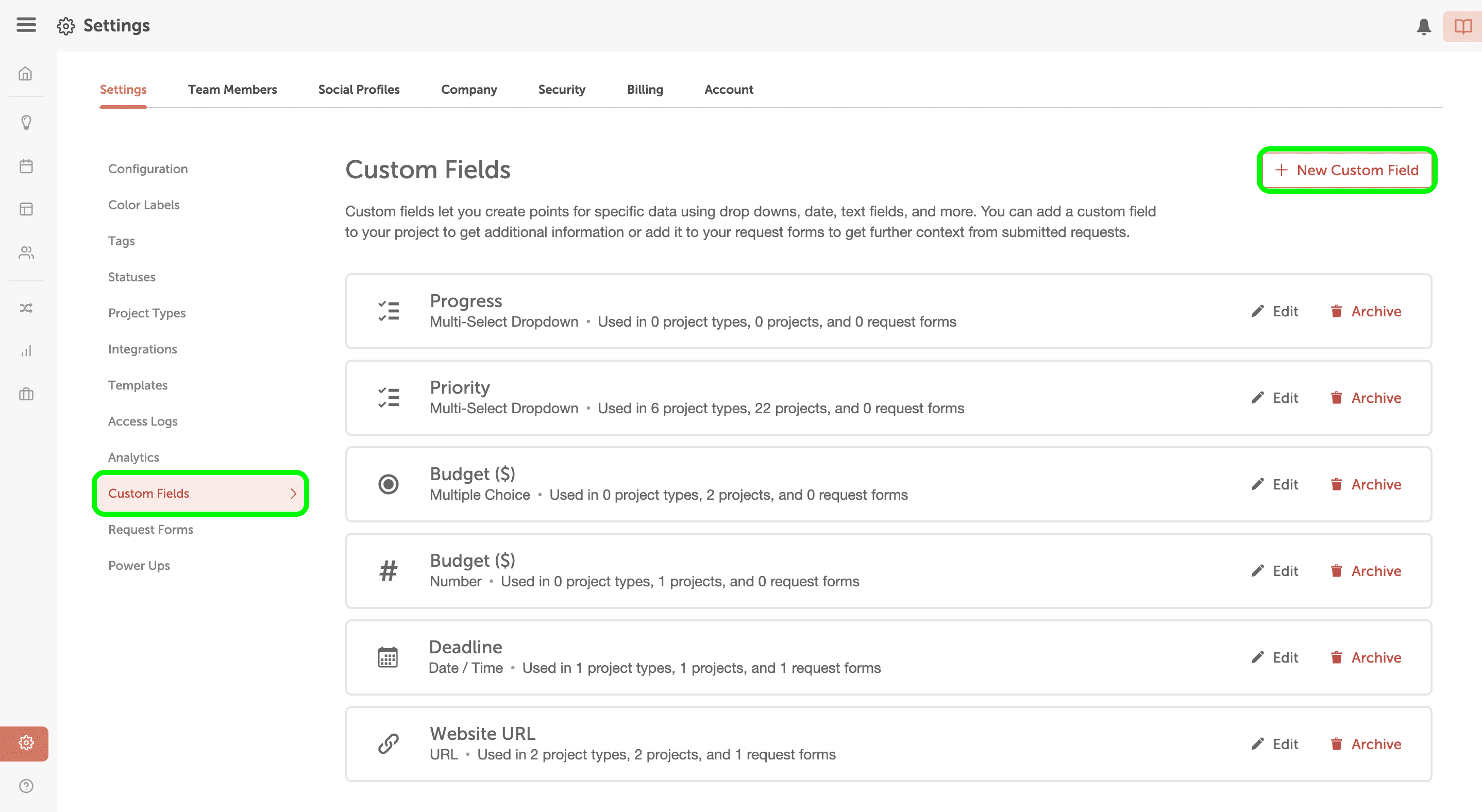 Create a Saved View that focuses on that Custom Field. 
For instance, if you have a Custom Field that showcases priority level, you can create a Saved View within Table View to filter out high priority projects and tasks.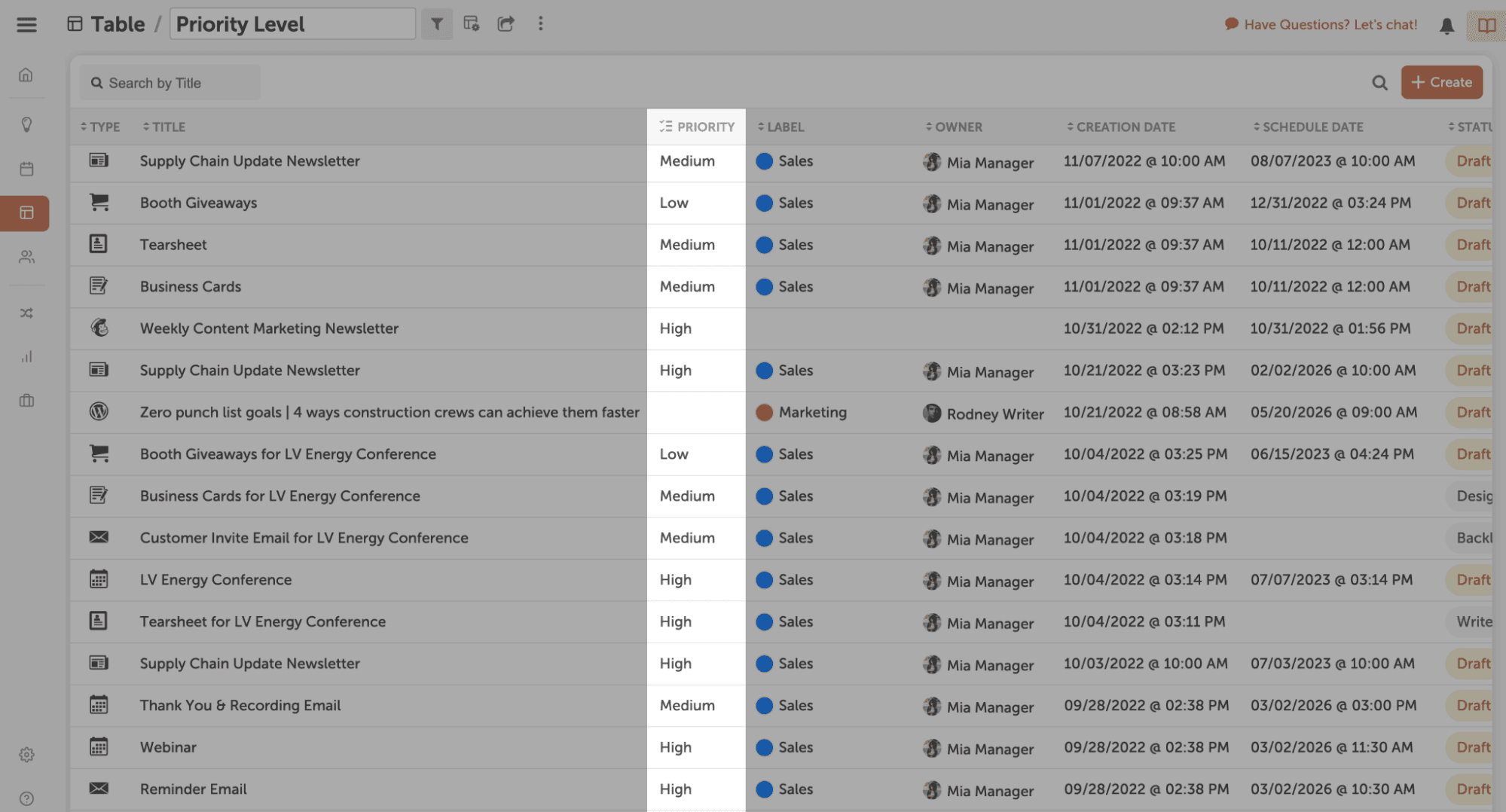 You can do this by clicking the "Customize Table" button in the top next to the filter option, add a "Custom Fields" column, and selecting the Custom Field you'd like the table to be filtered by.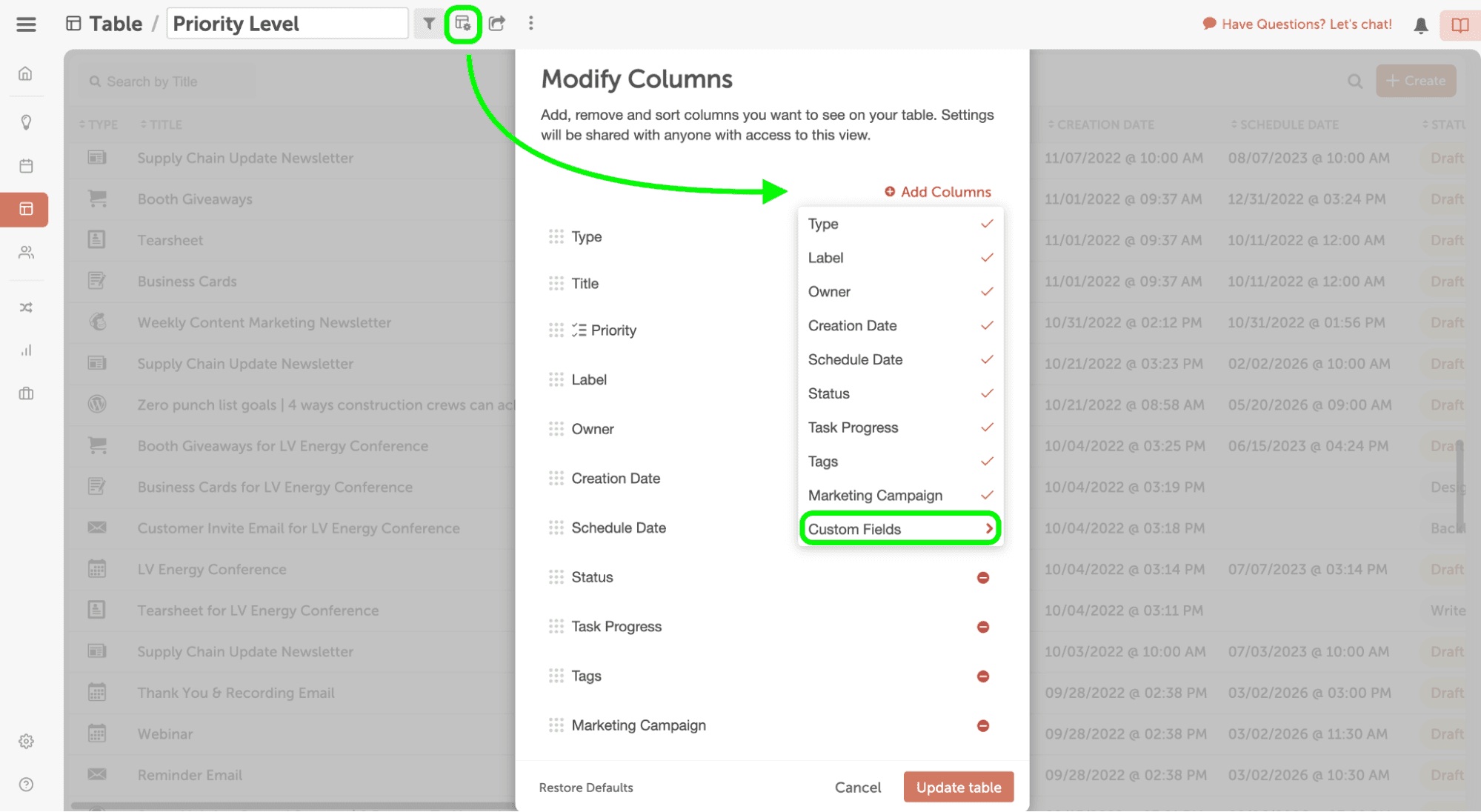 Create a view to showcase what has been completed for that objective in the last quarter. 

AND you can create a view to showcase what is planned for that objective. 
These are great to share with stakeholders, department heads, etc. that ask for updates on work pointed towards reaching specific objectives.
Need help getting started with Table View? Contact your Customer Success Manager. 
Or visit CoSchedule's Help Docs.