Saved Views help you create multiple calendar views so you can see certain projects and other calendar items more specifically at a click of a button. When you use Saved Views you can easily pick and choose what exactly you want to see on your calendar without disrupting the view of your team members.
---
Why Would You Want To Use Saved Views?
When your calendar is full of Projects and social messages, it can sometimes be difficult to see what you need. Saved Views can help you clear the clutter to help you find and manage various parts of your calendar. You can filter your calendar by Social Profile, Project Type, labels, and more to create Saved Views for clients, departments, status, or anything else you'd like to see. Plus, you can have Saved Views that you share with your team and others that you have just for your use.
---
Locate Saved Views 
You can find Saved Views in the left sidebar in your calendar.
---
Create New And Edit Saved View
To create a new Saved View, select Create new saved view.
Give the new view a name and make selections to the Filter Content and/or Calendar Display Settings. Whatever options you select will appear on your calendar immediately and whenever you are using this Saved View.

You can select multiple filters and multiple options under each filter.
To edit an existing Saved View click the pencil icon and make any needed changes. When you're finished editing, click Done.
To share a view with your team, select the Share view with my team checkbox inside any Saved View. If this option is not checked, the view can only be used/edited by you.
---
Filter Types
Each Filter will only filter the content that pertains to it. For example, only Projects and Marketing Campaigns have the ability to add Tags. If you filter by a specific Tag, saved calendar views will filter all Projects and Marketing Campaigns by that selected Tag, but will still display calendar items that do not have the ability to be Tagged. To filter more, add additional filter types to reach your preferred outcome.
1. Color Label: Displays any calendar item with the selected color label.
2. Type: Displays the Project  type that is selected.
3. Tag: Displays items that can have tags. (Projects and Marketing Campaigns.)
4. Team Member: Displays items that can have team members assigned. (Projects and tasks.)
5. Status: Will display items that can have a status. (Projects and Social Messages.)
6. Social Profiles: Will display Social Messages with the selected social profile.
7. WordPress: Displays WordPress Projects with the selected Category and/or Author.
8. Email Service: Displays the selected email service projects.
---
Manage Saved Views
You will always be able to find the All view. The All view will show everything that is scheduled on your calendar.
In the All view, you can only adjust the Calendar Display Settings. This is where you can elect to show or hide Weekends, Previous Week, Marketing Campaign Timelines (if your plan includes this feature), Social Messages, ReQueue Gaps, Team Tasks,  when you want weeks to start in your calendar, and how many weeks should appear on your calendar. (These settings were formerly located in Calendar Settings.)
Please note, any changes made to the Calendar Display Settings in the All view will affect everyone's view of your calendar. This will also change the starting point for all new Saved Views created after the change.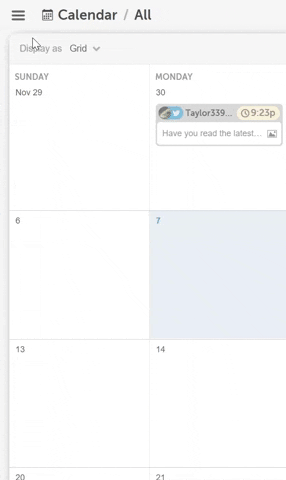 If you are working on a new calendar you may see several default views. The default views will vary depending on your calendar set up.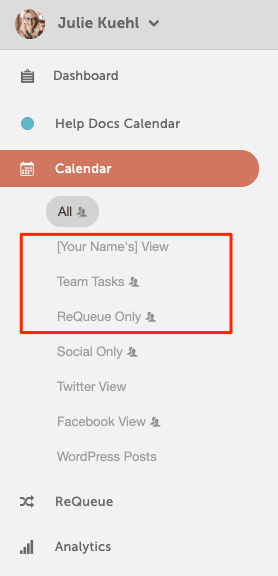 When you select a calendar view, you will see that what appears on your calendar will be different.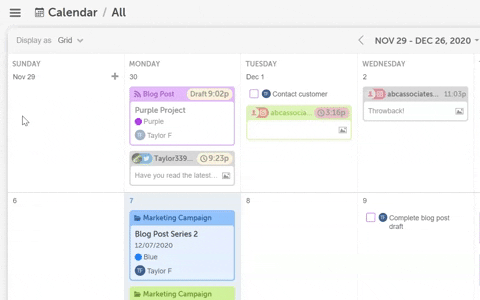 You can drag and drop the Saved Views into any order you prefer. This will only affect the order you see the Saved Views listed in.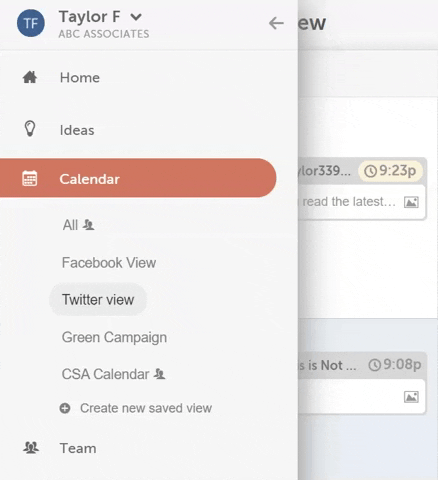 If you are a new user of a calendar you will typically see a Saved View with your name. This view will be your own personal view. We encourage you to use this view to filter your calendar fast and on the fly.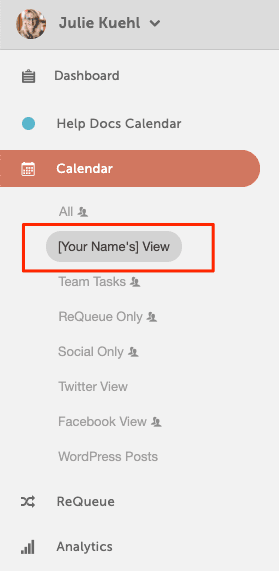 ---
How To Delete a Saved View
If you want to delete a Saved View, click on the pencil icon by the name of the Saved View that you want to delete to open the editing panel. Click the ellipses and select Delete View.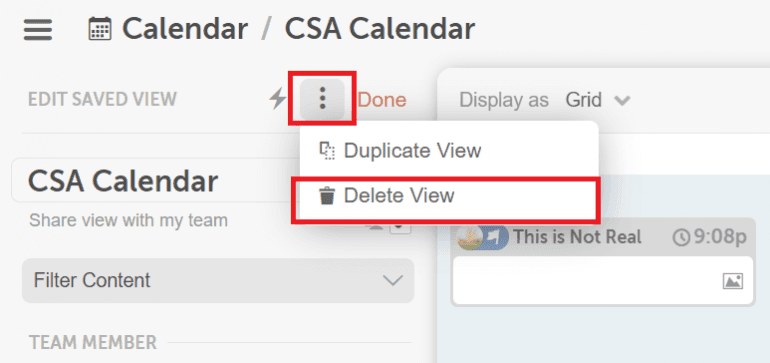 ---
How To Filter Your Calendar Fast 
To filter your calendar fast or to change your view on the fly, it is recommended you use your own personal view. If you do not have a personal view, you can create a new Saved View and edit it as needed to filter your calendar quickly. For example, let's say I need to quickly see just Blog Posts on the calendar that are in Draft status.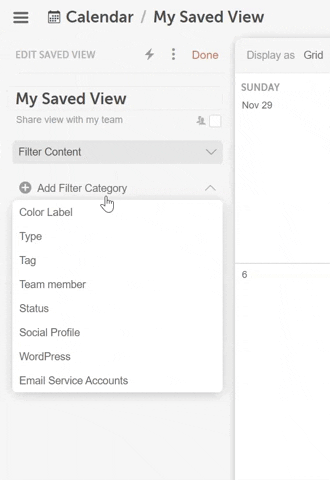 Do you have any specific feedback for us?
We appreciate any feedback you're willing to share.