Create Events
Events allow you to display any launch or company event to your entire team.
---
Create an Event
Click the + on the date you would like the event to be scheduled.
Select More Options.
Click Calendar Event.
Enter your event information.
If the same event will occur regularly, you can easily make it a recurring event.
When finished editing, click Add.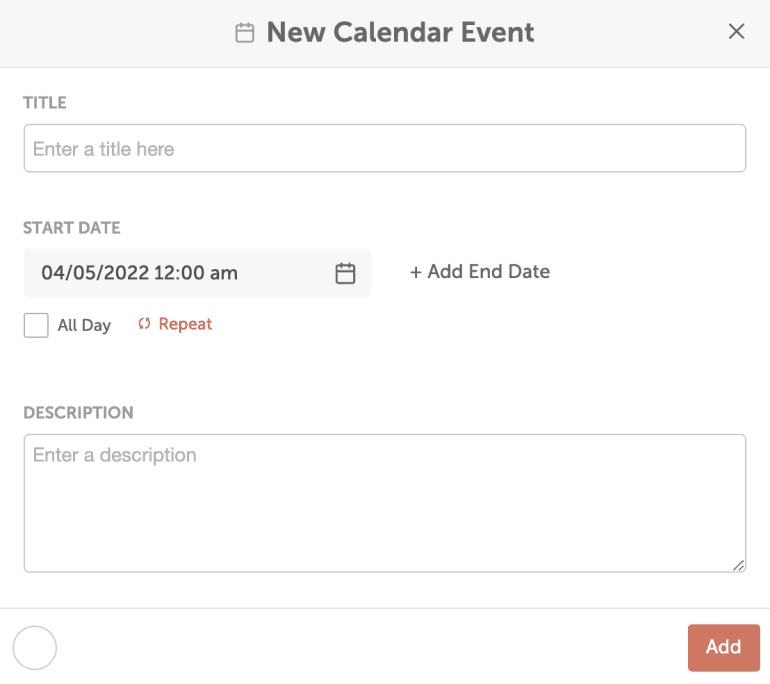 Note:
Need to plan an event?
Use projects
for more flexibility when working with your event. Easily add tasks and discussions or promote your event by adding a 
social campaign
.
---
Create a Recurring Event
Click repeat and select your desired frequency, from daily to yearly.
Choose how long you'd like the recurring event to continue to repeat, either by setting an end date or by setting a specific number of occurrences.
You can also choose how far into the future you'd like to see events automatically created.
When you are finished editing, click Add.

Edit a Recurring Event
When editing a recurring event, you can choose to edit 
This Event 
or 
This and following Events
.
Choose This Event to edit only the single occurrence of the event you have selected.
To edit every occurrence in the series, choose This and following Events.

Duplicating an event that is part of a recurring series will create a single calendar event, not a duplicate recurring series.
---
Learn More