How to Manage Marketing Campaigns
Consolidate multiple projects on your calendar into a Marketing Campaign. Get a global view of your entire holiday campaign, multi-day tradeshow, or major press release in one centralized location.
---
Create a Marketing Campaign
From your calendar, click Create in the upper right corner.
Choose Campaign from the menu.
Create a title and start date.
You can customize your campaign further if desired (end date, label, tags, descriptions, etc.).
When finished, click Create Marketing Campaign.
Once you have created your Marketing Campaign:
A blank calendar will open.
You can begin to add all of your Projects pertaining to this campaign.
All projects created inside of the campaign will default to your campaign's color label.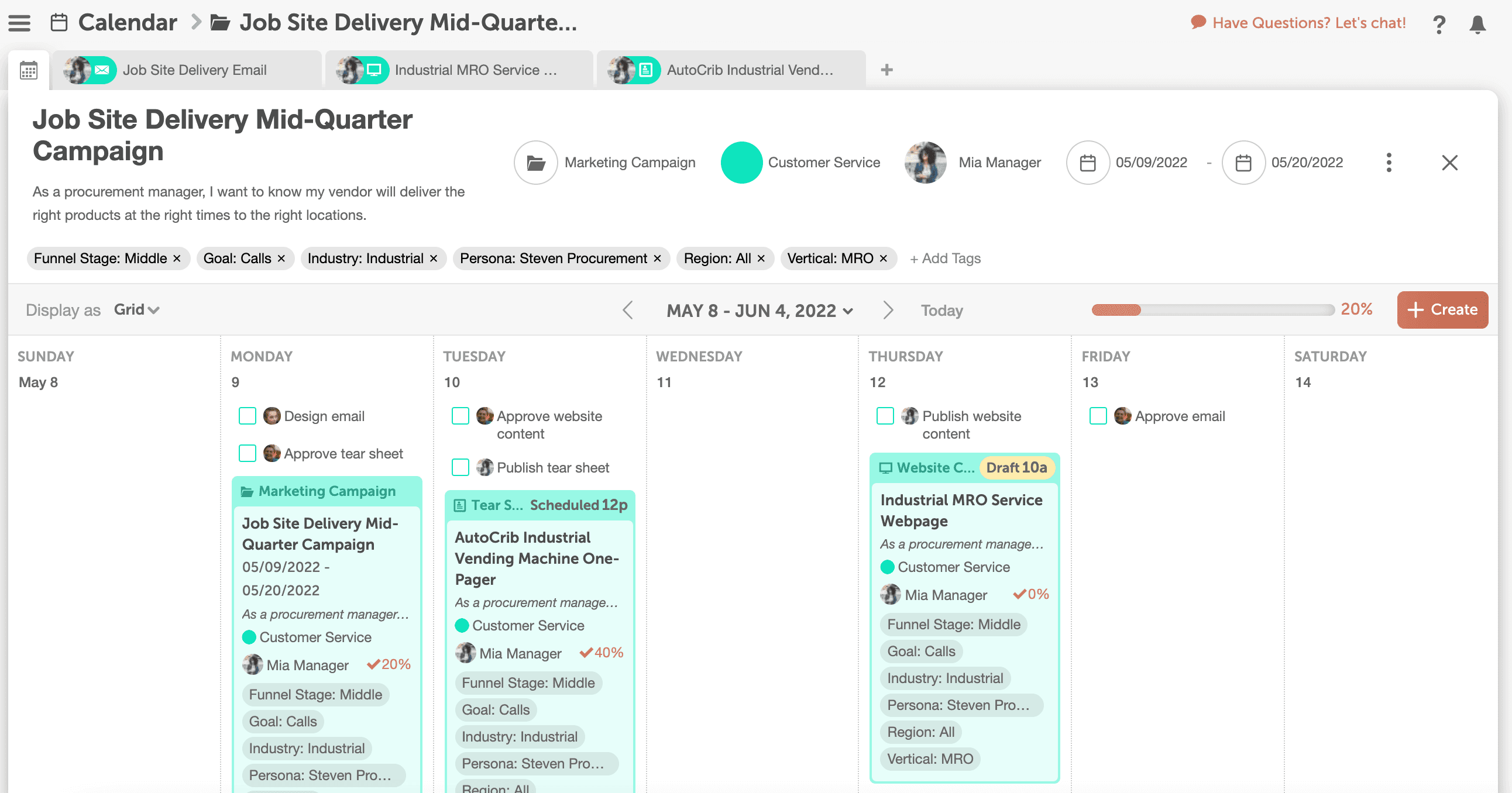 ---
Manage Projects Inside of Marketing Campaigns
Projects will look a little different inside of your Marketing Campaign. Inside of Marketing Campaigns, you can switch between projects.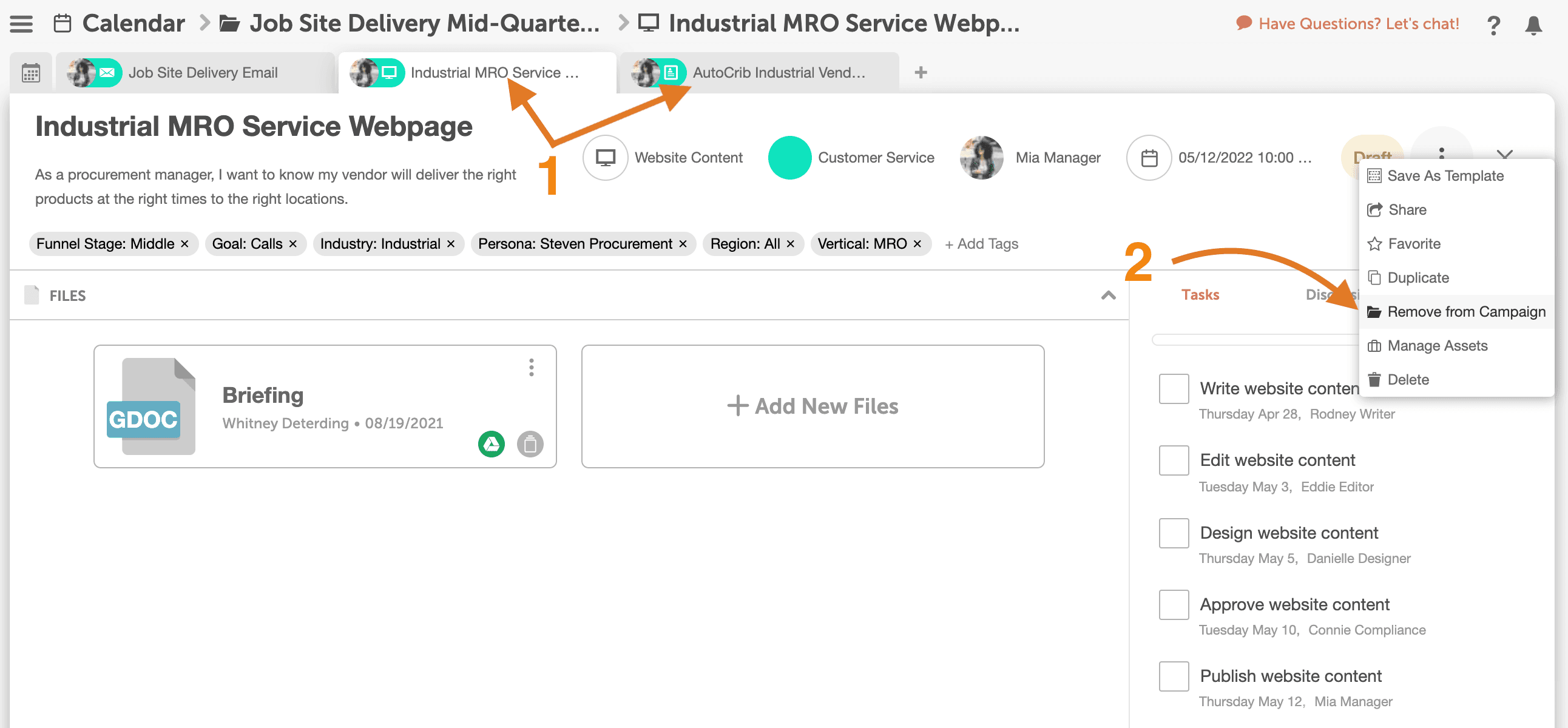 1. Project Selector: 
Switch between all of your projects and manage each type of project quickly inside of your Marketing Campaign.
2. Move Projects Easier: 
Inside of a Marketing Campaign, you can remove the Projects from your campaign or move it to a different campaign inside your Calendar. If you're outside of the Marketing Campaign, you can move any Project into a Marketing Campaign by clicking 
Add to marketing campaign
 inside of the Project. In the Marketing Campaign's calendar view, track the completion rate of all Tasks inside of Projects. See the number and percentage completed in an easy-to-read burn-up chart. To view a complete 
Team Performance Report
 of your Project, click 
View Historical Report
.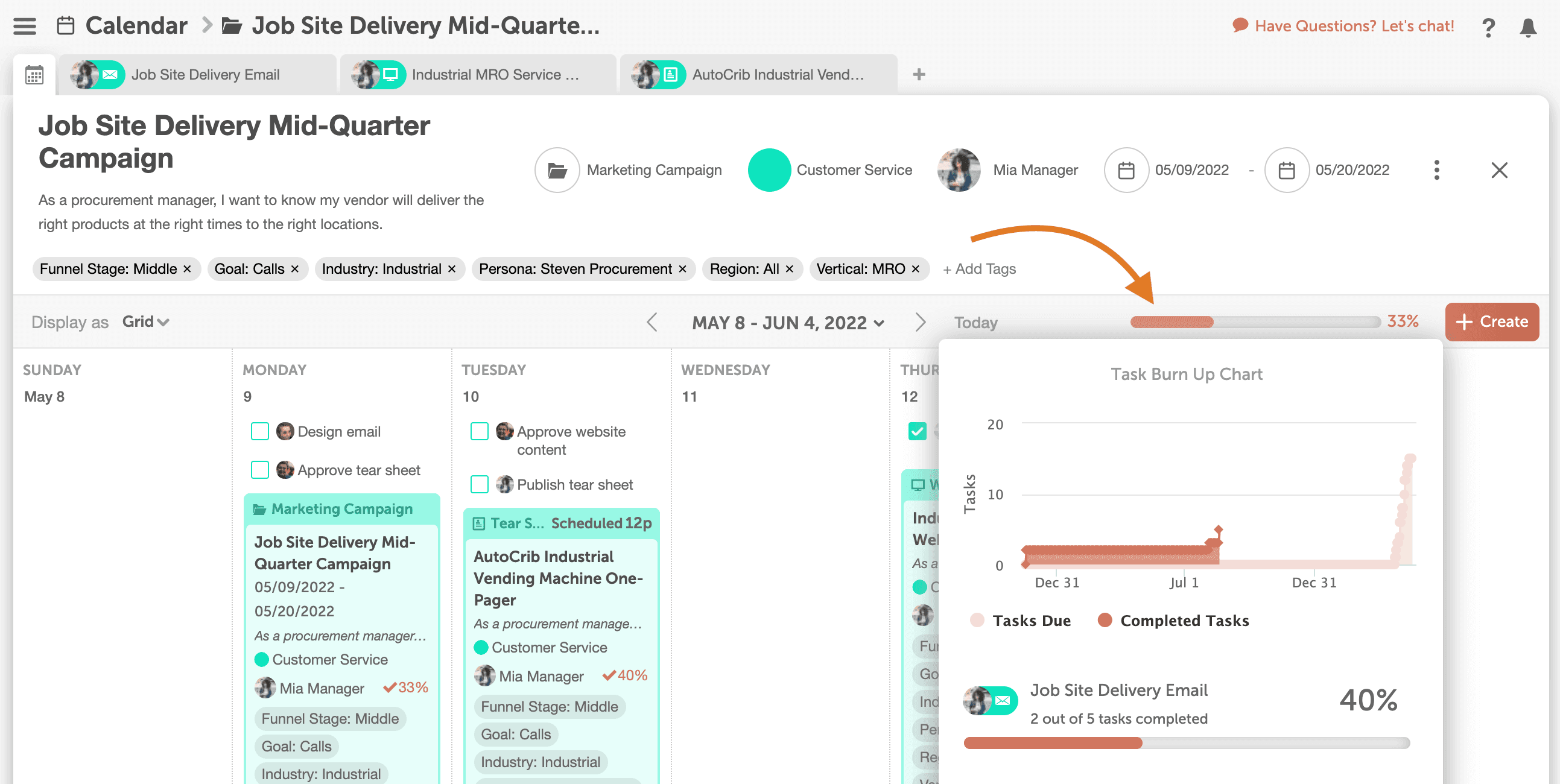 ---
Frequently Asked Questions
Can I move Events, Social Messages, Tasks, or Notes from my main calendar to a campaign?
You will only be able to move Projects from your main calendar to a campaign and vice versa.
What happens when I drag and drop my Marketing Campaign to a new date?
When you drag and drop a Marketing Campaign on your calendar to a new date relatively scheduled Projects, Social Messages, Tasks, and Notes will be rescheduled accordingly. Any social messages that are scheduled for a specific date (not relatively scheduled to a Project date within the Campaign) will stay scheduled and not move. Tasks that have been set to "don't automatically reschedule" will not move.
What happens to the Projects inside of a Marketing Campaign if it is deleted?
If you're wanting to delete a Marketing Campaign, CoSchedule will ask you if you want to also delete the Projects inside of the campaign. If you choose Delete Campaign only, the Projects from the campaign will be added to your main calendar.
What do the start and end dates mean? Can I schedule projects outside of these dates?
The start and end dates help to create a timeline for your campaign. It is only there to create a visual for your team. You can schedule any Project outside of the designated start and end times.
Do Marketing Campaigns have statuses like Projects?
Marketing Campaigns do not have a status (Draft, Pending Review, Scheduled, and Published) and will show up on your calendar in an active state.
Do campaigns show up in searches?
Marketing Campaigns will show up when searching the calendar.
Can I move Marketing Campaigns to the Ideas Board or Ideas Bin?
No, you can move projects to the Ideas Board/Bin but not Marketing Campaigns.
---
Learn More