The Home page makes it easy to monitor the projects and tasks that are assigned to you. It provides information at a glance about what projects are upcoming and what tasks have been assigned to you. It also provides a place to add personal tasks not associated with items on your calendar.
You can also view your Notifications, Recent, and Favorite projects anywhere in the calendar by clicking 

 in the top-right hand corner.
---
My Upcoming
The My Upcoming area of Home is where you will see personal tasks, tasks from the calendar, and scheduled projects. A click on an item will open the project and allow you to add comments or edit as needed.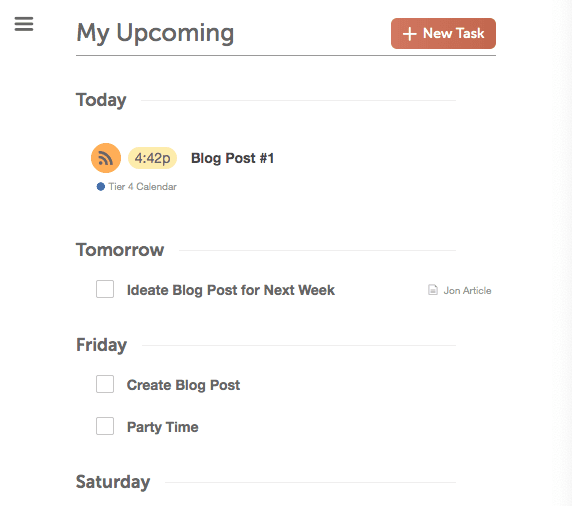 ---
Notifications
The Notifications area shows new comments, tasks, and other activity on projects that you are contributing to. A click on an item will open the project and allow you to add comments or edit as needed. To clear all notifications, click Clear all. To manage your notifications, click Preferences.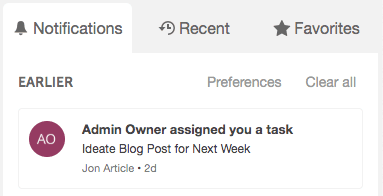 ---
Recent
The Recent area shows all the projects that you viewed Today and in the past. Click on any project to open and edit.
---
Favorites
The favorite section will show you any projects that you have favorited.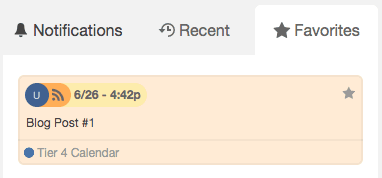 To favorite a project, click the menu 

 on the project. Then click Favorite. To unfavorite, hover over the project and click the menu

. Then click Unfavorite.
---
My Tasks
Click +New Task to add a personal task to your dashboard. This task will only show up in the Dashboard for your account.
Regardless of the type of task, you can drag-and-drop any task in your dashboard to change the priority. To drag-and-drop, click 

 next to the task and move the task to the correct order.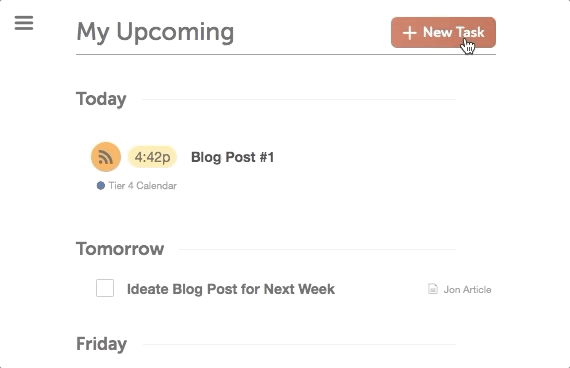 Was this article helpful?
Click on a star to rate it.
Average rating / 5. Vote count:
No votes so far! Be the first to rate this post.
Thank you for your rating!
Please let us know if there's any additional feedback you'd like to give.
Thank you for your feedback!