How To Convince Your Team To Use (And Love) CoSchedule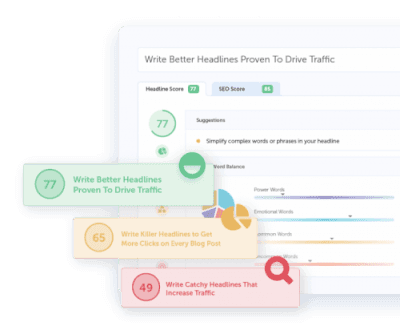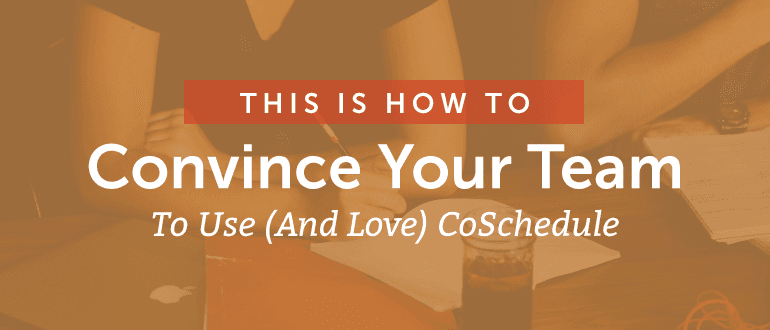 So you're feeling pretty great.
Why?
Because you FINALLY found a new, shiny, amazing tool that's gonna save your life.
(Hint: It's CoSchedule).
Now all you gotta do is convince your team to hop on board.
The problem: They are tough to convince.
Change-averse.
Old school.
"Don't have the time."
Basically, you've got a TOUGH sell ahead of you. (Whatever your reason may be).
BUT luckily the peeps here at CoSchedule decided to do the hard work for you.
After researching the best tactics to convince others and conducting interviews with REAL customers who've struggled to convince their teams…
…we've put together a plan (AND a presentation template for you to use) that's going to make this process a whole lot LESS painful.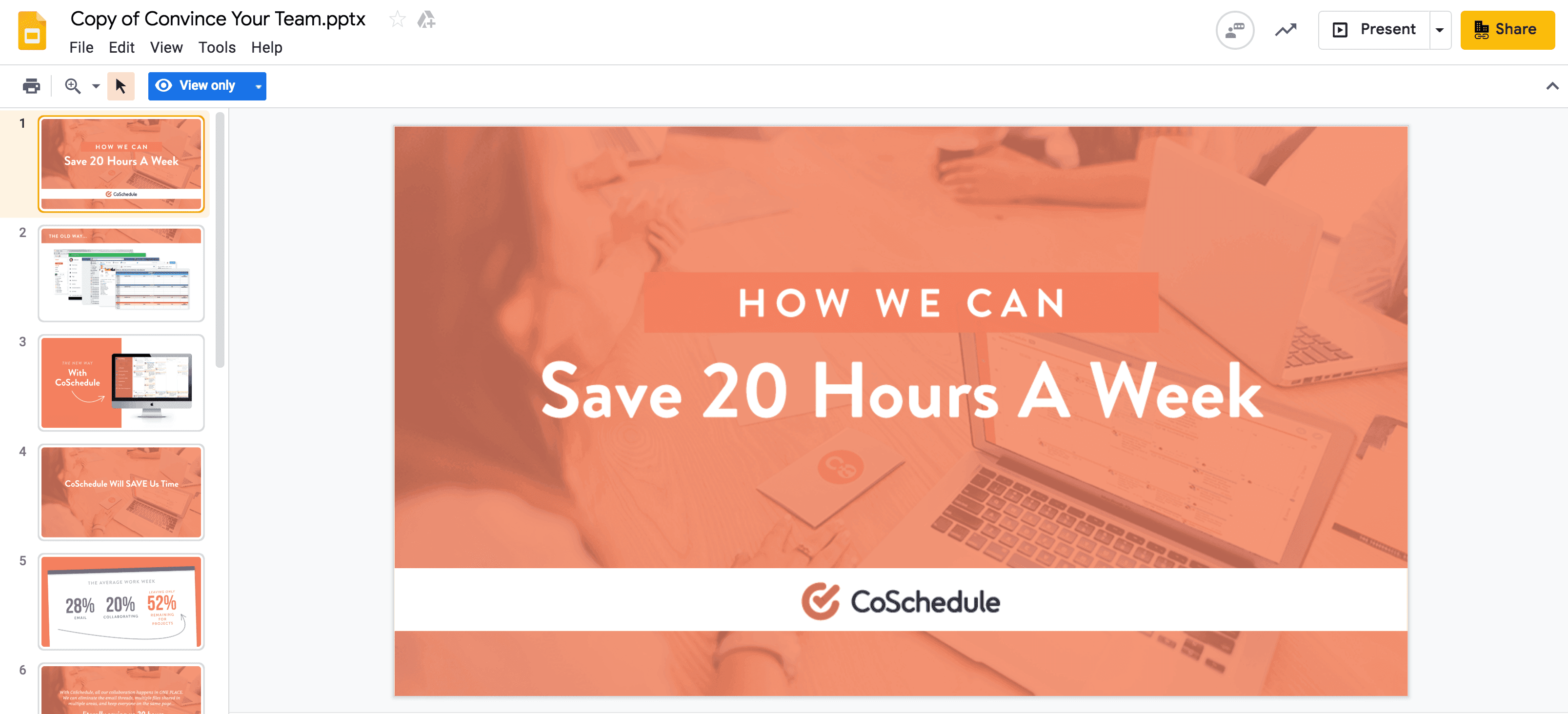 Part 1: Become The Expert
You've finally found the tool that's about to change your (work) life. BUT in order to convince your team effectively, you've got to become the EXPERT in everything that is CoSchedule.
Why?
Because you gotta be ready for the pushback, so you need to equip yourself with data, facts, and plenty of "how-to's."
To get you equipped with all the knowledge you need, we're going to jump right into the how-to's and highlights of CoSchedule.
Plus, at the end of each section, we've prepared some handy talking points for you so you can easily summarize the highlights when you start talking to your team.
Highlight #1: Consolidation (AKA Your One-Stop Marketing Shop)
You already know this, but one of the best time-saving aspects of CoSchedule is the ability to CONSOLIDATE.
You can finally say goodbye to that planning spreadsheet that is growing more unwieldy by the day.
No more copy/paste. No more overwhelming tabs open on your computer. It's everything you need, in one easy-to-use marketing hub.
The first aspect you should get comfortable with is…Marketing Campaigns.
This feature will become your go-to for proactively planning roadmaps and allocating (+ maximizing) resources effectively.
Plus, Marketing Campaigns eliminates all that wasted time that people spend tracking down content, which means more time can be spent on the EXECUTION of projects.
To start, choose the project option called Marketing Campaigns. It's the top item on the list when adding a new project to your calendar.
Next, add a title to your marketing campaign, color labels, as well as start and end dates.

Next, add each individual content item to your project – from emails to social campaigns, to podcasts and blog posts. Everything that needs to go live as a part of this wider marketing project can all be coordinated directly in CoSchedule.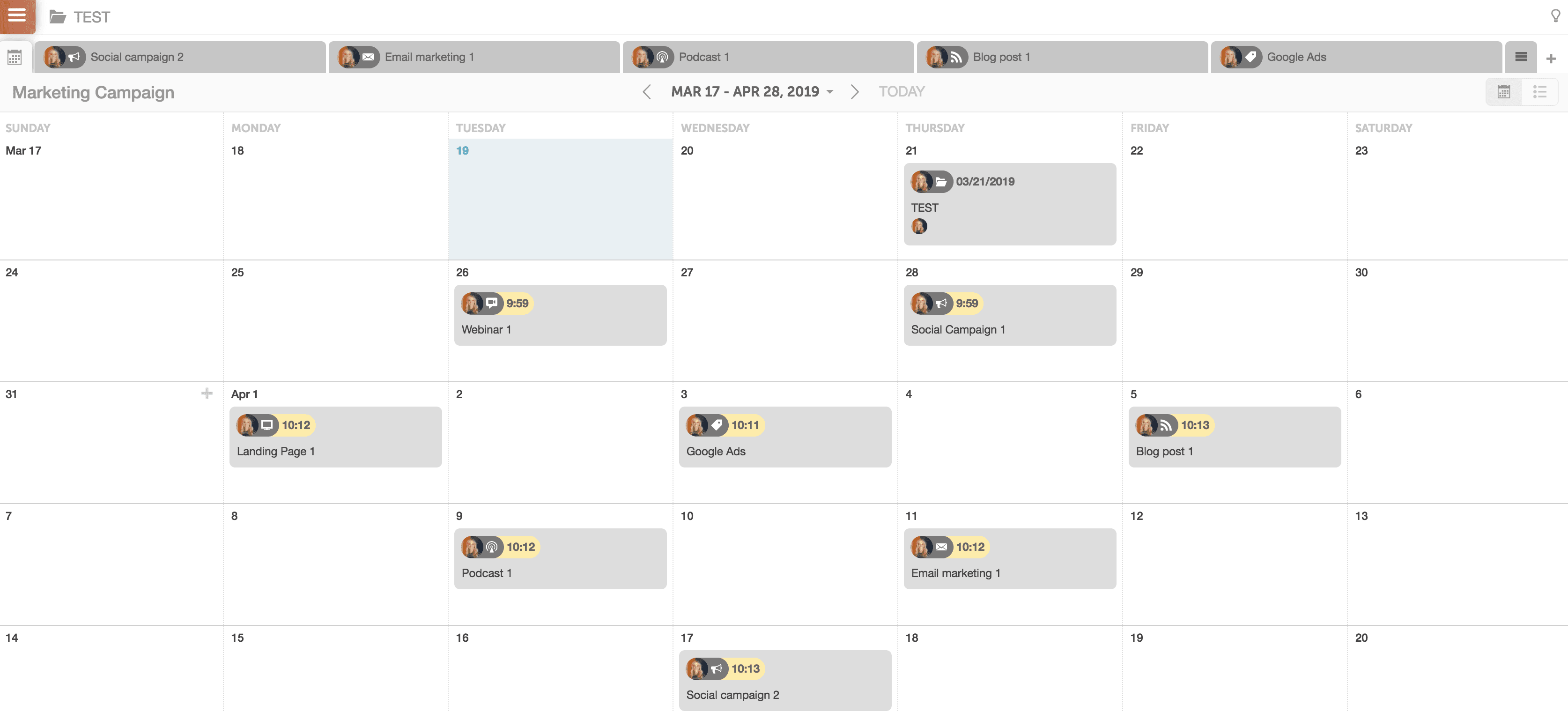 So to recap, why is marketing campaigns so great?
Answer: It takes organizing the next marketing campaign, feature launch, event, etc., to the next level. And ALL smart marketers are serious fans of anything to make organization easier.
Next up…
KANBAN and TEAM MANAGEMENT DASHBOARD.
These babies are amazing (and you probs agree) because… you can collaborate better AND save time. No more endless status updates and lost time tracking down who's doing what and when.
Enter Team Management Dashboard. 
It gives you a granular peek at all the individual tasks each member of your team is responsible for on any given day. You can see real-time updated as tasks are checked off and when items get missed. So your project timelines will never fall-apart due to missed deadlines or dropped balls.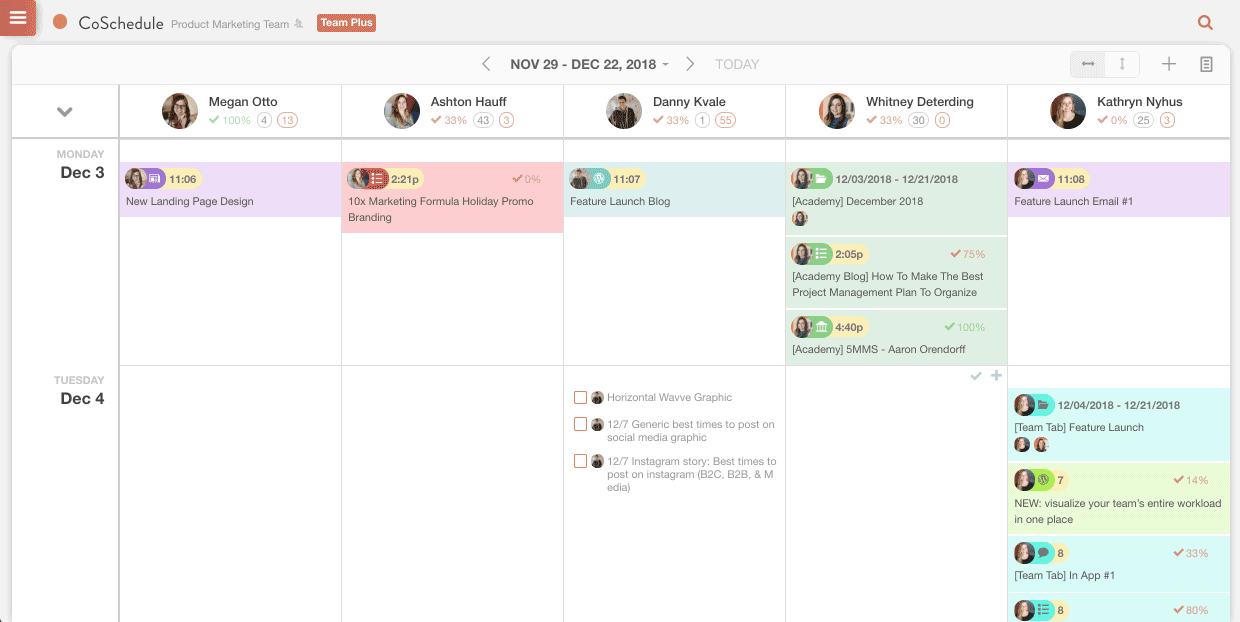 Say someone's on vacation or out sick, the team management dashboard makes it easy to reshuffle workload and reassign tasks with drag and drop functionality.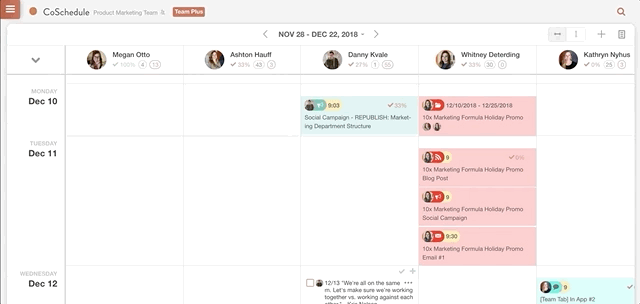 Your team will thank you because they'll know exactly where to turn every day to know what they need to get done for the day. Zero meetings necessary.
Just their tasks and priorities clearly visualized in an easy dashboard.
Here's how to find your Team Management Dashboard in CoSchedule.
Step 1: Hover over the hamburger menu in the top left-hand corner.
Step 2: On the bottom left-hand side, you'll see an option called "team".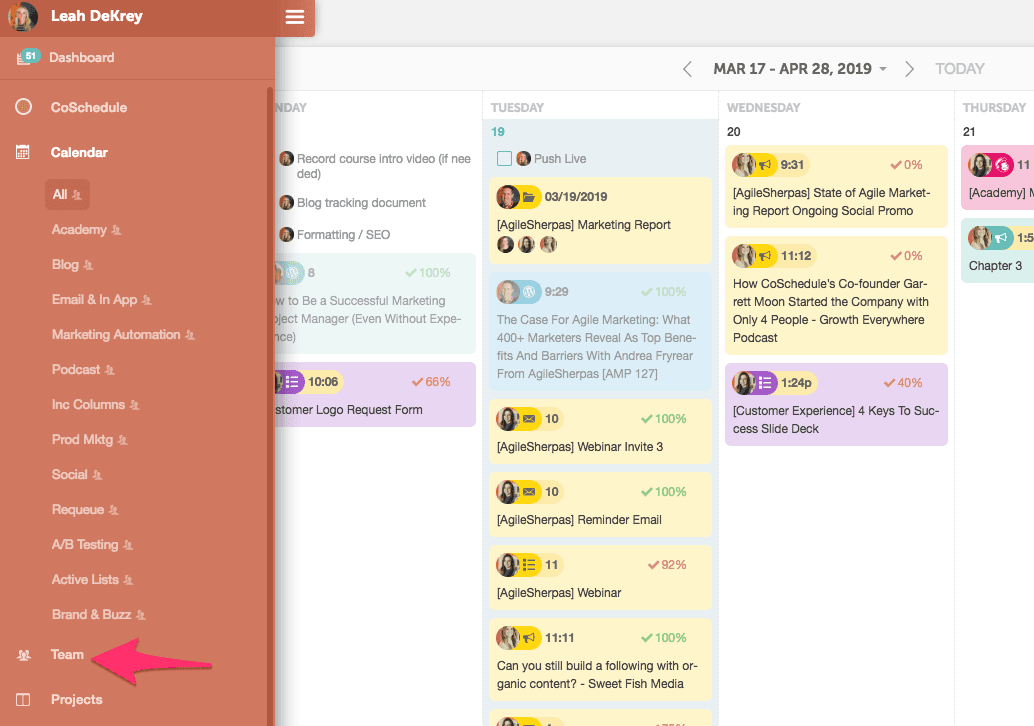 Step 3: Easily see every task and project your team is working on, as well as a status bar to quickly see how far along a project is.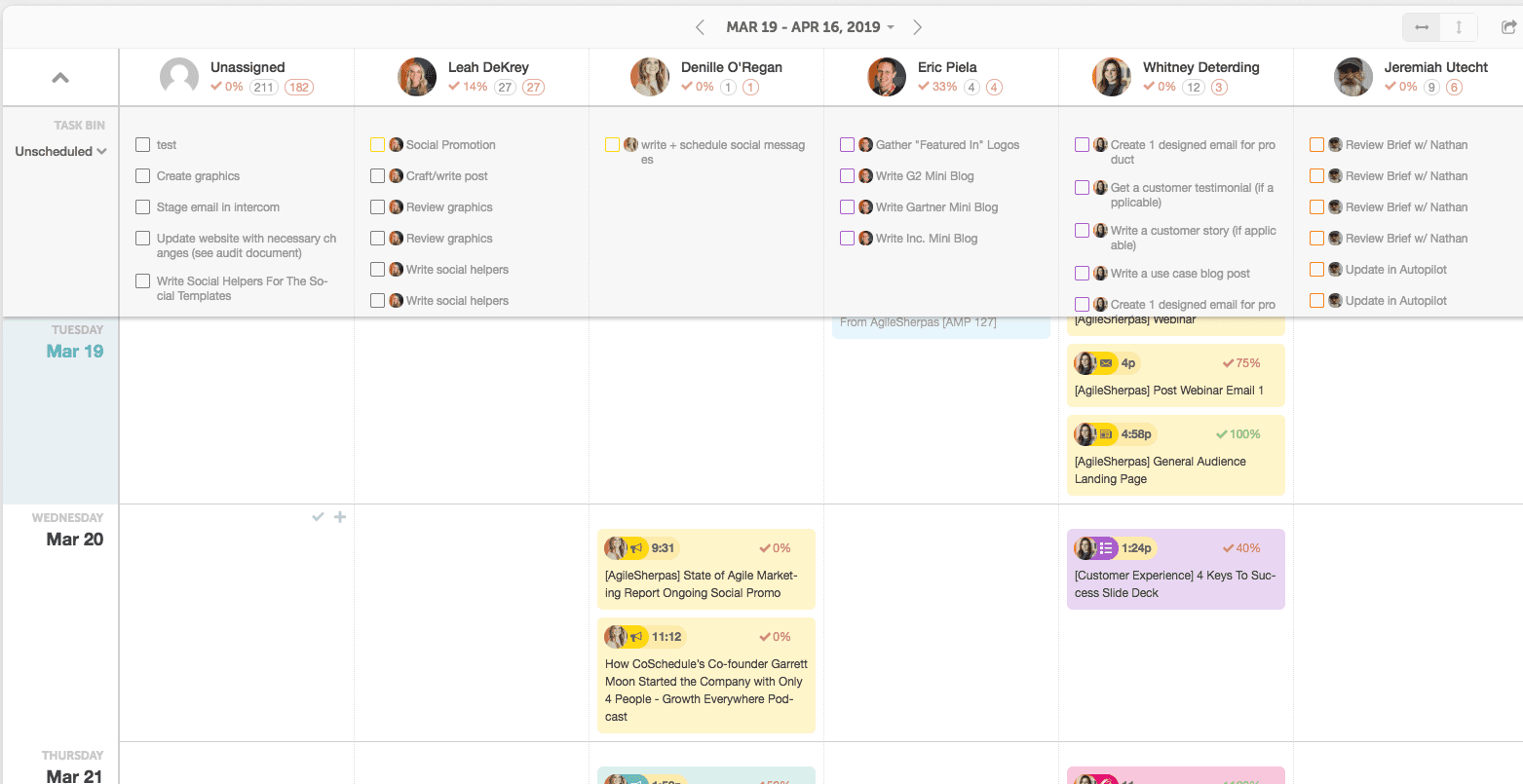 The next linchpin to getting all your marketing projects organized is the Kanban view.
Hover over the hamburger menu and choose the "project" option.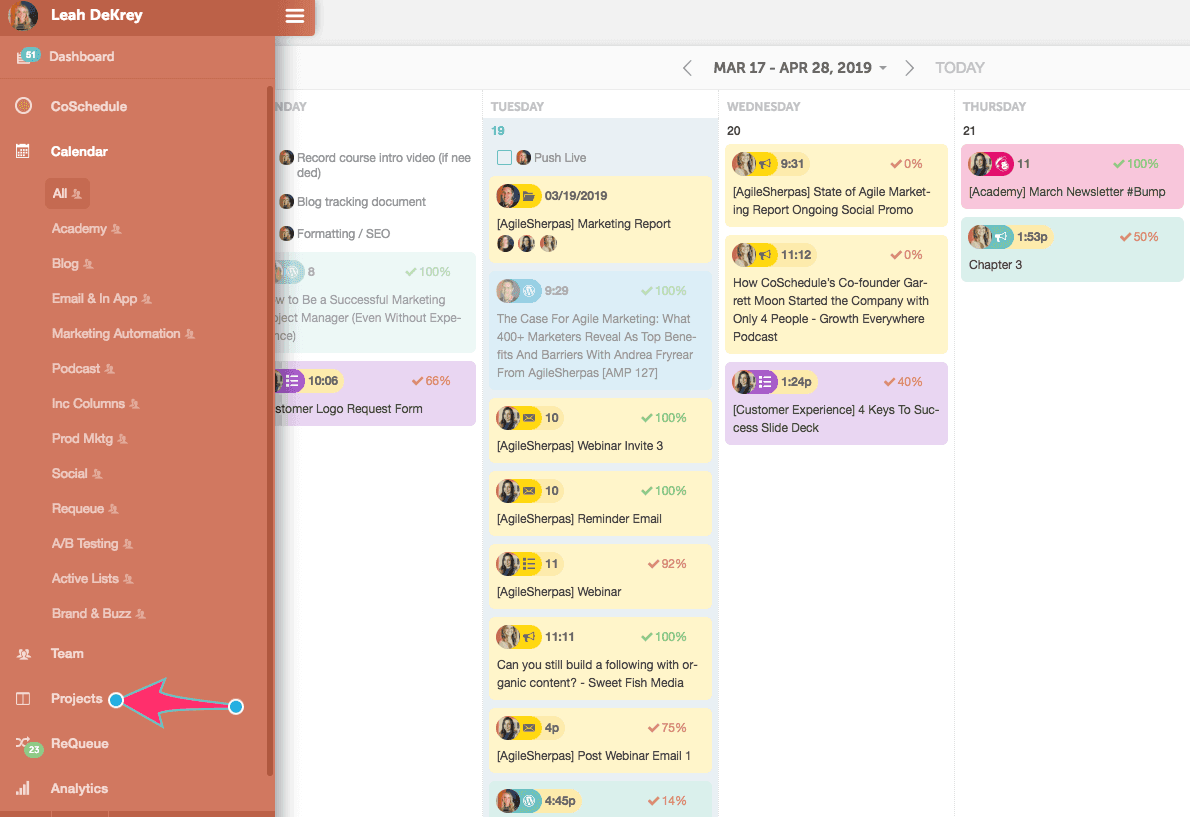 The Kanban view can be customized to your unique workflow. You and everyone on your team will be able to see what stage every project is in and know when it moves from one stage to the next.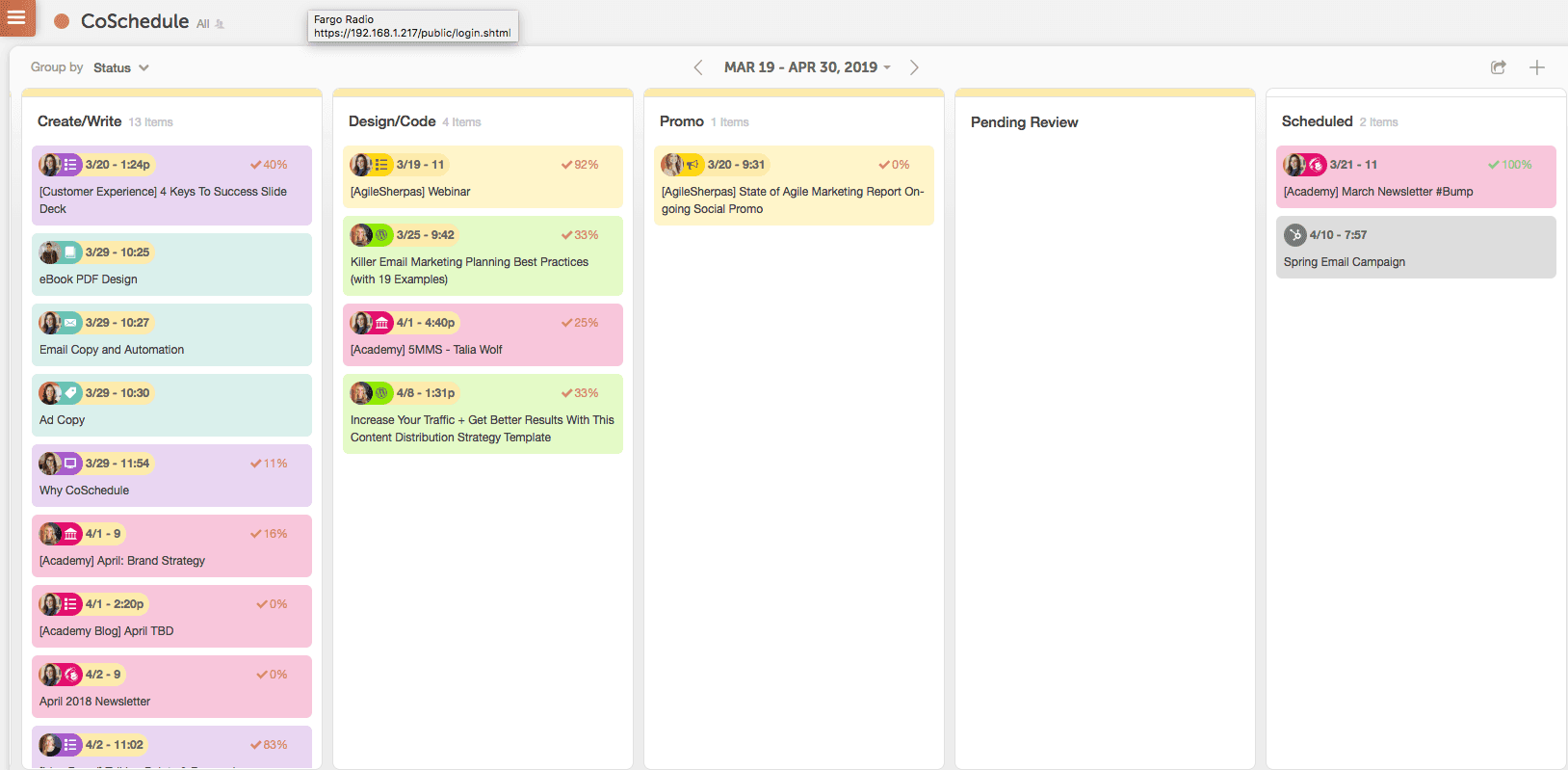 Yep, it's that easy.
Basically, your team is going to start falling in love with the tool as much as you.
And with that… You have finally earned your first talking point:
Consolidate your marketing toolset AND workflow. Create a unified workflow for every project with CoSchedule's all in one marketing calendar. Proactively plan out your entire roadmap, get real-time visibility, and maximize your resources inside a collaborative, cross-functional calendar for it all!
So now that we've covered how CoSchedule consolidates your marketing process, you're one step closer to being a CoSchedule champion.
Highlight #2: Communication [is Key]
Anyone that's ever been in a fast-moving team knows that half the battle is clear communication.
Heck, just communication AT ALL. You're all so busy you're lucky just to turn in that project update on time.
And that's where CoSchedule will really start to resonate with your teammates. So, let's dig into how CoSchedule makes communication about 1000X easier.
First…let's talk about consistent team workflows. (Because who doesn't love a good, effective workflow…am I right?!)
The highlights:
Plan and assign tasks and get your content approved and published
Execute faster across distributed teams
Keep your team members up to date, and avoid email!
Know the exact stage of each [and every] project
The biggest sell here is that your team can actually build project workflows right into the team calendar.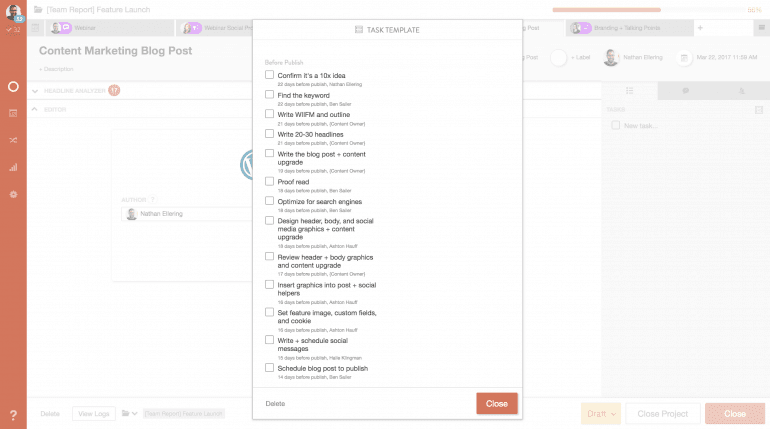 Next on the list is how to build a workflow:
Open a new piece of content
Select the task template icon and

+New Template

Name your template, and hit

Next

Add each of your tasks
Assign each task to a team member
Establish the # of days before or after publish that the task is due
You're all set to
Sell the magic that is workflow templates (and honestly, the beauty that is assigning tasks) and
Know how to create them like a pro.
So, to continue with the awesome communication features within CoSchedule. Let's talk about CHAT. Basically, in-app chat eliminates all the wasted time spent combing through an inbox searching for a project update.
So within each project, there is a tab where all involved team members can give updates or leave notes for the group.
So here's how to access and use chat:
Head into any piece of content
On the right side of the screen, click the

message icon

 tab
And BOOM. You can start chit-chattin' away.
You can even attach documents directly in the discussion feature.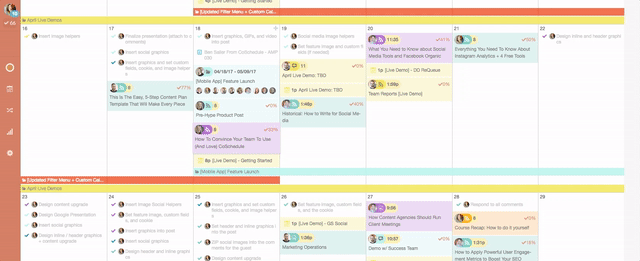 And if your team is constantly buried in emails…this is going to be a major selling point. (Just THINK of all the hours everyone spends searching their inbox!)
Another communication feature is the ability to add discussion directly in social messages. We know making changes to social images, copy etc. can mean a lot of back and forth. Maybe you've even tried to send screenshots of social messages back and forth for approval.
That's not ideal.
To start, open your social campaign or individual social message and choose the conversation bubble at the bottom of the post.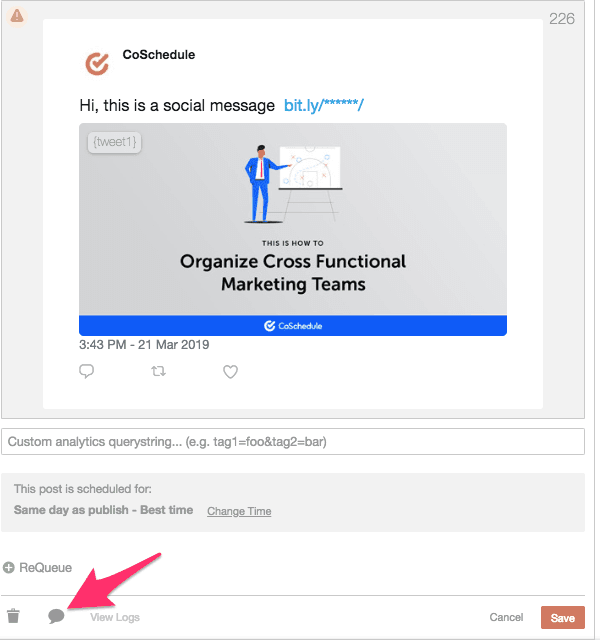 Then, @ mention someone with the desired changes. No back and forth. No screenshots. Just collaborating and planning social media messages made easy.
So now that you're a communicating-in-CoSchedule pro, here's your second talking point:
Execute faster across distributed teams. Stay in the loop on every project without getting stuck in the weeds of searching a lengthy email chain or cluttered inbox. Easily share files, comments, and project details with everyone directly within CoSchedule.
Highlight #3: Get To Know The [Amazing] Social Tools
So now that you're already well on your way to becoming a CoSchedule expert…
…we're going to talk about the CoSchedule social tools.
(Because you know that your team is going to LOVE them.)
First, here's how to build a social campaign:
Head to your master calendar view
Click the

 +

to access content types
Select

 Social Campaign

Add the link you want to promote
Plan ALL your messages for every social network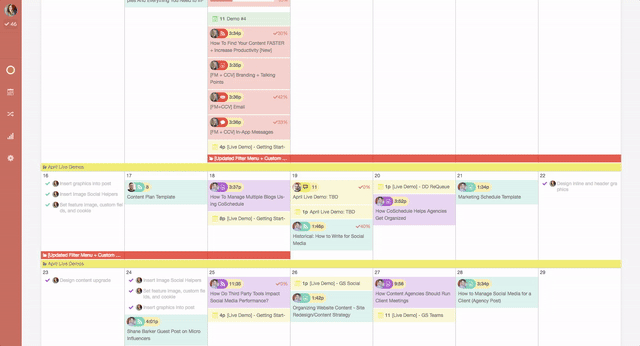 Also, be sure to explain that you can add a social campaign to ANY piece of content, so your social media messages are no longer disconnected from the actual project. One less tool to manage and your social media manager can finally have the full picture behind their social messages. 👏
Simply head into the piece of content you want to promote, and start adding in messages in the Social Campaign section of the editor.
Next up…social templates and social helpers!
Here's the how-to for setting up social templates:
Open a piece of content
Select the social template icon within the

Social Campaign

section
Select

+ New Template

 and give your template a name
Customize it to incorporate any of your social profiles
Build a schedule that shares your content for days, weeks or even MONTHS
For a more detailed how-to, check out our Social Templates Help Doc :)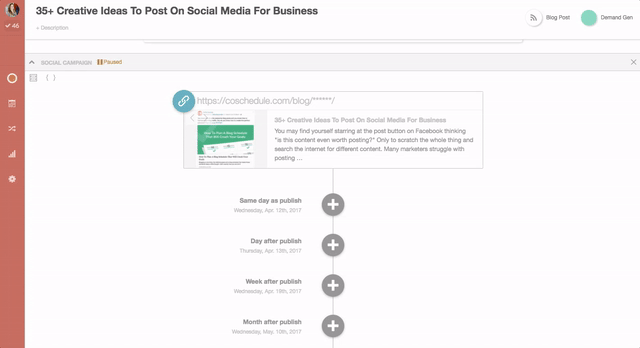 Can you feel the time-savings yet?!
Now, here's how to create a social helper:
Head into any social campaign
Select the social helper icon, and click

+New Helper

From here, you can create standard social helpers (synced from WordPress) or custom text helpers, image helpers, or even video helpers
Need a more detailed run-down? Head to our Social Helpers Help Doc :)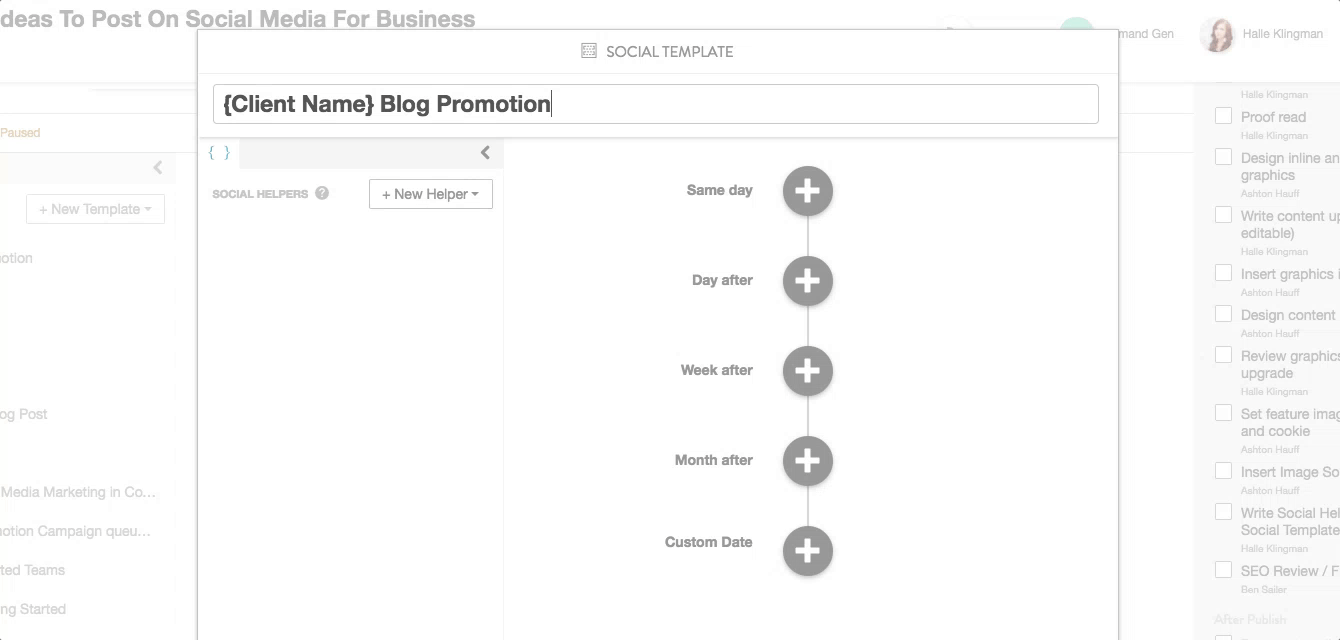 And now that you know how to set those up it will be 1000X easier to explain to your team that they are going to save TONS of man hours with CoSchedule.
The last piece?
ReQueue: the most intelligent way to automate your social media.
Here's a sweet video to show your team how ReQueue to optimizes your social strategy:
As far as actually setting it up, here's the lowdown:
Head to the ReQueue dashboard in your calendar menu
Create a ReQueue group
Add any messages associated with the group
Let CoSchedule take care of the rest
So now that you've earned your third talking point:
Boost engagement with
powerful
 social media tools.
Improve your overall brand strategy with CoSchedule's powerful social promotion. Keep everything in one place, schedule dozens of social messages in seconds, and collaborate with your team using built-in approval based workflows!
Highlight #4: Prove Your ROI (Finally)
One of the biggest challenges that marketing teams face is proving their ROI.
It's hard to track everything and honestly… it's tedious.
The analytics struggle is real and if your team is willing to admit it's pretty un-fun and they want something that can make it all better…
Then they are going to be PUMPED about the Top Content Report, the Social Engagement Report, and the Team Performance Report.
First, head to your calendar menu and select Analytics.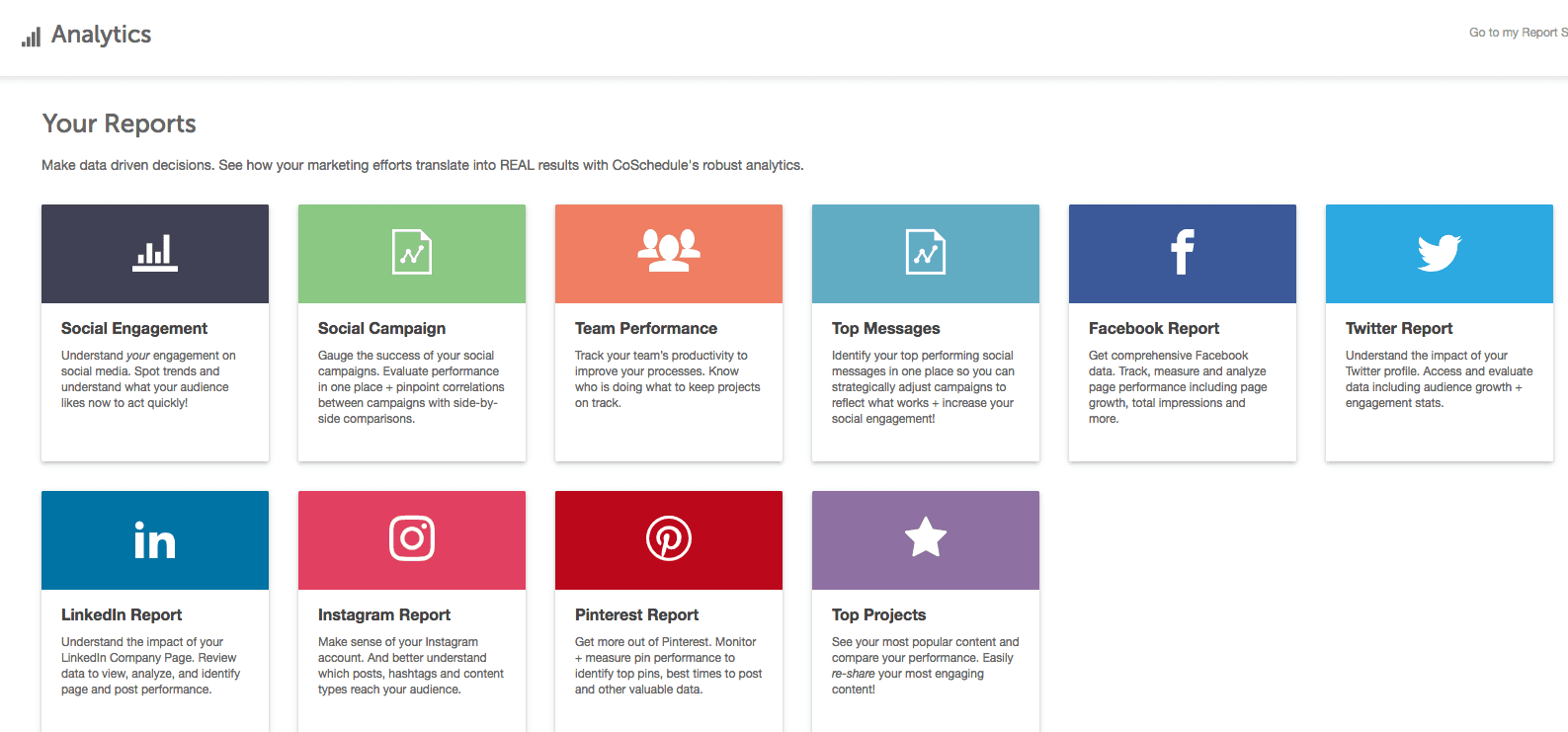 So now that you know where to find your reports…let's get into the nitty-gritty of what each report means and how you can customize them to your advantage:
Top Project Report
Description:

See ALL your most popular content and compare your performance. This report helps you find and easily re-share your most engaging content.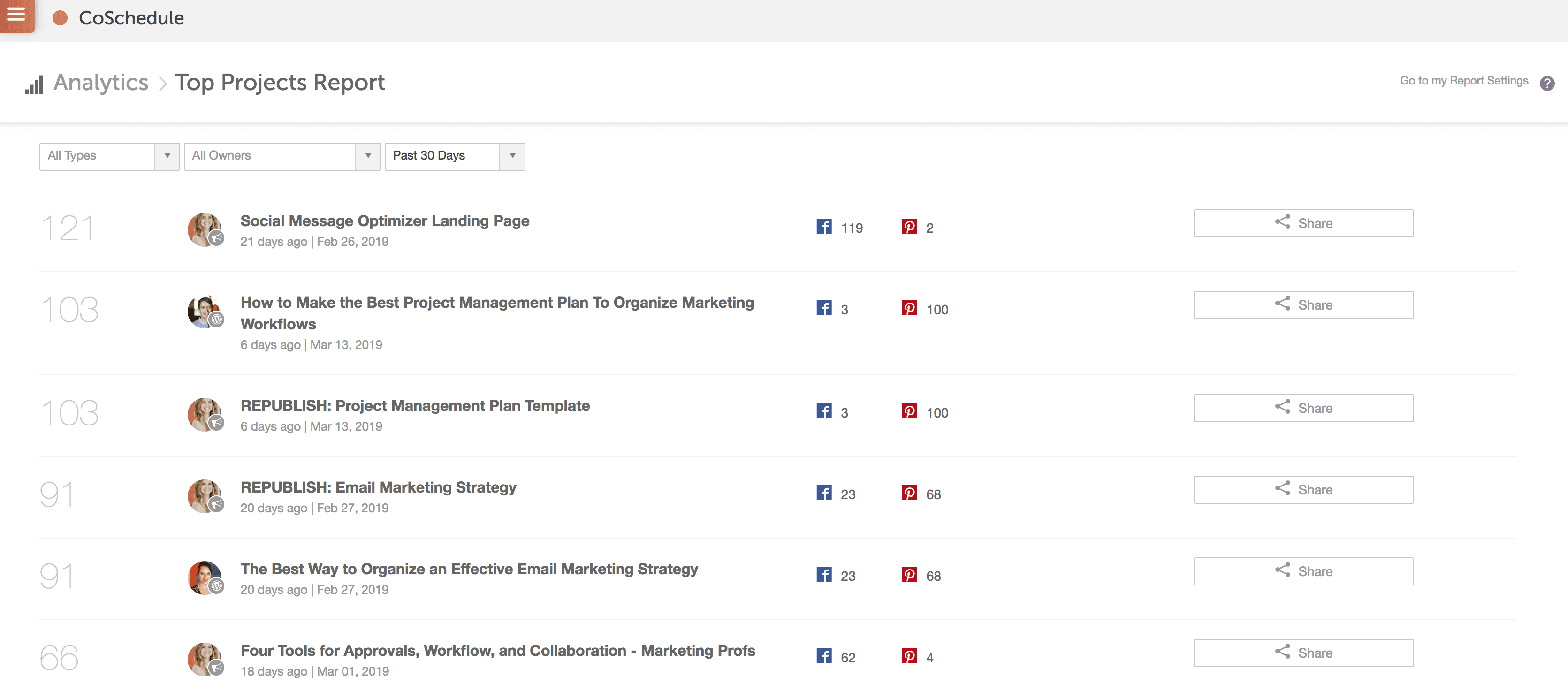 Social Engagement Report
Description:

See the performance of each social network, account, and specific messages.

How to Customize:

Set a date range.
Search for a specific message.
Select overall engagement, or view engagement by each social network.
Select overall top messages, or top messages by network.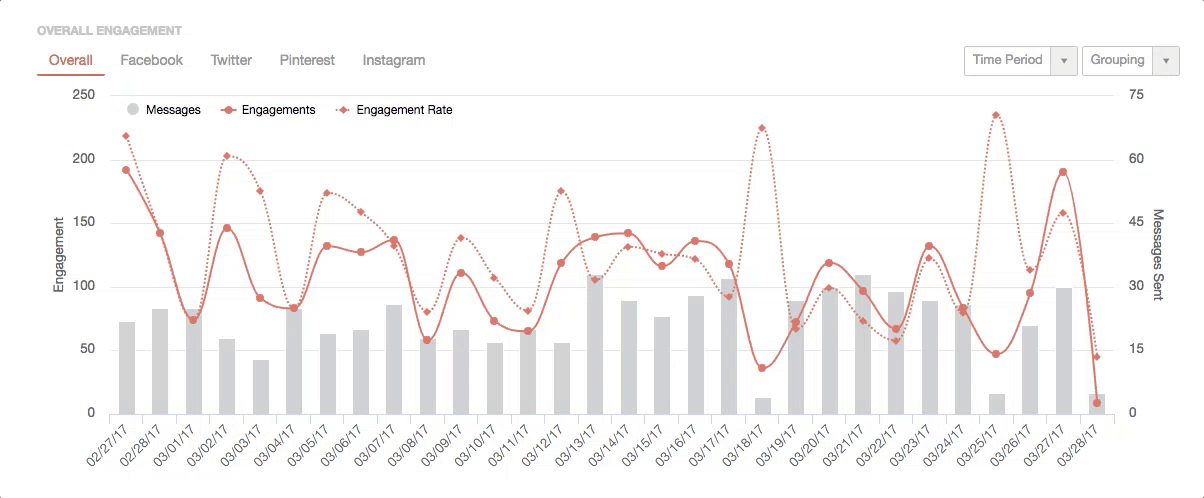 Team Performance Report
Description:

Get a snapshot of your team's entire performance, performance by project, or the performance of a specific team member.

How to Customize:

Set a date range
Search for a specific project, piece of content, or team member.
Select a specific team member and view a granular view of their performance (including all completed, overdue or incomplete tasks)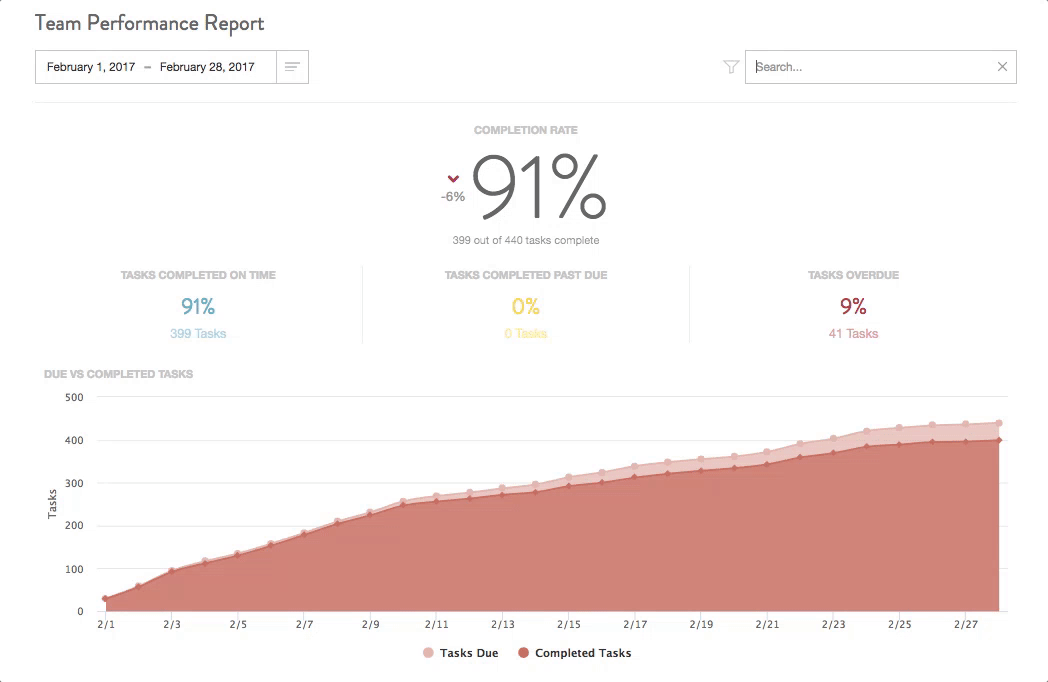 And with that…
Here's your final talking point:
Prove your ROI with data-driven results. No more warm fuzzies! Prove the value of all your hard work with real data. Utilize CoSchedule's most advanced analytics to measure your success!
Part 2:  Convince Your Team
So now you're a CoSchedule expert.
Plus, you're armed with some pretty thorough + effective talking points.
Which means it's time to move onto the next and most difficult step in the process…
…convincing your team.
We've laid out a 3-step process for you, along with a few resources (like this sweet presentation template), to get your team on the CoSchedule train.
Step 1: Convert Some Allies
Before you can show the whole team whatcha got, you need to find some allies. Because if you can initially convince just a couple of people that CoSchedule is *the* tool.
So the first step is to identify your potential allies.
For example, your coworker who always has your back or that one person who is always talking about efficiency.
Next, show them this vid:
Step 2: Share With The Rest Of Your Team
Okay.
So you've done EVERYTHING right up to this point.
*two thumbs up*
But now it's time to share CoSchedule with the rest of your team.
First, identify the way you want to position CoSchedule.
For example, if your team is ALWAYS short on time… or just plain overworked. Or, if your team is sick and tired of the overwhelming amount of tools they have to use to get their job done.
Here's a list of potential concerns that you might hear from your team, and the response you can give them: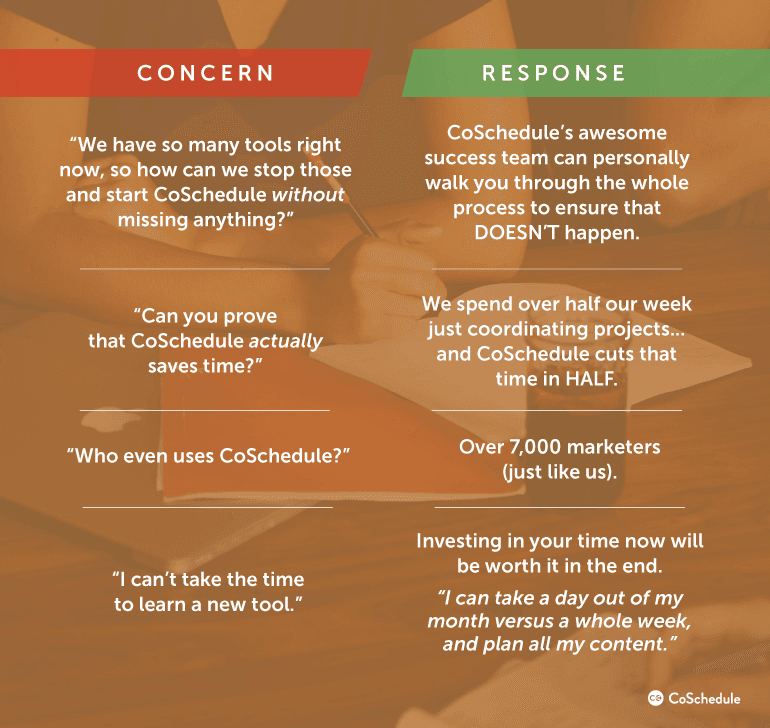 Step 3: Start Settin' It Up
THE FINAL STEP.
To complete the whole "convincing your team" process you've got to get people to try the tool.
Let them realize how AMAZING CoSchedule by having them try the tool.
And if people are still hesitant about it (because they still aren't totally sold on the idea), you can say "we are just trying it out right now."
Take the time to help them with any issue they may be experiencing. And if you can't figure it out, you can direct them to this link and we'll make sure to answer their question.
Remember: We're here for ya.
So to recap:
First, you need to take the time to LEARN the ins-and-outs of CoSchedule.
Next, you can use the 3-step process (and this handy presentation template) to *strategically* convince your team that CoSchedule is the tool they never knew they needed.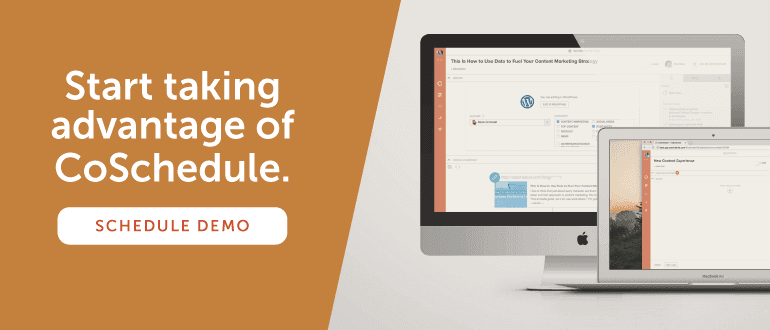 March 26, 2019