I just read all the top-ranking web pages for the keyword content strategy so you don't have to.
All of those pages will help you define the term, but not many of them dive deep enough to help you create a content strategy that will quadruple your results.
And let's be honest: You don't care about the definition of content strategy. You care about getting step-by-step, actionable advice to help you create effective content super efficiently.
So that's what you're going to get in this post.
Want to use Click to Tweet on your blog?
Read on—and download your free content strategy template kit—to learn the complete 14-step process to create your own strategy to:
If you want to try a data-driven, agile marketing process to get massive results from your content marketing, this post is for you.
This is the exact process we've followed at CoSchedule to generate 434% more page views, 1,222% more email subscribers, and 9,360% more trial signups from our new blog posts.
No joke.
So when you follow this content strategy, quadrupling your results may even be understated.
But first, a tangent:
Content Marketing Strategy Vs. Content Strategy: Does It Matter?
When you focus on semantics like definitions, you focus your energy on internal processes that don't directly benefit your audience.
So what actually creates results for your business? Publishing effective content.
So let's get the definition of content strategy out of the way in regards to the process you'll learn throughout this post:
Content strategy is the efficient process that ends in publishing effective content.
So where the content strategy experts spend their time debating the definition, you can spend your time honing the process you use behind the scenes to create and publish the best content in your niche on the internet.
Want to use Click to Tweet on your blog?

Define And Track Aspirational Goals That Focus On 10x Growth
You're doing content marketing for a reason. Let's find the best way to define your goal and track it.
1. Answer: Why Are You Creating Content? (Nope, I'm Not Kidding)
It might sound silly, but understanding the #1 reason why you're publishing content will help you focus your efforts on the right kinds of projects that will result in huge growth.
Planning to succeed wins. And you can use your data to help you get there.
But first, you need to know the #1 reason why you're doing this—forget about everything else for a moment:
Want to use Click to Tweet on your blog?
2. Know How You'll Measure That Goal
Now that you know why you're publishing content, it's time to define how you'll measure your success. This involves defining the one metric to rule them all.
For example, if your #1 reason for publishing content is to get more traffic, you could look at specific metrics to measure that goal like page views, unique page views, or website users. Those are very specific metrics under the umbrella term of traffic.
3. Find The Tool Where You'll Track Your Goal
You've got your goal and you know exactly what metric you'll use to define success. Now it's time to find the tool where you'll gather all the data on that metric.
Luckily for you as a marketer, Google Analytics is an especially powerful—and free—analytics program you can explore specifically for this purpose.
So let's set up goal tracking for your metric in Google Analytics.
You can use this same process to set up goals to track traffic to any specific page—which works especially well for email subscribers (directing to a "thank you" page), trial signups (directing to the first page in your app), and other similar use cases.
Here we go:
Log in to Google Analytics, then click on Admin and then Goals.
Start a + New Goal.
Name the goal the #1 reason why you're publishing content, then Continue.
Flesh out your goal details with the Destination as the slug of your URL your users see immediately after they convert.
Alternatively, you can include the app page name your users see immediately following a conversion. Select Begins with and hit Save to start tracking.
Since you just set up your goal, you'll see a big fat goose egg for your most recent conversions. Don't worry. Google needs 24–48 hours to process your new goal.
4. Understand How To Analyze Your Data
Now it's time to understand which specific pieces of content are contributing the most (and least) to your goal. This will help you understand what types of content to replicate in the future and which to avoid.
You're going to track this by setting up a custom report in Google Analytics. Get started by cruising to the Customization tab and selecting + New Custom Report.
Fill in the Title, then in Metric Groups, select the name of your goal followed by (Goal # Completions). In Dimension Drilldowns, select Goal Previous Step - 1. Then hit Save.
Now you can view the exact pieces of content that are contributing to your goals. And you can easily search for specific URLs to drill deeper into your content.
Create The Plan To Achieve Your Goal
This process focuses on analyzing data from your existing content to help you improve the results from the future content you'll publish.
It's like a website audit specifically targeted at helping you set achievable, aspirational goals for your content marketing.
Even if you've only published a few pieces so far, you can use this content strategy to agilely boost your results. Here's how:
5. Grade Your Content According To Your Gut
The purpose of this process is to help you understand how you feel about your content's performance.
Afterward, you'll reveal the data and compare it to your gut instinct to help you understand where you were off and on. And that will help you pick new content to create based on boosting your results.
Start by making a list of the URLs from the last 30 pieces of content you published. There's a spreadsheet to get you started in your content strategy template kit.
Now brainstorm the top four traits that are present in your top-performing content. For example, at CoSchedule, we grade our content based on questions for four traits:
Topic: Is this topic something our readers find extremely useful for solving a problem they're experiencing?
Research: Is this content deeply researched, backed with facts and examples?
Comprehensiveness: Does this content tell the full story with step-by-step, actionable advice—regardless of word count?
Keyword-driven: Was the keyword for this content well chosen to help our audience find it precisely when they need it?
You can use those same four traits to grade your own content—or you might know of other traits that are extremely important for your brand. At any rate, choose at least four traits of your successful content and grade each piece from 1–3 with 1 being not so good and a 3 being awesome.
Want to use Click to Tweet on your blog?
6. Discover Your Content's Average Contribution Toward Your Goal
This is an extremely important part of your content strategy to help you understand the specific pieces of content that are super successful versus those that aren't. The data may surprise you—which will teach you how to generate bigger results from everything you publish moving forward.
To do this, you're going to analyze the data from your Google Analytics custom report for your goal according to each piece of content you've published. And to make sure every piece has a similar opportunity to be successful, you're going to measure the results for the first 30 days after you published them.
If that sounds scary, trust me—it's not!
Begin by opening your Google Analytics custom report. Search for each individual URL from the list you started in your grading process in the spreadsheet, and set the dates to the first 30 days after you published it.
Then enter the data for each of your URLs into the spreadsheet in your content strategy template kit.
After you find the data for each piece of content, you can understand how well your gut translates into results. Sort your data from your best performers to the duds. From here, you can scrutinize which types of content to replicate in the future and which to avoid.
For example, your top piece of content should receive a 12 score, while your worst-performing content should receive a 4 score. If that's not the case, you learned something that will help you think critically about the upcoming content you'll publish.
Here are several things you can analyze from both your best- and worst-performing content to help you get bigger results from your future content:
Who wrote the content? Some of your producers may be particularly skilled at certain topics, or could have brought an established audience to your content. You could invite those rock stars to work with you even more in the future.
What type of content was it? Was it a how-to, list, or question blog post? What about e-book, landing page, or online tool? Replicate the same approach in future content.
What was the tone of the content? Some websites do particularly well with thought leadership, controversial, humorous, or entertaining content whereas others find better success with straightforward how-to and step-by-step content. Find what works for you and repeat it.
What additional media was in the content? Did infographics, videos, surveys, e-books, or images help influence your success? Repeat what works next time, too.
Want to use Click to Tweet on your blog?
7. Define The Goal For Each New Piece Of Content You'll Publish
This is when you'll plan on quadrupling your results by creating more content that is similar to your most successful content.
If you haven't done it already, sort your data from best to worst. Then, find the overall average for all of your content, then the average top 15, 13, 11, 9, 7, and 5 pieces of content.
If this sounds scary, don't worries—your spreadsheet in the content strategy template kit has the formulas built right into it to do this automagically:
Your plan will be to replicate the success from your top-performing content. The purpose of grabbing six ranges of top-performers is to help you incrementally improve the content you're publishing over the next six months.
By the end of this process, you'll be creating content that consistently reaches similar results to your top 5 pieces of content.
So, by incremental improvements, your game plan for the next half year looks like this:
Next month: Publish content that's on par with your top 15 pieces of content.
Month 2: Publish content that results in similar success to your top 13 pieces of content.
Month 3: Publish content that reaches similar results to your top 11 pieces of content.
Month 4: Publish content that results in the same success as your top 9 pieces of content.
Month 5: Publish content that reaches similar results to your top 7 pieces of content.
Month 6: Publish content that stands among your best-performers—your top 5 pieces of content.
This plan gives you the opportunity to build up the stamina needed to produce better content every time you publish. It's realistically achievable yet still focused on huge growth.
Want to use Click to Tweet on your blog?
8. Define Your Monthly Goals For The Next Six Months
You know how each individual piece of content will influence your goals for the next six months. So let's roll up that data into understanding what your overarching monthly goals should be.
This will help you understand the larger impact of publishing effective content. And if these predictions are less than you were hoping to see, you can use your data to increase your publishing frequency to generate even bigger results.
Open your Google Analytics custom report for your goal, and find the data from an average month's performance. An easy way to do this is by adding together the data from the last three months then dividing it by three to find your monthly average performance.
Next, determine how many times you'll publish your improved content every month. This is how publishing consistent content will help you boost your results.
From here, use your average top 15, 13, 11, 9, 7, and 5 data to understand how much higher to make your goals. Subtract your normal average number from your top number, multiply that by your monthly publishing frequency, then add the difference on top of an average month's performance.
Now, all of that is super nerdy. So the spreadsheet in your content strategy template kit has formulas built into it so you don't have to figure it out yourself. ;)
If you find that the predicted results aren't as big as you were hoping to see, now is the time to plan for publishing more content into your schedule throughout the following six months.
Execute Your Plan With A Solid Content Development Process
Your goal is set, and your plan is in place to produce big results. Now it's time to determine how you'll create the content.
9. Determine Who'll Be Involved In Your Editorial Process
In order to create content efficiently, you need fewer people involved in the content creation process. And you need the right people.
Jay Acunzo is a marketer and former Googler who saw how agile pods work for Google's sales team. When he took to his blog to expand the pod analogy for content marketing teams, Jay boiled the process down to a few key roles:
Producer: These are your artists—the writers and designers who produce your content. They're creative, and absolutely necessary to help you share your story.
Marketer: This is the person who makes sure the producer's content ends up in your audience's hands. She distributes your content and creates demand for your content and product offering.
Strategist: This is who you are. Jay explains that strategists are a servant leader role, specifically for people who "love doing things like advanced analytics and strategy planning, as well as allotting resources, liaising with management teams to keep the other two freed to do meaningful work, and so forth. This person doesn't manage people so much as they manage resources, time, and results."
Notice something here? The strategist sets the plan in motion and helps the pod take ownership of the goals. These people jump into both the marketer and producer roles when necessary, and ultimately help the team produce effective content.
The thing is, there is no upper management involvement and no lengthy approval processes. Resource management is dedicated to creating content that focuses on results instead of getting swept up in menial tasks that don't really matter.
Want to use Click to Tweet on your blog?
So how can you narrow the amount of people in your pod to the three roles that really matter? Seth Godin has some good advice from his book Linch Pin:
Set a due date of when you'll launch this new process and stick to it.
Gather everyone's ideas for the content you'll create. As Seth says, "This is their big chance."
Ask them to review the ideas. After this, there's no going back to make changes.
Create a project outline of all the ideas. This is your content strategy you and your pod will execute moving forward.
Get final sign-off control from the big wigs so that you, as the strategist, have total publishing authority. Seth even suggests getting your upper management to sign documents saying they won't change your course after you get started.
Ask them, "If I deliver what you approved, on budget and on time, will you ship it?"
Don't move forward until you get your yes.
When you follow this content strategy template, you'll have everything you need to manage this process with your pod. You'll be able to clearly spell out exactly how you're going to do this work, complete with goals.
Anyway, it's going to be hard for your big guns to say no to real data.
10. Host A Content Planning Meeting To Discover 10x Content Ideas
Your next step is to find awesome content ideas to flesh out your editorial calendar.
Remember, when you set your goals, you committed to publishing a specific amount of content each month. Now is the time when you'll figure out what you'll create specifically.
And the best way to come up with lots of awesome ideas fast—and make sure your team feels ownership for the success you'll experience together—is by hosting a content planning meeting.
There are three phases to your 30-minute meeting:
10 minutes: Individual brainstorm frenzy. Ask each person on your team to type out a list of their ideas. This is especially doable when you ask your team to come to your meeting prepared with ideas, giving them the chance to thoroughly think through what they'll suggest.
10 minutes: Group grading. Create one list of everyone's ideas, then ask your team to grade the ideas on a 1–3 scale. Explain to them that a 3 grade means the content idea will definitely help you achieve your goals and is in line with your top content—the kind you want to replicate to produce bigger results. A 1 grade means the idea won't likely help you achieve your goals. Then simply recite each idea to your team, and have them instant message you their grades. The lowest grade you get from your team is the score the idea will receive because at least one person doubts the idea will be successful (you need skepticism to eliminate sub-par ideas from your workload).
10 minutes: Narrow your best ideas. As a team, review all of your 3 grade ideas for uniqueness, your audience's interests, your expertise, and similarity to your top-performing content. The goal is to find the absolute best ways to create that content to be the best source of information on a particular topic on the entire interwebs.
11. Define Your Editorial Workflow Checklist
Your team is ready, and they've come up with the content ideas that will produce 10x results.
Now it's time to understand how you'll work together to actually produce that content.
First, brainstorm everything you need to do to create and publish from beginning to end. A solid way to start is by analyzing the success of the older content you're going to replicate. Every detail matters, so write it all down.
For example, this is where you'll map out when you'll do SEO, web writing, design, promotion, and repurposing.
Pull together a rough plan at first that you'll continue to refine:
Then organize your process from the very first step to the last.
At this point, you likely have a lot of steps, so group the details into a single task. Those details are now the definition of what done means for that task—meaning, if someone checks that task off your shared workflow for creating a piece of content, that person has done all the work to complete those details.
Next, determine who on your team will be responsible for each task, and approximately when they should complete their tasks to help you publish on time.
From here, you can enter that consolidated task list into your project management system where you'll execute your content strategy.
12. Choose The Tools You'll Use To Manage Your Content Creation Process
All that's left to do is to find the right tools that will help you create your content and manage the process behind the scenes.
Start by finding a content planning tool that will help you collaborate efficiently with everyone on your team. You're looking for a tool that offers:
A task-based workflow: As much as you'd love to follow the perfect content checklist you just defined, there may be times when certain tasks will be completed out of order. Choose a collaboration tool that allows this to happen.
Communication without endless emails: Being carbon copied too many times on emails makes them easy to ignore. Find a tool that makes collaboration easy and commit as a team to use that tool.
Notifications for new assignments and due dates: Your team is full of rock stars—but they're also human. Find a tool that lets them know of new tasks they need to complete and reminds them of approaching deadlines. That will keep them accountable for completing their work without you breathing down their necks.
A tool that has always worked incredibly well for content marketers is an editorial calendar designed to be a marketing project management tool.
Editorial calendars work well because you can visually see when a project needs to publish so you can easily work backward with your workflow to start a project far enough in advance to meet your deadlines every time.
You'll also need tools for creating your content.
Now, there are a ton of choices for this, including WordPress, Google Docs, Evernote, and the list goes on. There are just a couple things to think about as you get started:
Choose tools that mesh well with your team's working styles. If you're constantly on-the-go, you might need to consider tools that are mobile-friendly and don't require an internet connection like Evernote or Google Docs instead of creating content natively inside of WordPress.
Narrow your list of tools you'll use to as few as possible. The fewer the tools, the easier it will be to get everyone to use them.
Define how you'll use each tool. It sounds simple, and it is. Set aside a little time to help everyone on your team understand the process behind why you use each tool and how you want to use them.
Agree as a team to commit to using the tools. It's easy to retrogress into doing things the way you've always done them. Don't let your lizard brain win—break status quo to improve.
Improve Your Content Strategy By Analyzing Your Success And Failure
Awesome! You've built a data-driven content strategy! I think you deserve this: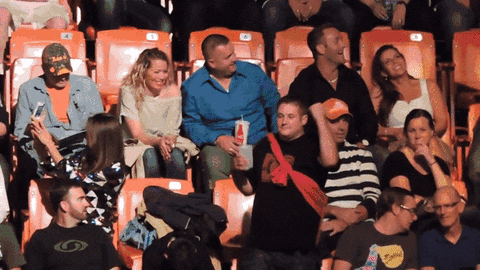 There's just one more thing to do for every piece of content you publish: Learn from your success and failure. There are two sides of this to review:
13. Boost Your Team's Efficiency By Reviewing Your Content Development Process
To review your editorial process, set up a touch point with your team to ask them three very simple questions:
What went well?
What went wrong?
What should we improve next time?
This will help you find and fix the snags in your current creation process to help you improve your efficiency moving forward. I've found this is a helpful exercise to run through at the end of every week—especially as you work on implementing a brand new content strategy.
Want to use Click to Tweet on your blog?
14. Analyze Your Content's Data To Generate Bigger Results
In the end, it all comes back to publishing effective content. So, take some time to review each piece of content to make sure it fits the standards you set in step 7 of this content strategy process.
As a reminder, your content should perform on par with your best-performing content for the next six months:
Month 1: Your new content will be as successful as your top 15 pieces of content.
Month 2: Your new content will be as successful as your top 13 pieces of content.
Month 3: Your new content will be as successful as your top 11 pieces of content.
Month 4: Your new content will be as successful as your top 9 pieces of content.
Month 5: Your new content will be as successful as your top 7 pieces of content.
Month 6: Your new content will be as successful as your top 5 pieces of content.
Once you start making this analysis a cyclical part of your content strategy, you'll be constantly improving your work to produce better results nearly immediately. It makes the entire marketing process you just learned extremely agile to help you consistently break away from status quo.
And the best part? You're basing this all on your own data that your audience and customers provide.
How Will You Execute Your Content Strategy?
We've used this exact agile marketing process at CoSchedule to build a blog that generates 1 million page views a month.
After we saw it work, we applied it to growing our email subscribers and saw that number jump by thousands. Then we did it again for trial signups and grew trial signups from new content by more than 9,000%.
Follow this advice, and I guarantee you'll see better results.
And when you're ready to manage your content strategy more efficiently than ever, I hope you'll give CoSchedule a try. It's your all-in-one marketing calendar dedicated to helping you publish smarter content.
That's how we've managed this success, and I could see it working for you, too.
Good luck out there; you've got this!