25 Actionable Social Media Marketing Tactics That Will Get Results Right Now
Seven in ten Americans use social media
. In fact, for many of us, the first thing we do in the morning is open up Facebook or Twitter or Instagram and start our daily scrolling. As a result, businesses have sat up and taken notice of the potential power that social media has. It's now one of the most important cogs in the marketing wheel, with many brands and businesses experimenting with new and exciting ways to reach their audiences. To spark your inspiration, we've gathered together a list of the best social media marketing tactics for getting cold, hard results.
1. Develop a Social Media Marketing Plan
Having a social media
marketing plan
will help you organize what you're posting and where you're posting it. There are four key steps to creating a plan that's successful and gets you the results you want:
Step One: find out where your audience is hanging out online and take note of their behavior - what kind of content do they share? Who are they interacting with the most?
Step Two: define your business goals and think about how you can use social media to reach them. For example, if you want to generate 50% more leads this year, how can your social channels support that?
Step Three: identify where you're going to focus your social media efforts (not all channels are equal) and how you're going to align with best practices for each of your chosen channels. On top of that, you'll also want to think about which team members will be implementing your strategy.
Step Four: decide what social tools you're going to add to your arsenal and  consider how you will monitor your activity and measure your results. One of the most important things to think about at this stage is what success will look like for you.
If you want more guidance in this step, check out Actionable Marketing Institute's
Social Media Strategy Certification
. This course is comprehensive training that provides step-by-step guidance into creating a social media strategy that will drive traffic and boost engagement.
2. Use a Social Media Calendar
It can get confusing keeping on top of all the different social channels and the different content you should be posting. Get organized by using a social media calendar that plots your marketing schedule. Remember to include deadlines for content creation as well as the publication dates.
Check out our detailed and action-packed guide to creating a year-long social media calendar here. Then, download an easy social media calendar template below:
3. Post at the Best Times
Posting on social media at different times of the day will reap different rewards. Think about it: if your audience is predominantly 9-5 workers who can't use social media during their work hours, posting something at 10am on a weekday isn't going to get you the traction you want. And the right time to post varies for each social media channel.
Check out our researched-backed guide to finding the right time to post
 and play around with timings. Remember to mark down what works well and what doesn't, so eventually you can post solely at the times that get the most engagement.
4. Establish a Consistent Posting Frequency
Consistency is king when it comes to social media marketing. If you just pop up once in a blue moon in your followers' feeds, they're going to struggle to build a relationship with you. Instead, you want to nurture a connection where they
expect
to see you in their feeds. To do this, you have to be consistent. This doesn't mean you have to post upwards of 100 times a day (who's got the time for that?!); rather, post at a similar time on a similar day of the week. This will nurture a sense of anticipation in your followers and will leave them wanting (and
expecting
) more from you.
We've done a
lot
of research into how many posts you should publish on each network (did you know that some brands post 51 Tweets a
day?)
 which you can dig into in more detail
here
.
5. Add Shareable Graphics to Blog Posts
There's a high chance you'll be sharing a lot of your blog posts on your social media channels. To capture the attention of your followers as they scroll through their feed, add an eye-catching graphic that quickly dispels what the post is about and what value it offers. You can use a free tool like Canva to create designs that are on-brand and stand out:
Choose one of the pre-made templates
Add in your own brand colors
Put the title of your blog post in - and voila! You've created a quick and professional shareable graphic
6. Use Feedly to Follow Relevant News Sources
A blog reader like Feedly is a great way to stay on the pulse of your industry. Pack your Feedly full of top blogs and publications so you are able to see new posts as and when they're published.
This post
 provides a great overview to getting started with Feedly and populating your feed with relevant articles using the tools available. To give you a quick breakdown, with Feedly you can:
Segment publications into different categories
Search the web for industry relevant publications and add them to your reader
Set alerts for relevant keywords
Search for articles on trending topics
Not only will this keep you in the loop, but it's also a great way to gather relevant, valuable
content you can curate
and share with your audience. Being an industry leader doesn't just mean sharing your own stuff; it's all about knowing what your audience wants and needs and providing them with nuggets of greatness, whether you created them or not. You can then use the articles you find as part of your social media content curation strategy. Here's how to determine the best mix of original vs. curated content:
7. Schedule Posts in Advance
It can be time-consuming taking time out of your day to shoot off a quick Tweet or to send out your latest blog post on Facebook. Instead of finding small chunks of time here and there, make social media marketing much easier on yourself by scheduling posts in advance. Your quick guide to posting in advance:
Brainstorm content and post ideas
Create 5-10 different copy variations for each post, mix up the images, and align them for the different channels they'll go out on
Map out when you'd like each post to go out
Bulk populate a scheduling tool like CoSchedule with your posts and set specific days and times for them to go out
If you're all about saving time, check out
this crazy simple ReQueue strategy
 that will save you hours on managing your social media.
8. Create Facebook and LinkedIn Groups
It pays to be social on social media and the perfect way to do that is to create a community where your fans and followers can interact. Private Facebook and LinkedIn groups can be a safe place for you to get to know your customers and their pain points while interacting directly with the people that matter most. How to Create a Facebook Group:
Click "Groups" in the left-hand navigation bar on your news feed
Click "Create Group"
Choose your group name and its privacy setting (i.e. do you want it to be visible to everyone, or do you want people to request to join?)
Click "Create"
Brand it with a customized cover image and write a brief introduction to welcome new members
Add members and share the link around your communities
How to create a LinkedIn Group:
Click "Groups" in the left hand sidebar on your homepage
Click "Create a New Group"
Enter your group name, a brief description, and the group rules before deciding what privacy settings you want it to have
Click "Create" and start inviting your community to join
Once you're group has been created, you can set up daily prompts to encourage conversations or simply start discussions to keep your brand front-of-mind.
9. Experiment With Video Posts
Social media posts that include a video get 48% more views than those that don't
. Video is such a powerful medium (so much so that half of
all
internet traffic by 2021 will be for video) and you can use it in so many different ways.
Try creating short 10 second explainer videos, create an animation, or turn blog posts into videos with subtitles and see which ones your followers respond best to.
10. Make Use of Facebook Audience Targeting
Facebook's targeting capabilities are more powerful than ever, allowing you to get
incredibly
focused with the people you want to reach. Ditch the mundane demographic information and dig deeper into the psychographic tendencies of your audience to really make a difference. Through Facebook, you can target people via life milestones (for example, people who have been engaged for less than six months), Facebook pages they follow, and even job title and household income.

11. Experiment With Twitter Polls
Twitter polls are a great way to encourage engagement from your followers - after all, everyone likes to feel involved, right? Creating a Twitter poll is simple:
Start by opening up a new compose Tweet box
Click the "poll" icon at the bottom of the box (it looks like a little graph)
Type your question and answers in
Choose how long you want to run the poll for
Click "Tweet"
You can start simple by posting an easy yes/no question on your Twitter page. Not only does this boost your engagement rates, but it will also give you a chance to get to know your followers better.
12. Tailor Content to The Specific Strengths of Each Network
What works on Facebook won't necessarily work on Twitter and vice versa. Even if you're posting the same piece of content, whether it's a blog post or a business update, it's worth tweaking it for each platform. For example, posts on LinkedIn tend to be more professional, whereas Instagram and Facebook foster more casual interactions.
This detailed guide shows you what type of content to post on each network
.
13. Use Demographic Data to Tailor Content on Each Network
As well as different channels supporting different types of content more than others, each social media platform tends to attract a different type of user. Channels like Instagram and Snapchat tend to be popular amongst the younger generations, while Boomers and older generations are more likely to hang out on Facebook, Twitter, and LinkedIn. Consider who it is you're targeting and determine which platform they're more likely to hang out on. If you're targeting
all
social channels, tailor your content for each one with the dominant audience in mind. A quick guide to who's on what platform:
Facebook: More female users, 79% between 18-29
Instagram: More female users, 72% between 13-17
Twitter: Even split between male and female, 38% between 18-29
LinkedIn: Even split between male and female, 37% between 30-49
Source: https://sproutsocial.com/insights/new-social-media-demographics/ Find a more detailed breakdown of each social media's most popular demographics in
this handy guide
.
14. Pay Attention to the Length of Your Captions
When we think of social media, we tend to think of bite-sized bits of content, but that doesn't always have to be the case. In fact, it's a good idea to pay attention to and play around with the length of your copy and captions on your chosen social media channels. Try out short, snappy commentary and mix it up with some long-form posts, too, to see which ones your followers respond best to. And, when you figure out what gets the most engagement, do more of the same!
15. Experiment With Instagram Shopping
Shoppable posts are really taking off on Instagram. They allow brands to link directly to product pages from within the app, which means consumers can make purchases without having to leave their beloved Instagram feed. How to set up a shoppable post:
Go to your Instagram profile
Tap into options and click "Products"
Select a product catalog (you'll have to upload this first) and connect it to your business profile
Tap "Done"
You can now add shoppable links to your posts
This new feature means brands can now optimize their posts for sales (something that used to be far trickier when the only links Instagram allowed were in profile bios).
16. Don't Forget About Hashtag Marketing
Hashtags are still a vital cog in the social media wheel. However, it's no longer enough to cram as many hashtags as possible into a post; instead, it's all about finding relevant hashtag communities and getting involved in them. Use a tool like
Hashtagify
 to determine which hashtags your audience is engaging with the most and strategically add your posts to them. You can also create your own hashtag and start building your own community.
This guide
 runs through an in-depth step-by-step process for creating a hashtag marketing campaign.
17. Tap Into the Power of User Generated Content
Creating enough social media content to stay front-of-mind can be
exhausting -
but it doesn't have to be. If you're customers are already producing content related to your brand and sharing it across
their
social channels, you instantly have a vault of potential posts to tap into. You can help this process along by encouraging your customers to share photos, images, and recounts of their experience with your brand under a designated hashtag. Start gathering UGC by:
Setting up a dedicated hashtag for your users to share their posts to
Encouraging users to share content either by offering an incentive or by engaging with them across social channels
Repost UGC and start repurposing it across your other social networks
18. Repurpose and Cross Post Content
Remember how we said constantly creating a ton of social media content can be exhausting? You can make it easier on yourself by repurposing content into different mediums and cross-posting it across your channels. For example, you can turn an Instagram post with multiple pictures into a slideshow to share on Twitter, or you can screenshot your latest Tweet and post it to your Instagram feed to get the most out of it.
19. Get Influencers On Board
You don't have to power through your social media marketing alone. Gather a list of influencers in your industry (both big
and
small - nano influencers are becoming more and more popular for brands that want to get focused with who they target) and reach out to them to collaborate or start a discussion. The wider you can spread your message, the better, and influencers already have built-in audiences that trust them and hang onto every word they say - so make sure some of those words are about you and your brand!
Check out this comprehensive guide to influencer marketing that will start you off on the right foot
.
20. Go Live and Share Behind the Scenes
Consumers
love
to experience the human-ness behind their favorite brands. Despite most of our interactions being carried out behind the veil of a screen, we still crave connections with real-life human beings. You can create deeper, more meaningful relationships with your followers by going Live (on Facebook or IGTV) and sharing moments of your daily life or behind the scenes. This gives your followers a chance to put a face to the brand, which instantly makes you more memorable.
Go Live on Facebook
 by creating a post and typing in the title of your Live video. Then click the three dots below the post box and select "Live".
Go Live on Instagram
 by clicking the picture of a camera in the top left corner and swiping along the bottom until you get to the Live option.
21. Improve Customer Service
Research shows that
67% of consumers use social media for customer service
, and 66% have actively
stopped
doing business with a company because they weren't happy with the level of customer service they were getting on social media. Whether brands like it or not, social media is increasingly becoming the norm for customer service interactions. While this might mean adding another thing to your plate, it can also be a great way to start conversations with your followers, get to know them better, and foster a caring brand image.
22. Get Employees Involved
Who knows your brand better than your employees, a.k.a. the people on the inside? Use this to your advantage and encourage them to share brand-related content. Hopefully they're already big advocates and can shout about you from their personal accounts - in fact, research shows that consumers trust employees more than messages sent out by the brands themselves. Nurture your employees' social media use by:
Offering training on social media content
Internally sharing all blog posts and social content so employees can pick and choose what resonates with them the most
Encouraging employees to come up with fresh ideas through scheduled brainstorming sessions
Providing incentives for employees that post the most
23. Make Use of GIFs and Memes
Brands today have
reported seeing a much higher ROI from working with meme accounts than traditional influencers
, which just shows the power of this modern form of communication. GIFs and memes are a great way to add humor and personality to your social media marketing, and they tend to drive more engagement that static images and text-based updates. Use a site like
Meme Generator
 to create memes or
type a relevant keyword into GIPHY
s database to find the perfect GIF to accompany your posts.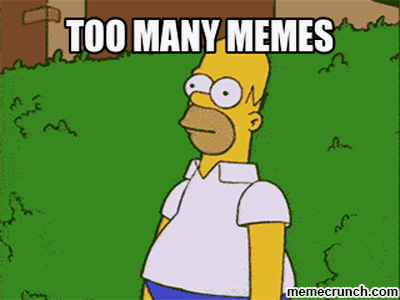 24. Start Conversations
Social media is, at its core, a place to be social (the clue is in the name). In the past, brands got away with firing out promotional post after promotional post, but today's consumers aren't buying this form of marketing. Instead, create a connection with your followers by starting conversations and opening up discussions. This will improve your engagement rates, make your brand seem more approachable, and help you get to know your followers better. Start conversations by:
Asking a question
Sharing your opinion on a trending topic and asking your followers for their thoughts
Responding to other social media updates with your own commentary
25. Target Audience Pain Points
Amongst interacting with their friends and family and hunting down inspiration for their next kitchen redesign or Saturday's dinner party, social media users are constantly seeking out solutions to their problems. The best social media
marketing strategies
really dig into follower pain points and strive to provide a solution for them or at least ease the pain in some way. Dig into followers pain points by asking your followers:
What their biggest challenge is
What thing they'd like to achieve this year
What's holding them back from being where they want to be
You can then use their responses to create solution-focused content for your social channels.
Which Social Media Marketing Tactics Will You Use?
Social media is a goldmine for engagement. Leverage it properly, and you'll reap the benefits of better brand awareness, loyal fans, through-the-roof engagement levels, and improved conversion rates. If you're feeling overwhelmed right now, don't worry. There's a simple way to implement these ideas to start generating more engagement. Build out a social media strategy proven to generate 10x more results.
Enroll in Actionable Marketing Institute's Social Media Strategy Certification
to create a social media roadmap designed to generate more traffic, leads, followers, fans, & engagement via social media.