Did you know that 51% of all bloggers measure their success by some sort of traffic metric? Makes sense, right?
Through a recent survey, we found out that you want to get more traffic…
15% measure pageviews
15% measure visits
13% measure traffic in general
8% measure unique pageviews
…but 22% of you say your biggest professional challenge is finding time to create content.
It would save you a ton of time, then, to use your best blog posts—the stuff you've already put a ton time into creating—to milk it for all it's worth (rather than creating brand new stuff).
Believe it or not, at CoSchedule, it's difficult for us to find the time to create awesome content, too. And we also measure our success through traffic metrics.
So we thought you'd dig a few things we do at CoSchedule to maximize our best blog posts to get more traffic.
Want to use Click to Tweet on your blog?
How To Get More Traffic From Your Best Blog Posts
This list ranges from the basics to a bit more advanced. There are also a couple things in this list we're planning on doing, but haven't quite gotten there yet—so enjoy the preview (and see if you can beat us to the punch)!
1. Share your blog posts on social media.
More social media shares drive more traffic. As much as 1,350% more traffic.
After publish, use a social media sharing schedule to connect your blog posts with your audience. It should look something like this:
This will help you share your content right from the get-go.
2. Email your blog posts directly to your audience.
There are a ton of email services out there to help you collect subscribers from your blog so you can email them your content.
The day you publish your blog posts, email your subscribers a nice message that connects the benefit of reading the article with your audience's unique needs.
That will entice your subscribers to click through to read your posts.
3. Include your blog posts in a weekly email newsletter.
Make sure your email service has a way for your subscribers to manage their own preferences. This way, you can automatically sign them up for emails the day your posts go live, or they can opt in to receive a weekly blog post recap newsletter.
This is awesome because some folks like to read content when it's brand new, and others still want your stuff, but they don't want a ton of emails.
Are you one of the 20,000 that subscribes to our weekly Content Marketing Update newsletter?
4. Share your best blog posts again on social media.
Schedule yourself a task to review every one of your posts about a month after they're live on your blog. Review them for the metrics you use to define success, and set up another social media sharing schedule.
Chances are, if people really liked it, there are a few of your fans, followers, and friends who missed it the first time around.
This is an easy way to spread the word a bit more—and get more traffic.
5. Optimize your best blog posts.
Ignore search engine optimization at your own demise. Even if you didn't focus on a keyword before you published your blog post, you can always go back and update your post later.
This is definitely a long-tail strategy to increase your traffic over time. But targeting a keyword in your page title, headlines, URL, images, and body copy can really have an impact on your traffic a year from now.
SEO doesn't have to be scary technical stuff! And it isn't putting robots first (people are searching for this stuff, after all). You can do it.
6. Make sharing your blog posts easy.
When someone is actually reading your posts, is it easy for them to share directly from your blog? There are a ton of social media sharing tools that show icons on your blog, and all your reader needs to do is click and presto! They shared your blog post with their networks.
Want to use Click to Tweet on your blog?
Another helpful tool for this is Click To Tweet. You can include a visual message right in context with your post.
Empowering social sharing encourages your fans to spread the word—and helps you get more traffic.
7. Turn your fans into groupies.
We love you guys! You're the reason we do this. You probably feel the same way about your audience.
So find your biggest brand advocates—those few folks who are vocal about how much they love your brand and what you do—and help them share your best blog posts with their networks.
This can be as simple as listening for those customers who provide great feedback, and reaching out. For example, favorite their tweets so you can remember who they are, then reach out to those folks when the time is right.
Easy.
8. Help your employees connect with your fans.
At CoSchedule, we say this a lot:
And we really do. So when we create content, we love it. When we develop a new feature for CoSchedule, we love it.
And because we love it, it's easy for us on the team to want to share what we've done with the world. Most of the time, this is as simple as sharing our content on our personal social networks right from CoSchedule.
How can you harness your employees' love for your brand and empower them to share your best blog posts?
9. Connect with industry influencers.
Greg Digneo does a ton of guest blogging to promote his business (and his stuff is really great, by the way). And along the way, he's connected with tons of industry rock stars with huge crowds of fans.
When he launched his own blog, Greg asked Neil Patel—someone he made a connection with through guest blogging—to share his own blog's very first post.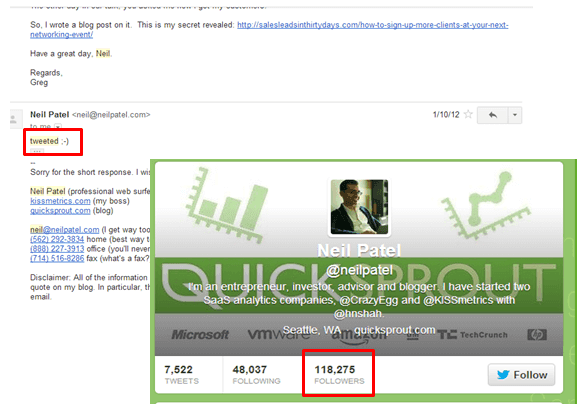 Neil's single tweet helped Greg get a lot of attention and traffic.
Think of the rock stars in your industry, connect with them, and work together for the benefit of the industry. The power of social media makes the world a smaller place—and a perfect avenue for doing exactly what Greg did.
10. Build a "circle of trust" with your industry peers.
So I guess "Meet The Parents" actually had something educational in it!
Shannon Byrne recently set up a network where marketers can throw ideas around, ask questions, and get opinions on content. These are a group of individual people working for the good of the industry to share awesome content, learn from each other, and grow their businesses.
If you can build a community like this, it's a great way to ask other awesome people like you to read your stuff and share it with their audiences. Like reaching out to industry rock stars, this approach helps other industry peers share your content on your behalf.
11. Get on roundup posts.
Roundup posts are the ones with titles like "The 10 Best Content Marketing Tips From 2014" or "The 10 Best Content Marketing Apps," etc.
Leverage your relationships and figure out the best bloggers in your industry who frequently write roundup posts. Reaching out to them with great content will be right up their alley.
The fact that another blogger curated your content lends some credibility to it, too.
12. Get on roundup emails.
This is similar to roundup posts. There are a lot of bloggers who send out e-newsletters, and some of them include curated content with their own in those emails.
Still, there are others who include only curated content in their e-newsletters.
This presents a great way to drive traffic to your blog posts through another credible avenue—your content was good enough to be included!
13. Syndicate your best blog posts.
Content syndication is essentially taking your best blog posts and sharing those with other sources to republish them on their blogs.
Think of any post you've ever seen with a caption like this:
As seen on…
Originally appeared on…
Originally published on…
This is a great way to spread the word, include relevant backlinks to your site (where those blogs' readers can see even more of your awesome content), and generally grow your reach and traffic.
14. Give away your best blog posts as cookies.
Give your subscribers something sweet when they sign up to receive your emails. Give them your best blog posts as cookies.
Like roundup posts for other sites, you could easily create a landing page with your best-of-the-best blog posts you can redirect your audience after they subscribe to your emails. That should help drive some unique visits for just a little effort!
15. Include your best blog posts in your tools.
It seems like nearly every business has some online tools they offer for their customers. Other than tying our content into the editorial calendar we offer as a tool for marketers and bloggers, we try to complement our free tools with our best blog posts.
Actually, some of our best-performing blog posts have inspired our tools.
We wrote a really great-performing post about how emotional headlines get shared more on social media. From there, we developed the headline analyzer to help people write better headlines.
Then we wrote a post on how to write headlines that drive traffic, shares, and search results.
Those blog posts are tied into the headline analyzer to help those who use it understand how it works and best practices for writing headlines. Win-win.
16. Try paid ads.
The second you see a post start to take off, a little extra boost could really help it fly.
Imagine the power of promoting your social media posts (nearly any network has a way to do this), or even using that knowledge to do some search engine marketing like Google AdWords.
Bonus: Try Web push.
It's kind of a new thing (well, to me at least). But Web push is a way for your audience to get notifications from your blog right in their browser.
It's a little limited at this point to the Safari browser, but it is a unique way to share your content to ultimately get a little more traffic.
Listen To Your Audience To Get More Traffic
When you listen to your audience, you'll understand their needs a little bit better. There's really no better way to make sure your content connects with your fans other than listening.
But listening itself presents an opportunity for you to use your best blog posts to get more traffic.
17. Thank your readers for sharing your blog posts.
It looks like 18% of all bloggers measure their success through social media shares. That must mean a lot of people are sharing your stuff!
If that's the case, you're probably already thanking your fans when they share your content. When someone shares your blog posts, include a link to one of your relevant—and best—posts in your reply to help them out.
@CoScheduleBlog @MomPlaysGamez @TimsMartini Joked to my boss that y'all answered questions I didn't even realize I had. So cool!

— Natania (@NataniaBarron) January 29, 2015
It's useful for your audience, engages them a little bit more with your brand, and helps you get more traffic.
18. Share your unique perspective through comments.
This is really similar to providing helpful content links in your social media replies. Think about participating in discussions on blog post comments.
You can share links to your best blog posts from comments if they help clarify your perspective on a post or add to the conversation. Don't just blast your content here willy-nilly—make it helpful, useful.
Don't limit this to just your blog, either. You can help other bloggers understand your perspective by participating in their conversations.
19. Participate in forums and up-vote communities.
This is really similar to replying to shares and participating in comments. Join the community and conversation, and share links to your best blog posts that answer questions, clarify your perspective, or whathaveyou.
Don't make this into a "promotion channel." Add value and participate in the conversation, and use your best blog posts to provide more details and context.
Learn From Your Best Blog Posts To Get More Traffic
While creating more content kind of goes against saving time… it's still an awesome way to piggyback of your prior success.
And any new content you create can link back to your original post that spurred a bunch of traffic to begin with.
20. Create more content about that topic.
Let's say you had an awesome post about *ah hem* quadrupling your traffic with social media editorial calendars. Now you know there is potential that your audience would enjoy another post on a related topic for social media.
From this point, you can look into the keywords your audience is using to find information on that topic. After that, you can schedule another few blog posts to cover related topics for social media.
At CoSchedule, we do this a lot and choose related keywords to target with future posts. From there, we throw them on the calendar for us to write at a later date.
And you can bet that all those related posts will include backlinks to the successful original post.
21. Create more content about that value proposition.
From the former example, the post was about quadrupling your traffic with social media editorial calendars.
Other than planning a few more posts to target social media topics, you could also figure out new posts that target the value proposition social media editorial calendars provide: getting more traffic.
There are probably a ton of different ways you can grow your traffic, so there are a ton of posts you could write to help your audience do just that.
Actually, the post you're reading right now is based on this idea, and you can see there are a handful of backlinks to the original post: How To Quadruple Your Traffic With A Social Media Editorial Calendar.
22. Repurpose your best blog posts into other content formats.
Imagine using your blog posts as the basis for webinars, e-books, videos, or whatever content formats your audience likes. It's a great way to use the work you've already done—based on what's been super successful—and bring new life to your ideas.
Repurposing also gives you the opportunity to link back to your original post to give your audience the chance to check out the new content from a different (your original) perspective.
23. Write guest posts for other blogs.
If your audience liked it, it's possible that other blogs with similar audiences will also dig your idea. Rethink your post, add some more original ideas, and consider guest blogging.
It's a great way to get your thoughts in front of new audiences while linking back to your original posts.
Back to that social media editorial calendar post as an example: We also guest blogged about that same topic for Convince and Convert.
Since Convince and Convert has an audience that should really care about social media, a post about social media plans seemed like a perfect fit for us to provide a guest post on that topic.
How Your Best Blog Posts Can Get You More Traffic
These are just a few ideas you can try out without a lot of preparation. Just choose a few things you think will work for you to grow your traffic and get them on your to-do list.
An easy way to implement this is by reviewing how your content is performing on a regular basis. At CoSchedule, we meet as a marketing group once a week to look at our content's performance and plan what's coming up.
Or this could be as simple as assigning yourself a task 30 days after you publish a blog post to review it for the measurements you use to define success. We do this, too, so we don't miss an individual post.
From there, plan some to-dos—and content—on your calendar.
Bonus! Here are a few more related blog posts you should read that will help you grow your traffic: