How To Make Writing For Social Media Work For Your Business 76
Headline Analyzer
The blog post headline analyzer will score your overall headline quality and rate its ability to result in social shares, increased traffic, and SEO value.
Test every headline before you publish. Try the Headline Analyzer »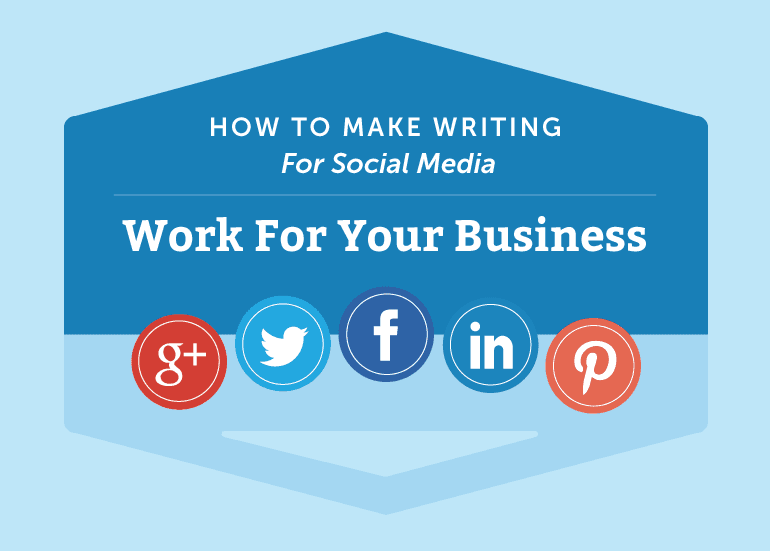 So you're browsing Twitter and see a post and think, "Huh, that's cool." Then you hop over to Facebook and see that same post. Later when you're on LinkedIn, the post pops up, word for word, image for image. Then the post follows you again to Google+.
Pretty soon a social media post you once found cool or interesting seems to be taking over your newsfeed and becoming a pain in your side.
There seems to be a misconception that by sharing one basic social message on multiple social media platforms, companies are doing their job and being active on social media. While there is some truth to this, writing for social media is so much more than that.
Really, if you're going to take the time to be active on social media, you may as well learn how to write for social media in a way that will bring you the results you've been looking for.
Tailor Your Social Media Messages
Seeing the same message on multiple platforms is a sign of a company's laziness or ignorance.
When writing for social media, you need to tailor your social messages to each audience you are trying to reach on each network.
Everyone has a social network preference, and what draws them to that network makes them unique. Each person has a favorite network because they like to be communicated with in a specific way, a specific voice. Communicating with people on Facebook in a way you would communicate with your audience on Twitter will definitely turn off your Facebook fans.
Personally, I prefer Twitter. I like getting my information quickly with as little BS as possible. With the instant timeline, I feel connected to the world and up-to-date on current events. I'm not the biggest fan of Facebook; there seems to always be a status I'm missing, the posts are too long, and my timeline seems to always fill up with spam. If I didn't use Facebook to stay connected to family members and manage company pages, I'd probably just delete my account.
Just because I'm not a Facebook fan doesn't mean it's a bad social network. If that's where your audience is, then it's the perfect platform for you. Just make sure you're communicating with your Facebook fans in the way they prefer.
Takeaways:
Writing for social media—done really well—means sharing more than one basic message on multiple networks.
There are intricacies of each social network to which you can optimize your messages to be super effective.
Approach Your Audience In The Way They Prefer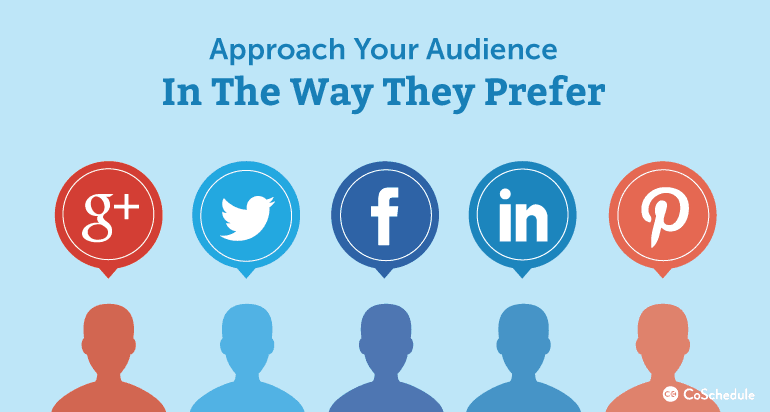 Even if your audience uses multiple social networks, when they go to a certain platform, they are expecting to be communicated with in a specific way. Here's how to write awesome messages for some of the biggest social networks:
Planning for Twitter.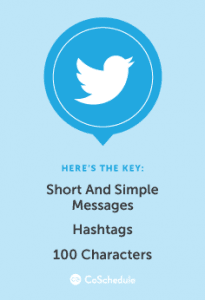 People who prefer Twitter like:
Short and simple messages, straight to the point.
Links so they can get more information.
Hashtags help group the message to a group of related conversations.
How to write for Twitter:
Attention-getters: With the fast timeline, people will easily scroll by your post. Get them to stop by grabbing their attention. Facts, questions, and useful information are great ways to nab attention.
Images: Buffer found that sharing images on Twitter increases retweets by 150%. Images are helpful because they can get a complex message across in one take. If you want to increase your chances for a higher engagement rate, try incorporating images in your tweets.
Calls to action: Let your audience know what they should do with your tweet. Whether it's simply absorbing a tidbit of useful information or clicking a link to buy your product, direct your audience with a call to action.
Links: Don't try to cram a ton of information into your tweet.  Since Twitter only allows 140 characters, use a link to direct your followers to your content.
Keep it short: Avoid using 140 characters on Twitter. It's best to leave about 20 characters for your audience to reply to your tweet. Also, keep in mind images take up space, about 20 characters. So, if you're using an image and want room for people to reply, aim for using 100 characters in your tweet.
Hashtags: Hashtags helps users to easily search Twitter for areas of interest. They are a great way to join in a conversation already happening or organize a conversation, like a Twitter Chat.
Use hashtags responsibly:
Try not to use more than 2 hashtags per post (otherwise it looks like spam).
Make sure the hashtags are relevant to your topic.
Search the hashtag before you use it. Don't pull a DiGiorno Pizza and misuse the hashtag. Also, make sure it's a conversation you want to join.
Planning for Facebook.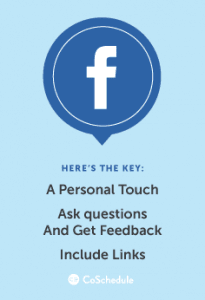 People who prefer Facebook like:
A personal touch. They want to know you're a real person.
Belonging to a group or community of people. Keep in mind, people often use Facebook because they feel the need to belong.
How to write for Facebook:
Stories: Tell a story to connect with fans and make them want to read more. Try to appeal to their emotions.
Ask questions and get feedback: This helps people feel they belong to a group and their opinion is valued.
Videos: Videos work much better than images because your fans don't have to click a link to get more information. Plus, Facebook has an instant play feature on videos, which makes it hard to keep scrolling once a video starts playing because it sucks the audience in.
Links: Once again, links are important because it takes the audience right to your content. On Facebook, you can update your image for a link post. Make sure the image you choose has a purpose: Remember, emotions are a great way to appeal to your Facebook audience.
Planning for Pinterest.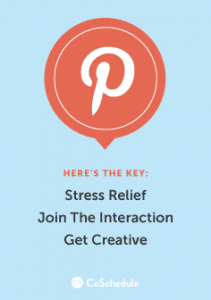 People who prefer Pinterest like:
How to write for Pinterest:
Images: Images are everything on Pinterest. Make sure your images on Pinterest are top notch. If they're lacking, your audience will scroll right by.
Get creative: Display and promote your product or service in a unique and creative way.
Keep in mind, 9 out of 10 Pinterest users are women. So, if your target audience strongly consists of women, it's worth looking into a Pinterest account.
Planning for LinkedIn.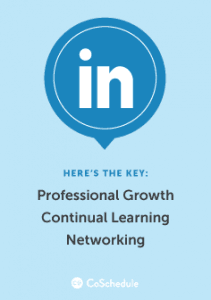 People who prefer LinkedIn like:
Professional growth opportunities: People will often search LinkedIn for new professional opportunities.
Continual learning: Many search LinkedIn for professional posts that can help with their career.
Networking: This is basically why LinkedIn exists. Frequent LinkedIn users enjoy discussing niche industry topic with their peers, all the while making new connections.
How to write for LinkedIn:
Engagement: Engage with your LinkedIn audience, ask questions, and host a discussion.
Validation: Provide your followers with proof that you are knowledgeable about a specific topic.
Tip: LinkedIn is the perfect platform for reaching professionals, so when you're on there, act like a professional.
Planning for Google+.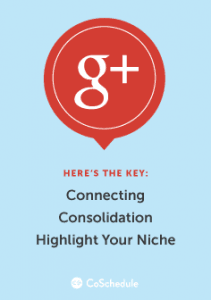 People who prefer Google+ like:
Connecting: Google+ makes it easy to connect with people who have similar interests. It's great for meeting new people.
Consolidation: Google+ is an all in one kind of network. It allows you to have long conversations like Facebook, share quality photos like Instagram, connect with likeminded people like LinkedIn, video chat like Skype, and more.
How to write for Google+:
Highlight your niche: In your messaging, discuss the niche of your content and include tags. This will attract like-minded people.
Hashtags: Just like Twitter, hashtags help users to easily search Google+ for areas of interest. They are a great way to join in a conversation already happening or organize a conversation. (Remember to hashtag responsibly.)
Take a unique approach when posting to each social network. Share your content in a way not only your audience in general will appreciate, but in a way the audience you are reaching on the specific platform will be attracted to.
The Content You Share Will Perform Differently Depending On The Network
Different content does well on different social platforms—it all depends on the audience you are trying to reach and what the post is.
For example, our blog post, How To Actually Make Money Blogging, is performing well, but had a relatively low engagement rate on Twitter. However, on LinkedIn, the post had our highest engagement rate ever on that network. The highest engagement rate on the post for Twitter was 1 percent, while the engagement rate for that post on LinkedIn was 4.82 percent.
This is the type of posts that professionals would be more interested in, hence why it performed better on LinkedIn.
Takeaway: It's just fine to share the same piece of content on multiple social networks. Go into it understanding on which social network it is likely to perform best, and optimize your message accordingly.
Turn Your Content Into Social Media Friendly Content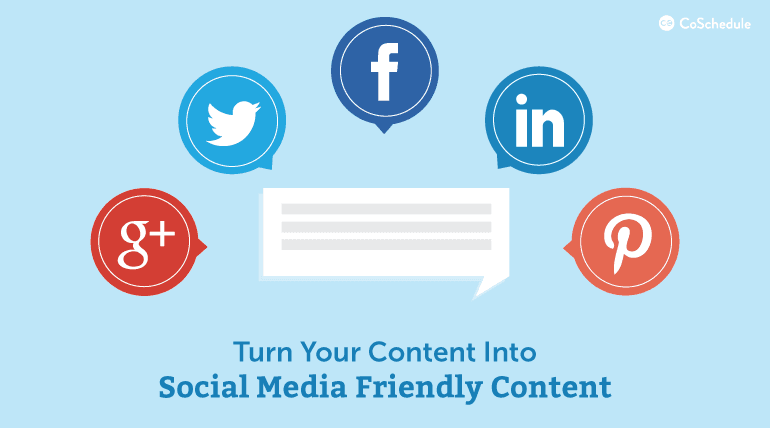 Once you have the main bulk of your content, like your completed blog post, writing for social media is easy, right?
Yes and no.
Yes, writing for social media is easier because you know what content you will be sharing. However, it can get tricky. While sharing the headline and header image of a post once or twice is fine, you need to spice it up and make the social media posts original to each network you are posting to. Engage your audience by providing them with tidbits of what they can expect from your post.
Now, you're not changing your tone or brand voice when writing for social media or different social media platforms. Keep consistency through your company's brand voice and tone, just change the way the message is perceived on each platform. Adapt to your audience, appeal to them.
When you search for writing for social media on multiple platforms, you come up with conflicting arguments. There seems to be a debate to write for social media using one consistent voice on multiple platforms and to change your voice depending on the platform you're on.
I'm hoping to clear this up.
Your company has a brand voice. That always and forever needs to stay the same (unless you're rebranding, obviously).
Yes, each social platform requires a different approach, but that doesn't mean changing your company's voice. Tweak your message to fit the social network you are posting to, but keep your brand voice.
If you have a quirky company, that doesn't mean being serious on LinkedIn, it means being quirky, but adapting your message to appeal to those on the professional network.
June 1, 2015